There was a decidedly day-glo hue to the bluegrass played at this year's Northwest String Summit (July 16-19). Many of the musical merry-makers, and deadicated patrons alike, appeared to still be basking in the warm fluorescent after-light of the "Fare Thee Well" experience.  The haunting presence of the now officially departed Dead continues to populate and positively inform a new generation of musical/spiritual adventurers.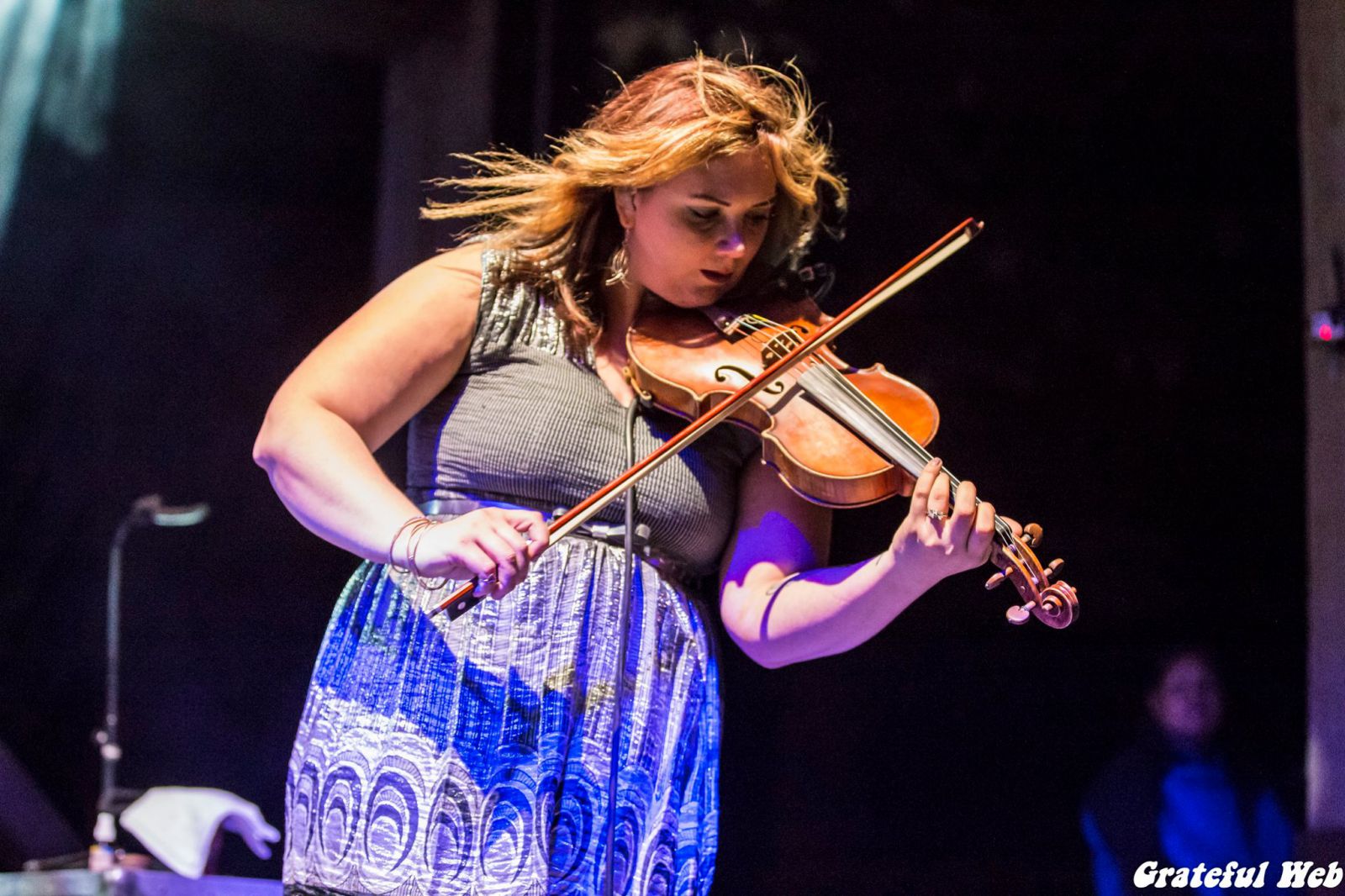 The four-day music festival was celebrating its 14th consecutive summer at Horning's Hideout, a sensational outdoor venue situated near a small lake, in a fir-lined canyon just west of Portland (North Plains, Ore.). The lineup largely featured groups associated with Yonder Mountain String Band's ever-growing circle of bluegrass expansionists.  Yonder has been the musical hosts of this event since its inception, and while they are not the originators of (what I call) the "blown-grass" movement, they are firmly situated at its forefront.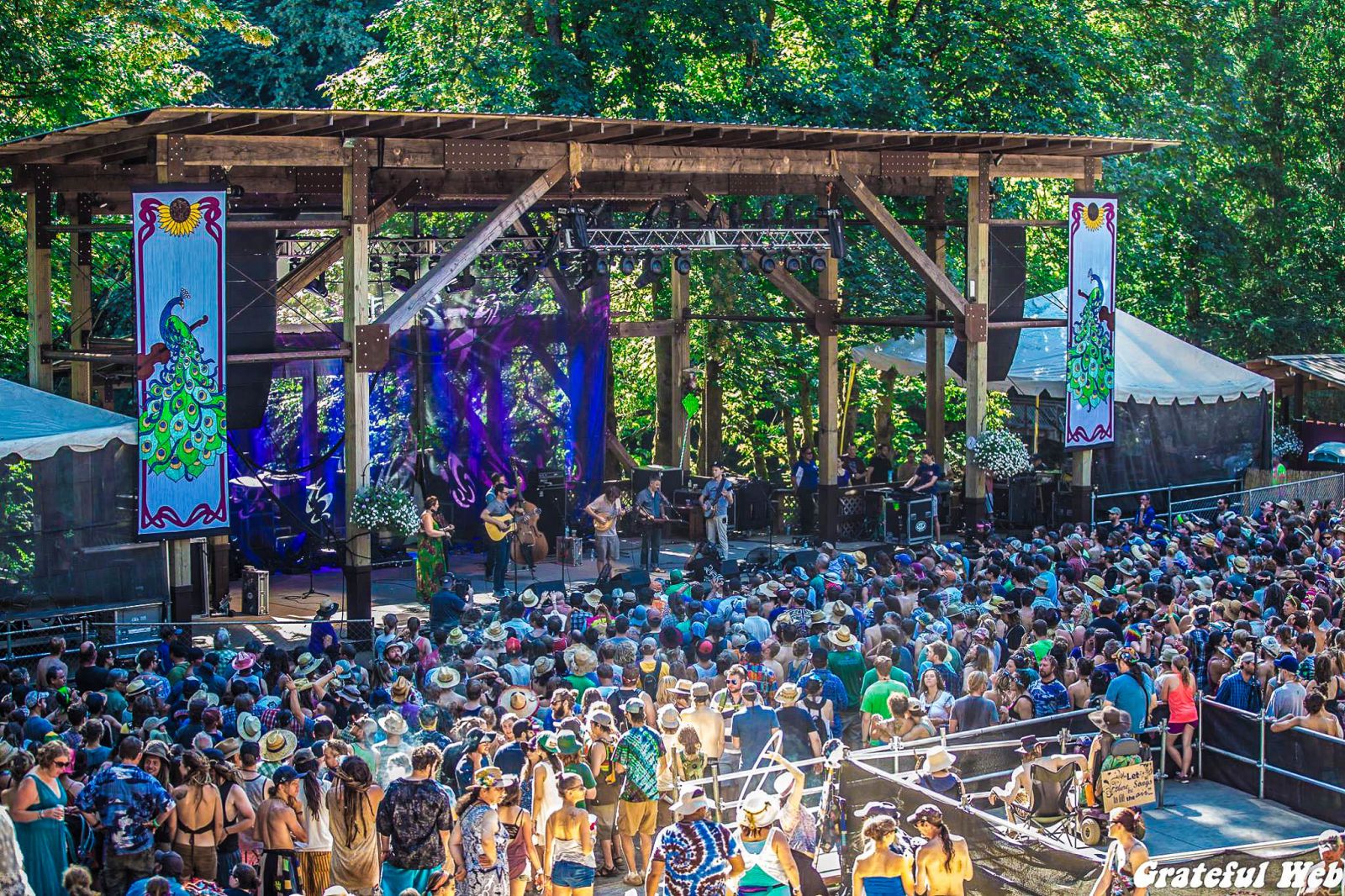 Joining YMSB at this year's String Summit were fellow blown-grass brethren Greensky Bluegrass, the Infamous Stringdusters, and Keller Williams' Grateful Grass.  Crisscrossing the country and appearing at well-received festivals and packed theatres for several seasons, this small but increasingly visible collection of like-minded groups has developed a following that recalls the rise of the H.O.R.D.E. bands in the early nineties.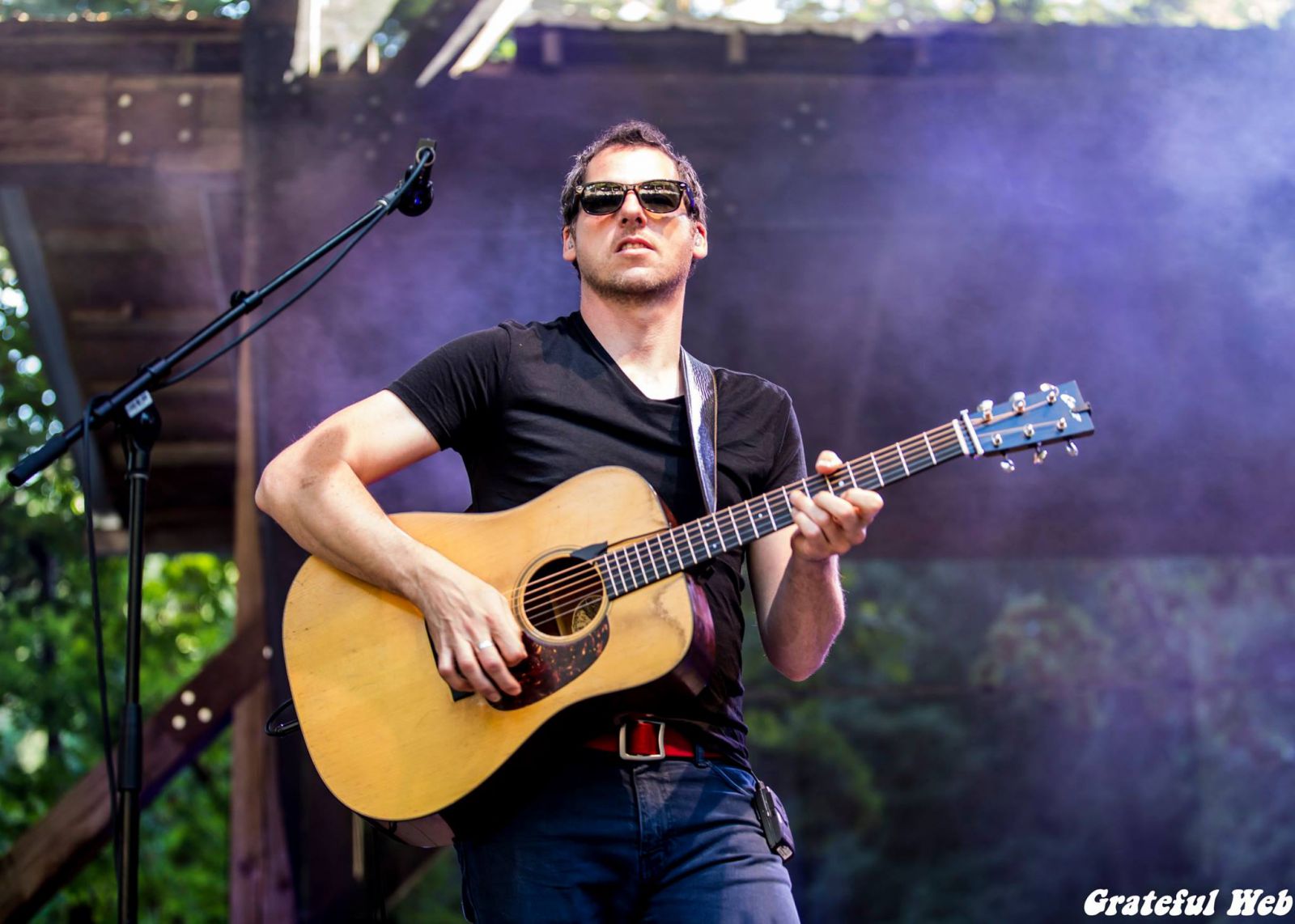 H.O.R.D.E. Unplugged tries, like its predecessor, to replicate the sense of musical adventure and the shared, communal experience so thematically prevalent in the Grateful Dead.  Both the sense of belonging and a promise of something surprising appear integral to establishing the ravenous fan-base these acts enjoy.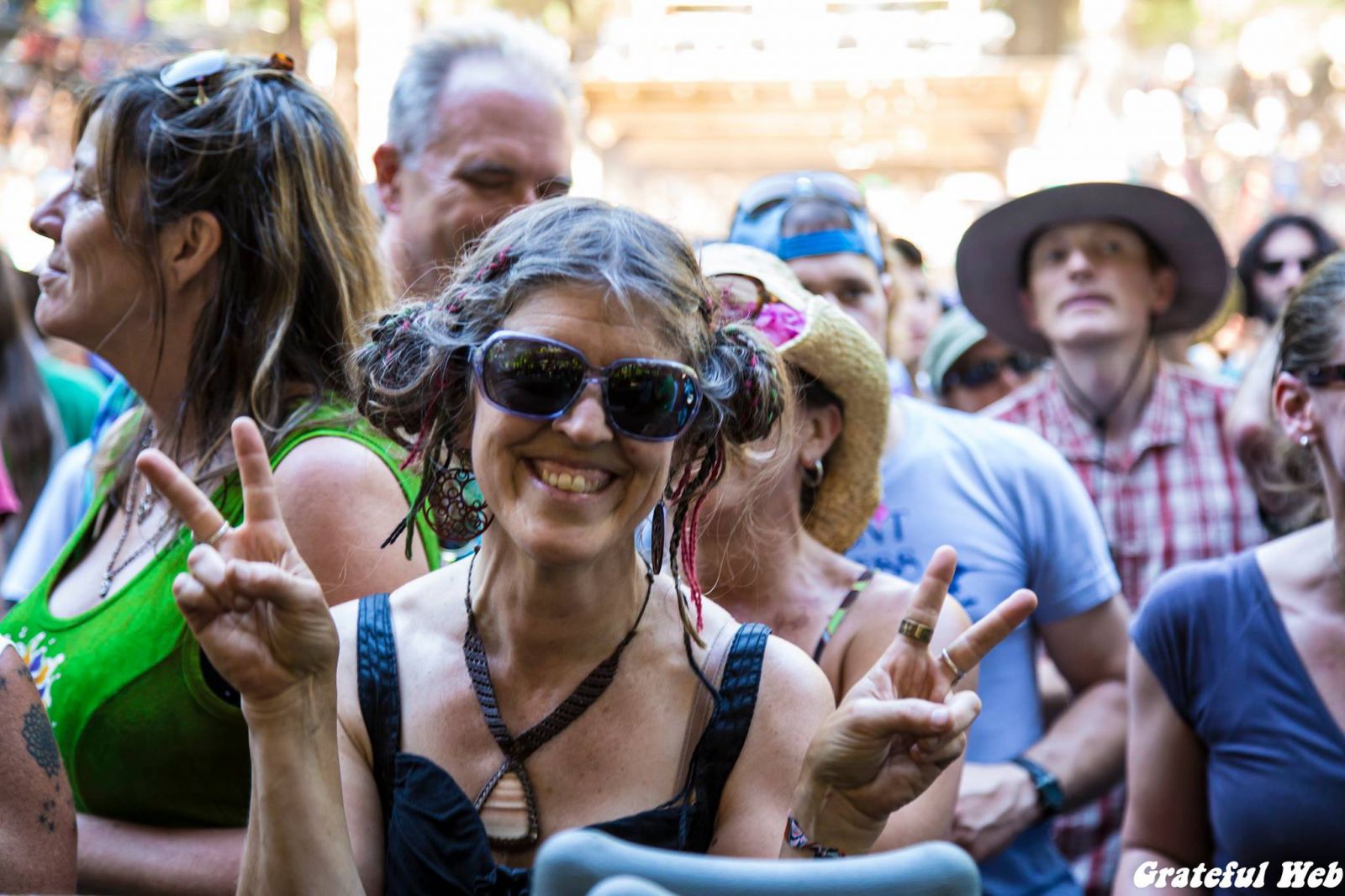 Yonder played six satisfying sets over three days (all on the Main Stage) filled with surprise guests, choice covers, a few old favorites and every song on their recently released studio recording, Black Sheep.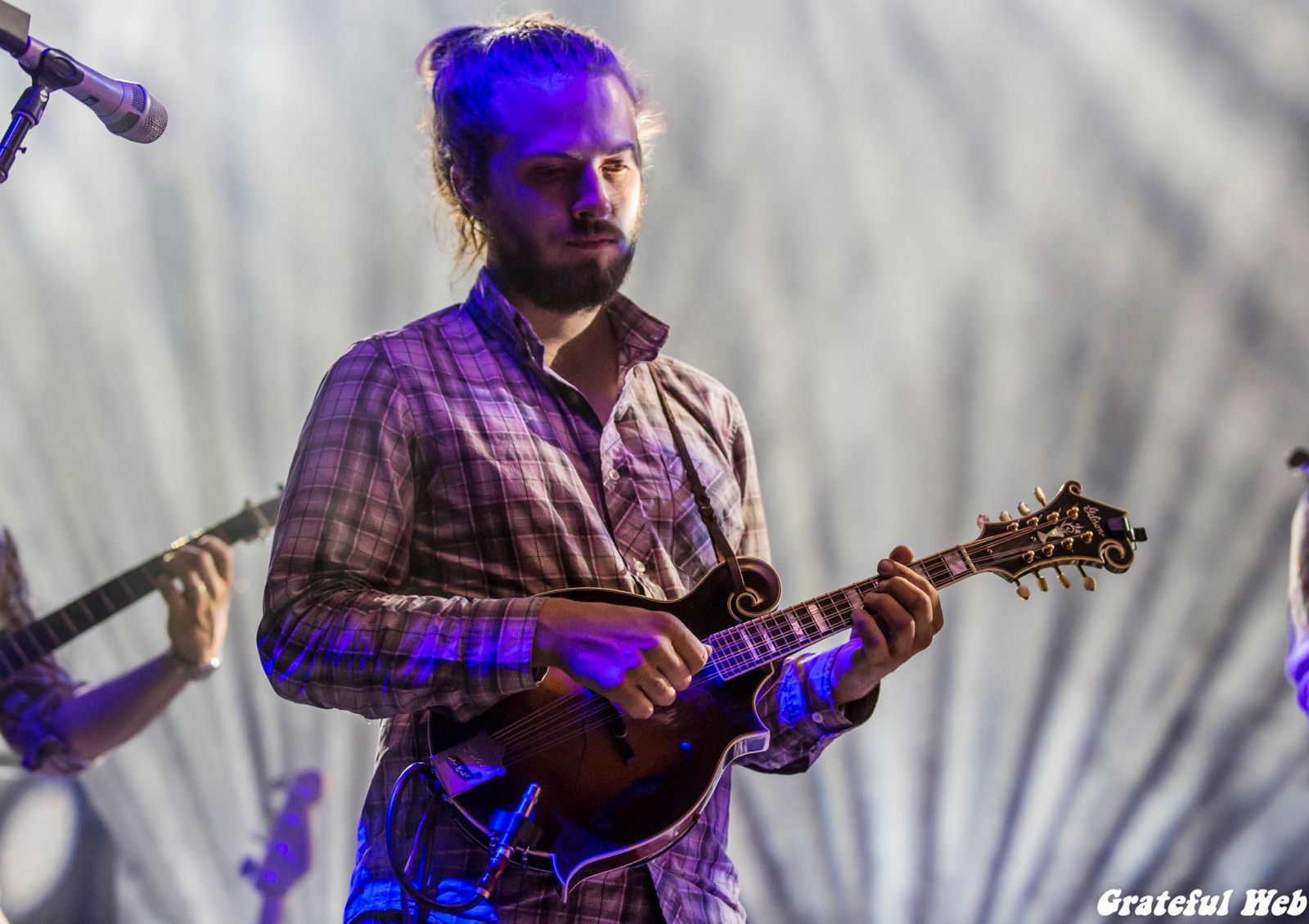 The very polished, clean sounding, new album contains several outstanding songs that should garner attention from industry awards.  Yonder appears to have regained much of the footing lost after the sudden departure (in 2014) of founding member Jeff Austin.  The group's fresh hands, mandolin player Jake Joliff and fiddle player Allie Kral, each play prominently on the new record, adding pleasant possibilities to the band's latest material.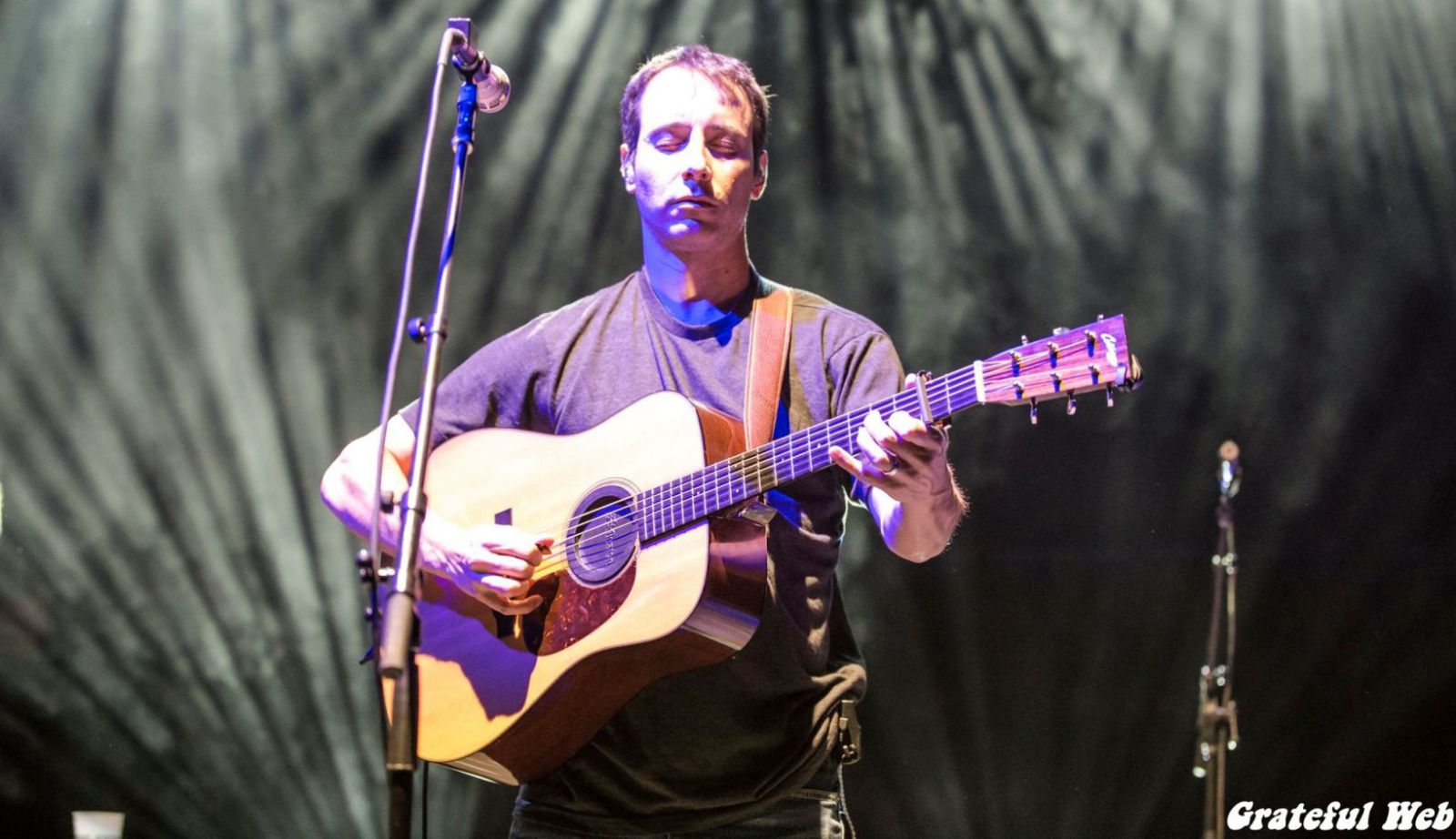 There were, however, moments onstage at this year's Summit when YMSB appeared to miss Austin's dynamic stage presence.  Austin was essentially Yonder's front-man for 15+ years and the current lineup is still searching for a way to adequately replace his considerable energy.  The remaining original members, banjo player Dave Johnston, guitarist Adam Aijala and bassist Ben Kaufmann are all gifted musicians and capable singers, yet they each project a significantly softer stage presence than Austin.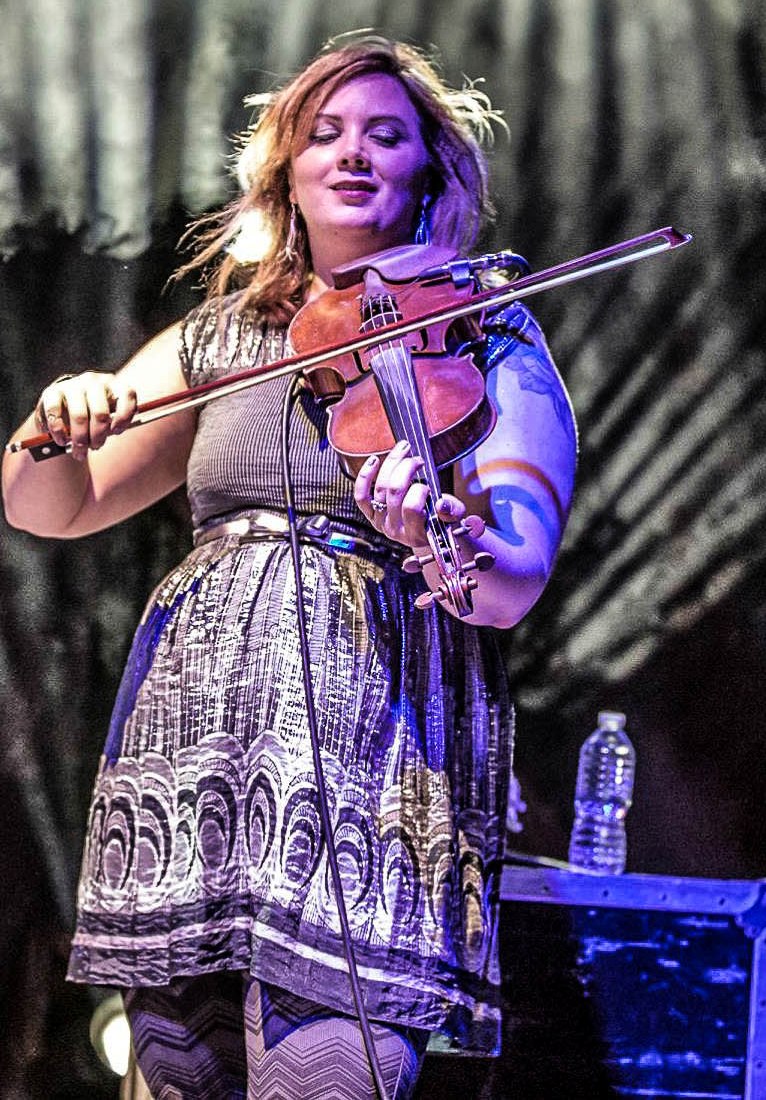 Kral seemed the more likely of the two newer members to provide some embraceable energy.  She was everywhere at the String Summit, playing with Yonder, Crow and the Canyon, Grateful Grass and festival super-group—Sideboob (featuring Kral, the Shook Twins, Fruition's Mimi Naja, Jenny Keel, Kat Fountain and Gipsy Moon's Mackenzie Page).  Her infectious enthusiasm brightened the impact of her heartfelt, hot-ass fiddle playing; and she sang really well too.
Joliff offered award-winning, virtuosic mandolin in a style very different from the self-taught Austin.  Joliff adds an ornate complexity to Yonder's sound, and he played well at the Summit, but remained slightly withdrawn onstage as though he wasn't yet entirely accustomed to his new surroundings.
Yonder may have appeared a little hollow at times during the String Summit, but they still produced several memorable moments of startling musicianship and gently stoked the festival's fire.
They dropped a sizzling "All the Time" early in their first set on Friday.  Primarily a pop-song filtered through a bluegrass combo, "All the Time" seemed to thematically suggest Yonder's openness to change—"Not that I know where to go/not that I am running away/I just know that I can't stay." Guitarist Aijala's usually lightweight vocals found a stronger, Michael Stipe-like drawl in places, and the song sparkled and spit like countrified college radio.
The good-natured camaraderie between the festival's acts also became quickly apparent during YMSB's opening set on Friday night.  Members of Greensky Bluegrass, (Paul Hoffman, Mike Devol, and Anders Beck) as well as Ronnie McCoury lent their talents to the title track of Black Sheep and two spot-on covers—Bill Monroe's "Kentucky Mandolin" and Townes Van Zandt's "White Freightliner Blues."  The new song, "Black Sheep," was a genuine hoot, bubbling with a psychotic energy somewhat akin to the Violent Femmes.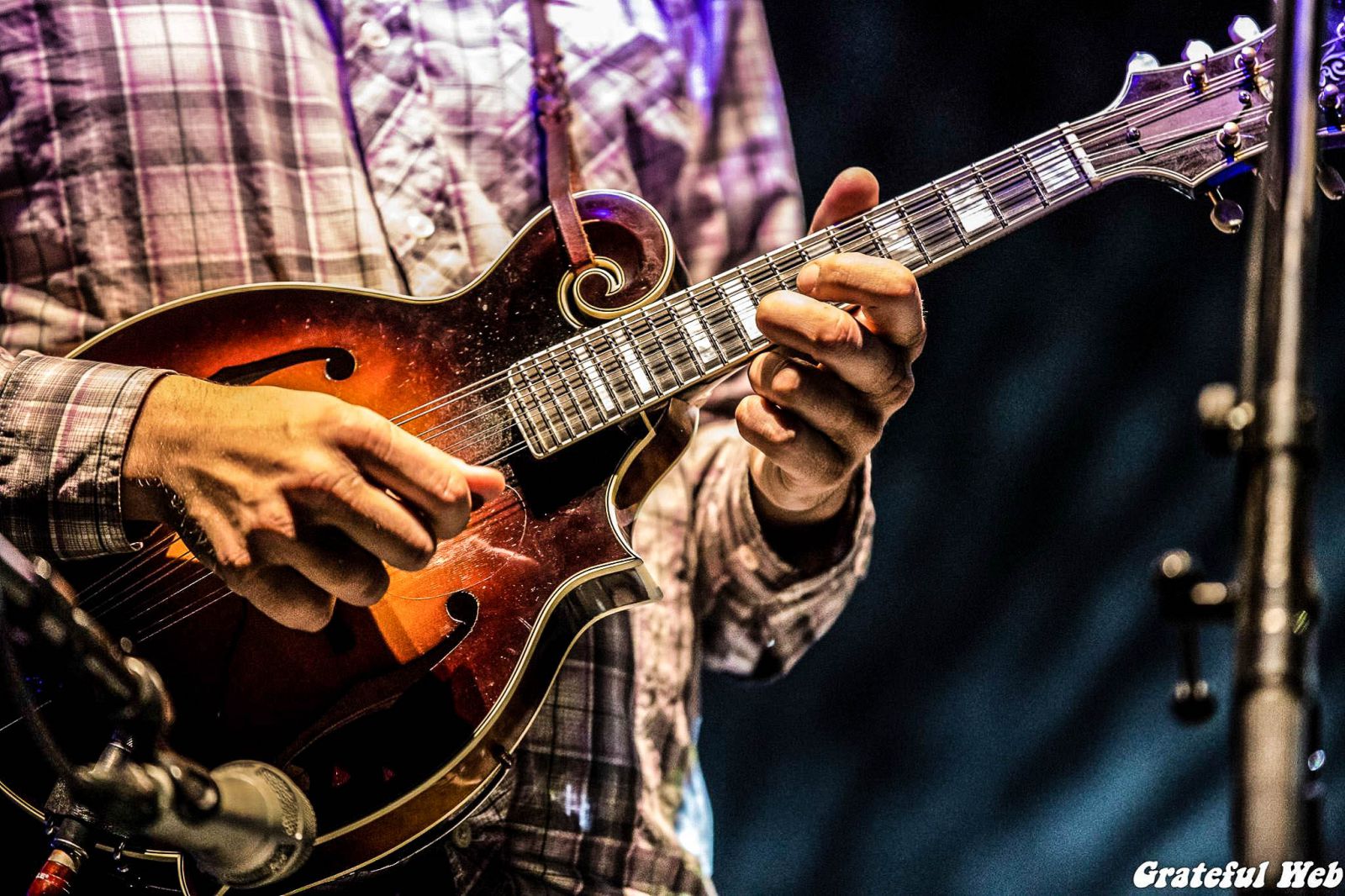 Friday's second set included Yonder's cover of the Buzzcocks' "Ever Fallen in Love," which also appears on Black Sheep.  Another (more obvious) attempt to channel the group's inner 80's through traditional bluegrass instruments, "Ever Fallen in Love" didn't really excite in practice as much as it might seem on paper.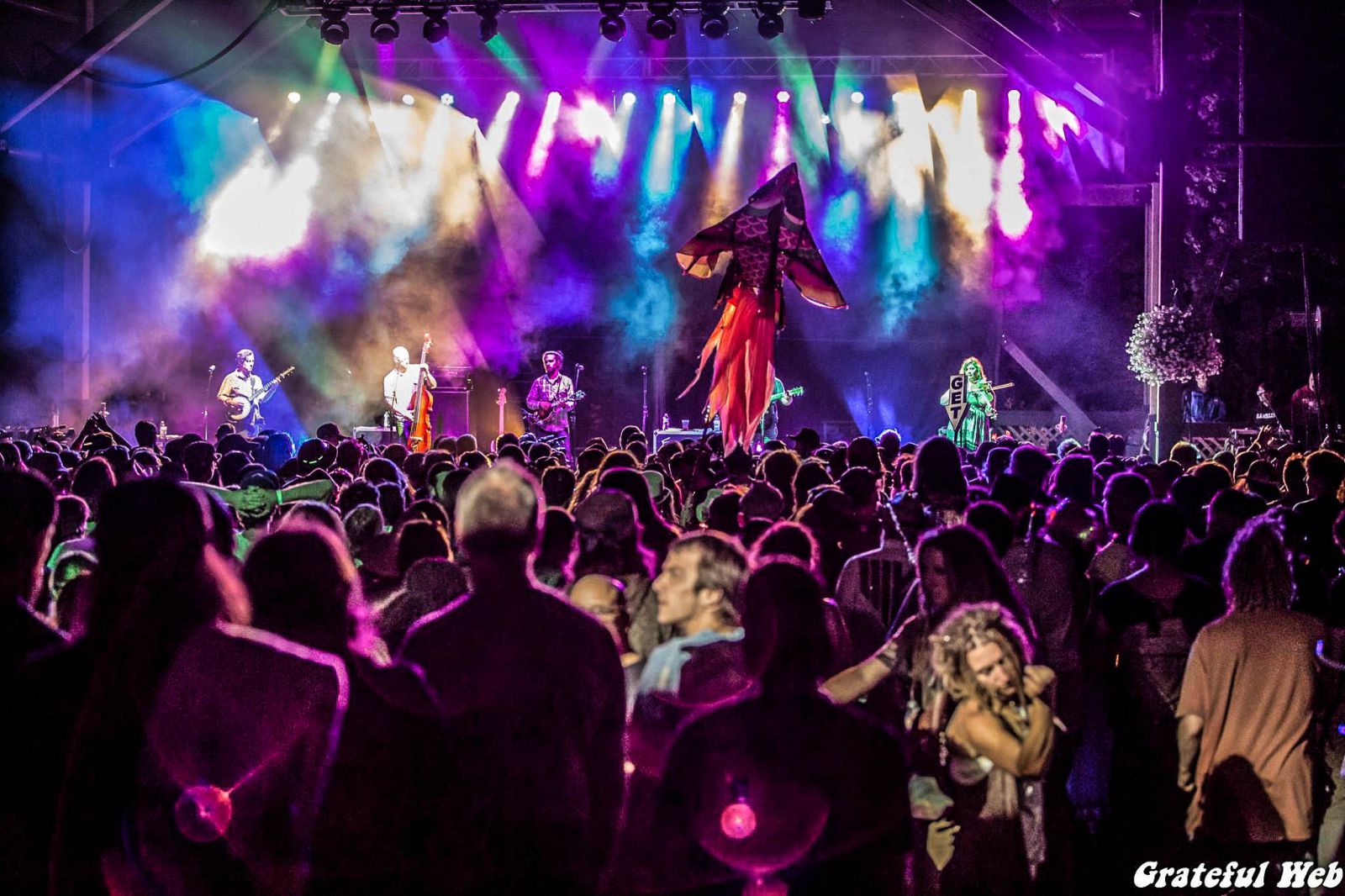 Y
onder did unleash a riveting climax to Friday's show with a spine-tingling rendition of their "Angel>Robots>Angel" combination followed by an equally stirring encore of Pink Floyd's "Goodbye Blue Sky."  Johnston's "Angel" is easily one of YMSB's greatest songs.  The eerie, old-time murder ballad seethed with damn-near cartoonish intensity and each soloist took expressive turns wrestling with the agony of every love that ever went wrong.  As the song transformed into "Robots" the band made like Mary Shelley and breathed life into a marauding bluegrass monster.  When the haunting "Goodbye Blue Sky" finished, there was little to be said but, "Whoa!"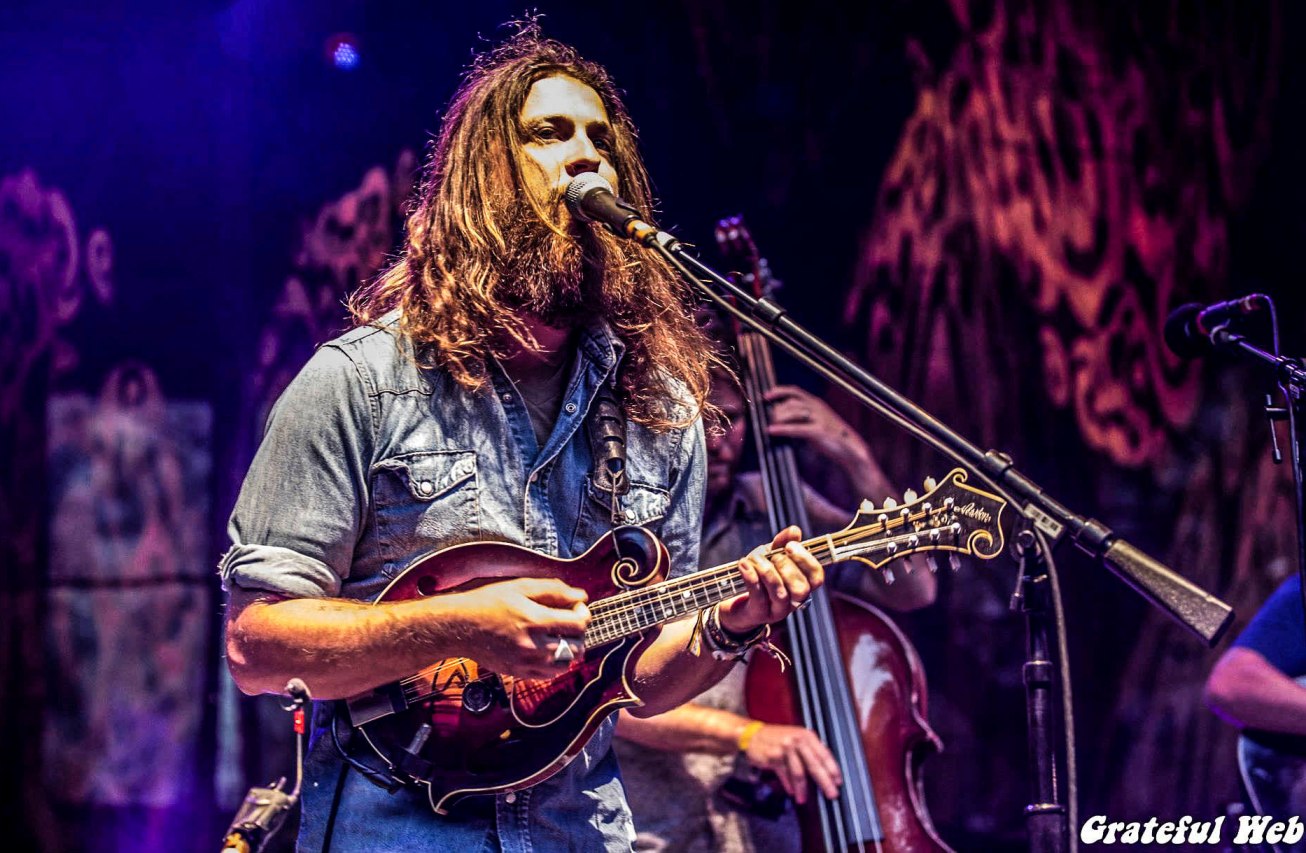 After Yonder closed the Main Stage on Friday, Greensky Bluegrass lit a fire for a 1 a.m. gig in the Revival Tent.  Music festival junkies all say the magic happens at the side-stages and often late at night.  This year's Northwest String Summit proved the adage true with three wonderfully intimate and unique scenes offset from the main stage.  There was very little overlap and the timing of performances seemed to guide festival patrons naturally from stage to stage.  The Revival Tent was reserved for afternoon workshops and after-hours burn sessions.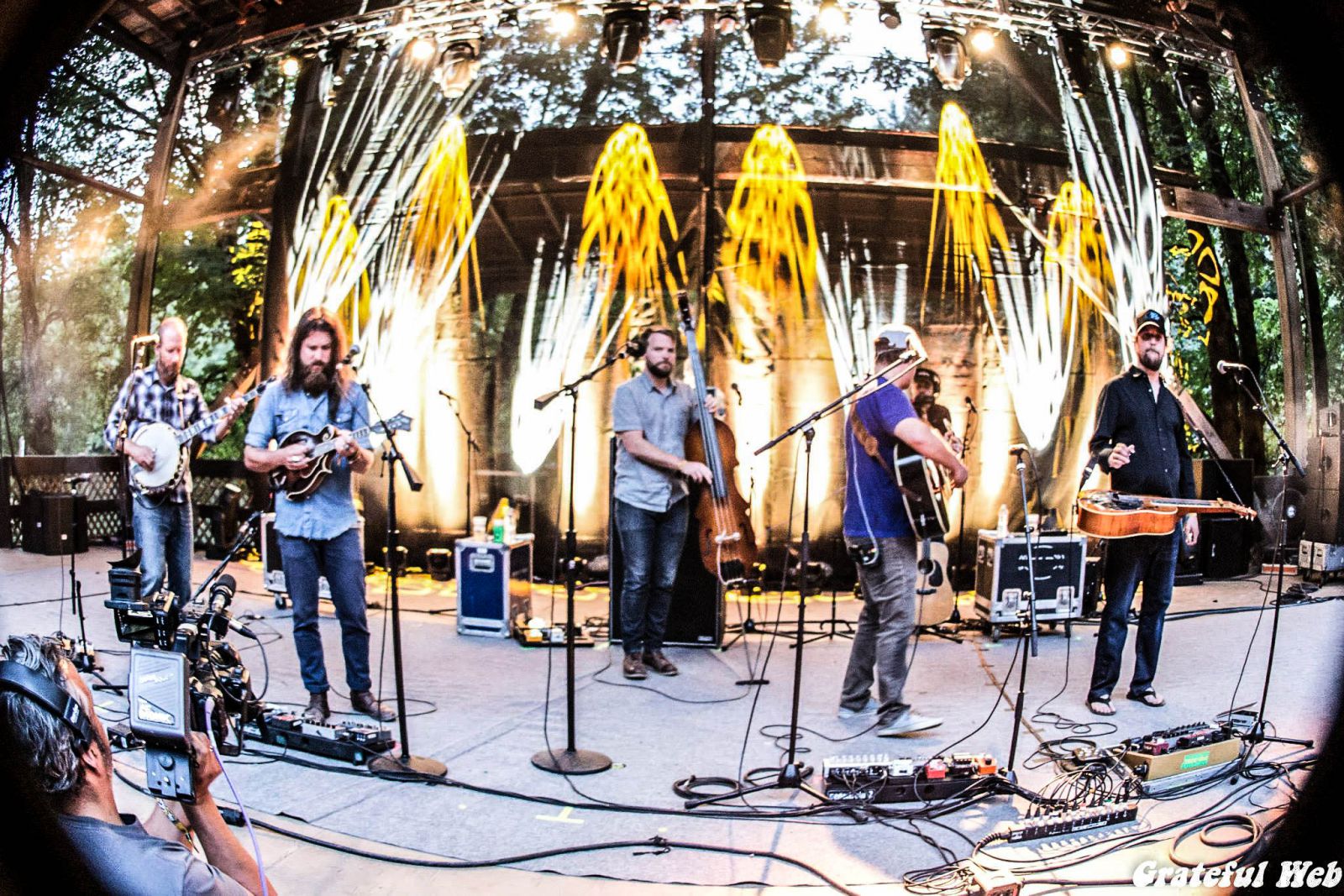 Greensky Bluegrass took their turn in the tent early Saturday morning and cooked at a rapid, rolling boil.  Among the blown-grass contingent at this year's Summit, Greensky sounded the most musically taut and muscular.  They've released two consecutive albums of masterful songs (2011's Handguns and 2014's If Sorrows Swim), not wholly original, yet intriguingly conversational with what has gone before.  Multiple generations of influences press and inform each other inside their songs.  "No Depression"-era indie groups can be heard clamoring beside hillbilly ghosts.  The strength of Greensky's original material and the scope of their creative vision surpass categorization.   They don't transform traditional bluegrass so much as they make use of it, fusing its timeless, ethereal quality to everything else they know.  It resides beside and within, but not only.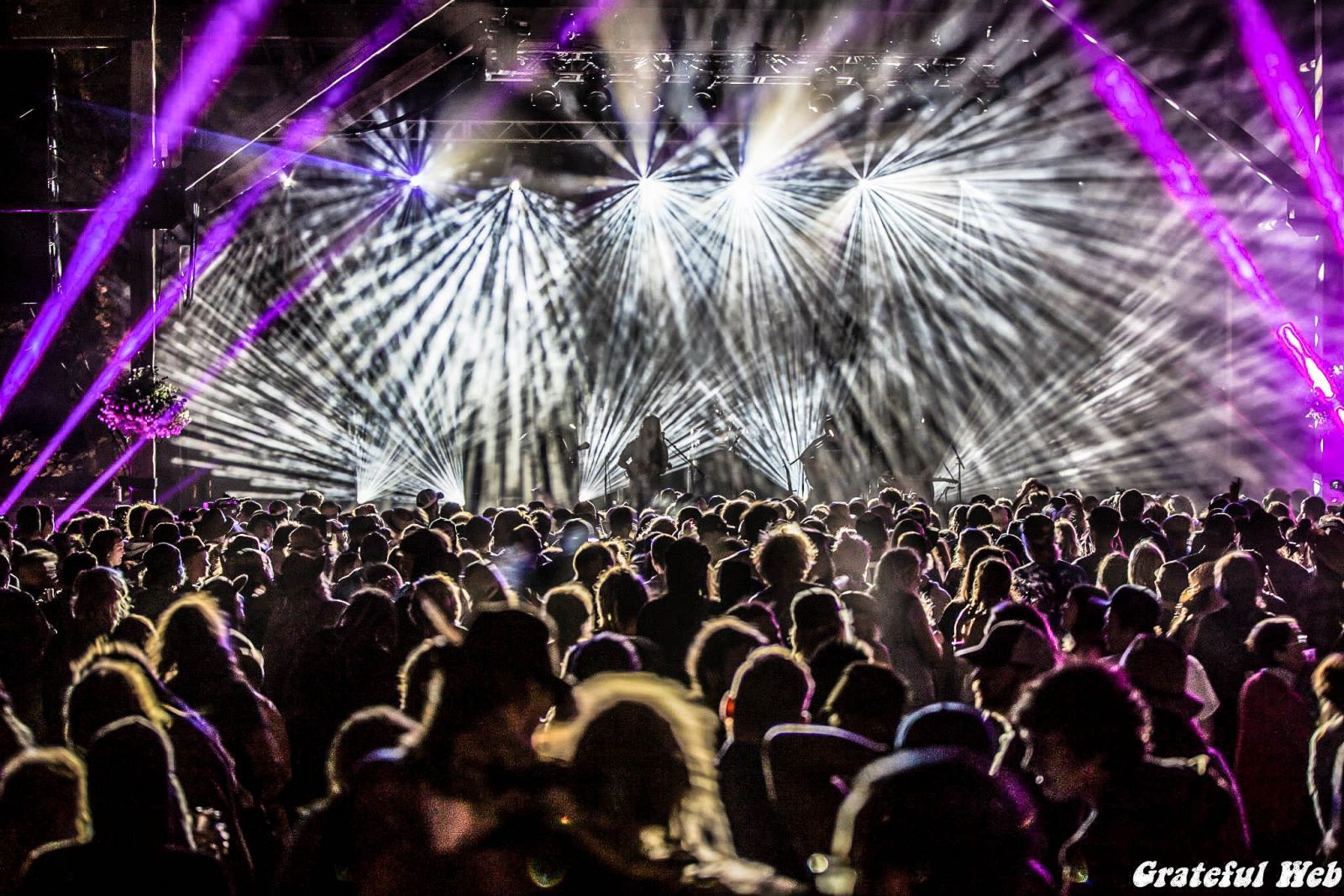 Greensky's performances at this year's NW String Summit (they also played the main stage on Thursday) suggested a confident group clearly hitting its stride.  Great songs like "The Four" and "Demons" reached out and enveloped the crowd with warm familiarity.  "Burn Them" predictably smoldered and sparked tingling sensations of torn photographs and unfulfilled dreams.  "Handguns" nearly sounded like a dusty Uncle Tupelo in a Bakersfield saloon.  Their well-received cover of "Steam-Powered Aeroplane" threatened to defy gravity, and "Don't Lie" dripped nostalgic notes that coaxed a tender yearning for right now.  Song after song went down like cold beers on a hot afternoon.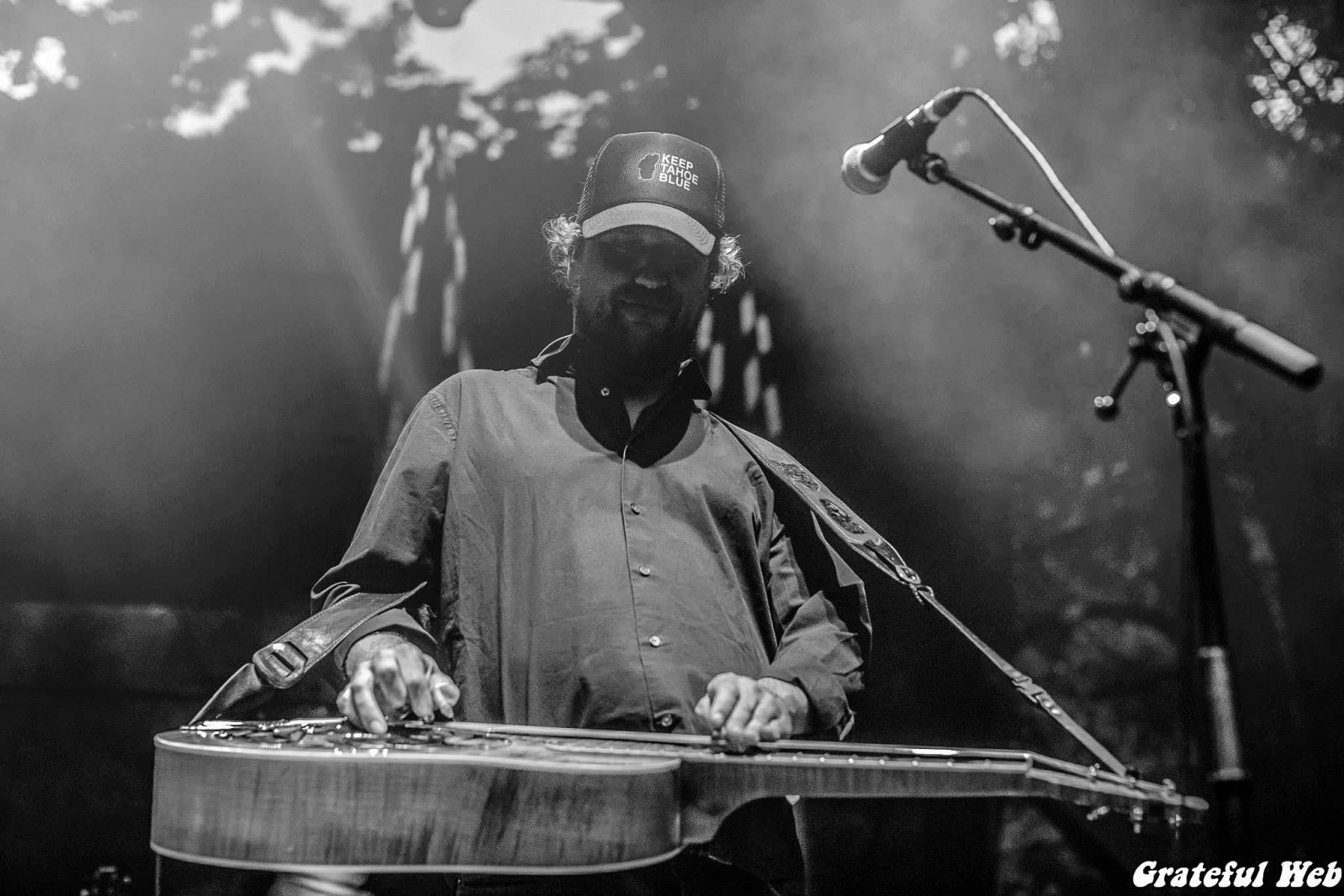 Guitarist Dave Bruzza played in a rich, moody style rippling with connotations of cowboy cantinas, truck-stops and mountain jams.  The affable Anders Beck thrilled festival-goers with his expressive, energetic dobro playing, snapping-off solos that screamed and spun like lured lines cast for deep water.  Primary vocalist and mandolin player Paul Hoffman sang powerfully, confidently matching the instrumental intensity of Greensky's performances.  His passionate growl carried anthems like "Windshield" to near arena-rock proportions.  Banjo artist Michael Arlen Bont was the steady-handed craftsman, sculpting intriguing figures, tastefully accenting and at times raising the skeletal framework for Greensky's ambitious architecture.  Mike Devol kept the floor popping with his vibrant upright bass and gave the entire outfit a measure of reliable punch.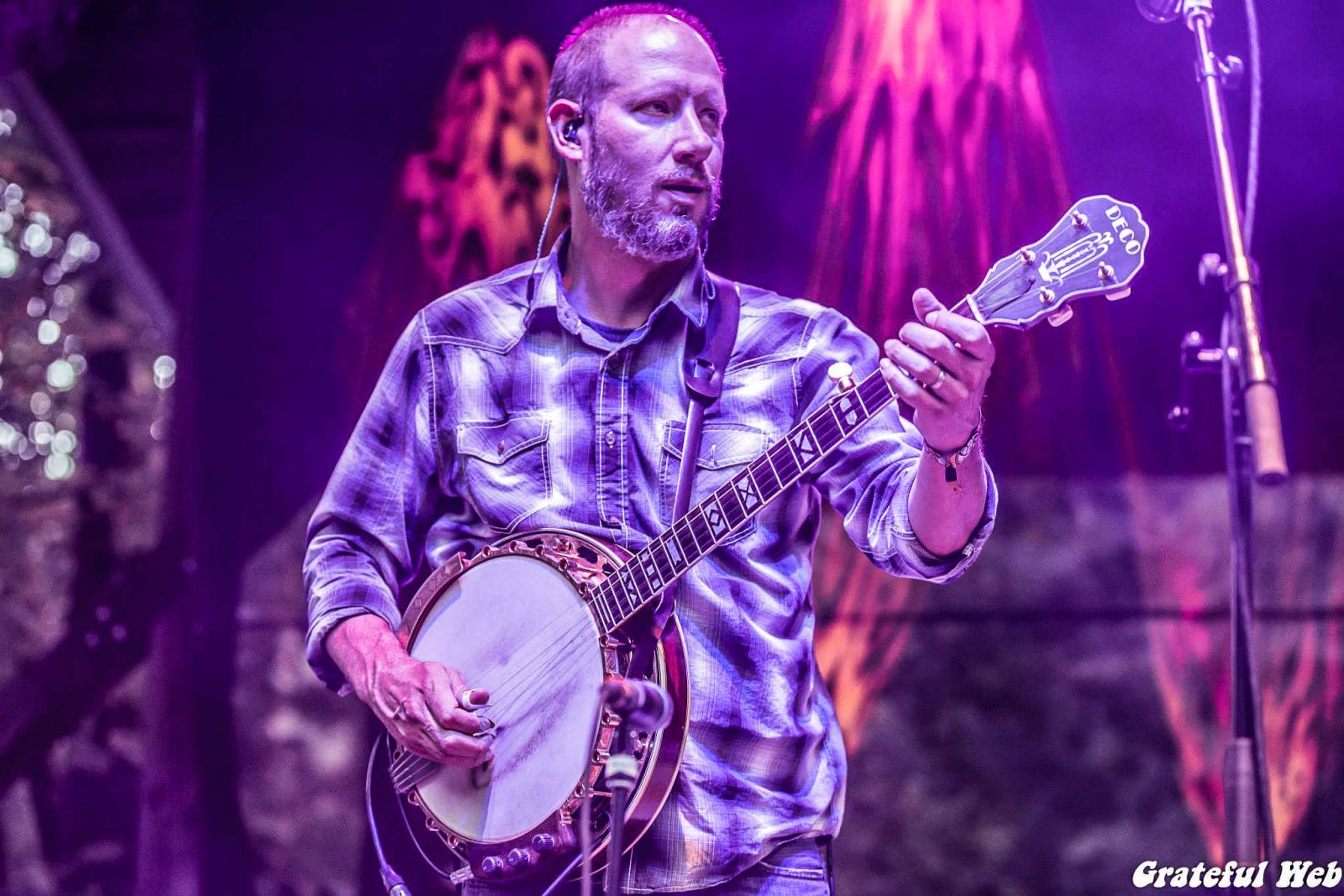 This group effectively reexamines the parameters of traditional bluegrass instrumentation, and they're blending a potent brew of classic/southern/indie/prog rock to compliment their jam-grass roots.  Their secret weapon is their songwriting which defies their current status as a niche band (catering to Deadheads).  Greensky's stand-out sets at the String Summit hinted at a future breakthrough.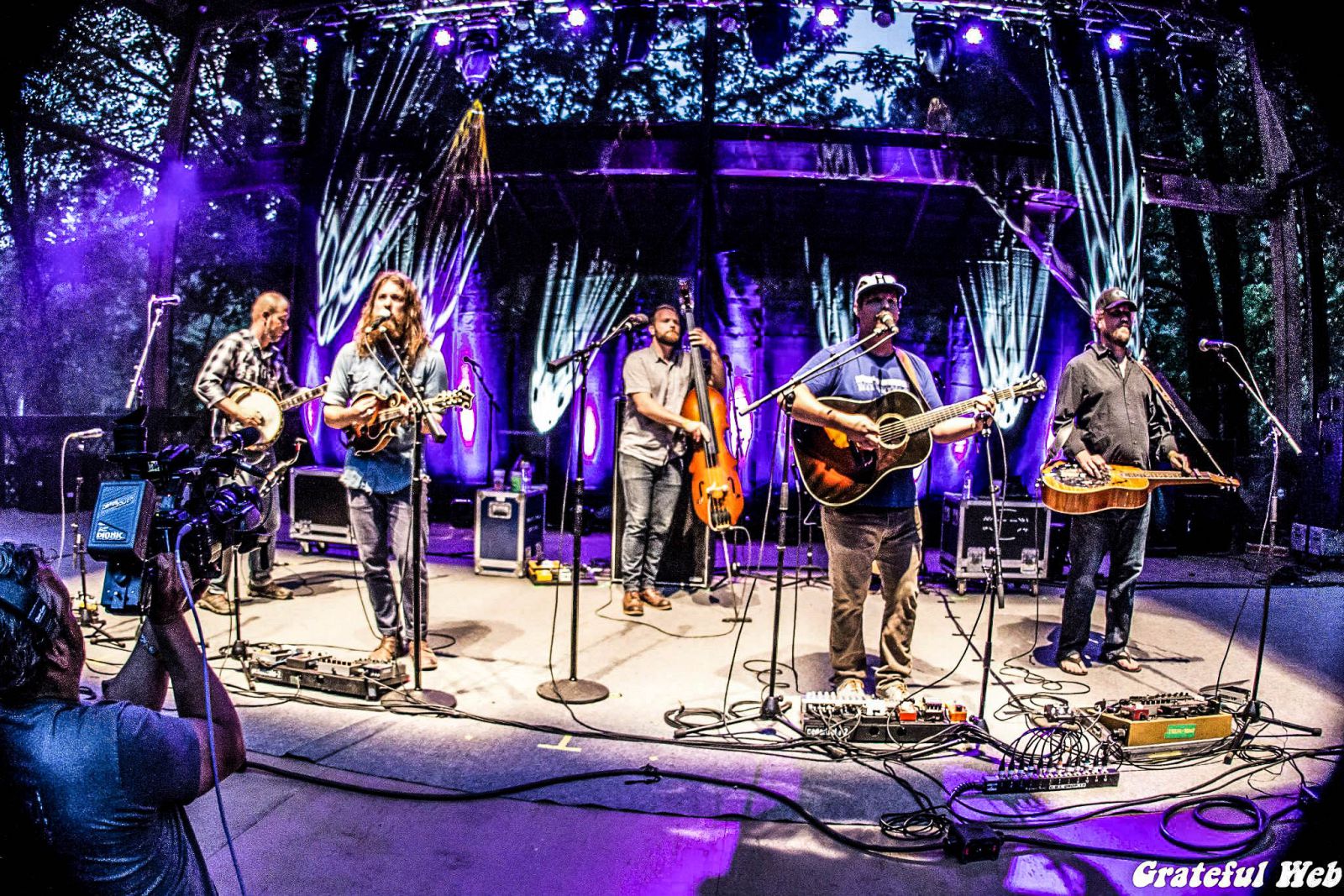 A short saunter over to the Cascadia stage, situated in a wooded nook at the bottom of a small hill, found Portland Phish phanatics Shafty concluding their enthusiastically received electric show with a grooving "David Bowie."  When notified of a seven minute limit for their 3 a.m-ish encore, Shafty's singer/guitarist Rob Sipsky quipped, "This song is a little longer than that, but it'll be worth it."  It was—a fitting end to Friday night/Saturday morning's festival fare.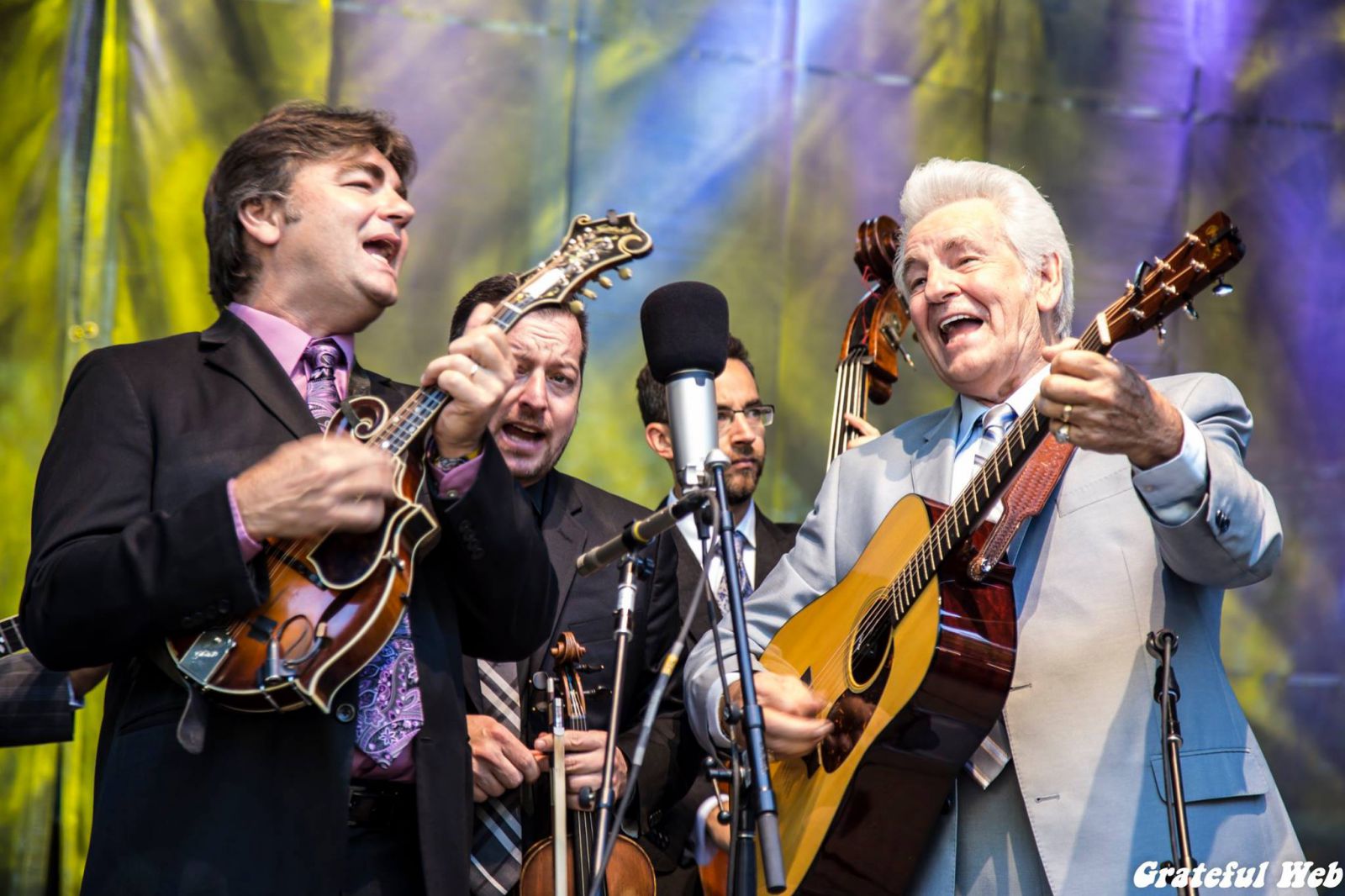 Saturday proper was largely about legends, both living and Dead.  There were some pleasant diversions, but the festival primarily belonged to the Hall-of-Fame talent of Del McCoury and the ubiquitous influence of the Grateful Dead.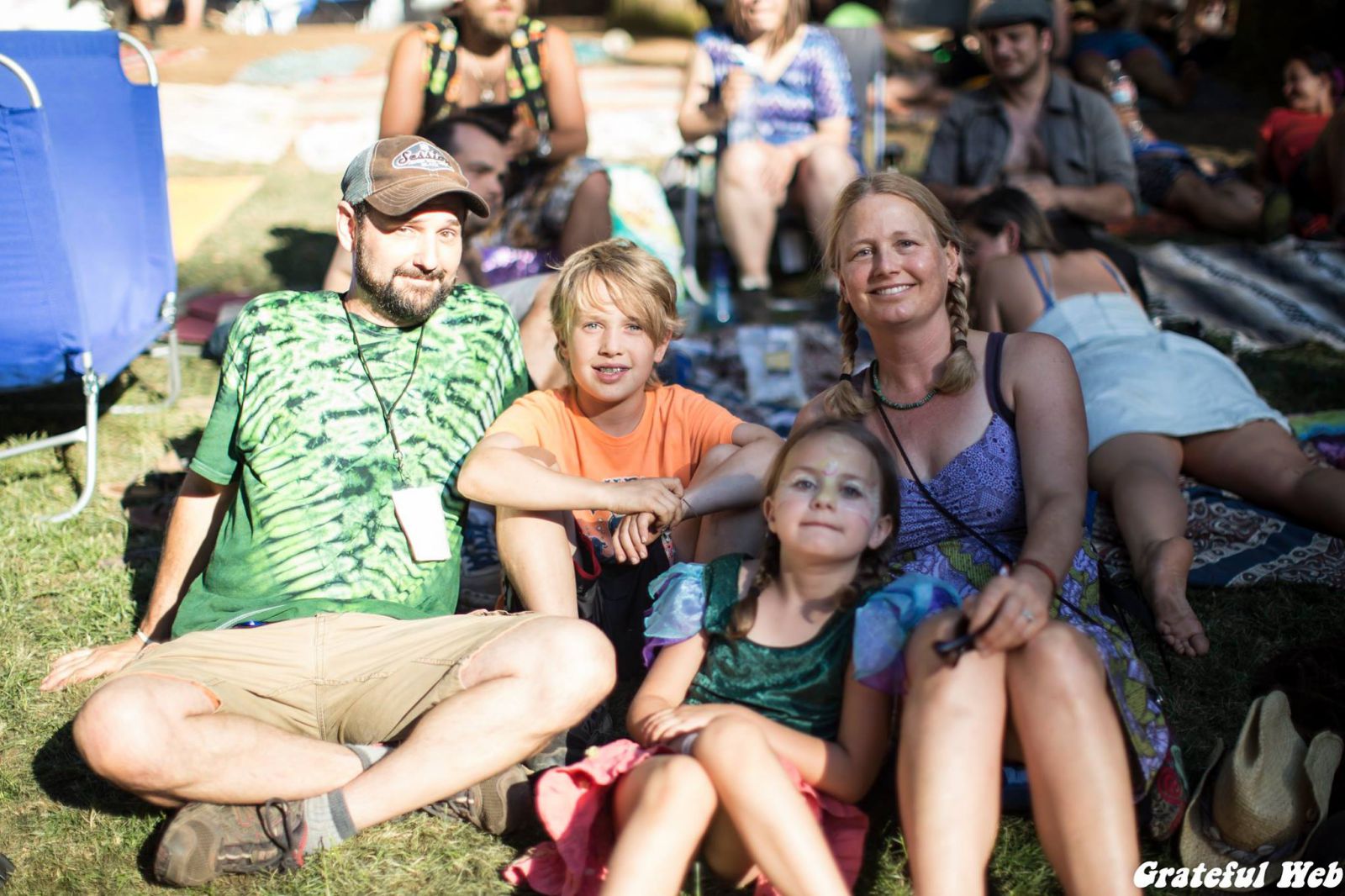 One of the unexpected surprises of the early afternoon was the main stage appearance of Nicki Bluhm and the Gramblers.  Perfectly set against a sunlit azure sky, Bluhm and her bandmates played an easy-going set of dreamy country-rock songs spiked with barroom R&B.  Bluhm's alluring voice danced across a collection of solidly crafted, intoxicating tunes, often reminding of a Bohemian-era Edie Brickell flavored with soft hints of Emmylou Harris.  Simultaneously bright and soulful, the Gramblers displayed a healthy balance between old and new; rowdy and refined.  Terrific songs like "Keep it Loose," "Till I'm Blue" and "Jetplane" left an indelible impression.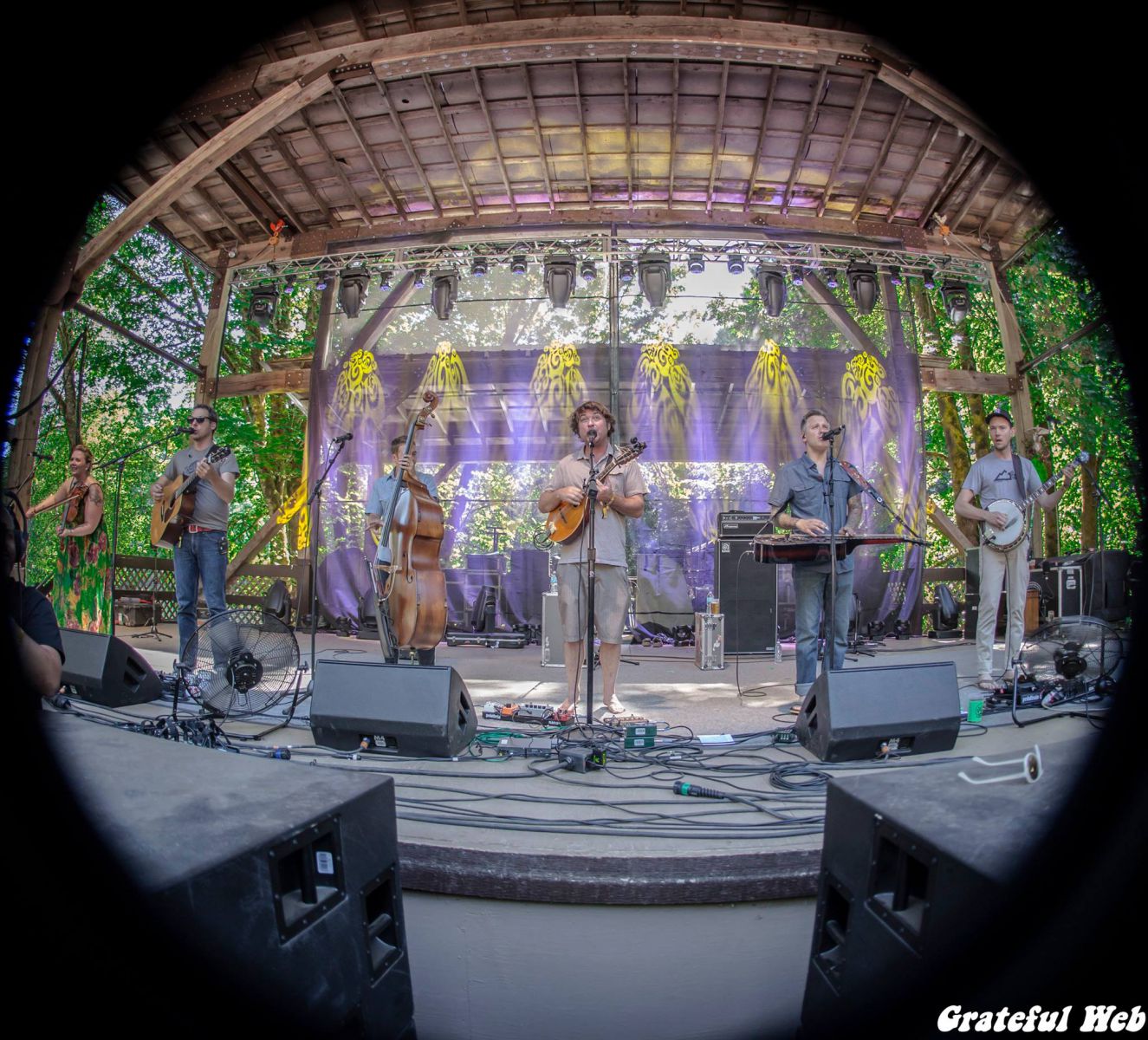 Keller Williams' side-project, Grateful Grass, got the party started in earnest.  Grateful Grass is a revolving door of guest musicians collaborating with Williams on bluegrass versions of Dead classics.  The version of the group heard at Saturday's String Summit featured the Infamous Stringdusters' Andy Hall (dobro), Chris Pandolfi (banjo) and Andy Falco (guitar), along with Yonder's Allie Kral (fiddle) behind the ever jovial Williams.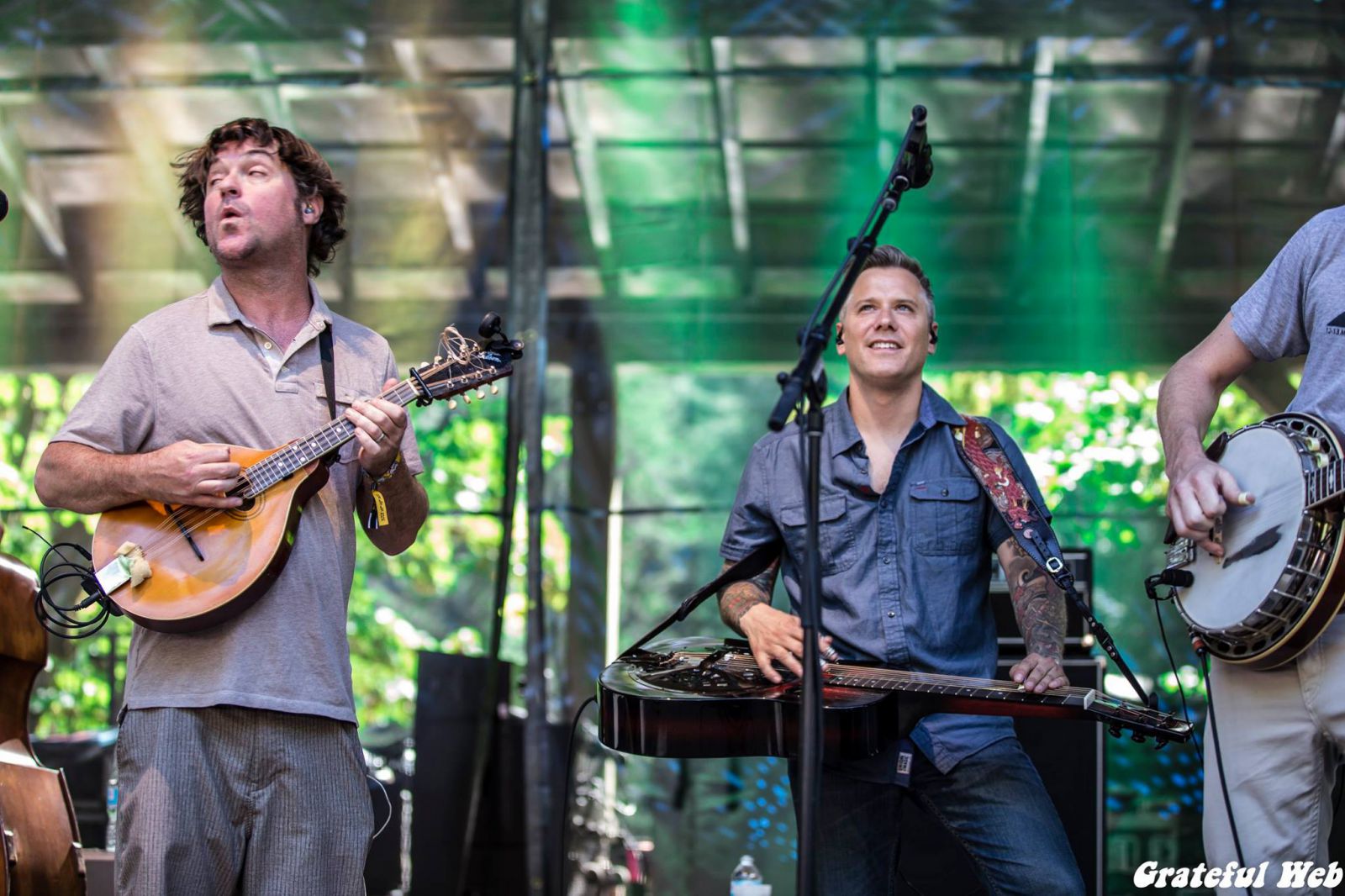 Their set delighted festival goers with a jam-grass jukebox full of skeletons and roses.  The highly capable 'Dusters plus Kral dutifully went to work and the dance-pit became littered with "piles of smoking leather."  Both artists and audience embraced the familiar material with unashamed enthusiasm.  The band played fast and loose and were there to have fun.  Williams good-natured giddiness bordered on parody at times, interjecting a "George of the Jungle" rap after the "run smack into a tree" line in "Bertha;" and later half-mocking Weir's "Rock-star Bobby" persona with a "make it sexy" plea during the typically falsetto fadeout in "Feel Like a Stranger."   It was all entertaining and as relaxed as a parking-lot jam.  Nicki Bluhm joined the group for a few hot numbers including a rubbery "Women are Smarter" that wriggled and stomped.  The 'Dusters' Andy Hall took a nice vocal turn on "Mr. Charlie" which rambled off deliriously before snapping back to kick again.  Kral's freight-train fiddle was a constant highlight.  The whole free-wheeling shindig was a high-grade gas, lifting the Summit's spirits.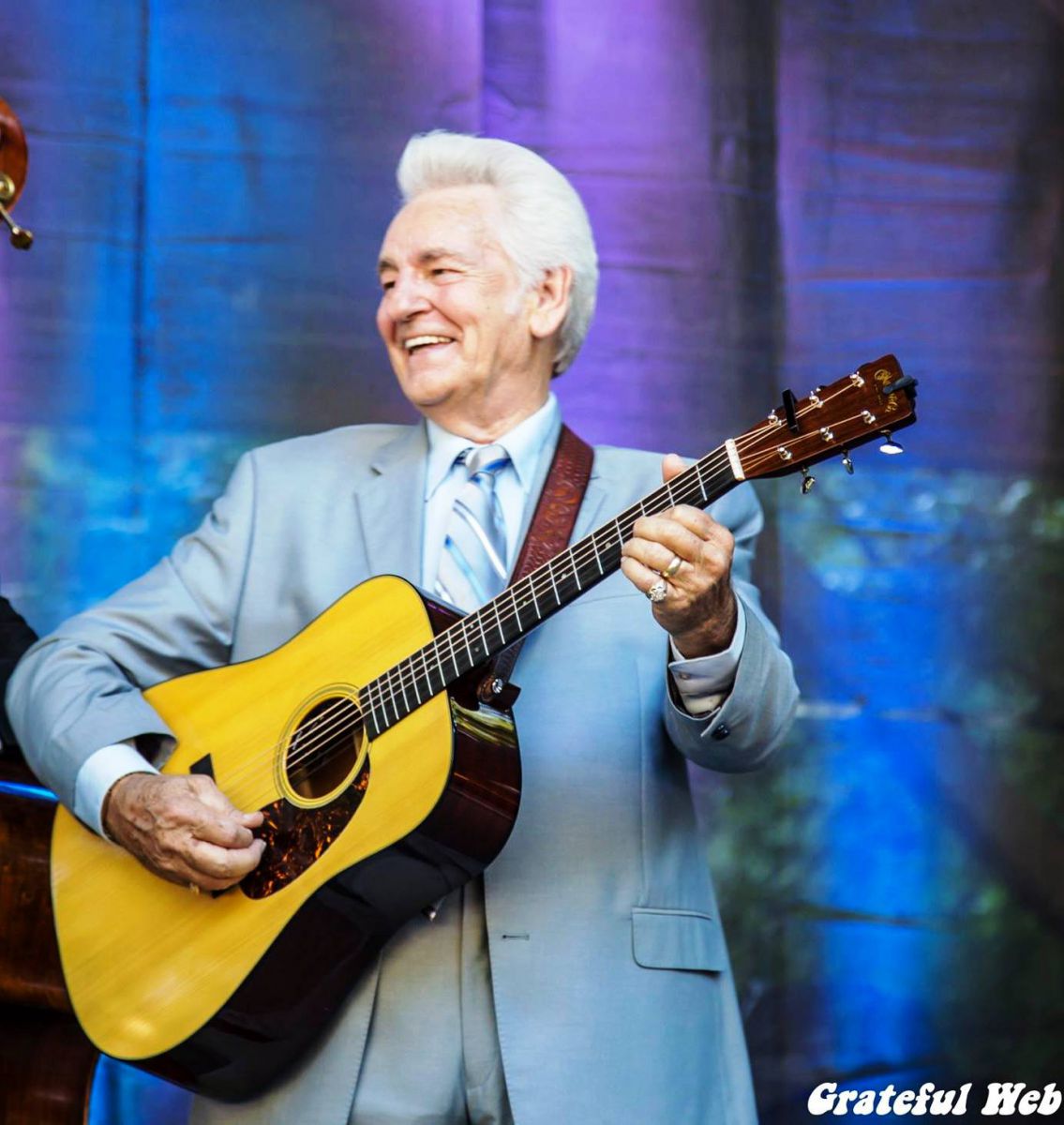 An amazingly spry, 76-year-old Del McCoury flat-out killed it.  Equipped with a razor-sharp outfit that included his two sons, Ronnie McCoury on mandolin and Rob McCoury on banjo, Del captivated the crowd with natural greatness.   He matter-of-factly demonstrated the very tradition from which "traditional bluegrass" music was born.  His absolutely essential set provided the ideal counterpoint and context to the younger blown-grass bands on the Northwest String Summit's bill.
Del's pitch-perfect voice is an encyclopedia of hillbilly nuance—spine-tingling emotion seasoned with country charm.  His singing alone on stand-out songs like "Dry My Tears and Move On" or "Nothing Special" was worth the price of a festival ticket.  The group's "high lonesome" harmonizing produced spell-binding accents and gut-gripping climbs.  Their instrumental interplay shined.  Del's rock-solid rhythm work was coursing and true.  Their polished, antique treasures infused the String Summit with immediate, authentic ambiance.
McCoury and his band demonstrated first-rate, professional showmanship on engaging songs like "Nashville Cats."  They amusingly delivered a compendium of vintage tropes so easily it appeared as though they themselves had developed them.  "Nashville Cats" combined presence and performance for remarkable effect.  The Del McCoury Band doesn't simply play traditional music, they bring it to life.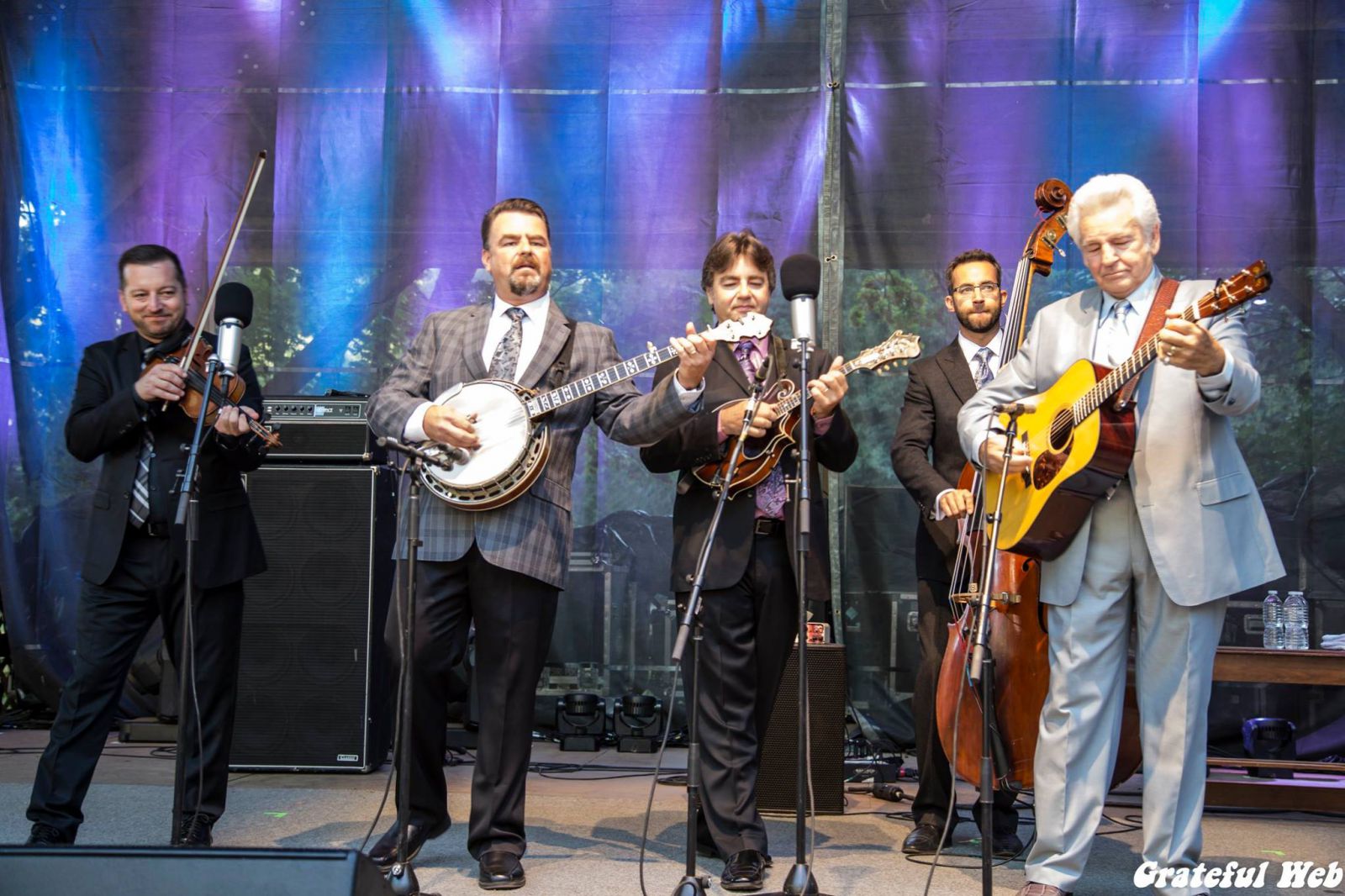 McCoury's vibrant personality took hold of Delbert McClinton's "Same Kind of Crazy as Me" and squeezed it for everything it was worth.  The entire group applied entertaining embellishments, and the song supplied a satisfying conclusion to McCoury's exceptional set.  Del's top-shelf brand of barrel-aged bluegrass brought the Summit to its knees.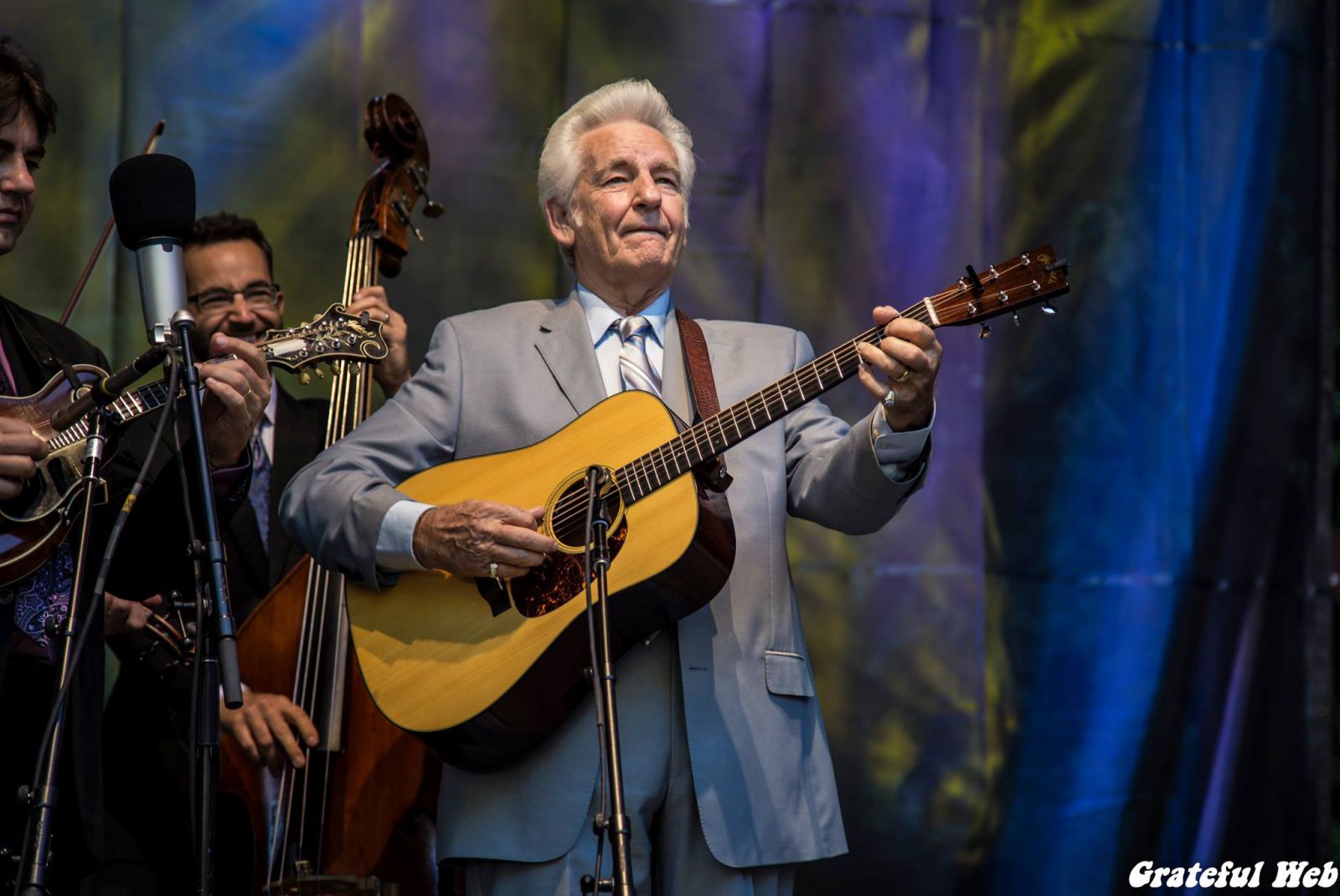 McCoury and his band were flying so high after their exhilarating set they joined YMSB for a couple of songs at the start of Yonder's show.  The groups combined on two bluegrass standards, "My Walkin' Shoes" and "Pain in My Heart."  McCoury graciously shared his considerable talents and once again sent the crowd into fits with his genuine, Grand Ol' Opry act.  His up-close, in-person execution of unfiltered source material offered an informative context for the new-grass expansionists on hand.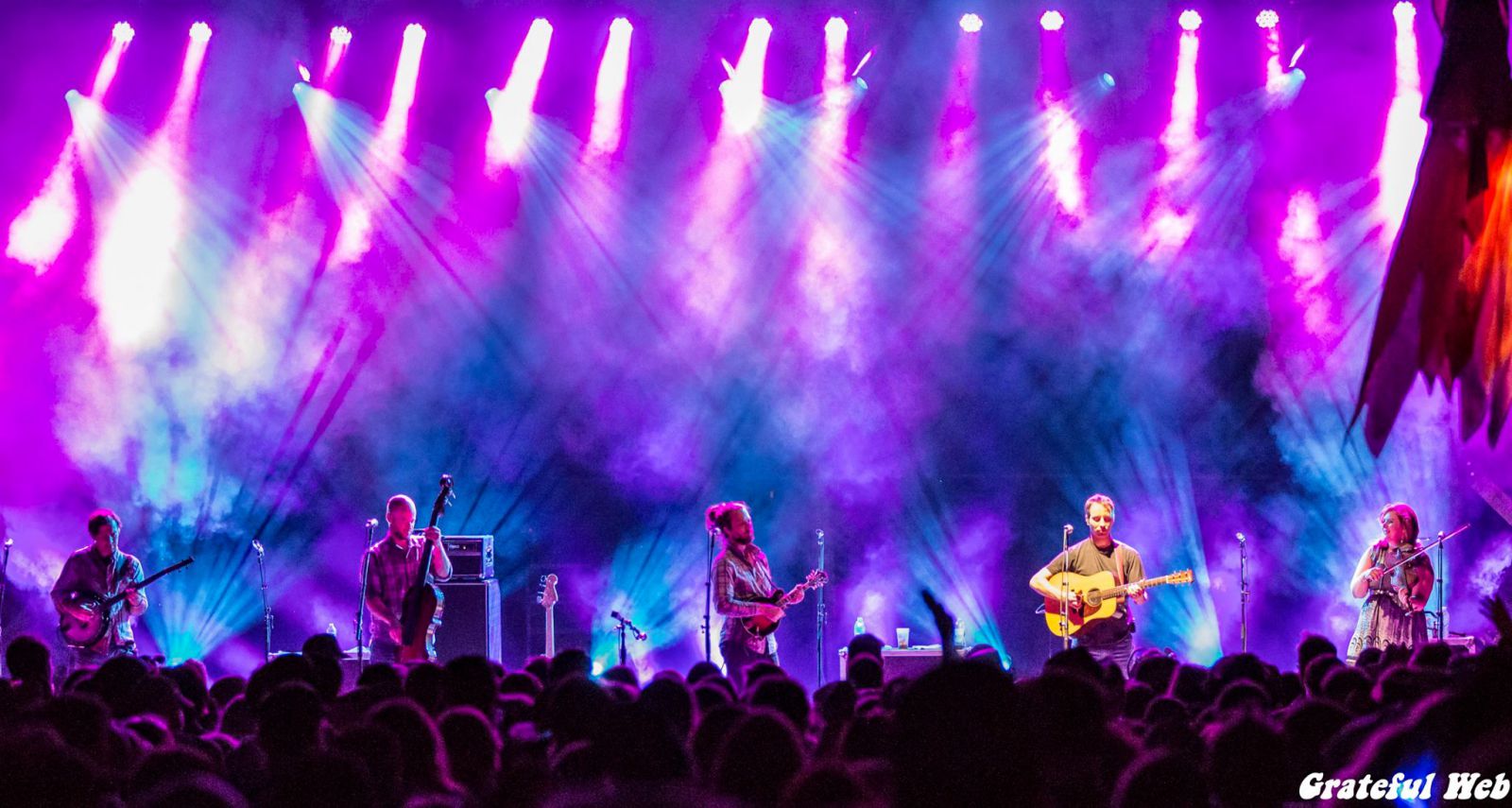 After the McCoury Band departed, YMSB proceeded with a supple sequence of "On the Run > Pass this Way > EMD > Pass This Way > On the Run."  Throughout Yonder's three shows, bass-player Ben Kaufmann made his ample presence known.  It's hard to overstate the importance of a bass-player in a "dance-band" without a drummer.  Kaufmann continually kept things snapping and popping.  His relaxed, amiable stage presence was, if not riveting, quietly endearing.  He also delivered Yonder's most consistently satisfying vocals, an area greatly affected by the loss of Jeff Austin.  The group is still searching for a strong vocal presence to reliably match their instrumental intensity.  Kaufman's straightforward singing doesn't provide much ambient color, but his voice filled a nice spot in songs like "On the Run."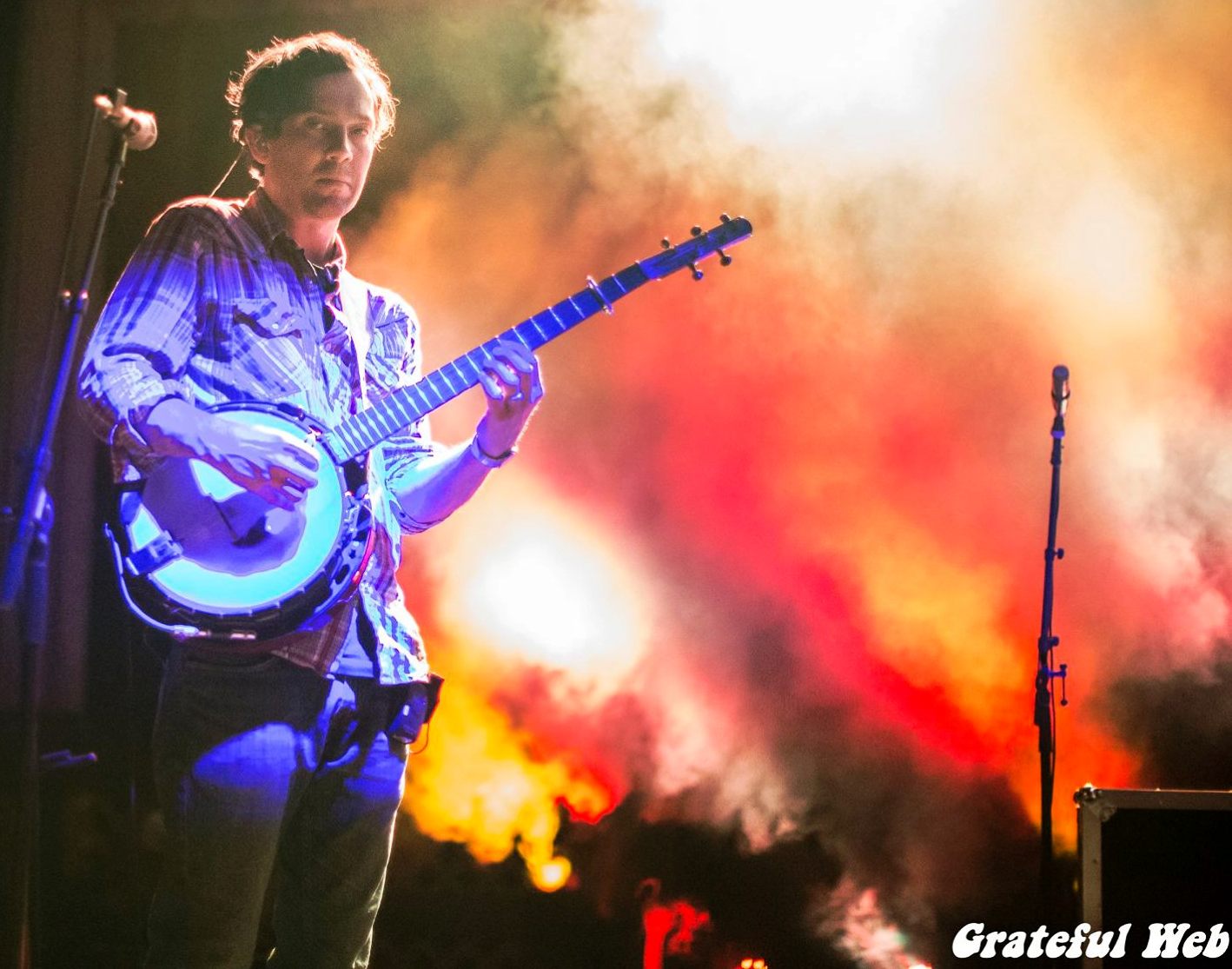 Banjo man Johnston's "Pass this Way" was an ambling, sepia-toned snapshot of something beautifully undone.  Johnston avoided the colorful, "Mountain Man" persona he invoked earlier on songs like "Black Sheep" and "Angel," instead offering a dusty, bloodshot drawl on "Pass this Way."  His fragile, understated vocals suited the song's wistful energy.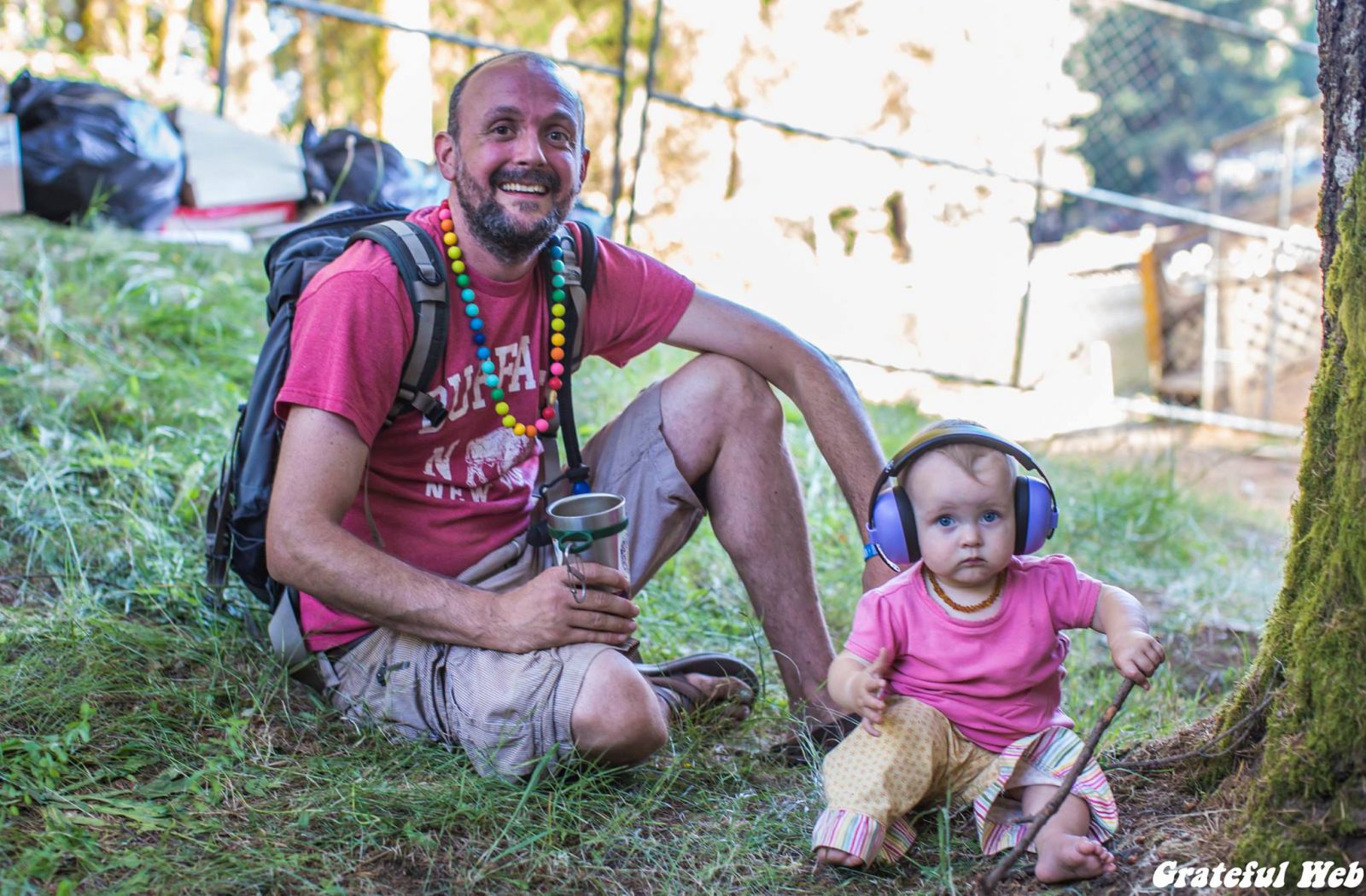 Johnston's inventive banjo is easily one of Yonder's most entertaining qualities.  His unique style suggests a stimulating conversation between old and new.  He embraces his instrument's rustic associations, using its inherently evocative sound as a subtext for his own creative impulses.  He can be focused and deliberate, as well as lyrical and free-flowing.  His contrasting elements add an angular, energetic friction to YMSB's music.  One of the negative by-products of Yonder's new, five-piece line-up is less space for Johnston's spotlighted genius.  His fantastic songs and furious, five-string picking should continue to feature in the reformed group.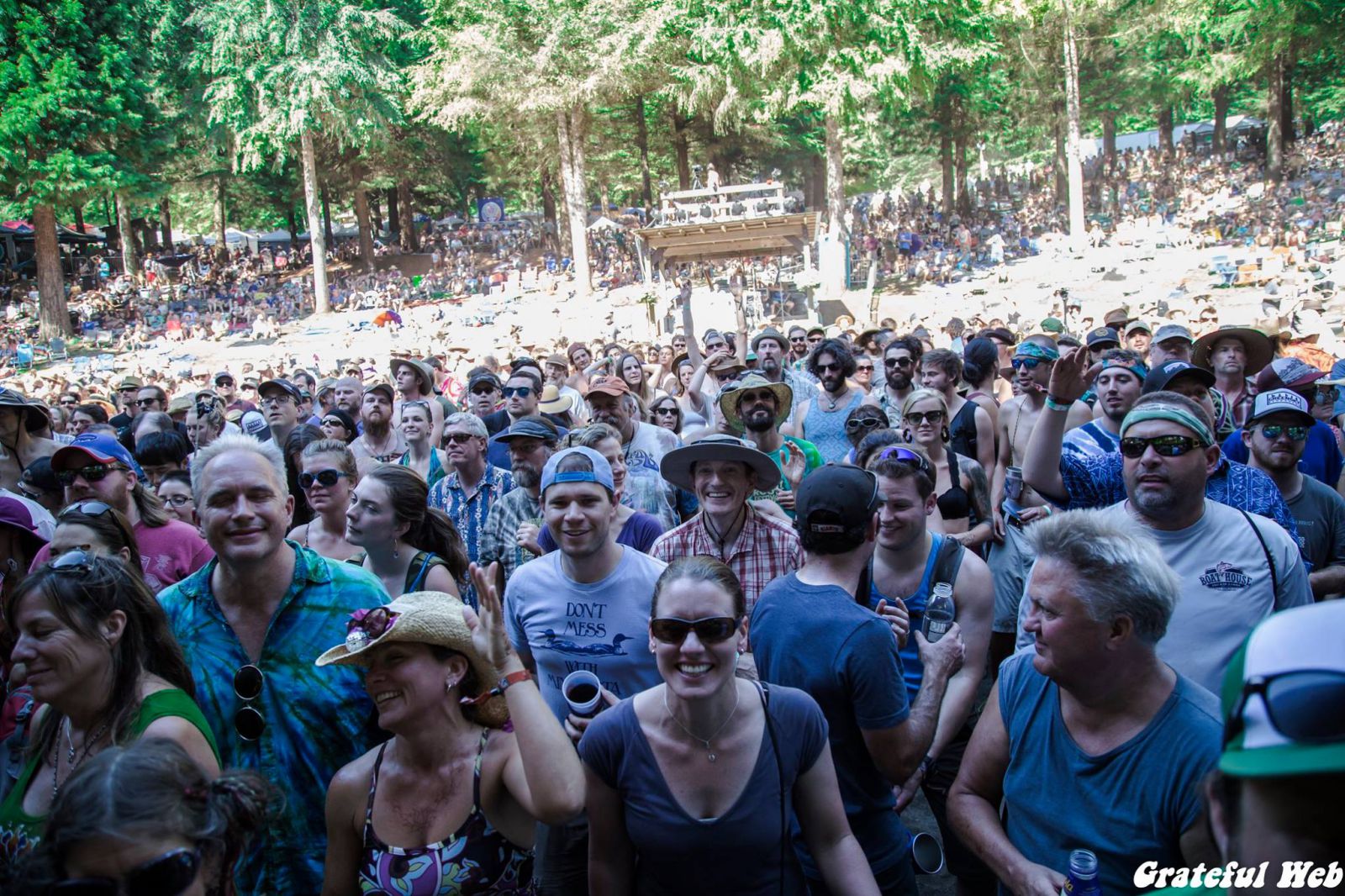 YMSB concluded their first set on Saturday by inviting the Infamous Stringdusters to join them on their epic, "Traffic Jam."  Solidly sung by Kaufmann, "Traffic Jam" stretched-out and again seemed to challenge conventional understanding of the bluegrass tradition.  The idea of a song or any idea really, being taken to the next level, beyond measurement or categorization can be connected to the Grateful Dead.  While the Dead certainly didn't invent the concepts of unlimited, unfiltered creative expression or mind-melting jams, they undoubtedly popularized them for a certain segment of American culture.  "Traffic Jam" successfully produced the adventurous, experimental essence of this tradition.  YMSB are primarily about applying this expansive, psychedelic element to the alternating pathos and jocularity of hillbilly music.
Yonder's second set on Saturday was rich with interesting covers.  Right out of the gate, Billy Joel's "Travelin' Prayer" was pleasantly rendered by Allie Kral.  A song that has long lent itself to bluegrass arrangements (covered by both Earl Scruggs and Dolly Parton), "Travelin' Prayer" proved a perfect vehicle for Kral's considerable vocal charms.
Later, Kaufmann took a turn on Bruce Springsteen's "It's Hard to Be a Saint in the City."  Another song with a brisk tempo that suits a bluegrass treatment, "Saint" bristled with promise at the start but lost some of its enthusiasm and didn't quite excite throughout.
Near the end of their set, YMSB dropped the manic Talking Heads' track "Girlfriend Is Better."  Long a favorite of their live performances, this song again filtered their contemporary sensibilities through their traditional instrumentation with satisfying results.
Larry Keel joined Yonder for their encore and contributed mightily to a raucous, half-bent sequence of "Winds of Wyoming > Culpepper Woodchuck > Winds of Wyoming" which only sent the festival careening on toward more high jinks.
Situated on top of the hill, at the back of the Main Stage area was the second Merry Prankster bus, Further/Furthur.  Acts played on top of the bus at the completion of each Main Stage performance.  A wonderfully organic, street-musician vibe infused with Prankster energy collected wandering patrons as they circulated the festival.  All day long, top-notch outfits like the Good Time Travelers, The Hill Dogs, and Crow & the Canyon fashioned a lively racket on top of the Magic Bus.  As the crowd turned away from YMSB's set, the Henhouse Prowlers unhinged a screaming "One More Saturday Night," and an everlasting sentiment echoed through the trees.
Greyboy All-Stars closed the Main Stage on Saturday with a ridiculously efficient exploration of the funk/jazz genre.  Offering a somewhat shocking departure from the rest of the Summit's string-based acts, the All-Stars, led by the amazing Karl Denson, kept everyone comfortably strapped to a solid groove with plenty of tilt and glide.  Heady, trance-inducing tracks turned the crowd into Joker-faced, booty-shaking zombies.  The All-Stars' intelligent, freakishly played show convinced—hot jams come in all flavors.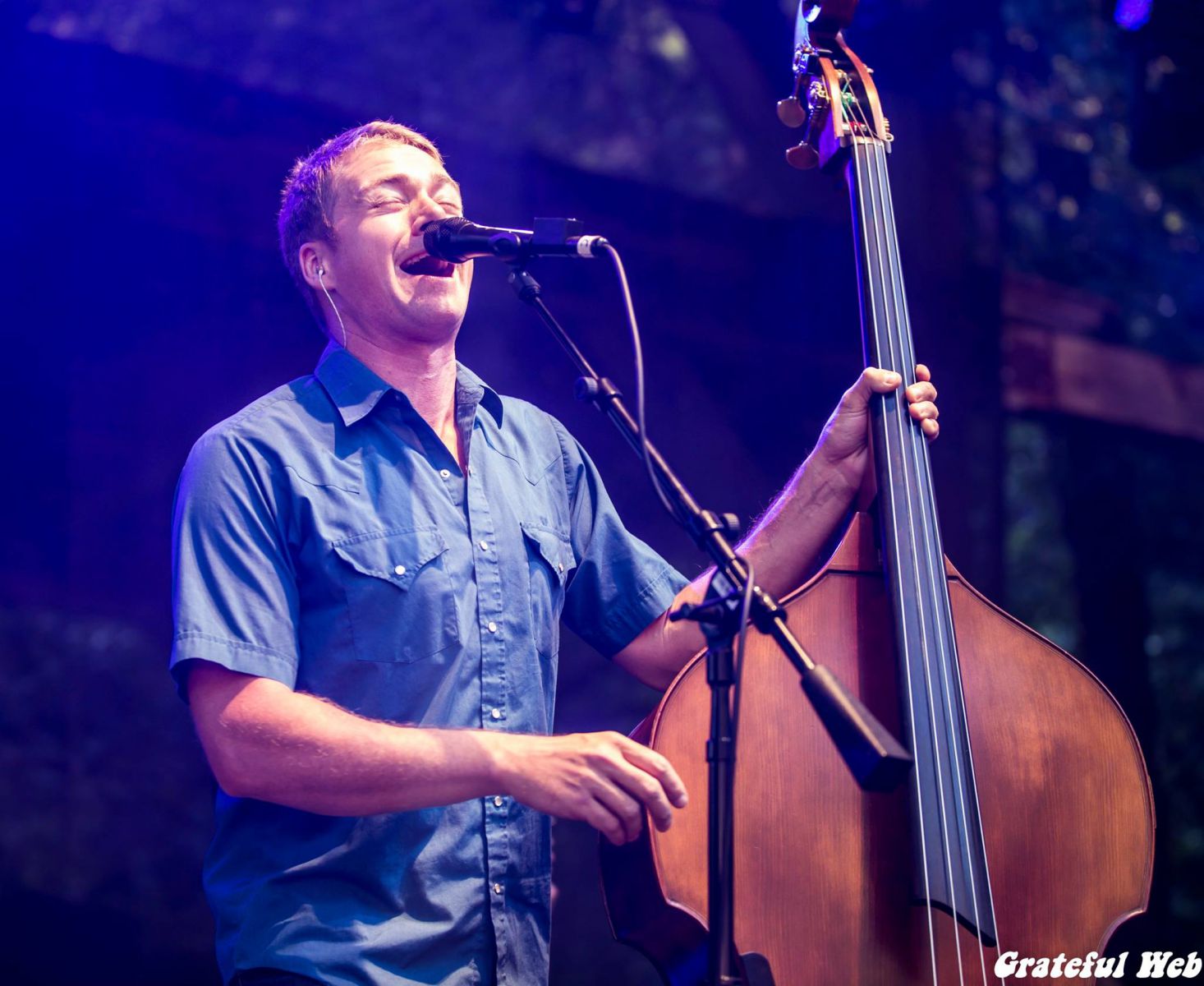 Another late-night meeting in the Revival Tent provided the signature highlight of this year's Northwest String Summit.  If you haven't yet caught the Infamous Stringdusters in action, you're missing something special.  They are enjoying a rich vein of form.  Their tent show at the Summit shook the crowd and carried them over to the other side.  Their spiritually charged music genuinely moved people.  They offered a religious experience.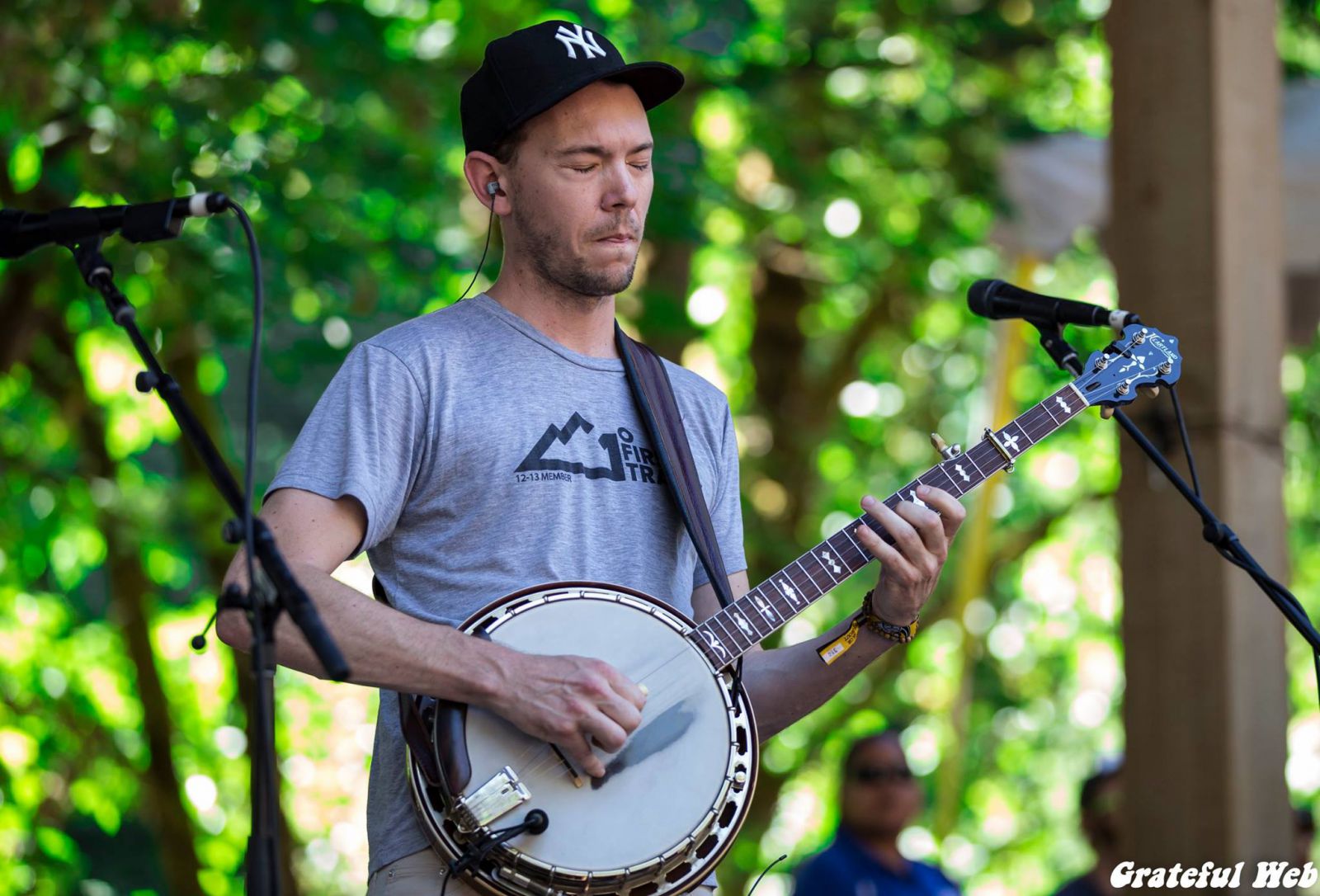 The Dusters' outwardly unassuming presence disguises their creative intensity.  They play a multi-layered style of bluegrass boogie, with feel-good familiarity on top and explosive rocket fuel underneath.  Their first song, "Light & Love" bounded like an unbroken colt, and its reaffirming chorus—"Cause your light burns hotter than the sun/and your love is here for everyone"—immediately found a sweet spot with the crowd.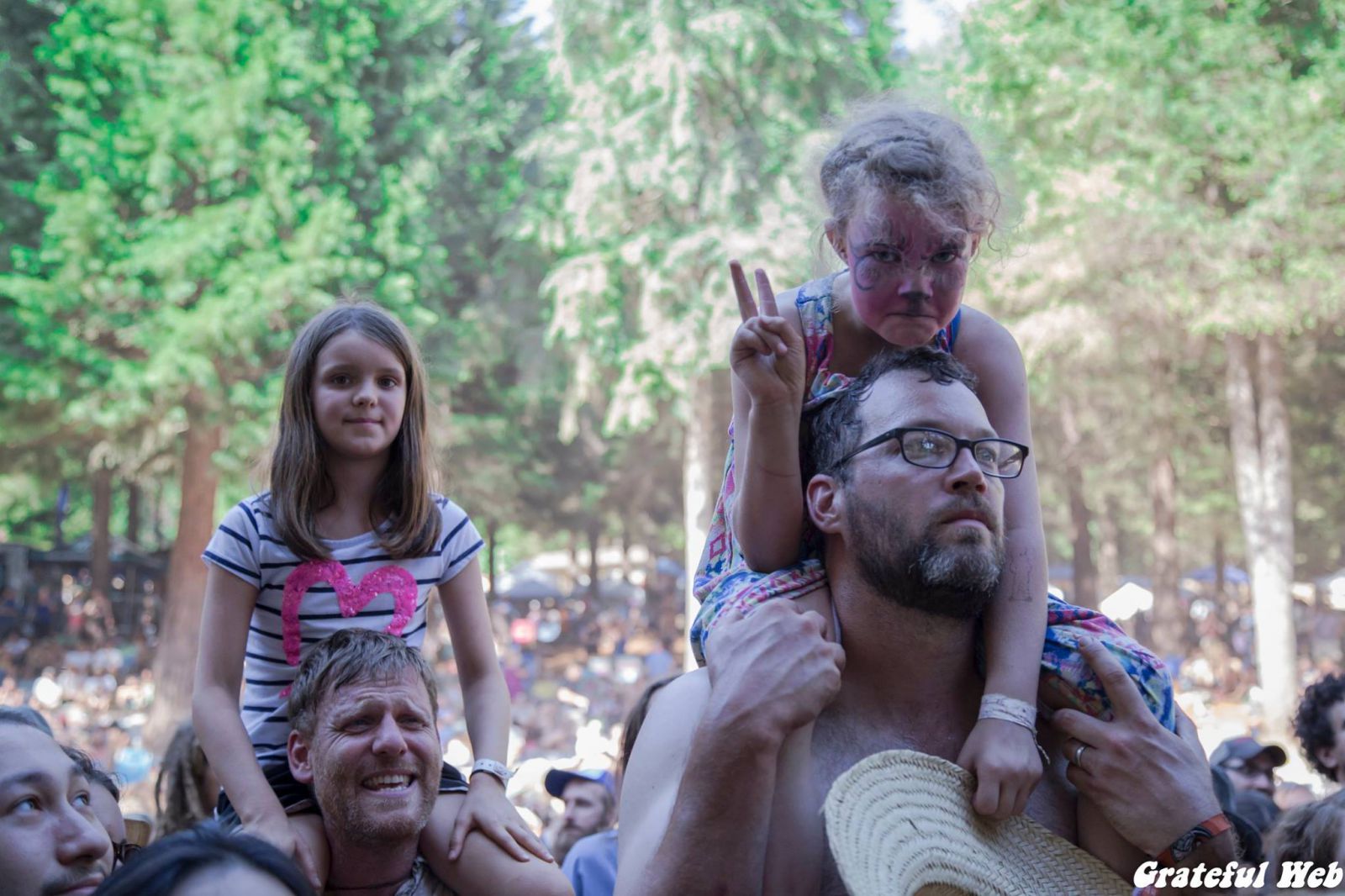 Among the jam-grass circle, the Stringdusters make the most effective use of the Grateful Dead's musical model.  Lots of bands attempt to take songs to another level with their instrumental interplay, but few can actually push them over the "ordinary" threshold and into the surprisingly oblique.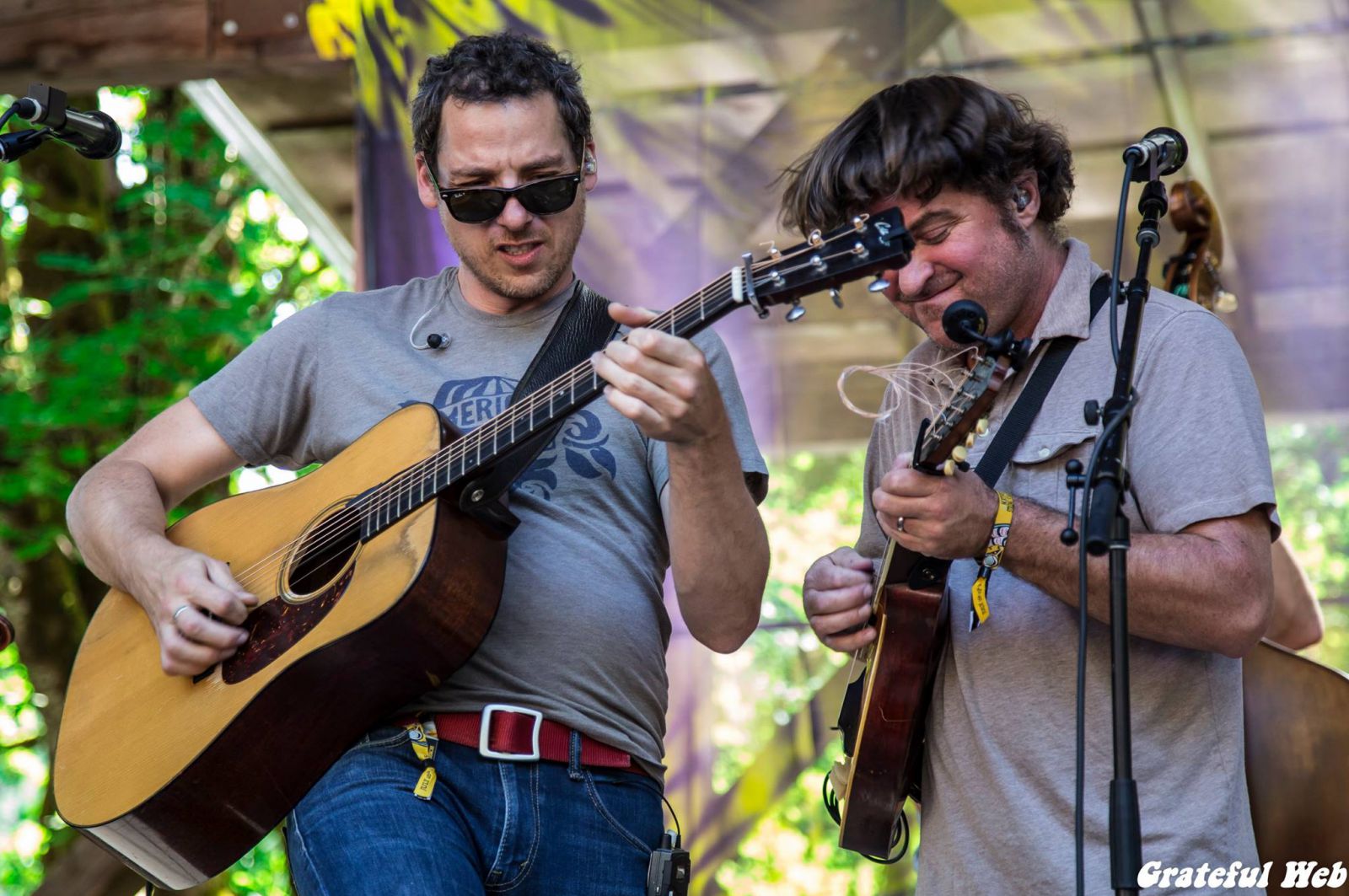 The "Light & Love" jam tore off on a rising trajectory that never really returned.  Guitarist Andy Falco was the initial thrust.  Using his strings as a staircase, Falco climbed.  The rest of the boys chased him and the whole tent started to float.  Swirling teases of "China Cat Sunflower" lifted the crowd onto a carnival ride that lasted the length of the show.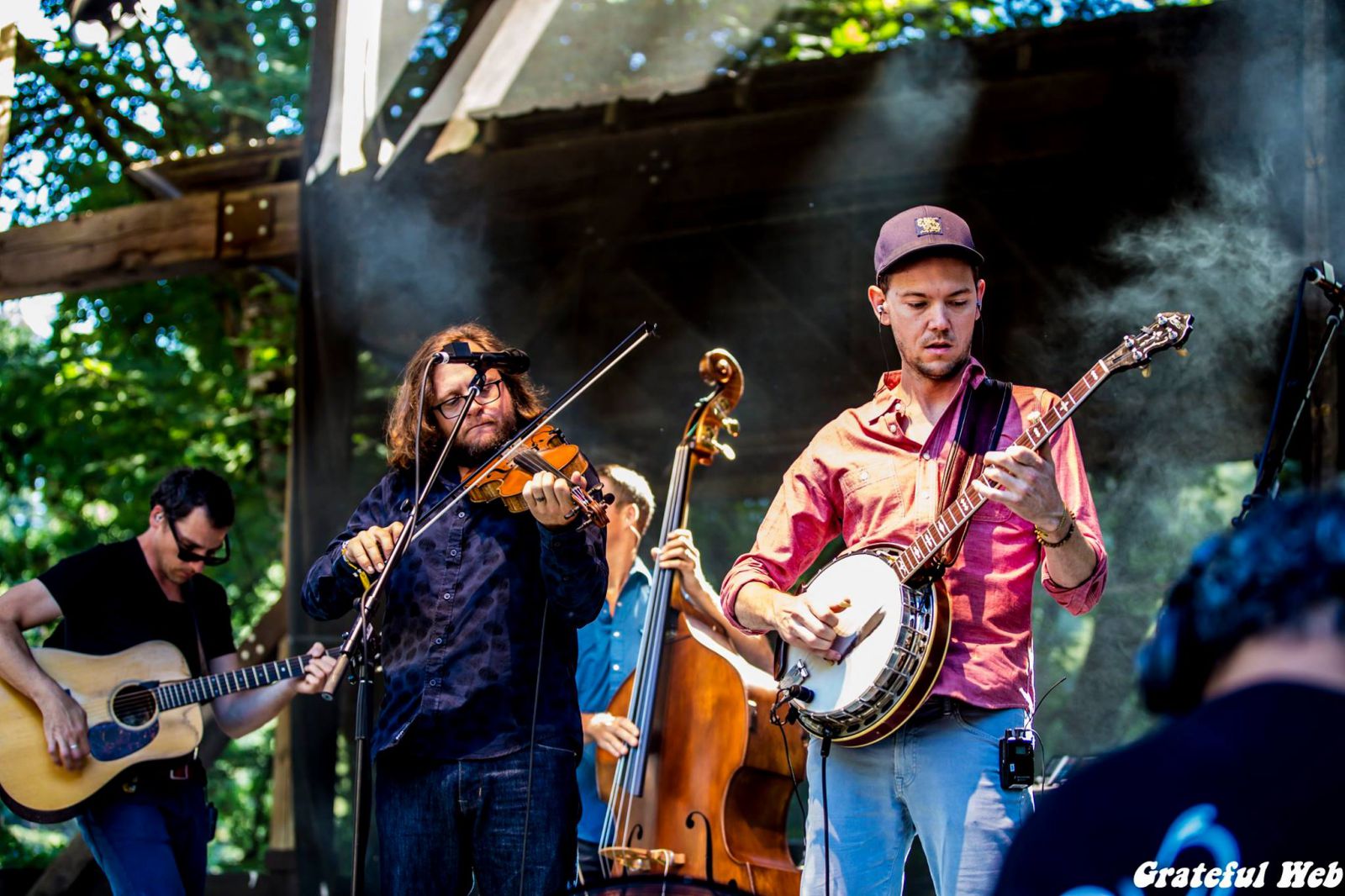 Every song seemed to psychically slap hands with the audience.  Satisfying covers like the Band's "Up on Cripple Creek" and the sparkling, Phish favorite, "Free" celebrated shared cultural connections.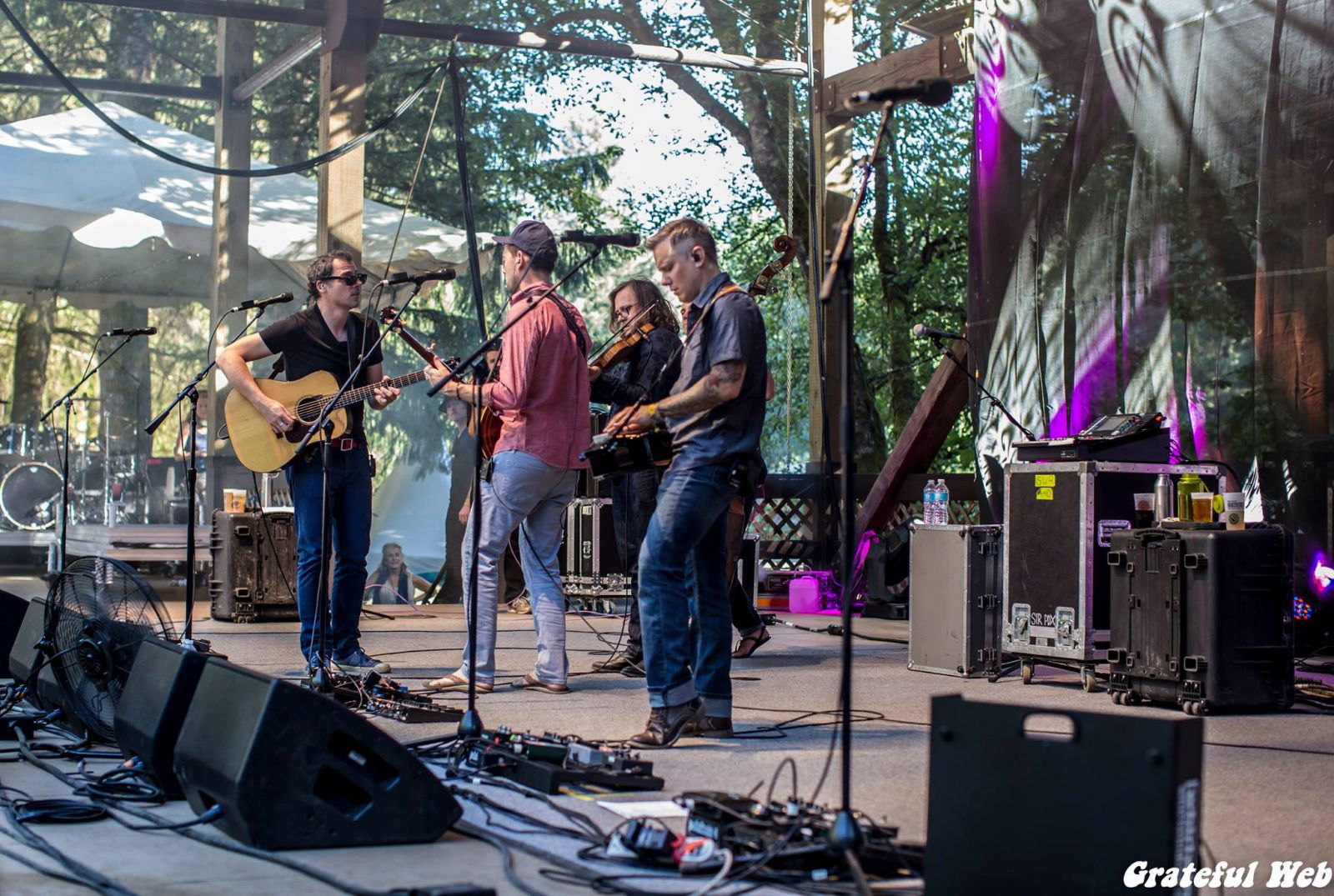 All of the Stringdusters simply sounded great, but Chris Pandolfi deserves special mention for his brilliant banjo.  Pandolfi twisted compelling insinuations throughout the Dusters' songs, alternating from backwoods to jazz club and beyond.  He inhabited the Stringdusters' songs as much as he played them, appearing in open windows and doors.  He sparred thrillingly with fiddle player Jeremy Garrett on "No More to Leave You Behind," as each man leaped right off the other's licks and kept swinging.  Pandolfi continues to surprise and excite, distinguishing himself, even among a current crop of gifted banjo artists.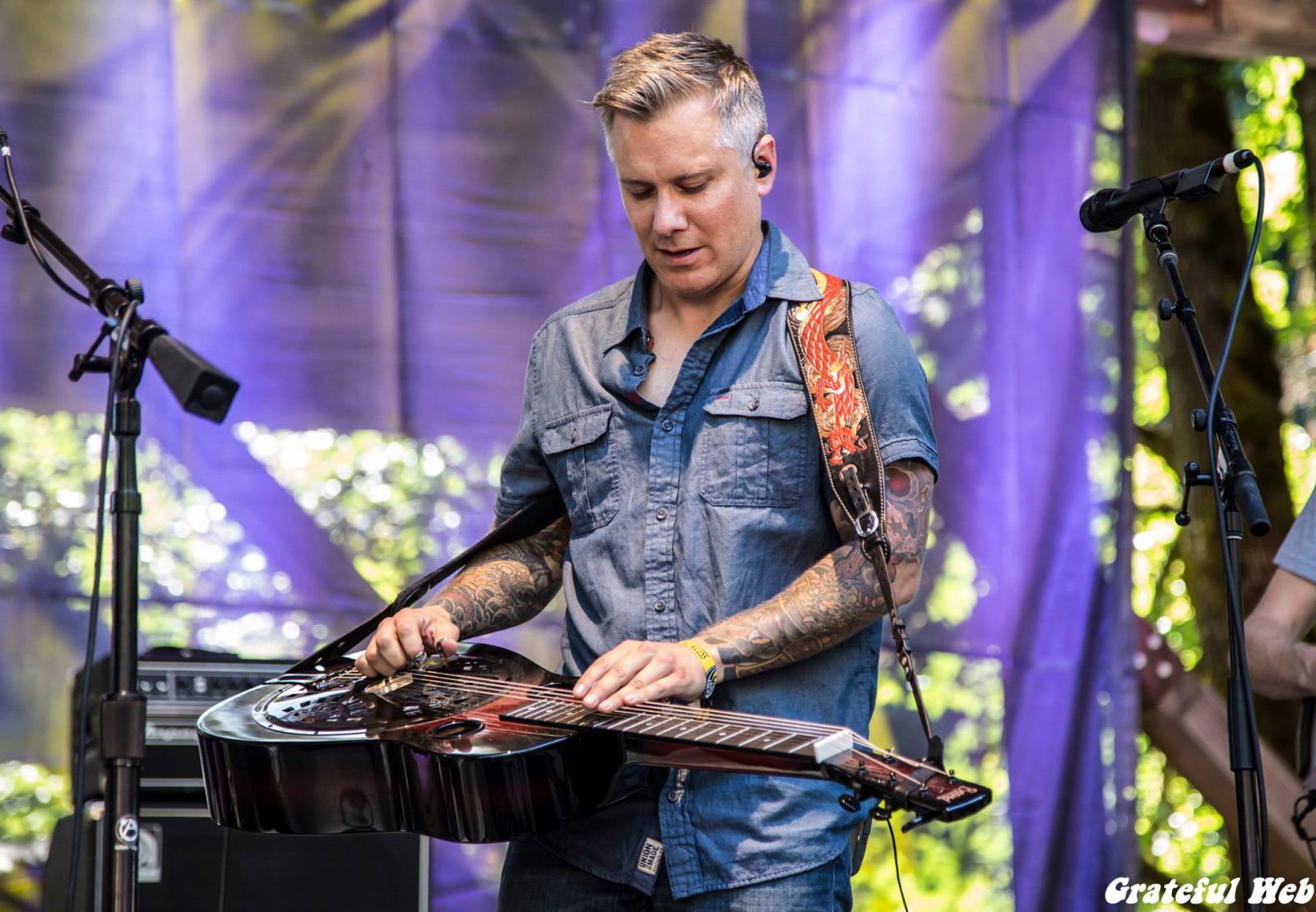 The Infamous Stringdusters performed so spectacularly the fully juiced patrons refused to turn away.  Time was irrelevant.  There had to be more.  The people screamed for it.  At three-something a.m., curfew cut the power but no one was finished.  The Stringdusters simply unplugged and waded into the audience for a few more, truly acoustic, tunes.  As they were quickly surrounded, you could sense their "what have we gotten ourselves into" consideration, but they shrugged and sailed with it.  "Deep Elem Blues" had everyone singing and giggling like kids at the sheer craziness of it all.  "Sitting on Top of the World" capped the evening appropriately.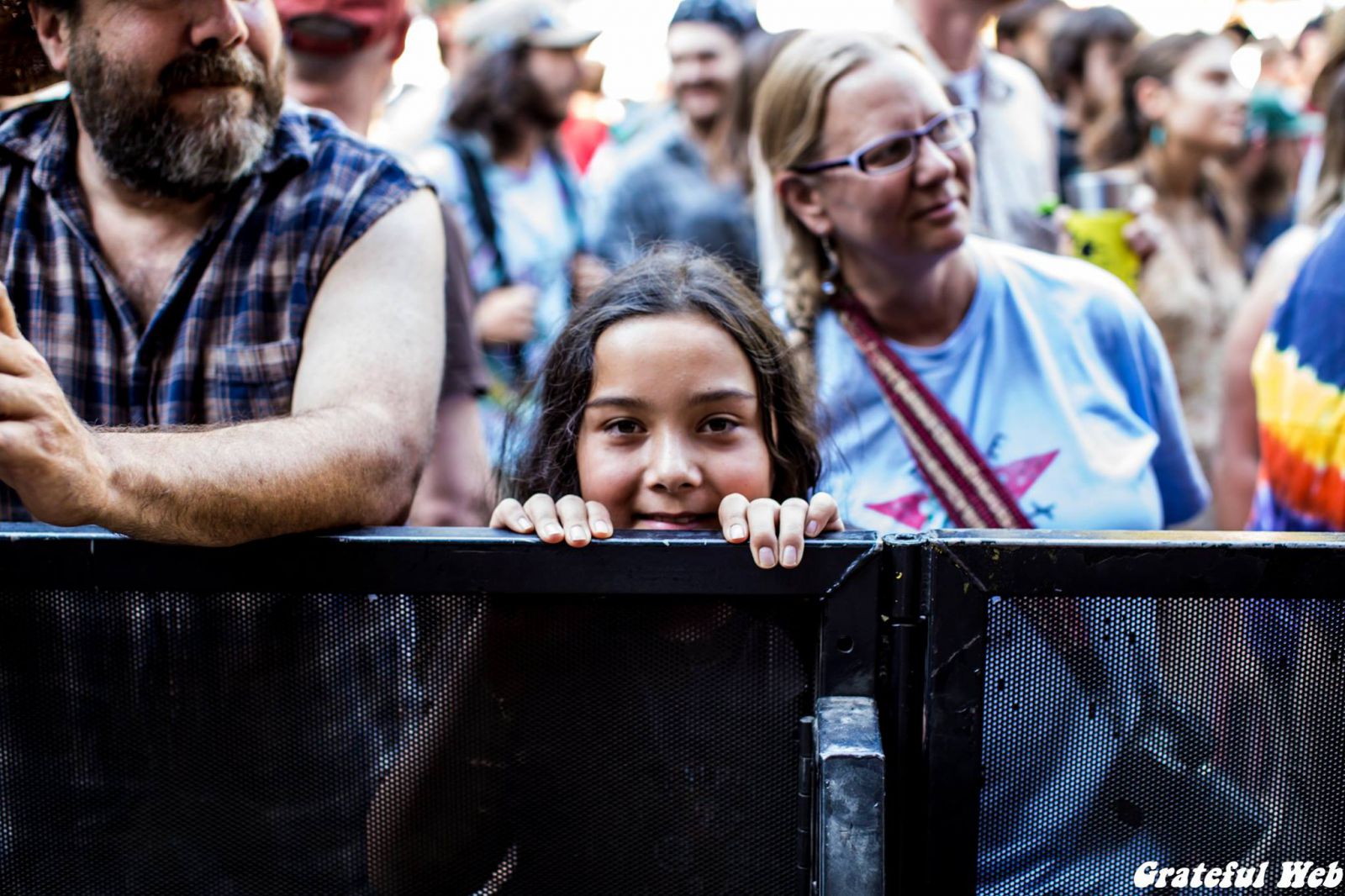 The festival's final day was like a long, bleary-eyed encore.  Three nights of "primitive" camping and blistering, after-hours shows left many spectators in a mostly spent but contemplative hang.  Classic American music continued to roll from the Summit's stages.  Reactions were sincere but slightly muted.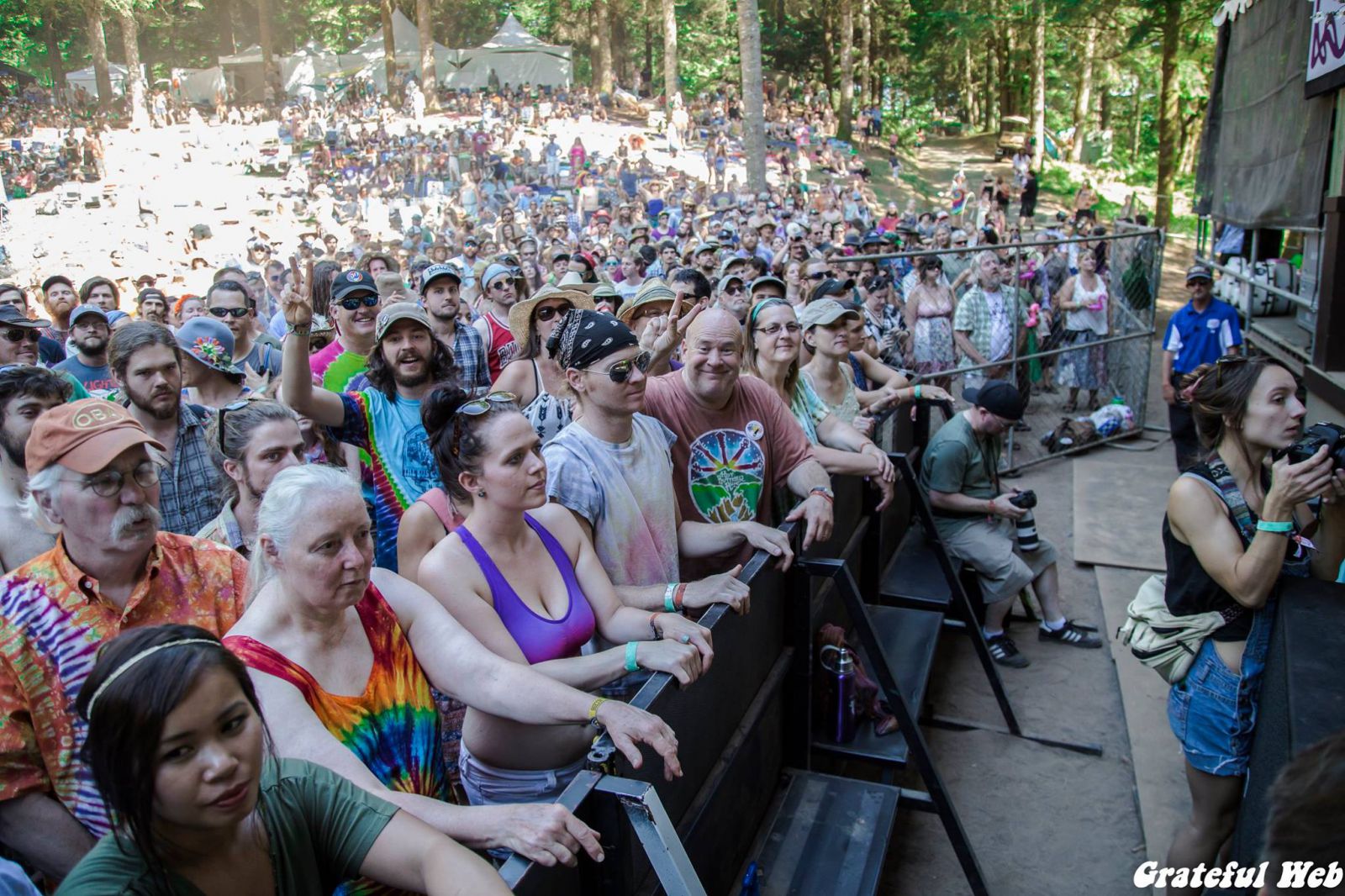 Bay-area troubadours, the California Honeydrops impressed with an uncomplicated set of vintage R&B.  They managed to stir Sunday's languid crowd with stylish keyboards, funky horns and really fine singing.  Mixing classic soul and electric blues with a busking jug-band vibe, the Honeydrops hosted an enjoyable afternoon party.  Their heartfelt "Lovelight" struck a familiar chord.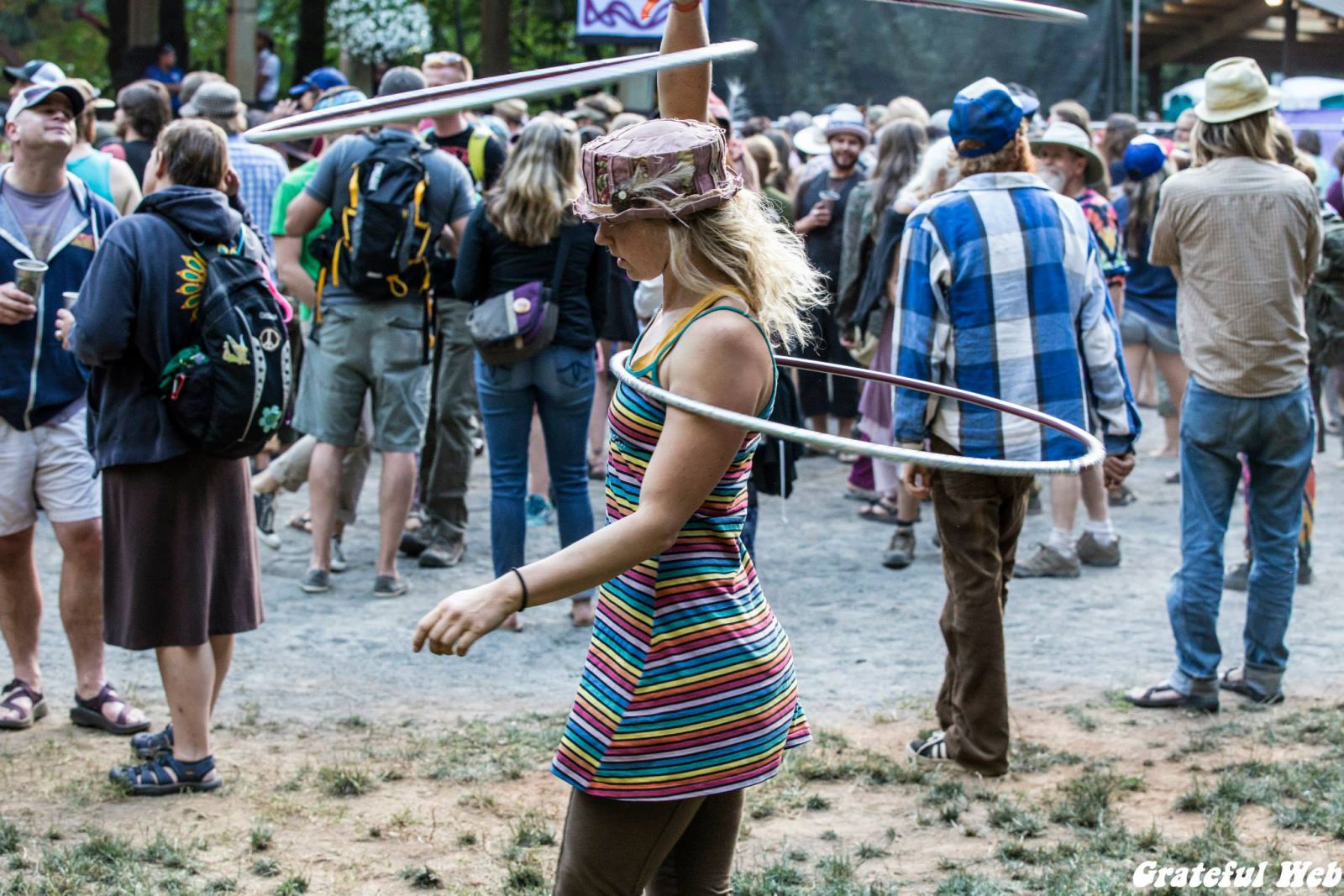 Del McCoury was back again on Sunday, this time with the equally renown David Grisman on mandolin.  Affectionately called "Dawg" by friends and fans, Grisman is widely known for his collaborations with the late Jerry Garcia.  He also owns the patent on his own blown blend of folk, bluegrass and everything else, appropriately called "Dawg music."  He is easily one of the most entertaining mandolin players on the planet.  His encyclopedic understanding of conventional traditions and masterful technique only tell the half of it.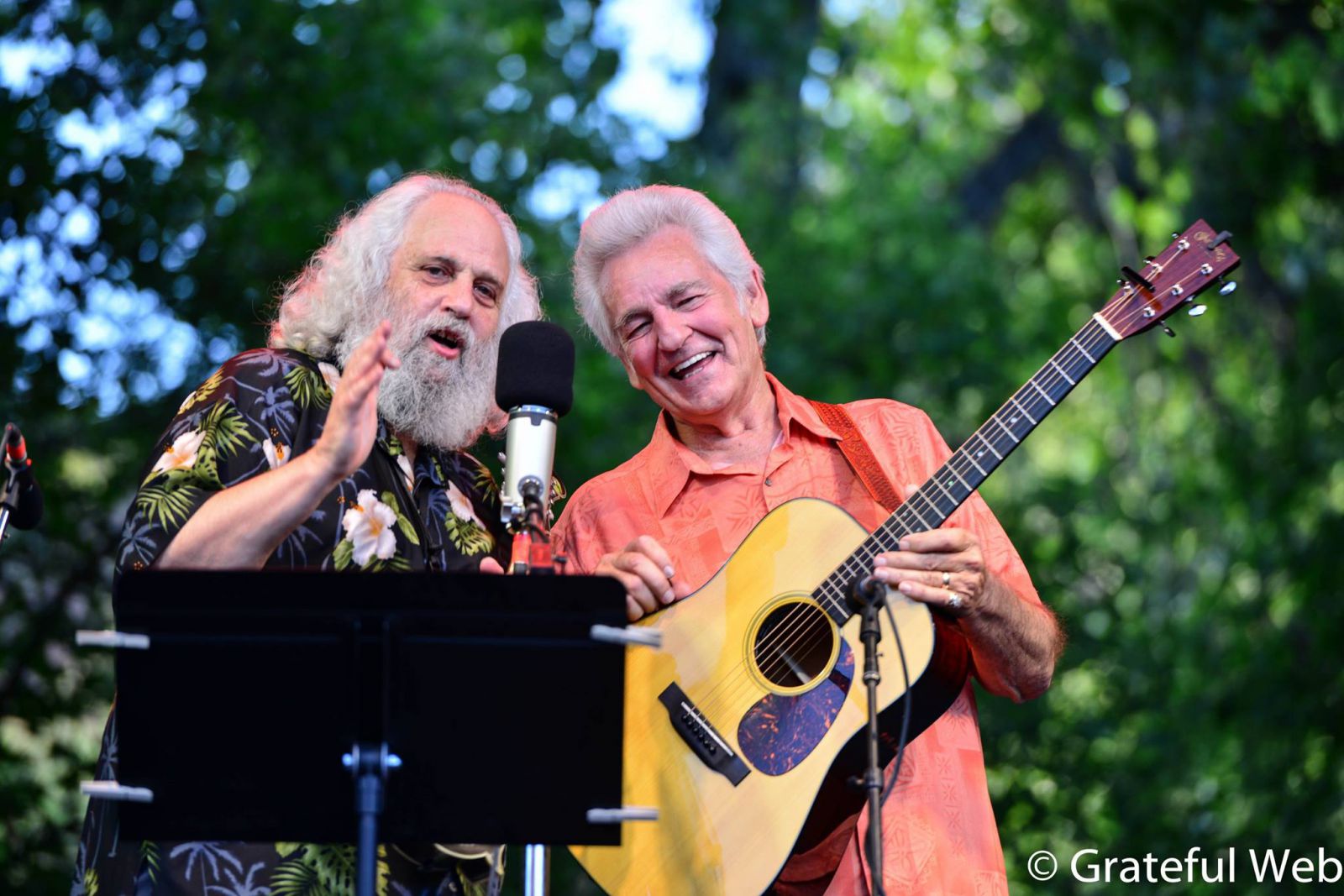 Del and Dawg gave a fascinating demonstration.  They were instructive and engaging.  Their material often spotlighted specific styles or techniques like "G Run Blues" featuring McCoury's trademark rhythm work.  They swapped stories about themselves and their songs, relating details like Del starting on banjo before being moved to guitar and vocals by Bill Monroe.  McCoury's singing on the superlative "Toy Heart" underlined Monroe's obvious eye for talent.  Dawg's expressive mandolin provided gracious accompaniment.  Grisman comfortably recalled existing traditions imbued with suggestive subtext applied by his own distinctive touch and temperament.  His influential presence at the String Summit connected the blueprint to the contemporary alteration.  Del and Dawg's back-porch, bluegrass history lesson was a top-choice, close-to-the-bone cut of pure genius.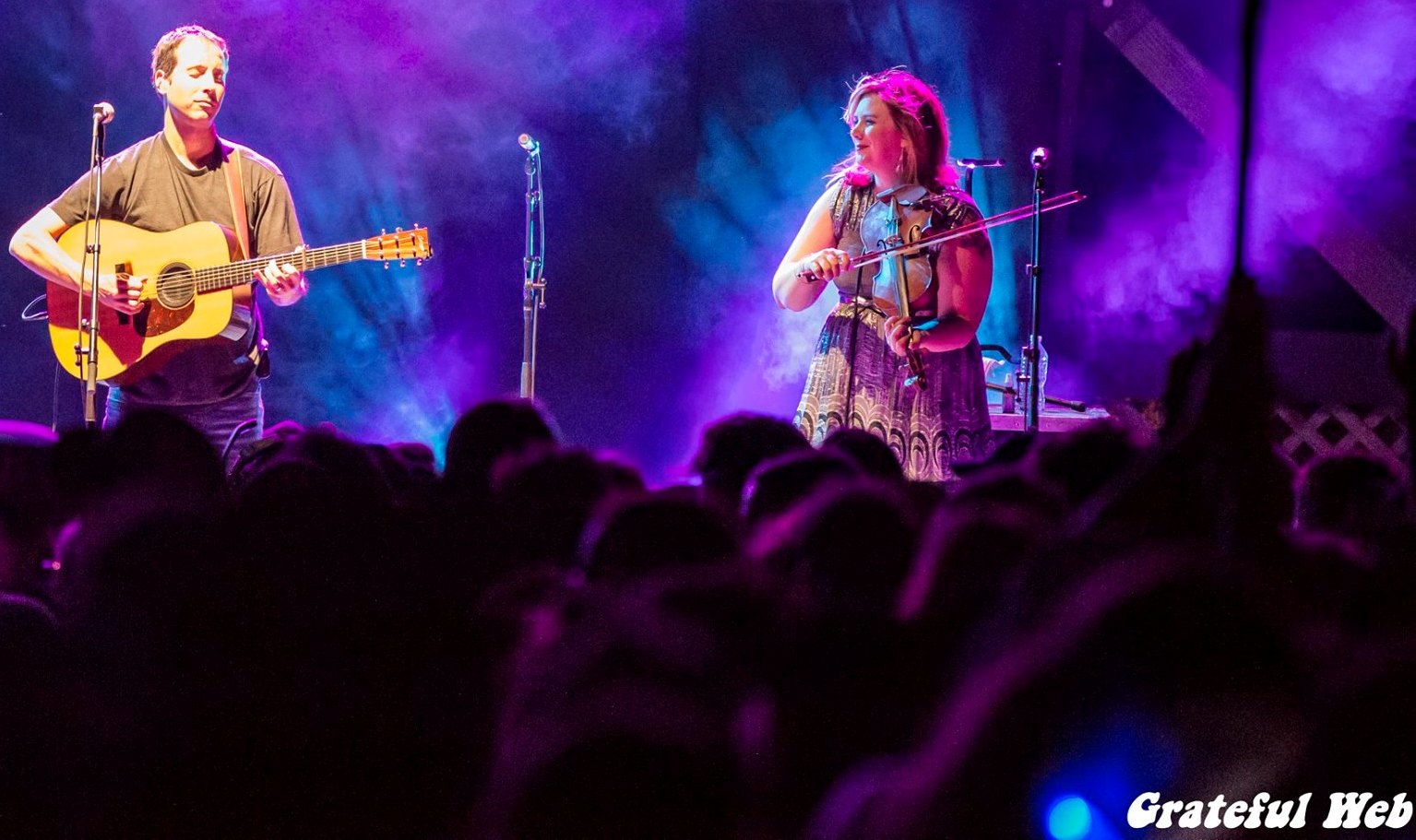 Yonder Mountain String Band finished their run at the NW String Summit focusing on newer material.  Songs like "Landfall" and the wonderful "Annalee" gave strong indications YMSB remain a vital act on the jam-grass circuit.  Their re-formed lineup is still getting acquainted.  Any perceived shortcomings can likely be attributed to a necessary adjustment phase for both the band and their following.  They aren't the same group anymore, yet they still possess the ingredients for a lip-smacking jam, and they throw a hell of a party.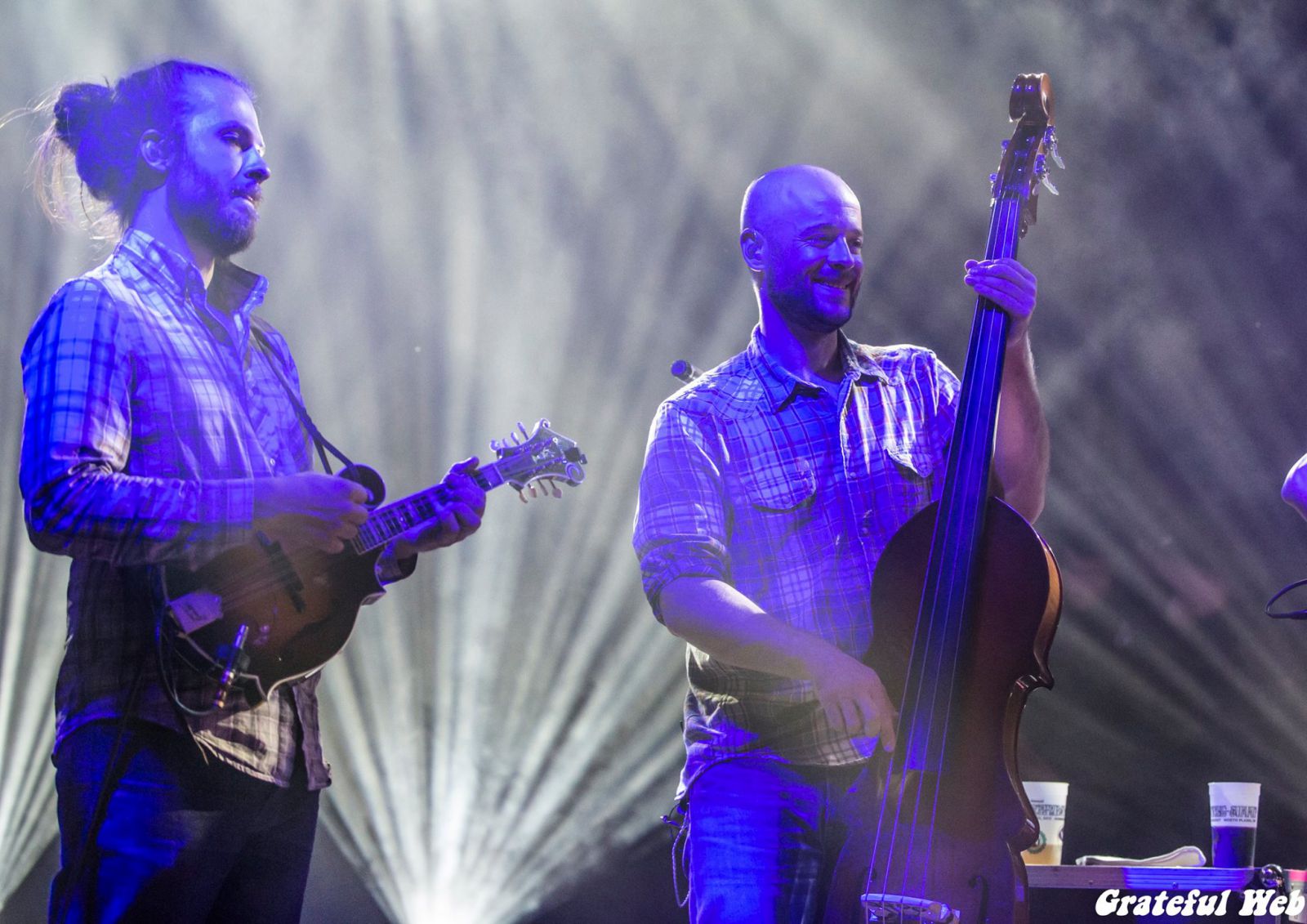 Yonder expanded beyond the Black Sheep material as their show on Sunday proceeded, and there were several high-points, but one well-called cover crystallized the mood of the festival at this advanced stage—"Torn and Frayed"—"Just as long as the guitar plays/let it steal your heart away."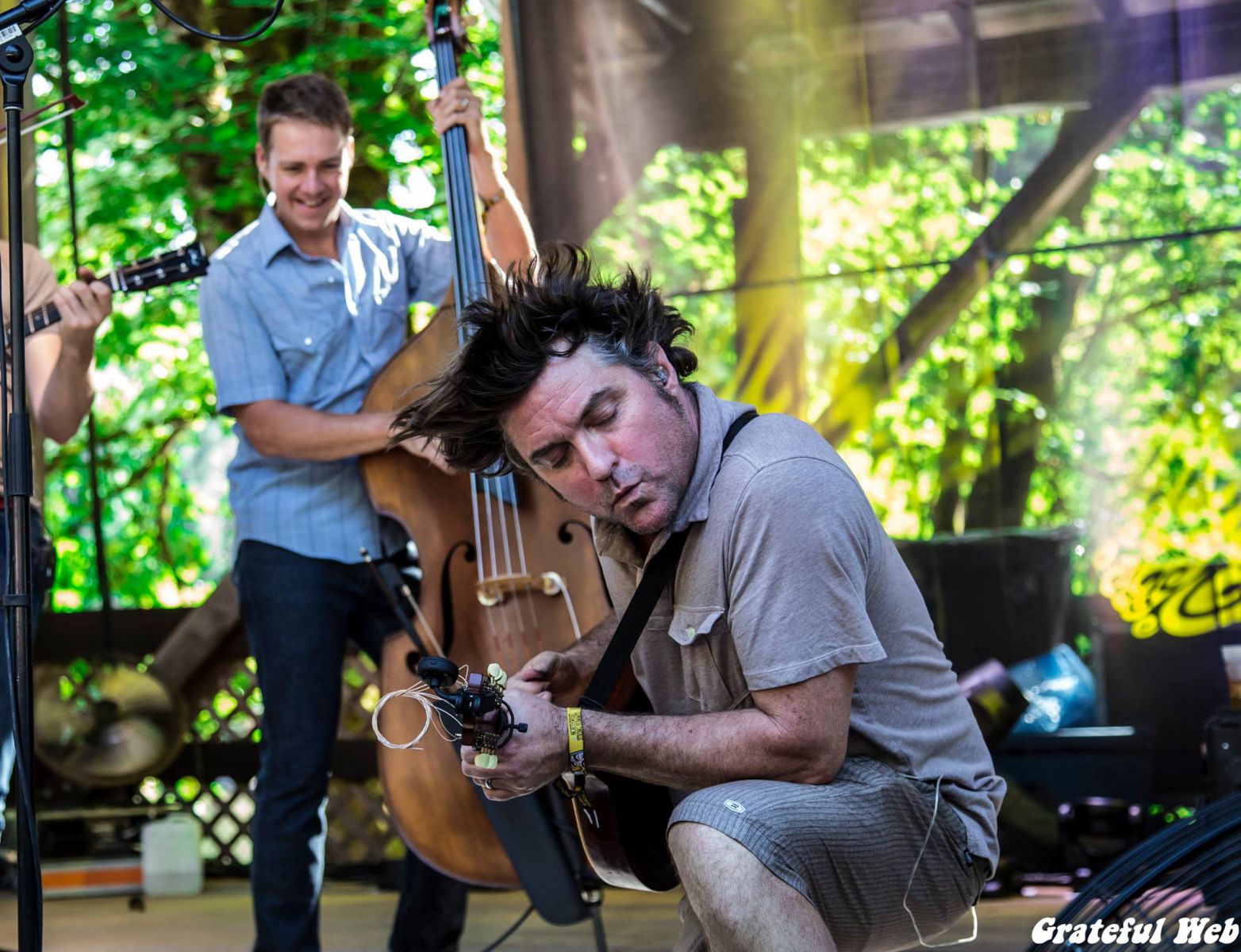 This year's Northwest String Summit delivered a solid sample of blown-grass bands balanced with just enough loosely related side-shows to keep things interesting.  The overriding message was clear—people are still doing it.  Inspired by the social and cultural models of the Grateful Dead, as much as their music, new groups continue to play the pied piper for "freaks" jumping over the wall.  There is an innate human impulse to escape the construct and discover heightened forms of experience.  An overly processed and digitized culture is naturally being drawn to more organic outlets of expression. Roots-based music offers an invigorating alternative to the soul-less corporate drone.  The Northwest String Summit reiterated the immediacy of a timeless tradition.