In partnership with Warner Music Artist Services, Hiouchi Jewels hand made "Rose & Bolt" Grateful Dead jewelry collection is now available for pre orders at RoseandBolt.com. Shipping for orders throughout North America starts April 1.
"The Grateful Dead's music has been an important part of my life and an inspiration for all of my creative work," said designer Sarah Lewis. "So this collaboration is a dream project for me. I've carried my modern bohemian aesthetic from Hiouchi Jewels into this collection, adding the iconic Grateful Dead Roses & Bolts to each piece. The Grateful Dead is so much more than music- it's a lifestyle, a community, a vibrant, unique culture. It's truly an honor to have my jewelry join the rich lineage of licensed Grateful Dead artwork and merchandise."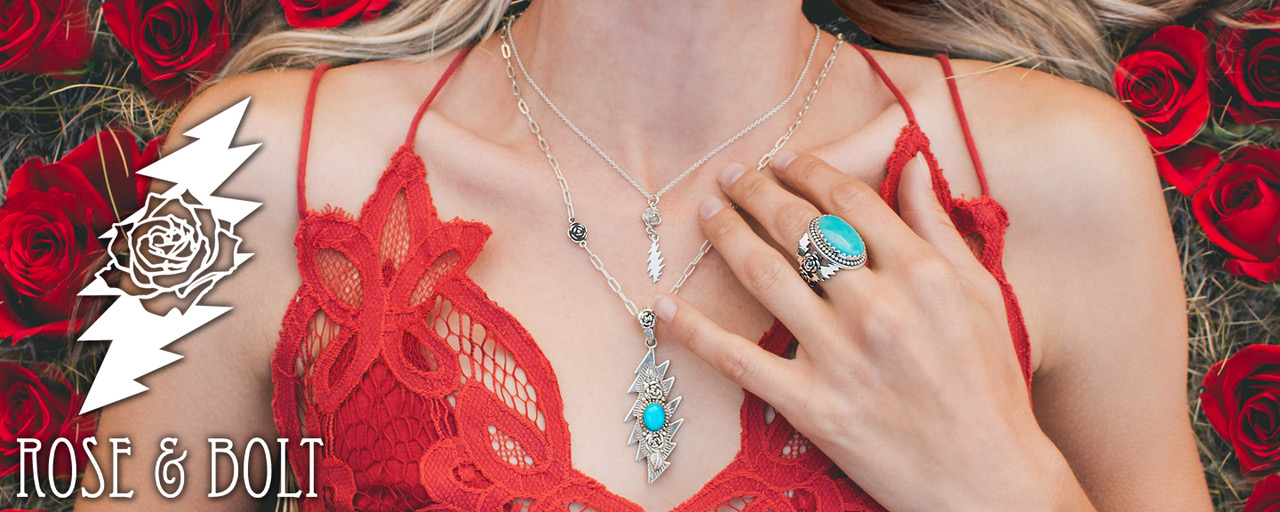 Rose & Bolt is a collection of handmade rings, necklaces, bracelets and earrings, all featuring roses and the classic 13 point lightning bolt. Elegant, delicate styles come in sterling silver, rose gold and 16k yellow gold. Bolder statement styles feature turquoise stones and quartz crystals.  Although "Rose & Bolt" carries similarities to Sarah's classic Hiouchi Jewels Collection, many aspects are new. She's never before used rose gold, so this is her debut of this metal, which is appropriate for the rose motifs in the collection. Sarah has always typically made jewelry for people who identify as female, so she is excited to debut her first unisex / gender neutral collection.
Rose & Bolt jewelry will prove to be coveted pieces in any Deadhead's collection. This unique line is sure to attract fans of all ages and genders, paying true homage to the classicism of the Grateful Dead.