GRAMMY Award-winning musician and scholar Dom Flemons' anticipated new album, Traveling Wildfire, is out today on Smithsonian Folkways Recordings. Stream/purchase HERE.
Produced by Ted Hutt (Old Crow Medicine Show, Dropkick Murphys) and recorded at Los Angeles' Kingsize Soundlabs, Traveling Wildfire is Flemons' most personal album to-date as he refocuses on songwriting—reflecting on recent epiphanies and spiritual evolution as well as the current social climate. Across these fifteen tracks—a collection of both originals and new renditions of traditional folk and American roots songs—Flemons conveys his purposeful message as he addresses fundamental themes of Black love, survival, legacy and growth, while a sonic atmosphere builds in intensity from a serene and grounded beginning.
In celebration of the new music, Flemons will tour through this spring including upcoming shows at Hollywood's Troubadour, Phoenix's Musical Instrument Museum, Berkeley's Freight & Salvage Coffeehouse, New York's Joe's Pub at the Public Theater, Cambridge's Club Passim, Philadelphia's World Café Live and Washington, DC's President Lincoln's Cottage among many others. See below for complete tour details.
Flemons also recently launched season four of "American Songster Radio Show" on Nashville's 650 AM WSM, available worldwide via www.wsmradio.com. After completing season three in December with guests like Billy Strings, Mickey Guyton and Steve Martin, the new season focuses on the music and inspiration behind "The Making of Traveling Wildfire." The next broadcast will air Tuesday, March 28.
Reflecting on the album, Flemons, also known as "The American Songster," shares, "Traveling Wildfire is not only a statement of my personal travel experiences but also a metaphor for rebirth in the wake of destruction. It reminded me that the album is in its own way a statement about emerging from the depths of uncertainty to find a new relevance during this unprecedented moment in modern history. At the same time, the image of the traveling wildfire reminded me of how music and stories can travel from generation to generation bringing important lessons from the past into the present and the future."
In addition to Flemons (vocals, acoustic guitar, banjo, drums, percussion, electric bass, electric guitar, quills) and Hutt (guitar, electric bass), the record also features David Hidalgo (drums), Marc Orrell (pump organ, bells) and Matt Pynn (pedal steel) as well as special guest appearances by Sam Bush and James Fearnley (of The Pogues).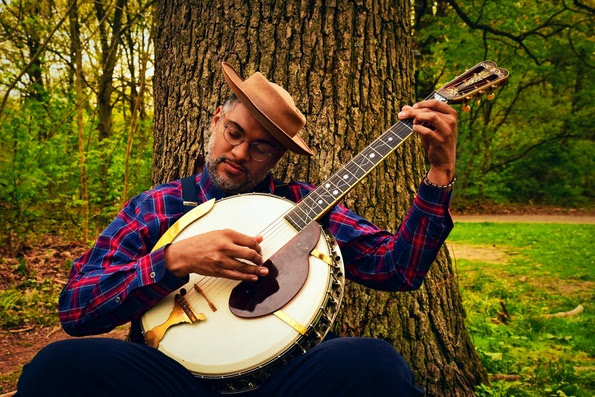 Originally from Phoenix and now based in Chicago, Flemons is a widely celebrated songwriter, multi-instrumentalist, producer, actor, slam poet, radio host and music historian. Throughout his esteemed career, he has received a GRAMMY Award, been nominated for two Emmy Awards, received an honorary doctorate from Northern Arizona University, won the 2020 U.S. Artists Fellowship Award for the Traditional Arts, served on the Board of Directors for the Steve Martin Banjo Prize, Folk Alliance International and the Music Maker Relief Foundation, and was elected as a Governor on the Board of Directors for the Washington, D.C. chapter of the Recording Academy.
A prolific member of the music community, Flemons has released five solo records to date, including 2018's Grammy-nominated Dom Flemons Presents Black Cowboys, of which No Depression praised, "He lives and breathes his art. This is an audible extension of the heart and soul and wonders within, a desire to capture the life beat of the original arrangement and melodies of songs," while PopMatters declared, "a remarkably enlightening presentation of a slice of culture all but whitewashed from our common knowledge." Flemons also released four albums as part of the Carolina Chocolate Drops, the Grammy Award-winning group he created with Rhiannon Giddens and Justin Robinson in 2005. An avid collaborator, Flemons has worked with a wide variety of artists including Yo-Yo Ma, Tyler Childers, Steve Cropper, Fantastic Negrito, Old Crow Medicine Show, Billy Strings, Jerry Douglas, Valerie June, Vince Gill, Allison Russell, Taj Mahal and many more.
TRAVELING WILDFIRE TRACK LIST
1. Slow Dance With You
2. Dark Beauty
3. If You Truly Love Me
4. Traveling Wildfire
5. It's Cold Inside
6. We Are Almost Down To The Shore
7. Nobody Wrote It Down
8. Saddle It Around
9. Big Money Blues
10. Old Desert Road
11. Rabbit Foot Rag
12. Tough Luck
13. Song To JCB
14. Guess I'm Doing Fine (feat. Sam Bush)
15. Songster Revival (feat. James Fearnley)
DOM FLEMONS CONFIRMED TOUR DATES
March 24—Phoenix, AZ—Musical Instrument Museum
April 1—Davis, CA—Mondavi Center
April 19—Berkeley, CA—Freight & Salvage Coffeehouse*
April 22—West Hollywood, CA—Troubadour*
April 25—Lubbock, TX—Cactus Theater+
April 28—Wilkesboro, NC—MerleFest 2023
April 29—Mars Hill, NC—Mars Hill University
May 5—Ferndale, MI—Magic Bag
May 6—Aurora, IL—The Venue
May 16—New York, NY—Joe's Pub at the Public Theater
May 18—Cambridge, MA—Club Passim
May 19—Philadelphia, PA—World Café Live
May 20—Washington, DC—Bourbon and Bluegrass 2023
May 21—Washington, DC—President Lincoln's Cottage
May 25—Saratoga Springs, NY—Caffe Lena
May 26—Hamden, CT—Best Video Film & Cultural Center
June 3—Brevard, NC—North Carolina Guitar Celebration Concert
June 17—St. Augustine, FL—Bad Dog Mama
June 23—Columbia, SC—Columbia Museum of Art
*with Dustbowl Revival
+with Ramblin' Jack Elliott and Andy Hedges