Hot off a continuously successful festival season, relentless Paper Diamond is once again hitting the road on his headling Night Vision Tour 2012. Be sure to catch this progressive and thrilling producer and DJ as he makes his way across the expanse of the US.
Paper Diamond will also return his hometown state's Ogden Theater in Denver on September 19 for what is sure to be a massive night. He'll be supported by Crizzly and more artists TBA.
The Colorado native has an extensive background in making beats that are a blend of hip-hop, bass music, and electro, all with a whiff of ganja smoke blowing through it. He has a kind of raw energy and dramatic anticipation that only a seasoned producer can incite. His signature driving beats and bass grab onto you while deep, rich tones rumble under layers of spacey synthesizers, sweet melodies, and catchy vocals.
He'll be supported on select dates by Eliot Lipp, The Knocks (DJ Set), Crizzly, Clicks & Whistles, and Morris. Each of these artists, in their own unique way, represent a raw, cutting edge sound that is a combination of dubstep, hip-hop, jazz, and house that takes electronic music to a whole new level.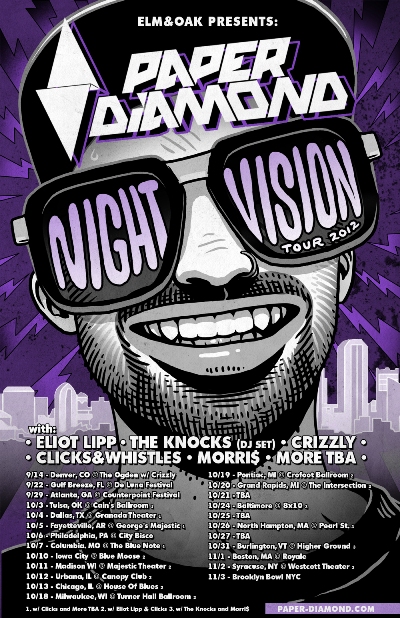 Paper Diamond recently joined 
Diplo's Mad Decent
label, with his brand of music fitting in nicely with his new label mates
Major Lazer, Crookers
and
Rusko
, among many others. His new EP entitled
Wavesight
 was released May 3, and showcases
Paper Diamond's
talent for incredible bass, electronic, and hip-hop styles. The EP features three heavy hitting original tracks that further demonstrate Paper Diamond's musical versatility. Keep a look out for Paper Diamond's next EP, which is currently in the works and expected sometime this fall.
MTV
recently premiered the video for
"Turn the Lights Off,"
featuring a collaboration with New Orleans based singer songwriter
Nasimiyu.
 Check out the video
HERE
. Additionally, his remix of
Usher's "Climax"
recently premiered on
RCRD LBL HERE,
 and his track
"Time Flies feat. Russ P"
was premiered on
Jay-Z's Life + Times HERE.
Stay tuned for a special announcement from Paper Diamond's Elm & Oak, which functions as a record label, design shop, and clothing line, next week
Paper Diamond's Night Vision Tour will hit major cities across America throughout fall. He will be stopping by Dallas, Philadelphia, Madison, Baltimore, Portland, Boston, Brooklyn, and more. He will also be playing a special set in Chicago to make up for his Lollapalooza set that was cancelled due to a storm.
9/14          
Denver, CO              
The Ogden Theater       
Crizzly
9/22
Gulf Breeze, FL
De Luna Festival
 
9/29
Atlanta, GA
Counterpoint Festival
 
10/3
Tulsa, OK
Cain's Ballroom
w/ Clicks + more TBA
10/4
Dallas, TX
Granada Theater
w/ Clicks + more TBA
10/5   
Fayetteville, AR       
George's Majestic
w/ Clicks + more TBA
10/6
Philadelphia, PA
City Bisco
 
10/7
Columbia, MO
The Blue Note
w/ Clicks + more TBA
10/10
Iowa City, IA
Blue Moose
w/ Eliot Lipp + Clicks
10/11
Madison, WI
Majestic Theater
w/ Eliot Lipp + Clicks
10/12
Urbana, IL
Canopy Club
w/ Eliot Lipp + Clicks
10/13
Chicago, IL
House of Blues
w/ Eliot Lipp + Clicks
10/18
Milwaukee, WI
Turner Hall Ballroom
w/ Eliot Lipp + Clicks
10/19
Pontiac, MI
Crofoot Ballroom
w/ Eliot Lipp + Clicks
10/20
Grand Rapids, MI
The Intersection
w/ Eliot Lipp + Clicks
10/21
TBA
TBA
TBA
10/24
Baltimore, MD
8x10
w/ The Knocks (DJ Set) + Morri$
10/25
TBA
TBA
TBA
10/26
North Hampton, MA
Pearl St.
w/ The Knocks (DJ Set) + Morri$
10/27
TBA
TBA
TBA
10/31
Burlington, VT
Higher Ground
w/ The Knocks (DJ Set) + Morri$
11/1
Boston, MA
Royale
 
11/2
Syracuse, NY
Westcott Theater
w/ The Knocks (DJ Set) + Morri$
11/3
Brooklyn, NY
Brooklyn Bowl