Baltimore-based quartet Pigeons Playing Ping Pong plans to bring its unique blend of vivacious, high-octane funk to a city near you this winter. Starting in mid-January, PPPP will traverse the country, making eighteen stops at legendary theatres and ballrooms. Following a pair of shows at The Fillmore in Philadelphia (1/14-15), the funky foursome will flock to the midwest for a trio of shows in Grand Rapids, Cleveland, and Chicago (2/10-12). The start of March will see the bodacious birds touch down in Texas, visiting Houston, Dallas, and Austin (3/3-5). 
After a two-night swing through Arizona, visiting Phoenix (3/8) and Flagstaff (3/9), P4 lands in the Golden State for plays in San Diego, LA, and Berkeley (3/10-12). Tour concludes with a return to the Pacific Northwest, seeing the band play in Crystal Bay, Bend, Portland, and twice in Seattle (3/17-20). 
"The energy on our Fall Tour has been absolutely off the charts," said singer/guitarist "Scrambled Greg" Ormont. "We've all been waiting so patiently for the return of live music, and now that it's here, all bets are off. I can't wait to experience this epic revival from coast-to-coast all winter long."
An eclectic mix of established artists will support Pigeons on this tour, including TAUK (3/10-12), and ElephantProof (1/14). Bass virtuoso Karina Rykman will join the tour on 3/3 and play all remaining dates.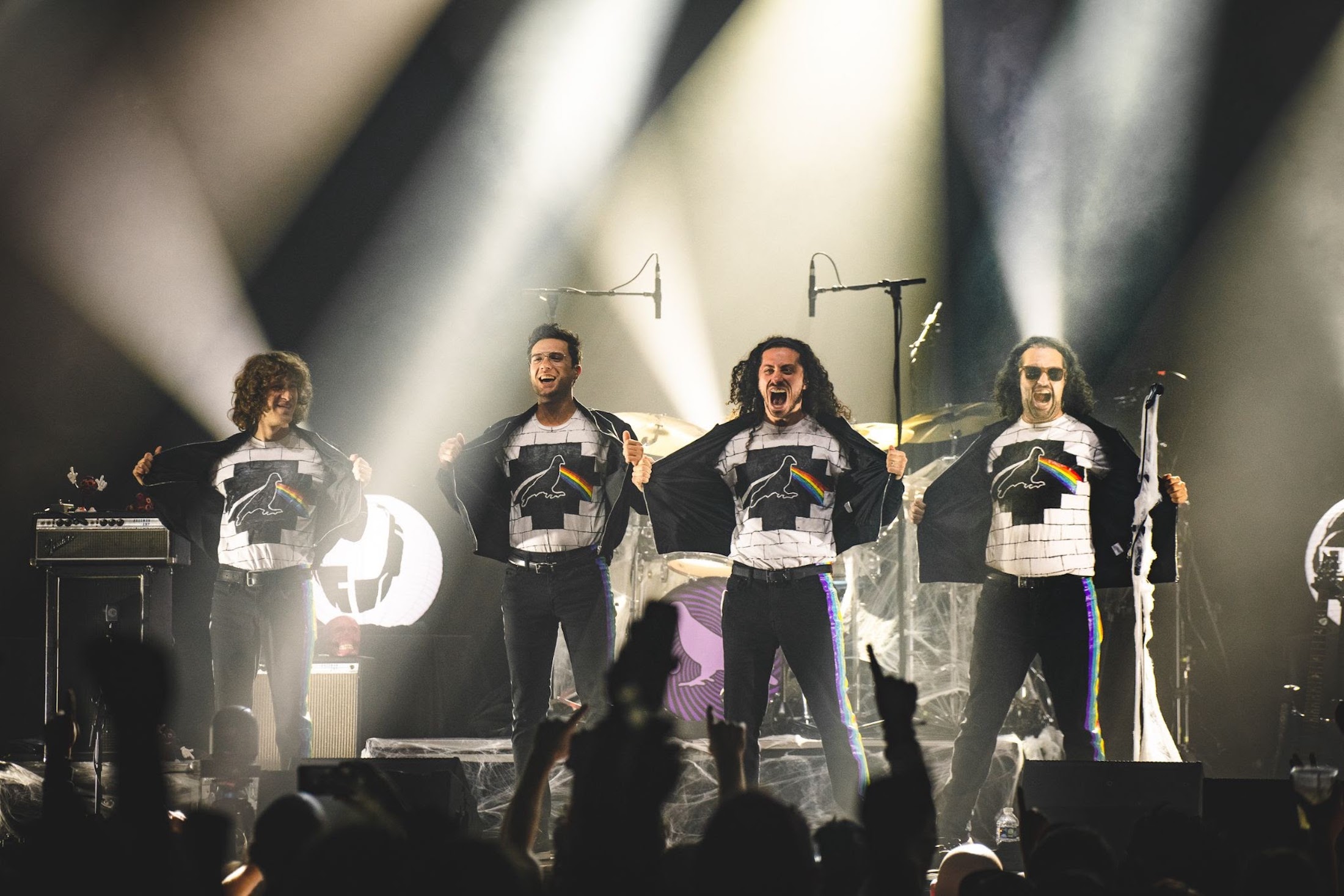 Winter tour tickets will be available via Artist Presale running Wednesday, November 10th at 10 am through Thursday, November 11th at 10 pm local time using the password FLOCK. General on-sale will begin Friday, November 12th at 10 am local time. 
PPPP is currently in the midst of an extensive fall tour, with band members and fans sharing in the joy of a nationwide return to indoor music performance. The group is proud to announce upcoming livestreams on Wednesday, November 10th from The Truman in Kansas City, MO and Saturday, November 13th from Mission Ballroom in Denver, CO. Passes are available now through the social media platform Flymachine. 
For more information, and to purchase tickets visit: pigeonsplayingpingpong.com/tour-dates 
Pigeons Playing Ping Pong is on tour now following their themed Halloween run dubbed "Daft Side of the Moon", where they celebrated the music of Pink Floyd and Daft Punk across three unique shows. All three Halloween shows are available to watch on PPPP's YouTube Channel here.
Pigeons Playing Ping Pong - Winter Tour 2022
 1/14 Philadelphia, PA - The Fillmore
1/15 Philadelphia, PA - The Fillmore#
2/10 Grand Rapids, MI - The Intersection^
2/11 Cleveland, OH - Agora Theatre & Ballroom^
2/12 Chicago, IL - The Riviera Theatre^
3/3 Houston, TX - White Oak Downstairs*
3/4 Dallas, TX - The Echo Lounge & Music Hall*
3/5 Austin, TX - Emo's*
3/8 Phoenix, AZ - Marquee Theatre*
3/9 Flagstaff, AZ - Orpheum Theater*
3/10 San Diego, CA - Observatory North Park*
3/11 Los Angeles, CA - The Belasco*
3/12 Berkeley, CA - The UC Theatre*
3/15 Crystal Bay, NV - Crystal Bay Casino*
3/17 Bend, OR - Midtown Ballroom*
3/18 Portland, OR - Crystal Ballroom*
3/19 Seattle, WA - Neptune Theatre*
3/20 Seattle, WA - Neptune Theatre*
#ElephantProof
^Tauk
*Karina Rykman