Opening up the show, the band Onward, Soldiers, fresh off recording their sophomore LP, Monsters, started us off with a tight performance that sourced heavily from their new album. Rapidly collecting fans and critical attention, this young band from North Carolina gave concertgoers reason to jump on the bandwagon. According to lead singer Sean Thomas Gerard, "We've been a band for three years, but only two years with the current members." Despite that fact, Onward, Soldiers have a mature sounding blend of acoustically driven alternative and southern rock, while still sounding fresh. Much of this comes from the presence of the lead singer, who brings a voice and lyrics that reveal an old soul. Gerard sang his way through, "Cry," the most twang-y track off their Feb 21st release, mixing his emo stylizing and the band's obvious country influence to a suburb effect. We danced along with guitarist Lincoln Morris who, despite being forced to play seated due to recent leg injury, weaved together some moving chops on "Cinder Blocks." After the show Morris jokingly related to me, "It was a mountain lion" that put him in crutches. Actually, he had done it while unloading some oversized stage equipment from the van, one of the many risks of the road for these up and comers. Injury notwithstanding, on they trek on tour Colorado through March 3rd.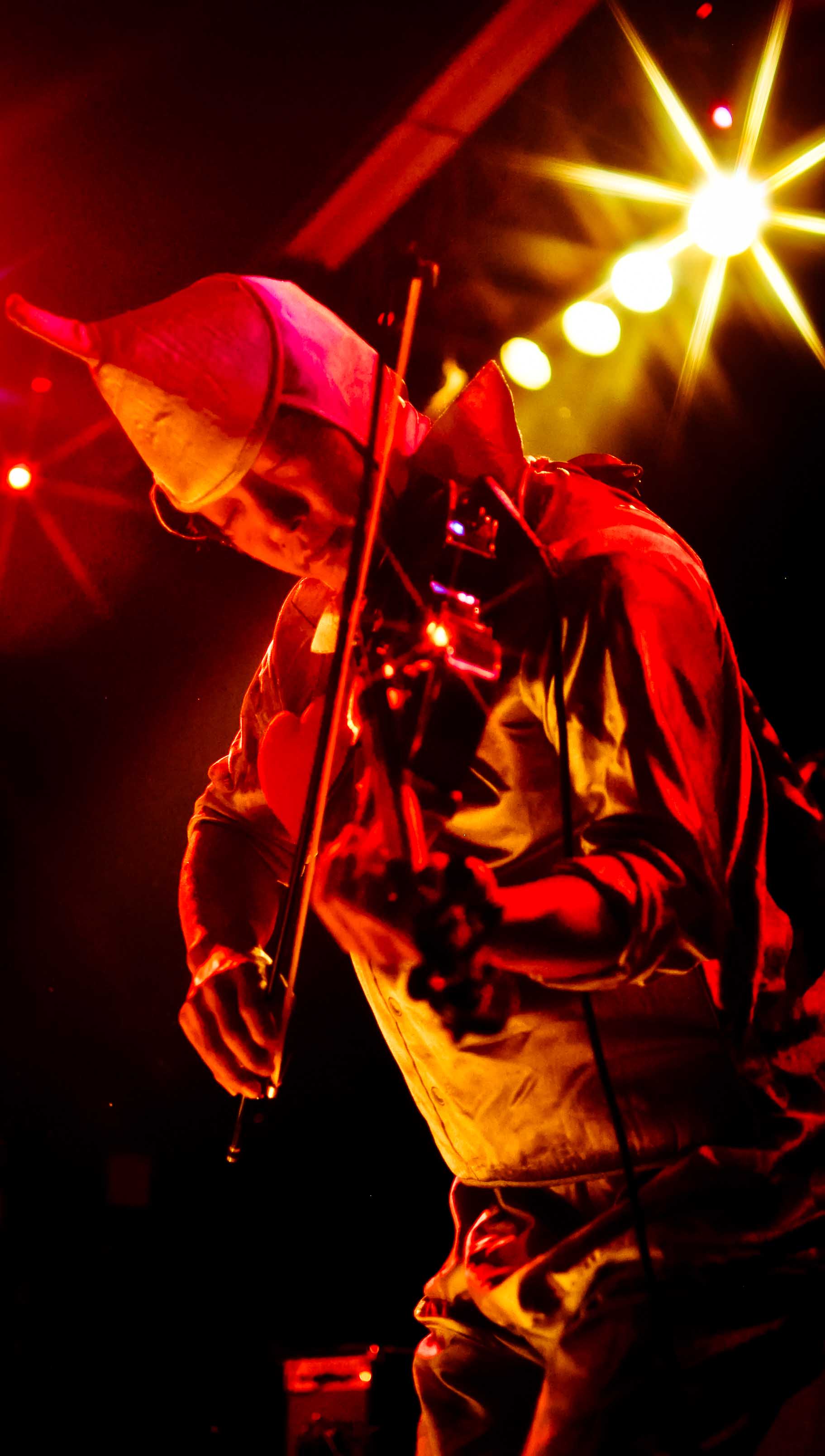 Poor Man's Whiskey, the headliner, gave the fans at the Fox two distinctly different sets to enjoy. The first set was an awesome display of their bluegrass prowess, including the guest appearance of the famous fiddler, Michael Kang of String Cheese Incident. They jammed their way through crowd-pleasers, such as renditions of "Land Down Under," "Cripple Creek," and "Catfish John." Poor Man originals were to be heard as well, like "PMS," which according to them stands for Pretty Much Screwed. They also showcased the catchy "Stuck in Colorado," about lead singer Josh's experience last year, right here at the Fox Theatre. Without spoiling the story, it's a song about the few hours that he spent detained by the Boulder Police. An incident he blames on his taste for Pabst's Blue Ribbon.
After a small break they returned for their second set, their Pink Floyd tribute Dark Side of the Moonshine, a re-imagining of the concept album from a moonshiner's point of view. They reappeared on stage in costumes from the other side of the rainbow, alluding to the synchronicity theory between the album Dark Side of the Moon and the 1939 film The Wizard of Oz. Looking like some kind of backwoods rock stars that had taken a wrong turn onto Yellow Brick Road, out came lead singer Josh cross-dressed as Dorothy, sporting braided pigtails and all. Mandolinist Jason was in costume as the Scarecrow, drummer George as the Wizard, guitarist Sean as the Cowardly Lion, bassist Aspen as the Wicked Witch of the West, and joining in the fun was special guest fiddler Kang as the heart-less Tin Man.
For almost 50 minutes they took us track by track through the famous album. They mesmerized us on this tour through familiar territory, introducing us to a musical vantage point that sparked more than a few smiles from long time lovers of these songs. Most of the songs brought the original version into a bluegrass interpretation, as opposed to trying to karaoke it with the banjo and mandolin, showing off their ability to reinvent. Highlights came from their newest addition guitar virtuoso, Lehe, and local guest violin hero Kang, both of who shredded it up for "Any Colour You Like." And if you we're singing at the top of your lungs through the up-tempo grass-jam finale, "Eclipse," then you must not have been there. And if you weren't there, be sure to catch them on their next time through. You will not regret it.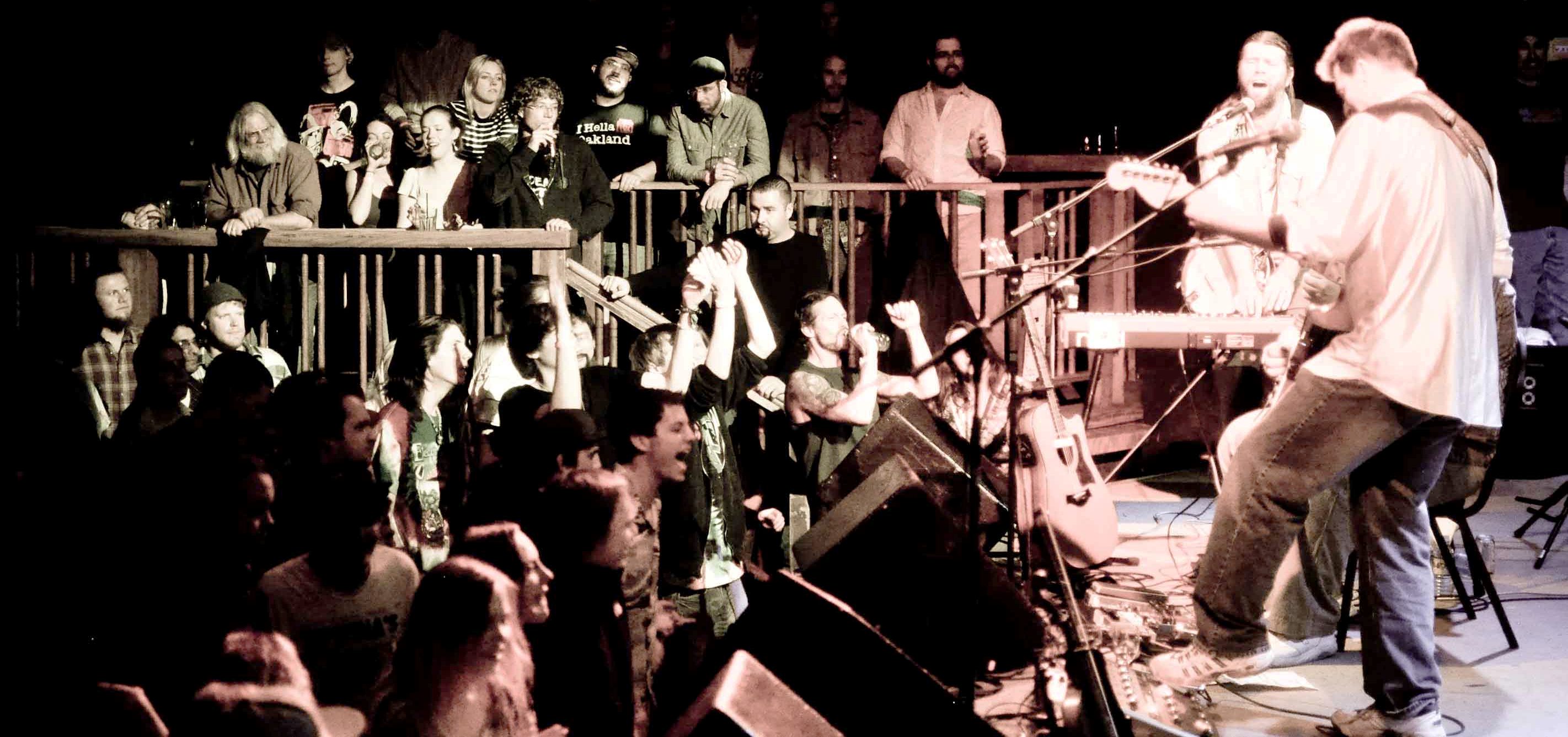 To sum it up, the evening with was a success: no one suffered any injuries from heavy stage equipment, the self-proclaimed "hairiest Dorothy ever" drank PBR and remains free from jail, and we were delighted with hours of musical favorites, old and new.