Although many people might not see Arkansas as a festival hotspot, Wakarusa Music Festival, which will take place May 31-June 3 on Mulberry Mountain, is sure to prove them wrong.
"Wakarusa prides itself on being a grassroots festival and also a trendsetter," said Brett Mosiman, festival co-director. "Wakarusa not only books some of the biggest national and international acts, but the festival really does an amazing job finding bands and talent that are on the cusp of becoming globally known just before they explode, making Wakarusa one of the most sought after festivals in the country, and world."
This year the festival features headliners such as electro party rocker Pretty Lights, folk rockers The Avett Brothers and rock band Primus, while also bringing in up-and-comers like Edward Sharpe and the Magnetic Zeroes and Big Gigantic, crowd pleasers like Girl Talk, and electronic fan favorite last year, Ghostland Observatory.
"[There are] massive quantities of incredible music," said Mosiman. " Several great acts who have never played  Wakarusa like SAVOY, Bob Weir, Chris Robinson & Jackie Green Trio, Balkan Beat Box and Primus coupled with emerging stars like Avett Brothers, Fitz and the Tantrums, Big Gigantic and Edward Sharpe & the Magnetic Zeroes… make Wakarusa the can't miss music event of the summer."
Mulberry Mountain, the home of the festival since 2009, is literally in the middle of nowhere, making it the ideal festival spot. The festival grounds rest on top of a mountain, so festival-goers are surrounded by nature, rivers and water falls.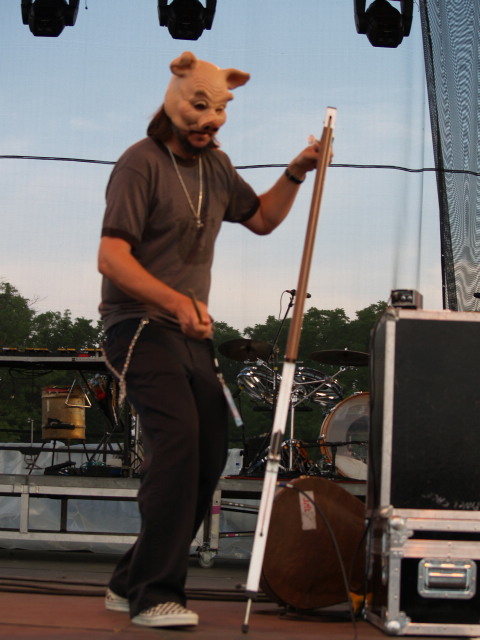 "It forces you to put down your cell phone and reconnect with nature, once you step foot on the grass and breathe in the cool mountain air, you are instantly in vacation mode," said Mosiman. "World class music in an idyllic natural setting has strange and restorative powers that everyone should experience."
Though festivals can get expensive, Wakarusa festival directors say they have done everything they can to keep prices reasonable and to make sure that anyone who wants to can come to the festival and have a great time.
"Wakarusa is not about breaking the bank for folks.  We have over 100 bands (nearly 200 sets), nearly round the clock music, a plethora of outdoor activities and vending to take advantage of," said Mosiman.  "This is a phenomenal deal for everything that's offered at the festival.  It averages out to less than a dollar ($1.00) per set. When was the last time you paid $1 to see Avett Brothers or Pretty Lights or Primus?"
Tickets are available online at www.wakarusa.com with two-day passes starting at $99. If cost is a concern, you can also check out the Work Exchange Team for opportunities to volunteer in exchange for their festival ticket.  More information is available at workexchangeteam.com.