Well, now that the hollidaze are just about over I can get back at the writing. This article was meant to be up a long long time ago! (Sorry guys!!) My home computer decided to crap out on me and cause me to lose all files! So, the first version of this review, plus all eight gigs of my mp3's and numerous  entertainment" files have all been lost! Damn. Well it's on with the show I guess.
I was able to arrive a bit early for show and the guys from NoPlotKill were nice enough to get us in for free. I got the chance to hang the guys before and after the show and it was well worth it! These guys are cool to sit around and BS with. No overbearing "band" ego's among them. They took the time to say hi to any fan who walked by (on or off stage). They leave you with the feeling that your already friends as soon as you meet them. (Make sure you say hi if you have the chance to see them live.)
When they got on stage they really got the show going. These guys exemplify what punk has been for me. A few friends up on stage playing, having fun and not giving a rat's ass about anything else! In typical punk fashion they played short but very musically diverse songs. They have a very punk sound but with a strong metal edge that makes for a very unique style! Diverse themes and rhythms! Strong vocals and some high energy guitar from Bartz (a definite hint of some 80's metal in the soloing, nice touch for a punk band). Some tight double bass drums from David, (a.k.a. Nick Nolte), that is till he broke his pedal and had to finish the set using a single from one of the other bands! And some thumping bas riffs from Ray who at most times seems to be the instigator of their on stage fun!
NoPlotKill has a stage attitude that will set them apart from all of their contemporaries. In person they are your average guys, but on stage they are a surprising cross between a punk band and the three stooges! Talking and joking with the audience in between songs, doing shots with members of the other bands, telling stories and even when David broke his pedals they kept on with the show, even cracking jokes about it! (That is a totally pro attitude! Nice job!) Everyone had a good time watching these guys play. (For some it appeared they were having too good of a time!) When you see them you get the feeling you are a part of the show! NoPlotKill is doing a free show on New Years Eve with three other bands at the Larimer Lounge! This should be an awesome show, and I can't find any other place that is "Free" on New Years so I'll see you there!
The Soiled Dove has the potential to be the "BEST" venue in town for local bands. The entire venue is centered around the stage with the best sound system I have heard from a small local setting! Friendly staff and smoking is permitted. The one major drawback that even NoPlotKill criticized them about while on stage are the drink prices. Very very high. Bring some bucks if you expect to through back a few. A small correctable problem is the temperature. Cold. Cold. Cold. I don't think they even bothered to turn on the heat. Other than the high drink prices and lack of heat The Soiled Dove could be the best place in town to catch a show! If they could fix those two issues I would give them an A+!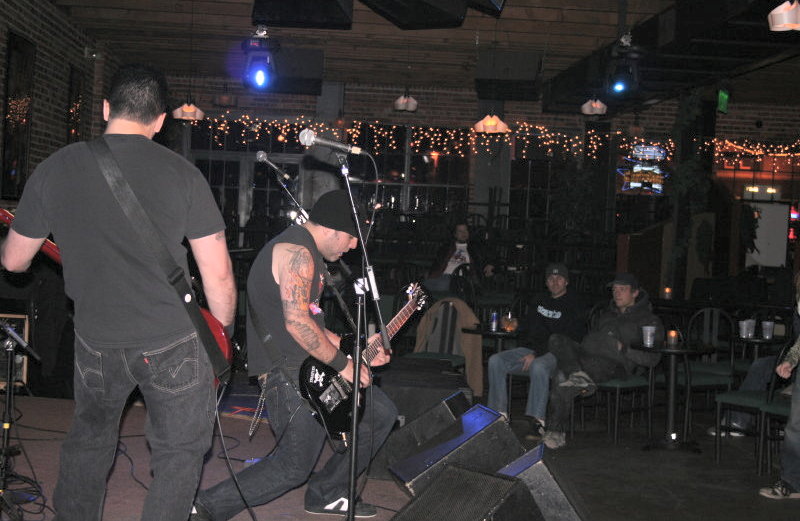 Coming in the very near future... Ten Tiers reviewed!! Also an editorial or two…Keep tabs on current reviews and the Denver music scene by checking out my new Myspace site. If you're already on Myspace add me as a friend! Or you can e-mail me @ [email protected] Also if you liked or even hated the article please leave a comment here on Grateful Web or myspace, or both!
As usual Jerome Taylor @ http://www.myspace.com/jerometaylor is the guilty party responsible for all of the pictures. Or e-mail at [email protected].