Santa Barbara based band Rebelution has officially announced they will be joining Slightly Stoopid on tour in July, August, and September, for The Seedless Summer 2011 Tour which will span over twenty-five cities in top outdoor venues, nationwide. The Seedless Summer 2011 Tour will stop at some of the country's best outdoor venues, including Red Rocks Amphitheatre in Morrison, CO, The Greek Theater in Berkley, CA, and Cricket Amphitheater in San Diego, CA, to name a few.  Shwayze & Cisco Adler will also be on the bill.  Tickets went on sale to the public on Saturday May 14, 2011.
Some of Rebelution's latest career highlights, include recently retuning from a two week tour across Brazil, performances at Bonnaroo, Lollapalooza, Austin City Limits, Wakarusa, Reggae Rising, Power to the Peaceful, and Ragga Muffins Tribute to Bob Marley Festival. They also headlined the US open of Surfing in Huntington Beach, CA.  On their 2010 headlining, national "Winter Greens" tour, the band played to sold out crowds across the country including selling tickets to upwards of 3,000 people in venues including: The House of Blues, San Diego, The Fox Theatre, Oakland, The House of Blues, Chicago, Irving Plaza in New York City, The House of Blues, Boston, The House of Blues in Orlando, Florida, and a sold out show at the renowned Wiltern Theatre in Los Angeles, California.  The band was also named one of the "Five Artists Your Should Know About" by Relix Magazine heading into 2011, one of the "Top 8 SoCal Bands" by Fashion 5.0 Magazine – and Music Connection Magazine said " Rebelution's guitar solos and horns give a breath of fresh air, to a played out style.  With guitar leads like the one showcased in 'Outta Control,' this four-piece is creating what it takes to stand out in a crowded room."
Other upcoming Rebelution show dates, include the California Roots Music Festival, Wakarusa Music Festival, Crossroads KC with Ben Harper, four Hawaii dates supporting reggae legends Steel Pulse in Kona, Oahu, Maui and Kauai, the Sierra Nevada World Music Festival, Dave Matthews Band's Caravan Festival, High Sierra Music Festival, Hollywood Park in Los Angeles, CA and the Klover Outdoor Pavilion in Billings, Montana.
Outside of their two Billboard charting albums [Courage to Grow, Billboard Top Reggae Album Charts since its release in 2007 and Bright Side of Life which debuted at #54 on the Billboard Top 200, #6 on the Billboard Independent Albums, and #1 on the Billboard Reggae Charts] Rebelution is currently in the studio working on their forthcoming third, full-length album, with notable guests passing through the studio including AmpLive, The Aggrolites, and Kymani Marley.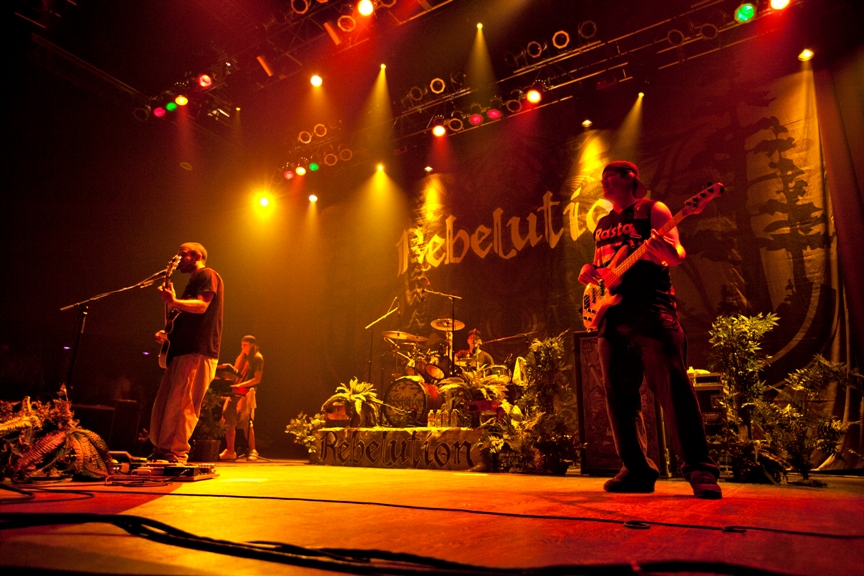 For more information on Rebelution, the Seedless Summer 2011 Tour, or for a complete list of Rebelution tour dates, click here.  You can also visit Rebelution on Facebook - and follow the band on Twitter.
THE SEEDLESS SUMMER 2011 NATIONAL TOUR DATES
July 21 – Missoula, MT – Big Sky Brewery
July 22 – Boise, ID – Idaho Botanical Garden
July 23 – Redmond, WA – Marymoor Amphitheatre
July 24 – Eugene OR – Cuthbert Amphitheatre
July 26 – Jacksonville, OR – Britt Pavilion
July 27 – Lake Tahoe, CA – Harvey's Amphitheatre
July 29 – Berkley, CA – The Greek Theatre
July 30 – San Diego, CA Cricket Amphitheatre
August 4 – Salt Lake City, UT – Gallivan Center
August 5 – Aspen, CO – TBD
August 6 – Denver, CO – Red Rocks Amphitheatre
August 10 – Asbury Park, NJ – Stone Pony Summer Stage
August 11 – Gilford, NH – Meadowbrook U.S. Cellular Pavilion
August 12 – Philadelphia, PA – Penn's Landing
August 13 – Boston, MA – Bank of America Pavilion
August 17 – Baltimore, MD – Pier Six Concert Pavilion
August 18 – Charlotte, NC – Time Warner Cable Uptown Amphitheatre
August 19 – Cocoa Beach, FL – Cocoa Beach Pier
August 20 – West Boca Raton, Fl – Sunset Cove Amphitheatre
August 21 – St. Augustine, FL – St. Augustine Amphitheatre
August 24 – Atlanta, GA – Masquerade Music Park
August 25 – Raleigh, NC – Raleigh Amphitheatre
August 27 – Chicago, IL – Charter One Pavilion