Regina Spektor is set to release a limited-edition box set of her beloved self-released debut album 11:11 in celebration of its 20th anniversary, due on August 26—Pre-order HERE and listen/share "Love Affair" HERE.
The special box set includes a remastered vinyl edition of 11:11, 2xLP collection of live performances entitled Papa's Bootlegs including never before heard or released songs from the 11:11 era—recorded by Regina's father—a full color lyric booklet with liner notes, reproductions of original fliers, art, doodles and photos. The album cover for Papa's Bootlegs was hand drawn by Spektor's friend Seth Avett of The Avett Brothers.
"For years I was relieved that this little record, made with friends while at university, got lost to time. It felt more like an old yearbook photo than something to be shared," says Spektor.
She explains, "When I listened for the first time in almost 20 years, I realized how special it was to have this snapshot of my younger self, and of a time that's now completely gone. I had very little from this era, but my dad remembered that he had recorded all my earliest shows and shared those camcorder videos with me."
"I discovered dozens of songs I had completely forgotten about. As I listened, I was surprised that instead of cringing I was filled with gratitude. I finally got to thank that young girl for spending so much of her time working on art and for setting me on a lifelong path of songwriting and music making."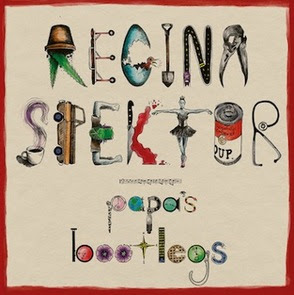 Spektor hits the road this fall for a U.S. headline tour, kicking off October 9 in Chicago with stops in 11 cities. See below for a complete list of dates. Tickets are on sale now HERE.
Regina Spektor is synonymous with New York City. The Russian-Jewish-American singer, songwriter and pianist got her own Sign on the Bronx Walk of Fame, as well as "Regina Spektor Day," (June 11, 2019) proclaimed by Mayor Bill DeBlasio. The Grammy Award nominee first saw commercial success with the RIAA Gold-certified LP Begin to Hope which includes the singles "On the Radio," "Better" and "Samson," as well as "Fidelity" which climbed the Billboard Hot 100 singles chart. Spektor's fifth album, Far (2009), and sixth album, What We Saw From the Cheap Seats (2012), both debuted at number three on the Billboard 200 albums chart. Spektor has performed at The White House as well as on Broadway, "Saturday Night Live" and contributed to many projects spanning film, television, and music including The Hamilton Mixtape.
11:11—TRACKLISTING
1. Love Affair
2. Rejazz
3. Back of A Truck
4. Buildings
5. Marry Ann
6. Flynn
7. Wasteside
8. Pavlov's Daughter
9. 2.99 Cent Blues
10. Braille
11. I Want To Sing
12. Sunshine
Papa's Bootlegs—TRACKLISTING
13. Back of A Truck
14. Love Affair
15. Trigger Happy
16. Wastewide
17. Cyclone
18. Pavlov's Daugther
19. Mocking Bird
20. Train Ballad
21. Rejazz
22. Quarters
23. Cradle
24. Little Girls
25. Mustard Muskateers
26. Amplifiers
27. Sunshine
28. False Intro to Braille
29. Braille
30. Marry Ann
31. Long Brown Hair
32. Flyin'
33. Down By The River
TOUR DATES
July 19—Carnegie Hall—New York, NY
July 24—The Mann Center—Philadelphia, PA*
July 26—The Pines Theater—Northampton, MA
July 30—Bethel Woods Center For The Arts—Bethel, NY*
August 1—Saratoga Performing Arts Center—Saratoga Springs, NY*
August 2—Leader Bank Pavilion—Boston, MA*
August 4—Forest Hills Stadium—Forest Hills, NY*
October 9—Chicago Theater—Chicago, IL
October 11—Michigan Theater—Ann Arbor, MI
October 12—Massey Hall—Toronto, ON
October 14—State Theater—Ithaca, NY
October 15—Wellmont Theater—Montclair, NJ
October 16—Warner Theatre—Washington DC
October 18—Tabernacle—Atlanta, GA
October 19—Belk Theatre—Charlotte, NC
October 20—Ryman Auditorium—Nashville, TN
October 25—The Warfield—San Francisco, CA
October 27—Walt Disney Concert Hall—Los Angeles, CA
*with Norah Jones