One could almost feel kaleidoscopic dust particles shake from the hallowed halls and chandeliers of the gritty old Fillmore in San Francisco on December 6. The occasion, a Rex Foundation benefit called "American Beauty," was a two-set, four-hour supergroup spectacular in which Set 1 consisted of a live-and-complete rendering of the classic Grateful Dead LP, "American Beauty." The musical program was led by ALO guitarist/songwriter Dan "Lebo" Lebowitz, who has a gift for facilitating and crafting new song arrangements for big-show all-star bands. And magic ensued.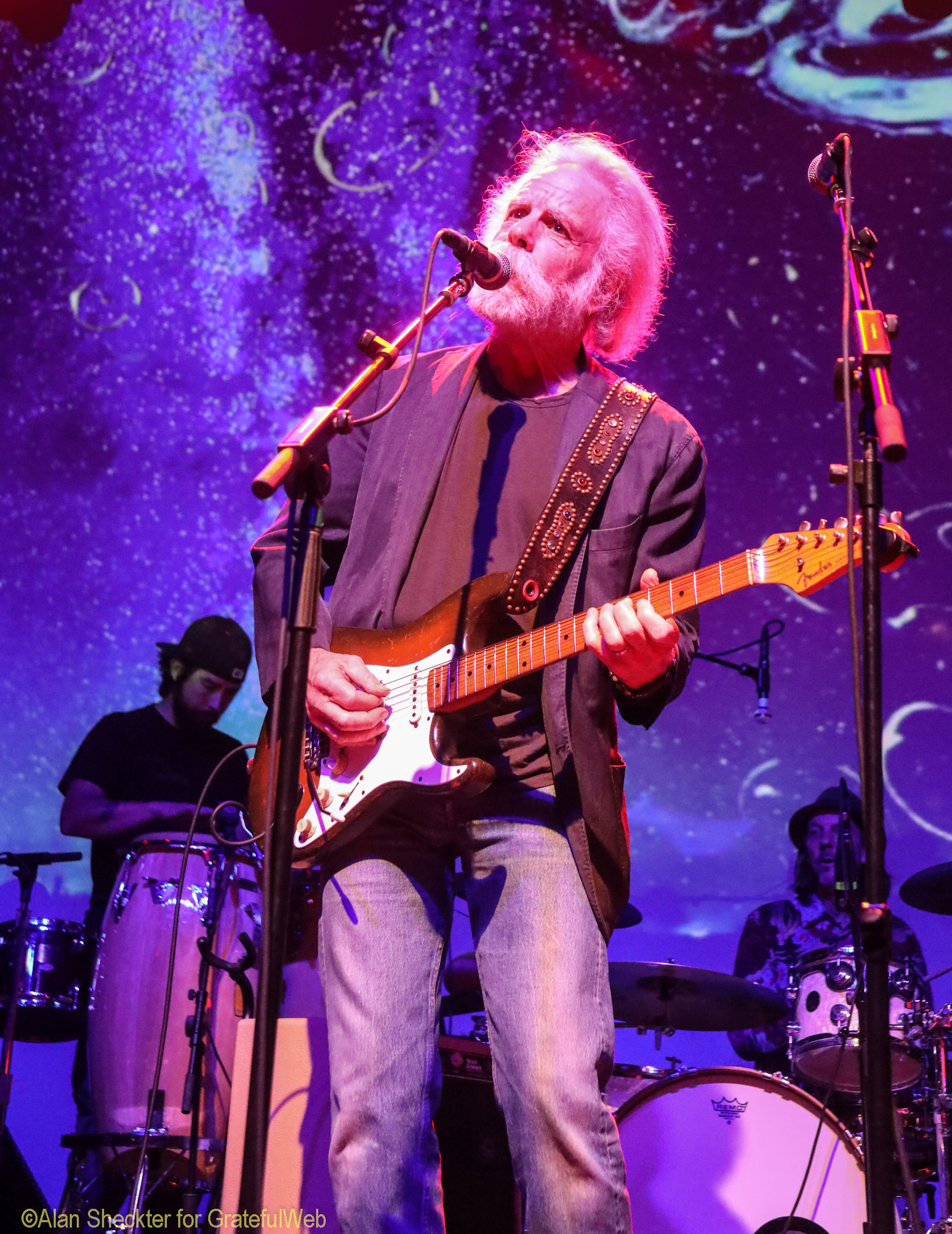 And Bob Weir was there, though he was unannounced in pre-show promo for the event. Weir's relationship with the nonprofit goes back to its foundation's establishment in 1983 by members and friends of The Grateful Dead and was named after the Dead's late roadie/road manager Rex Jackson. Weir to this day is listed on the foundation's board of directors.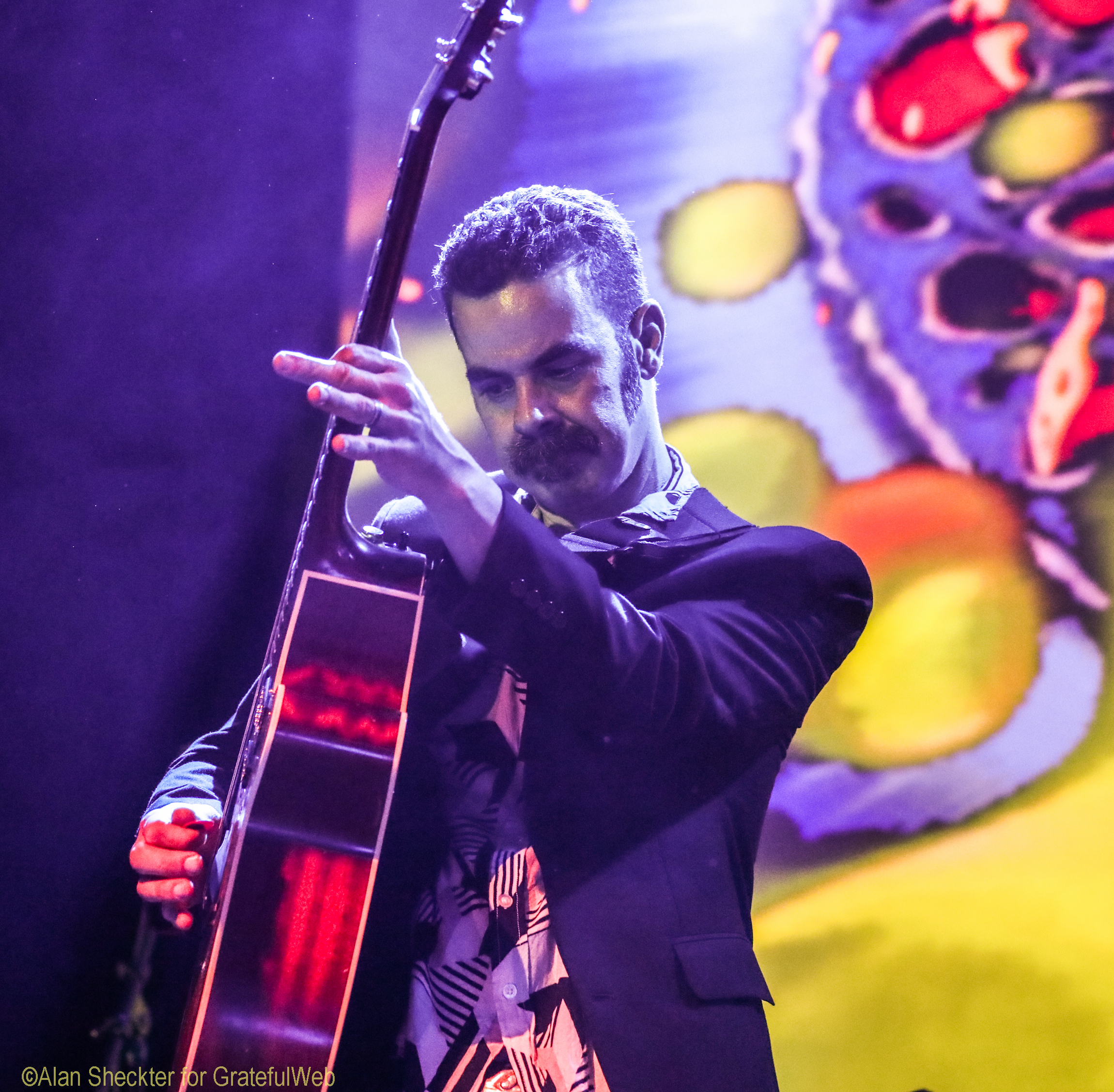 "We started working on this show a few months back," Lebo said. "Cameron Sears from the Rex Foundation reached out to see if I was interested in leading the band for it. Bob Weir came on just a few days before the event. … For the evening, we called the band Lebo & The Arrows of Neon. The core band was myself, Jackie Greene, Jason Crosby, Wally Ingram, Robin Sylvester, Scott Law, and Matt Butler. Added to that were Railroad Earth members Todd Sheaffer, Tim Carbone, and John Skehan. Plus Lesley Grant, T Sisters, and Ben and Alex Morrison from Brothers Comatose. And of course, Bob Weir."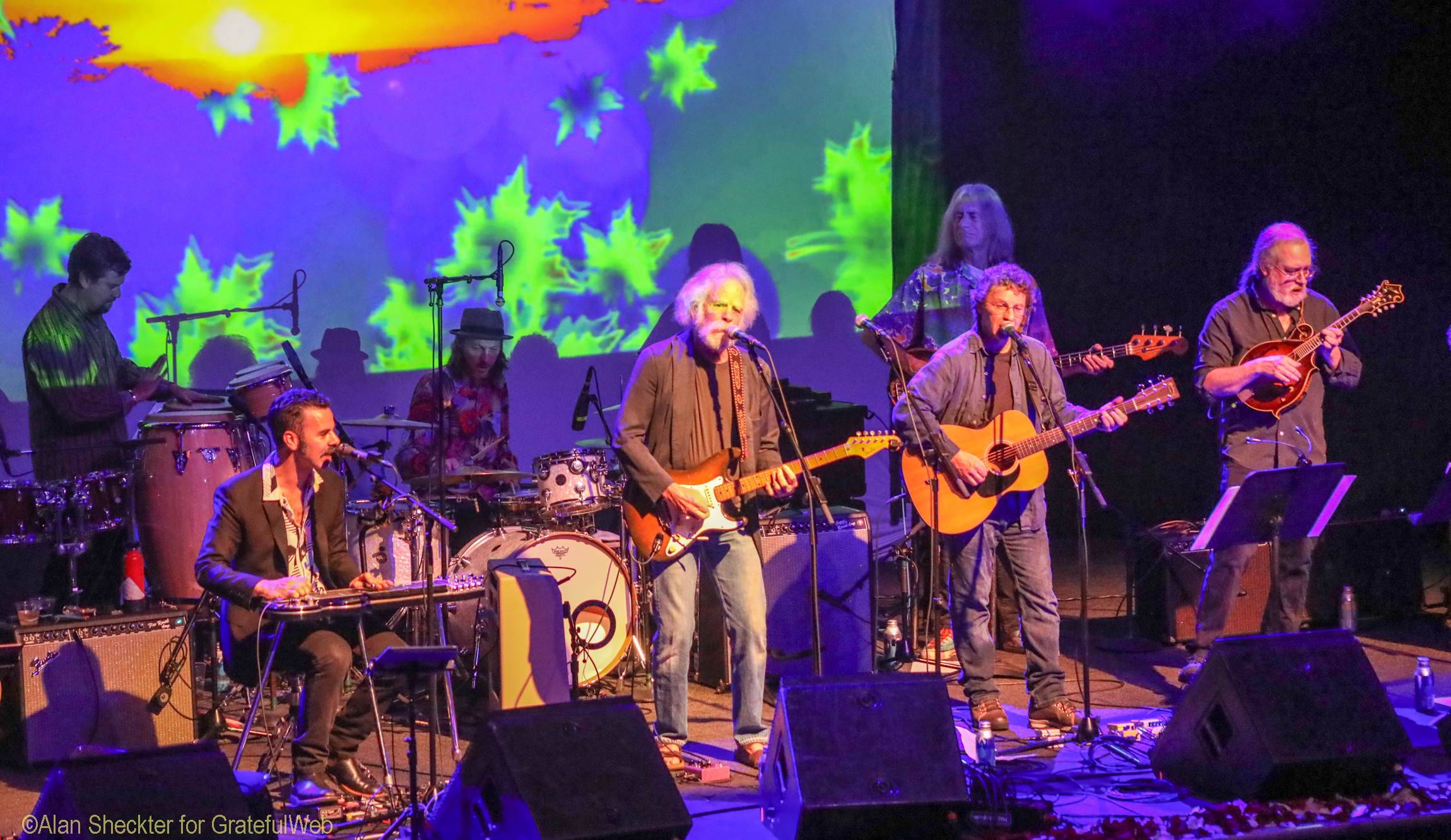 Each song, which by the nods, smiles, and body movements of the admiring patrons rekindled special memories for many, was given fresh treatments, whether it be a new twist on a lead vocal or instrumental arrangement. All the while, stage backdrops included dazzling light designs and iconic Grateful Dead still images, all adding to the evening's sparkle.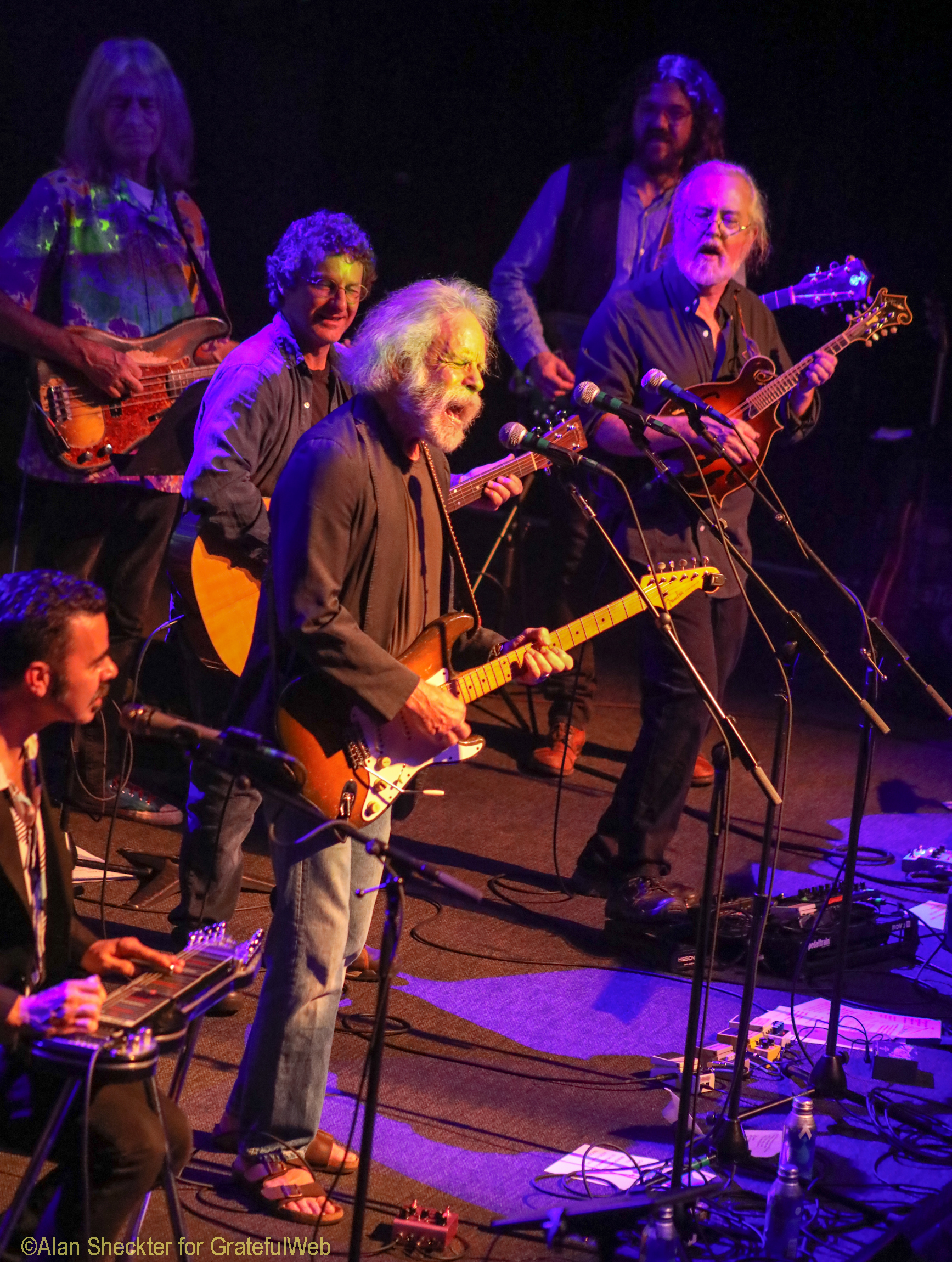 The show, like the "American Beauty" album, started off with the breezy "Box of Rain," with Lebo on guitar and lead vocals, Sheaffer on another guitar, Law on lead guitar, Crosby on piano, Greene on organ, Sylvester on bass, Butler and Ingram on drums/percussion, and the T Sisters adding background vocals. Players moved on and off the stage all night with precision, guided by Lebo-designed stage blocking and direction.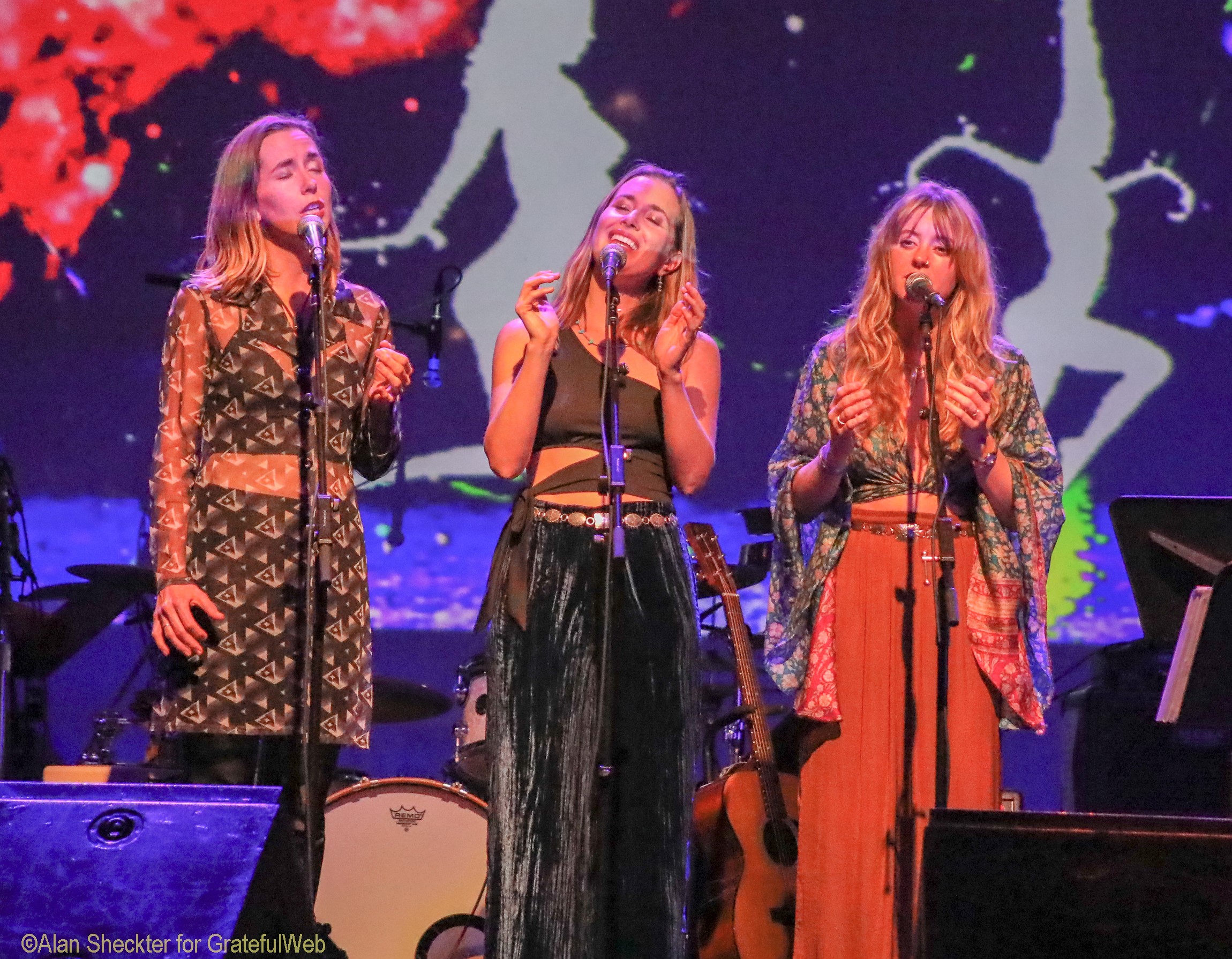 Carbone joined in beginning with the second number, "Friend of the Devil," with his Railroad Earth partner Sheaffer taking lead vocal duties, Lebo moving to lap-steel guitar and Brother Comatose's Alex and Ben Morrison on a riser at the back of the stage set up for backing vocals. The rest of the album-recreated first set included such notable moments as the Morrison brothers-led version of "Ripple," the T Sisters performing an a capella version of "Attics of My Life," and Grant's amazing take-us-to-church gospel rendering of "Brokedown Palace."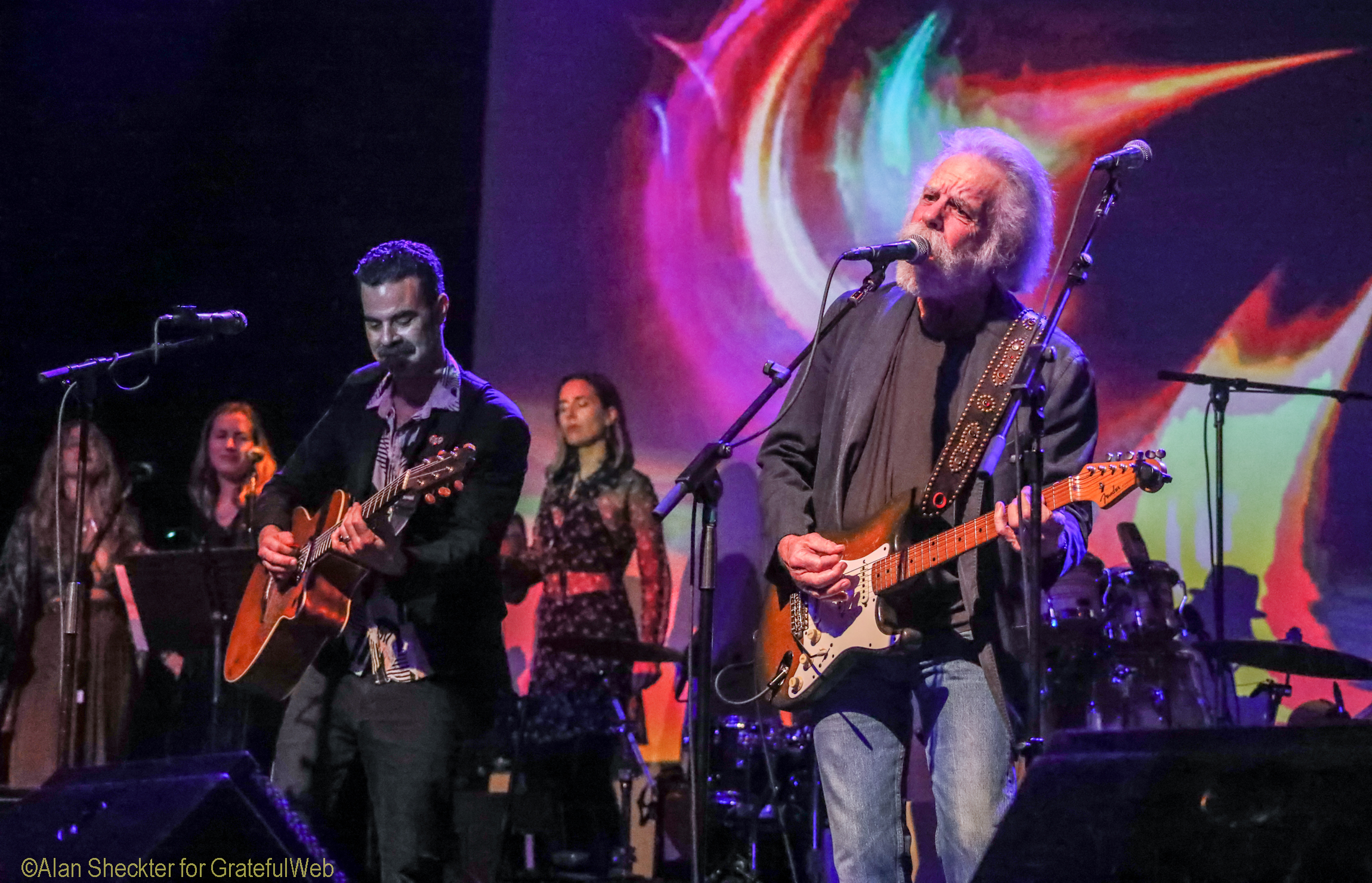 After eight songs, Lebo pointed out that the band skipped a tune that appeared early in "American Beauty" and that we'd understand why as he invited Weir to the stage. The audience then basked in rocking/jamming set-ending versions of "Truckin'" (and its lyric, "Arrows of Neon") and "Sugar Magnolia," with Weir, the original "American Beauty" vocalist on these songs, front and center on vocals and guitar. The band was a fortified powerhouse, with at least two excellent players at almost every position, particularly on guitar. Sylvester, a bass player with a storied pedigree, including several years with Weir's RatDog band, and a still in-demand live player, was a stalwart as the big band's sole bassist.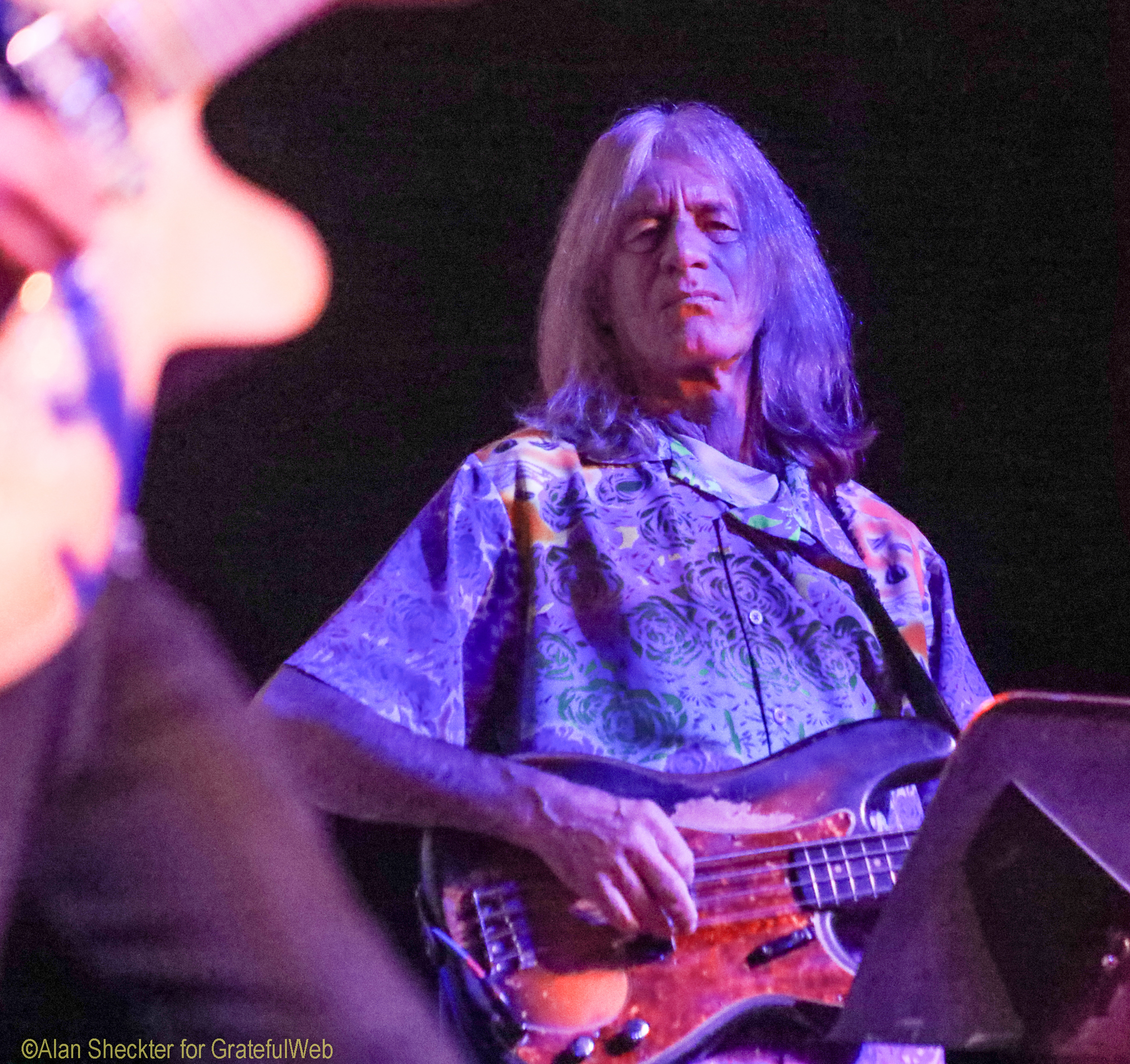 "Cameron had the idea of playing an album in its e ntirety for the first set," Lebo said. "We had a bunch of other ideas we were considering for the night but were most excited about that one. During all of this, Robert Hunter passed, so we considered doing a night of songs he penned. Then we realized that 'American Beauty' had some of his most iconic lyrics within its grooves, and he wrote almost all the lyrics on the album. So, we decided to stick with the 'American Beauty' idea and tribute Hunter as well."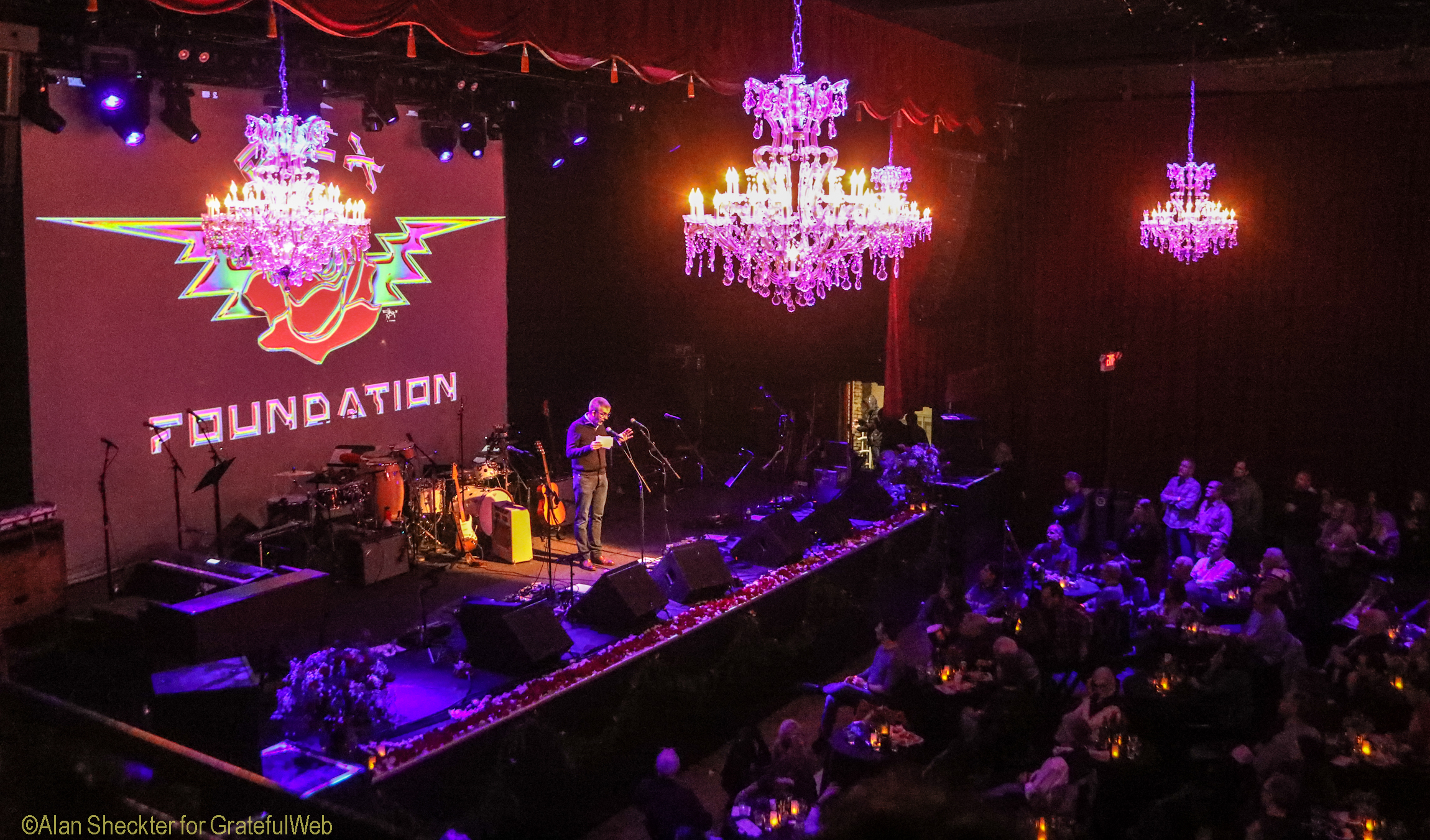 Sears preceded the first set, speaking to attendees first about the recently passed Grateful Dead lyricist Robert Hunter, whose words made up nine of "American Beauty's" 10 tracks. He went on to praise the foundation's recent accomplishments, including those made by 2019 Rex Foundation grant recipients 1Hood Media, A New Direction, Beverly Morgan Park, Bill Cook Foundation, EarthTeam, Farm to Pantry, Kid Pan Alley, Music Heals International, The Nomad Music Foundation, The Other 98% Lab, Ulster Immigrant Defense Network, Ultimate Impact, and Youth Beat.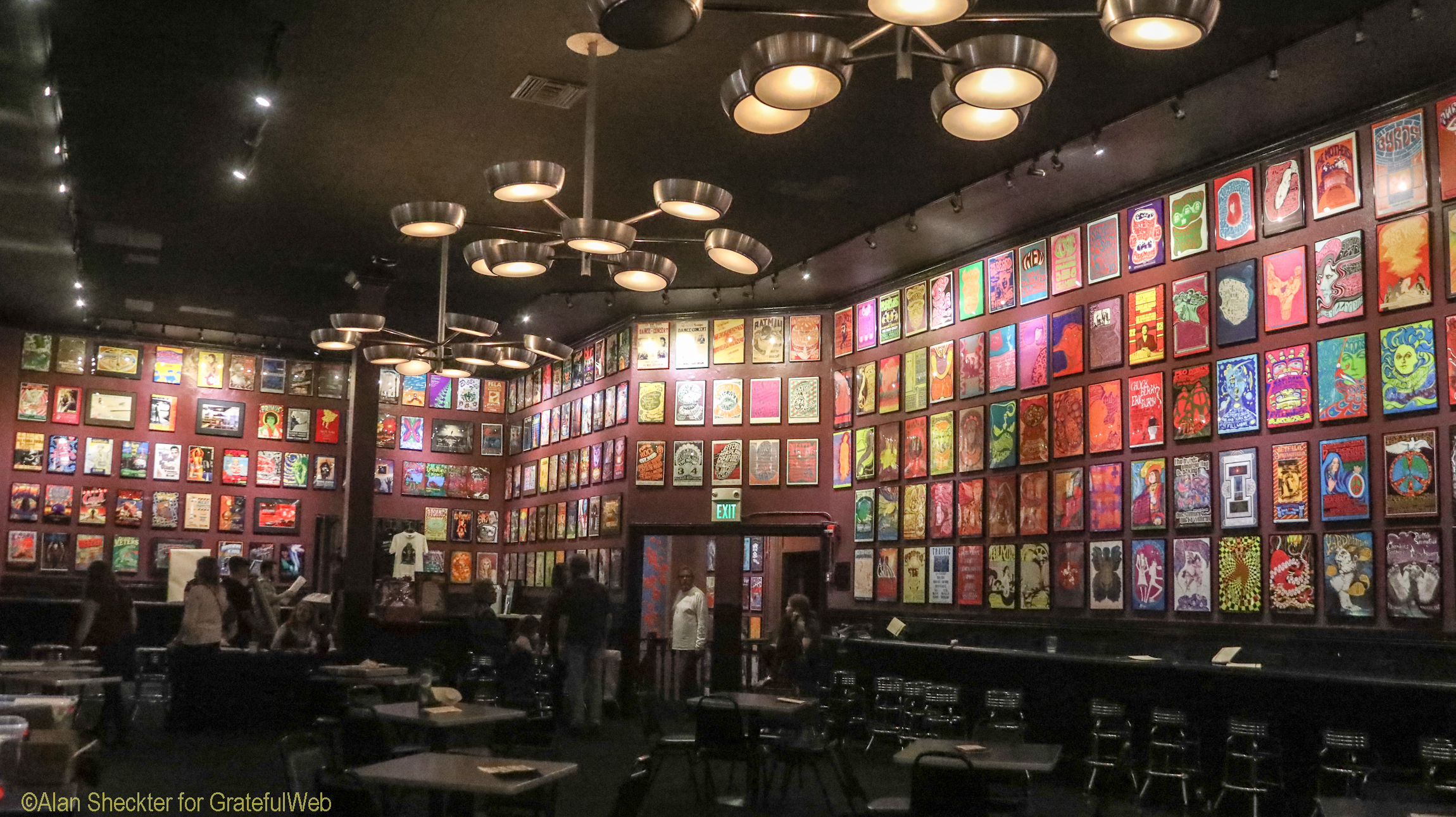 Regarding Hunter, The Grateful Dead's lyricist for so many Jerry Garcia-sung songs and more, Sears eloquently said, "We all recognize that he was our philosopher-king that brought us all together and the words that he put on paper, and the band sung every night to all of us, meant so much that we couldn't possibly estimate the value in real terms." Tying Hunter's poetic lyrics to the foundation grants, Sears said, "We look for people that are doing innovative things that are maybe overlooked and that may not have started out in a meaningful way but are doing something really innovative that we think deserves a chance. And again, going back to the lyrics that we depend on, that's a theme we'll find in those words, and we're living it today."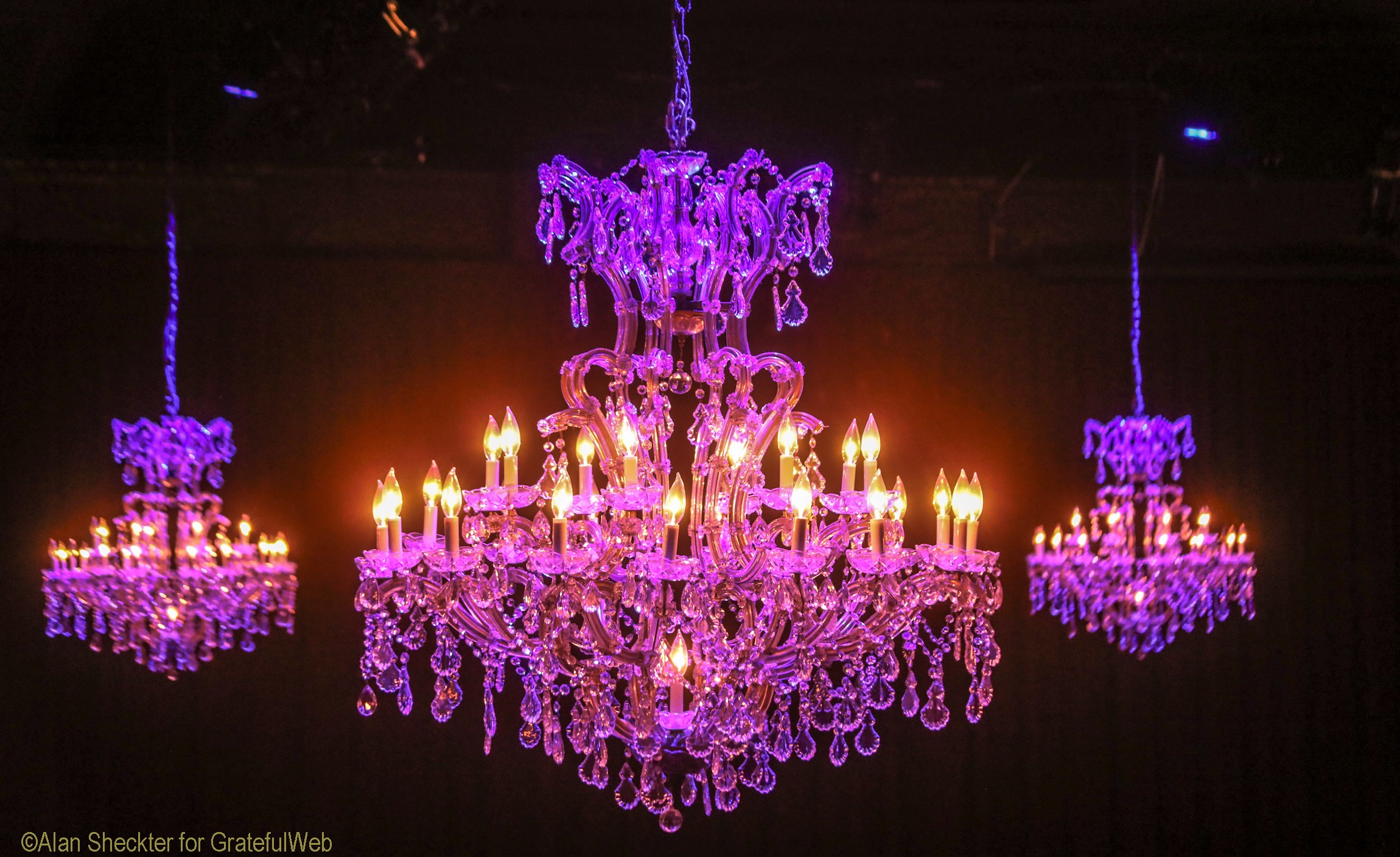 The heralded Fillmore venue, famous for its jazz in the 1940s and '50s, and Bill Graham-produced dance concerts in the 1960s, was the appropriate place to host the fundraiser and though the music was what was visibly celebrated by the stage-lit faces in the audience, the inspirations for the event were catalysts for common ground within the audience. While the event did have a regular general-admission ticket option, about half of the attendees were seated at round dinner tables that occupied most of the concert-hall floor. Those patrons donated from $150 to $1,000 to be there. A silent auction with an assortment of many fine arts items also seemed destined to bring plenty of additional foundation revenue.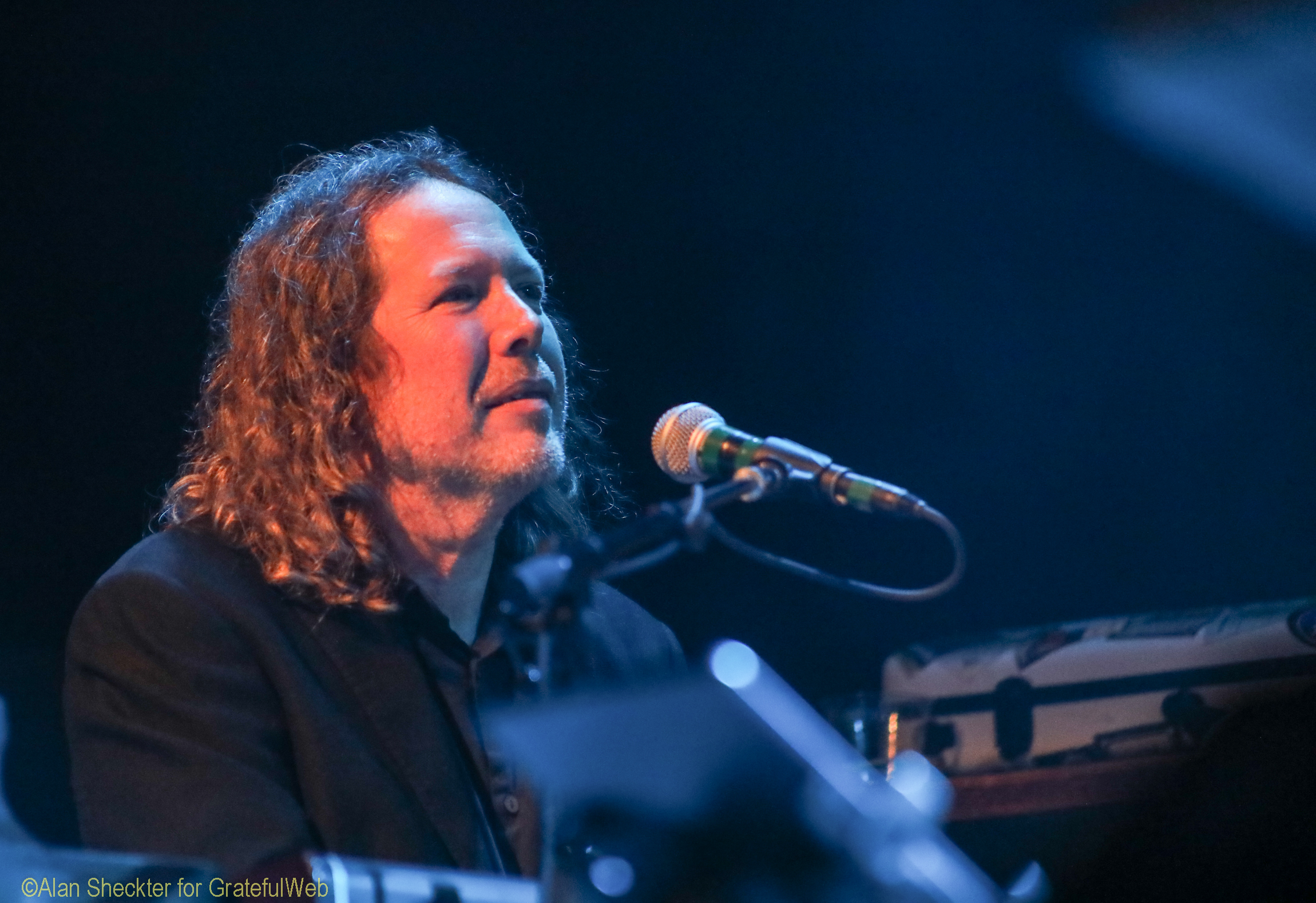 The second set of music consisted of other selected Grateful Dead songs, all penned by Hunter, and a couple of covers. Here, Sheaffer assumed a bit less of a prominent role as Greene moved from organ to lead guitar and vocals, leaving Crosby to handle all keyboards as well as a stint on fiddle – along with Carbone's fiddle – during "I Know You Rider."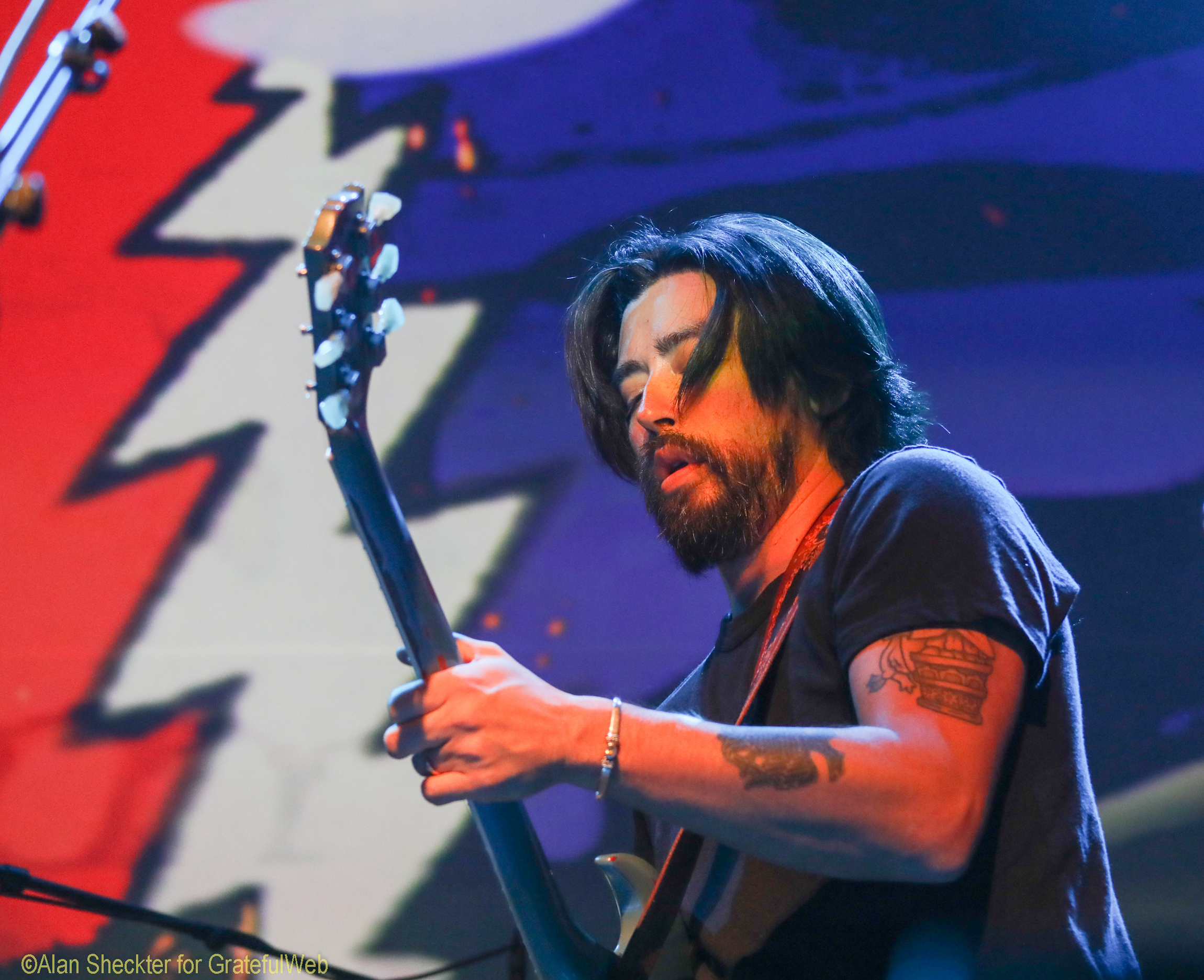 Greene led vocally the opening second-set pieces, "Scarlet Begonias" and "So Many Roads," before Lebo announced Weir's return to the stage, on which he would stay for the rest of the show. Weir led "Loser," with, during the song's jam portion, nods between band members encouraging other players to take leads at certain junctures in the song, a nonego practice that was present during the whole show. Clearly, the band members were having fun as they realized the collective talent pouring out of this supergoup.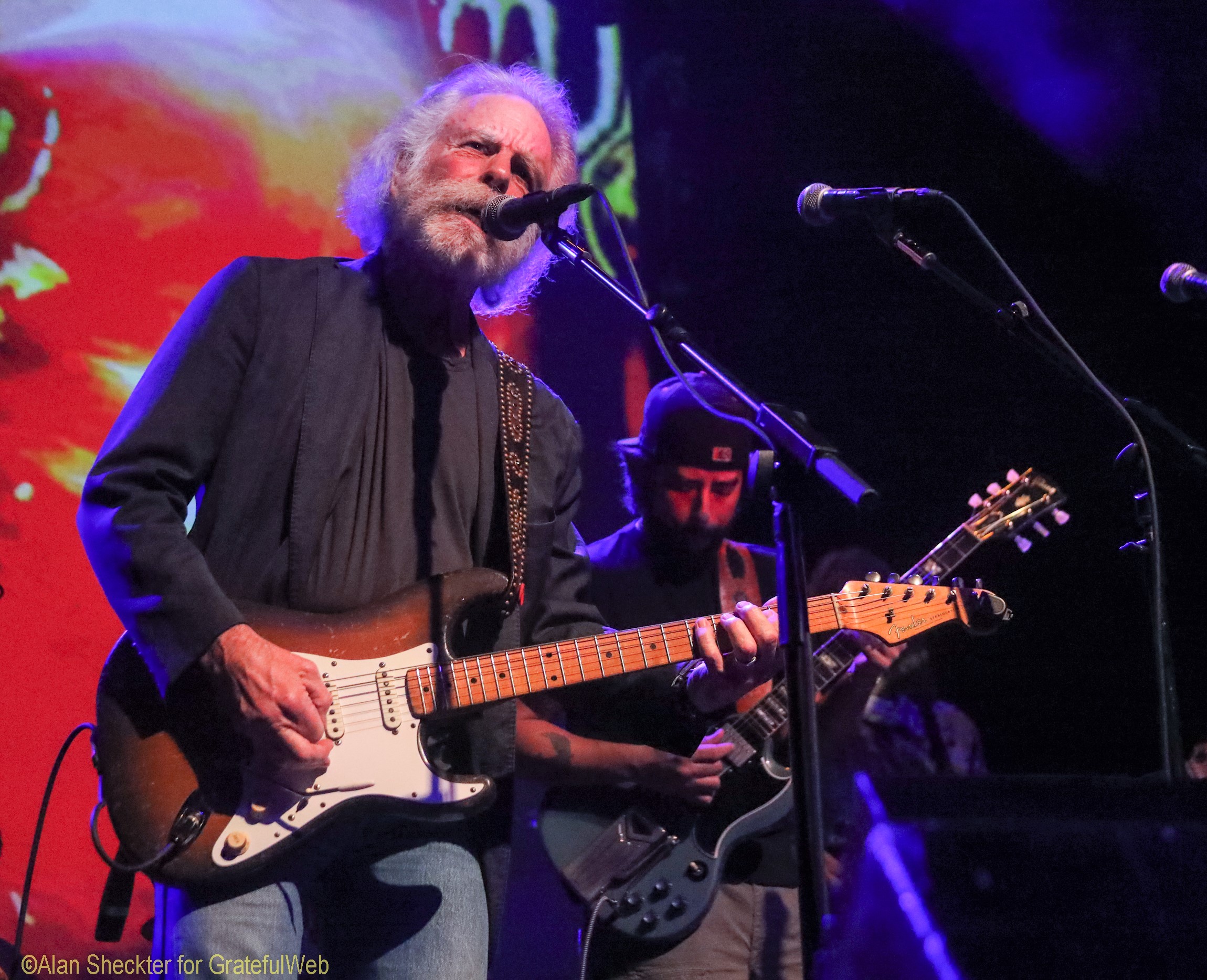 Then it became obvious that it was also not lost on the event organizers that the date, December 6, marked the 50th anniversary of the infamous Altamont Festival, a decade-ending violent flashpoint that soured some on the good vibes that the rest of the decade had generated.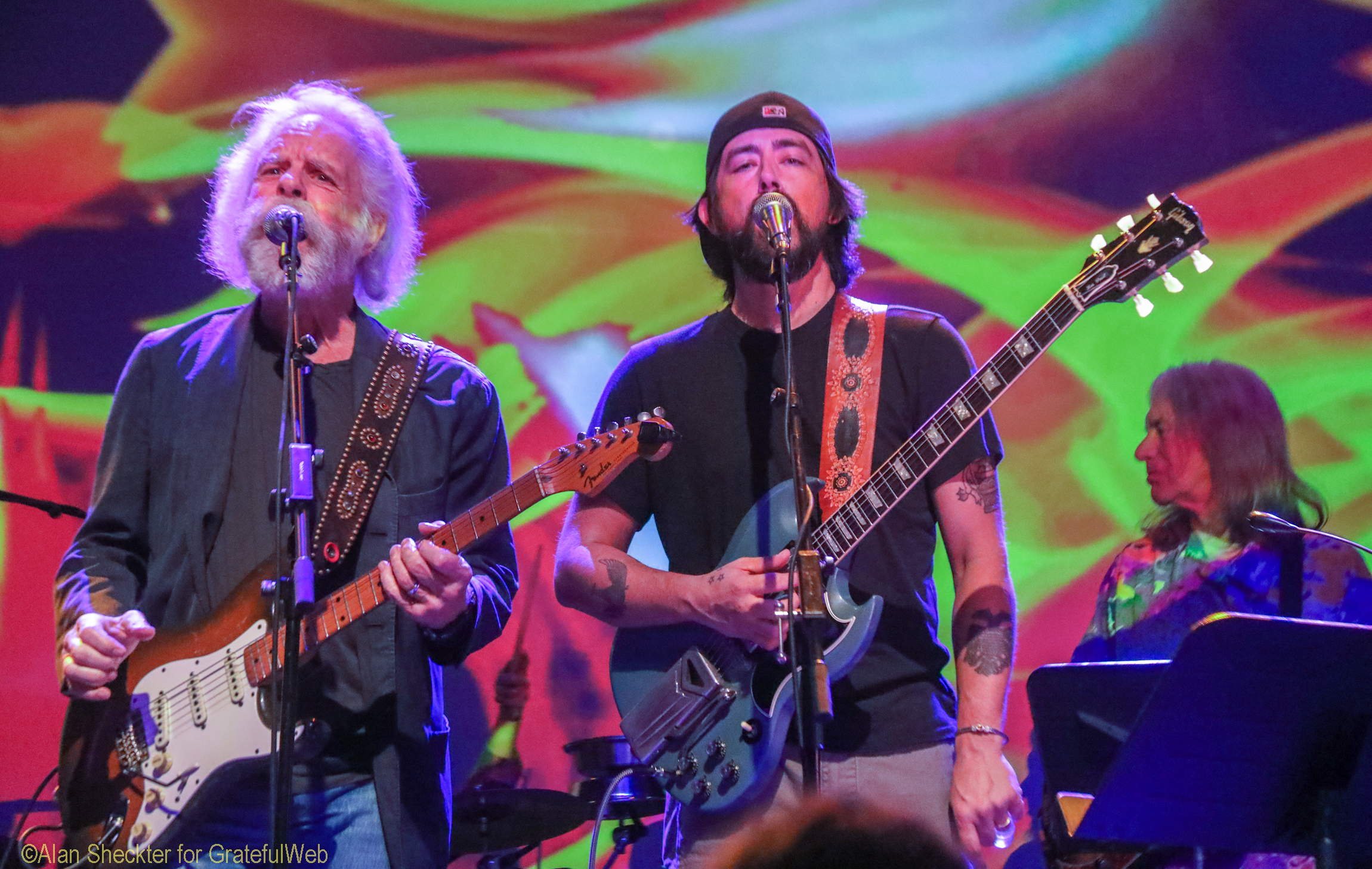 With Weir, Greene, and Lebo at center stage, the band introduced "New Speedway Boogie," the "Workingman's Dead" album track that paid tribute to Altamont and the Livermore, California, speedway at which it took place. The song made its live debut just two weeks after the failed festival, on December 20th, 1969, at San Francisco's Fillmore West. Hunter stated in "A Box of Rain" that the song was written as a reply to an indictment of the Altamont event by rock critic Ralph Gleason, who forecast that it had signaled the end of the counterculture era. The lyric, "In the heat of the sun a man died of cold," likely referred to the 18-year-old who was killed near the stage that day, according to David Dodd's "The Complete Annotated Grateful Dead Lyrics."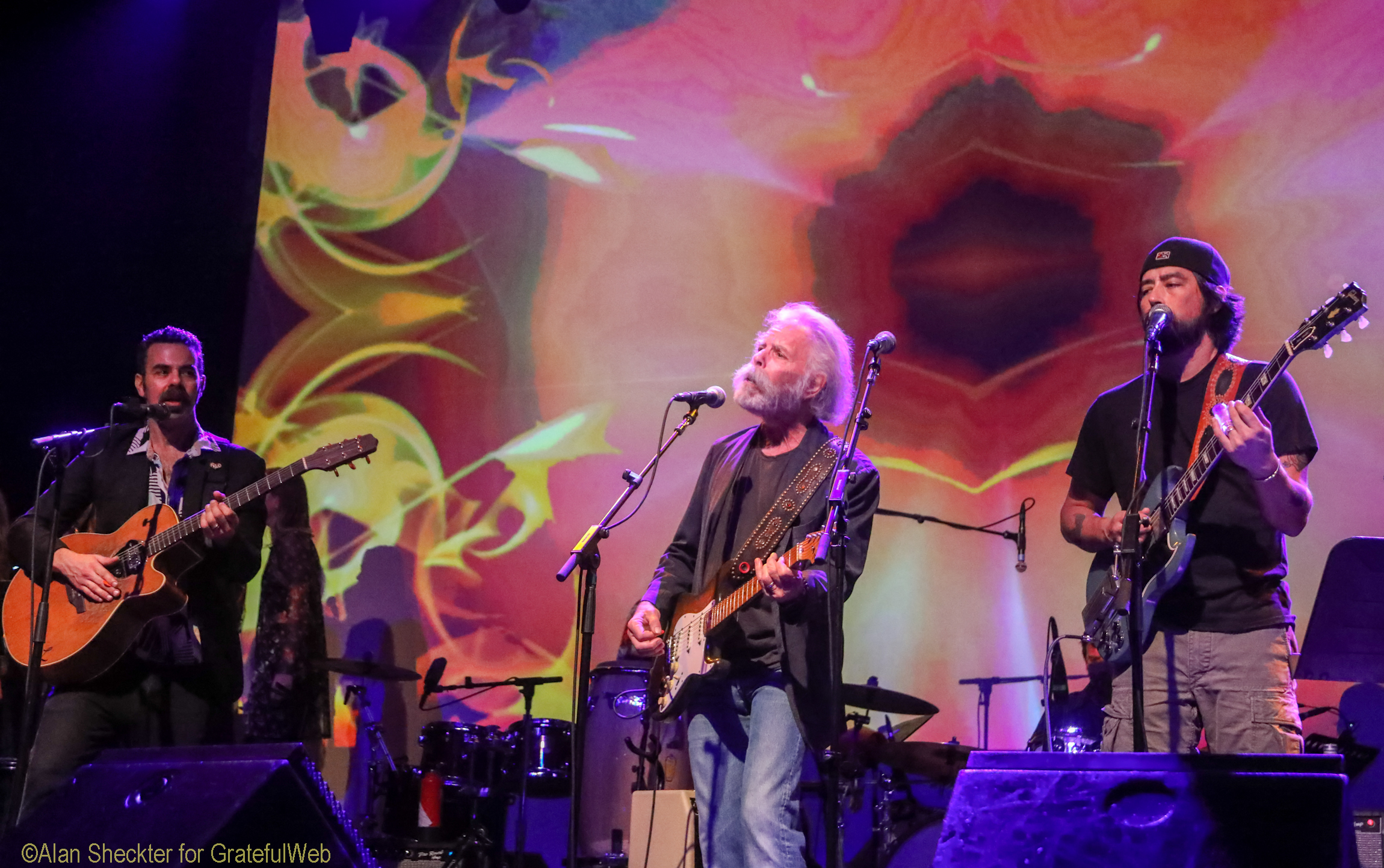 After "New Speedway Boogie," which featured several jams between Weir, Greene (on slide), and Lebo, among others, the band moved directly into the Rolling Stones' "Sympathy for the Devil," with Weir and the rest clearly having fun indulging in that song's musical dynamics.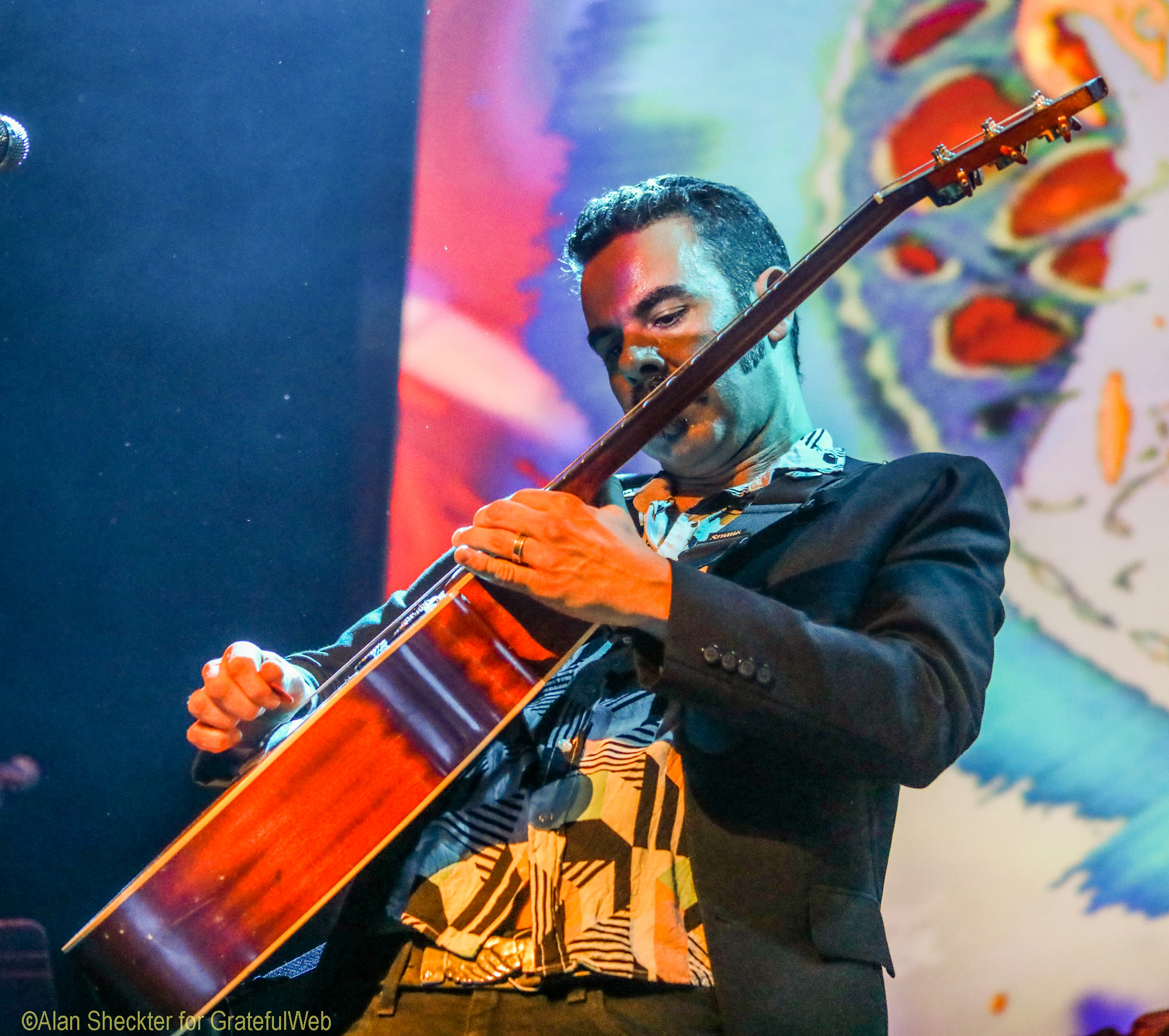 "December 6th was the 50th anniversary of Altamont," Lebo said. "'New Speedway Boogie' was written about that, so I knew we wanted to do that one. I was playing at an event at the Great American Music Hall with Karl Denson the night before the Rex show and ran into Jay Blakesberg. We got to talking about Altamont and he reminded me that a lot of craziness broke out during 'Sympathy for The Devil.' I sing that tune already and realized that 'Speedway' and 'Sympathy' would pair really nicely and boom!"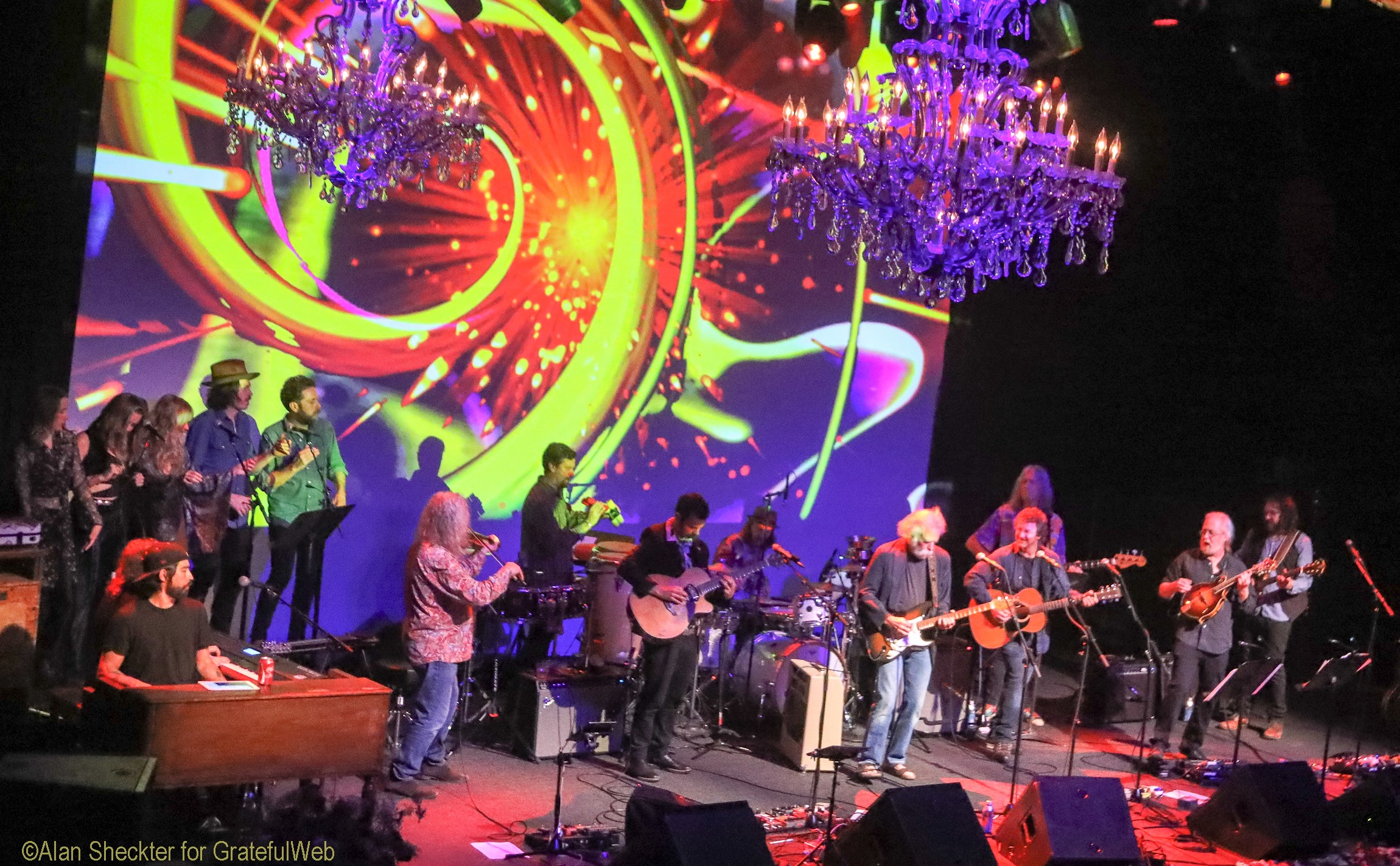 Next, the second-set closer of "China Cat" and "I Know You Rider" featured simultaneously, Weir, Lebo, Shearer, Greene, and Law, all on guitar. Weir's passionate "I Know You Rider" lyric, "The sun's gonna shine in my back door someday; March winds will blow all my troubles away," so familiar for so many years, provided another of the evening's pinnacle moment. A "We will get by; we will survive" "Touch of Grey" singalong encore provided us with a positive outgoing sentiment.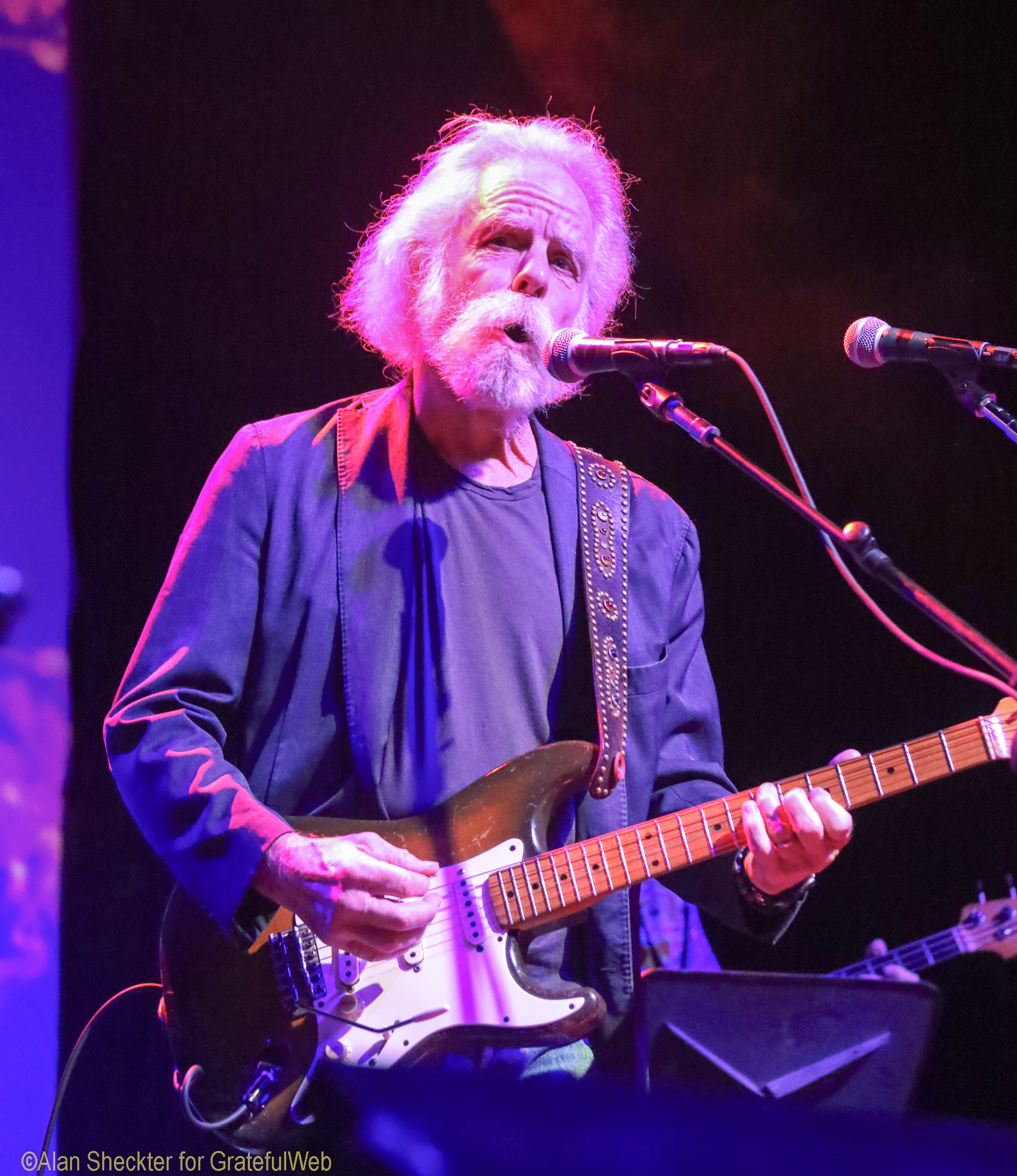 Lebo & the Arrows of Leon with lead vocalist in parenthesis– Set One: Box of Rain (Lebo), Friend of the Devil (Sheaffer), Operator (Lebo), Candyman (Schaeffer), Ripple (Ben & Alex Morrison), Brokedown Palace (Grant), Till the Morning Comes (Lebo, Sheaffer, Grant), Attics of My Life (T Sisters), Truckin' (Weir), Sugar Magnolia (Weir).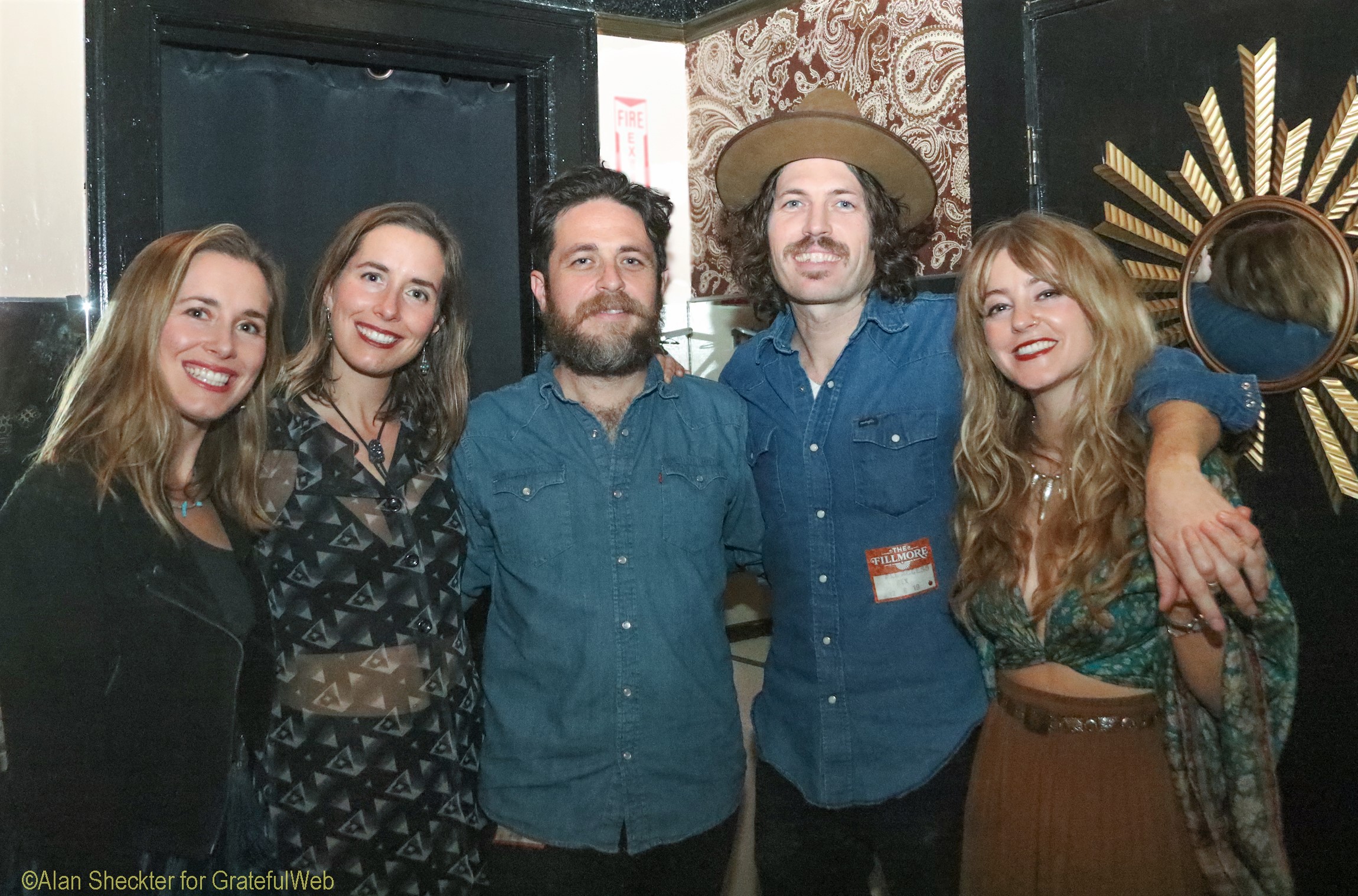 Set Two: Scarlet Begonias (Greene), So Many Roads (Greene), Loser (Weir), New Speedway Boogie (Weir, Greene), Sympathy for the Devil (Lebo), China Cat Sunflower (Weir), I Know You Rider (Weir). Encore: Touch of Grey (Weir)