Naming him the #1 stand-up comic of all time, Rolling Stone wrote of Richard Pryor: "Pryor was untouchable ... If [George] Carlin is the brain and conscience of comedy, Pryor is its guts and heart, and it's unlikely the man referred to as the 'Picasso of our profession' — by no less than Jerry Seinfeld — will ever be topped."
On February 26, 2021, Omnivore Recordings will release expanded editions of Pryor's first two recordings, Richard Pryor and 'Craps' (After Hours). Both will be available on CD and Digital.
Scott Saul, author of Becoming Richard Pryor, wrote in his liner notes for the Richard Pryor reissue: "What you hold in your hands is something precious: both the landmark debut that was, and the piece of cultural dynamite that might have been. In its original form, Richard Pryor alerted the world that Pryor had stepped out of Bill Cosby's long shadow and developed a style — surreal, nervy, improvisational — that was all his own."
Richard Pryor, originally released in 1968, featured cover art (shot by legendary photographer Henry Diltz) that should have let the buyer know this was not your average comedy record. Pryor was at a career crossroads that year, when the album was recorded at the Troubadour in West Hollywood. He'd already become a regular on The Merv Griffin Show and The Ed Sullivan Show, and was signed to the same agency that handled the Beatles and the Supremes. But it wasn't just his love of artistic freedom that pulled him toward what many looked at as defiance. Pryor wanted to not only change comedy, but how we look at ourselves and those around us.
Richard Pryor's original eight tracks make up the first disc of this new edition, while the second disc contains 21 tracks from the out-of-print Evolution/Revolution: The Early Years (1966-1974) collection — originally co-compiled by producer Reggie Collins, who helms this new set along with Jennifer Lee Pryor and Grammy®-winning producer Cheryl Pawelski. Remastering is by Grammy®-winner Michael Graves.
In his introduction to the 'Craps' (After Hours) package by Larry Karaszewski (Golden Globe® and Emmy®-winning co-writer of Dolemite Is My Name, The People vs. Larry Flynt, American Crime Story, and more) writes: "This fascinating collection chronicles how Richard Pryor evolved from 1960s nightclub comedian to being the voice of his generation. The performances capture the moment where Richard Pryor stopped being polite. Where he took off his suit and tie and gloves. Where Pryor began to reflect what was happening in the streets and in the counterculture."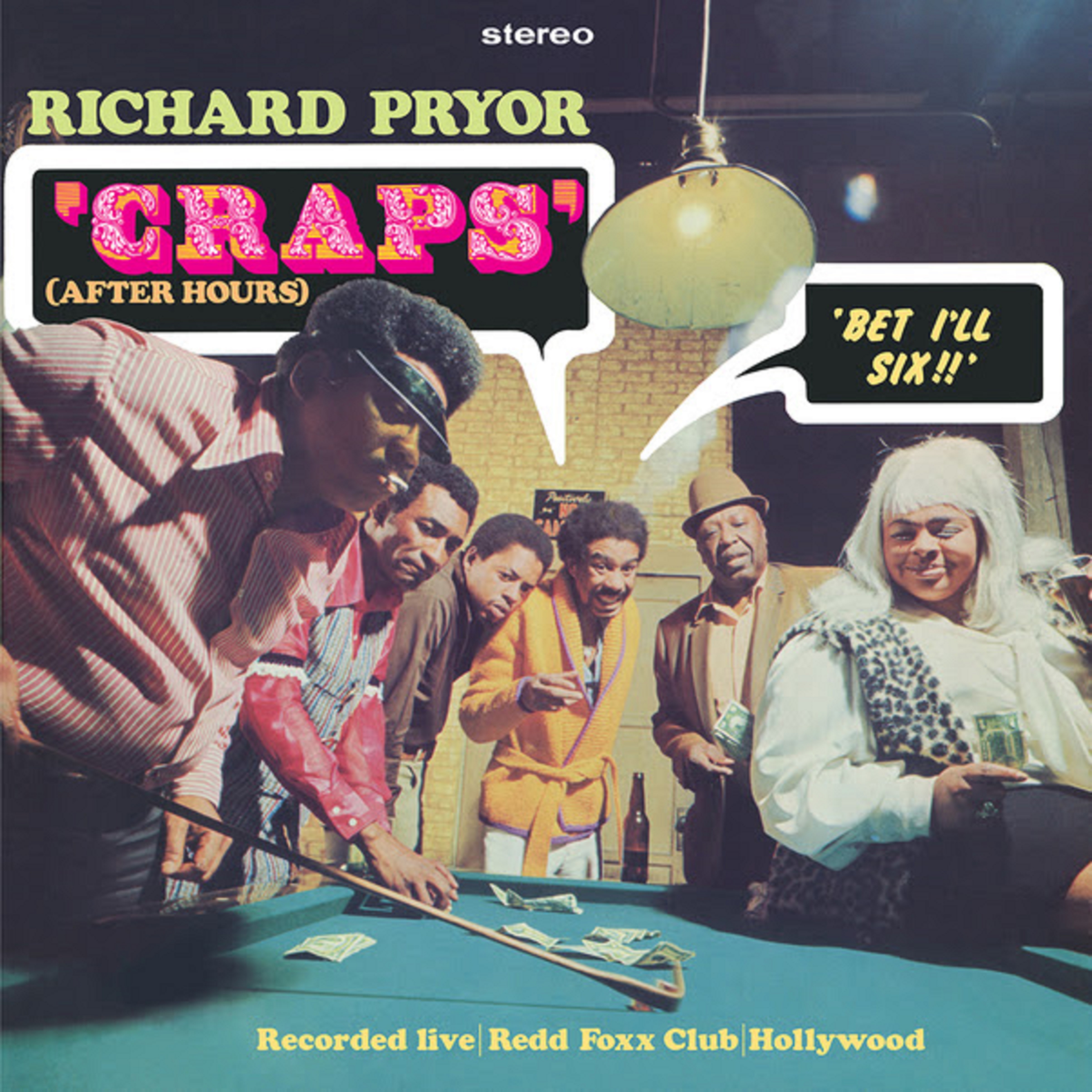 Originally released in 1971, 'Craps' (After Hours) arrived on a new label, Laff Records. It also came from a tumultuous time in Pryor's personal life. But this new arrangement and Pryor's need to create saw him — for the first time since his earliest days in Peoria — performing in nightclubs that drew an almost entirely black audience. In these lively black clubs, he could say anything he wanted. and those parts of himself that had been buried, by shame or censorship, could now serve as his creative fuel.
The original 32 tracks from 'Craps' (After Hours) are now teamed with four bonus tracks from the out-of-print Evolution/Revolution: The Early Years (1966-1974) and No Pryor Restraint: Life In Concert collections. Production and remastering credits are the same as for Richard Pryor.