A nasty day in February became much brighter when my Treo blew up as texts started flying in informing me that Rothbury 2009 was officially on.  After months of speculation and discussion about leases and bankruptcy and rumors of a possible alien abduction of any confirmed artists, this was fabulous news!
Here's the boring stuff…in January, U.S. Bankruptcy Court Judge Scott W. Dales approved a lease agreement between the bankruptcy trustee and Rothbury, paving the way for the second year of the festival, but the official announcement of the July 2nd-5th dates didn't come until almost a month later.
Here's the fun stuff… Rothbury will definitely be returning for a second smashing summer at Michigan's Double JJ Ranch. (so does that mean it's four j's?)
Now that we knew where we were spending Fourth of July weekend, the Infobury boards began the imperative prereq of artist predicting. That didn't last long as the initial artist lineup quickly followed. So far the highlights include The Dead (for their only summer performance), Bob Dylan and His Band, The String Cheese Incident (for their only 2009 performance), Willie Nelson & Family and The Black Crowes.
I'm more excited about seeing Les Claypool, John Butler and Broken Social Scene.  I'm sure the additional artists will pique my interest when they are announced.  Even better will the newest green initiatives implemented this year. Rothbury has chosen to reduce their carbon footprint by donating to the development of a new wind farm in the Midwest called Tatanka…totally stoked about that!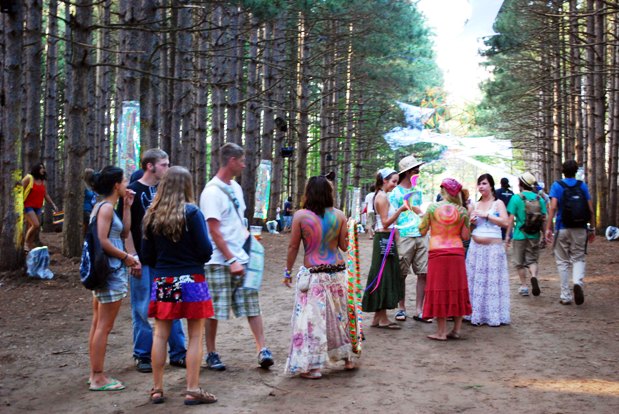 Be sure to look for special trees in Sherwood. Rothbury's having a tree-decorating contest this year.  Even though registration is closed, make sure you check out the designs when you get there! Five trees will be chosen as winners, receiving a Good Life ticket upgrade for themselves and two guests plus a $150 gift certificate. Decorations must be made from reclaimed or recycled materials and must not harm the tree or the land in any way. So no worries there fellow tree huggers!
Since all the formalities are out of the way, make sure you've got your tickets ordered and start working on the list of things you need to bring…glow sticks, glow paint, tent, costumes, liquor and other party favors, hand sanitizer, 3D glasses, hula hoop, sigg bottle, sunscreen, camera, etc.
No matter what else your year holds for you,  know you have a summer weekend of hunting for the secret stage in Sherwood Forrest, listening to everyone hollering for Karl (even though we all know he can't possibly still be lost), browsing crazy cool artwork and listening to some fabulous shows! Enjoy!