Hailing from the indie music mecca of Portland, OR, the Shook Twins have enlisted Grammy Award-nominated producer Ryan Hadlock (The Lumineers, Fleet Foxes, Brandi Carlile) for their third full-length studio album, What We Do, scheduled to be independently released on April 8, 2014; What We Do is mastered by Gavin Lurssen (Loretta Lynn, Tom Waits). Following an annual Winter Ski Tour 2014 through their native Idaho, to Wyoming and Utah, the Shook Twins make a much-anticipated three-day debut appearance at this year's Folk Alliance Conference in Kansas City, MO (Feb. 20 - 22, 2014). In April & May 2014, the Shook Twins hit the road for a national headlining tour appearing at venerable venues such as Mississippi Studios (Portland, OR: April 11), Freight & Salvage (Berkeley, CA: April 17), Tractor Tavern (Seattle, WA: April 25), McDonald Theater (Eugene, OR: May 2), Sierra Nevada Brewing Company (Chico, CA: May 6), and many others. All forthcoming tour dates are listed below.
It's no wonder the twenty-something Shook Twins are gaining national attention for their haunting indie-folk sound. Since relocating to Portland in December 2009, they've performed alongside Carolina Chocolate Drops, Laura Veirs, Langhorne Slim, and even hosted The Lumineers (prior to their mega-hit, "Ho-Hey") at their singular house concerts. Wesley Schultz, co-founder of The Lumineers, says, "The Shook Twins helped us out when we were coming up, letting us crash on couches and organizing house shows. The Shook Twins have that DIY spirit..." Identical twins, Katelyn and Laurie Shook, certainly are a DIY success story; they've raised $26,734 via Kickstarter to record What We Do with Ryan Hadlock at Bear Creek Studios (Seattle, WA).
Shook Twins have garnered strong local endorsements, with the Willamette Weekly (Portland, OR) exclaiming, "Shook Twins are the most exciting local folk act I've heard in ages. Strike that word 'local' and the sentiment still stands." And, the sisters' contagious quirky vibe and impassioned songwriting reaches far beyond just the indie music scene, to stalwarts in the literary world and cult craft beer companies. New York Times best-selling author and husband of Amanda Palmer, Neil Gaiman notes, "I love the harmonies of the Shook Twins, the dreamlike songs that seem somehow permeated by the American Folk tradition, without actually being part of it. They make music that twines through your soul the way vines cover an abandoned shack in the woods."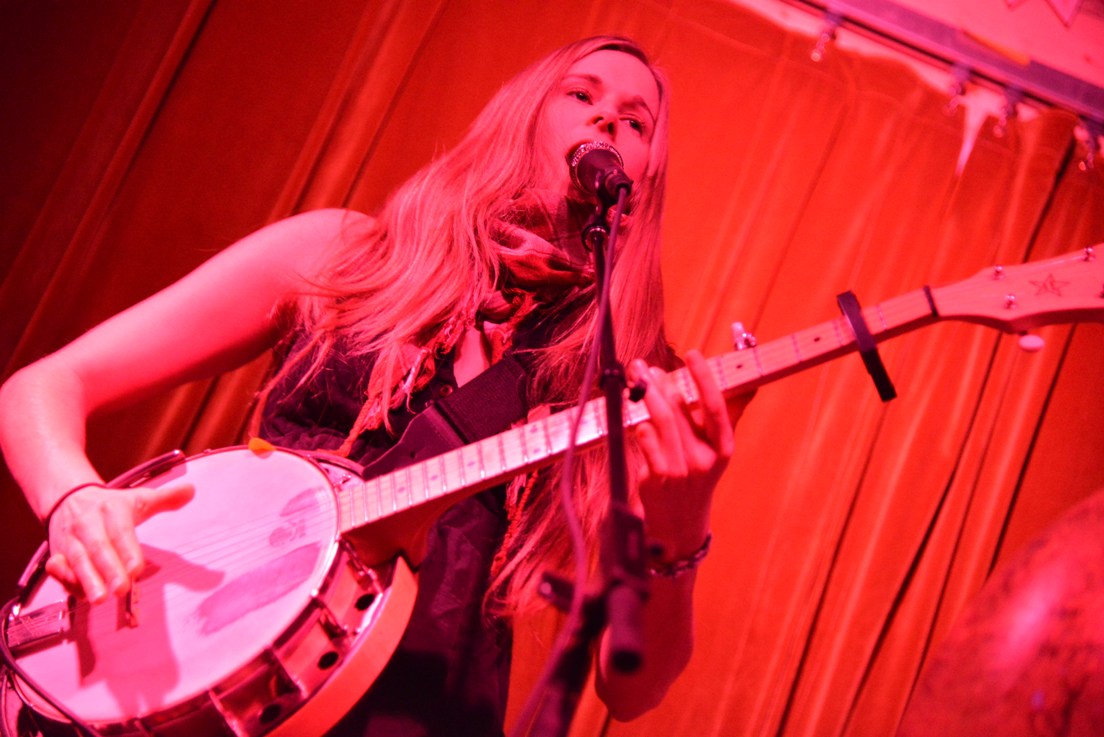 James Brook, VP of Marketing at Eugene, OR's Ninkasi Brewing Company, touts, "Shook Twins rule! Laurie and Katelyn basically re-defined the 'folk' genre and along with it, helped move the NW folk festival experience into the modern era. Hands down, What We Do is their best work to date -- don't miss it!"
Ambitiously retooling the American roots genre with their idiosyncratic indie-folk songcraft, lush harmonies, foot-stomping gospel/swing ballads and deep groove, the Shook Twins are set to be one of 2014's breakout bands. On their latest recording, What We Do strikes a meaningful balance between the thoughtful vulnerability of life's struggles and the fiery positivity that carries us through. The album's buoyant opener, "Thoughts All In," celebrates the survival of "the end of the world" (December 21, 2012); Shook Twins note, "the world continued to turn after all the hype of 12/21/12, and it really reminded us about the importance of being better humans, and loving our loved ones even more."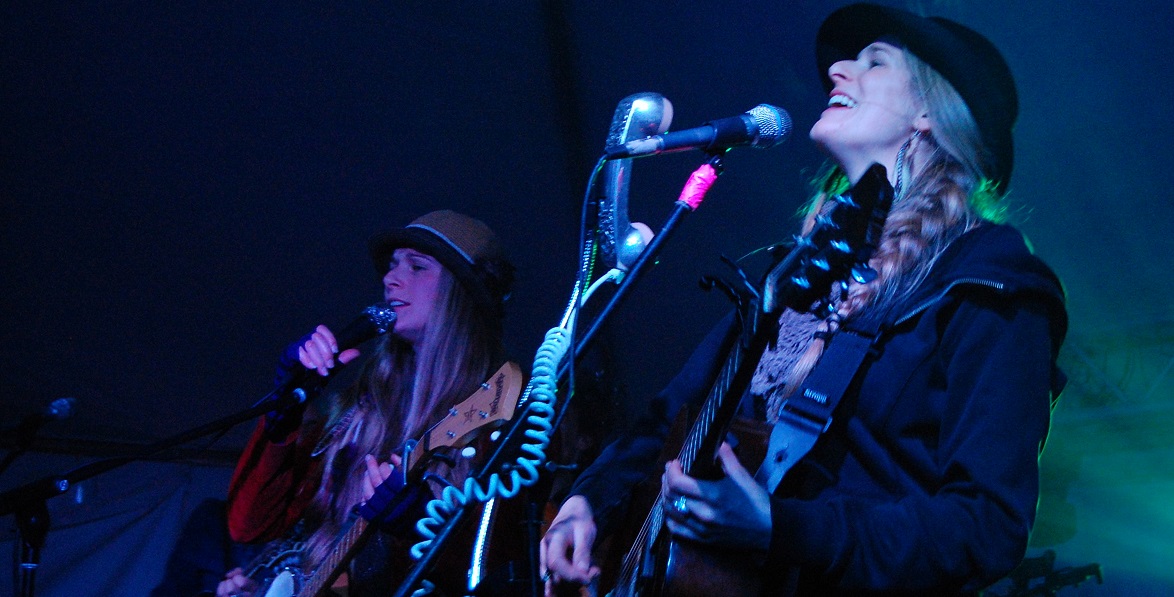 Other standout songs include the slow-burner title track, "What We Do," which embodies, "the essence of our lives; the things we honor and let go of," says the Shook Twins. Beautiful twin harmonies are enmeshed with African-style guitar riffs and campfire percussion, leading to an anthemic bridge with slugging rhythms while the sisters' repeat, "we put our troubles on the moth's wings, we open the window" -- a nod to the album's cover art, an illustration designed by their father depicting a moth in flight.
The futuristic apocalyptic gospel ballad, "Shake," tells the story of a couple who's survived a massive West Coast earthquake, only to face theft and heartache. But only remember the refrain, "the earth is gonna shake you down," and one can take comfort in the fact that those who harm will receive their retribution. "Crisper" is an ode to growing up, and the transition of kids starting to care about money. Laurie Shook recalls, "My sister and I used to spray our dollar bills with water and place them in big books to make them look crisper." On "Awhile," the twins focus on a new relationship that's seemingly very promising and moving fast. The chorus raves, "stop thinking about the end when it's just beginning, hold my hand and make your head stop spinning," only to launch into a fervorous spinning jam session.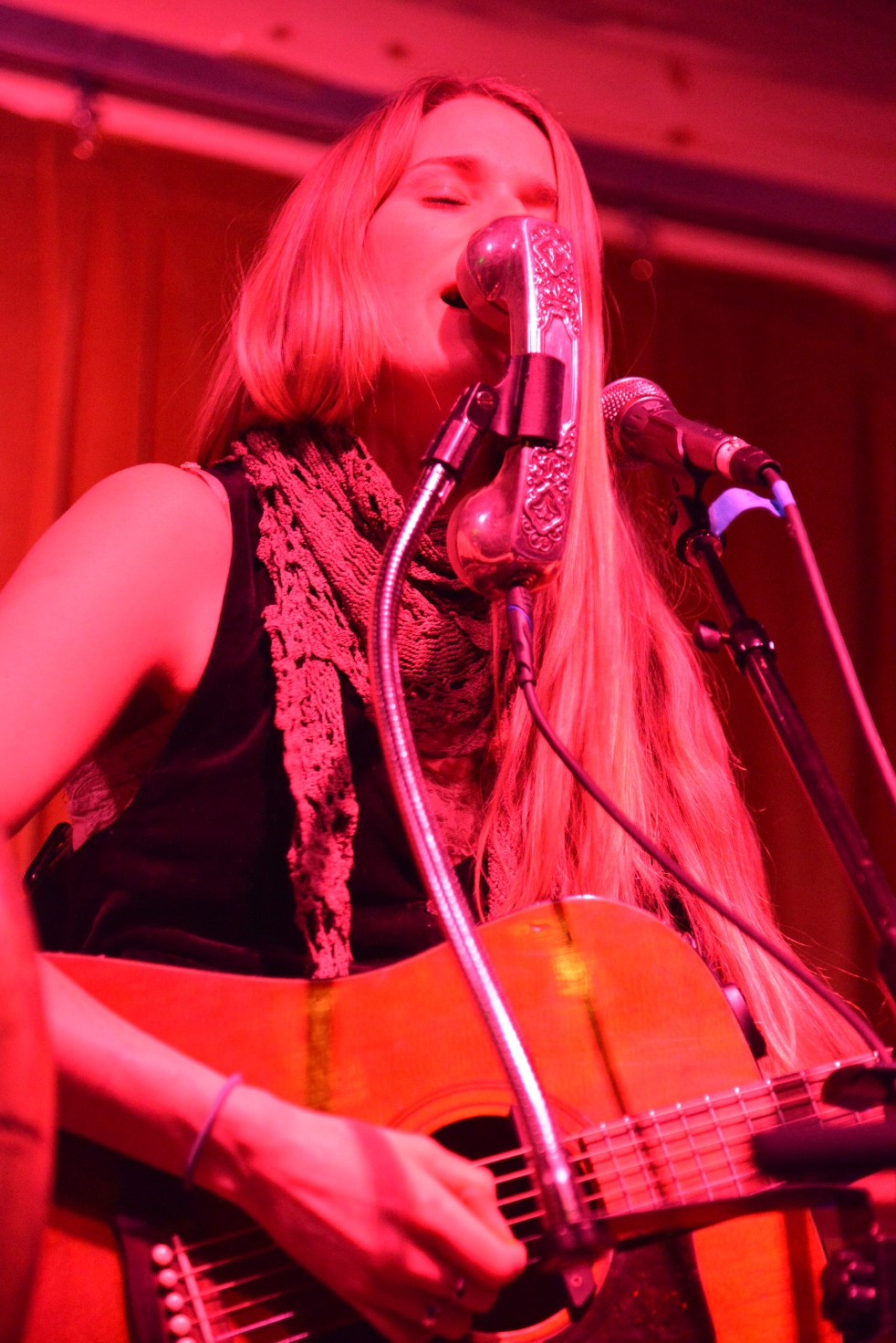 On What We Do, the inimitable talents of Laurie and Katelyn Shook are supported by their touring band, including Niko Daoussis (mandolin, electric guitar, vocals), Kyle Volkman (bass), Anna Tivel (violin, vocals), and Russ Kleiner (drum kit, percussion). Laurie's inventive use of percussive and ambient vocal loops as well as Katelyn's repurposed telephone-microphone inflected vocals are layered atop a wide range of creative instruments (i.e. electronic drums, beat boxing, glockenspiel, ukulele, banjo drumming, and their signature golden percussive egg). The Shook Twins is clearly a family, related or otherwise, collectively ascending to dizzying heights with their undeniable charm and free spirit.

The Shook Twins' previous albums have already established them as one of recent years' pre-eminent songwriting forces. You Can Have The Rest (2008) and Window (2011; featuring Elephant Revival's Bonnie Paine and Bridget Law) both received critical praise from the press and extensive radio play, further solidifying the band's demand on the road and becoming a favorite on the festival circuit. The Shook Twins have recently appeared at Harvest Music Festival, High Sierra Music Festival, Northwest String Summit, Oregon County Fair, Sisters Folk Fest, and others.

Don't miss the Shook Twins as they tour nationally this spring in a city near you!

Shook Twins -- Winter & Spring 2014 -- US Tour Dates:

Winter Ski Tour 2014:
2/7 - 2/8 - Sun Valley, ID - River Run Lodge @ Sun Valley Resort
2/8 - Ketchum, ID - Whiskey Jacques
2/9 - Sun Valley, ID - Warm Springs @ Sun Valley Resort
2/14 - 2/ 16 - Alta, WY - Trap Bar @ Grand Targhee Resort
2/20 - 2/22 - Kansas City, MO - Folk Alliance Conference
2/28 - 3/2 - Huntsville, UT - Cinnabar Lounge @ Snowbasin Resort

What We Do CD Release Tour 2014:
4/11 - Portland, OR - Mississippi Studios
4/12 - Bend, OR - Bend Spring Festival
4/13 - Applegate, OR - Applegate Lodge
4/16 - Felton, CA - Don Quixote's
4/17 - Berkeley, CA - Freight & Salvage
4/18 - Sebastopol, CA - Hopmonk Tavern
4/19 - Arcata, CA - Humbrews
4/24 - Bellingham, WA - Wild Buffalo
4/25 - Seattle, WA - Tractor Tavern
4/26 - Sandpoint, ID - The Hive
4/27 - Missoula, MT - Top Hat
4/30 - Boise, ID - Visual Arts Collective
5/2 - Eugene, OR - McDonald Theater
5/3 - Olympia, WA - Olympia Ballroom
5/5 - Vintage Wine Bar & Restaurant - Redding, CA
5/6 - The Big Room @ Sierra Nevada Brewing Company - Chico, CA