I made a wish on the Zoltar fortune Telling machine. I wished I could unwind and rewind back to the glory days. I wished my youth wasn't wasted when I was young. I wished to be me, free of worry, like the days of childhood Summer Camp, adventurous and curious, exploring the wonders of nature.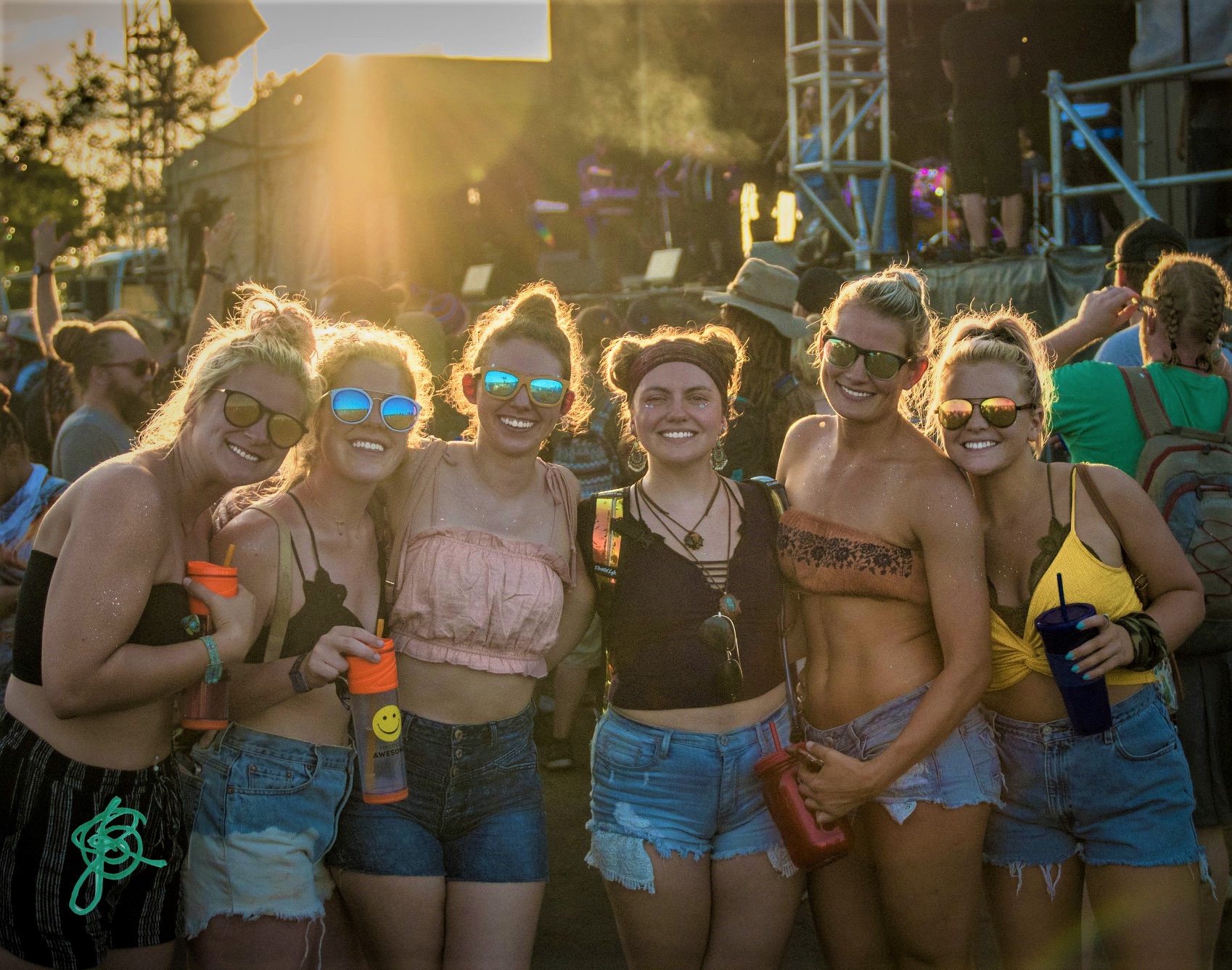 Summer Camp Music Festival, affectionately called Summer Damp 19 made that wish come true. As if 19 years of doing this has taught them a thing or two about what not to stress over and what to focus on to get it right, this year felt a little stripped down. There was no big Three Sisters wagon hauling folks around the grounds, no carnival rides, and no Vibe Tent.  Ya know what? I was entirely okay with that. The weather called for torrential downpours all weekend; we had enough to contend with to make it through the weekend in good spirits.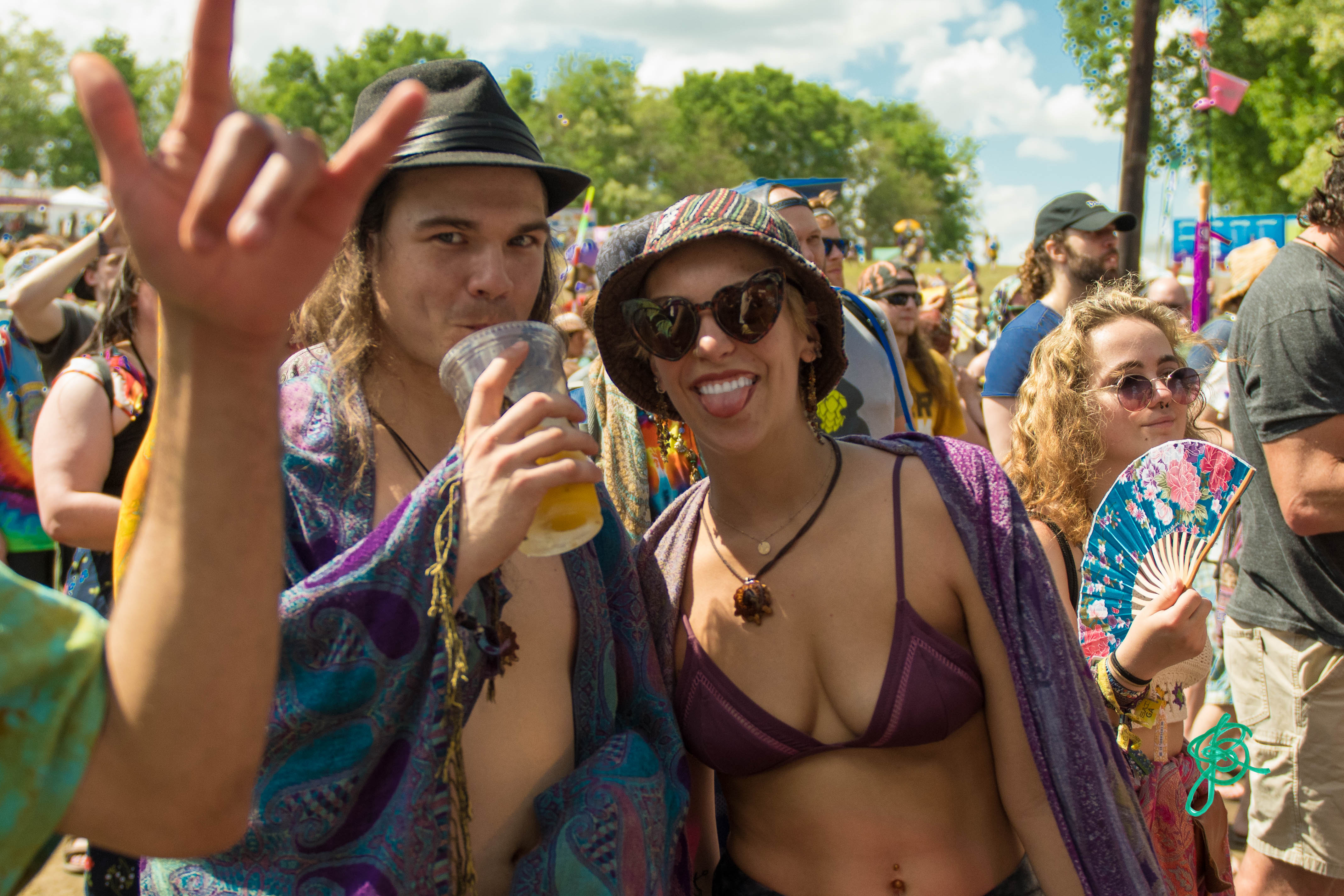 Festivals are huge overstimulating dreams made into a reality.  Blame it on my ADD baby. Sometimes I just can't wrap my head around how to do it just right in order to maximize my experience. With a little help from Mother Nature, we weathered the SCamp 19 experience together.  Thursday pre-party was beautiful. Friday opening festivities were beautiful. Saturday was nearly a perfect day until the rain came through after 11 pm. Sunday we had a soggy morning, but the sun came back out before the music, and it was another perfect last day at Summer Camp. Together is the best place to be.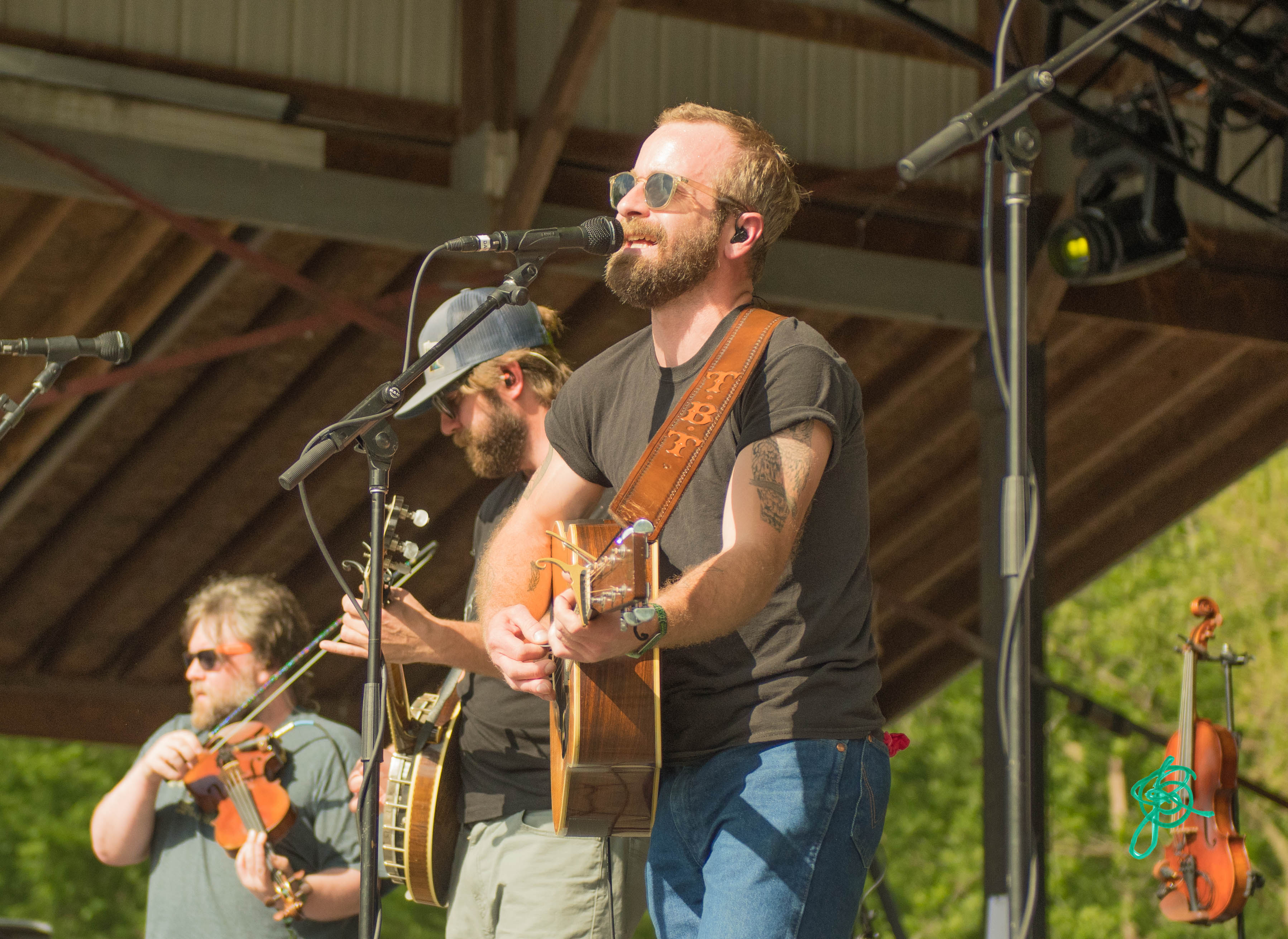 HIT: Saturday night at Summer Camp was the best sleeping I have ever had at a festival. The stages shut down around 11:30 due to lightning and never came back on.  While this was a bummer, it also bonded the whole Three Sisters Park in a cozy slumber. I think we collectively dreamed more than any festival has been able to achieve before! If you hadn't gotten around to setting up a secure place to sleep by Saturday night, I'm not sure what you were doing.  Most everyone seemed to hold out until midnight when the consensus was reached that it wasn't going to stop. Goose kept the party rocking under the Soulshine Tent, but after that, it seemed most decided to call it a night. The rain kept up until around noon the next day, and it made for some amazing well rested campers. It also had that bonding factor because for once, there was something the entire festival was a part of.  We had something to talk about that included everyone. That was nice. Somedays I long for the simple days of Further Festival where everyone saw the same band. Those days are gone, but at Scamp 19, we all experienced the same rainy Saturday night.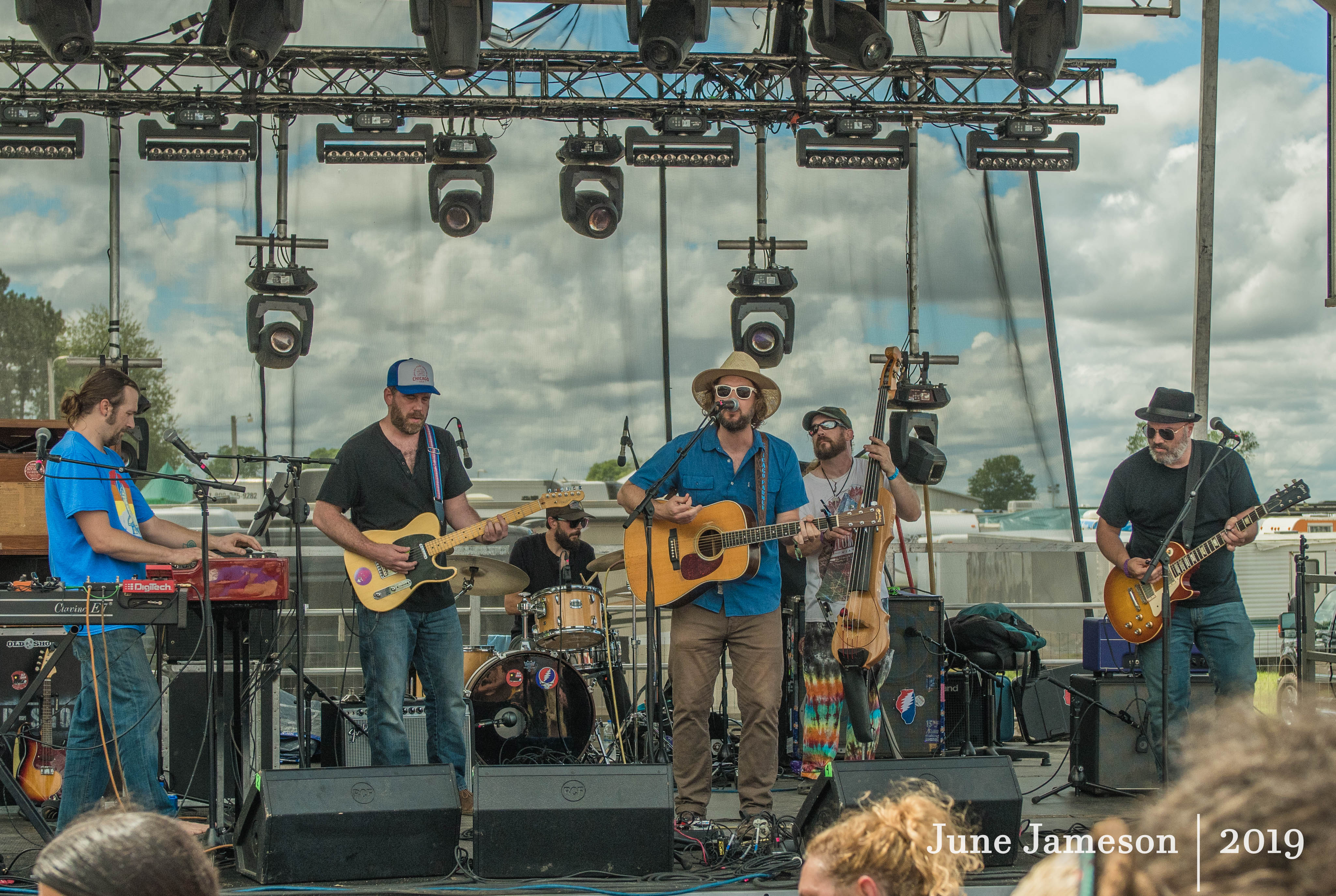 MISS: Rebelution, Jeff Austin, and Black Star were literally missing from the party. Shit happens, travel arrangements get messed up, families have emergencies, and from what I hear, DJs can't make the set on time.  Rebelution was a mega disappointment for Friday evening's mainstage act. However, some merciful rebounding artists stepped up to make for one of the most talked about sets of SCamp 19. Pigeons Playing Ping Pong were happy to head over to the Moonshine stage and play with our Happy Hour Heroes, moe. While they were at it, Brandon "Taz" Niederauer and Here Come the Mummies jumped up to join the onstage party.  Chicago Farmer and Old Shoe took over Jeff Austin's 30DB slot.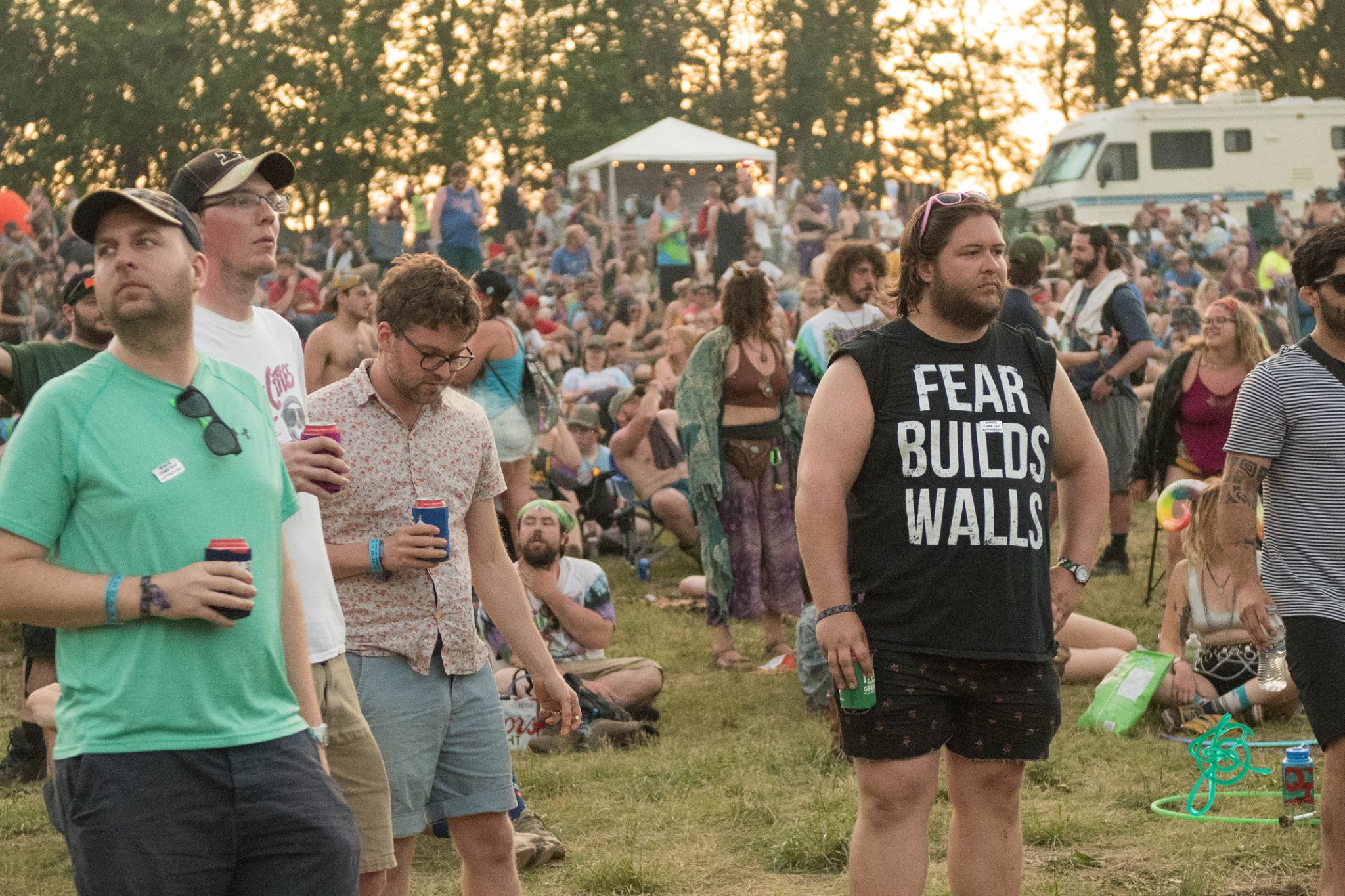 While it was a shame to have missed the ever-hilarious harmonies of Jeff Austin and Bandon Bayliss, the Old Shoe & Chicago Farmer set is classic in every way. You often see them supporting each other, but together makes them even stronger. They embody Bob Dylan WITH The Band, the whole stronger than the sum of its parts. I think it shows the character of these artists, true integrity.  Whereas Black Star, taking to internet trolling after being late and having their set canceled due to their travel arrangements, did not show such integrity. They left fans waiting for them, never to fulfill their hopes or their contractual obligations. That was a total miss. What is up with the hip hop at Summer Camp? Unfortunately, situations like this outshine the amazing Cypress Hill set last year and leave fans wondering if they will ever see quality hip hop at Summer Camp.  The Roots were rained out, Whiz Kalifa in 2011 was late and bumped the whole schedule back because why come out at your scheduled time of 4 pm when you can arrive on stage just after 4:20 talking about needing personal time, cough cough? De La Soul got rescheduled that same year, and I missed the memo. I'm still salty, in case you couldn't tell.
GIMME SOME moe.: Keep on bringing back the regulars. I had no idea Andy Frasco and the U.N. was at Summer Camp in previous years. Blame it on my ADD baby.  After this year I will not miss the Frasco set ever again. Each year, I use Summer Camp as my gage to see how these artists have progressed, and every year, I discover an artist that has been here for years that I missed before. Every year, Uncle Randy keeps getting younger. and sassier.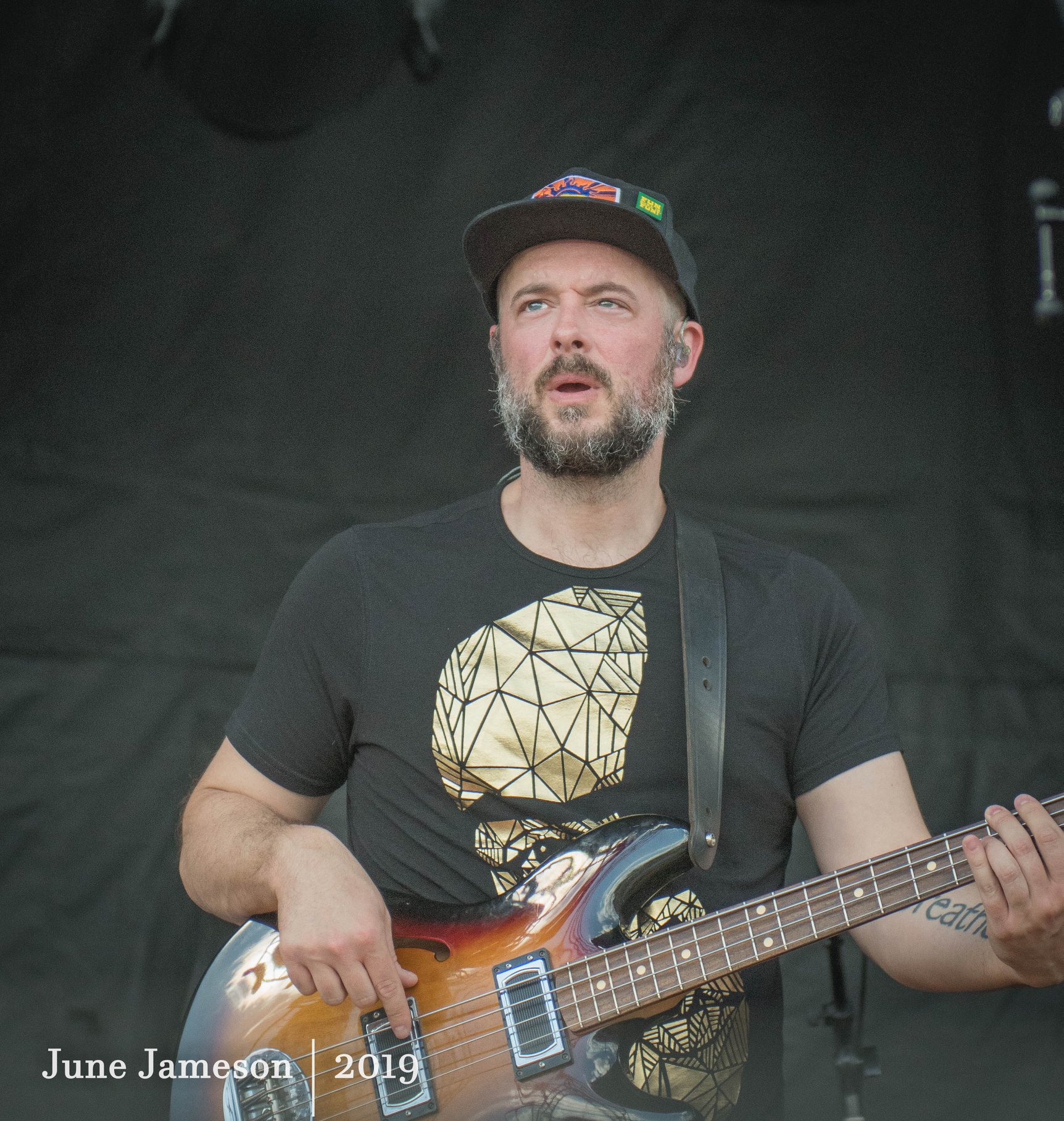 Please don't stop bringing back the artists you can.  It adds to that family reunion feel, which is the number one reason to go to Summer Camp.  When there are so many new things and attractions to try, it leaves folks with a blur of an experience.  It seems like that whets their whistle to try something else. Every strip mall looks the same, ya know what I mean? Summer Camp gives you the experience to remember - to be included in - to keep coming back to. By eliminating the Vibe Tent, it felt like we included more of everybody in the party that way. The Starshine stage expanded the party, giving more room to the EDM fans and allowing everyone else to see the glitter glam on full display. With STS9 'Axing the Cables' Thursday night, it shows that EDM can be integrated and done so with class and distinction.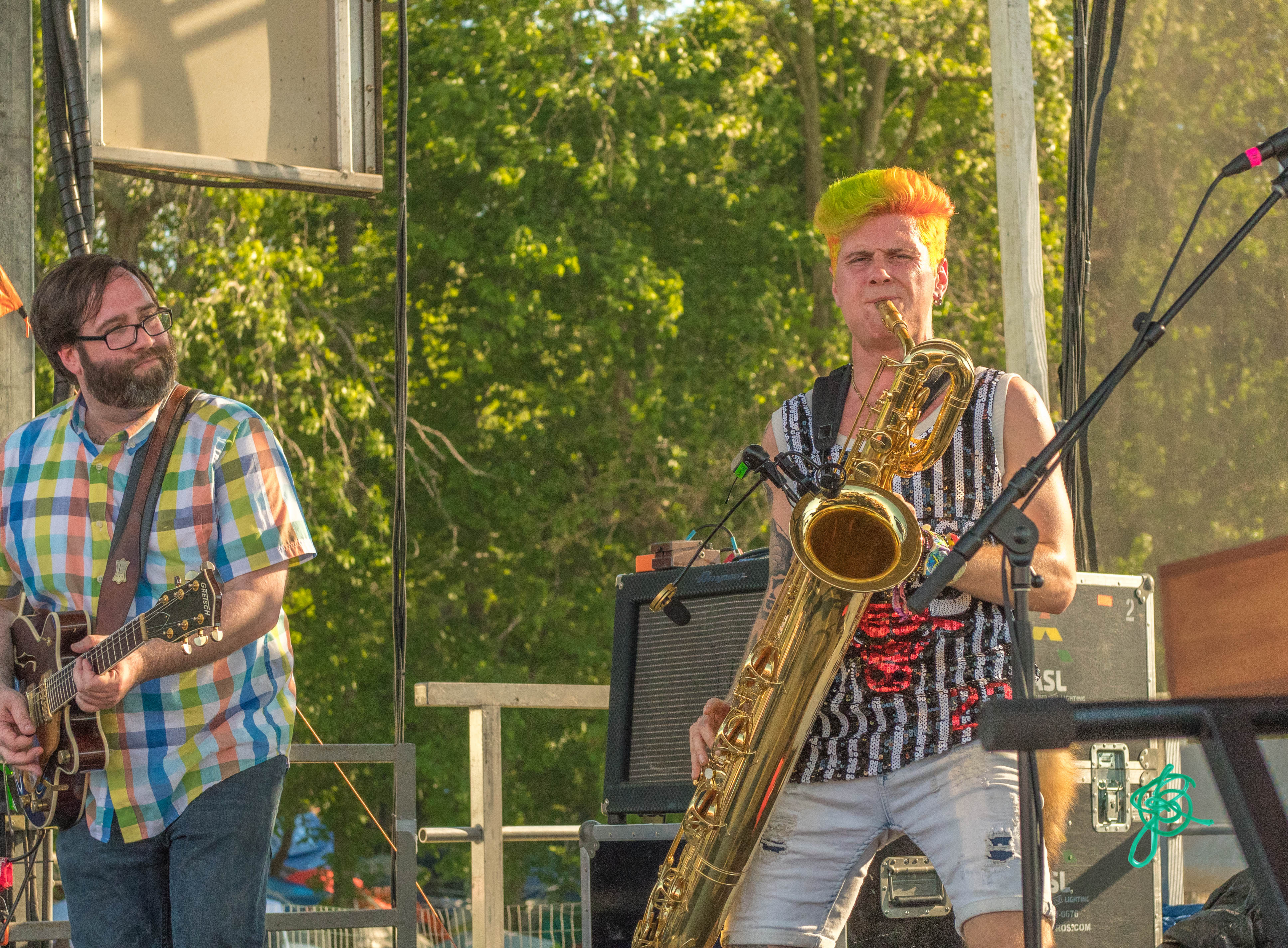 GIMME SOME moe. horns. Dang, those horns this year stole the show! From Here Come the Mummies to Too Many Zoos to Russ Liquid to Brass Against, to Andy Fucking Frasco and the U.N. the horns definitely rev'd the Summer Camp engines.  Thank you, brothers of the bone. I salute you.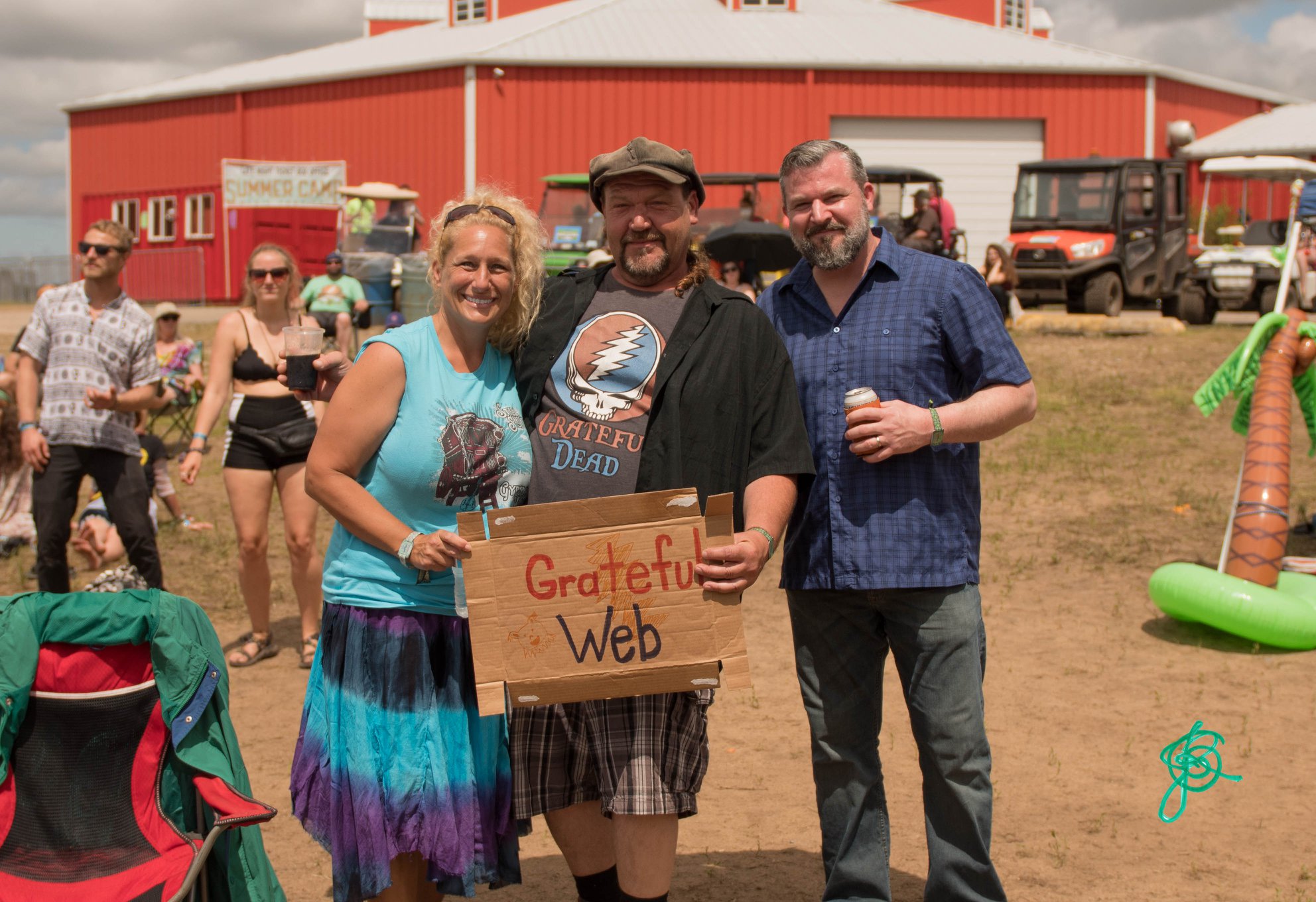 HIT: The good vibes are overflowing. Maybe opening the air from the Vibe Tent aided in sharing that energy. Those in the know, know that Memorial Day weekend at Three Sisters Park will either be threatened by rain or it will be a massive dust bowl of heat. Sure, there will be some campers that stay at camp plugged into their phone the whole time. We came across a girl near our camp who shit herself. There's always a bummer story or two. Spoiler: the girl was gone later, but she left her toilet paper, eeewwwww. But really, those in the know come prepared. I'm glad she had toilet paper; I'm glad he brought his charger. Their actions cannot possibly outshine the crowd that lifted the beautiful stoner babe in her wheelchair up over their shoulders to ensure she could crowd surf to Big Gigantic. I wouldn't have seen that beauty if they were enclosed in the Vibe Tent. The power of Dominic Lalli's Saxophone compelled us.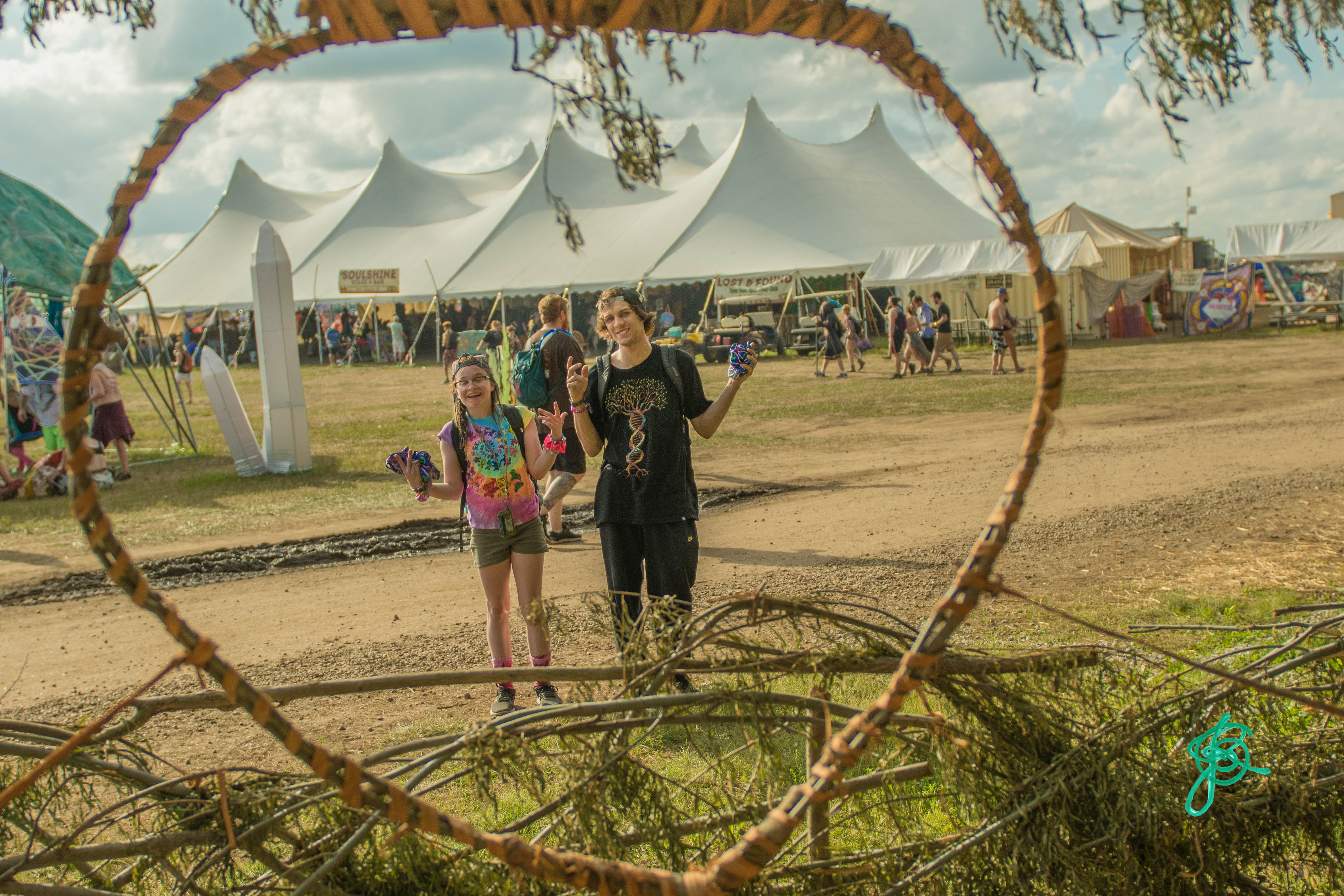 The Soul Patch area continued to grow this year with more how to's and discussions about environmental activism. Congratulations to Lisa & Tim! May your love live forever! The gathering space of Soul patch is primed for sustainability (and perfect for an intimate wedding). I've seen a wedding before at Summer Camp but not like that! The love and respect flow here. I wish there was a Soul Patch at every stage. It's a great nucleus of wisdom. If Summer Camp could last a week, I would dedicate more time to attend these weekend retreats, but I forgo those opportunities for music.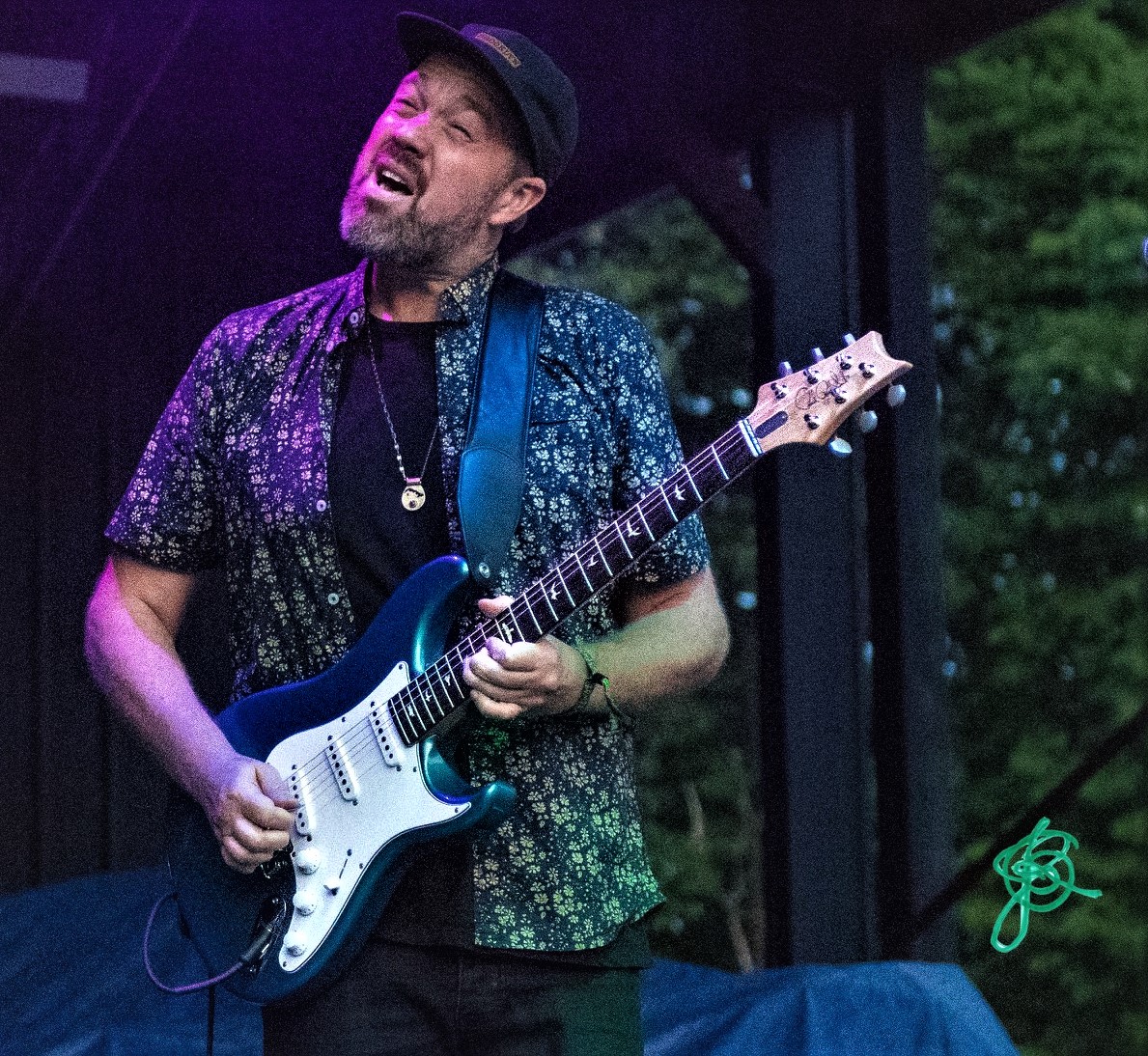 MISS: Even though I was transported back to the good ol' days of Summer Camp, I missed my dogs. There are definite pluses to adulting.  I had to come to SCamp to get away from you, and as I sit here, I look forward to getting back home to you. Ode to Dogs, Kids, Responsibilities, maybe pants. Scamp is a ritual, a rite of passage.  It is the kind of love that liberates. Festivals can be intimidating, all that open air for cross-pollination is hard to translate into a personal experience if you've become a creature of habit & routine. Maybe you've had too much too fast, maybe your neighbors creep you out.  Maybe you lost your wallet; maybe someone stole it. There is no way to improve these chances. I will always miss my dogs and worry about things at home, but these things happen outside of anyone's control. If my dogs were here with me, they would have ground scored enough to make them both sick. So, not really a miss, I just missed my dogs.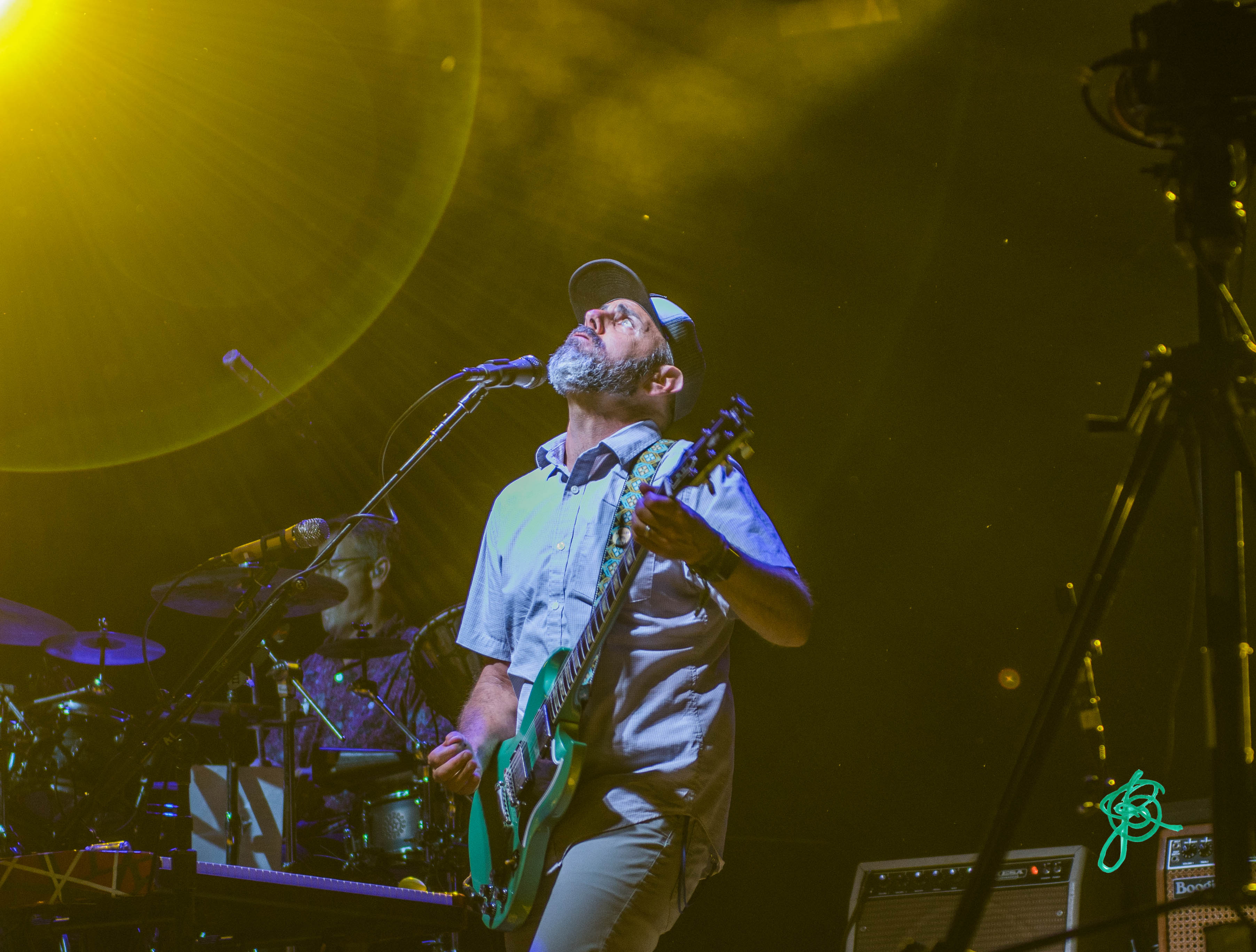 GIMME SOME moe.: Give me more time in the bowl at the Moonshine stage. This goes out to the group of fellas that had on tee shirts that said: "This is what consent looks like." They had a lil' cooler with sealed bottles of water and let anyone around them know that they had some if anybody needed it. Keep on coming back kind gentlemen, please! People watching is the best part of any festival so after watching this happen, I drifted off checking out the wide-open field of the Moonshine stage.  Rumors of Dave Chapelle being on site were filtering around yesterday. I was primed and ready to check out Oteil & Friends for the Sunday family gathering. I swore I caught a glimpse of John Mayer over near the VIP section. What if Oteil brought John Mayer, but none of that even happens at the VIP area? It's like this magical Narnia were you show your VIP wristband, but you pass through a portal once you've had at least one top 40 hit. You pop back out wearing heady Camp High gear. They take five for a photo opp and then disappear again.  Some people never leave their camping chair the whole night like it's their job to hold down the camp and laugh at their hand. Everybody is just as strange as I think they are. Then I overheard this actually not John Mayer look alike - rub his left ear and admit that he loves festivals because these are a place where he doesn't feel compelled to check his mentions on Twitter or likes on Instagram.  Was that John Mayer? If there is a golf cart nearby, there is probably some character of interest around. I love the anticipation of the mystery. Mike Gordon on the golf cart was my favorite part of Phish in the 90s, and Summer Camp takes that scavenger hunt to a whole new level. Or as you youngins would call it, a pokemon whatever.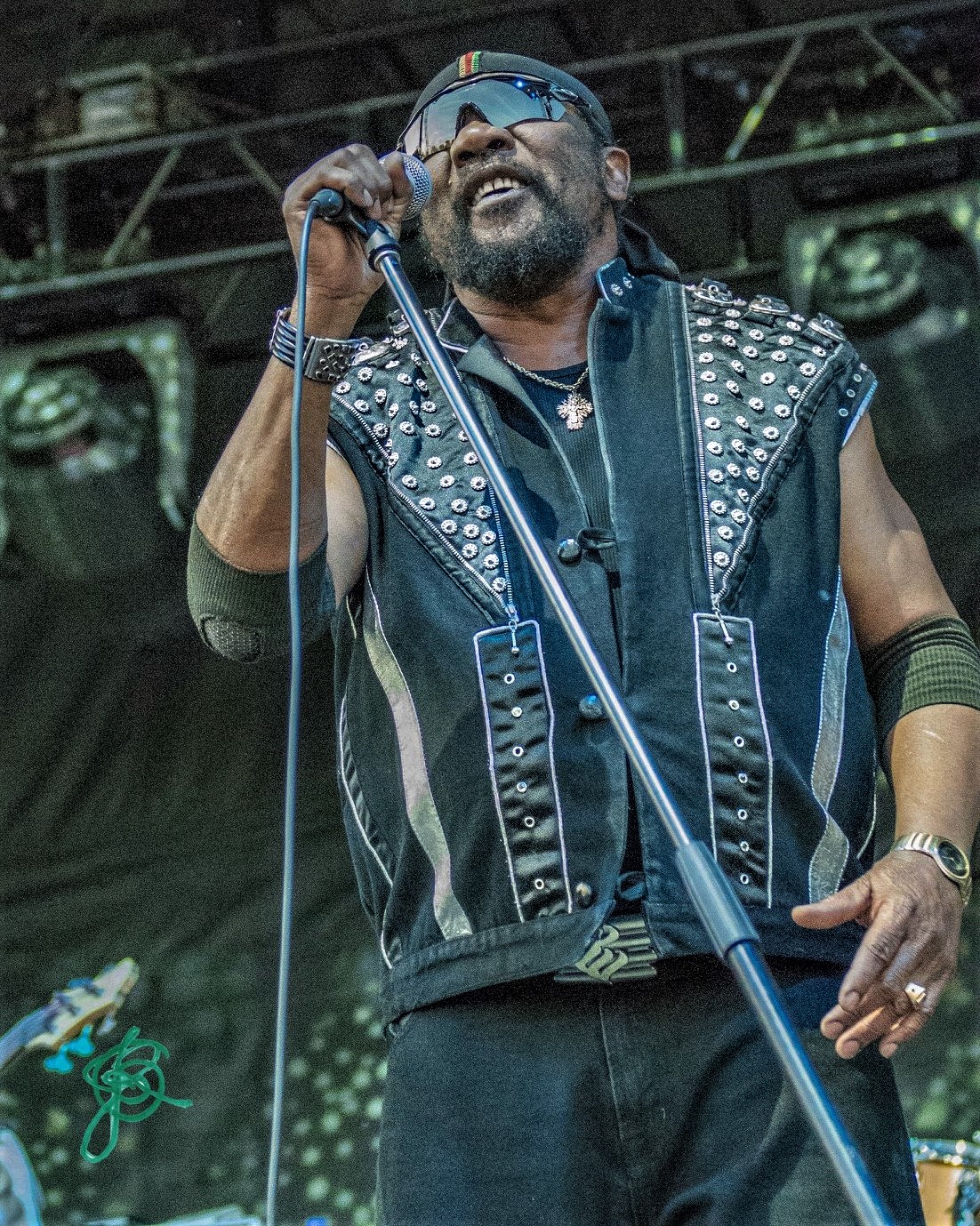 Sunday night all the lights were turned back on. The sounds were back to 11 on the volume dial.  The all-night neon lights were back to buzzing. It was the contrast of the silence from the night before that made this non-rhythmic pounding bass a certain festival kind of sleep deprivation. I didn't mind that too much at all.  When I woke up to the moans of very clearly consensual sex, I didn't mind too much. I just tried not to think about who it was, heh. Ben Harper and the Innocent Criminals played that night; it was understandable. That is some baby making music if I've ever heard baby making music. We floated back to camp listening to the luthier styles of Ben Harper.  His butter like voice coupled with a showcase of percussion and slide guitar gave us The Will to Live, Burn One Down, Fight For Your Mind, Walk Away, Forever, and he closed with Superstition. That soul groove sound was the parting sweet sound for my Summer Damp 19 experience. The groove of Cory Wong, the soul of Ben Harper and the firework explosive energy of Andy Frasco is what I will take with me from this year's Summer Damp 19.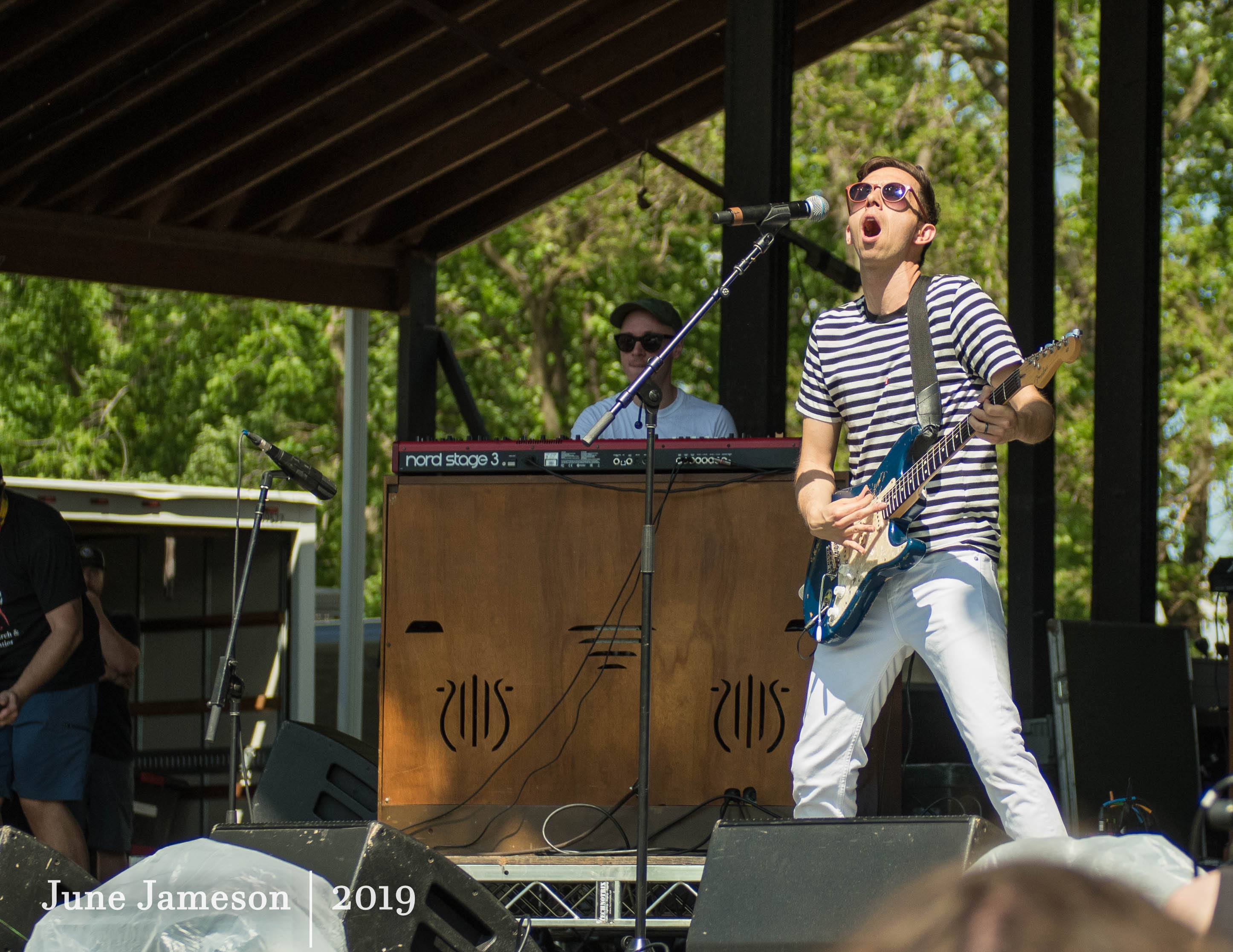 The rain was a unifier to a decidedly different version fo Summer Camp this year.  If I were a better photographer, I would have had the opportunity to capture some amazing lightning in the sky over a festival photo.  But I'll keep trying to test my boundaries and be ready next year. Who knows when that chance will come again, but there is always beauty to be captured every year. It's clear that artists need a loud voice like Summer Camp to represent them.  With acts like Oteil & Friends, Toots & The Maytals, Ben Harper and the Innocent Criminals on the same stages as Ghost Light, Family Groove Company, Edward David Anderson and the Black Dirt Revival, there is room for everyone's tastes, colors, shapes, and sizes.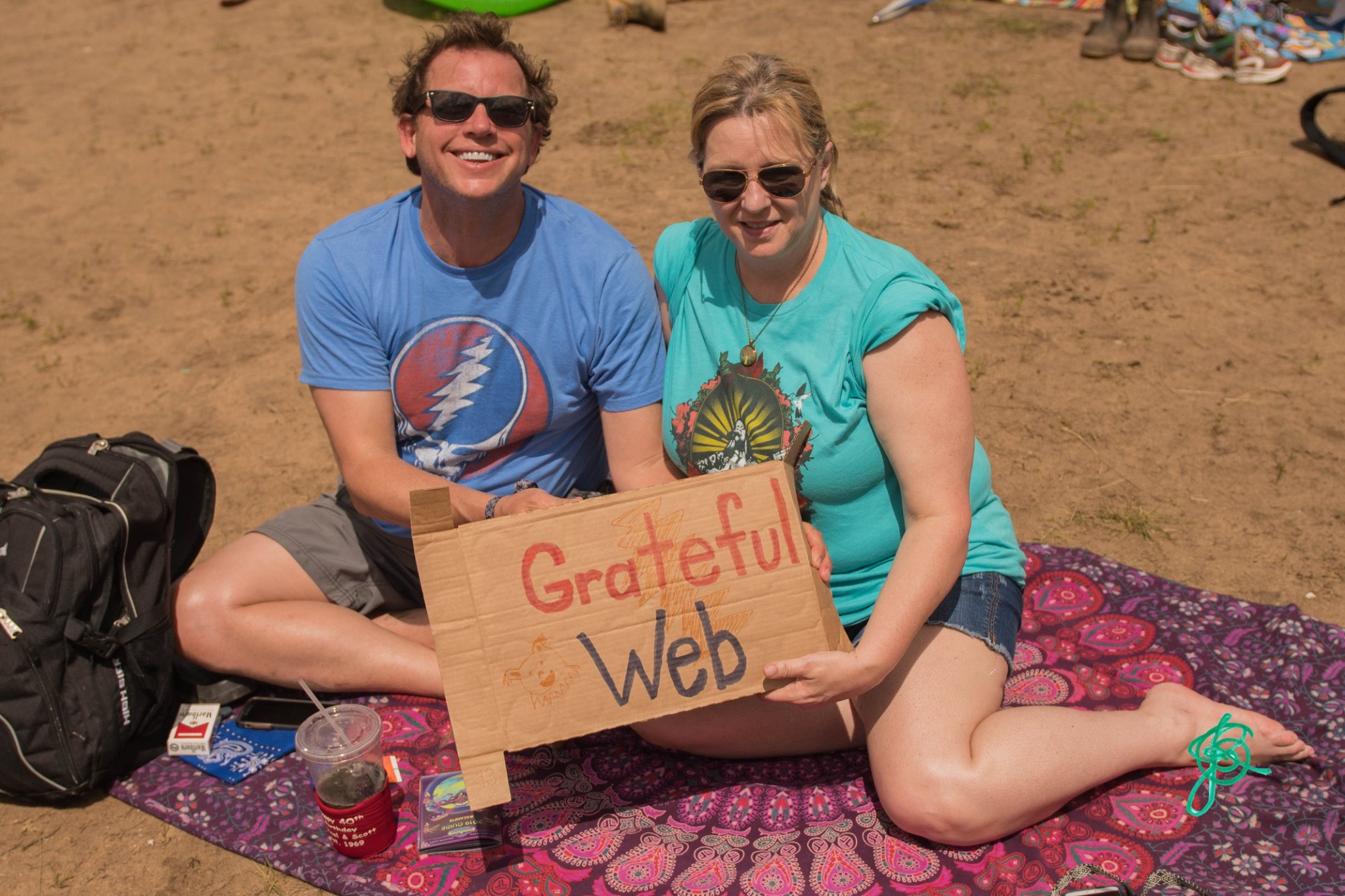 The attractions of this festival will always include experiences you can't necessarily count on.  We all love the music, the art, and the Make a Difference aspects, but we weathered the storm together.  The part I loved the best was that we embraced each other, didn't hold our ages against each other, really took care of a fellow camper.  We love the old songs; we love the new songs. We need new energy. We receive wisdom. My mom used to say, nothing good happens after midnight.  While that's not always true (gosh mom!), I felt her wisdom raining down over Three Sisters Park on Saturday night. Had the rain not let up before the first set of Sunday, at least by Chicago Farmer, attitudes may not have been so chipper towards it.  It was the soft reminder to take care of yourself and let Summer Camp take care of you too. The weatherman was right; there were tornado warnings and terrible weather… just after noon on Monday when the festival grounds closed.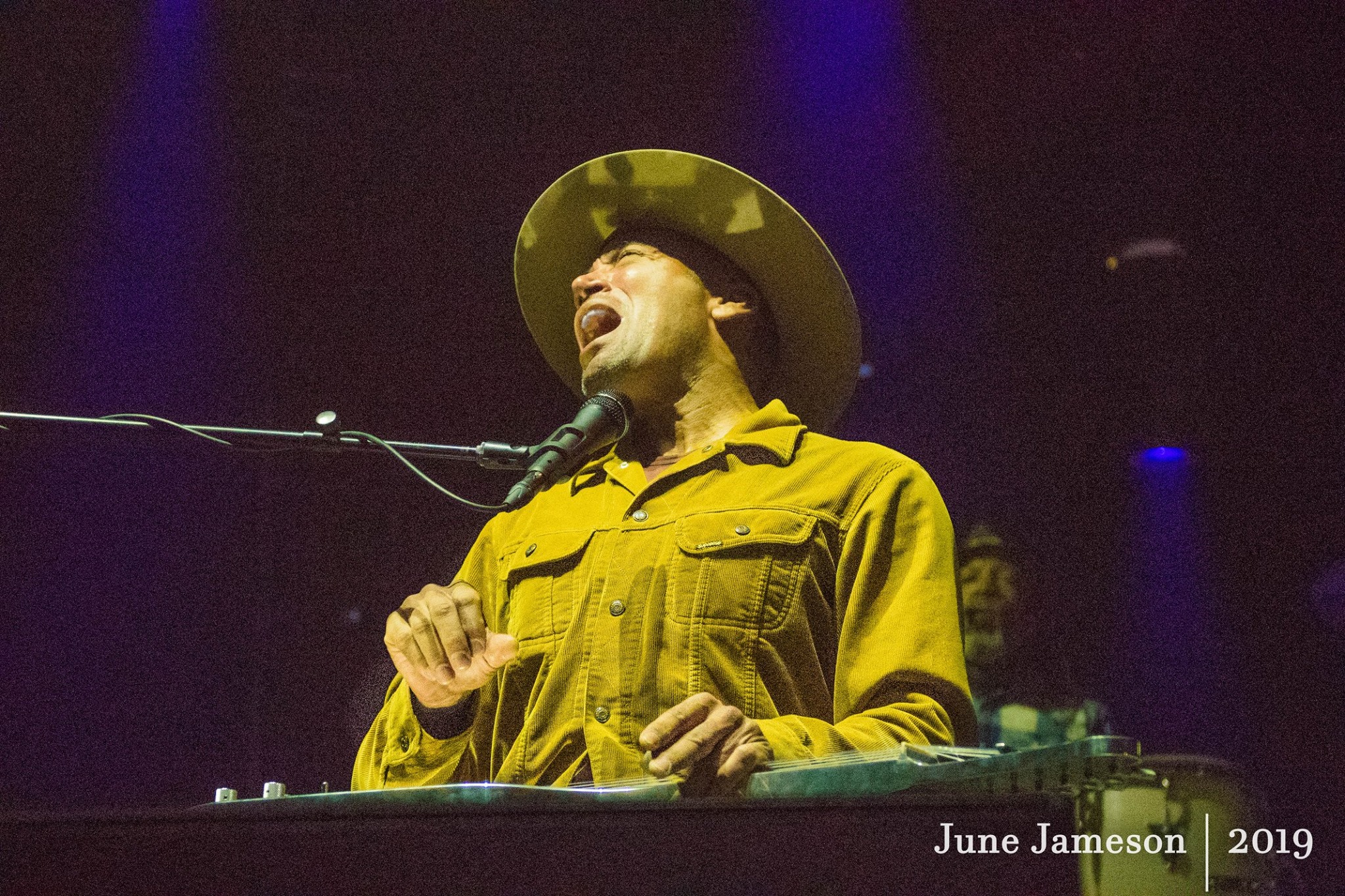 One last story I must add a postscript.  Did anyone else notice the raven above the porta potty? Just outside the Sunshine stage? There was a light high above the porta-potties, and I swore there was a raven that would visit each porta potty as it emptied, swooping back and forth from the light pole to the skylight top of the port-o-john.  I took it as a message as to which ones still had toilet paper. Was that Zoltar the fortune teller? It was definitely bigger than your average crow. Is there such thing as a fairy godmother of Summer Camp? Lord knows you wouldn't want to look like you shit yourself.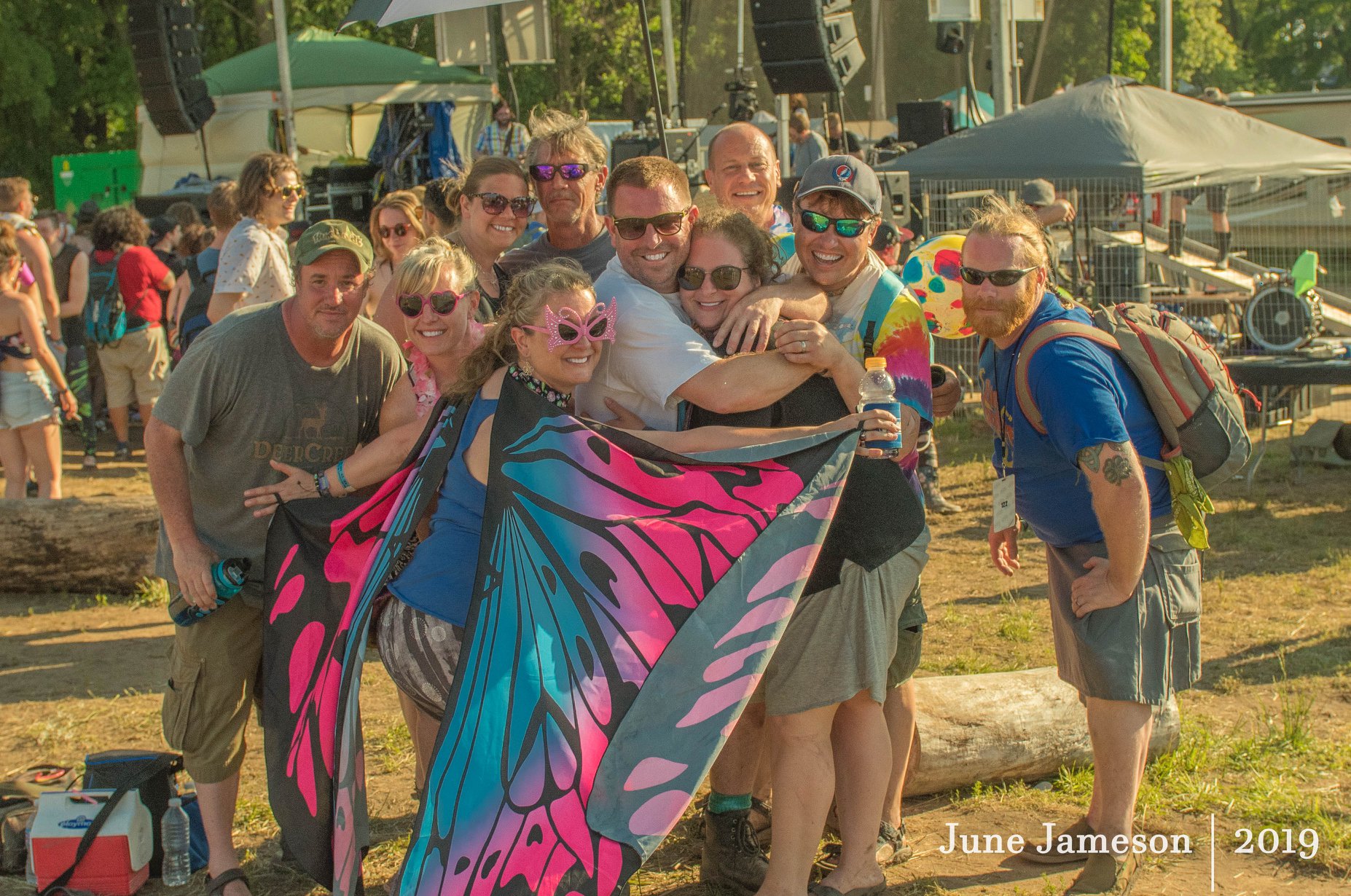 Check out more photos from Summer Camp 2019.