Silver Wrapper and Purple Hat Productions are thrilled to announce several artist additions to Suwannee Hulaween, hosted by The String Cheese Incident over Halloween weekend October 31 – November 1, 2013 at Spirit of the Suwannee Music Park in Live Oak, FL. Joining Cheese and electronic heavy hitters STS9 and Big Gigantic is an eclectic variety of artists from bluegrass and Americana to organic electronic and experimental rock including Emancipator, Conspirator, Steve Kimock & Friends, Suwannee Bluegrass Surprise, Brock Butler, Future Rock, Moon Taxi, Van Ghost, Jennifer Hartswick and Applebutter Express. Fans will also be treated to three nights of Cheese, including a special three-set show on Halloween night.
Set in the midst of 800 acres of Spanish moss-draped oak and cypress along the Suwannee River, SOSMP is one of the most beautiful live music venues in the country. During Suwanee Hulaween the space will transform into the first rendition of the Spirit Lake Promenade, a visual arts extravaganza never before seen at SOSMP.  Fans can expect an epic fusion of dazzling lights, art installations and performance art that morphs the Spirit Lake waterfront and adjacent forest into a vivid dream-like space that fully engages the senses. Working with some of the Southeast's most talented sculptors, fire/metal workers, painters, performance artists and lighting designers, the Spirit Lake Promenade will also host a Silent Disco and other astonishing Hulaween creations. "I'm extremely thrilled and honored to have been brought on as the Art Director for the Spirit Lake Promenade 2013! It's a very exciting project on a remarkable chunk of land. My intention is to bring the local art community together in a way that unifies us all creatively while blowing people's minds," said Andrew Carroll.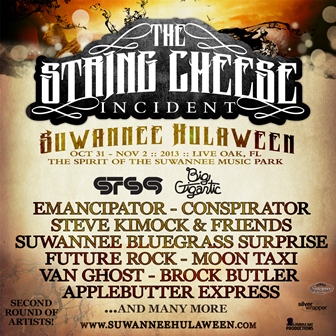 Tickets are currently available or $163 including all taxes and fees but prices will go up soon. Stay tuned for info on Ultimate Incident VIP Packages and additional details. To join the wait list for cabins, golf cart rentals and RV hook-ups, please contact SOSMP at 386.364.1683. For tickets and more information please visit the new Hulaween website, www.suwanneehulaween.com.
Suwannee Hulaween Lineup:
The String Cheese Incident (3 nights)
STS9 (late night)
Big Gigantic (late night)
Emancipator
Conspirator
Steve Kimock & Friends
Suwannee Bluegrass Surprise
Brock Butler
Future Rock
Moon Taxi
Van Ghost
Jennifer Hartswick
Applebutter Express