The 1st Annual Tatanka Music Festival happened recently at the oh so beautiful Boulder Reservoir, just north of Boulder, Colorado. It was my pleasure to be on site both days to document a bit of what went down for the inaugural event.
Starting our Saturday off, it was decided by the group to take advantage of all that the festival had to offer, so we walked over to the Boulder Theater to take the Basics Fund shuttle bus out to the festival grounds. We were greeted with a friendly hello, then promptly after we boarded the bus, we left downtown Boulder towards the North East. This bus was a free shuttle that ran very often, we never had to wait more than a few minutes for a bus to show up and take us to where we needed to go, which is obviously very convenient (and eco-friendly).
Immediately arriving on site we were met by the Ticket tent. With our appropriate wristbands we walked down to the entrance. Security was very relaxed, they checked our bags, I am not sure for what and smiled and let us in. The army of porta potties lined the entrance to the sandy beach where both stages were located. Zero Hero was on site with their recycling and composting stations to help make the event as eco-friendly as possible.
For weeks leading up to the festival the talk with most people I knew was, "How many people will really show up on Saturday?" Most felt the lineup was more than weak and wondered who would pay the money to see bands scheduled on Saturday, when most spoke of only wanting to hear who was playing Sunday. After all, Boulder and Denver can boast having some of the best musical acts come through on a regular basis, so there are always high quality choices vying for our dollars.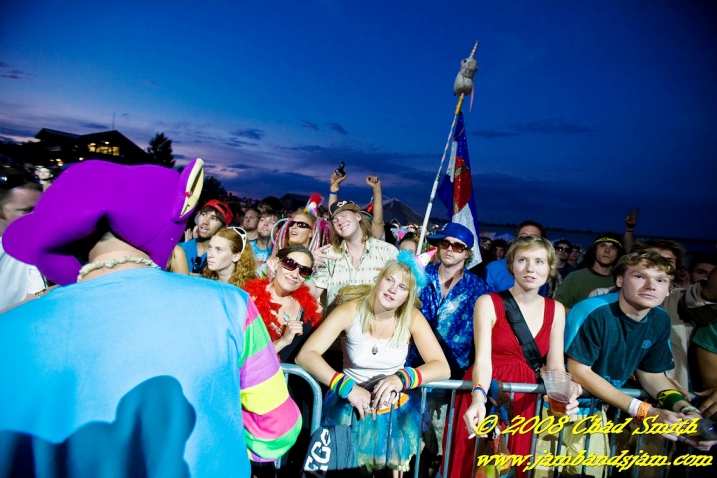 It was sad when we all walked in and with gaping mouths realized we were literally 10 of the 35 people there, at the time. Of course this does not include those running the booths, security guards, wonderful trash picker uppers and those pouring the adult beverages. I really was disappointed to see the low turn out. Being as a lot of the people I wanted to be there, were there, in a selfish way, it was okay, even nice. As the day went on more people filtered in so by the time Ivan Neville's Dumpstaphunk went on stage, there was a sizeable crowd'.
When Tatanka was first announced, numerous friends of mine were ecstatic that The Disco Biscuits were on the lineup. The Disco Biscuits are a national touring band who are significantly popular here in Colorado, but unfortunately do not play more than once or twice a year in the state. All of these friends will tell you vehemently that it stated The Disco Biscuits were slated to play both days of the festival. Many went out and bought two day passes, plane tickets and hotel rooms in anticipation of this. When the final lineup and schedule was announced it showed that The Disco Biscuits would play just one day and for only two hours. You may be able to imagine their frustration. Whether this was a misconception on my friends' part, or because of slow ticket sales, perhaps pesonal commitments or what have you, I cannot say for certain. Having already purchased their tickets all still attended both days and in their words:
"I'm stoked. Haven't seen Biscuits in awhile."
"Can't suck too bad, right?"
Highlights Saturday were the Isaac Hayes Tribute Band and Ivan Neville's Dumpstaphunk. The Isaac Hayes Tribute Band was comprised of members from Papa Mali and Galactic (who played the Fox Theater in Boulder the night prior). Whether you think of him as Chef or Shaft, you can't deny how downright funky Isaac Hayes' music is. Although I haven't heard anyone who can replicate perfectly his voice, this lineup did a fantastic job embodying the funkiness of his music. Stantan Moore, as usual, executed his role on the drum kit perfectly. That man must have a PhD, in Drum-ology! Ya dig?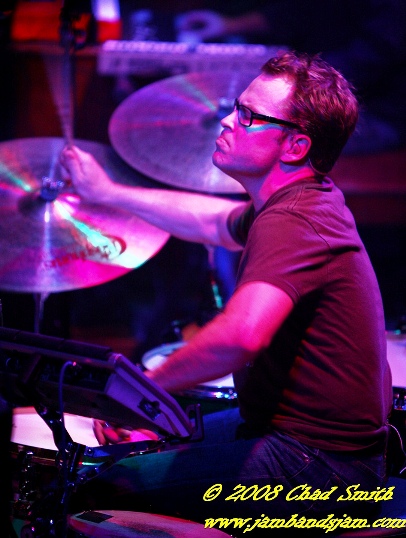 Ivan Neville's Dumpstaphunk knows how to throw a party onstage! At the end of their set they invited a handful of women on stage, a few whose birthday it was, to get down with them. Suddenly the whole stage was filled with women, of all ages, 4 years old to 64 years young, dancing their little booties off! All of the musicians were getting such a kick out of seeing their fans boogie with them on stage; their smiles were as the saying goes, ear to ear.
The biggest disappointment of the afternoon was the set by Todd Park Mohr, of Big Head Todd and the Monsters. Now, by saying I was disappointed you might think I was unhappy with his performance. That is not necessarily the case, I just feel it was poor timing to have him play at the time of day he did. The style of music was acoustic and mellow, singer/songwriter type covers and tunes which would have been perfect for an earlier day set for people to lounge on the beach and enjoy. Instead we went from a bumping Dumpstaphunk set to an overly mellow Todd Park Mohr set, it just didn't flow. Again, I feel this was very poor scheduling on the festival's part.
Honkytonk Homeslice Electric finished off Saturday's music at the Reservoir. String Cheese Incident fan as I am, I looked forward to hearing a few familiar songs. What struck me as unusual was that I enjoyed this lineup as electric far more than acoustic. The songs were generally slower paced than how they are played with the String Cheese Incident, but still enjoyable to sing and dance along to.
A late night show was held at the Boulder Theater featuring Aron Magner and Allen Aucoin of the Disco Biscuits, Billy Nershi and Michael Kang of String Cheese Incident, members of the Motet, and many others. This lineup was an Everyone Orchestra show, and for those unfamiliar with these shows there is a conductor who stands up front and directs the musicians throughout the show. I've seen many Everyone Orchestra shows and this one was quite typical, lots of yummy jams, some that went places and others that would take too long to fizzle out. What I love about these shows, is everyone gets to shine, and not just once, but many times over. Each musician is given solos, so to speak. All in all, fairly enjoyable show. For once it was nice to be at the Boulder Theater, at a show that was not completely sold out. Plenty of room to boogie around was such a pleasure!
The buzz for the whole weekend was on Sunday and specifically the Disco Biscuits set. Right upon entering it was evident more people were in attendance with many more coming. The parking lots had people mulling around, it almost looked like a real lot scene. Some wraps or shirts or hoops were being sold here and there but not too many vendors in the lot. Security again, as we walked in, was relaxed and very friendly.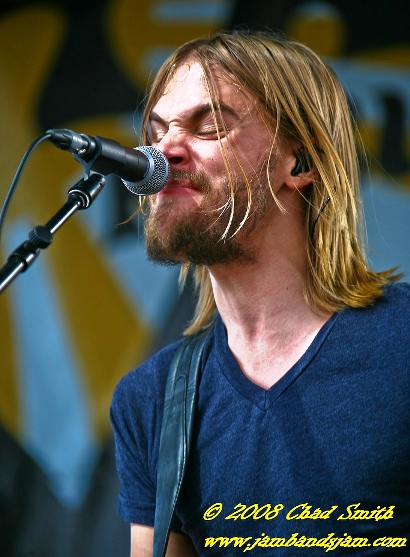 Highlights Sunday musically were Rose Hill Drive, The Motet and The Disco Biscuits. Something else to point out about Sunday was there were many more visual artists in attendance adding to the ambiance.
Boulder Reservoir has numerous areas to walk around so after seeing a bit of Octopus Nebula I went on a small walk with a friend. Upon returning I hear thundering rock and roll only gods could create. To my surprise it was locals Rose Hill Drive. With long flowing blond hair flaying about as they thrashed their instruments, the sounds they produced were pure, unadulterated ROCK! I almost still can barely get the sound of their thwapping bass out of my head! Oddly reminiscent of Led Zeppelin, The Who, Black Sabbath and other rock and roll greats from the past, they put me into a head banging frenzy!
Although The Motet is local and I am fortunate to have the option to see them play, in some lineup form or another, fairly often, their set at Tatanka impressed me. With a few special guests in tow, their stage was full with musicians who put my butt into quite the wiggle. At times jazzy, at other times samba-esque and then funky, they can span a large range of musical genres proficiently.
During The Motet more and more people were arriving and the crowd doubled in size. The weather for much of the afternoon looked as though it was going to rain, but never did. It was again another very pleasant and mild day to see live music next to a beach! In Colorado no less.
*drum roll please* finally it was Disco Biscuits time! Since I last saw The Disco Biscuits full lineup in Vail early this year, I have anticipated seeing them again. Having seen a Conspirator show recently, renewed my musical zeal to see the full lineup. Did they disappoint? Hell no! Not in the slightest.
M.E.M.P.H.I.S.> Crickets1> Shelby Rose, Crystal Ball, Rockafella, Story Of The World> Air Song2> Story Of The World, Magellan
1 middle section only
2 inverted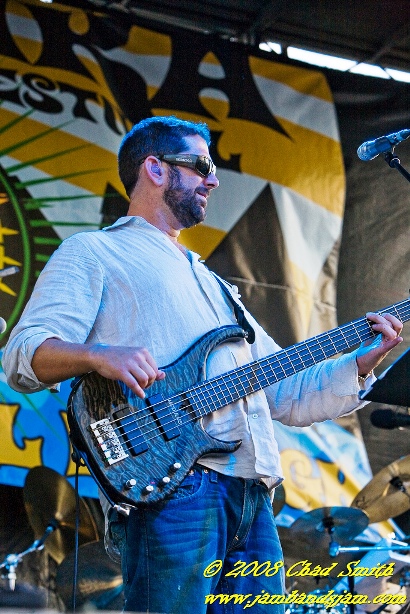 24 minute 'M.E.M.P.H.I.S.' starts it off. Gives the song time to encompass so many grooves. Early on, the untz untz vibe takes over to my thanks quickly after that sort of garage band punk shouting with your fraternity brother vocals, or reminiscent of Widespread Panic vocals, that is their vocal portion. Straight on from the untz to heavy metal thrash right into a sort of John Tesh, smooth light radio groove right into a super funky 80's esque dance groove with Brownie just pounding in the bass line. I can't not love this song because even though I might not care for one or two parts of it, it's 24 minutes long and where they are able to take the song, in an auditory sense, has me absorbed in the performance.
Right from the start 'Crickets' makes you want to get stretched out and ready, start jogging in place and just ready for something. It's energetic and fast and building. 'Shelby Rose' was pretty, bouncy and perfect for the time of the setting sun. During 'Rockafella,' I enjoyed the lyrics and singing far more than I have in the past. Nice change of pace for me. 'Story of the World' sandwich with an 'Air Song' middle was too stretched out for me and I became disinterested at times. Rounding the butt of the sandwich, this 'Story of the World' had a pep or liveliness to it the first part did not. Everyone was really getting down!
Dancing around the crowd you would notice the pockets of people dressed in costumes or themes, the most flagrant being the group with the coconut tree, astronaut, space monkey/traveler, purple Tele-Tubby and a girl with a unicorn if I remember right. That being said, tor the most part, the acceptable dress for men was a shirt, many with a baseball jersey, cargo shorts and flip flops. For as fluffy as some of their music may be, Disco Biscuits attract some manly men! Costumes are NOT their thing. However, breaking gender rules, neckties seemed to be a favorite only with the women this night.
Prayers of thanks and other blessings were said as a final parting by those of Native American decent, who were much honored to have the event take place. I listened and gave my attention and positive thoughts of intention into what they were saying. It was nice to say thanks at the end of the night, as I was thankful.
Walking back to the bus, we see our friend who has asked if we would like a ride back with him. We hang out in the parking lot for a little while, catching up with friends. While leaving we see people being good about picking up trash and feel glad as the beautiful grounds were not trampled on too harshly.