Relentlessly winding upwards along Berthoud Pass, my brain lights up like a pinball machine in action and BAM my thoughts of needing to extol some elder wisdom on my co-hort becomes apparent. The event we are quickly approaching entry into, is unlike most of the "festivals" she has attended in the past. Sure you will find varied eclectic music, artsy wares, heady crystal wraps, camping in beautiful woods, cattle guards to funnel everyone in and out of the venue and lots and lots of PBR (it did win the Blue Ribbon after all), but Sonic Bloom has an unmistakably unique quality few festivals, if any, match up with.
My goal for the weekend was to see each and every second of music. However, that turned out to be a task near impossible. With workshops, yoga, art installations, live painters, human gyroscope, alpine slide and miniature golf, there were plenty of activities for those wanting a distraction from the music to enjoy. Another not so surprising quality of Sonic Bloom is how many "locals" attend. I never felt more than 5 feet away from people I knew well at any time throughout the weekend. To be surrounded by so many people you are acquainted with makes for quite the comfortable setting.
Spending any amount of time in Winter Park is not something I have yet to accomplish. I've known many friends who love skiing there and even have vacation condos, but most of my experience with Winter Park is driving through on my way to Steamboat or some other mountain destination near Rocky Mountain National Park. Not quite knowing what to expect I was surprised to find Sonic Bloom was being held on the actual resort, at the base of the chair lifts and gondola rides. During the day you found dumbfounded families watching the festivarians funnel in and out of the base of the mountain as they came to play miniature golf.
Last year, Sonic Bloom was held on a beautiful Colorado hideaway near Red Feather Lakes. It was a gorgeous property that everyone who attended will agree was meant to host last year's event. Although it was the coldest I have ever been camping, it was still worth the frozen tootsies in the morning. So you can see how from having the first Sonic Bloom at Mishawaka Amphitheater, then a resort near Red Feather Lakes, to a ski resort, we were all pretty spoiled in previous years and immediately I was negative that this venue could not match previous year's.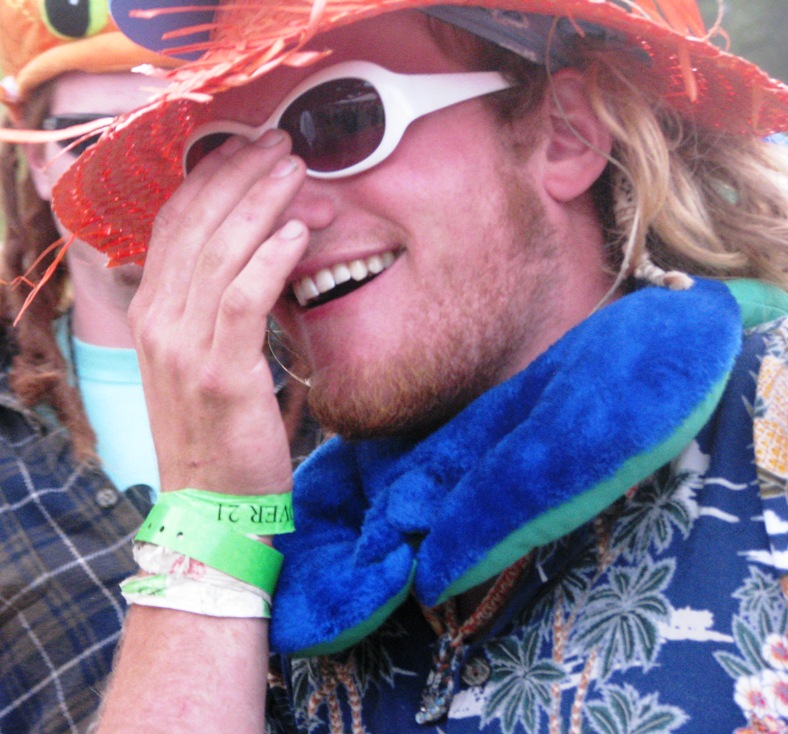 A sign displaying in large words "FESTIVAL" greet us at the first stop light. Every time I see the word festival I hear very clearly, in my head, Vince Herman, from Leftover Salmon, yelling "Festivaaaaaaal". We oblige the sign and turn into the first parking lot. What is odd is that no one is around. No one is walking the roads; we hear no music, no wooks with their fingers in the air pulling around puppies and certainly cannot determine where the "campground" is. So, in lieu of finding the campground we decide to just drive around the resort and see if we can find any concentration of people who could help us.
Finding the indoor late night music hub was not time consuming at all but did take going through a few barriers that were in place. Just past the Zephyr lodge, right at the base of the gondola is where they have set up a great multi level club style venue for all the late night shows. Which with the weather, turned out to be perfect timing at 11pm, just when it was getting almost too chilly to enjoy being outside.
Many complaints about the late night venue were relayed to me, but I was quite pleased with the set up. Granted where the stage was set up had limited space for everyone to listen, watch and dance, there were so many levels to get lost on and meet people it became an entertaining maze at times. Believe me, actually remembering how to get to the bathroom was like finding a Cracker Jack prize! All too often someone would open the doors to the bathroom level and you would hear jubilant cries of victory.
As I arrived inside late Thursday night, GSP & the Freestyle Movement, from Boulder were finishing their set. What struck me immediately was all the live painters and projection screen computer artists set up throughout the space. As an artist myself, I appreciate and make a point to support event's where collaboration between all sorts of artists and musicians (artists in their own right) are encouraged to come together.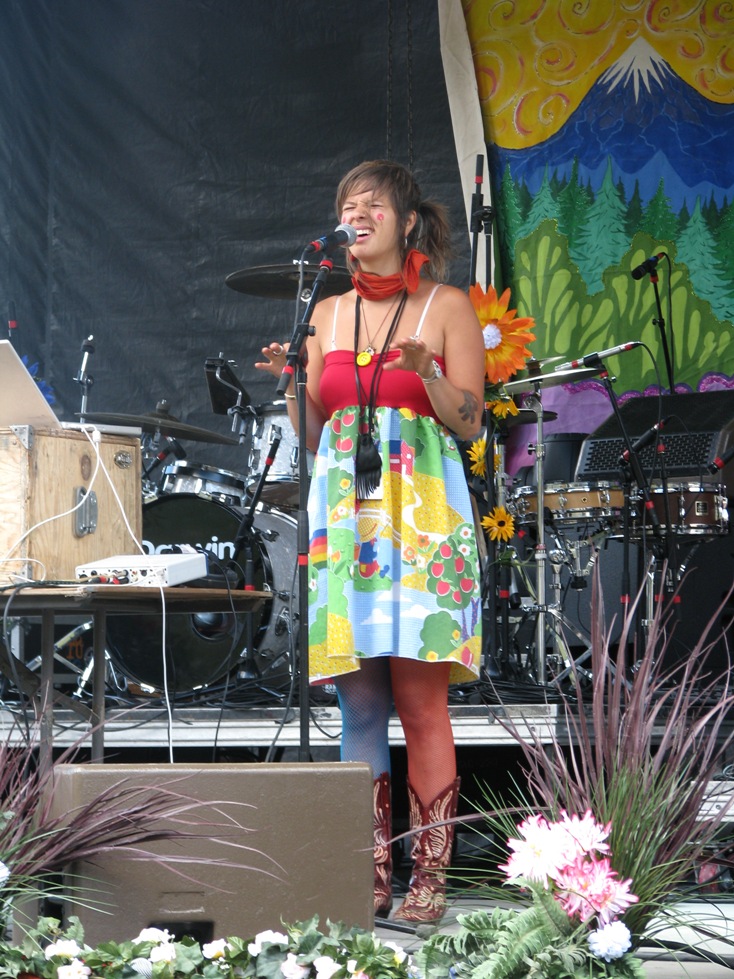 Once checked in for the festival, I decided to treat myself to a Pabst before Pretty Lights came on. Pretty Lights is an amazingly talented duo hailing from Fort Collins, CO. With the release of "Taking Up Your Precious Time" in 2006, they're pushing their way to the forefront of diversified electronic music, with what seems like minimal effort outside of the buzz stemming from their live shows. I can confidently say that the most feedback I heard on any band, from festival goers, was how sick the Pretty Lights set was. Not just their carving of new beats into the audio landscape, but as well their light show and incorporation of the visual artists made this a set to not soon be forgotten.
Although I am somewhat accustomed to staying up all night and partying all day at events such as this, so as I don't miss out on anything hot happening, I felt after the energy of the Pretty Lights show, it was time to retire and find the campground. I was right that I needed every wink of sleep before the rest of the weekend kicked into full warp speed ahead!
Not the best laid out campground site but it worked for the weekend. Flat ground was a hot commodity and you could hear kids around the parking lot the first night looking to trade headies for flat ground to sleep on. When the realization hit us that we were not going to find flat ground in the dark the decision was made to nestle into the front seats of the rental car. Granted we did park by the biggest bonfire of the campground, I was still able to sleep very well that first night.
Day 2 arrives and so do many more familiar faces! Anahata Sound is playing her special blend of what I like to call super silly, highly spiritual, other dimensional music. Anahata Sound is often part of The Fungineers, whom I have seen live before and enjoyed immensely last year at Sonic Bloom. You can't help but be sent into a giggle seizure when you see The Fungineers.
Never having seen Anahata Sound on her own I found it to be quite a treat to catch an intimate daytime set with her and our fellow festivarians. At this time in the day the crowds were still very small as most seemed to be enjoying their time together with one another in the campground.
Sadly, my biggest regret of the weekend happened next. Rena Jones is someone who I have never had the pleasure of seeing create her gift live and I was very much interested in being part of that experience with her at Sonic Bloom. Please, take my advice; she is an artist you want to look into as she is so amazingly diverse and anything but typical. Recently, she has collaborated with ediT, adding her cello and violin mastery to a track on his newest album "Straight Heat" and working with David Phipps of STS9 for a compilation disc "Midnight Soul Drive". For anyone who knows how difficult it is to find reasonably priced classical instruments, please see her website to help Rena fund a new cello she is in desperate need of soon.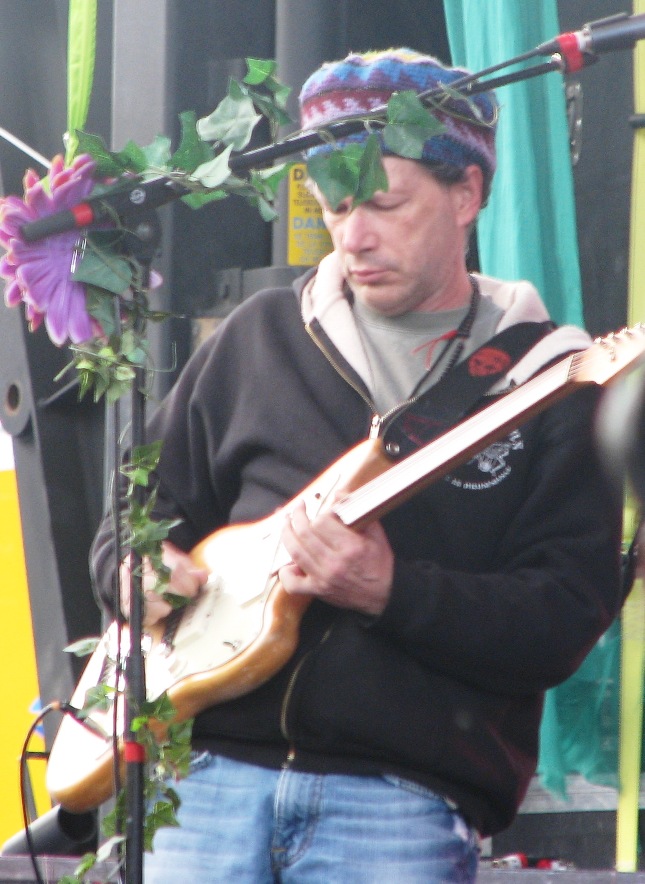 For Day 2 the real big buzz was surrounding the Praang compilation, featuring Steve Kimock, Michael Travis, Jason Hahn and Jamie Janover. Many started calling this collection of artists Kimeotover instead, referencing a similar show lineup in Denver in the past year. Throughout most of the Praang set, I felt it lacked much of a backbone, it was very airy and light without a lot of direction. Typical for me experiences of this collaboration. Wait, I should say it lacked much of a singular motivating backbone. I found myself rootless and drifting off into conversation rather than focusing on the creation being had on stage. Perhaps it is because I have seen this lineup several times prior to Sonic Bloom, but for my two cents, I felt it lacked much multiplicity at all, until the very end. The last two tracks they performed were spectacular and satisfied my desire to hear Kimock let loose more. It was less ambient and in the clouds than the rest of the set with more solid substance.
Immediately after Praang ended a local Boulder favorite Jantsen started off with a nasty DJ set that kept everyone engrossed until Lotus came on stage. If you are local to Boulder, Jantsen is the driving force behind the now Wednesday night electronic extravaganza music scene at what was once Trilogy Lounge, now B-Side Lounge, just off of Pearl Street.
Having seen Lotus in the past, but not recently, I was very intrigued to hear what they sound like at the present. For my tastes, unfortunately, they sounded just as they had last time I saw them and I only stayed for about ¾ of their show, which was a lot of effort on my part to stay that long. So so so much of their music is just guitar noodling that is off key I honestly have a hard time listening for long. Now don't get me wrong, Lotus has a huge following who adore their sound, I am just not one of them. If I can't dance to it, I rarely enjoy the music and with Lotus I could not dance to their sound. Plus, they didn't know who DJ'd before them and could not get Jantsen's name correct, which to me is just downright disrespectful.
After Lotus the late night sets started inside. Heavyweight Dub Champion, who as well are local to the Colorado Mountains. Their set was not a disappointment and kept me captivated throughout. After Heavyweight Dub was Vibesquad, the brainchild of Aaron Holstein, who states that he is "dedicated to making music that vibrates positivity, love and light…with ridiculous amounts of bass and a nasty-ass beat, of course." Check out the new Vibesquad ep titled "BASS LOVE" available from addictech.com.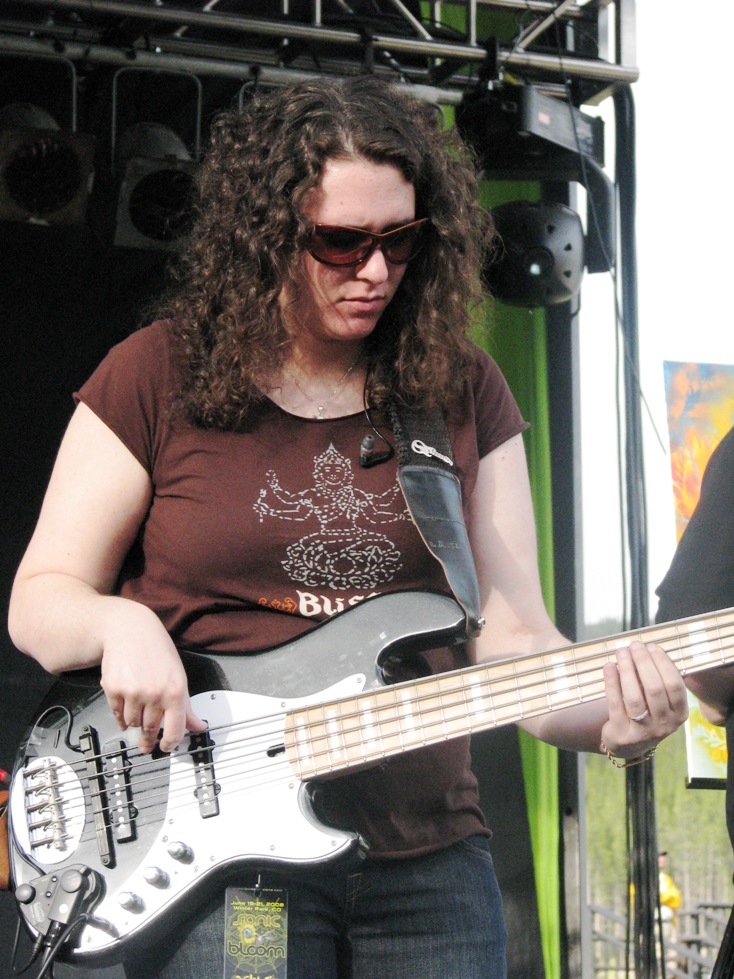 Glitch Mob is a band consisting of Ooah, ediT, Boreta, and Kraddy, all accomplished DJ's and producers in their own right. Their sound is as unique as their name eludes to. Shredding through every, and all, sounds they can get their hands on, their show is something to behold, but admittedly is not for everyone. The aural assault Glitch Mob frequently unleashes to the many unsuspecting citizens in the crowd. I have seen Glitch Mob several times in the past so I only stayed for a few tracks before I retired to a condo party for the evening. Feedback from the show was that it was sub-par, but that Glitch Mob themselves seemed to be having a spectacular time performing!
Aww and finally on to Day 3 of Sonic Bloom, my favorite day musically hands down. I was thankful that even though my sleep was limited the night, er morning, before, I was able to make it to see Sasha Butterfly Rose. During her set, Lynx, also sat in to create a lovely collaboration early in the day between the two female artists.
Saturday was the day that was set up to host a Press Conference where musicians from the weekend would be available to answer questions. With some reservations, I did not know what to expect for this conference but was more than pleasantly surprised to find that everyone on the panel was engaging, forthright and informative with all their answer. Each musician showed their uniqueness with every answer. I would love to translate most of the press conference for you, but alas have not been able to get my hands on either the audio or video. (I do know that MoBoogie.net did record this press conference and I do hope it is available for all to take a gander at sometime soon.)
During the press conference I sadly missed the ediT live PA set, which I had high expectations for. Now after the fact I was able to listen to ediT's set and it was really tight! Granted it was so early on in the day, I wish they would have scheduled him for a sundown set another day.
After the press conference I stumbled upon SubID, a generally two piece outfit consisting of Brad, who mixes, and Alana, one of the most bad-ass sought after bass players. In the collaborative spirit of Sonic Bloom they invited Lane, from Pnuma Trio, to sit in. With Brad putting out some great percussive beats on top of the uber high energy from Lane's drum kit, it made for an interesting SubID set. Part improv, part composed, part electronica, part contemporary, part ambient, and part thrashing hard rock, SubID doesn't just beckon you to listen, they demand it with their sounds.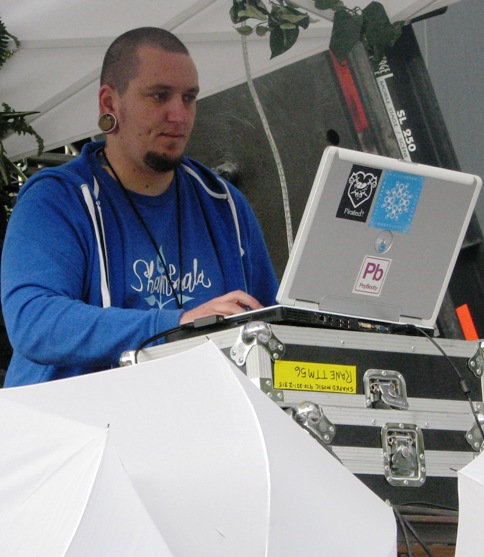 Halfway through the SubID show, Brad takes the mic and starts speaking about Alana. You come to find out through his story that she is his wife and is four months pregnant. Of course the whole crowd gave a rousing cheer and Alana went on to play some of the most booming bass parts of the whole set.
From a recommendation by a close friend, I knew that Bluetech was someone I should check out. When I took part in the press conference, I was able to meet Bluetech, and he captivated me instantly. Not quite knowing what his sound was akin to, I checked out his show without much prior knowledge so I had no preconceived notions. Hands down, without any doubt, Bluetech put on one of the most beautiful musical experiences I have been a part of, in my life! With the sun slowly setting, the sky starting to streak with hues of pinks and purples set against the blazing blue sky, I found a nice spot off to the left where I had ample space to watch Bluetech. What struck me most about his show was that although the music was not sonically roaring, it encompassed my aural capacity to the max. Some commented that it was ambient but I disagree. Although there are layers of ambient undertones that carry the songs, many of the supporting layers are portraying sounds from some of the deepest recesses of human existence. While you watch Bluetech create these endless layers, he appears to have a unique intensity about his calm delivery. I kept turning around and orientating my view towards the mountains, the trees swaying in the slight breeze with the setting sun, but would be smacked right back into moving my body to the sounds. My eyes wandered to the back of the stage where two young boys were dancing and when I say dancing, I mean these kids were getting down. I thought to myself "Now wait Tawny, if these two are treasuring this moment so much that they are allowing their bodies to move as passionately as they are, I need to recognize and get down myself!" I danced so hard I had little left for the other musicians that night.
The rest of Saturday comprised of Zilla, EOTO, Sonic Bloom Orchestra, Bassnectar, Nosaj Thing, and David Starfire. To be perfectly honest, I was so blown away by Bluetech that I had to leave the immediate venue, went and spent some time on the abandoned chair lifts with a friend an took in the sights and sounds. Zilla did sound amazing though. Having seen Zilla and EOTO more than any other band at Sonic Bloom I can confidently say that the Zilla set was of the highest quality. Aaron Holstein's blistering bass lines were relentless! And the smile on all of them was so precious of a site to see. I find there are few things more amusing in life than watching musicians find that blissed out joyous spot when they know and appreciate the moment they are in creating what they were gifted to create.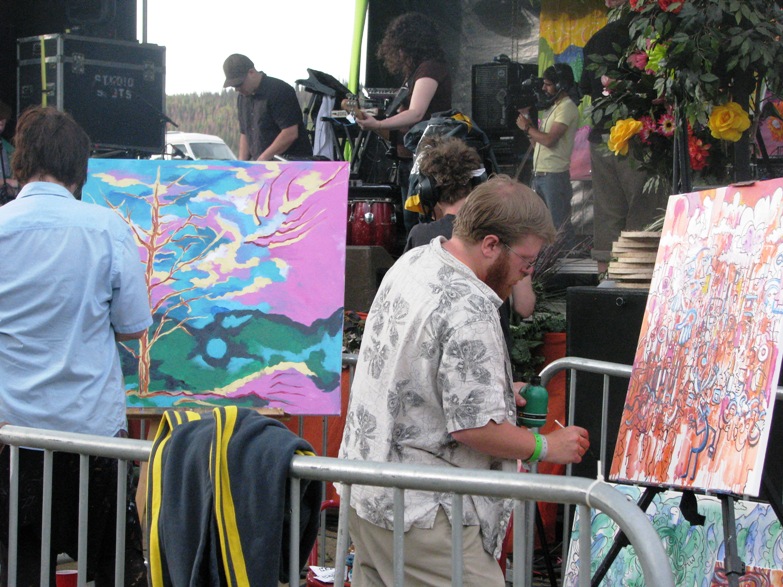 To say the caliber of live painters was superlative is an understatement of the highest degree! I was so blown away by the compositions each and every painter created all weekend long. You can see some of the creations as well by viewing the photos and video from the weekend. And of course there were fire dancers, hoopers and performers around every corner.
So the only lingering question in my mind after 2008's Sonic Bloom is, where will it be next year?
Lastly, a huge thanks need to be given as a way of honoring the hard work that Conscious Alliance does. With rising gas prices, it has become difficult for Conscious Alliance to be everywhere they would like to this year. Please continue to support their efforts to feed the hungriest, afterall you get a free poster if you do support them!