Thursday, Friday, Saturday, January 25,26,27, the three soldout Tedeschi Trucks Band Chicago concerts marks a triumphant return to the windy city very the same week that Chicago's WXRT radio announced TTB in the top ten list of best 2017 concerts. TTB was ranked at number 5 by the listener's poll for their three sold out concerts the previous year, to the week. There is no reason to dismiss that TTB's 2018 run will not make the top ten list again. Chicago fans love TTB's big sound and well crafted jams.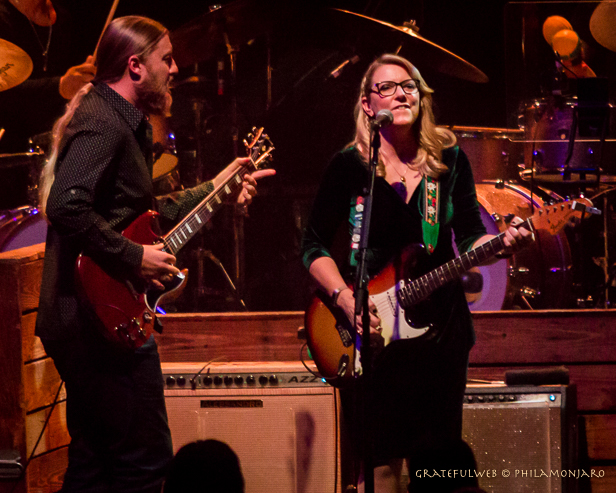 Grateful Web was on hand for the second, Friday night show witnessing TTB delivering a full evening of two sets nearly playing to the venue's 11 PM curfew. This night had no opening acts. Known for playing completely different sets each night, fans have every reason to catch all three night. An impressive note to how deep their repertoire goes.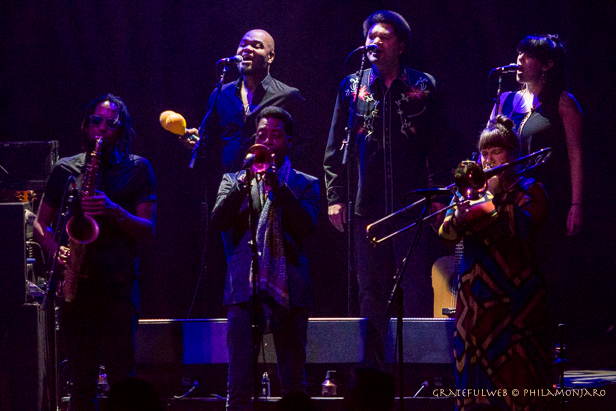 This evening's highlights included a melody of John Prine's "Angel From Montgomery" segueing into the Dead's "Sugaree", the first encore honoring the late Tom Petty playing "You Don't Know How It Feels", then closing the show on a high note (pun intended) with The Coaster's "Let's Go Get Stoned".
Derek Trucks - Guitar
Susan Tedeschi - Guitar & Vocals
Kofi Burbridge - Keys & Flute
Tyler Greenwell - Drums
JJ Johnson - Drums
Mike Mattison - Backing Vocals
Mark Rivers - Backing Vocals
Alecia Chakour - Backing Vocals
Tim Lefebvre - Bass
Kebbi Williams - Saxophone
Elizabeth Lea - Trombone
Ephraim Owens - Trumpet
Friday, January, 26th Sets
Set 1
Anyhow
Laugh About It
Don't Know What It Means
Just as Strange
It's So Heavy
Get What You Deserve
Idle Wind
Set 2
Rollin' and Tumblin'
Do I Look Worried
Simple Things
Leaving Trunk
Volunteered Slavery
The Sky Is Crying
Angel From Montgomery / Sugaree
I Wish I Knew How It Would Feel to Be Free
Encore:
You Don't Know How It Feels
Let's Go Get Stoned
According to their site, TTB is gearing up to record in 2018 and posted a live recording of Neil Young's "Alabama" as a teaser.
With a short break before continuing this tour, TTB will resume back on the road February 8th in Wilkes-Barr, PA playing through April 21st in Atlanta. Then kicks off a summer "Wheels of Soul" 2018 tour with Drive-By Truckers.