A dramatic leap forward for two of the music world's most dynamic performers, singer/guitarist Susan Tedeschi and guitarist Derek Trucks introduced their new 11-piece ensemble—Tedeschi Trucks Band to rave reviews earlier this spring in advance of their first full CD release together.  In June, Tedeschi Trucks Band debuted big with their inaugural album, Revelator (Sony MASTERWORKS) breaking into the Billboard Top 200 Chart at #12, bringing both artists to their highest first week sales and charting of their careers.
Recognized for their outstanding live performances and supported by an all-star lineup of musicians, Tedeschi Trucks Band is currently on tour.  AOL Music's Spinner has a live video premiere of the new single "Come See About Me."
"'Come See About Me' is a great relationship tune -- Derek's melody just kills," Tedeschi tells Spinner. "That's a riff that he just came up with, then Mike and I tried to figure out lyrics. I think of this as our Little Feat tune. It's not 'Dixie Chicken' but it has that upbeat and bounce."
The video was shot live, where the11-piece ensemble shine brightest, on stage.
Speaking of the stage, Tedeschi Trucks Band is giving away a pair of tickets to one winner to any show of their choice during the October 21-29 run of their tour through the good folks at Paste Magazine.
Spinner is also giving away an Epiphone G-400 signed by Trucks and Tedeschi.  To enter the giveaway, follow @Spinner on Twitter and retweet the @Spinner giveaway announcement tweet. The giveaway begins at 11AM Eastern Time ("ET") on October 12, 2011 and ends at 6PM ET on October 19, 2011. One winner will be chosen at random and notified on October 20, 2011. Be sure to read the official contest rules.
Tedeschi Trucks Band celebrated the release of Revelator with a soulful and anthemic performance of the album's first single, "Learn How To Love" on both The Tonight Show and Conan followed by a flurry of positive reviews.  In a 4 Star review, Rolling Stone praised the album as a "masterpiece" while USA Today called the album simply "Outstanding."  In recent concert reviews, Kansas City Star wrote "the stunning vocals of Tedeschi and the awe-inspiring guitar work of Trucks were showcased to perfection."  Boston Globe declared the "show a triumph," and Charleston City Paper described the concert as "staggering, uplifting, and damn near soul-saving."
Check out Derek Trucks and Susan Tedeschi in their recent segment for "BETTER TV".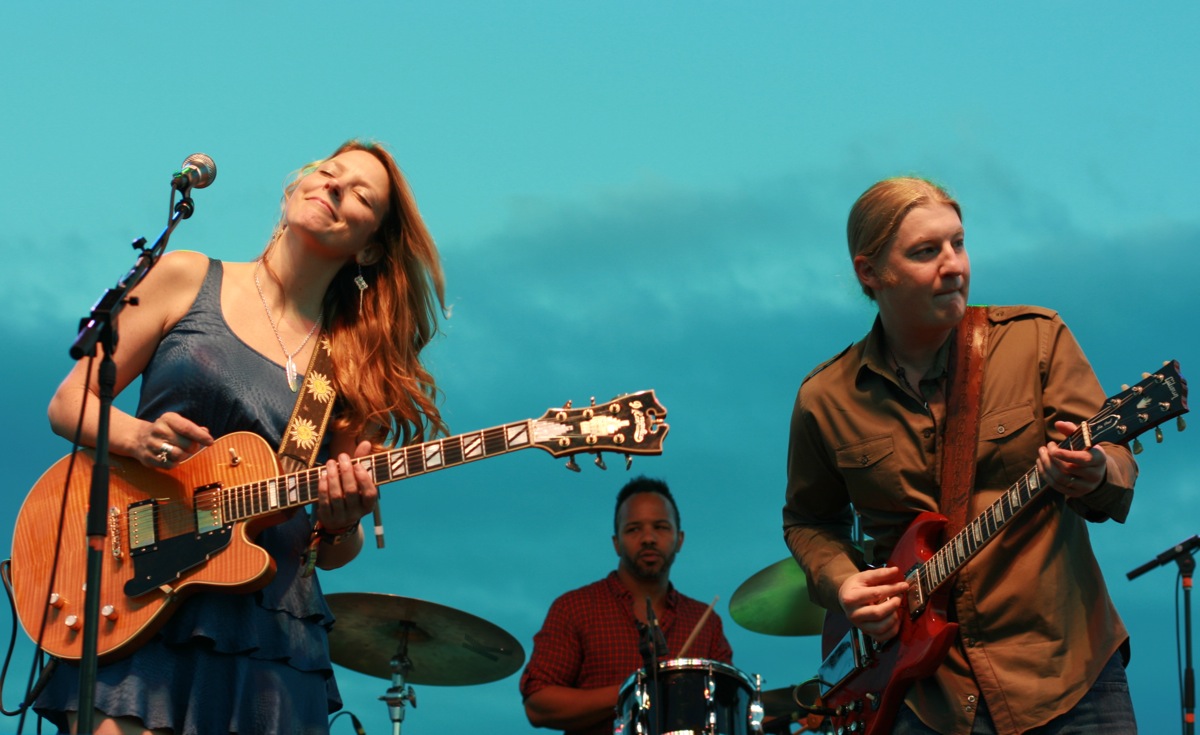 Tedeschi Trucks Band has been headlining shows in the U.S., Australia and Europe this year behind the new album.  The group features harmony singers Mike Mattison (vocalist with The Derek Trucks Band) and Mark Rivers, brothers Oteil Burbridge (noted for his years as bassist with the Allman Brothers Band) and Kofi Burbridge (longtime keyboardist/flutist with The Derek Trucks Band) with drummers J. J. Johnson and Tyler Greenwell, trumpeter Maurice Brown, tenor saxophonist Kebbi Williams and trombonist Saunders Sermons.
--
Tedeschi Trucks Band Tour Dates
10/14 Brookville, NY - Tilles Center for the Performing Arts
10/15 Lynn, MA - Lynn Memorial Auditorium
10/16 Buffalo, NY - Sun Center for the Arts
10/18 Burlington, VT - Flynn Theatre
10/19 Albany, NY - Hart Theatre
10/21 Newark, NJ - New Jersey Performing Arts Center
10/22 Rochester, NY - Auditorium Theatre
10/23 Kingston, NY - Ulster Performing Arts Center
10/25 Toronto, ONT - Music Hall
10/26 Royal Oak, MI - Royal Oak Music Theatre
10/28 Washington DC - Warner Theatre
10/29 Bridgeport, CT - The Klein
11/13 San Paolo, Brazil - SWU Music & Arts Festival
11/18 Denver, CO - Fillmore
11/19 Phoenix, AZ - JW Desert Ridge Blues Festival
12/28 Jacksonville, FL - Florida Theatre
12/29 Clearwater, FL - Ruth Eckerd Hall
12/31 San Francisco, CA - Warfield