Led by Phil Lesh & Friends and Melvin Seals & JGB, the second generation, literally, of Terrapin Crossroads staff presented a one-day, two-stage, seven-band Sunday Daydream on August 27, in Novato, Calif. Following the initial Sunday Daydream that took place on July 9, this event was a quintessential gathering of those who oft-performed at the cherished Terrapin Crossroads, a Marin County nightclub and gathering place for like-minded music fans, operated by Phil and Jill Lesh from 2012 to 2021.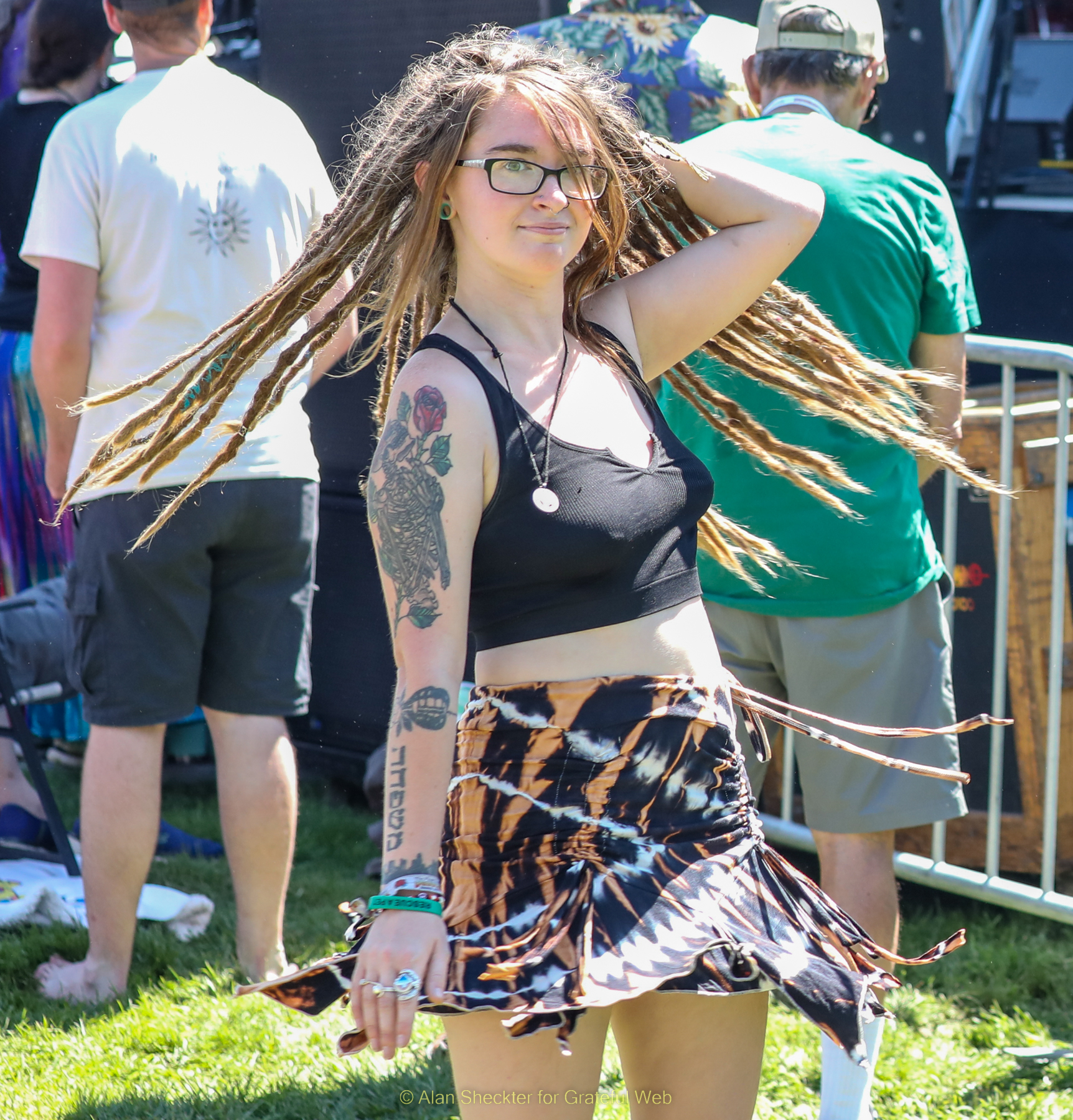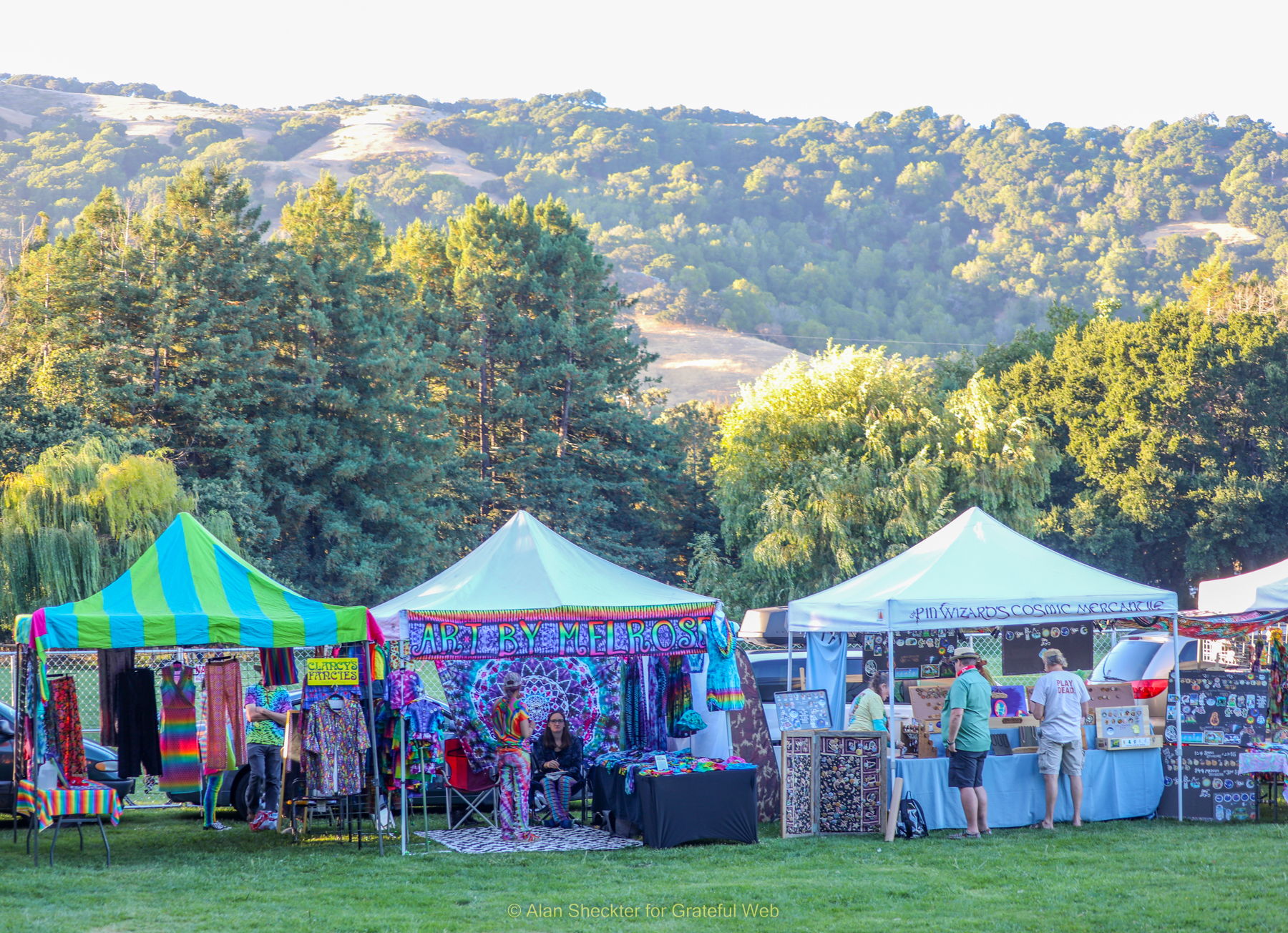 This varietal of Phil Lesh & Friends, in addition to the protagonist Lesh himself, included horn players/vocalists Jennifer Hartswick and Natalie Cressman, along with Grahame Lesh, a whole bunch of players from folk/roots-rock outfit Dawes (Taylor and Griffin Goldsmith, Lee Pardini, and Trevor Menear), and some guest-musician sit-ins. Both Hartswick and Cressman, and the Dawes players have collaborated with Phil Lesh's band on occasion for the past 3 1/2 years, at Terrapin Crossroads and elsewhere.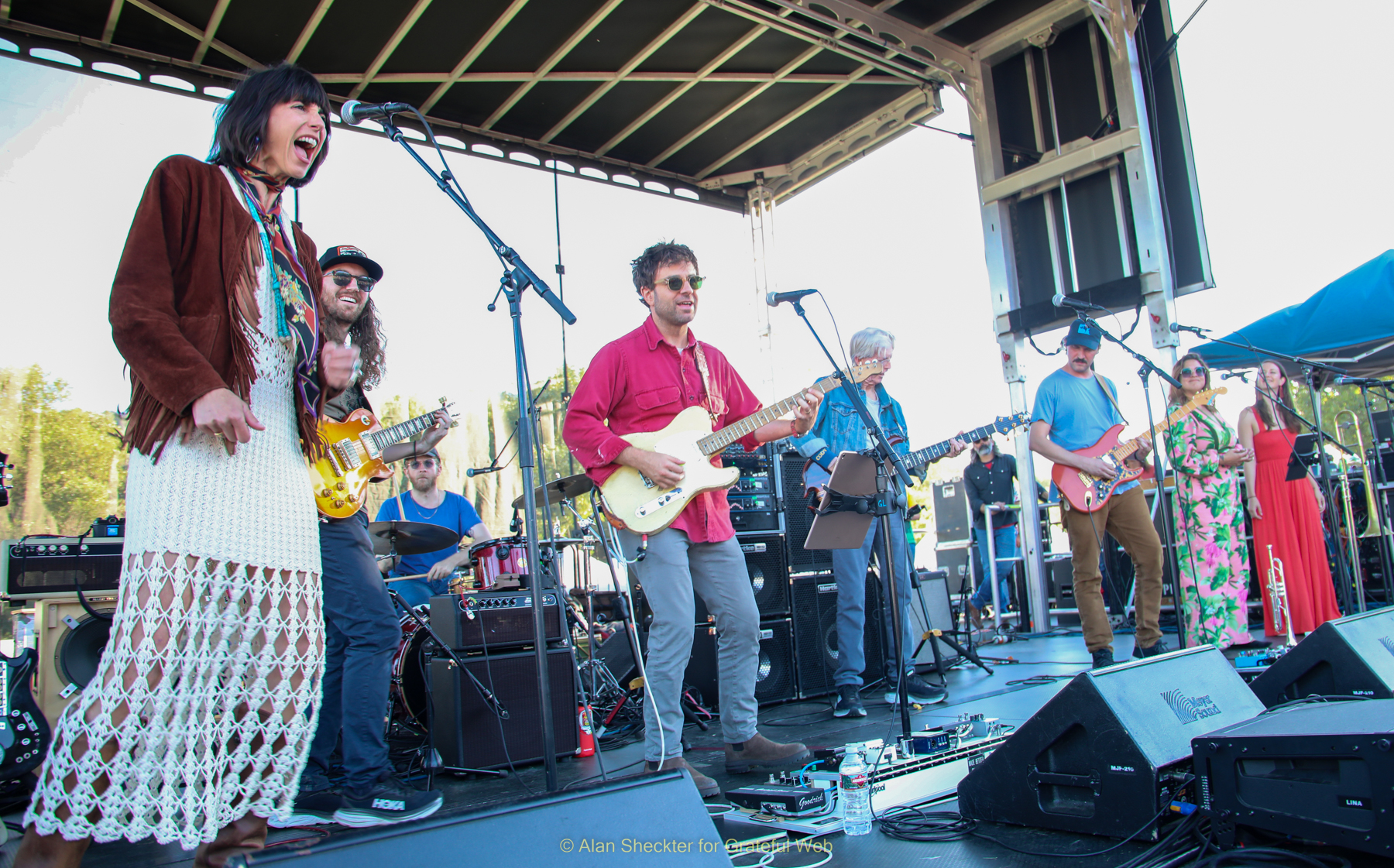 Lesh & Friends, cohesive and commanding, covered mightily 10 Grateful Dead songs over two hours. Firing on all cylinders, with the 83-year-old Phil Lesh energetically blood-pumping bass-guitar lines throughout, the ensemble first offered a spirited version of "Bertha," with Dawes front man/guitarist Taylor Goldsmith taking lead vocals on the tune that opened many Grateful Dead shows. Drummer Griffin Goldsmith and Cressman next shared vocals on "Cassidy" and guitarist Menear then sang "Brown-Eyed Women." Hartswick next commanded the mic on a beautiful version of "Brokedown Palace," after which Nicki Bluhm joined the band to share vocals with Taylor Goldsmith on "The Music Never Stopped," with Bluhm's forceful vocals especially notable during the "There's a band out on the highway" and the "Keep on dancin' through the daylight" passages originally made famous by Donna Godchaux, eliciting roars of approval from the audience.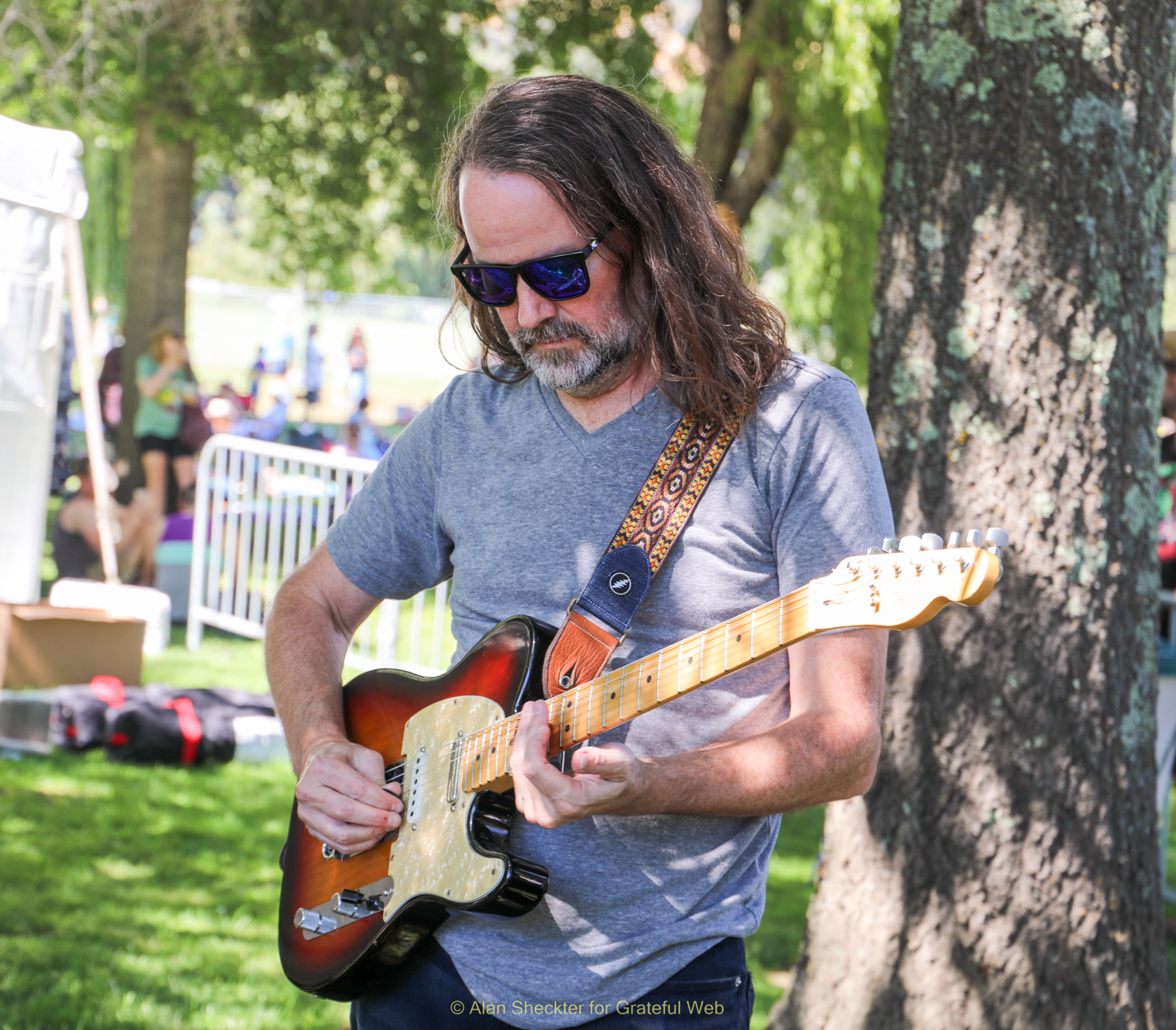 After a mini-break, the band brought to the stage Stu Allen, a renowned emulator of Jerry Garcia's guitar style, and who helped instantly ignite the intensity and psychedelic ambience with the opening notes of "China Cat Sunflower." The now nine-piece band, boasting four guitarists, offered beautiful layers of fierce instrumentation that led into "Playing in the Band." Taylor Goldsmith's enunciations of the "Playing" verses segued into a properly epic jam that contained an effective elixir of celestial improvisations that, with Phil Lesh's bass and Griffin Goldsmith's drums setting the bottom end from which the four guitarists and Pardini's keyboard passages emerged, sent waves of kaleidoscopic resonances out over the crowd and into the surrounding foothills. Such machinations eventually led to "New Speedway Boogie," delightfully vocalized by Cressman.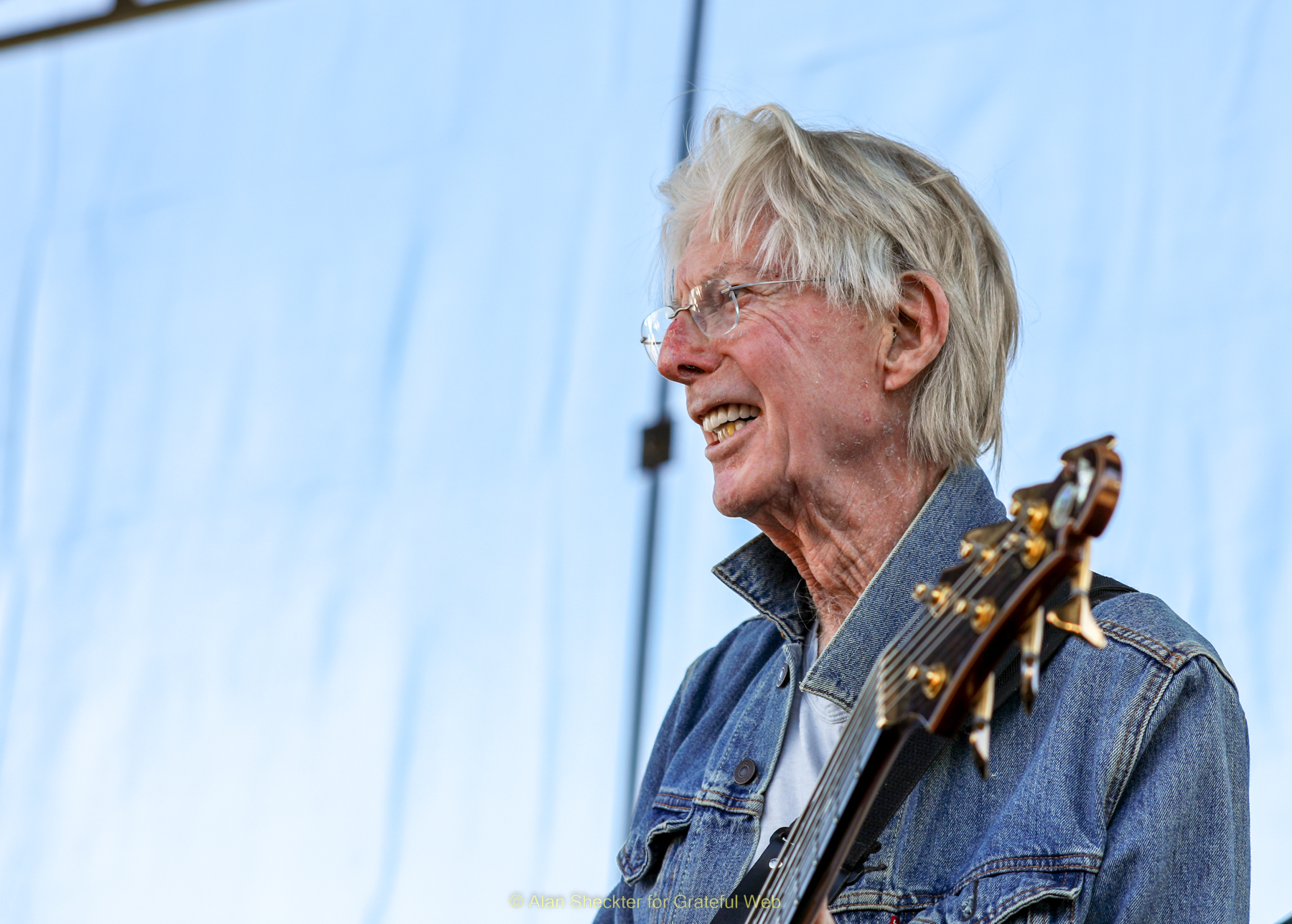 The set ended with a closing sequence of Allen's lovely vocal rendering of Garcia's "Days Between" and a version of "Cosmic Charlie" in which everyone contributed vocally. At the show's conclusion, Phil Lesh expressed to the crowd, "Terrapin Crossroads is not going anywhere, except into the hearts of you people, the Terrapin nation. God bless you all."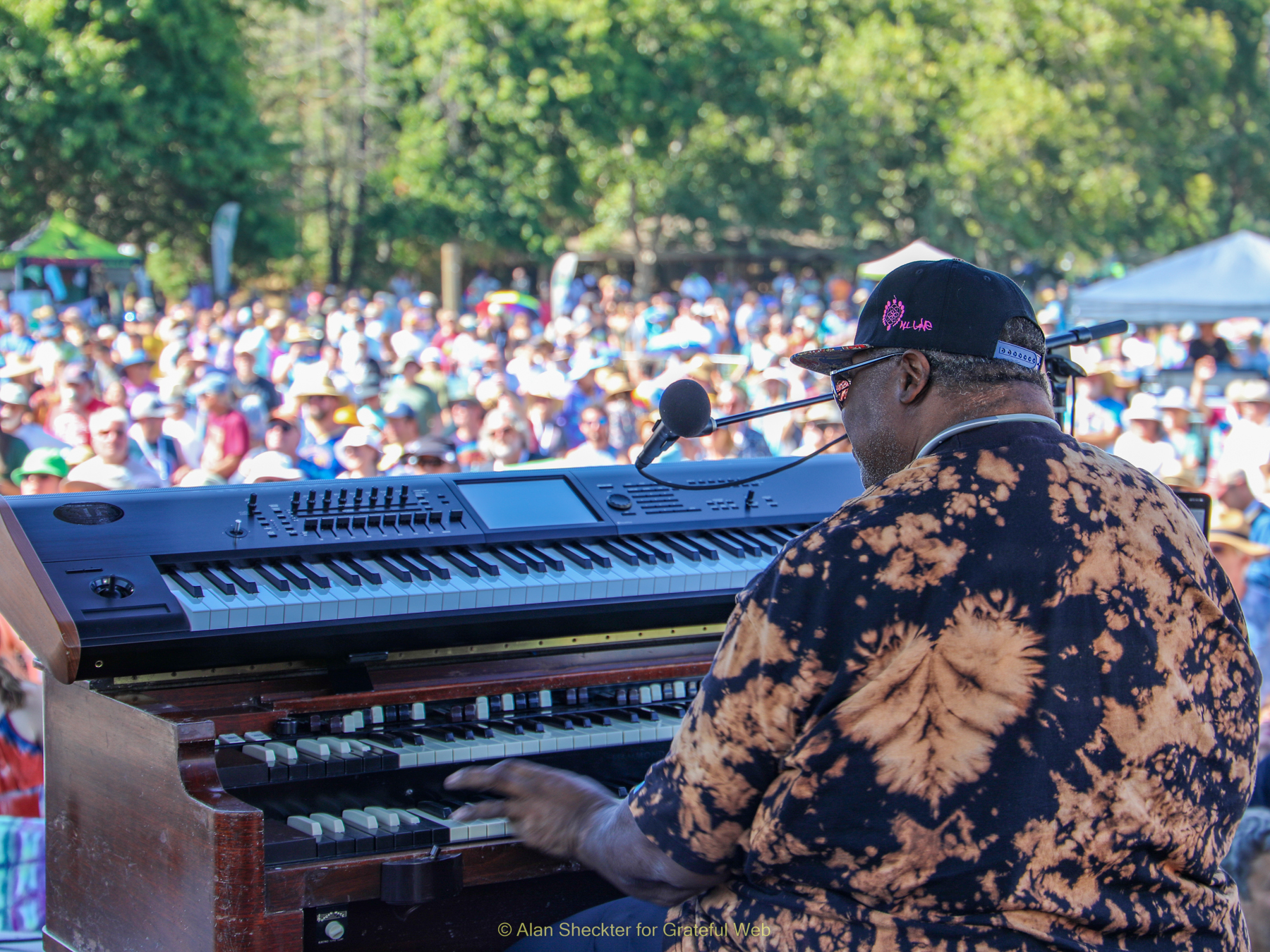 Melvin Seals & JGB were the penultimate main-stage performers, still keeping the original Jerry Garcia Band's legacy burning brightly with a relevance that never felt like a contrived imitation. Relying on the vast catalog of material that Garcia offered away from the Grateful Dead stages, Seals – who turns 70 this year – led the band's merrymaking, outputting heavy, swirling Hammond B-3 organ phrases reminiscent of those he interlaced with Garcia's improvisations starting in 1980. With a lineup that has remained steady over the past few years – Seals, John Kadlecik (guitar and vocals), John-Paul McLean (bass, backing vocals), and Jeremy Hoenig (drums) – the band delivered a 90-minute set of "Garcia Band songs" and "Grateful Dead songs" that were actually all covers from other heritage artists (with the exception of "We Be Jammin'," an instrumental recently added to Melvin & JGB's repertoire).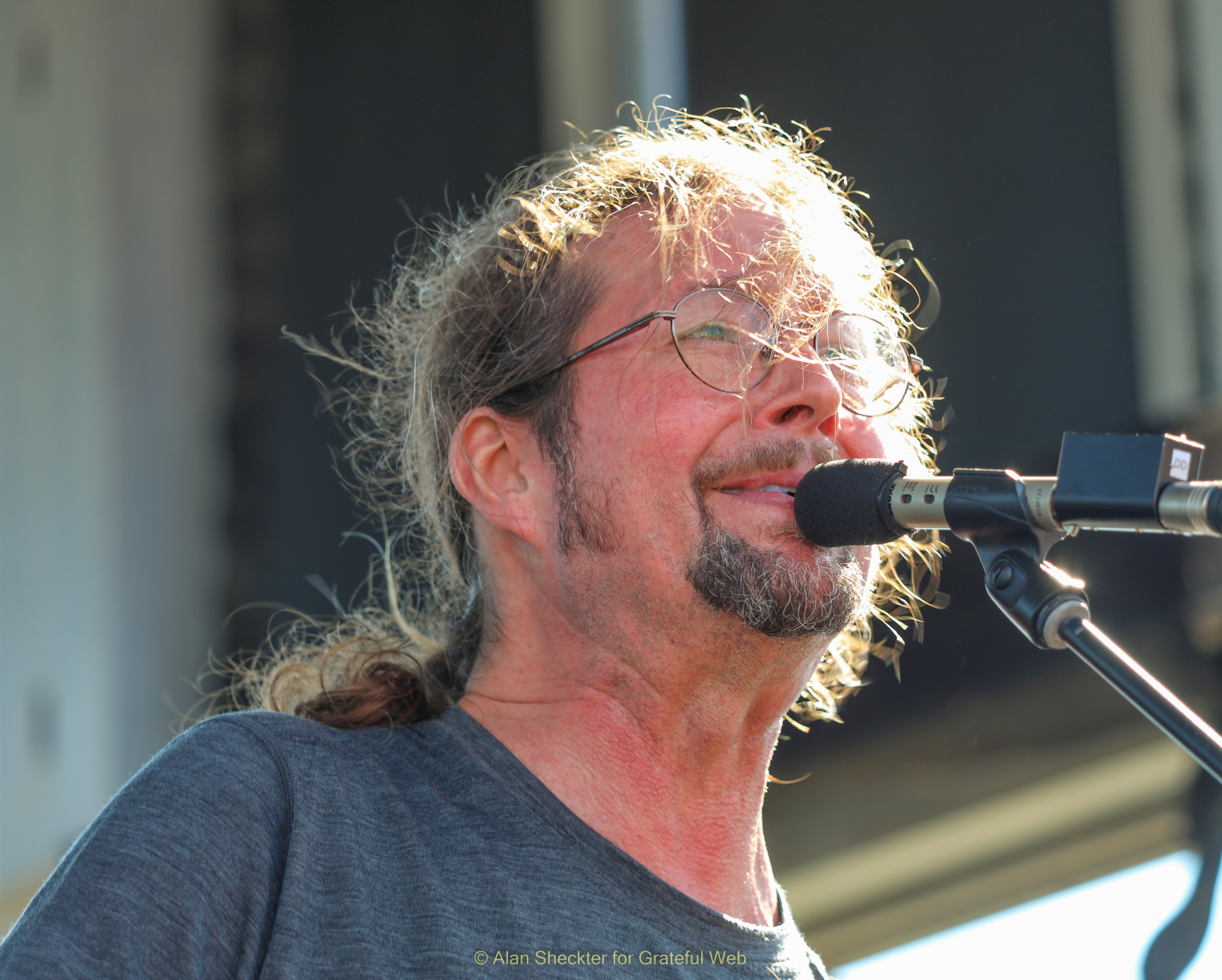 First, they blasted off with Wilson Pickett's "In the Midnight Hour," followed by Bob Dylan's "Tough Mama." The band and audience then collectively caught their breath with a soulful version of Van Morrison's ballad, "And it Stoned Me," which led to a thrillingly jammed-out version of Allen Toussaint's "Get Out of My Life Woman," which included a monster bass solo from McLean.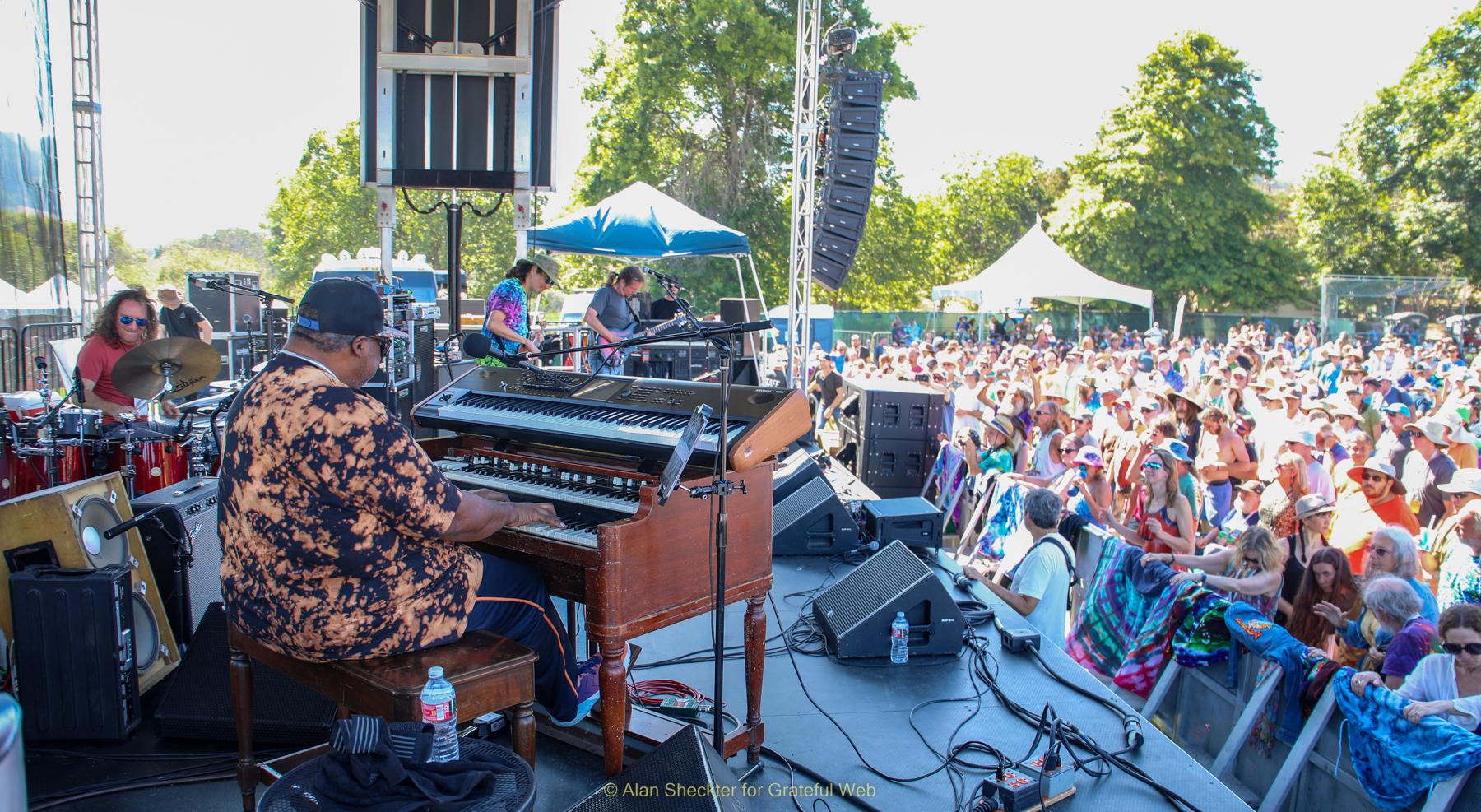 Daniel Lanois' "The Maker" was next, followed by the aforementioned "We Be Jammin'," and a long and lovely rendering of "Don't Let Go," a rock 'n' soul song Roy Hamilton had a hit within 1958 that was always a cherished selection at a Garcia Band show with its extended, expressive mid-tempo jam. A pleasing version of another 1950s-penned song, the Ray Charles ballad, "Lonely Avenue," was offered next. Stu Allen, a former member of Melvin Seals & JGB, was then invited onstage for a frenzied version of The Meters' "Hey Pocky A-Way," with both Allen and Kadlecik, who is also a renowned Garcia-style lead guitarist, member of Furthur, and co-founder of Dark Star Orchestra, saturating the stage with furious layers of lead-guitar jamming.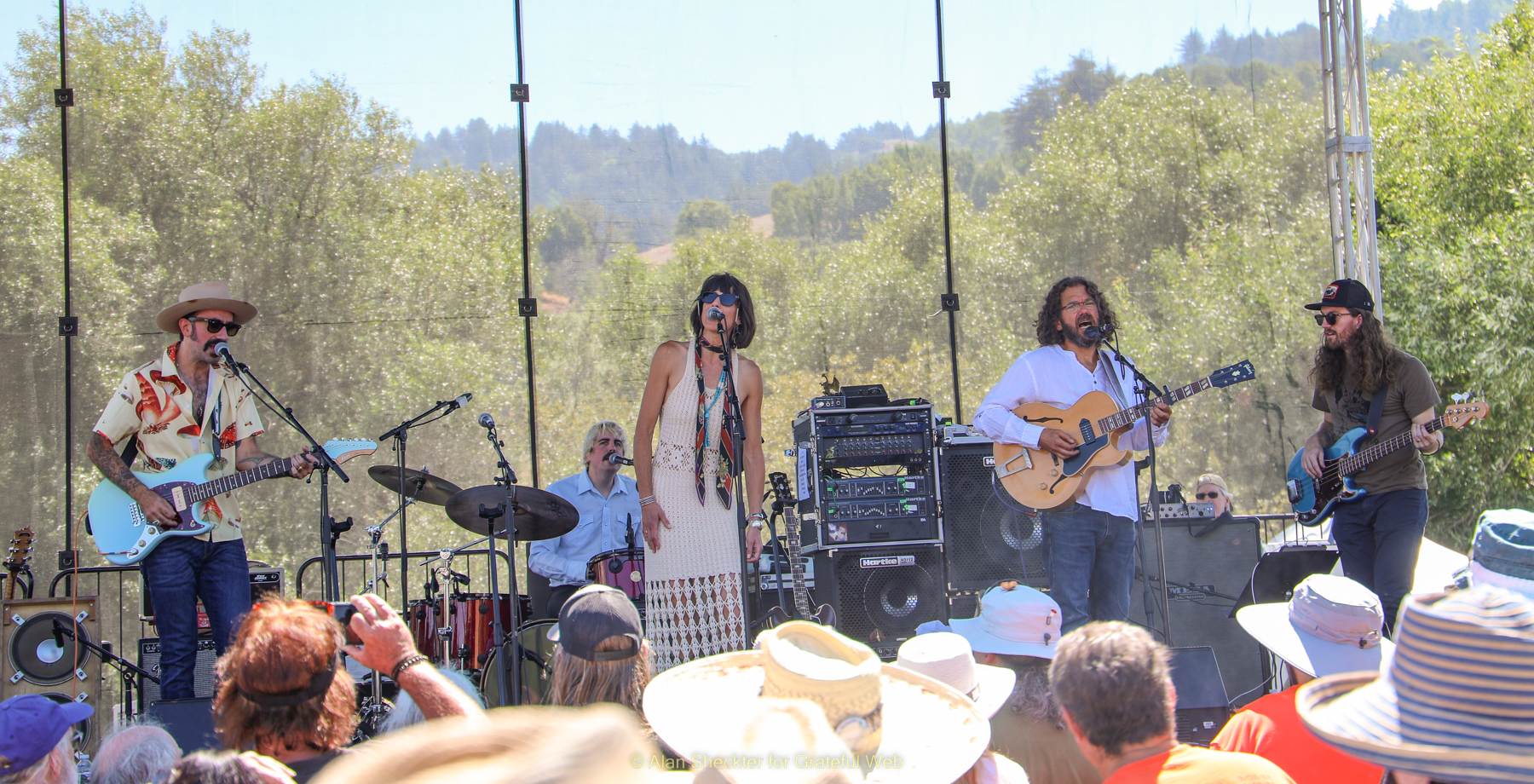 Nicki Bluhm, who's had a prominent career as a solo artist and with Nicki Bluhm & the Gramblers, teamed up with old Terrapin Crossroads music mates Scott Law and Ross James for an hourlong or so main-stage set prior to Melvin Seals & JGB, rekindling the magical collaborative performances the trio carried out in the past. With Bluhm and Law working together in Brokedown in Bakersfield, and Law and James working together as Cosmic Twang, it was great to see the three come together again for the event (Law lives in Oregon, James in Colorado, and Bluhm in Nashville). The band also included Grahame Lesh on bass and another frequent Terrapin Crossroads alumnus, Alex Koford, on drums.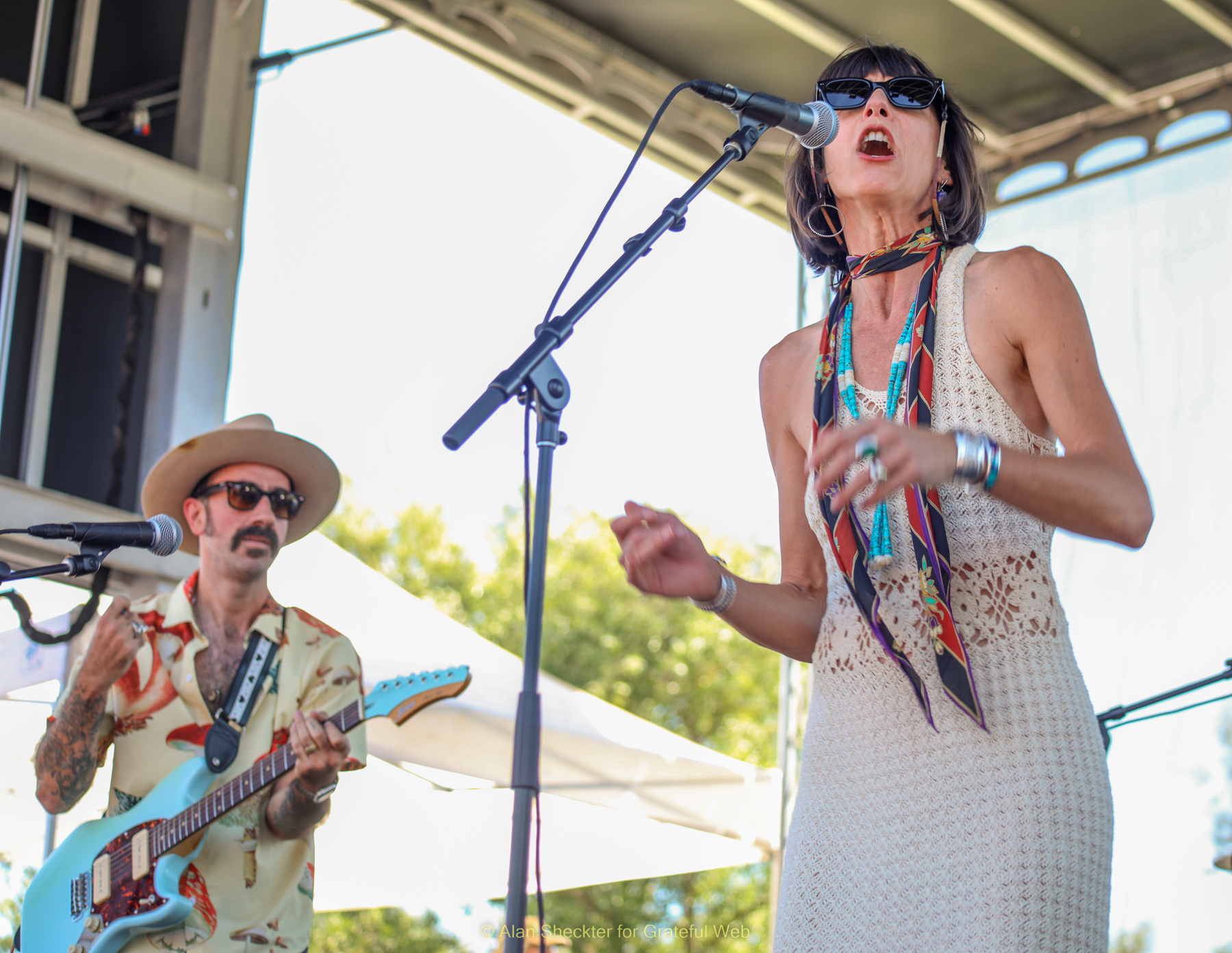 The set featured several Bluhm songs, including the opener, "Little Too Late," perhaps Nicki Bluhm & the Gramblers' most well-known piece of music. Bluhm also led "To Rise You Gotta Fall" as well as two songs from "Avondale Drive," her album released in 2022. James contributed a soulful version of Ricky Nelson's timeless, "Garden Party," as well as the poignant, brand new, "Neal's Blues," a new James-penned song for Neal Casal, who died four years ago, almost to the day. Casal (Chris Robinson Brotherhood, Circles Around the Sun, and more), was a frequent performer at Terrapin Crossroads. The band closed their performance with James's roadhouse rocker "Texas Gales," with his little boy appearing center-stage on a toy guitar.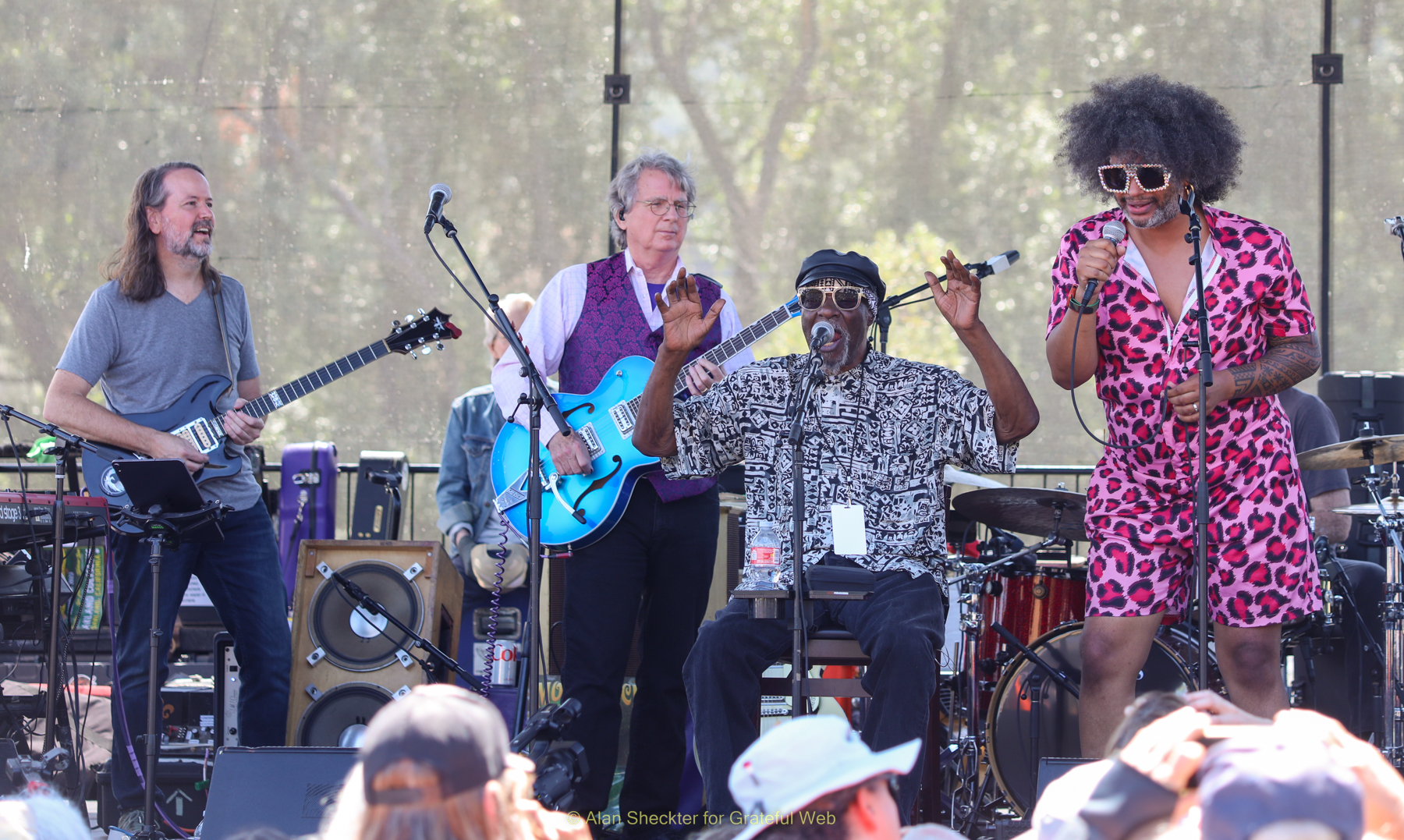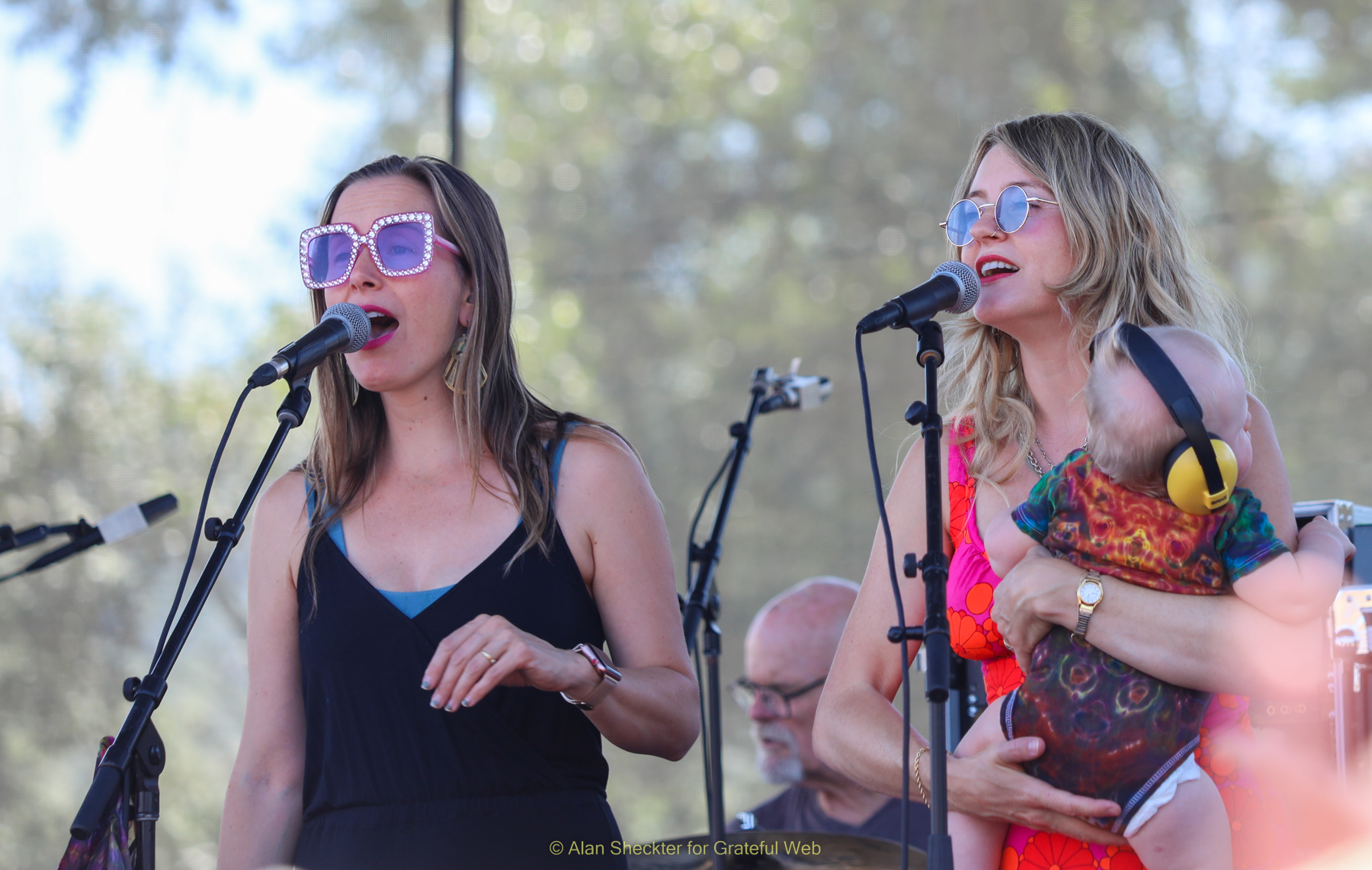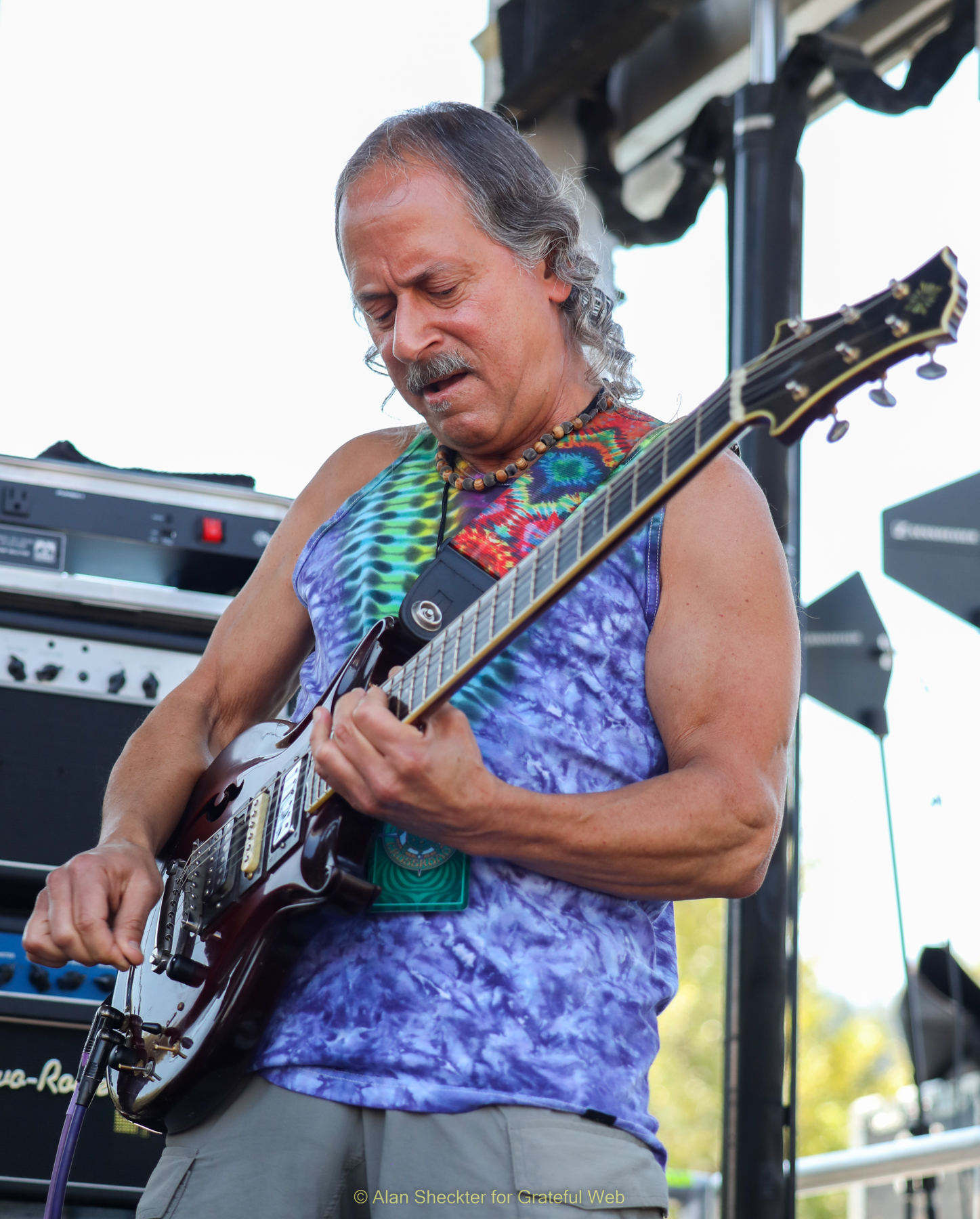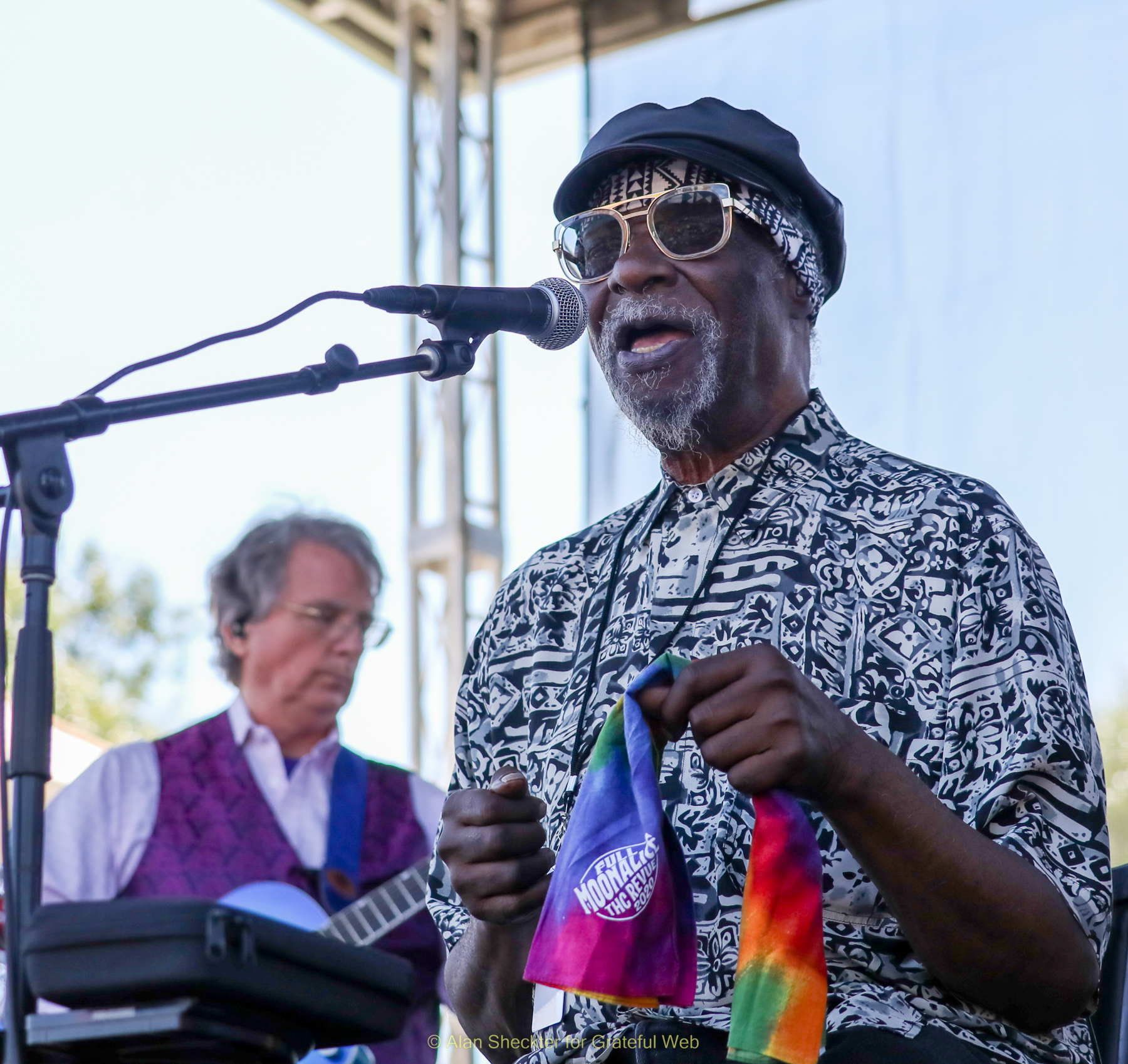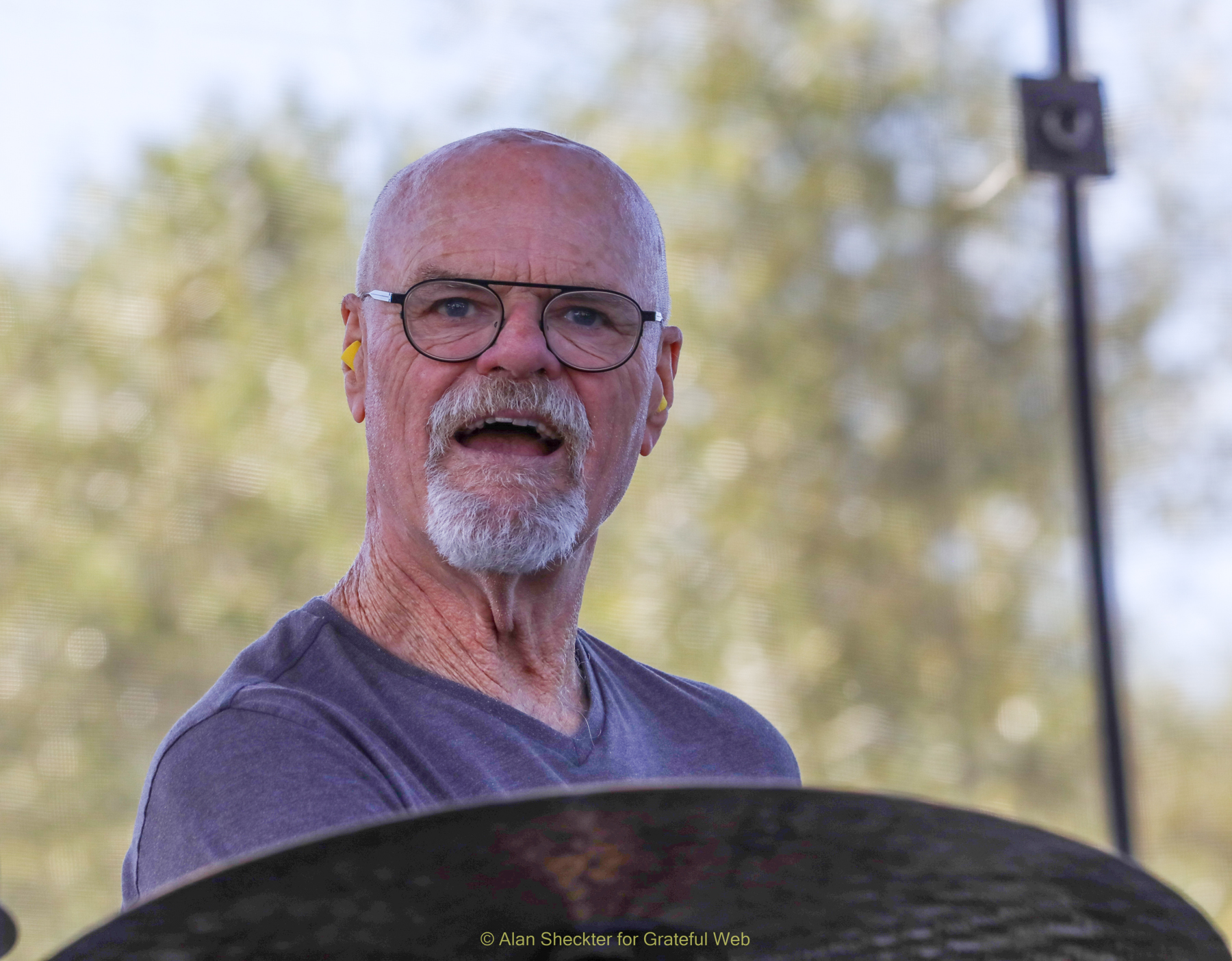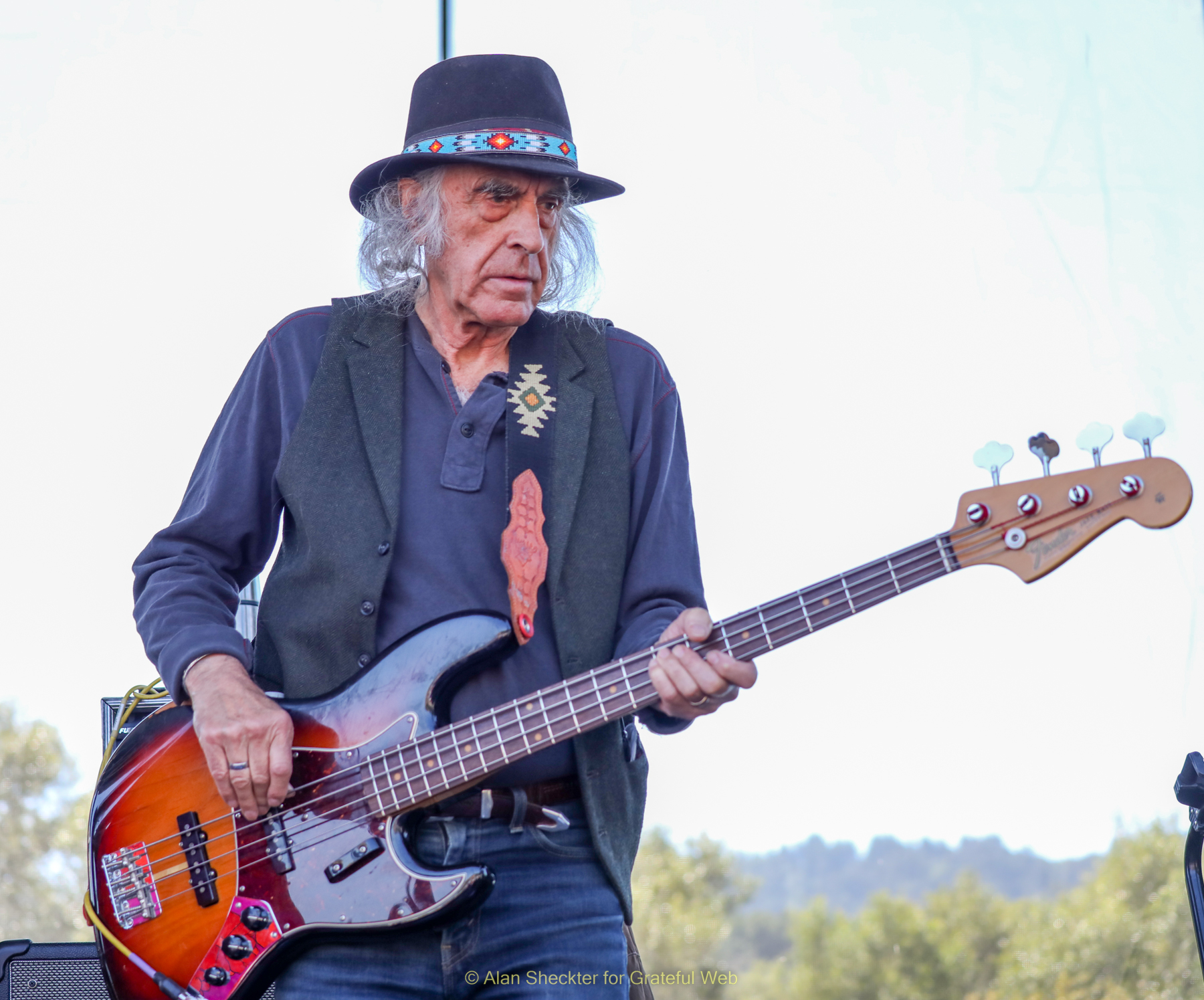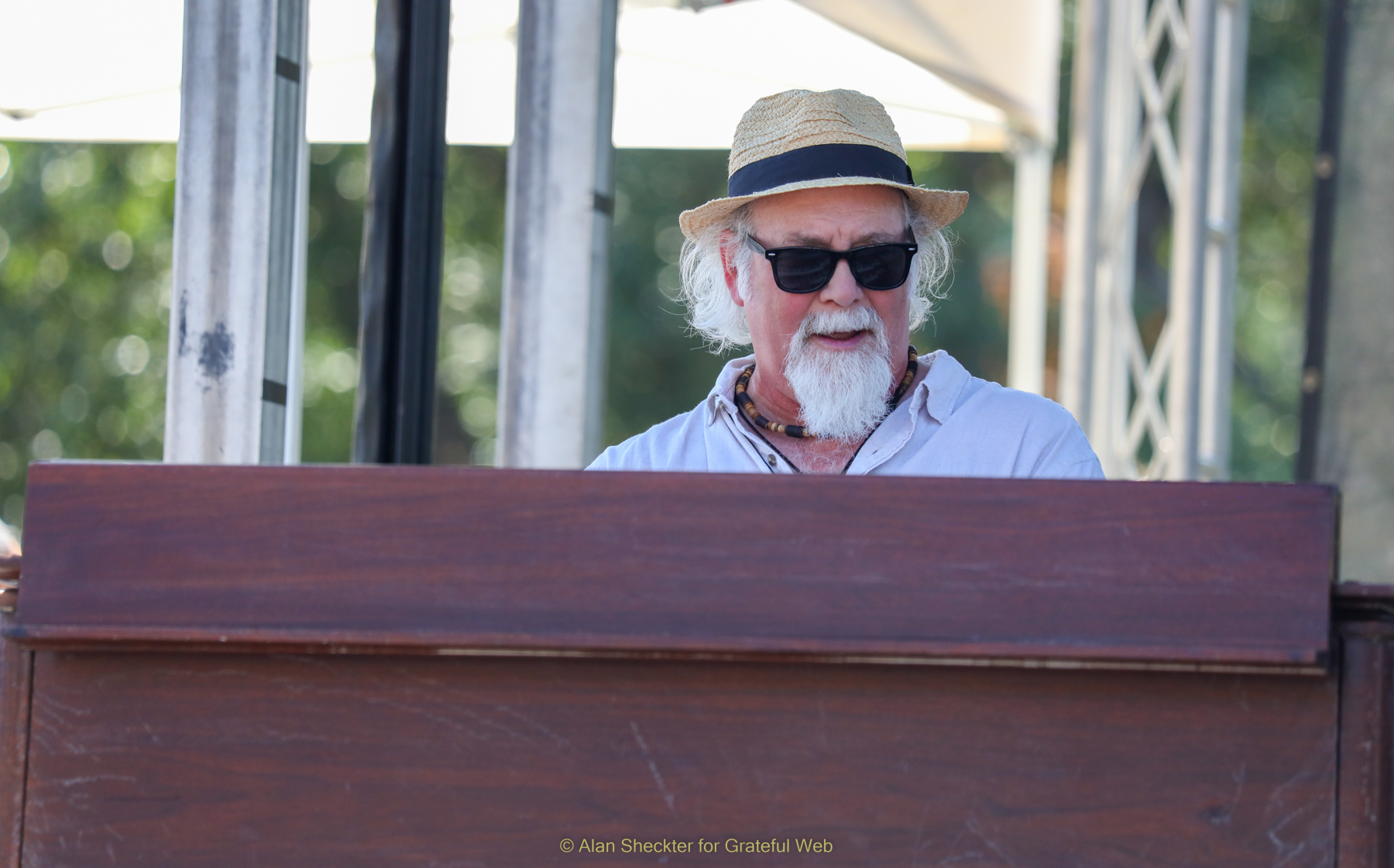 Opening the main stage festivities was the venerable Moonalice, led by Roger McNamee (guitar), and core bandmates Pete Sears (bass), John Molo (drums), Barry Sless (guitars), and Mookie Siegel (keyboards). The band expanded in 2020, for a time calling itself Full Moonalice: The Time Has Come (THC) Revue, to include two additional shiny facets: R&B legend Lester Chambers and his son Dylan on vocals and hand-percussion instruments, and the T Sisters, of which two, Erika and Chloe Tietjen, were present to deliver vocals, and colorful style.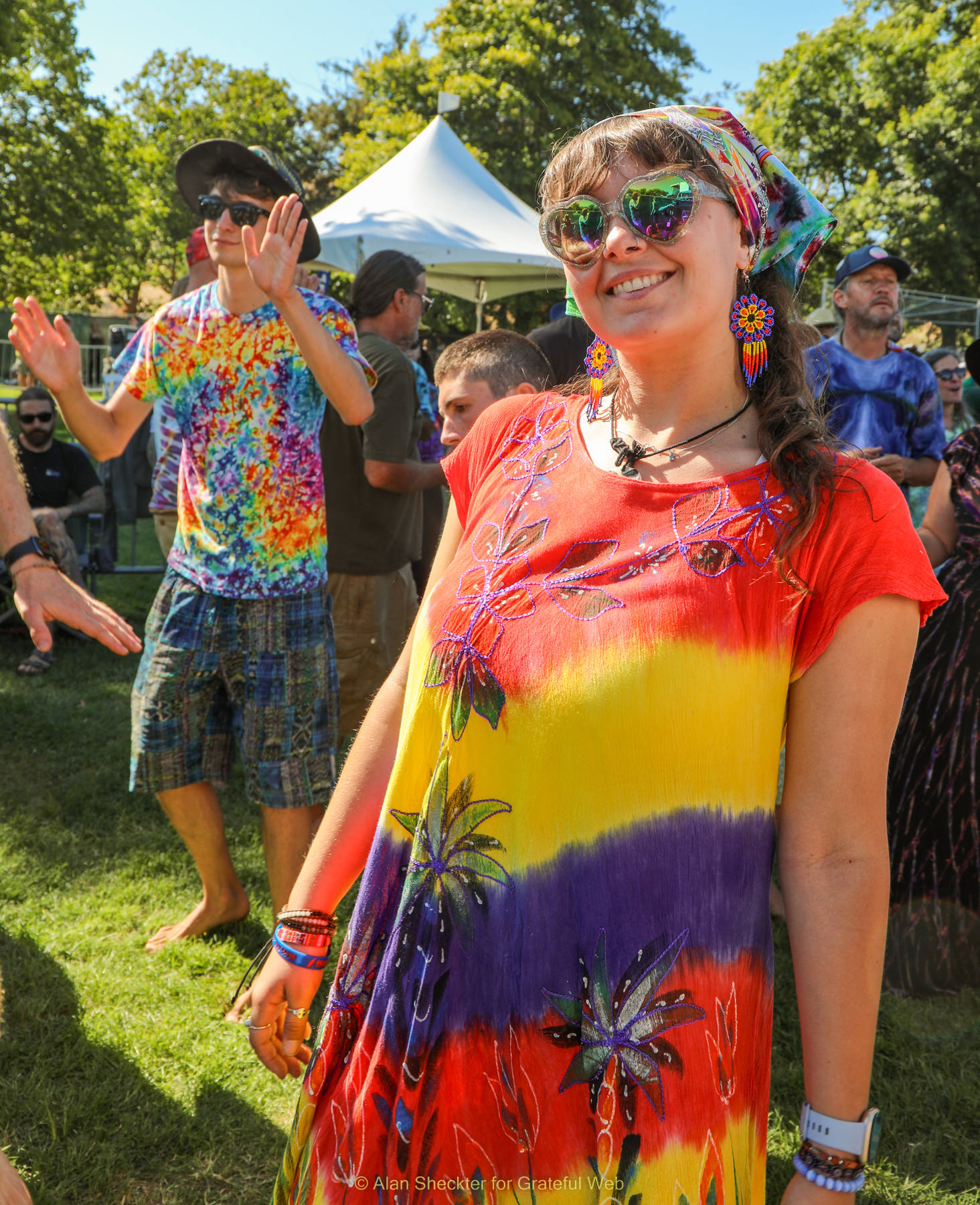 Moonalice's set, which included Jerry Garcia's/the Grateful Dead's "Bird Song" as well as plenty of 1960s masterpieces, started and finished with Chamber Brothers classics, "Love, Peace and Happiness" and "Time Has Come Today." The band also delivered their mashup of The Beatles "All You Need Is Love" and Jackie DeShannon's "Put a Little Love in Your Heart," with Erika and Chloe leading the vocals. The group also performed Allen Toussaint's "Yes We Can," made famous by The Pointer Sisters; Marvin Gaye and Tammi Terrell's Motown/Tamla hit, "You're All I Need to Get By," and "People Get Ready," the inspirational gospel song by Curtis Mayfield and The Impressions, made more special when Lester Chambers pointed to Tony Mayfield, Curtis's son, who was in the crowd.
Stu Allen joined the group for a spirited version of Bobby "Blue" Bland's "Turn On Your Love Light," which was also in the Grateful Dead's songbook, and Allen stayed onstage during "Time Has Come Today." Gone are the days of McNamee singing and fronting such '60s classics as The Byrds' "Mr. Spaceman" and The Kinks' "Sunny Afternoon," with Moonalice, but it is undeniable that the current revue-kind-of-Moonalice format is more dynamic and effectively multilayered than in days of yore.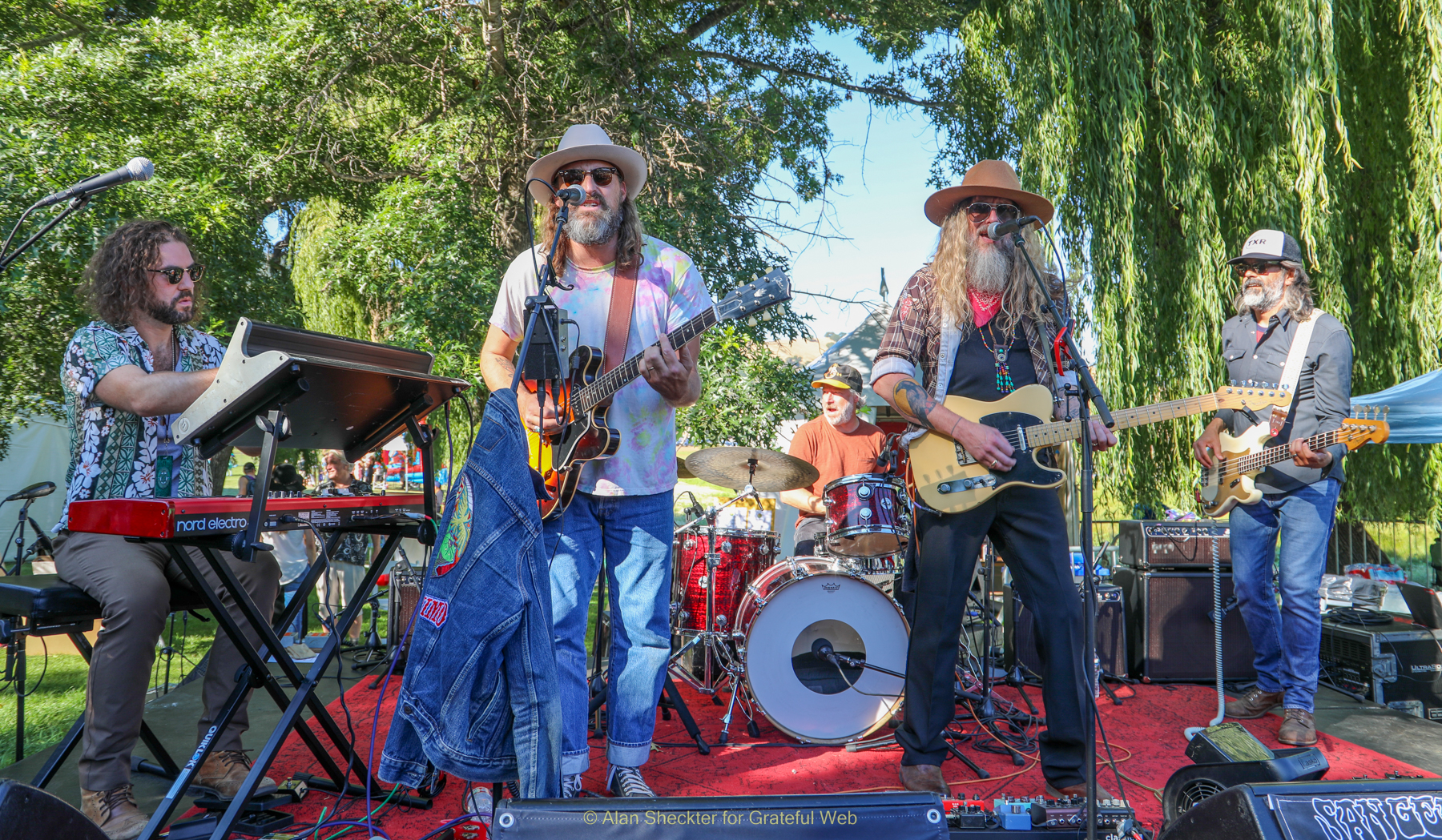 Three bands were also featured on a small stage, including local outfit San Geronimo, which performed a set of raucous material that fused blues, rock, and outlaw country just before Phil Lesh & Friends. Unfortunately for them, they only were able to perform five tunes. The day's proceedings were running a little behind schedule, so in order for Phil & Friends to start at the scheduled 5:30 p.m., the San Geronimo set got squeezed. Still, the band dished out an impressive set of material to a large crowd that had gathered 'round. The local band included co-front men Darren Nelson and Jeremy D'Antonio, both on guitar and vocals, Danny Luehring (drums), Brian Rashap (bass), and John Varn (keyboards). Their energetic set of crafty songs included mid-tempo rocker, "Take Me to the Hills," ballad, "Carolina," twangy rockers "Myself" and "Payday," and for a finale, a rocked out version of "That's Alright." Versatile performer Mike Pascale actually stepped in for Rashap to finish the set, as Rashap, Phil Lesh's bass tech, was called into duty on the main stage.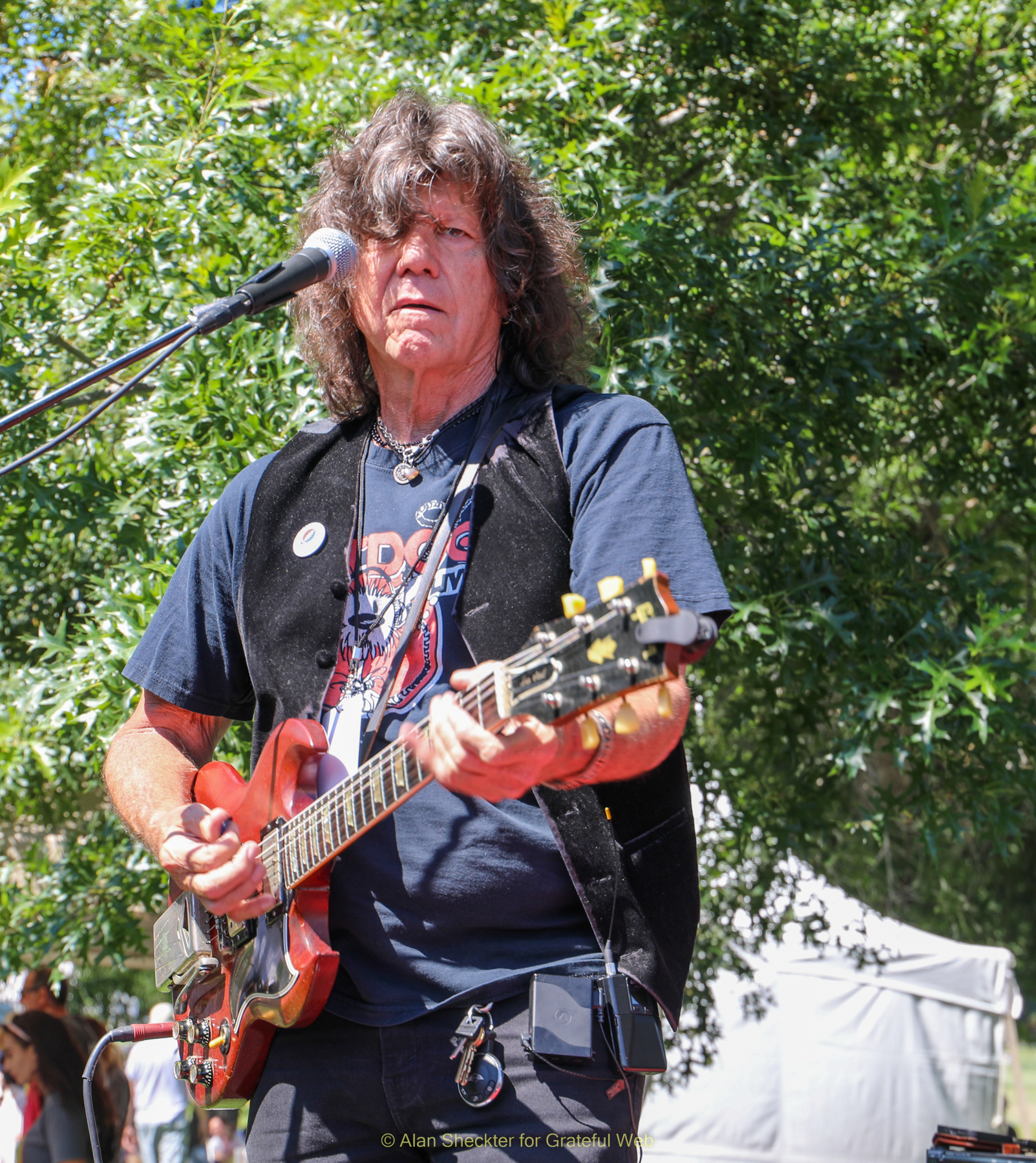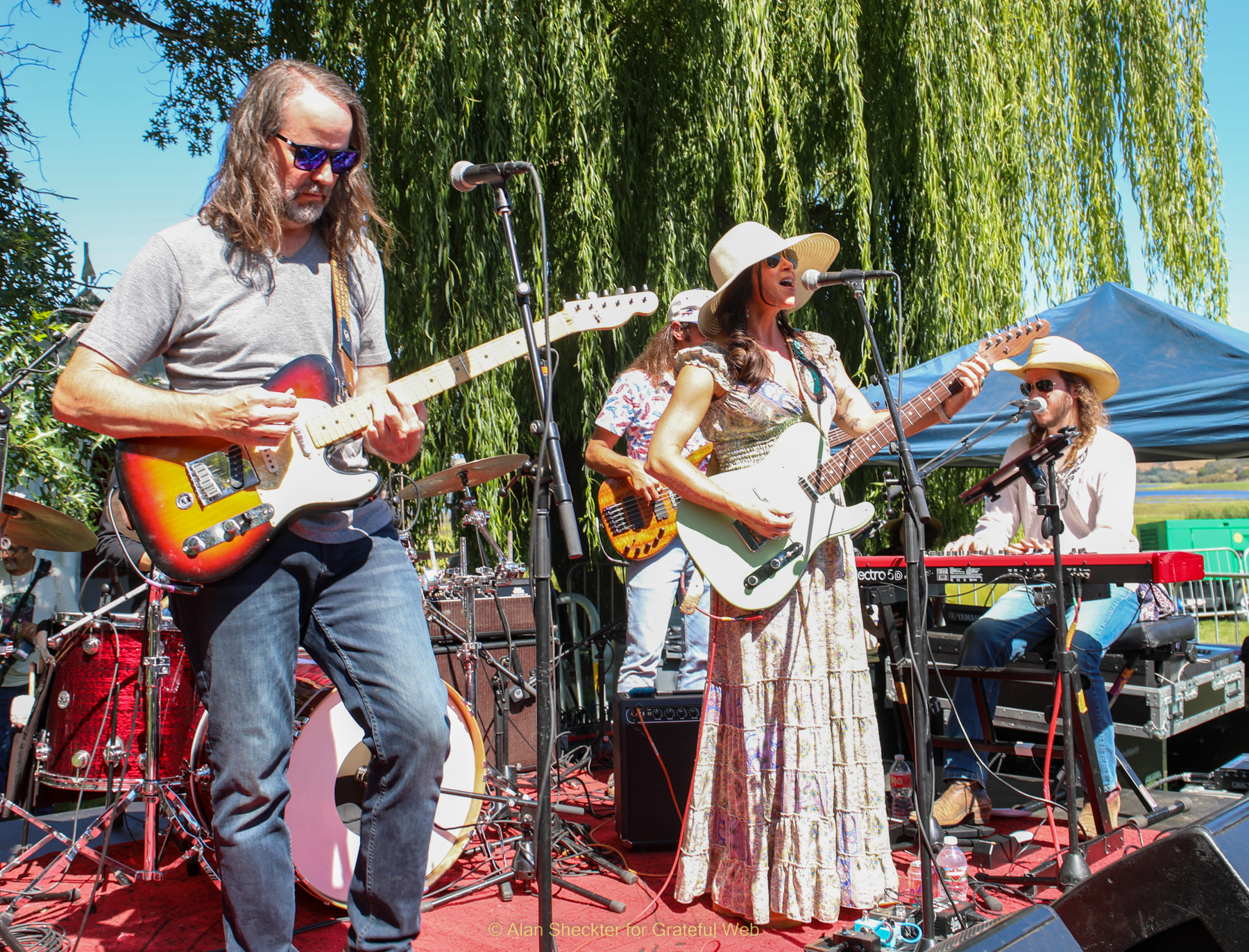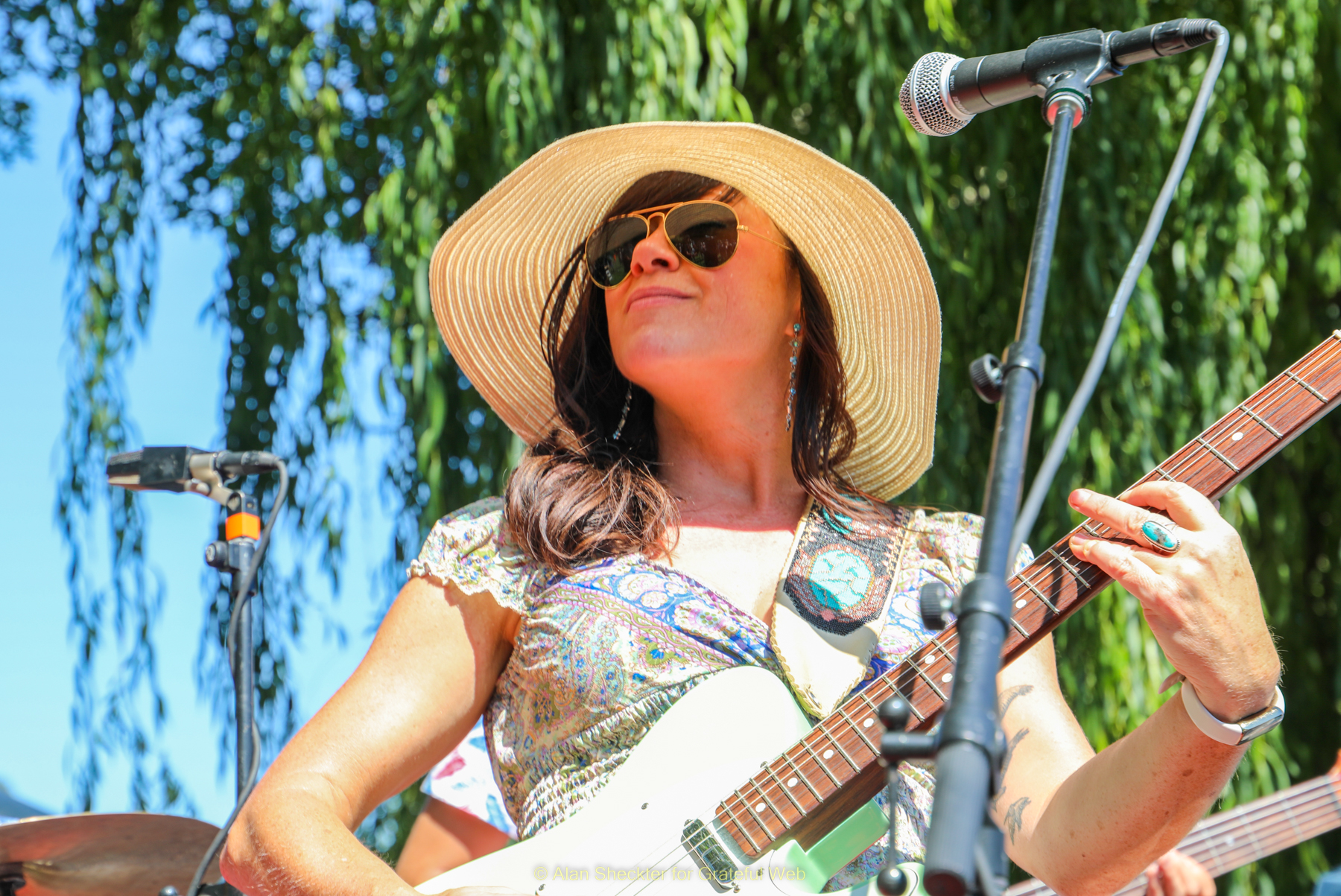 Also performing on the side stage was a fine, one-time combo that consisted of Mark Karan on lead guitar, Burt Lewis on bass, and three members/former members of Midnight North – Elliott Peck (guitar/vocals), Alex Jordan (keyboards/vocals), and Sean Nelson (drums). They went way back in the Grateful Dead playlist, opening with Otis Redding's "Hard to Handle," closing with that feral blues piece from The Dead's first record, "Viola Lee Blues," and performing two Pig Pen songs, "Next Time You See Me," and "Mr. Charlie," the latter of which included Stu Allen.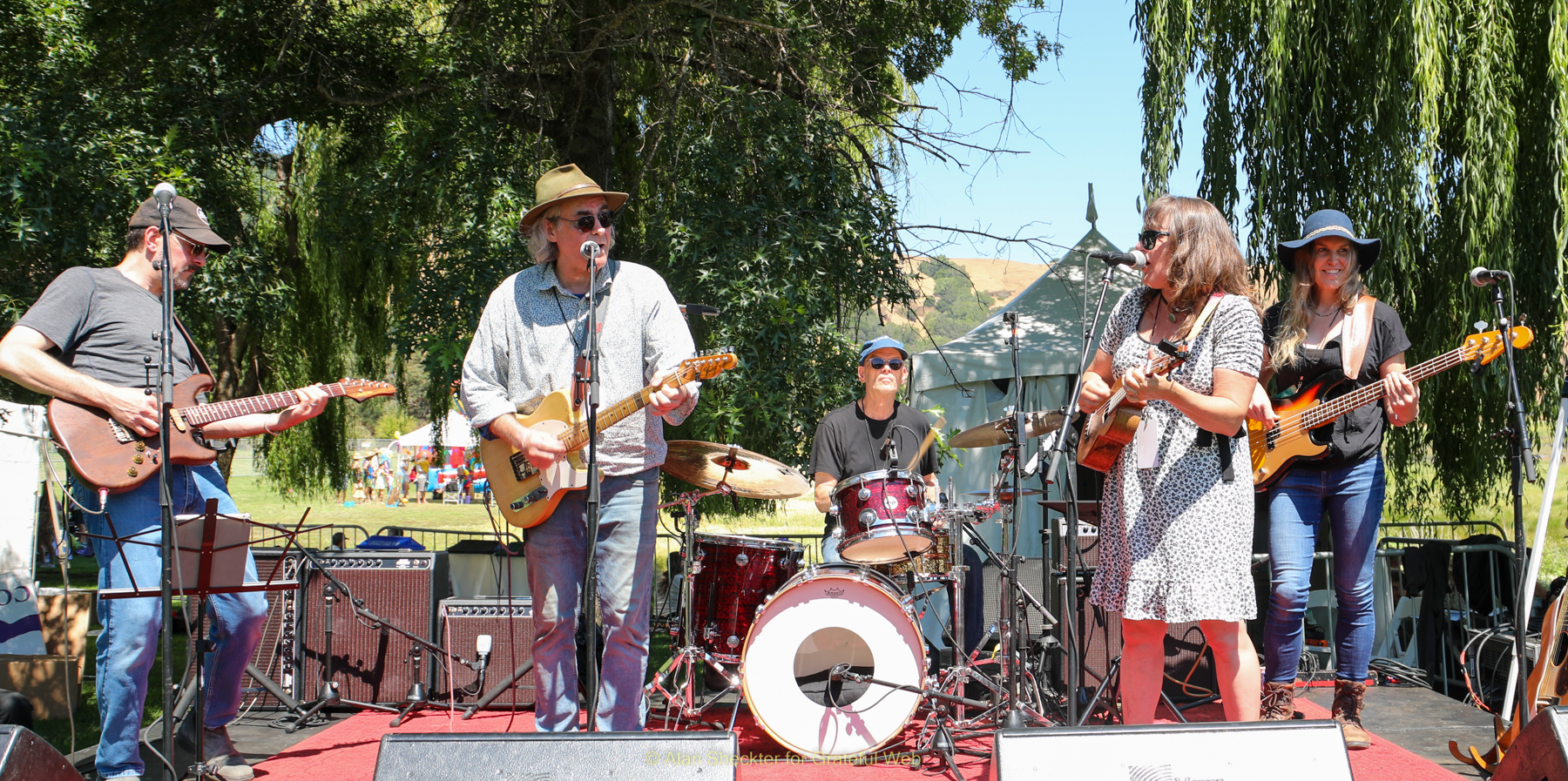 The Incubators were the first band to play the small stage. The five-piece band, from nearby Petaluma, Calif., was fronted by Chris Chappell and Katie Schuch, with Emily Froberg on bass, Mike Pascale on lead guitar, and Kendrick Freeman on drums.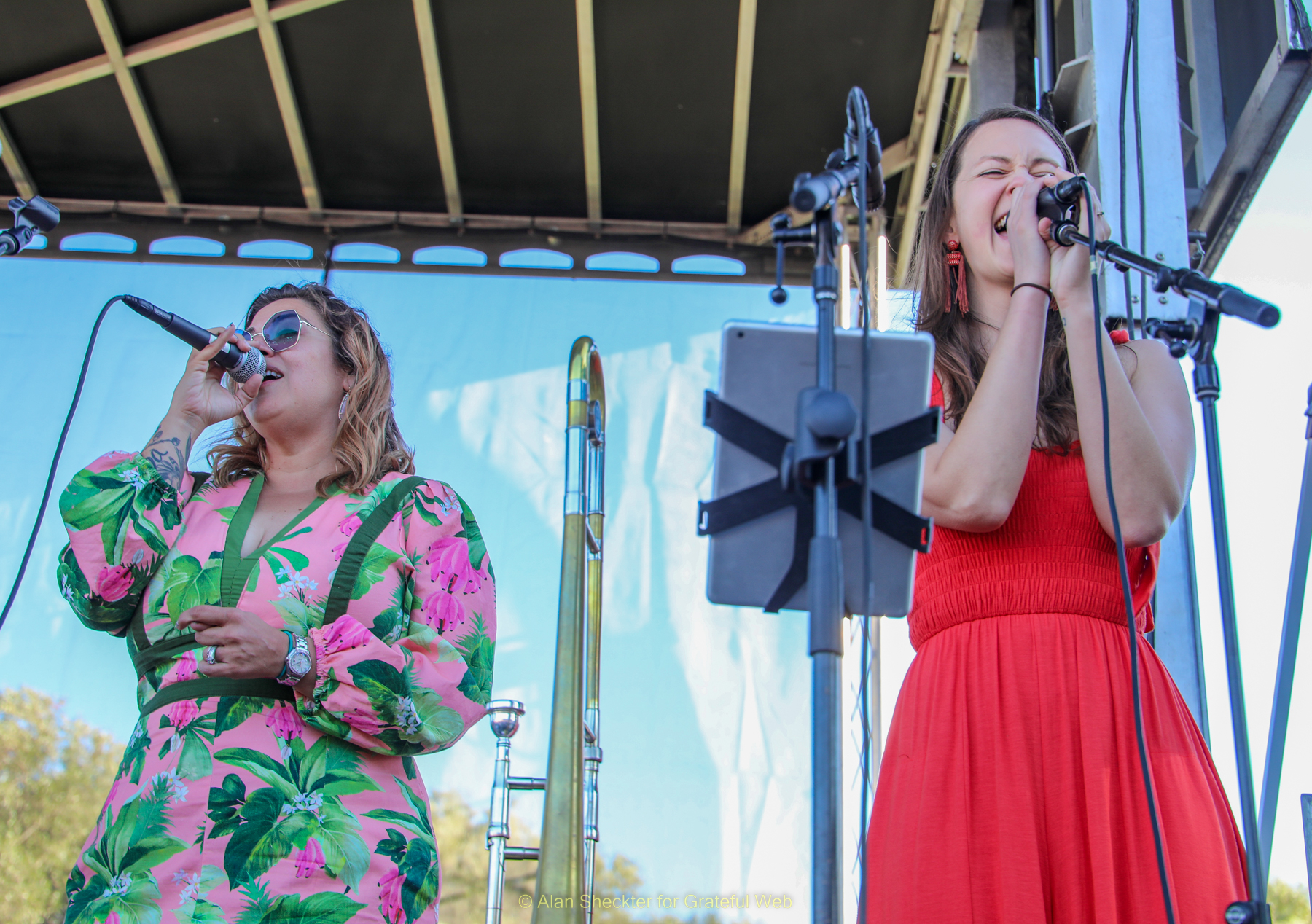 RIP James Casey: Saxophone player James Casey, perhaps most well-known for his association with the Trey Anastasio Band, died on Aug. 29, the day after Sunday Daydream, after a two-year battle with colon cancer. Casey, who often would appear with Hartswick and Cressman as a traveling horn section, was originally slated to perform with Phil Lesh & Friends at Sunday Daydream. In retrospect, Hartwick's poignant articulation of "Brokedown Palace" was a beautiful tribute to Casey.
Nicki Bluhm fans should stay tuned as she is set to soon release "The Beat Goes On, Nicki Bluhm Sings Cher," a set of Cher cover tunes Bluhm started working on during the COVID-19 pandemic.
MVP: Stu Allen was clearly the day's Most Valuable Player by virtue of his appearance with almost every group, kicking up a notch each band's intensity as he moved from stage to stage.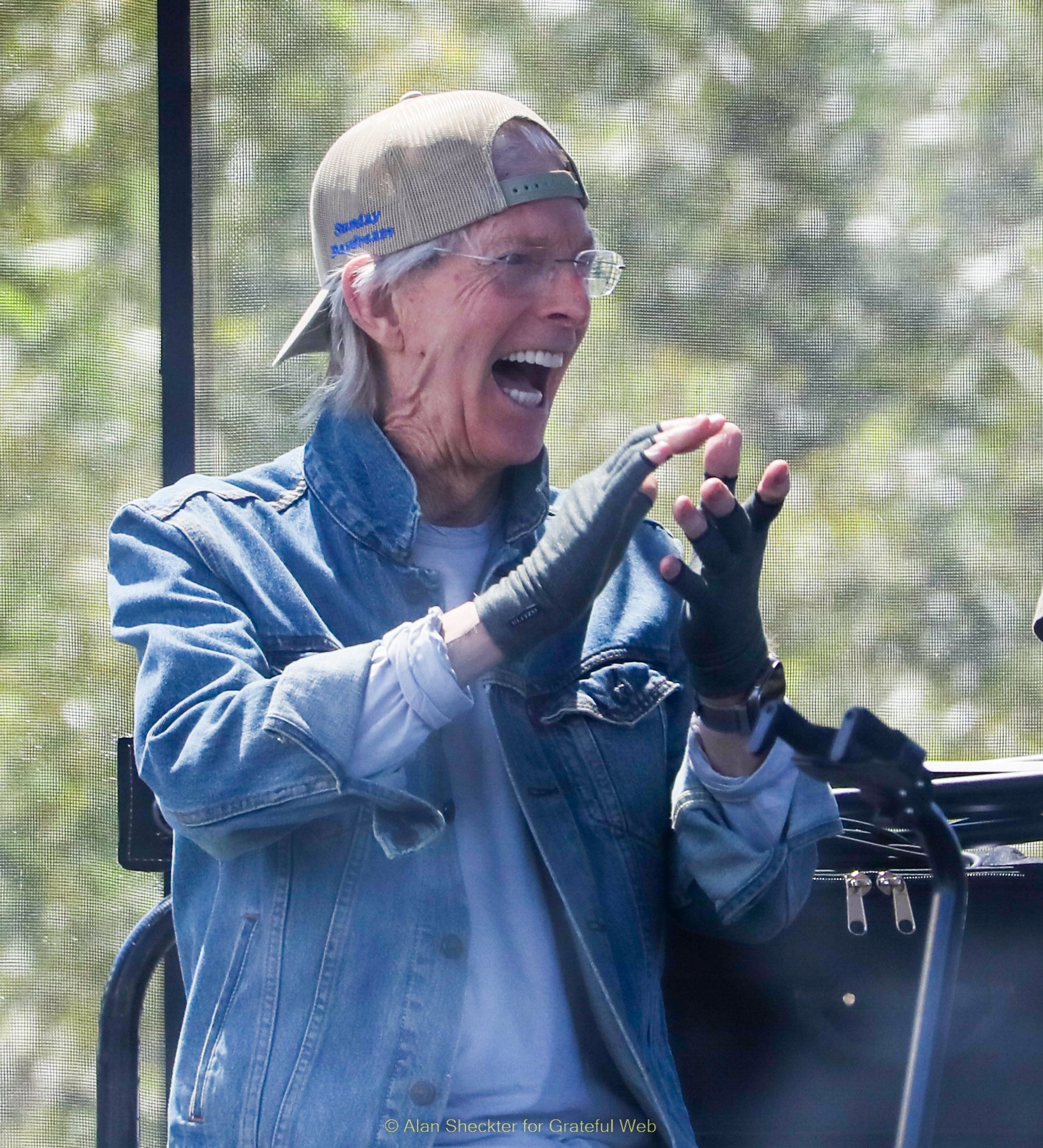 Proud onlooker: Phil could be seen onstage for all of the main-stage bands, clearly having fun before his band took the stage as the day's headliner.
Determination: It is notable that the day before this event, on August 26, Dawes performed at Wolf Trap in Vienna Va., and Melvin Seals & JGB did a show in Johnstown, Pa.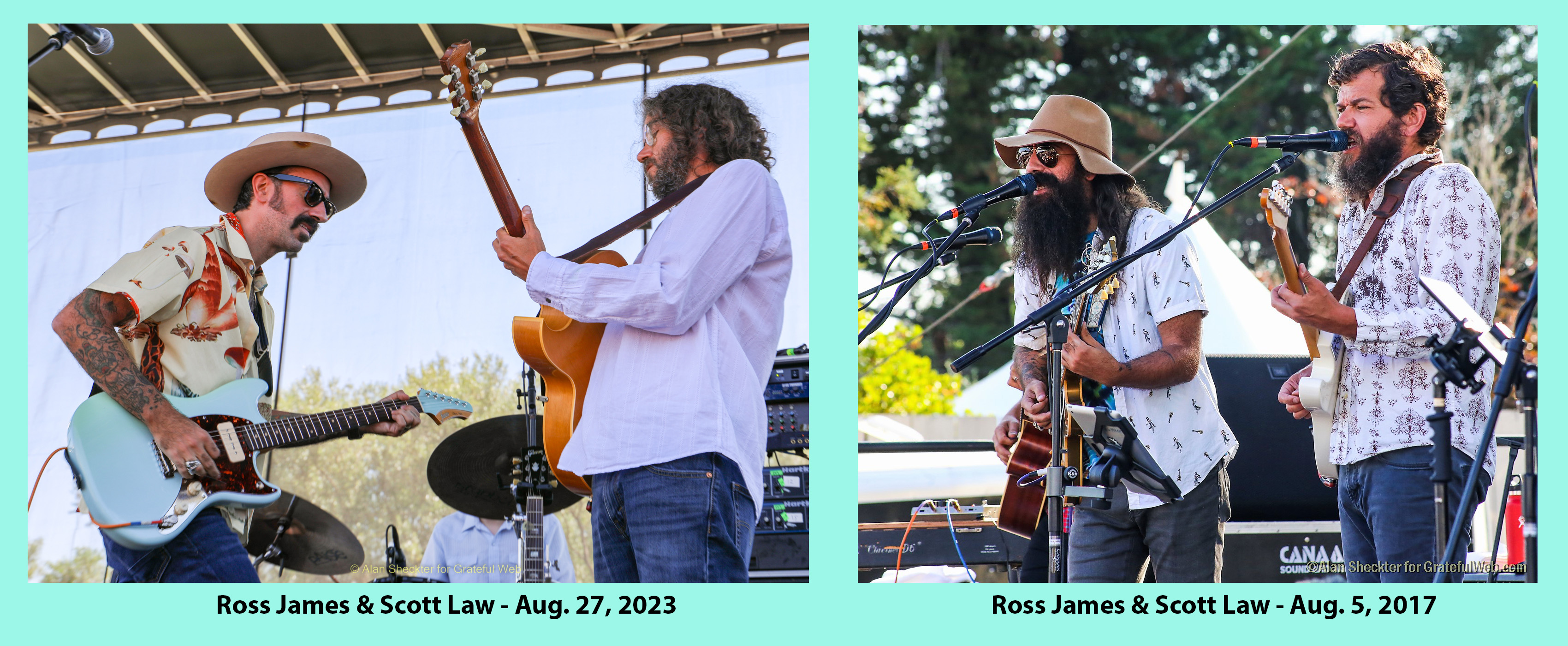 Ross James – fear the beard no more: While the schedule listed a performance by Bluhm, Law, and James, and James' familiar red model pickup truck was onstage, it took a bit of adjusting to recognize James. His trademark thick facial hair, not much unlike NBA superstar James Harden, was gone. Though the facial hair was no more, James characteristically awesome music skills were certainly undiminished.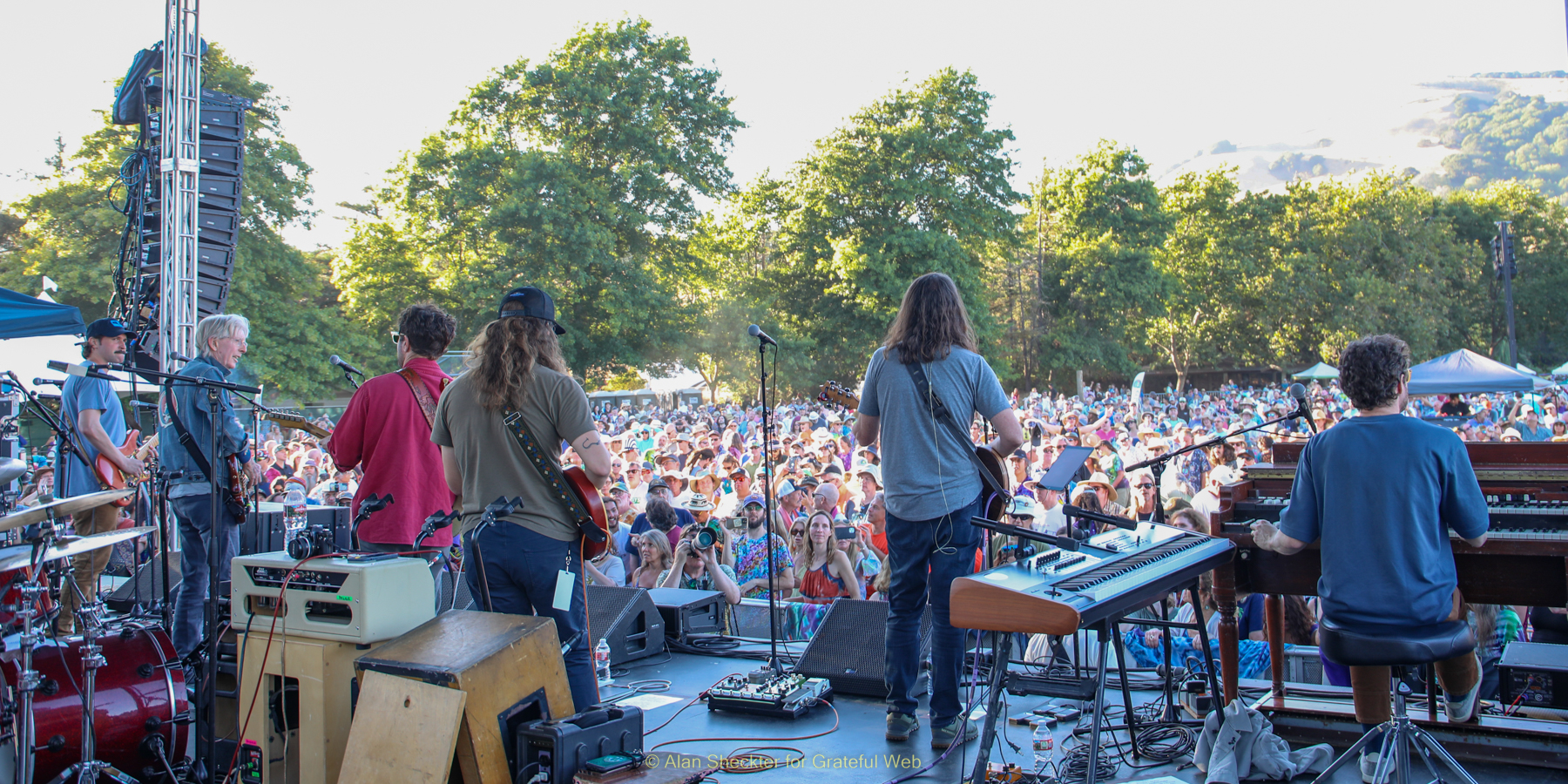 Phil Lesh & Friends: Bertha, Cassidy, Brown-Eyed Women, Brokedown Palace, The Music Never Stopped, China Cat Sunflower, Playing in the Band, New Speedway Boogie, Days Between, Cosmic Charlie.
Melvin Seals & JGB: In the Midnight Hour, Tough Mama, And It Stoned Me, Get Out of My Life Woman, The Maker, We Be Jammin', Don't Let Go, Lonely Avenue, Hey Pocky A-Way.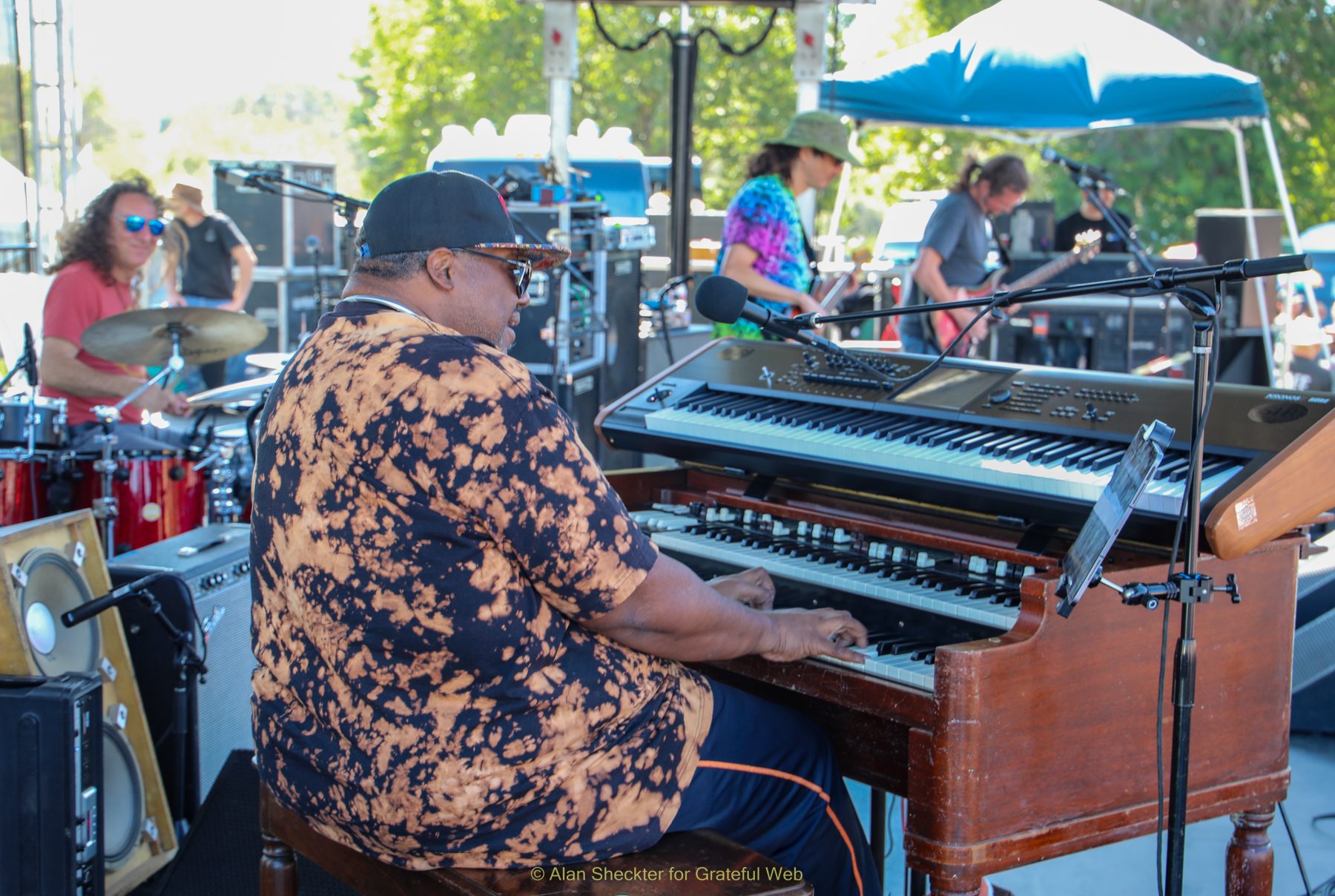 Nicki Bluhm, Scott Law, & Ross James (and friends): Little Too Late, Tore Up Over You, Garden Party, Love to Spare, Neal's Blues, Wheels Rolling, High Enough, To Rise You Gotta Fall, Texas Gales.
Moonalice: Love, Peace and Happiness, Love Medley (All You Need Is Love / Put a Little Love in Your Heart), Yes We Can, People Get Ready, You're All I Need to Get By, Bird Song, Turn On Your Love Light, Time Has Come Today.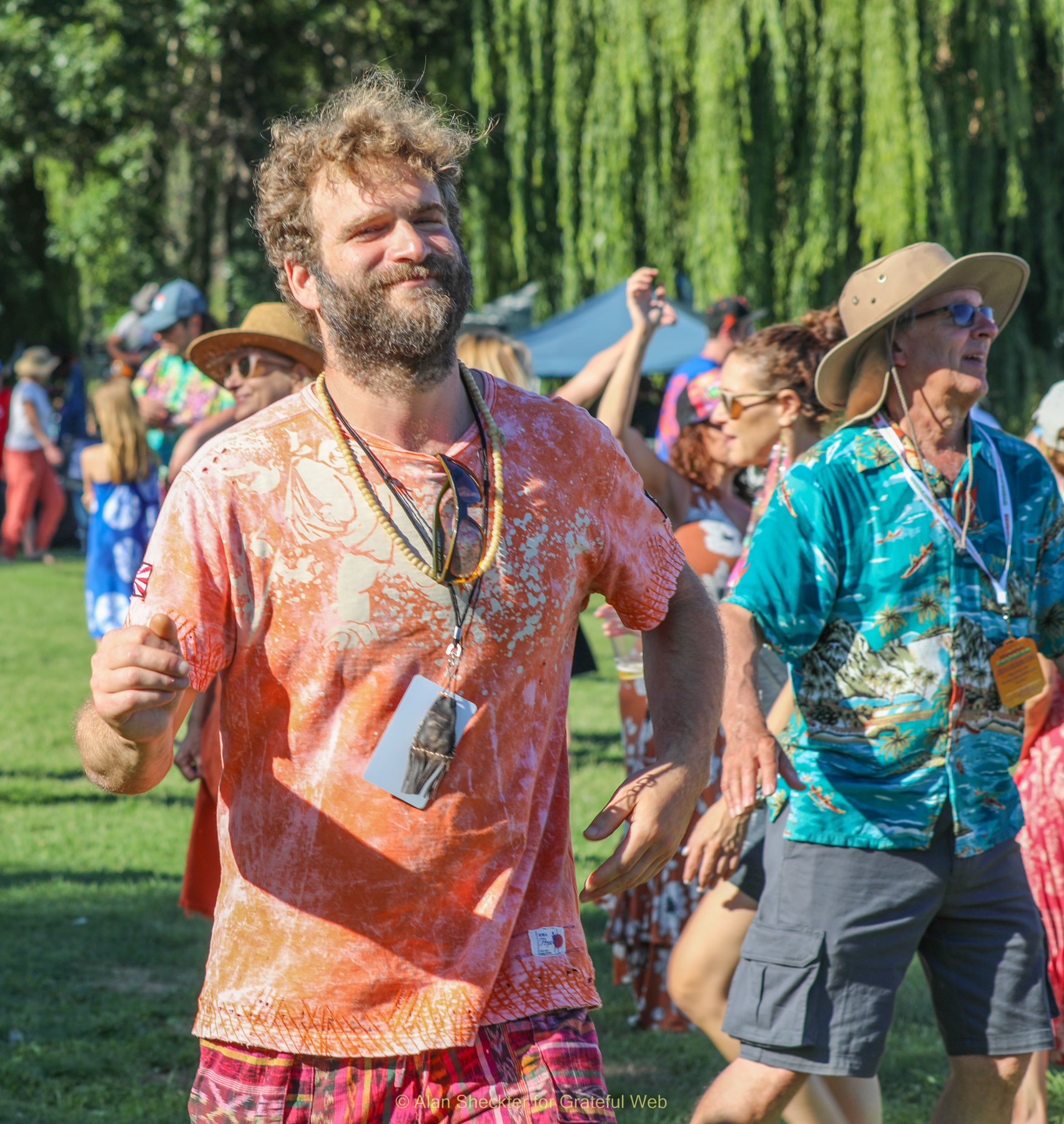 San Geronimo: Take Me to the Hills, Carolina, Myself, Payday, That's Alright.
Mark Karan, Alex Jordan, Elliott Peck, Bert Lewis, and Sean Nelson: Hard to Handle, Loose Lucy, Next Time You See Me, Mr. Charlie, New Speedway Boogie, Viola Lee Blues.