From Merle Haggard to The Sex Pistols (on successive shows in 1978!) many musical legends have graced the long stage of the Longhorn Ballroom. From its early days as Bob Wills' Ranch House to a wild period when infamous club owner and assassin Jack Ruby was running the venue to Dewey Groom's long tenure as its owner, the Longhorn was Dallas's home for acts like Tex Ritter, Nat King Cole, Patsy Cline, T- Bone Walker, Ernest Tubb, Ray Charles, Asleep at the Wheel, Little Richard, Loretta Lynn, George Jones, Charley Pride, Waylon Jennings, Willie Nelson, B.B. King, Ramones, James Brown, Patti Smith, Johnnie Taylor, Stevie Ray Vaughan, Al Green, George Strait, Red Hot Chili Peppers, Selena, and more.
And when the Longhorn's glory days were all but over and the venue went dormant, a dancehall-sized hole was left in the heart of Texas' live music scene. Enter musical and historical steward Edwin Cabaniss and the rest of the Kessler Presents team—the same group who took on the revitalization of Dallas's historic Kessler Theater and The Heights Theater in Houston. The group is currently in the thick of an intensive restoration of the Longhorn's hallowed grounds with the promise of bands being back on stage by Spring 2023.
Cabaniss and his team hope to share the story of Longhorn Ballroom not in just a historical way, but as a living, breathing testament to its musical contributions to the greater American musical canon.
The historical storytelling aspect will be done in part with the original museum-style display cases built into the walls of the Longhorn for show patrons to peruse. These cases include everything from Tex Ritter's suit to James Brown's robe; an extraordinary collection of guitars from artists such as Stevie Ray Vaughan, Waylon Jennings, Tammy Wynette, and BB King; the dress Loretta Lynn wore when she played the Longhorn; Bob Wills' fiddle amplifier; and many, many other items and photographs from the venue's early days—all lovingly collected and meticulously displayed.
Regarding the artists who will play at the Longhorn in this modern era, this 2,000+ capacity venue is a way for Kessler Presents to continue their support of artists within the Dallas touring market. "We take great pride that many artists build their fan bases at the Kessler Theater and then graduate to bigger rooms." says Cabaniss. "With the addition of the Longhorn Ballroom, we can continue to grow with them."
Cabaniss and team understands the positive impact his venues can have on the community. Upon purchasing the Longhorn Ballroom, he engaged with local leaders, businesses, and nearby residents to map out a strategy for revitalization of this long neglected area. In his words, "To successfully rebuild a neighborhood from the ground up, you must have a catalyst project to get it started and an engaged set of stakeholders to sustain it long term."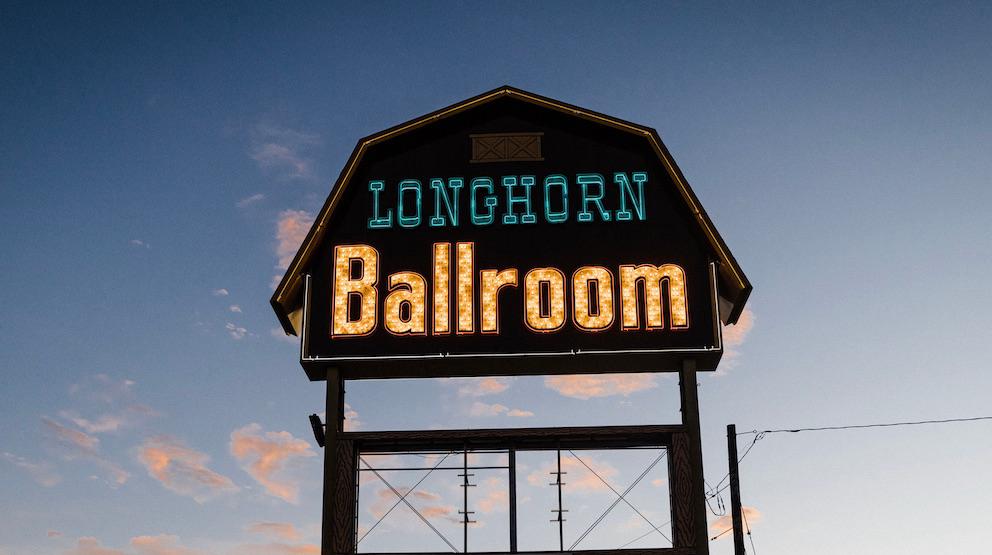 Dallas' Mayor Eric Johnson, with whom Cabaniss worked closely to ensure this venue will positively add to the neighborhood and to Dallas' greater arts community, said, "The Longhorn Ballroom is a monument to our city's rich music history — a history that deserves to be front and center nationally. And the Longhorn Ballroom is located in a part of our city that is primed for growth in the years ahead."
"This is a wonderful opportunity to help preserve a piece of our past while building something new and exciting that is up to modern standards," Mayor Johnson said. "And Edwin Cabaniss is someone who has both a viable plan and the experience necessary to revive and revitalize a uniquely Dallas venue. I am thrilled about the possibilities, and I look forward to seeing some great concerts there for years to come."
Like the Kessler Theater and the Heights Theater, Longhorn Ballroom will be run by the well seasoned team of Kessler Presents, a proudly independent operating company that prioritizes the patron and artist experience and the communities in which they operate.
What: The Grand Reopening of Longhorn Ballroom
When: Spring 2023 - First shows to be announced soon!
Where: 216 Corinth St, in the Cedars neighborhood of Dallas, TX
Who: Edwin Cabaniss and his team at Kessler Presents