You may have heard already, or maybe you sensed it someplace inside your bones. Tom Waits is touring. This rare treat began down south on August 1st and gallops toward the mid west while I write this. The tour, only eight performances, is promoting Waits' yet to be released three disc set called, Orphans: Brawlers, Bawlers & Bastards. However, when Waits was asked about the tour's route and venue choices, he explained, "We need to go to Tennessee to pick up some fireworks, and someone owes me money in Kentucky." Orphans appears to be a collection of unreleased material that didn't fit on Waits' records- stuff spanning from the 70's all the way up to now. The collection also appears to have songs previously released on compilations and on other artists' projects…
Why Tom Waits was touring didn't matter so much to me. What mattered was he was touring. Tom Waits! First thing, I managed to purchase two very nice tickets to an instantly sold out Asheville, North Carolina show. The date was scheduled for August 2nd, the second stop on his tour. Next thing, a lucky friend of mine and I rearranged our responsibilities and headed south. In between all the walking and drinking in charming Asheville, about four hours before show time, we waited in line at the Thomas Wolfe Auditorium. Will-call had opened below a marquee that read TOM WAITS. All tickets were will-call and to be picked up at the venue…to avoid scalping I suppose. Black and white "orphans" posters with Waits posing, along with phantasmagoria imagery such as a recorder and a ghost were scotch taped to the entrance doors. And we got a glimpse of the other anxious fans. The line was peppered with a few hip fedoras. Most of the folks seemed to know the score, and they had that anonymity of being someplace between young and old. They appeared simultaneously not weighted and down to earth. The crowd seemed well behaved and to my friend I said, "Like us."
The Thomas Wolfe Auditorium is a wonderful, intimate venue and we were up real close. Thomas Wolfe is from Asheville and I couldn't help but think about Wolfe's writing, and how much it inspired the work of Jack Kerouac. Wolfe was a hero to Kerouac. And Waits, of course, is no stranger to Beat figures and counterparts. For example, he wrote and recorded BLACK RIDER with William S. Burroughs. While we waited for Waits, I soaked up the obvious enthusiasm from the fans around us- and in the whole buzzing auditorium. The giddy anticipation and excitement was sincere and unique. For folks like myself, it might possibly be their only shot at seeing Waits live because he doesn't seem to chase the spotlight very much. His mainly-storytelling lyrics and forevermore-evolving manner of conveying them, instrumentally as well as vocally, are full of richness, creativity and identity. Is that what advertisements mean when they say he's a "cult" figure? He seems to stand outside of category and mainstream but everybody still knows he's around. Artists like that, one's who invent their own rules- and instruments to boot, earn respect and followers who personally choose them. You know what I mean, folks who listen and can decide for them selves. It may or may not become a problem, the rampant spoon-feeding I mean, but I realized events such as the one I'm describing are clearly getting more and more uncommon.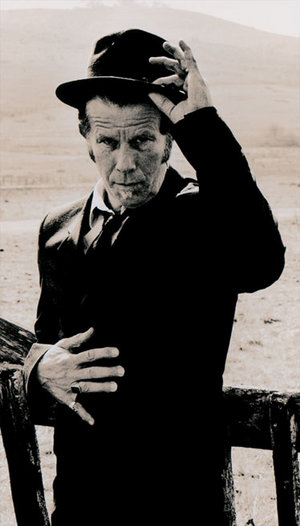 There was no opening act- only drapes and curtains, hundreds and seemingly thousands of feet, raining down from a high dome ceiling. Behind the curtain, an exaggerated shadow of Tom Waits loomed. And then Waits appeared. He stood about 50 feet from our seats. He is looking as fit and as sober as they say he is. He's a tall guy. You know when he's in the room- like when your favorite uncle drops in for a visit. He was wearing a dark outfit like the one on his poster: buckle boots, dark denim-maybe pants, dark jacket, not very loose, over a green tee, so on, and a black hat.
He kicked off the set with "Singapore", the first track on RAIN DOGS. I just about crapped myself. Half of the fans stood with their mouths agape, trying to let their senses soak up the entire scene, the image of Waits in front of them, and in front of what appeared to be a flower garden of obscenely large, metal-gray gramophones sprouting adjacent some bongos, as well as the bellowing boom and strained wheeze of Waits' voice. A mastered cadence clicked and clanged. It felt like we were inside his dreams, all as mad as hatters, heaving away to that land of nod decorated with typical Waitsian tapestries such as drinking Chinamen, Paris sewers, and a one-armed dwarf captain throwing dice along a wharf. Heave away boys/ Heave away. Waits stood bare of instrument, he held his arms out and he wrapped his fists around the microphone. Second, Waits played "Make It Rain" from REAL GONE.
As he preached Make It Rain, the guttural strength of his signature voice was striking. The scope of Waits' voice is impressive to witness. We know it's not manufactured; that is, he really sounds like his records. But it's like the difference between reading a travel book opposed to actually traveling. His voice is tremendous. And his enormous silhouette loomed on the curtains to his left. He is sardonic and authentic. Then he kept the tempo up with the exotically weathered and soaked "Hoist That Rag" from REAL GONE. After that, we fell into "Shore Leave" from his remarkable, ground-splitting record "SWORDFISHTROMBONES." And we heard a chilling "November" from BLACK RIDER. It was interesting to me that most of the audience was sitting down for the majority of the time. It wasn't bothersome. It was nice to sit back and let the feast come to you. But it was also a little funny because people weren't sure about sitting; it's like somebody standing on your porch waiting to be invited inside. And it was a little funny because Waits isn't performing much of his earlier, stripped-down tunes and ballads such as the songs of CLOSING TIME and HEART OF SATURDAY NIGHT; and he's not exactly jazzing it up hipster style with the booze-drenched classics of NIGHTHAWKS AT THE DINER and SMALL CHANGE. It was faster than what you see in a little folkie café someplace, even with a xylophone in the room. Waits eventually picked up his guitar. He hung on to it for most of the show. He rarely sat down to play his piano. The show was rocking with energy.
After November, Wait's poured into "God's Away On Business" from BLOOD MONEY, the album written for a stage production based on Georg Buchner's Woyzeck. A mere rhythmic sway of Waits conjured an image of Woyzeck marching fiercely in my mind- or maybe I picture Klaus Kinski playing Woyzeck in a Herzog film. Next Waits played "'Til the Money Runs Out" from HEART ATTACK & VINE. Interesting how Waits seems so sharp and hard-hitting up there, like a homerun derby king. After spending his youth wishing to be an old man, walking around with a cane and so on, he now seems able to out perform, out sing and out scream any current front-man on MTV. Then, when Waits introduced his next song, "All the World Is Green" from BLOOD MONEY, he reminisced about acting with, I think with, Gregory Peck way back in the 40's. And it was before playing a tingling "Tango 'Til Their Sore" from RAIN DOGS (…Let me fall out the window with confetti in my hair…) that Waits mentioned how much harder it's getting to buy a bad cup of coffee. I think I heard him say this once or twice before. The audience enjoyed hearing him complain about coffee shop culture and waiting in line, like, do you order "The Casanova" or what? Then he explained that he wants instant coffee and that the key word in instant coffee is "instant."
Waits then sunk down behind his piano to play "Invitation To the Blues" from SMALL CHANGE. He told the audience it was for his wife, one of her favorites. It was a kind of magical moment. Although, it sounded like he fumbled his lyrics a bit around the…he feels just like Cagney, she looks like Rita Hayworth part. But I obviously would never criticize Waits! Next Waits said, "…this is kind of a new one" and played "You Can Never Hold Back Spring." Unfortunately, I can't say more than it's another great and hopeful melody. "Clap Hands" off RAINDOGS came next. Then Waits went into "Whistling Past the Graveyard" from BLUE VALENTINE.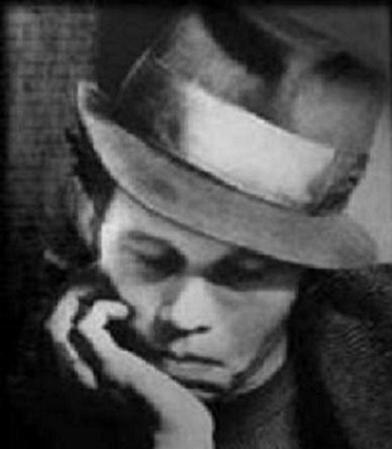 It's hard to explain, but Waits dances. It was like a crouched scarecrow adjusting all of its own limbs to the beat. His facial expressions were sweating with dedication the entire night, his mouth stuck out as his eyebrows tugged and pushed themselves; he was a man really working his heart out up there. We heard "Heart Attack & Vine" next. It was getting nice an' dirty; and the following song was a cover of "Who's Been Talkin'" by Howlin' Wolf.
During another of Waits monologues he explained how unfortunate it would be to have the name Doolittle when showing up at the unemployment office, as well as the contradictions of a name like Cunningham; then we heard a little story about neighbors: Waits seemed to orchestrate a creepy cacophony of ambience, coloring the backdrop of "What's He Building In There" from MULE VARIATIONS. The spoken word piece is better than watching Tom Hanks and Corey Feldman in The Burbs.
During the performance, a distant creaking echo rang into piercing feedback, causing Waits to adlib; without missing a beat and remaining in character, he said, "…and he has sound problems…" The crowd cheered. We heard the sweep, sweep, sweep of "Trampled Rose" from REAL GONE, "Get Behind the Mule" from Mule VARIATIONS and a bluesy version of "Murder In the Red Barn" from BONE MACHINE, as well as "Goin' Out West" off BONE MACHINE. Then the band was introduced. I couldn't make it out. We think the very young man on drums was Casey, Waits' son. And I read on eyeballkid.blogspot.com, that Larry Taylor and Duke Robillard were in the touring band this time. Apologies for the lack of information. I don't think Marc Ribot was there? By the way, that site seems cool. I checked my set list with theirs and people contribute thoughts and stories and even snagged some photos.
Looks like Waits is using a similar set list each night. For the Asheville encore, Waits visited his crooner days and ripped into "Way Down In the Hole" from FRANK'S WILD YEARS (and BIG TIME too.) Then he gave us a wonderful "Blue Valentines." Waits exited again and reemerged for one last song, "Don't Go Into That Barn" from REAL GONE. For his last song Waits picked one of those metal-colored flowers, his signature megaphone. I was a little disappointed because I was expecting more of an actual megaphone, something maybe he borrowed from the police department or someplace. Instead, it seemed to be more of a regular plugged in microphone in the shape of a megaphone, like a bicycle with a Cadillac frame over it, or, in a way, almost like that lampshade thing a dog recovering from surgery is forced to wear around his neck. I'm not criticizing? Anyway, it's a chain gang song with that heave hoe rhythm and Waits yelled along into the megaphone, "Did you bury your fire? Did you cover your tracks? Did you bring your knife? …" And the audience yelled back each time, "Yes Sir!" "Yes Sa'!" "Yes Sa'!"
The "No Sir" questions part of the song got slightly more confusing, so I prefer to end it with: Yes Sir, Yes Sir, Yes Sir. The show was outstanding. Yes Sir, Waits' career looks like open door after open door. Notably, that evening, there were no strange displays or odd behavior of any kind. Also, there wasn't any merchandise around before, during or after the show. I thought, after the show, maybe I could find me a long sleeved shirt with horses on the front, but nothing. It was bewildering and refreshing. It was sad and awesome. There was no incriminating evidence left at the scene of the crime. Waits had said absolutely nothing about Orphans. I heard that it should be released November 21st.