Hot on the heels of their show-stealing performance at this year's One Love Cali Reggae Festival, Tomorrows Bad Seeds have announced the dates for their upcoming Illuminate headlining Spring tour. The Hermosa Beach, CA reggae-rock outfit will be joined on the road by Sun Dried Vibes, Roots of a Rebellion, and Thicker Than Thieves for the months of April and May. A video teaser for the tour has been launched online at https://youtu.be/V-zWK2w2Ea4. Tomorrows Bad Seeds will be touring in support of highly-anticipated full-length album Illuminate, due out in the Spring of 2018 via Mensch House Records (Common Kings, Sammy Johnson).
Hailing from the South Bay, Tomorrows Bad Seeds consists of Moises Juarez (lead-vocals), Matthew McEwan (vocals/guitar), Patrick Salmon (drums), and Andre Davis (bass). Since 2004, they've garnered critical acclaim and a strong worldwide fan base with their perfect mix of reggae, rock & pop. Tomorrows Bad Seeds prove to be extremely talented musicians, vocalists and entertainers as a whole. Their live show provides a high-energy performance that will have you craving more. Since the band's inception, they have shared the stage with the likes of UB40, 311, Pennywise, Smashing Pumpkins, The Wailers, and Fishbone, to name a few.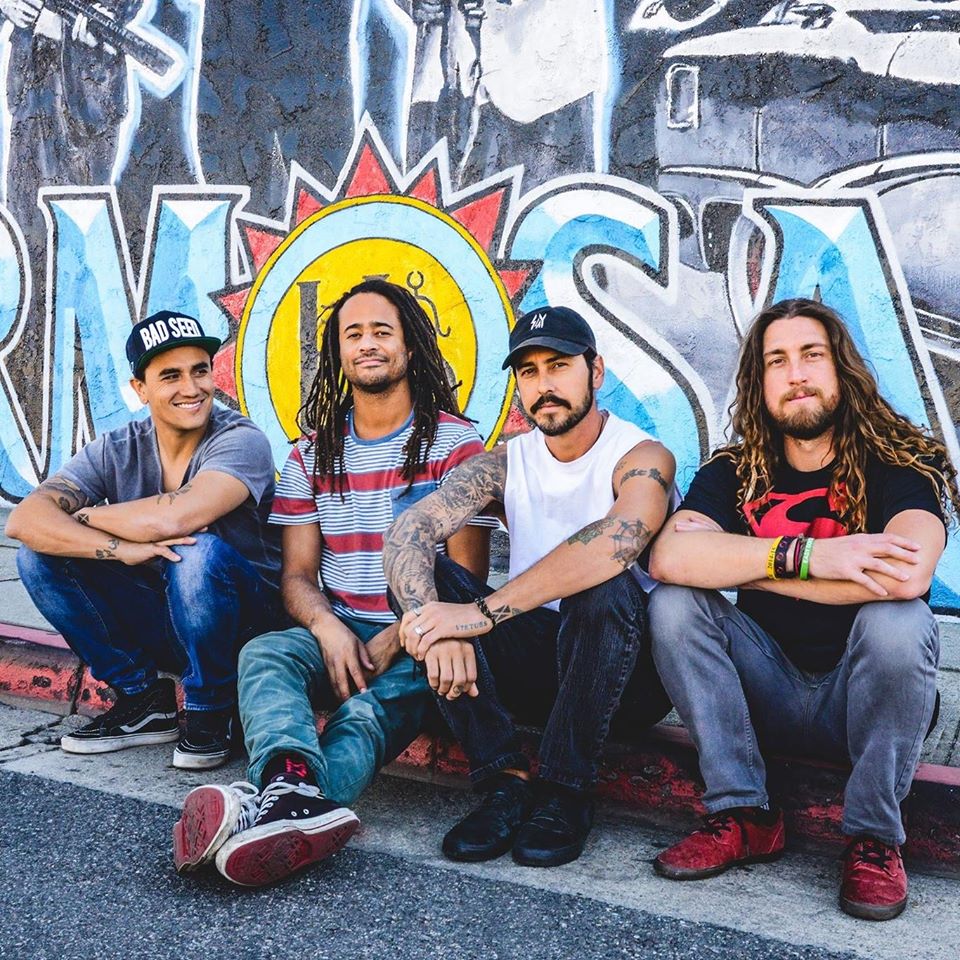 The group's new single "Frequency" is perfectly timed to drop around Valentine's Day with the message of the "frequency of love." The band breaks it down stating, "When the idea of the song 'Frequency' was written and recorded it was based on the idea of frequencies and the vibrational healing properties that they possess. Most popular music is recorded in the standard tuning of 440hz,  not only did we record the song 'Frequency' in 432hz, where the A=432hz the alternative tuning of music that is mathematically consistent with the universe. A notable few that have recorded in this tuning, Prince, John Lennon, Robert Nesta Marley. The song itself was based on The Frequency of Love (528hz) and the vibrational healing properties it contains." The track was produced with Chaz "Rox" Toney who also worked on most of the new album at the Island Empire Studio in Carson, CA.
Tour Dates:
Apr 21 - Charlotte, NC @ Jamaican Me Crazy Festival
Apr 24 - Dallas, TX @ Gas Monkey
Apr 25 - San Antonio, TX @ Jack's Patio Bar
Apr 26 - Corpus Christi, TX @ House of Rock
Apr 28 - Knoxville, TN @ Scruffy City
May 01 - Atlanta, GA @ Smith's Olde Bar
May 02 - Jacksonville, FL @ 1904
May 04 - Cocoa Beach, FL @ Coconuts
May 06 - Miami, FL @ Wynwood Yard
May 08 - Wilmington, NC @ Reel Cafe
May 09 - Durham, NC @ MotorCo
May 10 - Virginia Beach, VA @ Shaka's
May 11 - Vienna, VA @ Jammin Java
May 12 - Brooklyn, NY @ Knitting Factory
May 13 - New Bedford, MA @ Greasy Luck Brew Pub
May 15 - Pittsburgh, PA @ Smiling Moose
May 16 - Grand Rapids, MI @ The Stache
May 17 - Columbus, OH @ Woodlands Tavern
May 18 - Chicago, IL @ Beat Kitchen
May 19 - St Louis, MO @ Blueberry Hill
May 20 - Omaha, NE @ The Slowdown
May 23 - Pueblo, CO @ Brues Ale House
May 24 - Denver, CO @ Larimer Lounge
May 25 - Salt Lake City, UT @ The Royal
May 26 - Boise, ID @ The Reef
May 27 - Seattle, WA @ Nectar
May 31 - Santa Cruz, CA @ Catalyst
Jun 01 - Hermosa Beach, CA @ Saint Rocke
Jun 02 - Hermosa Beach, CA @ Saint Rocke
Jun 03 - San Diego, CA @ Music Box