Is there a better place to 'see music' than Red Rocks? With it's surreal, natural appeal and rock history ridden presence, it is no wonder why Trey Anastasio still gets excited to play Colorado's favorite venue. "I've said before, but I'll say it again," Anastasio readmits on Saturday night, "this is the most incredible place to play on earth."  Three years ago when Anastasio played here with his Octet the weather did not seem as equally respectful and Saturday night didn't look to be much different. As the seats filled up with hooded fans wrapped in their warmest water-resistant attire, spirits were high despite the surrounding fog and permeating drizzle. Besides, how can you not be excited when you see the familiar color schemes and textures of Chris Kuroda's lights painting all sides of the natural amphitheater.
The unseasonably cold weather had everyone hoping for a hot-out-of-the-box opener to get them dancing but Trey, not straying too far from the rest of the tour's setlists, opted for the lyrically appropriate Drifting. "The storm has lifted," Trey sings optimistically,  "we've got the moon and the stars above." This was a standard version of the song with the exception of Les Hall providing some great subtle slide guitar work. Cayman Review was a reworked version of the original recorded track from Anastasio's 2002 self-titled album. The song has some noticeable changes that give the tune a much choppier, funkier feel thanks to Ray Paczkowski's finger work and Les Hall's backup keys. Dark & Down was next and it was the first 'new tune' of the evening. Trey's voice was a little soft at points, as he seemed to be concentrating more on playing the music correctly than annunciating. Les Hall again added some great texture and ambience on slide guitar. At this point I'm already impressed with Les Hall, not only for his versatility, but also for knowing his subtle place in the band and yet adding noticeable, poignant layers of music. The jam was short and sweet and segued fairly smoothly, yet seemingly rehearsed, into Air Said to Me. Air definitely has that 70's rock feel that Trey so nostalgically talks about in interviews regarding his new band. The song is a hybrid of some Cheap Trick meets The Who song. You can't deny its rock and in time will mold itself nicely into Trey's new repertoire.
Next Trey and Les picked up their acoustics for Invisible, the rumored title track of the new album. Invisible had a simple structured jam that ends much like Phish's Meat, but without the excessiveness. The tune is quite digestible and one can see how it might work as an album's title track if it is so chosen to be. Like the previous new tunes, Invisible, with much practice, has the makings of a very good tune. The familiar beginning riff of Night Speaks To A Woman is a now welcomed lick among Anastasio fans. They know some of his best, and longest, jams in the past years have morphed out of Night Speaks. Tonight was no exception as the song had many vintage tension and release points for Trey to jump and dance.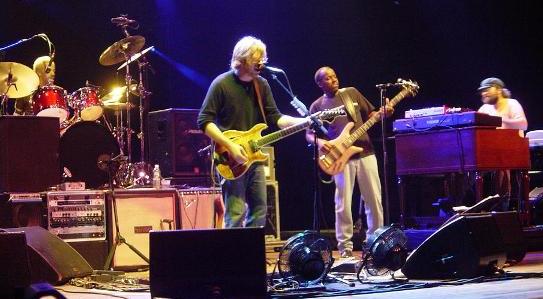 Spin is another new song that seemingly reflects Anastasio's recent thoughts regarding his newfound freedom from Phish and the fans skepticism. I was quite pleased to hear Plasma, as it had only been played once previously in the tour. Plasma was 'interesting' to hear without horns but the band looked comfortable playing it and pulled it off much better than I had expected. Next up, a refurbished Push On Til the Day where, again, the horns were noticeably absent, but the festive song kept the crowd warm and dancing. The song has a much "swankier" feel to it than previously performed and actually works quite well. I believe we might have Skeeto Valdez on drums to thank for this song's new feel. Anastasio introduces the next song, Goodbye Head, as a song he co-wrote with his daughter Eliza, who was in the crowd that night. He then takes the time to introduce and walk out his 93-year-old grandmother. Guess Trey felt like showing The Anastasio family tree from top to bottom. Goodbye Head is probably the most "composed" of the new songs as far as the extended jam goes. It twists and swirls with an eerie tone that mixes melody with dissonance but tells a story at the same time. The band hits many highs in this jam and nails the sporadic changes nicely before melting quietly into silence and the band leaves the stage for set break.
During the break Anastasio explains how at Jones Beach he realized when he would leave the stage for set break he would pick up the guitar and keep playing backstage. So since that night, he's not left the stage and has been playing mainly Phish songs solo on acoustic guitar much to the delight of the fans. I must say, it's unselfish and highly commendable in the eyes of this appreciative fan. Saturday night's acoustic set was Back on the Train, Inlaw Josie Wales, a struggling Pebbles and Marbles followed by a quite beautiful Waste.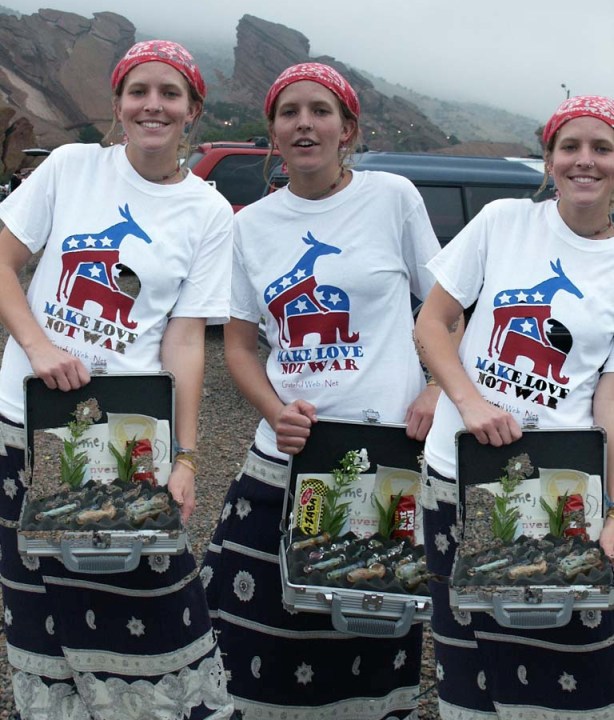 The 70 Volt Parade sneak back on stage as Trey and the band launch into an uplifting Shine that marks the start of another electric set. "And the light shines on," Anastasio and backup vocalists, Jen Hartswick and Christina Durfee, sing, "while we all ride on!" A fairly standard rocking version of Sand is well received by the drying crowd and eventually slows down to make way for Tuesday, another new song with a poppy chorus and is respectfully short. The always explorative Mr. Completely let Trey stretch his legs a few more times and segued slowly into 46 Days to which bassist Tony Hall seemed to be having a great time singing along.
A show ending Come as Melody was to be expected as were the Love is Freedom and I am The Walrus encore, but you can see why he loves covering the Beatles song. It's got some crowd-singing participation and it can't help but be high in energy and vintage Trey shreddage.
All in all, Trey played his heart out Saturday night at The Rocks. I had a great time at the show and was more than impressed with Anastasio's energy and focus. I don't see how anyone could complain about not getting his or her money's worth after nearly 3 hours of continuous music. The man is excited and rejuvenated and whether it's your thing or not, you can't deny his enthusiasm. If he shows up again next year, you know I'll be there with galoshes and poncho in tow.