The Fillmore in Denver has seen Trey Anastasio with four different bands in the past years. In '99 he arrived with Tony Markelis and Russ Lawton as his inaugural solo project. In 2001, he returned with the "super group", Oysterhead, for two nights of Halloween madness. Then, in 2003 the Prodigal Son upgraded his solo trio project to an Octet and gave the Denver crowd another memorable performance. On Saturday, Anastasio returned yet again with another band and on the heels of its debut album release. With a slew of new tunes and a revamped 70 Volt Parade behind him, the jamband maestro took the stage armed and ready.
I was expecting any number of opening songs, but I should have known better than to let my guard down with Anastasio on stage. From out of nowhere, recently added New Orleans drummer, Raymond Weber, counts off and Trey launches into the familiar riff from the Robert Palmer original, Sneaking Sally Through The Alley. If the crowd wasn't excited before, they were now lit up. Trey kept things moving nicely with a Push On Til The Day with Russell Remington on saxophone, Jen Hartswick on trumpet and Christina Durfee in her debut performance on trombone. The dynamic, composed parts of the outro jam highlight Anastasio's real skill for writing truly original pieces of music.
The following Cayman Review had a more New Orleans jazz band feel than the originally recorded "island swing" version thanks to Tony Hall and Weber's influence and Jen's booming tuba. Ray Paczkowski got to show off his finger work on the organ a bit while Hartswick and Durfee's back-up vocals added a little sugar. The eighties esque rocker, Air Said To Me, was the first new song of the evening and was a good representation of his new material for those that hadn't heard any as of yet. The song slowed down into a somewhat flighty and spacious jam with the girls singing melodic harmonies and Trey channeling the almighty O-face we've come to recognize and love so much.
The cheerful and easy going, Sweet Dreams Melinda, was a short and sweet mid-set choice and let the crowd catch its breath before heading into the usually epic Simple Twist Up Dave. Personally, I was really excited to hear Simple Twist Up Dave thrown into the mix considering the 70 Volt Parade doesn't usually play this groovy launching pad of a tune. The girls and Russell picked up the brass instruments again to give the song its due respect.
The smoky, blues based Dark and Down is reminiscent of a Neil Young tune and gave Anastasio a chance to sit back and slowly shred through the last half of the song. This set the stage for Trey's latest single off of his new album with the same name, Shine. Shine is a catchy, energetic song and had a nice outro jam that crept into the ever-exploratory Mr. Completely. As is usually the case, Mr. Completely reached ear-piercing heights and had plenty of tension and release highlights. A perfect closer for a monster of a first set.
Trey's solo acoustic sets have become an intimate and anticipated part of this tour's performances. It's nearly a guarantee you'll hear a couple Phish songs and probably a little humorous or insightful self-disclosure. Tonight's acoustic set showcased Sample In A Jar, which ironically, was once considered poppy by Phish fan's standards and is now welcomed like a mini anthem. Water in The Sky and Bouncing Around The Room were dedicated to a Phish fan that had recently passed away and inspired by a picture Trey had of her on stage. It was an emotional and genuine dedication on Trey's part.
The crowd participation in Twist led to Trey getting a chuckle out of us coming in too early on one of the "Whoo!"s as he slyly laughs, "Gotcha". Twist segued into a Limb By Limb that gave me goose bumps when the crowd sang Page McConnell's parts in a "call and answer' conversation with Trey.
The second set of the 70 Volt Parade came out firing with the band's first rendition of Jimi Hendrix's Cross-town Traffic. This let Anastasio stretch his legs, so to speak, and return his amp to the proper chandelier shaking level. The band really nailed this one – yet another left field cover to catch me off guard. The horns returned for Money, Love and Change and Jen sounded great as usual on back vocals. It's hard really to single out one specific band member that stood out in this tune because they all had perfectly subtle sections that made the song sound so good.
Tuesday, another new one off of the new album, was quite tight and showed just how well the entire band is coming together. Tuesday jams itself into a frenzy of back-up vocals and aspiring Trey riffs that eventually come to an end "when the beat slows down". Spin was a little shaky in parts but I feel this tune is one of the more promising new songs on the album – especially live. It's got a dark and dusky sound with some interesting changes and a nice contagious riff taboot. This particular Spin entered uncharted territory and found itself in a swirling, hypnotizing space that I had yet to see this band explore.
Sleep Again emerged from the 12 minute Spin with its lyrics almost speaking directly to lost Phish fans. "All you'll be and all that's gone is leading you on and on - on and on. You will live again," Trey sings as he hopes to reach those that feel forgotten. Drifting was next and is an always-welcomed Trey tune for its uplifting feel and curiously catchy chorus. Ray had another memorable piano solo in this jam and has definitely earned himself the "most underrated 70 Volt musician" award in my book. One of Anastasio's new favorites, Come as Melody, rounded out the set and closed the show in standard fashion.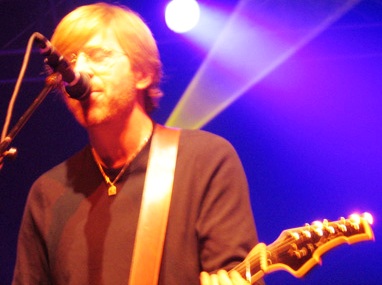 The encore, I Want To Take You Higher by Sly & The Family Stone, nearly blew the roof off the Fillmore. That's what I've always loved about Trey and his live shows; he seems compelled to take the energy of the room to ever growing heights. With fists pumping and bubble machines spewing, the band played like a fully loaded Mardi Gras float steam rolling down Bourbon Street – or in this case Colfax.
It was yet another overly ambitious live performance by the man that loves getting other people off through the power of music. If you are having trouble deciding whether you should check out Anastasio next time he comes to town, stop thinking so much. If you liked the man in Phish, you will enjoy his live shows with this band as well. It's pure and honest and 100% from his heart. Thanks again, Trey.