On September 27, 2008, Orchestra Nashville and Trey Anastasio will give Time Turns Elastic its debut performance at the orchestra's 2008-2009 season opener at Nashville's famed Ryman Auditorium. Co-composed by Anastasio and Orchestra Nashville Composer-in-Residence Don Hart (who also orchestrated the piece) and conducted by Music Director Paul Gambill, Time Turns Elastic is a groundbreaking work for vocals, electric guitar and orchestra. Known for his role as Phish's lead guitarist/frontman and for his adventurous solo works, Anastasio first teamed with Hart and Orchestra Nashville (then known as the Nashville Chamber Orchestra) for his June 2004 performance at the Bonnaroo Music & Arts Festival. Conducting them through a special set of material from his album Seis De Mayo, they gave the crowd of 80,000 rock fans a riveting introduction to "new classical" music.
Time Turns Elastic is the centerpiece of the writing Trey has been doing over the past 18 months while he's been off the road. With long, orchestral passages intertwined with epic guitar lines and vocals, the piece is in the vein of such classic Anastasio compositions as "Divided Sky," "Guyute" and "You Enjoy Myself." For nearly a year, Hart, who also collaborated on Anastasio's 2006 album, Bar 17, commuted between his home in Nashville to Saratoga, NY to work with Trey on Time Turns Elastic.
"I've never come close to the collaboration I've had with Don Hart," says Anastasio. "A lot of work done on this piece is conceptual conversations. It's a true collaboration." Anastasio also realizes the value of Orchestra Nashville's instrumentation to tell a story and give Time Turns Elastic its warranted weight. "The common ground is in the dream and the vision, all of us are interested in getting beyond boundaries. Don and I talk about writing emotional content, and there are certain emotions that can only be called out of an orchestra."
With Anastasio's electric guitar at the forefront, Time Turns Elastic pushes the limits of orchestral music and delivers a complete articulation of Orchestra Nashville's mission to integrate disparate musical styles that challenge and inspire audiences. "Most of the time when people use an electric instrument with an orchestra, they destroy the capability to blend," notes Anastasio. "Our approach is to handle it as any other solo orchestral instrument. I play at the volume of say, an oboe, so Don can orchestrate around the guitar."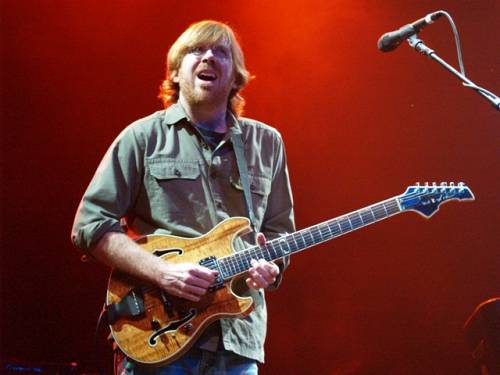 That the premiere of this landmark project will be at the Ryman Auditorium, the mother church of country music, seems unlikely on the surface, but makes perfect sense when one considers Orchestra Nashville's international reputation for commissioning boundary-breaking, ear-bending music.
Saturday, September 27th, 2008
Ryman Auditorium
116 Fifth Avenue North
Nashville, TN 37219
Doors 7:30pm, Showtime: 8:00pm

Tickets go on sale Friday, July 25th at 10:00am (Central Time)
Tickets are $45.00, $35.00 and $25.00 Reserved Seating. This is an all ages show. Tickets will be available at the Box Office, select TicketMaster outlets, online at www.ticketmaster.com, or charge by phone at 615.255.9600