Historically, mountain ranges have been formidable barriers for civilization. But for the first settlers who passed through the Rocky Mountains of Colorado, those features gave way to a unique sense of independence and became insulators from the rest of civilization, with collaboration, rather than competition, as the prime virtue. Flash forward to 2015, and you can hear this dynamic at play on BRIGHTER EVERY DAY, the newest album from Denver indie-mountaingrass quintet TROUT STEAK REVIVAL. Produced by Chris Pandolfi of The Infamous Stringdusters, Trout Steak Revival's new album comes on the heels of their breakout win at the 2014 Telluride Bluegrass Festival and showcases the band's virtuosic original songwriting and masterful musicianship.
Trout Steak Revival's five members – Steve Foltz (mandolin & guitar), Casey Houlihan (standup bass), Will Koster (dobro & guitar), Travis McNamara (banjo), and Bevin Foley (fiddle) – each contribute vocals and songwriting in their post-modern approach to American roots music. Their collaborative songwriting process operates more like a collective than a traditional band, with one member bringing an idea while the others flesh out the arrangement with personal touches of instrumentation and harmony. Where it's easy to use the cold technical language of "tightness" to refer to the arrangements, a better descriptor here might be "close-knit." Trout Steak Revival's concise yet multi-layered arrangements are derived from their years of experience playing with and nurturing each other creatively. Like the many bends in the Colorado River, each of the instruments diverge and run their own course, but always end up curving back around to the same destination.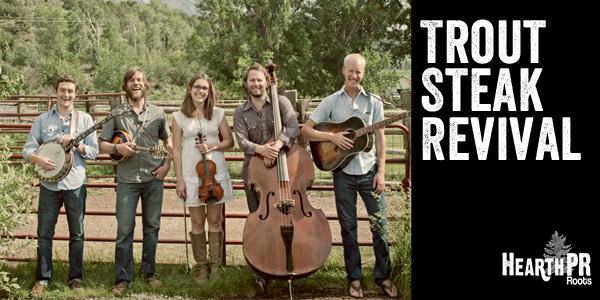 Most of the members of Trout Steak Revival originate from the Midwest, having moved west to settle in Colorado. Many of the songs on Brighter Every Day center on storytelling and the varying places and experiences they've each come from, echoing a tension between rootedness and wanderlust. The album opens with a petition to the Union Pacific railroad, reflecting on having seen everything from the "Mojave Desert" to "San Francisco Bay," pining for home and pleading: "Won't you take me down your track, let your whistle blow, and bring me back." "Ours For The Taking" was originally written by Houlihan for his fiancé while "Wind On The Mountain" is about getting caught in a snowstorm during a backpacking trip. The title track, written by McNamara on piano for the wedding of two friends, was later brought to the band and arranged for a five-piece. While the piano is retained here, Trout Steak Revival turns what might have been a meditative processional into a full-fledged celebratory dance. Finally, the album closes with "Colorado River," a gorgeously raucous ode to their Rocky Mountain home – "I'm swimming' in my sleep, in the Colorado River deep."
It's not hard to see how integral the Rocky Mountain communal tradition is to the listening experience of Brighter Every Day. Grown out of fertile ground, Trout Steak Revival represents a sense of community that has become as unshakeable as the mountains themselves. In Colorado, the air is just a little thinner and colder, making Trout Steak Revival's unique brand of bluegrass take on an exciting and pioneering timbre that is poised to keep listeners breathless for years to come.
LISTEN: 
https://soundcloud.com/dgramblewest/sets/brighter-every-day-2015/s-uYboj