Vermont jam quartet Twiddle, alongside a handful of notable local and nationally touring acts visited Westport, CT's Levitt Pavilion for the Performing Arts for an epic weekend of music. Dulcet melodies echoed across the Saugatuck River, as over one-thousand revelers packed the picturesque venue each night to enjoy additional Friday sets from The Nth Power and Mihali, and Saturday appearances by Dwight and Nicole and Eggy. Rounding out the festivities were select local food trucks and traveling artisans peddling handcrafted wares. The carefully curated festival-style weekend was a collaborative effort between the band and the team at the acclaimed long standing venue.
"Presenting Twiddle was a dream come true - especially as a weekend festival. "Their music soars - and having two days with them outside by the river, and with beautifully articulated support elevates the experience and infuses It with even more magic," explained event producer Carleigh Welsh. "Twiddle - their music and mind-melded musicianship - creates a transcendent experience - there's a tangible spirit of community journeying together. So the weekend we just had was the best kind of music experience - one that people take with them. It's more than memories - the joy is designed to last. And that's so important and needed by everyone right now."
Friday, July 29th
Following a multi-genre opening set from soulful rock trio The Nth Power, highlighted by powerful renditions of "Only Love" and "Truth",  Twiddle frontman Mihali took the stage for a rousing solo set. The performance, his first solo appearance since the release of his newest studio album Effection (Released July 22nd via Ineffable Records), showcased his signature sound entwining reggae spirit, fluid soundscape architecture, and invigorating mantras that elicited enthusiastic crowd participation.
Twiddle took the stage just after 7 PM, kicking off a high-energy show for the ages. The live band - Mihali Savoulidis (vocals, guitar), Zdenek Gubb (bass), Ryan Dempsey (keys) and Adrian Tramontano (drums) launched into set one with "Honeyburste," and subsequently navigated a setlist comprised of classic tunes from their early catalog. Highlights included an emotive "Frankenfoote," and a "Mad World" encore, featuring a dynamic sit in from Mike Bafundo (Trumpet - West End Blend).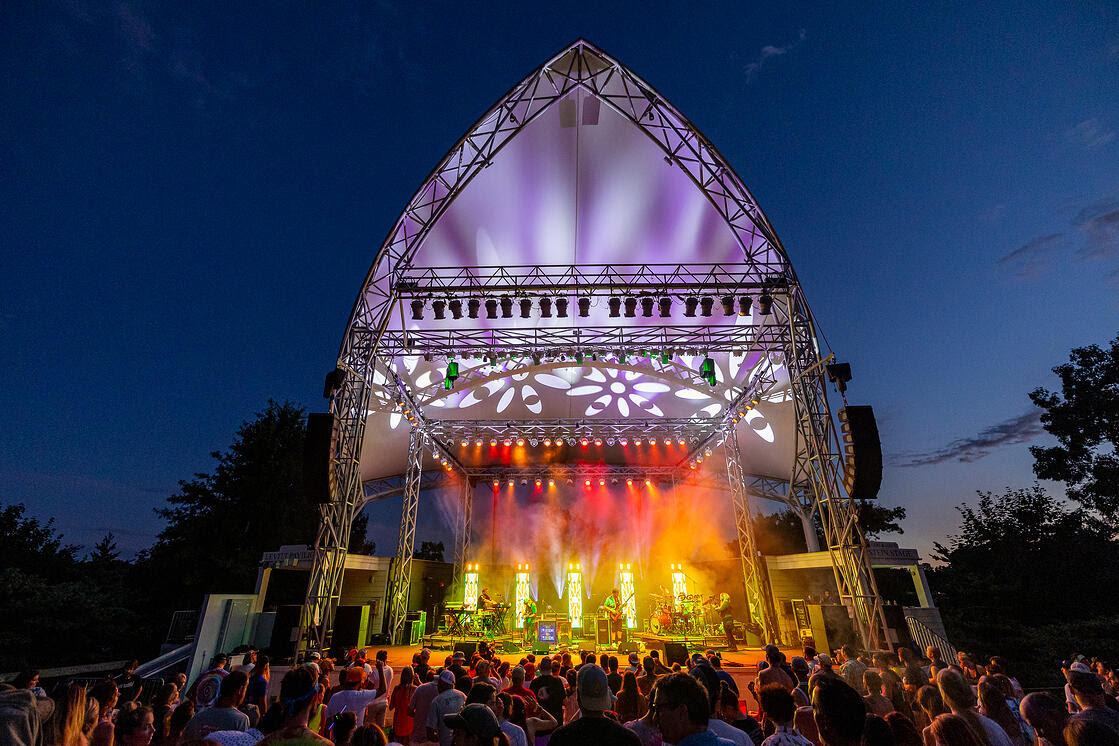 Saturday, July 30th
VIP attendees braved the summer sun and packed the lush lawn for an early afternoon Twiddle acoustic set. Showcasing the softer side of the band's extensive catalog, the performance was defined by melodic interplay between Savoulidis, Gubb, and Dempsey.
Dwight and Nicole took the stage as fans arrived in droves, and the Vermont trio eased listeners into the day with their mellow blues-rock chops. New Haven, CT-based roots-rock quartet Eggy followed, eliciting thunderous applause as they took the stage. The band's captivating performance was punctuated by a cover of Unknown Mortal Orchestra's "Necessary Evil" and an electrifying take on original tune "Graceless"
Easily maintaining the previous night's energy, Twiddle kicked off their third performance of the weekend with "Blunderbuss." The opening set saw the band navigate composed material with poise, and drew a joyful singalong from the crowd during a cover of John Lennon's "Imagine."
A jaw-dropping set two followed, with a host of special guests joining the headliners on stage. Luke Bemand, intrepid bassist of northeast power trio lespecial handled bass during the "Every Soul" jam, placing thumping baselines atop Tramontano's frenetic drumming. "Mamunes the Faun" began with a sit in from Eggy guitarist Jake Brownstein. As the jam developed, each member of Eggy joined in on the fun, and slowly replaced Twiddle on stage. The seamless collaborative effort delighted fans, and Twiddle closed out the show with an enthusiastic expression of gratitude for an incredible weekend.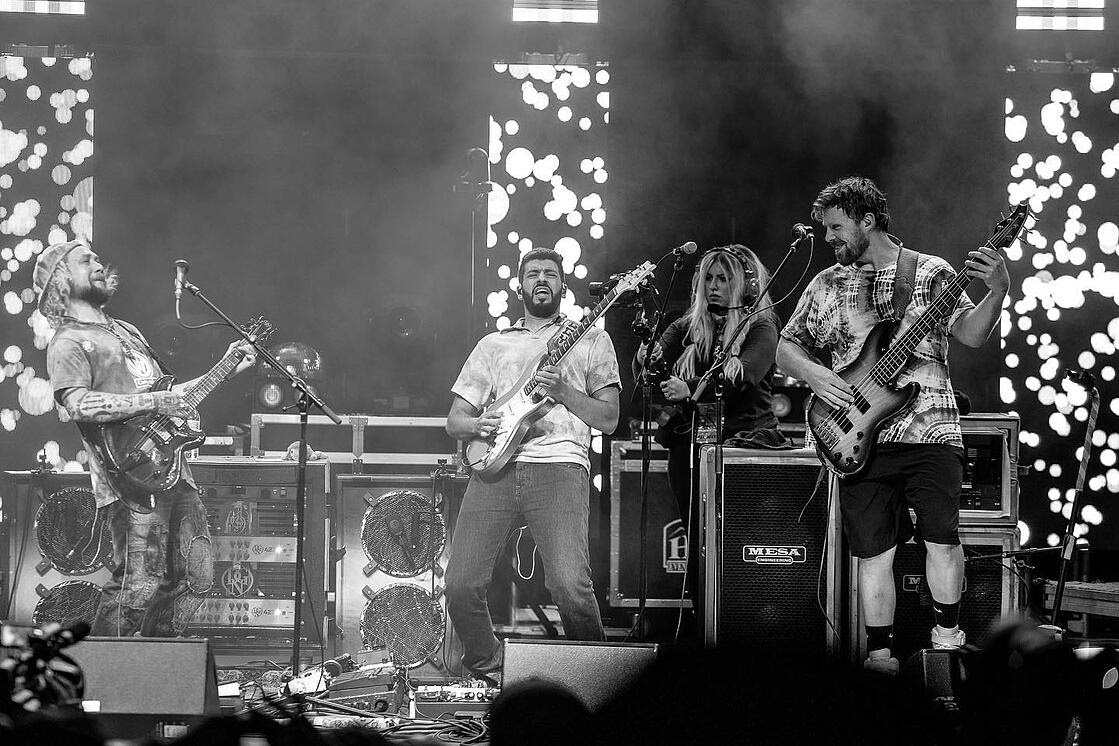 Levitt Pavilion for the Performing Arts shared the same sentiment, as event organizers praised the band for incredible performances, and their contribution to the local community. The longstanding venue, a 501(c)(3) nonprofit, provides free and abundant access to the arts for the local community, highlighting a dynamic spectrum of artists from across the globe. Proceeds from paid events like Twiddle's weekend shows fund fifty free nights of music during extensive seasons that span spring, summer and early fall.
"We couldn't have been more excited and prouder to present this lineup," added event producer and member of  Levitt Pavilion board of directors Andy Fleischman. "Two nights of Twiddle at our beautiful home is incredibly magical in its own right, but having Mihali and Eggy, who have headlined in past summers, returning to the Levitt Pavilion, as well as the Nth Power and Dwight & Nicole, collectively exemplify in one weekend what we strive for in presenting 50+ concerts each year -- top tier and up-and-coming talent, nationally known and local bands, artists of color, powerful female voices and a diverse mix of genres including rock, reggae, funk, folk and soul.  And unsurprisingly, but still incredible to witness, all of the bands absolutely crushed it."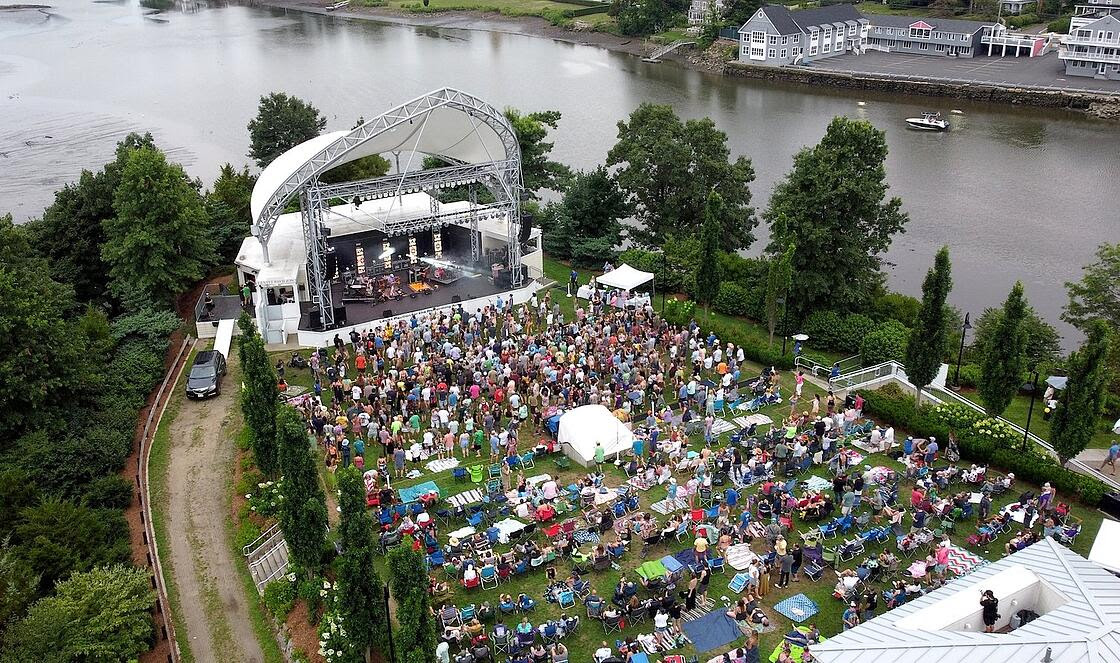 Pro-shot videos of this weekend's shows are available for purchase via Fans.Live, available through Sunday, August 7th at 11:59 PM PT.  Twiddle returns to the stage next weekend at East Troy WI's PHLOWFEST, and will celebrate the release of studio album Every Last Leaf (via No Coincidence Records) on August 12th.
Twiddle - 7.29.2022 - Levitt Pavilion for the Performing Arts - Westport, CT
Set 1
Honeyburste
Caterpillar
Doinkinbonk!!!
Lost In The Cold
Beethoven & Greene->
Frankenfoote
Set 2
Laughable Butane Bob ->
Brick of Barley
Apples->
Amydst the Myst->
Polluted Beauty[1]
Encore: Mad World [2] [3]
[1] - contained Harry Potter groove
[2] Mike Bafundo of West End Blend on trumpet
[3] Tears For Fears
Twiddle - 7.30.2022 - Levitt Pavilion for the Performing Arts - Westport, CT
Set 1:
Blunderbuss
Jamflowman %
River Drift  hi
Stroganoff
Subconscious Prelude
White Light>
Imagine> [1]
White Light
Beautiful
Set 2:
Enter>
Orlandos>
Every Soul #
Mamunes the Faun -> $
Eggy Band Swap Jam ->
Mamunes the Faun
Slippin in the Kitchen
When it Rains it Poors
E: The Box
[1] The Beatles
% - Layla tease
# - Luke from Lespecial bass n drum jam
$ - w/ Jake Brownstein