UMBowl IV returns to the sold out Park West on April 26th for its fourth triumphant year.
If you can't join Umphery's McGee in person, we are pleased to stream the event directly into your living room via a live pay per view webcast. The webcast will be a professionally shot, eight-camera HD feed with high quality sound board audio. You'll be close enough to help wax Stasik's moustache. This four-set, four-plus-hour musical marathon costs $14.99 and starts at 7:30pm CT. As always, pants optional. Pre-order now.
The UMBowl IV poster pre-order is now available for pre-order in extremely limited quantities in the UM online store. Linoleum print artist AJ Masthay pays homage to the classic bowl game cityscapes in a vibrant 7-color print. We are offering venue pick-up and ship-to-home options, as well as a handful of prints autographed by all six members of Umphrey's McGee. Click here for more info, and to reserve your copy. 
Keep your eyes and ears peeled for more summer dates dropping and exciting announcements in the coming weeks.
Umphrey's McGee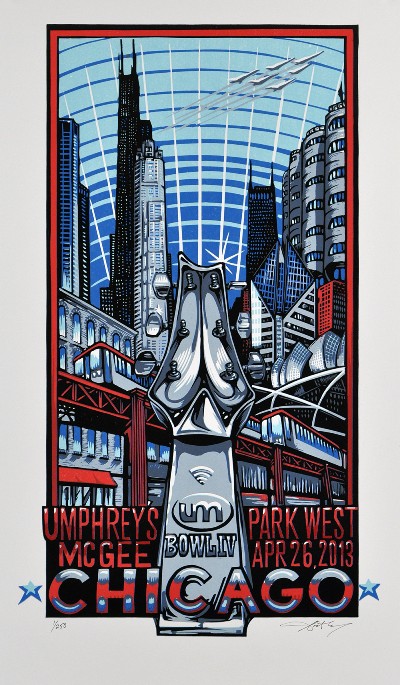 April
4.12 Plaza Theater, Orlando, FL (w/ Break Science)*
4.13 Jannus Live, St. Petersburg, FL (w/ Break Science)*
4.15 Georgia Theatre, Athens, GA SOLD OUT*
4.17 George's Majestic, Fayetteville, AR (w/ Space Camp)*
4.18 George's Majestic, Fayetteville, AR (w/ Montu)*
4.19 House of Blues, Dallas, TX (w/ Moon Taxi)*
4.20 Stubb's, Austin, TX (w/ Moon Taxi)*
4.26 UMBOWL IV, Chicago, IL umVIP SOLD OUT (VIP still available)
May
5.9 Summer Camp Pre-Party with Brendan and Jake, Cubby Bear, Chicago, IL
5.24-26 Summer Camp Music Festival, Chillicothe, IL umVIP
5.31-6.2 Wakarusa Festival, Ozark, AR
June
6.7 Red Rocks Amphitheatre, Morrison, CO (w/ Dr. Dog and Delta Spirit) umVIP
6.8 Chautauqua Auditorium, Boulder, CO umVIP SOLD OUT (VIP still available)
6.17-6.21 sUMmer school, Big Indian, NY
6.21 Ram's Head Live, Baltimore, MD
6.22 House of Blues, Myrtle Beach, SC
July
7.3 Frederik Meijer Sculpture Arts Garden, Grand Rapids, MI
7.5 Cabooze Outdoor Plaza, Minneapolis, MN
7.11-13 Camp Bisco, Mariaville, NY
*Headphones and Snowcones available. Que?