Austin, Texas was the final stop on Umphrey's McGee's nine-date southern run. What a great city to end the tour in as well. Stubb's BBQ is an outdoor backyard style venue in the middle of downtown.
The band had been hyping the 420 show via their social media networks for weeks and they didn't disappoint. This was the first time Umphrey's sold out the 1,800 person capacity venue.
Shortly after the sun had set, the smell of barbecue was thick in the air, the house lights went down and Umphrey's took the stage. They opened the set with a short intro to "Utopian Fir" but  quickly dropped into "In the Kitchen" which contained a nice, patient jam that has been a growing trend for this song in 2013. Brendan Bayliss wished monitor engineer Bob Ston a happy birthday then Joel Cummins chimed in saying "We've been waiting for this for a long time, Ston Fest everybody." After a short but sweet "Hurt Bird Bath" they began a segment of "Loose Ends>Deeper>Utopian Fir>Jessica (the band recently revived the Allman Brothers Band cover). The first set ended with a loose and funky "Puppet String" that saw some nice interplay between guitarists Brendan Bayliss and Jake Cinninger.
Umphrey's came out firing to open the second set with "JaJunk" which contained possibly the first live performance of the new Daft Punk single "Get Lucky" which was released at 12:01 am the day before. Partway through the jam in JaJunk, Bayliss and Cinninger began playing with the intro to the song, then drummer Kris Myers took on Pharrel's vocal duties. While this was quite a surprise, nothing should be unexpected from Umphrey's McGee. The highlights continued when they played "Liberty Echo" a new song that was crafted from a "Jazz Odyssey" intro from 2007. Umphrey's revisited one of their Halloween Mash-ups "Life During Exodus" which intertwines three classic songs "Life During Wartime" by the Talking Heads, "Exodux" by Bob Marley and "City of Tiny Lights" by Frank Zappa. "Booth Love" was up next which brought some smooth funky jamming into the mix. Partway through the song, they teased "Stayin Alive" by the Bee Gees. The band bookended the set with a run from the "Linear>JaJunk."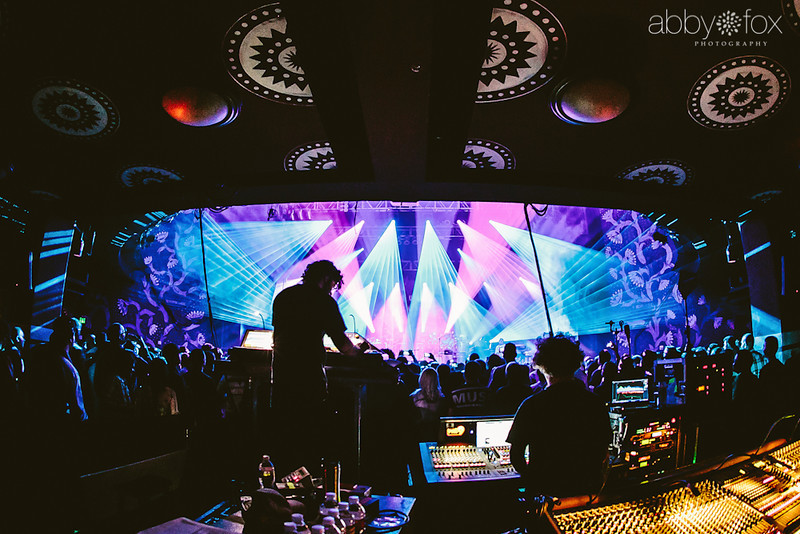 Umphrey's emerged for the encore in time to fit 20 more minutes in before the midnight curfew. The band kept the encore decidedly old school with a run from "FF>Divisions" which had everyone in the venue belting the lyrics to each song. It's always nice to see the band play songs from their early years when they were building the dedicated fanbase that follows them from coast-to-coast.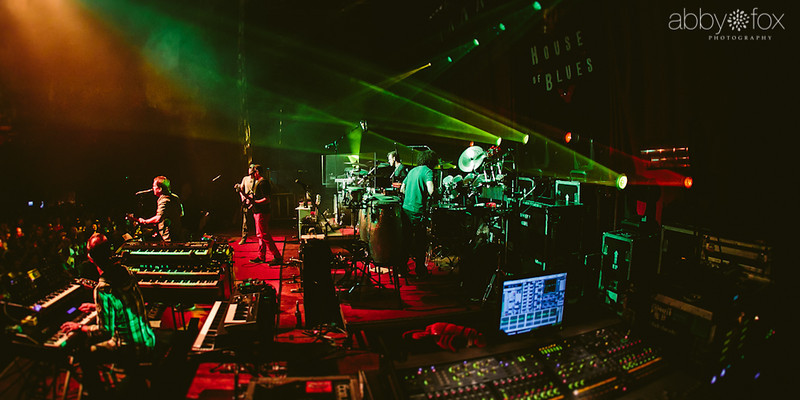 Judging by the conversations after the show and the looks on most everyone's face, I'd venture to guess it was a winning night in the books of the fans both new and old. Lighting Designer Jefferson Waful painted the canopy above the band as if it was his personal canvas while the band melted the faces of each attendee. Hopefully Umphrey's keeps the 420 Stubb's tradition alive; as this is the third year in a row they have played the venue on this "holiday."