With red-clown noses in their hearts, and songs to fill the air, a few thousand caring, music-loving souls gathered to wish Wavy Gravy, America's favorite psychedelic relic, a happy 79th birthday on May 17. It was a fine day for a party in Sonoma County, California as attendees at the seven-plus hour gathering danced and swayed to the musical offerings of Edward Sharpe & the Magnetic Zeros, Steve Kimock & Friends, The California Honeydrops, and Hot Buttered Rum.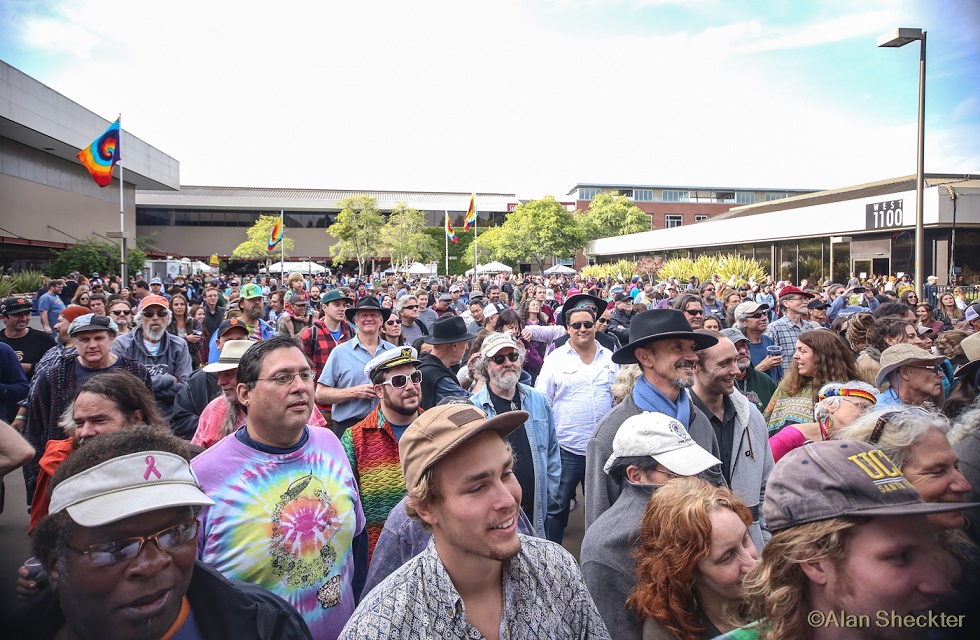 Wavy acted as a 'tweener between sets, telling stories and reading whimsical passages from "Hiparama of the Classics," a collection of fanciful poetry from one of Wavy's Beat-generation contemporaries, Lord Buckley.  Some Wavy Gravy-isms:
He called Ben Cohen of Ben & Jerry's, "the ice cream Cohen";
When a sound tech called out, "Check," Wavy interpreted it a different way, saying, "Czech, Swede, Latvian";
A haiku for B.B. King, who first called the former Hugh Romney "Wavy Gravy," "The thrill is gone; the king has left the building; Lucille gently weeps;" 
"I have 21 years till I'll be 100," Wavy said in classic double-entendre fashion, "It's all downhill from there."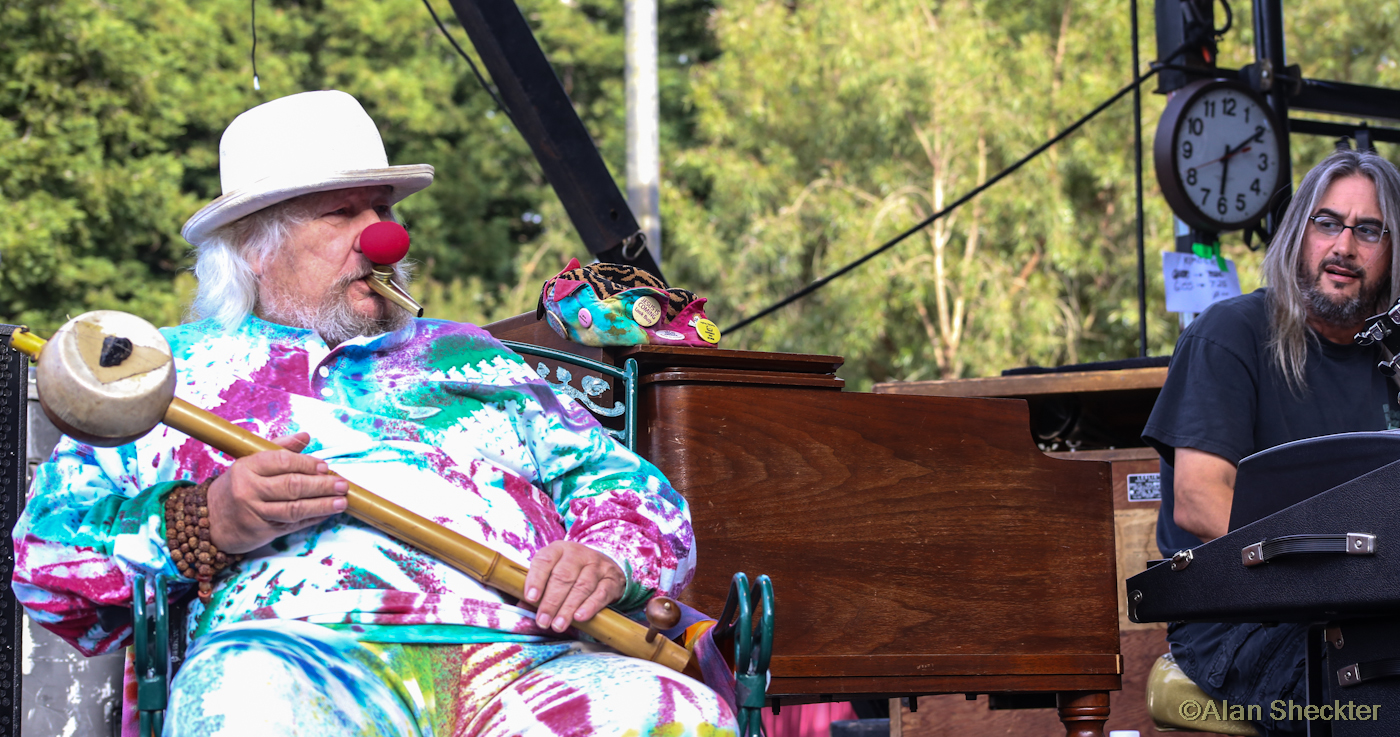 Combining music, purpose, and groovy wisecracks, Wavy, still sharp witted and sharp tongued, though not quite as mobile as he once was, held court in the front corner of the stage, acting as emcee, wise-cracker, kazoo player, and cheerleader for Seva, the "compassion in action" service organization for which the day's proceeds would be given. Seva, which since 1978 has helped ease human suffering worldwide, most notably through restorative eye care, is also famous for throwing down musical-benefit hootenannies. Wavy's birthday often coincides with Seva benefits, and this time, Seva, who has done good work in Nepal for many years, recently announced that a substantial portion of proceeds from this benefit would go to Seva's Nepal Earthquake Relief & Recovery Fund, following the devastating April 25 centered near Kathmandu.
The celebration of social action took place at the Sonoma Mountain Event Center, a solar-powered venue that features a cozy but sizeable courtyard/outdoor concert venue. A neighboring indoor event center hosted a glorious upscale silent auction that featured art from Nepal as well as an art gallery with works by Stanley Mouse and Pat Ryan, Mark Hensen, Jerry Garcia, and Wavy Gravy.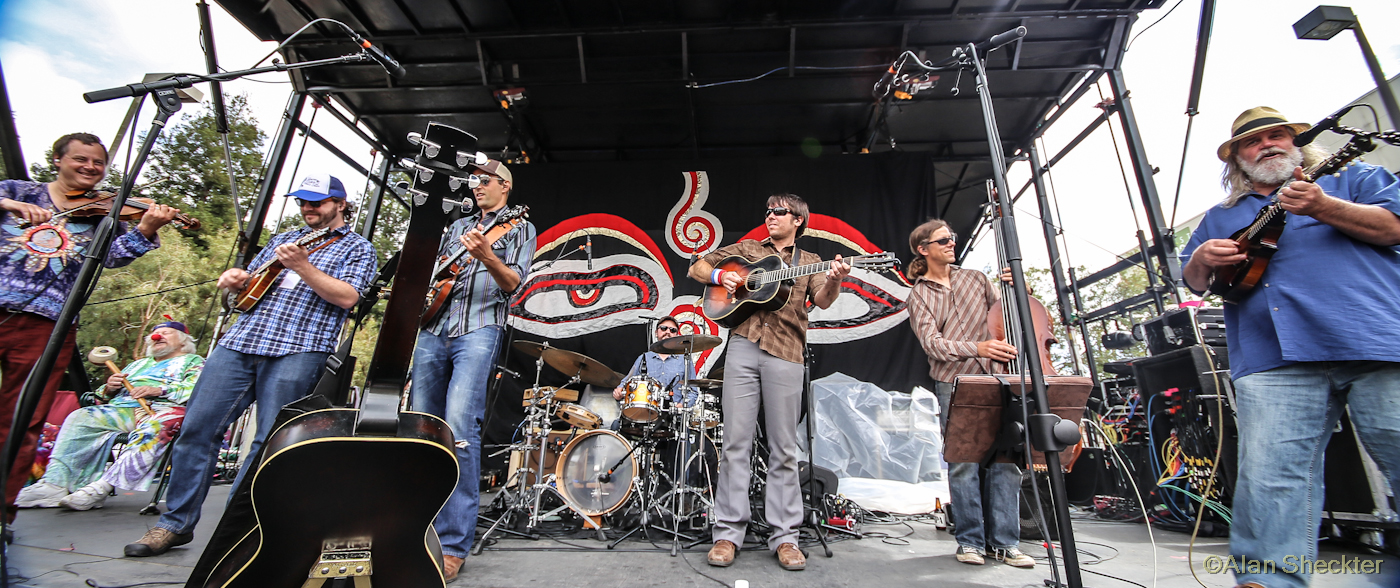 Hot Buttered Rum started the musical proceedings, quickly shaking out the collective cobwebs and kicking up some dust with its brand of jamming folk-grass. Joined onstage by Leftover Salmon's Vince Herman and Front Country's Jacob Groopman and Melody Walker, the ensemble offered such tunes as "Busted in Utah," "Summertime Gal," "Walls of Time," "Sittin' on Top of the World," and "The Music Never Stopped."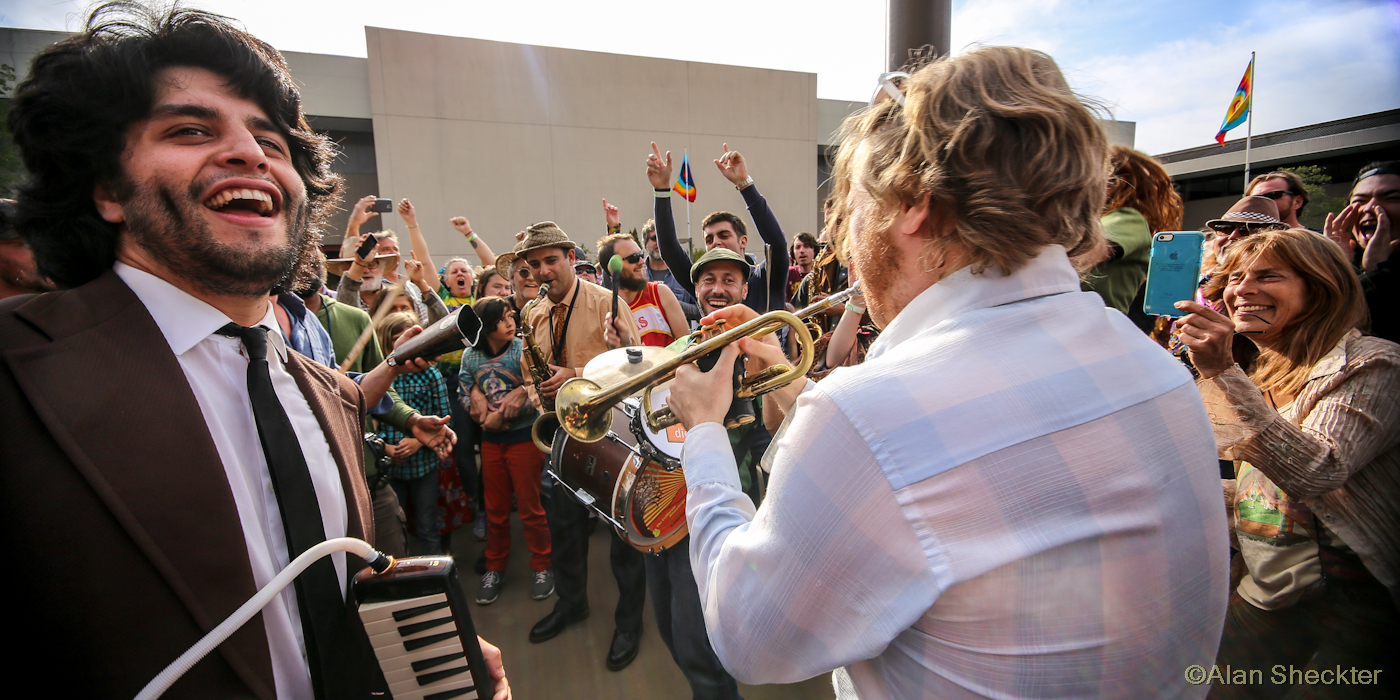 The California Honeydrops were next dishing out their aptly self-described fusion of Street Corner Soul, Roots, Delta Blues, and Bay Area R&B. In addition to their originals including "Pumpkin Pie" and crowd fave, "When It Was Wrong," the twin percussion-keys-sax-trumpet-and guitar collective performed "People Get Ready," and Wilson Pickett's "Don't Let the Green Grass Fool You," before coming down from the stage to play and march amongst the audience.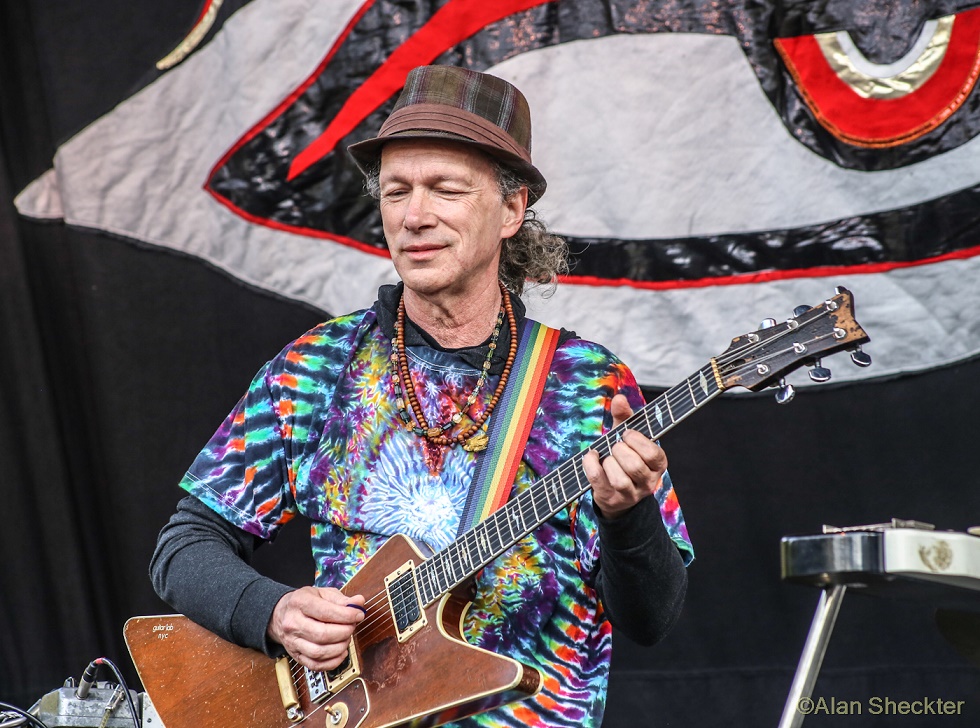 Heralded improvisational guitarist Steve Kimock was next; his quartet for the day included fellow Ratdog alums Jay Lane on drums, Jeff Chimenti on keys, and longtime Kimock sidekick Bobby Vega on bass. Their masterful instrumental set included varied pieces of music that alternatively rocked, soothed, and funked up the crowd. The foursome, particularly Kimock and Chimenti, nicely adapted and slowed down one of their jams to accommodate Wavy's reading of Buckley's "The Hip Ghan," a satirical piece about Mahatma Ghandi. When Kimock's guitar went out later in the set during "Stella Blue," Wavy, still a sharp jester and entertainer, sensed the lull in the music, nodded to Vega and resumed reading from Buckley's work as Chimenti, Vega, and Lane softly played on, making it quite the unforgettable version of "Stella Blue."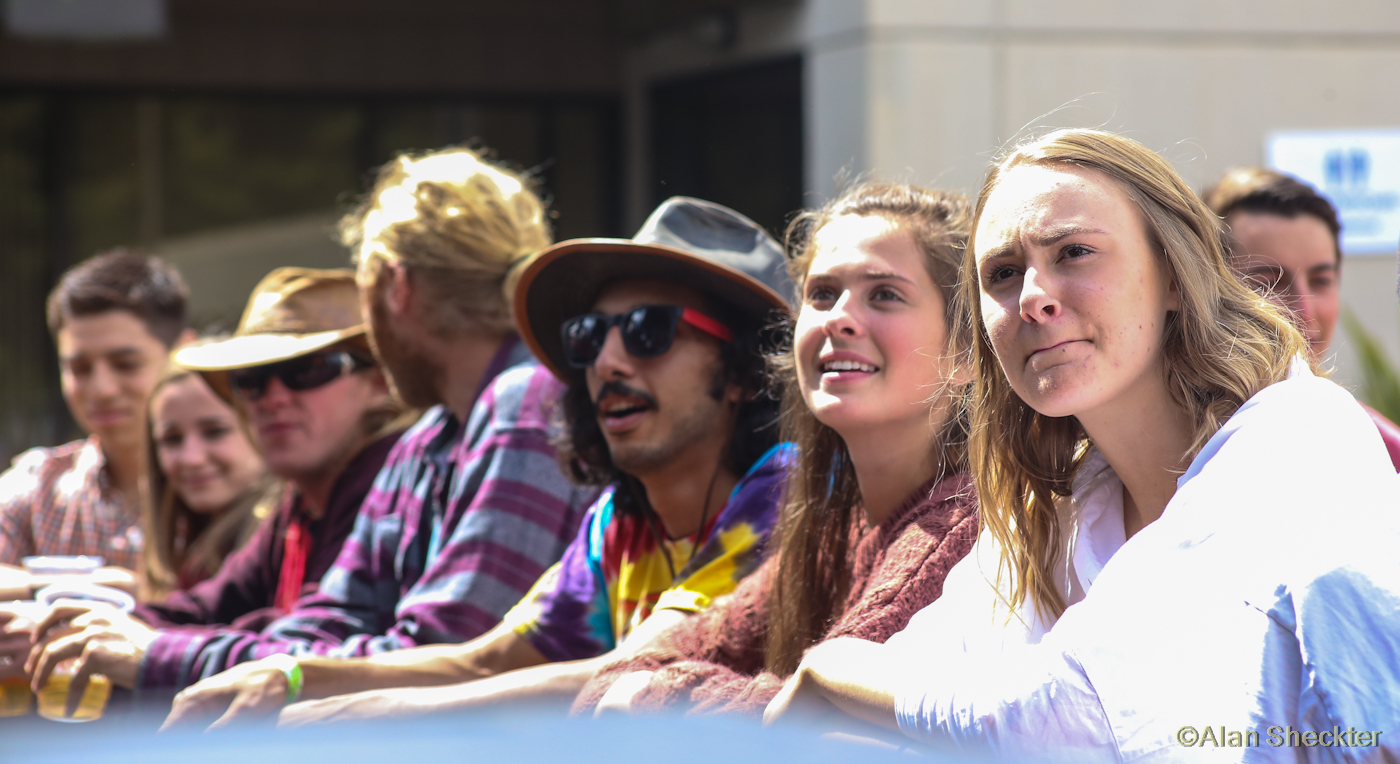 As the sun went down Edward Sharpe & the Magnetic Zeros, led by Alex Ebert, closed out the main stage segment of the show. The charismatic Ebert strolled and bounded all over the stage, often taking a perch on a speaker or a monitor in front of the stage, singing directly to the crowd. The band of eight delighted the elders and the many children in the crowd with "Dinosaur Party," "Home," "Mayla," "Up From Below," "Man On Fire" (featured in the "August: Osage County" movie trailer), "Child," "All Wash Out," "Janglin'," "If I "Were Free," "Life Is Hard," "40 Day Dream," "Better Days," and "Om Nashe Me," which Ebert explained meant, "the destruction of self."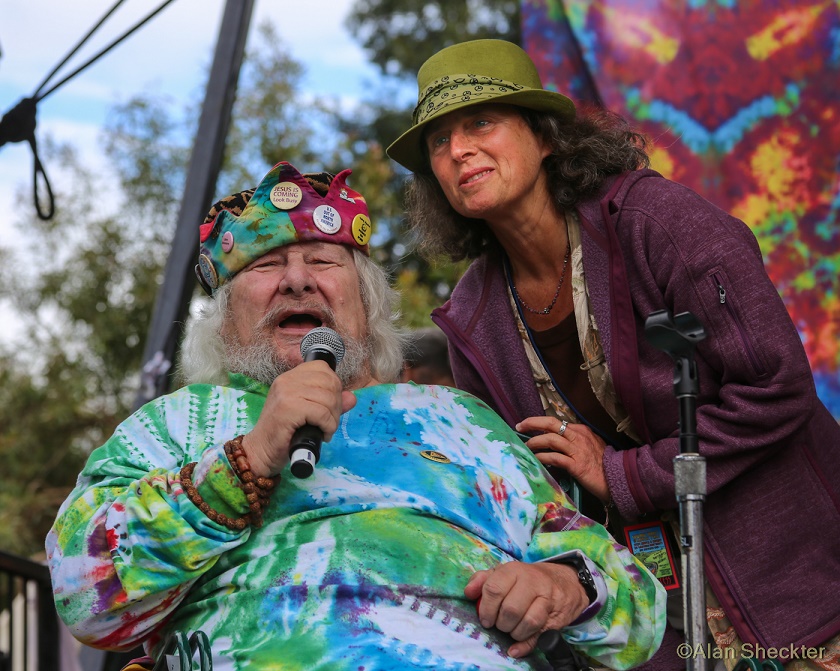 Wavy and Seva had one more trick up their sleeve, offering an additional, intimate indoor VIP reception with Hot Buttered Rum set for those who still hadn't had their fill.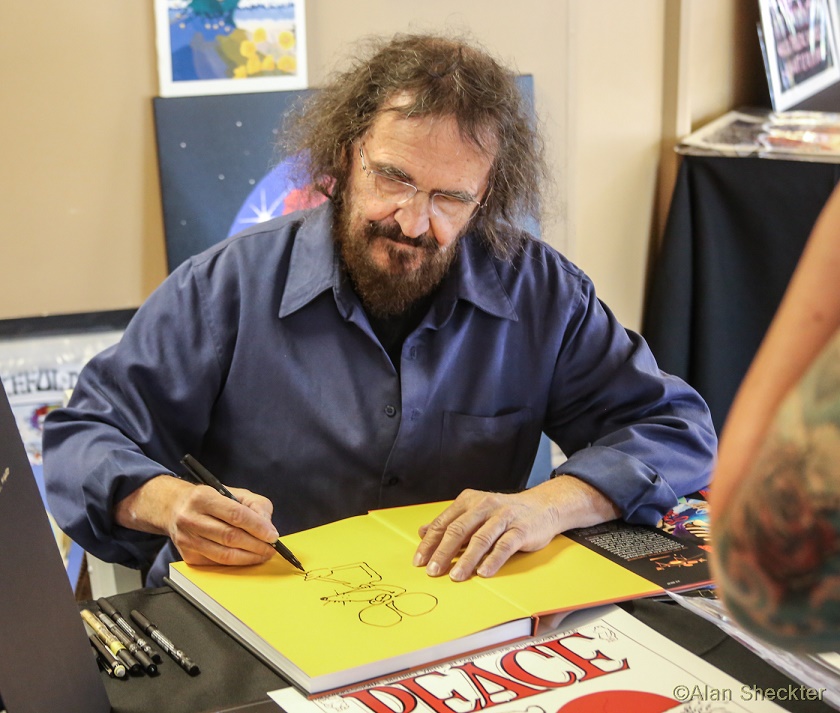 Seva's event producer Tamara Klamner says "thanks to the help of the artists, volunteers, and sponsors and the 2000+ concert attendees, the event raised $160,000 which will help support the ongoing work of Seva." 
Thanks to Chelsea Dederick for help with Edward Sharpe performance specifics.