Jeff Gauss is the guitarist and lead vocalist. Performing since 1980 with bands ranging from folk to blues to rock to pop to theatre. Previous bands include Oasis, Envelopment, and Piecework.  He has also been a member of Chris Plata with Extra Hot (featuring Clyde Stubblefield), Barb Bazaldua Band, and Olive Parade.  He also performs with The Lizardz, 3 Day Stubble (featuring legendary blues guitarist John Davis),  solo acoustic shows, and in an acoustic duo with former Weavil Hawk Hawkins.  He has also acted as assistant musical director and guitarist for Act Two/Mainstage Productions/Theatrix's versions of Jesus Christ Superstar, Evita,  and Joseph and the Amazing Technicolor Dreamcoat in the Fox Valley area.  He has also worked as a house soundman at the Crystal Corner Bar, the Portal Music Cafe, and The Annex in Madison.  Jeff also mixes for several bands including El Donk and PROG.
Dean Tassone is one of the founding members of The Weavils and the percussionist that sings occassionally.  A seven year alumnus of the award winning Americanos Drum & Bugle Corps, he performed in the band Piecework with Gauss before the formation of The Weavils.  The backbone of the band, he resides in the Fox Valley has also performed with
Little Cisco, the Great Garbonzos, Otto's Jacket, and Father Mac with Geppy.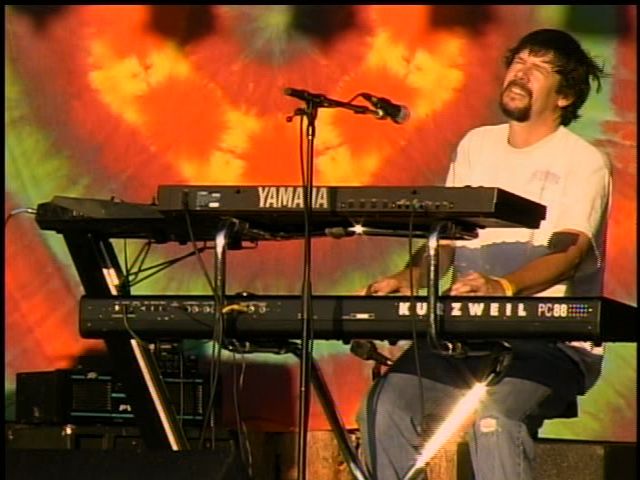 John Luc Finucan is the keyboardist and vocalist that also plays accordian. He has played with bands throughout the Midwest since 1981 including Thef, Dizzy's Horn, Accelerators, Politix, and the Blue Olives Band- covering styles from jazz to classical, experimental, pop, and blues.  John joined The Weavils in 1994 and resides in Janesville.
"Geppy" is the bassist and vocalist. He joined The Weavils in 1996 after playing with such bands as Alamo and FBNC. Mike has been performing since 1989 and has also played with the Great Garbonzos, Otto's Jacket, Father Mac , and Boneyfingers. He resides in Oshkosh and serves as the main contact for that part of the state.