Widespread Panic has just announced dates for their upcoming 2014 Summer Tour, which includes performances at some of the band's fan favorite venues.  This year, Widespread Panic is excited to be joined on tour by some very special guests and friends.
The 2014 Summer Tour begins at The Riverbend Festival in Chattanooga, TN before heading to the Northeast making stops in Boston on June 13th and Philadelphia on June 14th where Galactic will share the stage performing 60 minute sets to kick off the shows.  Galactic will also join the band in Lincoln, NE on June 24th and Kansas City on June 25th.  On June 21st, Widespread Panic will headline a festival-type event in Somerset, WI, which will include performances by Galactic, Conspirator, Jerry Joseph and others TBA.  Their very good friends Tedeschi Trucks Band and Jerry Joseph will also join Panic for a very special evening on June 20th.  Summer Tour finishes up with a bang as the band will play three nights at The Red Rocks Amphitheatre followed by three nights at The Joint At Hard Rock Hotel & Casino in Vegas.  Widespread Panic currently holds the attendance record for most consecutive sold out shows at Red Rocks Amphitheatre with an unprecedented 42.  Panic will also take the stage at the beautiful High Sierra Music Festival held annually in Quincy, California on July 6th.  See a complete list of tour dates below.
Widespread Panic has just released the 22nd and 23rd installments of their Porch Songs Live Archives Series.  The series, beloved by fans, picks up with the band near the tail-end of their 2000 Fall Tour with a two-night run in Memphis, TN at the Mid-South Coliseum.  Though the band has since returned to the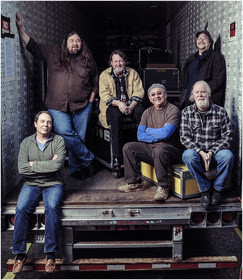 venue three years running, this live recording marks their first visit.  Highlights include sit-ins from the brothers Dickinson, Luther and Cody, with song highlights including "Vacation", "Sleeping Man" "Let It Rock" and "Aint' Life Grand" encores.  For more information about the series please visit: http://widespreadpanic.com/archive
Widespread Panic (John Bell, Dave Schools, Todd Nance, John "Jojo" Hermann, Domingo "Sunny" Ortiz and Jimmy Herring) remain one of the top touring acts in the US, playing to packed arenas, amphitheatres and enthusiastic festival crowds  all over the country. Fans continue to travel great distances to take part in the unique communal live experiences, which have grown into legendary status.  
Full list of tour dates below.  Visit www.widespreadpanic.com
WIDESPREAD PANIC 2014 SUMMER TOUR DATES 

June 7th – Chattanooga, TN - Riverbend Festival
June 11th – Augusta, GA – James Brown Arena
June 13th – Boston, MA – Blue Hills Bank Pavilion
(Special Guest: Galactic)
June 14th – Philadelphia, PA – The Mann Center For Performing Arts
(Special Guest: Galactic)
June 19th – Cleveland, OH - Jacobs Pavilion At Nautica
June 20th – Chicago, IL – FirstMerit Bank Pavilion at Northerly Island
(Special Guests: Tedeschi Trucks Band & Jerry Joseph)
June 21st – Somerset, WI – Somerset Amphitheater
(Special Guests: Galactic, Conspirator & Jerry Joseph and more TBA)
June 24th – Lincoln, NE – Pinewood Bowl Amphitheater
(Special Guest: Galactic)
June 25th – Kansas City, MO – The Starlight Theatre
(Special Guest: Galactic)
June 27th – Morrison, CO – Red Rocks Amphitheatre
June 28th – Morrison, CO – Red Rocks Amphitheatre
June 29th – Morrison, CO – Red Rocks Amphitheatre
July 2nd – Las Vegas - The Joint At Hard Rock Hotel & Casino
July 3rd – Las Vegas - The Joint At Hard Rock Hotel & Casino
July 4th – Las Vegas – The Joint At Hard Rock Hotel & Casino
July 6th – Quincy, CA – High Sierra Music Festival