When Wilco's newest album, The Whole Love, came out last year, guitarist and lead singer Jeff Tweedy explained the rationale for making Art of Almost the first track. "As an opener, there's really no other song that we could've put first that would've kicked the door wide open as much to whatever's gonna happen next," Tweedy said in a Studio Q interview with Jian Ghomeshi, "You want people to be compelled to come along for the ride…"
At Red Rocks last Friday, Wilco thrust Art of Almost into the third, not first, slot, but it performed the identical function that Tweedy was aiming for on The Whole Love. Friday's rendition was masterful. It was erogenous yet lovingly empathic, visceral yet cerebral, and rife with sadness yet brimming with sanguinity. From Nels Cline's impassioned solo work on his Fender Jazzmaster to the melodious electronic labyrinth fabricated on Pat Sansone and Mikael Jorgensen's keyboards, Art of Almost certainly kicked the door wide open to a sensational show.
On the first gig of a two-night stand, Wilco seamlessly bounced around from vortical rock 'n' roll (A Shot in the Arm) to sing-along pop (Heavy Metal Drummer) to Cashian ballad (Open Mind) and back again without ever sounding forced or phony. This is why they could successfully open the show in essentially a downshift with the brooding One Sunday Morning (Song For Jane Smiley's Boyfriend). With acoustic guitar in tow, Tweedy spun a yarn from the perspective of a man whose father just died. He reflects on the end of their strained relationship which was anchored in his father's overbearing religiosity. You won't find too many concerts beginning with such contemplative music or lyrics. But this incipient piece was the perfect way to ease the crowd into a night of eclectic sounds that, no matter how different they were in theory, always blended euphoniously in practice.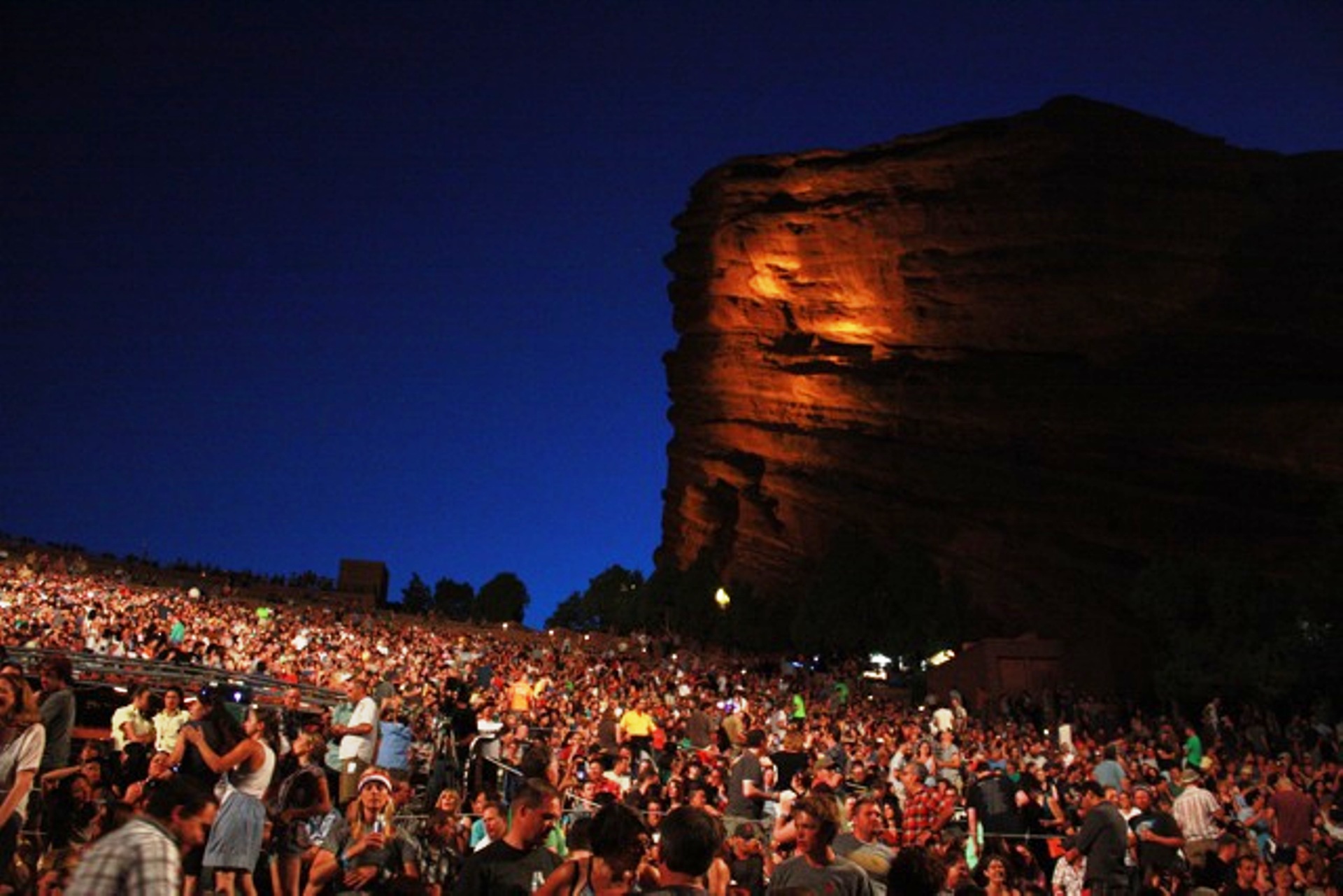 After the acoustic-driven One Sunday Morning, Wilco segued to my favorite song off of Yankee Hotel Foxtrot, the dyspeptic Poor Places. This polytonal song utilizes a brilliant mix of effects in the studio, but the live incarnation is no less bereft of beauty. At least half of Red Rocks sang with Tweedy: "And it makes no difference to me / how the cried all over overseas / when it's hot in the poor places tonight / I'm not going outside," and loudly cheered when the flanger-effect whoosh engaged, marking both the climax and dénouement of the song. There would be no robotic female voice signaling "Yankee, Hotel, Foxtrot," at the end, yet something even better in its stead…
But before I get to that, it is important at this point to pay homage to Sarah Moessner's visually stunning set design. Hundreds of white textile strands were knotted and balled at varying points, from top to bottom, and hung from three discrete portable crossbeams. The strands were illuminated with warm, saturating colors like vermillion, orange, and citron and, at other times, cool arrays of bice, purple, cerulean, and mauve. For some songs with a slower tempo, robust coloration gave way to a monochromatic candelabra look, where soft white bulbs illuminated just a fraction of the strands – think Christmas light white. Red Rocks is a well-established musical cathedral, but the set design and lighting arrangements made it feel like an actual place of worship to an aural divinity.

After Poor Places, Art of Almost set the table for the single set, multiple-encore evening. The cerebral part of this composition comes from its distinct symphonic structure; most modern songs do not articulate an intro, exposition, development, recapitulation, and coda. Art of Almost not only adopts this structure, but it also concomitantly works on a visceral level; on Friday, drummer Glenn Kotche attacked with syncopation in order to color and texturize the piece with sundry off-beats. Lest we forget the final member of this sensational sextet, Jeff Stirratt's bassline was almost baroque in nature and dovetailed gorgeously with Kotche's beats. I had a unique opportunity to take photographs in the Red Rocks pit during Art of Almost and was sucked into this madcandy vortex. I came out with a smile so wide, my jaw ached for the next six or seven songs.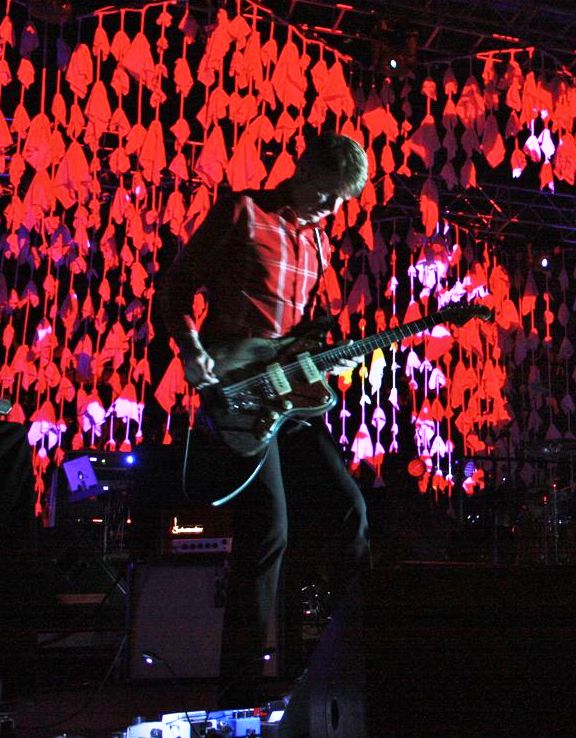 The hour and a half set was punctuated by other Wilco feats of power, dexterity, and bravado as well as displays of meditation and musing. Early in the set, the crowd was treated to arguably the two finest pieces from Sky Blue Sky: Side With Seeds and Impossible Germany. Sansone left his Korg set-up to play guitar for Impossible Germany. The soloing and improvisation on this piece require the delicate balance of three axes and Sansone played his part with aplomb. However, I was initially perplexed about Cline's approach.
During the solo, he started to play too many notes, drowning out the other guitarists while paying little deference to the muted spaces in between notes that have an indispensable role in a balanced attack. In football, sometimes you'll hear a color commentator denounce running back X for running east and west instead of north and south - the idea being that X is dancing around instead of picking his hole and rushing downfield. At the beginning of Cline's solo, I felt he was running east and west. I was not impressed by the sheer quantity of notes he was playing because, without any space in between, they sounded busy and lacked direction. It didn't seem like he had a plan to go "downfield". However, Impossible Germany ended beautifully with Tweedy and Sansone trading solos over Cline's machinegun shredding, while strobe lights shot across the stage and audience.
I must emphasize that, on the whole, Cline proved over and over why he is considered one of Rolling Stone's Top 100 guitarists of all time, particularly on I'm The Man Who Loves You (oscillating pedal effects were superb), Dawned on Me (double neck!), and Hoodoo Voodoo (dance party rock and rip). And Cline's resplendent guitar work was integral to the aforementioned centerpiece of the entire show – Art of Almost.
Towards the middle of the set, Wilco sandwiched the eponymous song from their latest album in between two pieces that are as titularly self-explanatory as anything out there. The Red Rocks crowd unleashed a roar at the opening riff of Handshake Drugs and sang along with equal enthusiasm. But Tweedy reached his comical apex during the preface to I Must Be High: "I think we should've played this song first because of [sic] aromatic [smells at Red Rocks]. Who here is from Boulder? Raise your hand. Did you know it's easier to find pot in Boulder than Advil?" Tweedy then offered a short story about driving around Boulder earlier in the day trying to find a place that sells an anti-inflammatory while, in the process, passing a multitude of dispensaries.
The band rounded out the 17-song set with the Heavy Metal Drummer > I'm The Man Who Loves You couplet, followed by Dawned on Me and A Shot in the Arm. Cline took over for the set closer with a thundering sustain on his Fender. He then followed it with machinegun shredding that was overlaid by Jorgenson and Sansone pounding away on their Nord synths and Korg workstation, respectively. A breathtaking and apropos knockout punch to close out the set.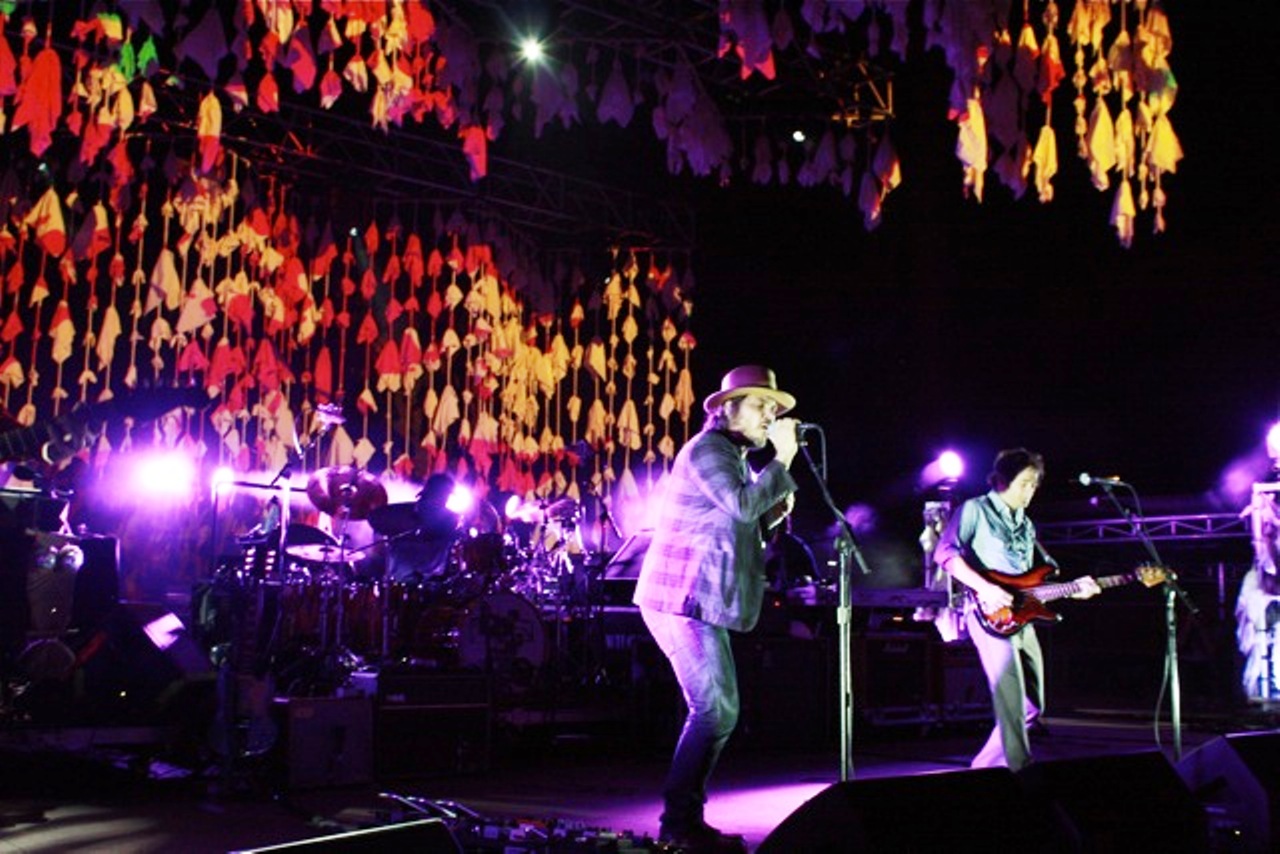 The first encore featured three songs, including Via Chicago. For those not familiar with this tune, it is a serene piece until, a few minutes in, a warzone breaks out. It was an eerie juxtaposition to hear the mimicked sound of fireworks popping and gunfire strafing while Tweedy maintained a mellow sang-froid in his voice and demeanor. The Punch Brothers, who opened for Wilco, came out to close the first encore with fan favorite California Stars. Unfortunately, their acoustic instruments were almost entirely drowned out by Wilco's gear. Nonetheless, the group effort was appreciated and well-received.
While a small contingent of fans began to head for the exits after the first encore, those who stayed were treated to a phenomenal couplet to close out the night. After Theologians and Monday, Wilco went all-out rock 'n' roll. Outtasite (Outta Mind) ensured that nobody remaining at Red Rocks was sitting down. At one point during the piece, I swear that Kotche looked just like Keith Moon frenetically pounding away at his kit. After that dance party, the band closed with Hoodoo Voodoo, featuring one of Wilco's instrument techs, Josh, on the cowbell. I'm sure most of you have seen the famous Will Ferrell/Christopher Walken SNL skit. Well, a shirtless Josh did his best Will Ferrell impression, running all over the stage while hammering on his singular instrument. It was a fitting end to a night filled with devilishly fun pop, kinetically-driven rock, acoustic-oriented ballads, and, just for good measure, a healthy dose of humor.