Beer, Bluegrass, Mountains: The WinterWonderGrass-Tahoe festival's first venture in three years – thanks, COVID — succeeded with flying colors, April 1 to 3. The fest location, adjacent to Olympic Village, which was the site of the 1960 Winter Olympics, was the first festival of the year for many, and brought a distinctive assemblage of mountaintop adventure-seekers for a sweet conglomeration of jam-happy roots and bluegrass music, pleasing craft brews, and mountain views.
Highlighted by spirited headlining performances from Billy Strings (two sets on Friday), The Infamous Stringdusters (Saturday), and The California Honeydrops (Sunday), with many guest sit-ins along the way, the fest's three smaller and heated tent stages provided plenty of their own vibrance and vitality. During the two years in this new "COVID-era reality," many WWG performers have spent time off the road and in the studio, carving out new introspective and compelling pieces of music. And they brought many of them to bear on the live stage at WWG.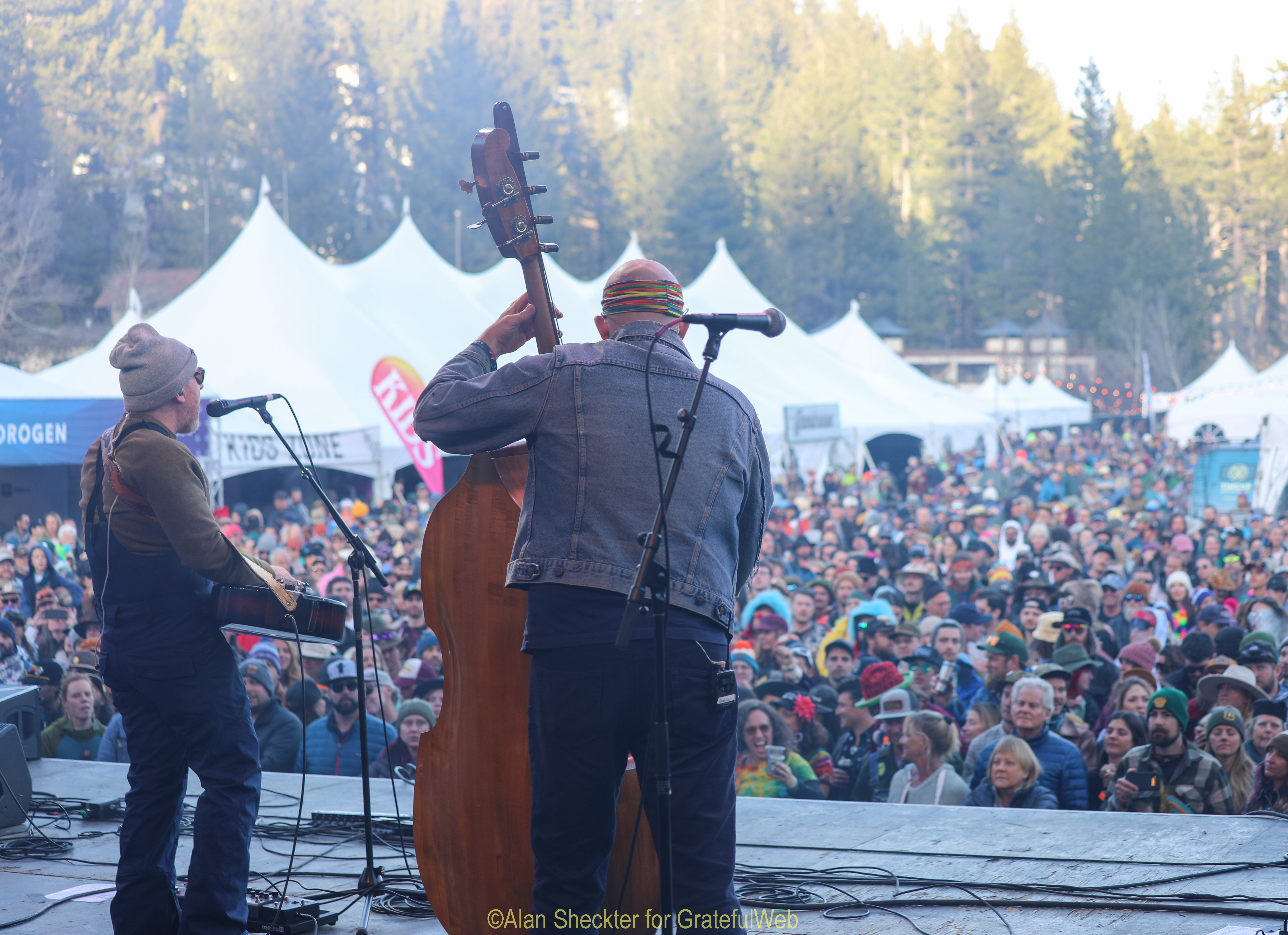 While the dry winter left a less-than-normal amount of snow clinging to the surrounding mountaintops, the unseasonably warm weather at 6,200 feet allowed many festivalgoers to romp around in shirt-sleeves and open shoes, at least by day. At night, the chill came quickly, but Lake Tahoe folks are hardy, resilient, and were appropriately clothing-layered.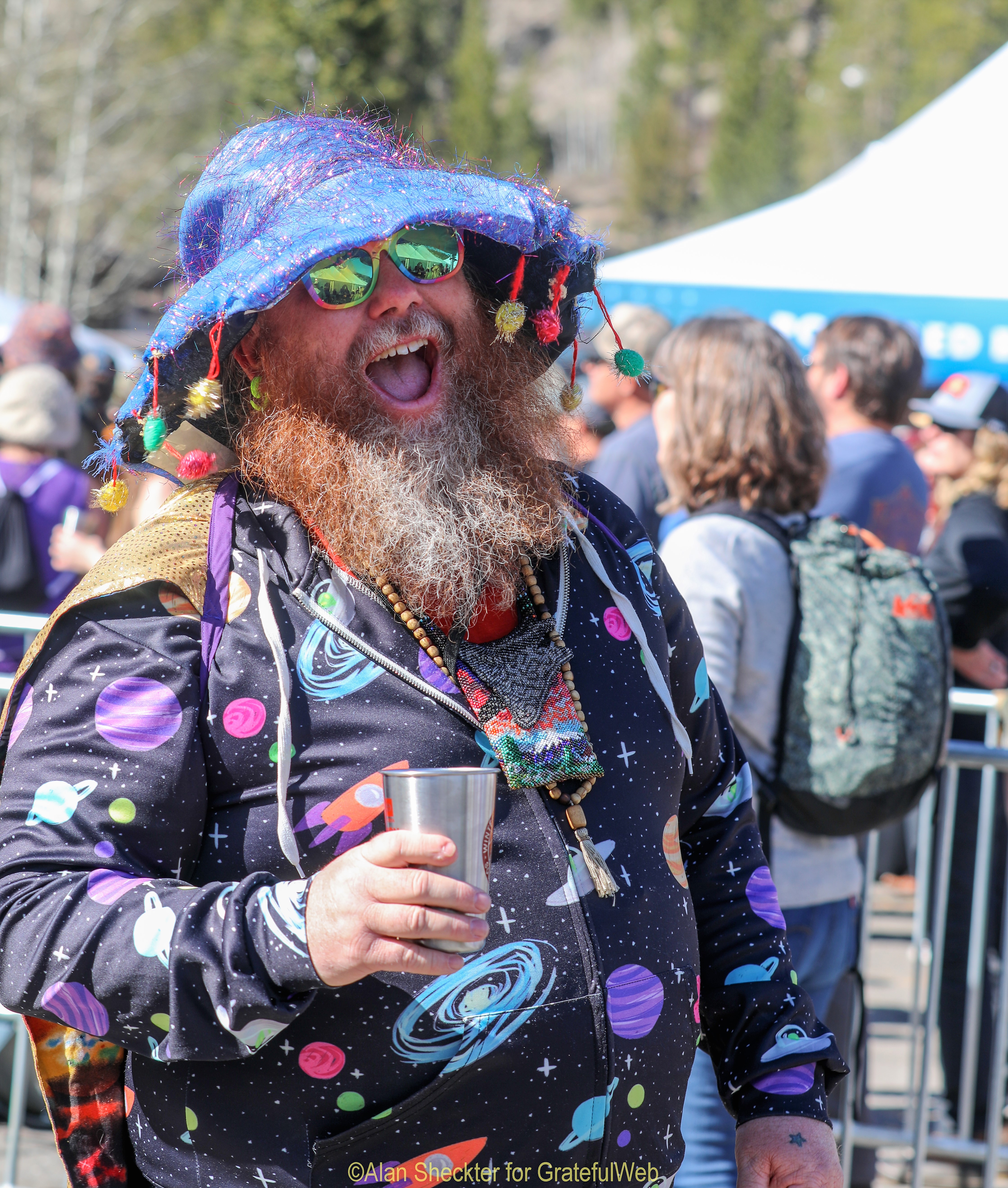 The performance-scheduling format for WWG-Tahoe's four stages was clever and unique. While a 70-95-minute main stage performance was underway, the other stages were quiet. As a main-stage set came to a close, all three heated "tent" stages would spark up simultaneously for typically 40-minute sets.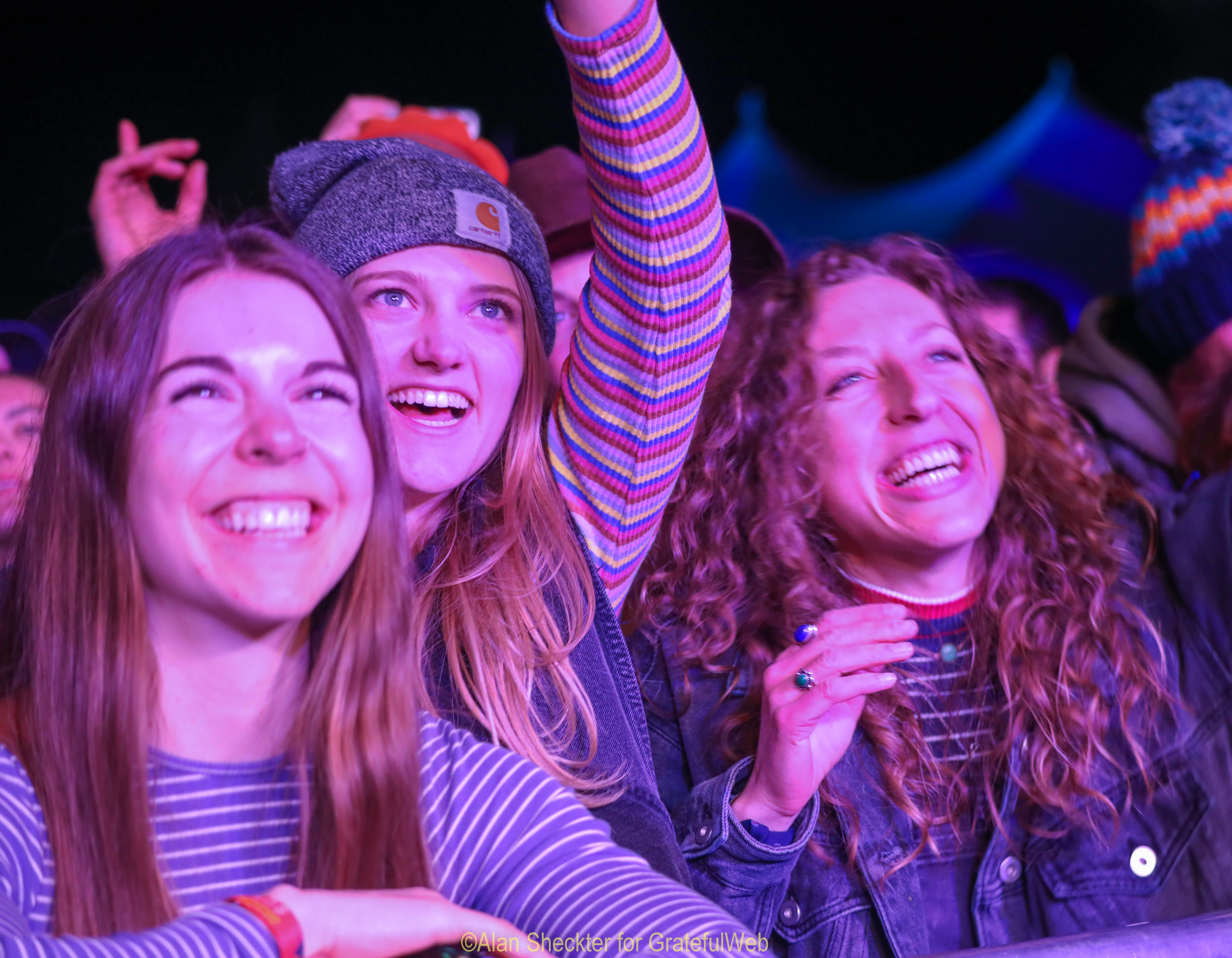 Another nice feature was that the tent-stage performers would play two or three sets, so that if you wanted to see, in the case of Friday night, Brothers Comatose and Midnight North, who were both playing at the same times, you could catch one's early set and one's later set – or of course bounce between tents and catch parts of both.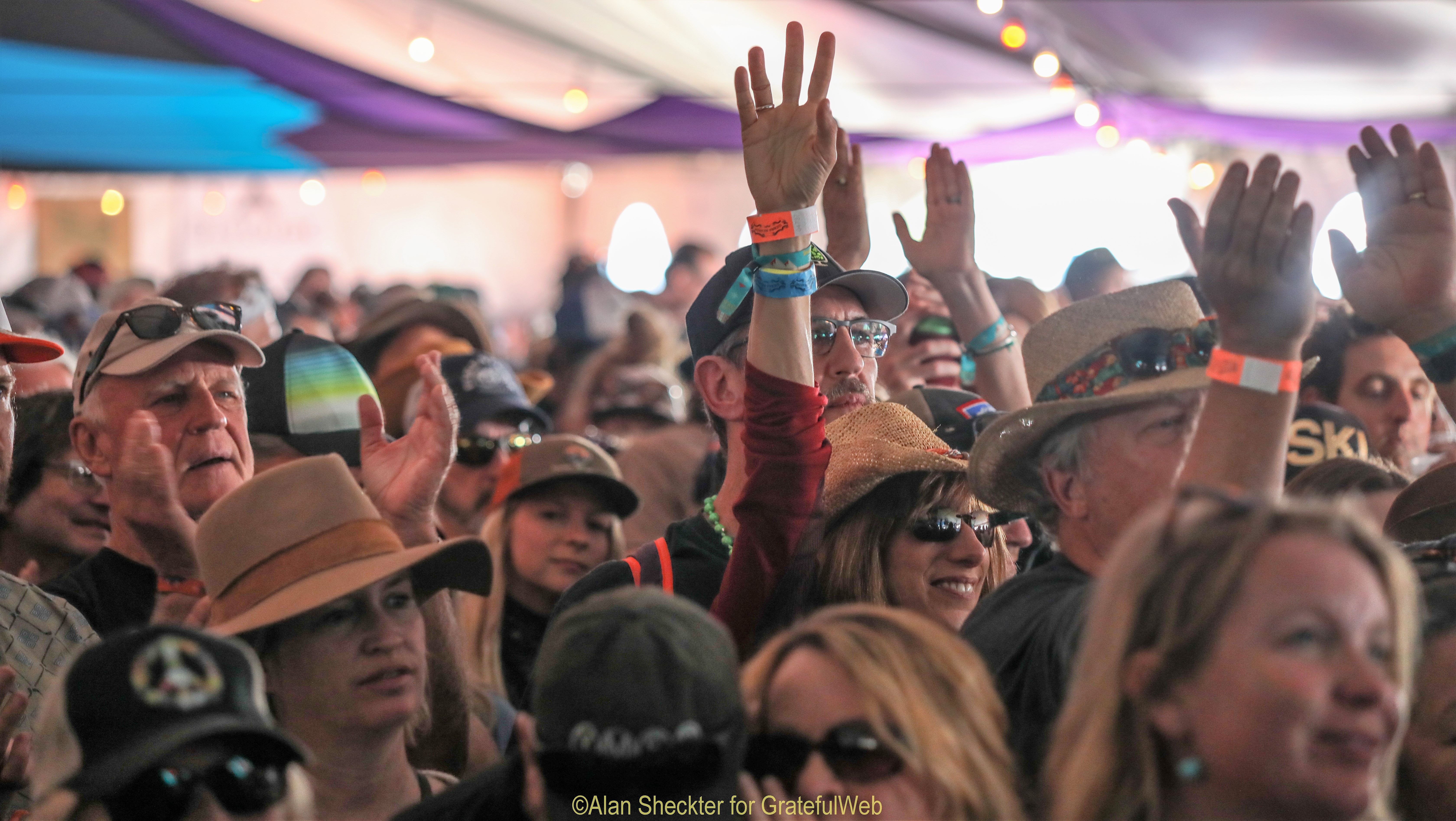 The fest had many onsite provisions including a generous number of gourmet food vendors; beer, cocktails, and coffee; adequate water and first-aid areas; a kids-activities zone, and a monstrous merch tent. An added bonus here was that between 2 p.m. and 5 p.m. daily, attendees were privy to free craft-beer tastings from 18 local breweries. The VIP section, which featured many outdoor standing heaters, also had an additional heated tent in which meals were offered ad part of the VIP package. The festival energy continued with late-night shows, many featuring two acts, at The Village at Palisades, Tahoe City and Truckee. The non-smoking policy and signage were largely and thankfully respected, except for a clueless or defiant few.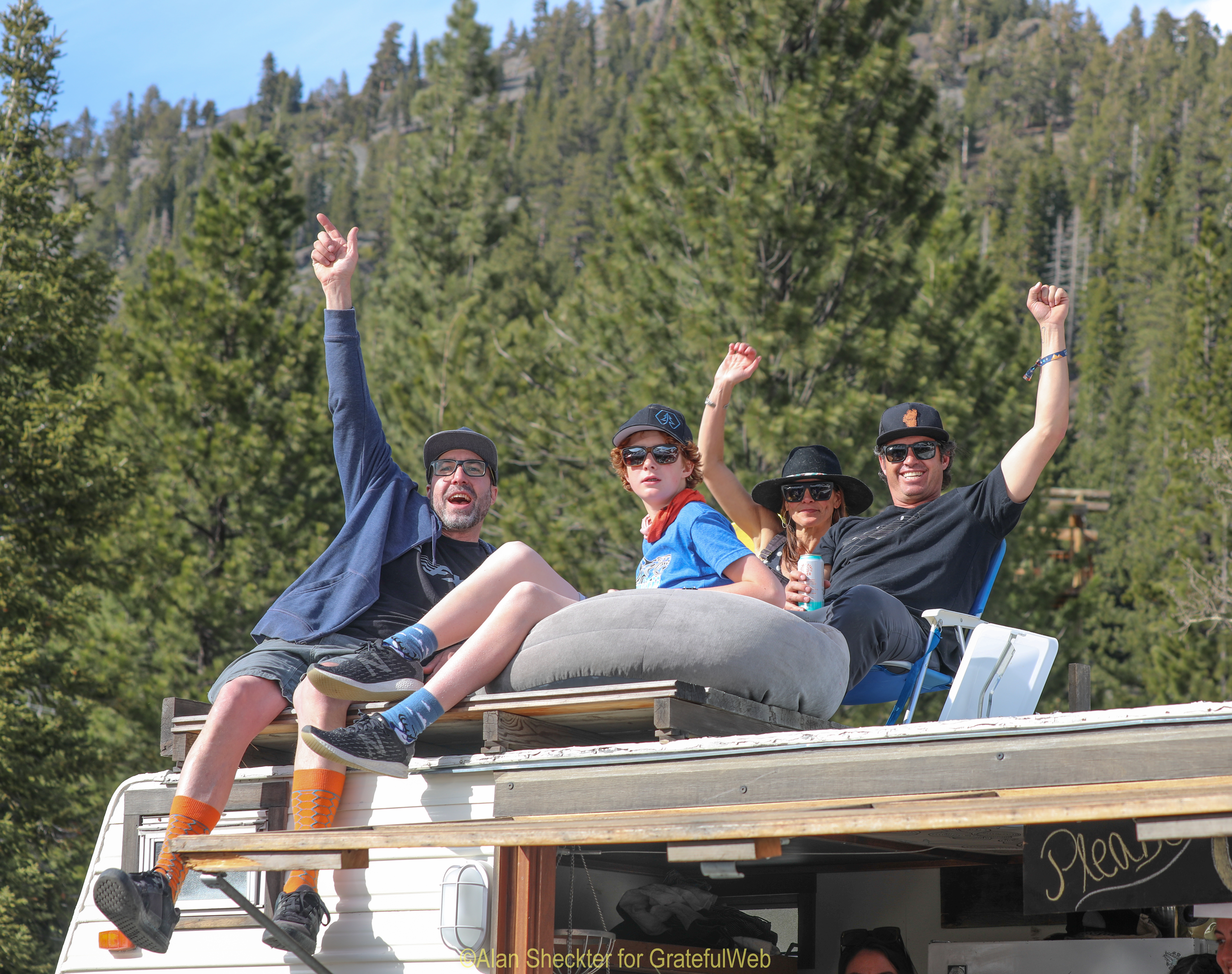 Friday Headliner / Billy Strings: Two days before a rooftop performance of "Hide & Seek" at the Grammy Awards in Las Vegas (he was nominated for Best Bluegrass Album for "Renewal"), guitarist/vocalist Strings reeled off almost two dozen pieces of music.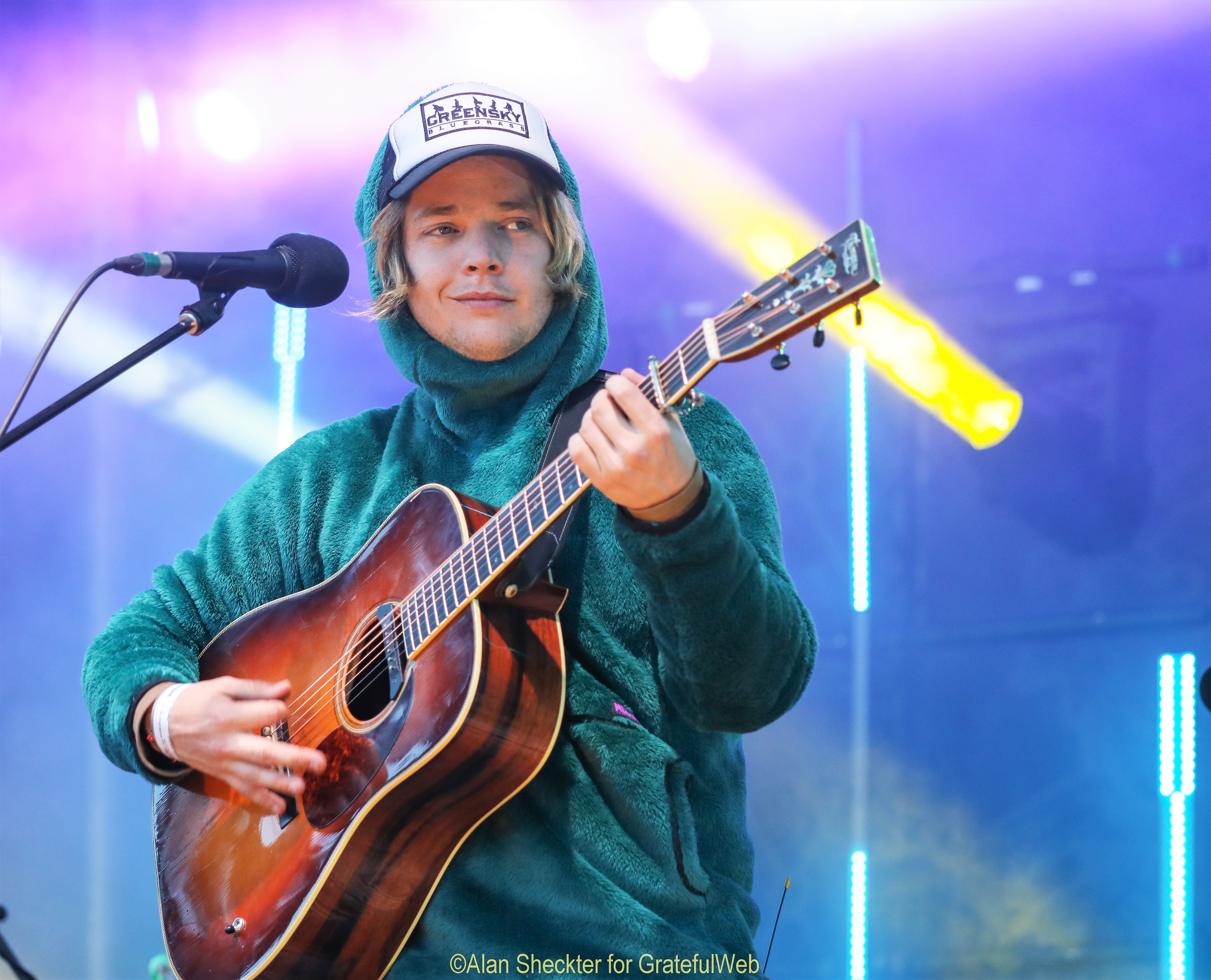 His two sets included more than a dozen eloquent covers from the past 90 years from a wide variety of artists. Such selections included David Grisman's "Ralph's Banjo Special," John Hartford's "All Fall Down," Doc Watson's "Way Downtown," and a particularly reverent version of George Gershwin's timeless "Summertime," with guest musician Michael Trotter Jr. from War and Treaty. Another guest, Lindsay Lou, who was unofficial fest MVP for her multiple sit-ins, guested on three tunes: Bill Monroe's "You Won't Be Satisfied That Way," Roy Acuff's "Streamline Cannonball," and "Nothing's Working" off "Renewal." From the new record, Strings' band (including Billy Failing on banjo, Jerrod Walker on mandolin, and Royal Masat on bass), also performed the aforementioned "Hide & Seek," "Fire Line," and the "Fire Line" reprise, which opened and closed the second set.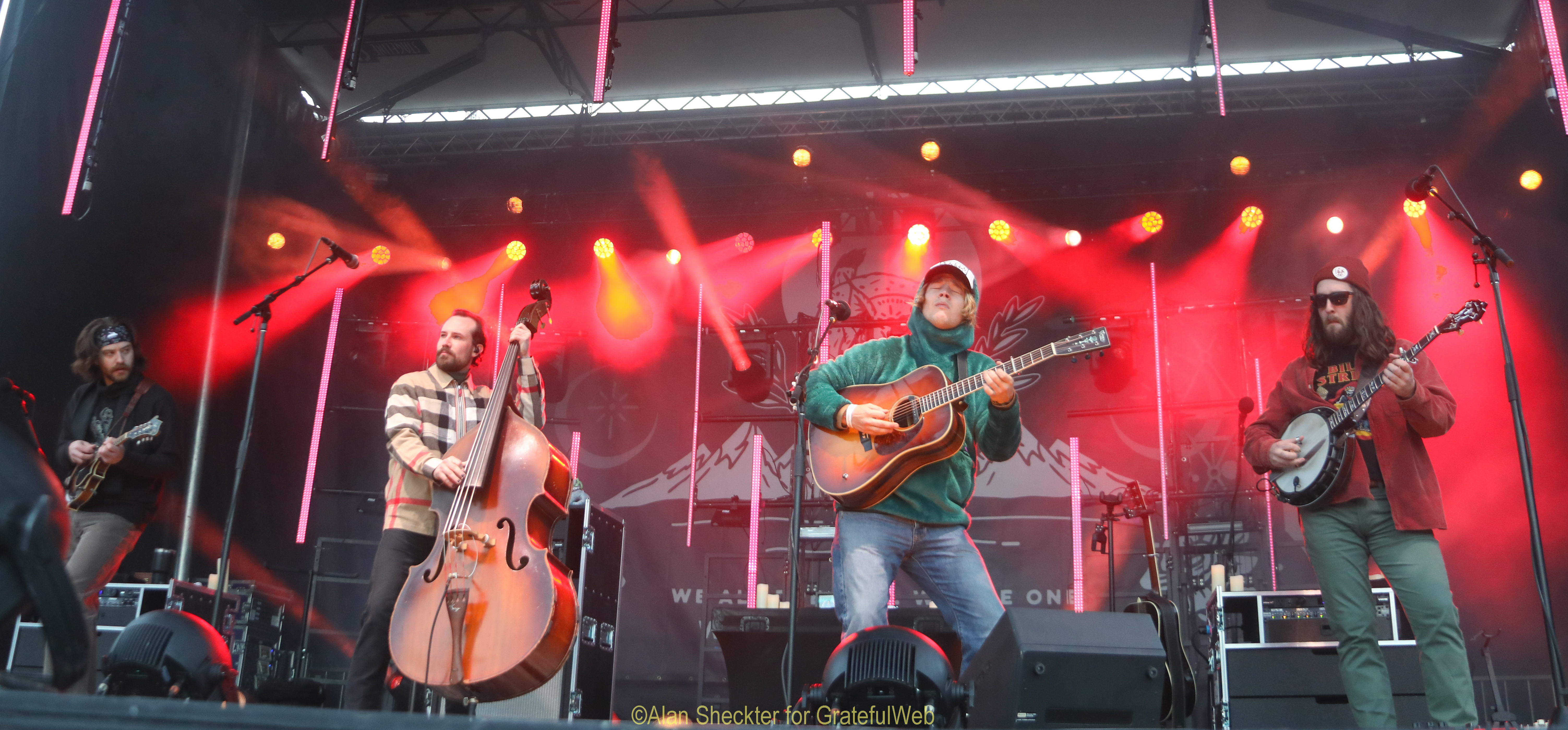 Saturday Headliner / The Infamous Stringdusters, one of the music scene's premier jamgrass bands, was Saturday's headliner. Andy Hall (Dobro), Chris Pandolfi (banjo), Travis Book (bass), Andy Falco (guitar), and Jeremy Garrett (fiddle) let loose with a searing set that at times spotlighted their new album, "Toward the Fray," from which they performed five tracks.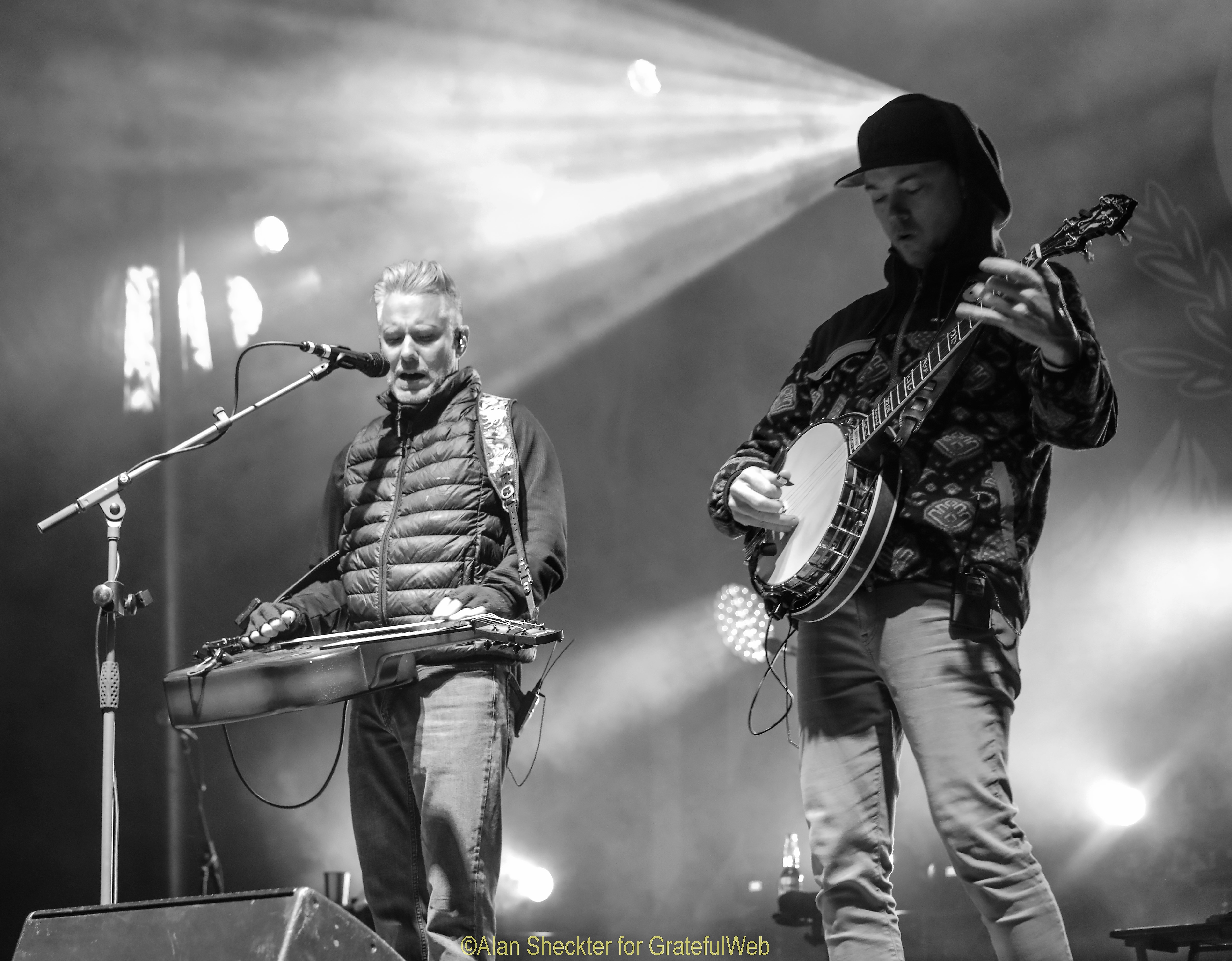 After an opening teaser of the Grateful Dead's "Shakedown Street" that segued into "Rise Sun," the set included Bill Monroe's "Toy Heart," (which appears on their recent Best Bluegrass Album Grammy-nominated "A Tribute to Bill Monroe" project), "Get it While You Can," "Gravity," the Allman Brothers Band's "Jessica," and Phish's "Possum," as well as a full version of "Shakedown Street," set-ender "Means to an End, and an encore of "Not Fade Away."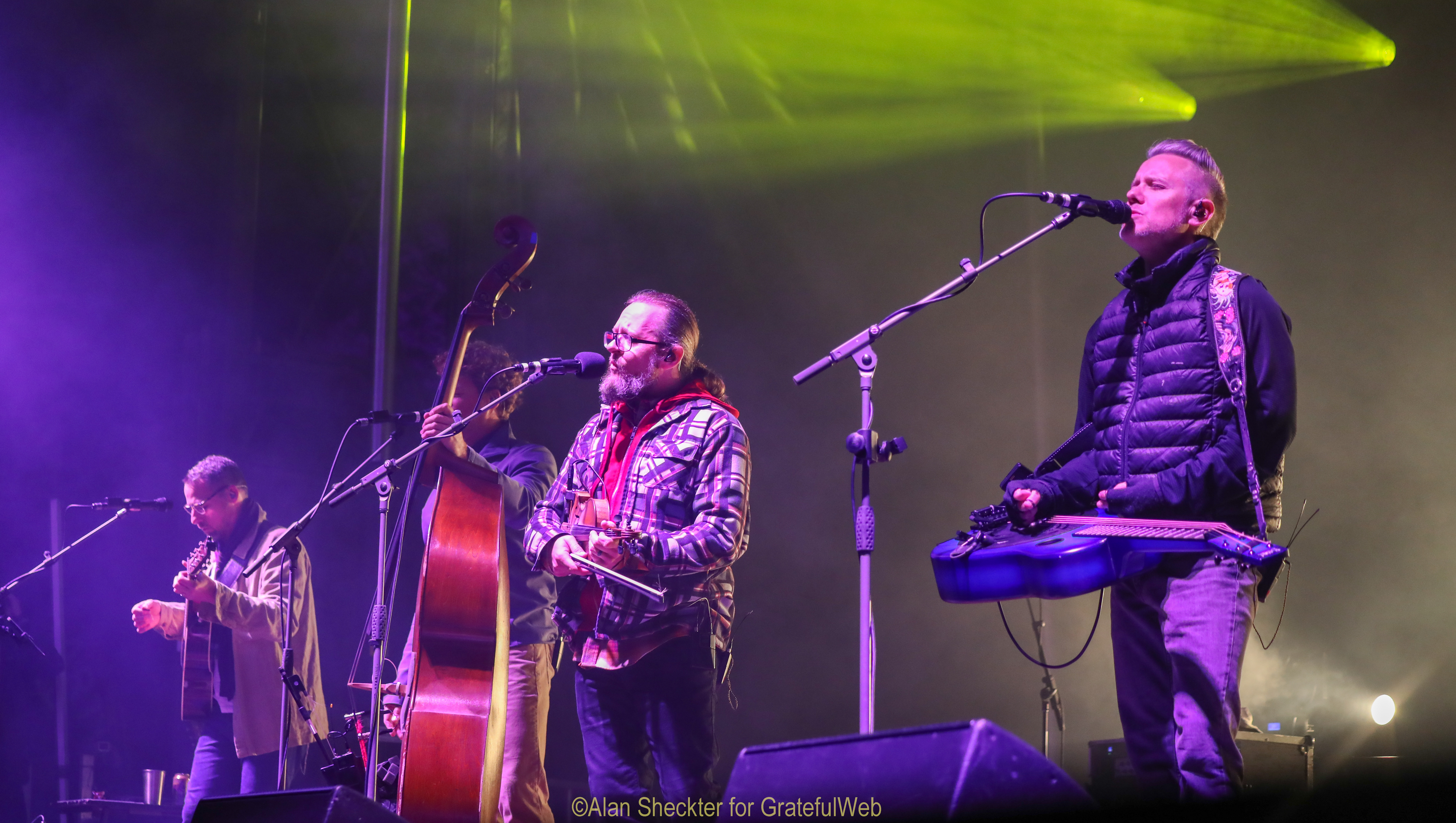 Sunday Headliner / The California Honeydrops: Always a catalyst for a symphonious horn-driven party, The California Honeydrops closed out the main stage festivities on Sunday with their self-described mix of "Street Corner Soul, Roots, Delta Blues, and Bay Area R&B." The six-piece, led by front man Lech Wierzynski (lead vocals/trumpet/guitar), also included band co-founder Ben Malament (drums/percussion), Jonny Bones (saxophone), Lorenzo Loera (keyboards), Beau Bradbury (bass), and Leon Cotter (saxophone).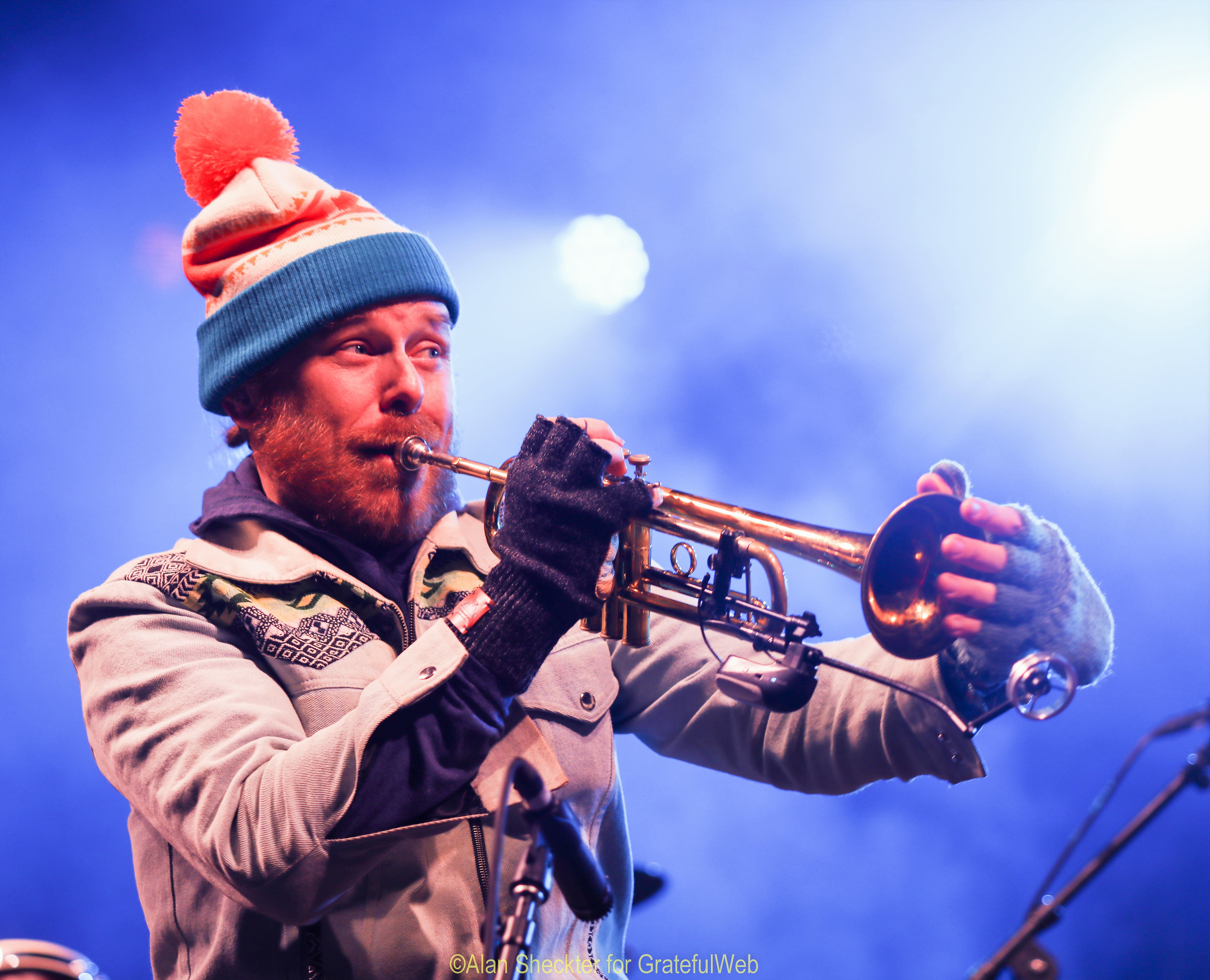 Song selections included "Every Once in a While," "When it was Wrong," "Same Ol' Same Ol'," Ray Charles' "Come Back Baby," Champion Jack Dupree's "Junker's Blues," and Albertina Walker's "Lord Keep Me Day by Day." And joining in on the fun were a bevy of guests including Lindsay Lou, Mimi Naja, AJ Lee, Erin Chapin, James Coffis, and Tarah Deva.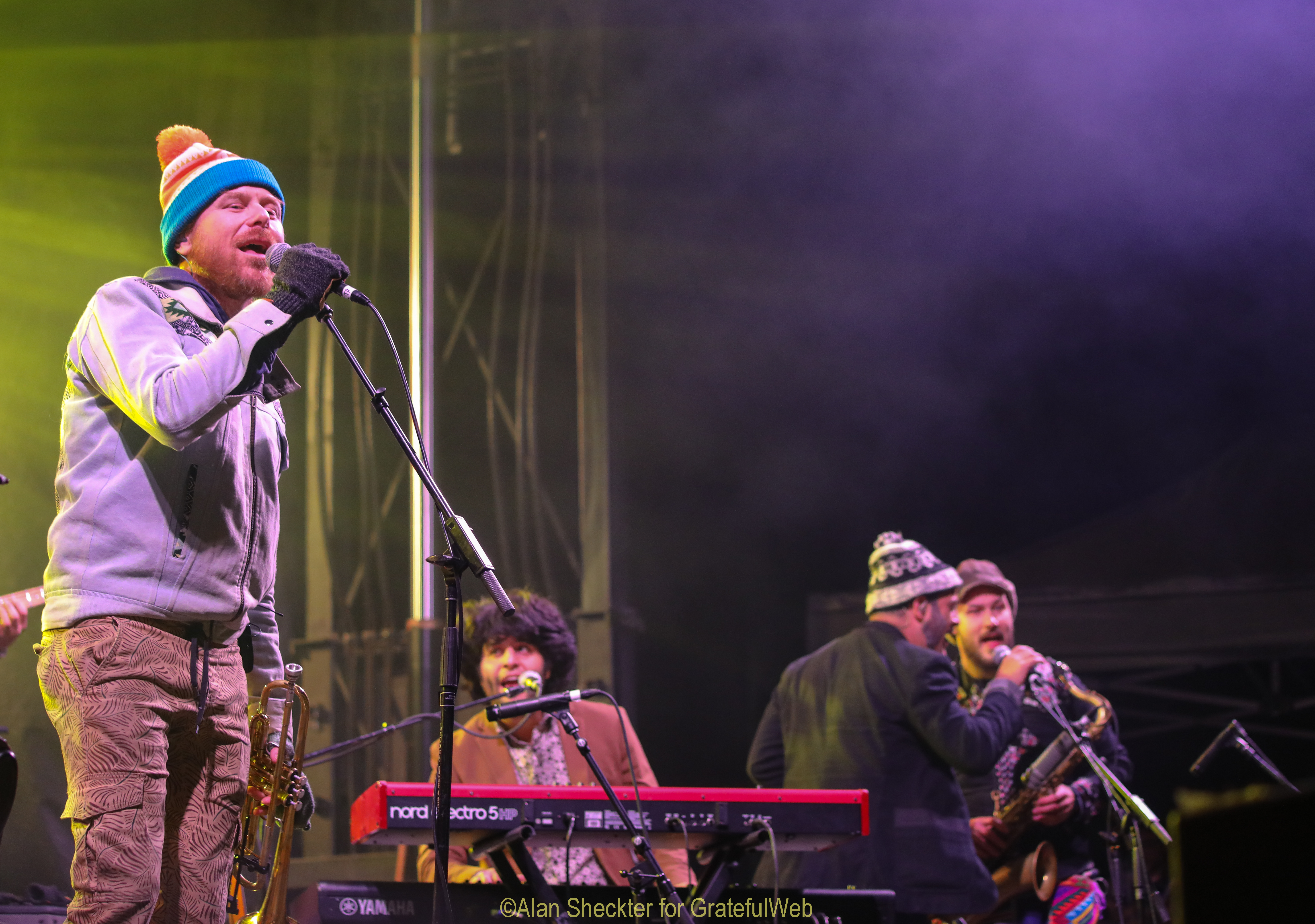 Also on Friday: On Friday, prior to Billy Strings performance, The War and Treaty, heretofore unknown to many in attendance, turned a lot of heads. Fronted by now-Nashville-based husband-and-wife soul duo Michael Trotter Jr. and Tanya Blount, the classy, revival-like performance fit precisely to Rounder Records' description: "a bluesy but joyful fusion of Southern soul, gospel, country, and rock-n-roll."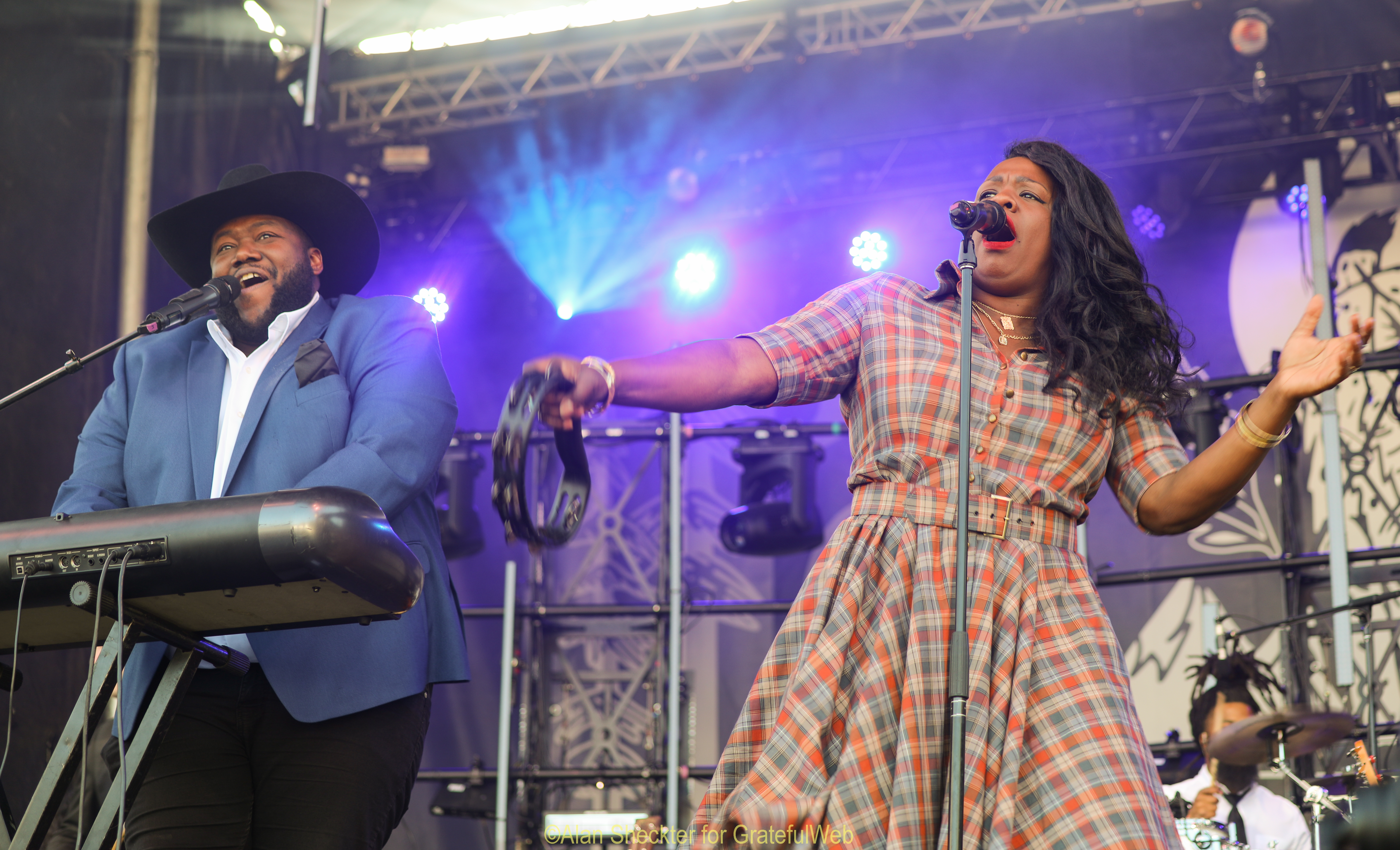 Keller & The Keels, featuring nimble-fingered Keller Williams on acoustic guitar and vocals along with Jenny and Larry Keel, preceded The War and Treaty, opening the main stage proceedings on Friday with an entertaining set of bluegrass porch songs that included a neat sequence of Beck's "Loser," followed by Jerry Garcia's "Loser," into Garcia's "Deal."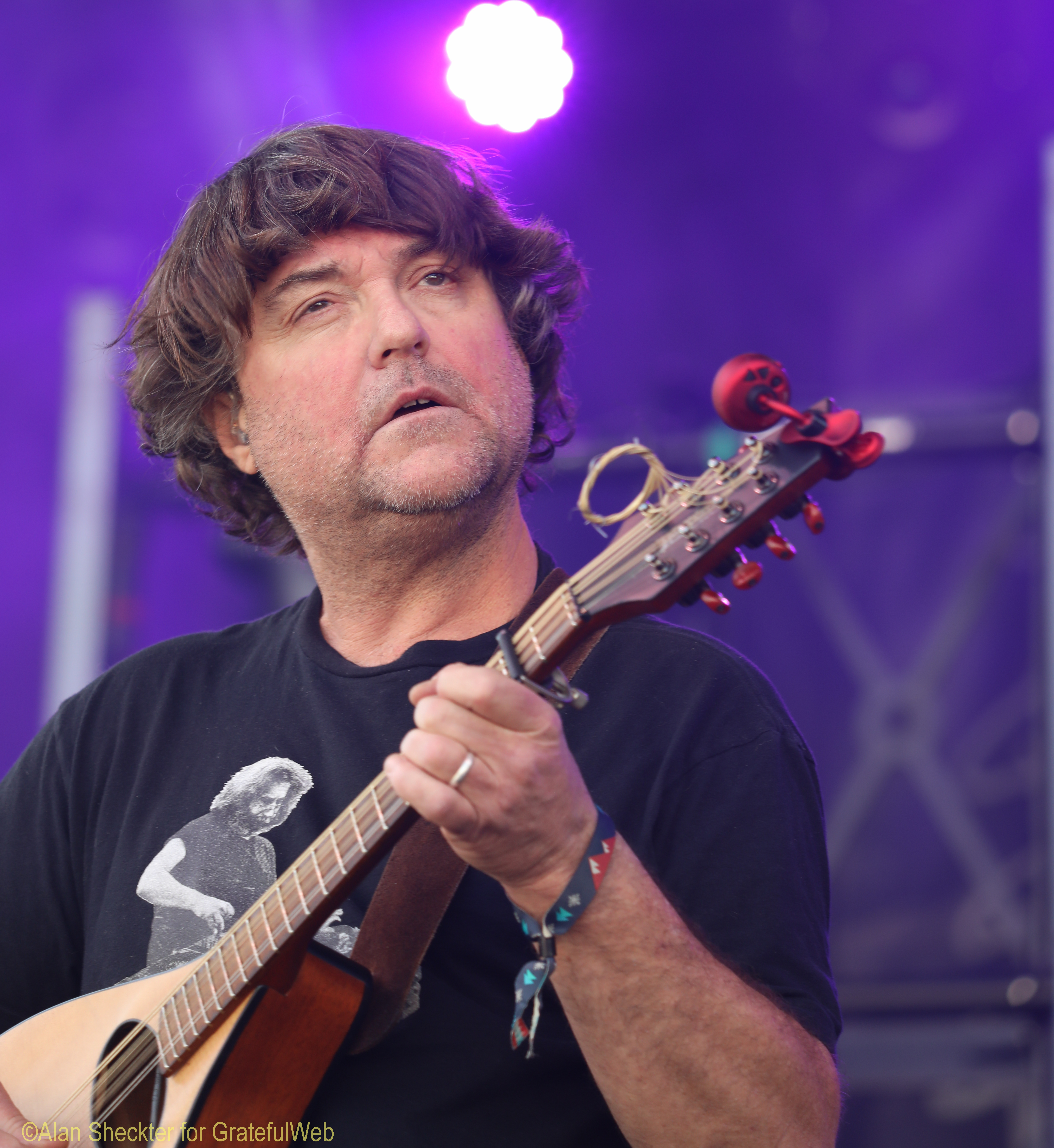 Friday's merriments also included two Jamboree-stage sets by The Brothers Comatose who seemed to inspire a much-asked question – "Why weren't they on the main stage?" The string band consists of brothers Ben Morrison on guitar and vocals, and Alex Morrison on banjo and vocals, along with Phil Brezina on violin, Steve Height on stand-up bass, and Greg Fleischut on mandolin. They performed their final set of the night in metallic-spacesuit-like garb. Their printed setlists included "Hole in My Pocket," "Brothers," "Pie for Breakfast," "Valerie," "Ballad of Tommy Decker," and "Trippin' on Down."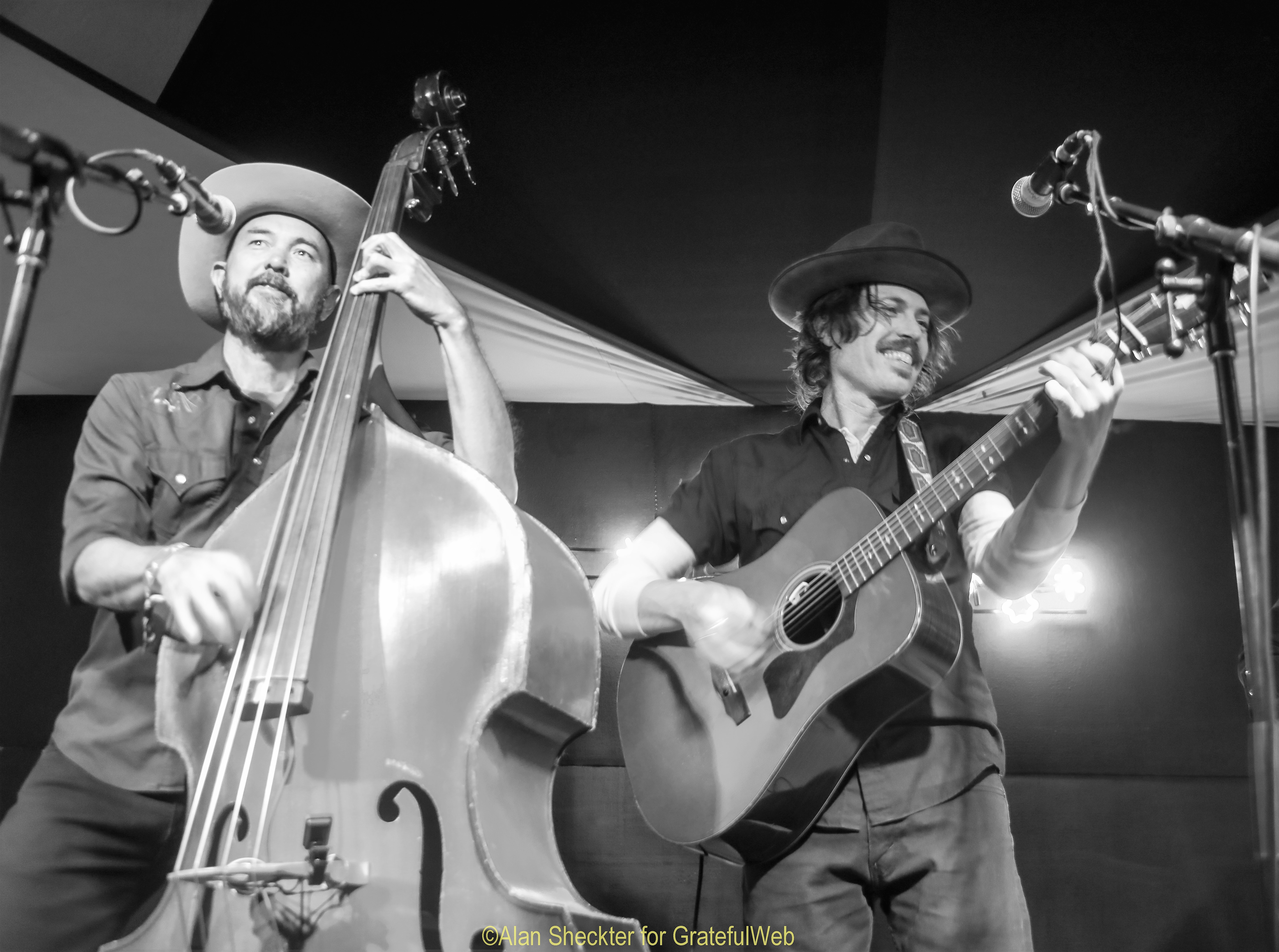 Meanwhile, on the Soapbox Stage, Midnight North brought performances of spirited finely crafted songs and jamming. The band, featuring core members Elliott Peck (guitar/vocals) Grahame Lesh (lead guitar/vocals), and Connor O'Sullivan (bass), along with Nathan Graham (drums) and T.L. Kanczuzewski (keyboards).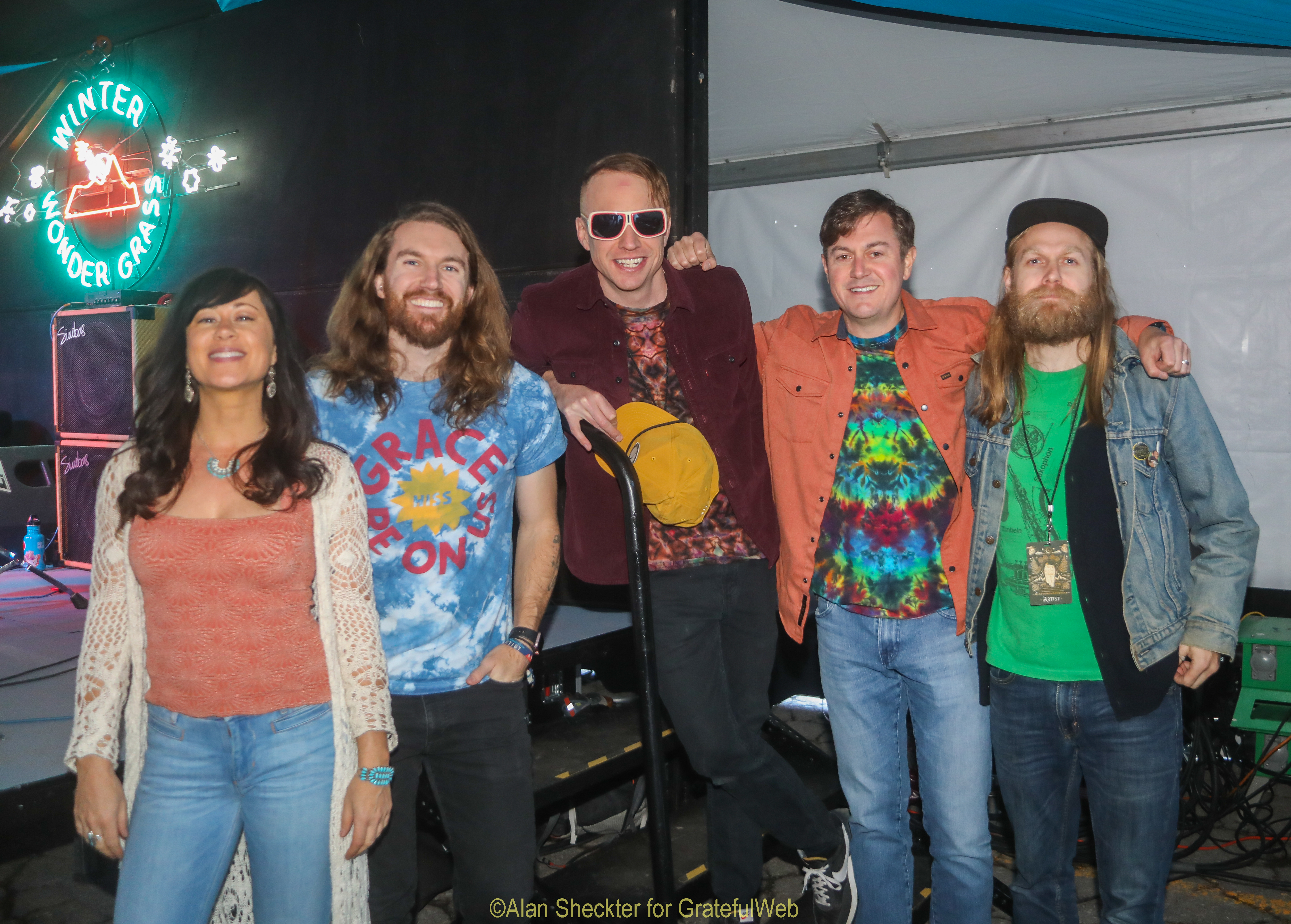 The Pickin' Perch stage on Friday night featured the talented and joyous sounds of Pixie and the Partygrass Boys, led by vocalist Katia Racine.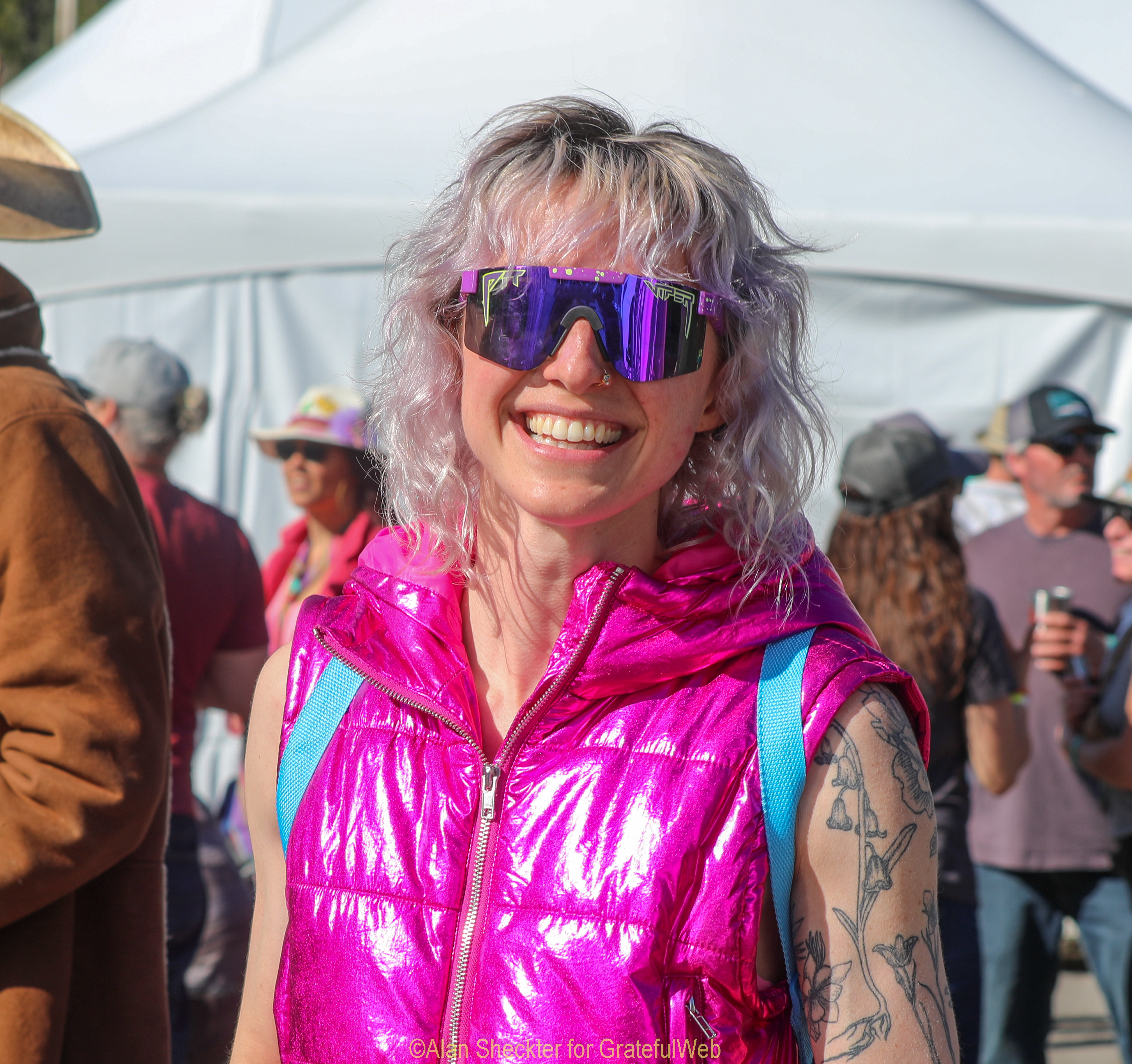 Also on Saturday: On Saturday, prior to The Infamous Stringdusters' headline set, the animated stage presence of Fruition, which always scores high marks, served up an energetic performance. The Portland, Oregon-based quintet included Jay Cobb Anderson (lead guitar/vocals), Mimi Naja (mandolin/guitar/vocals), Kellen Asebroek (Keyboards/rhythm guitar/vocals), Jeff Leonard (bass), and Tyler Thompson (drums/banjo).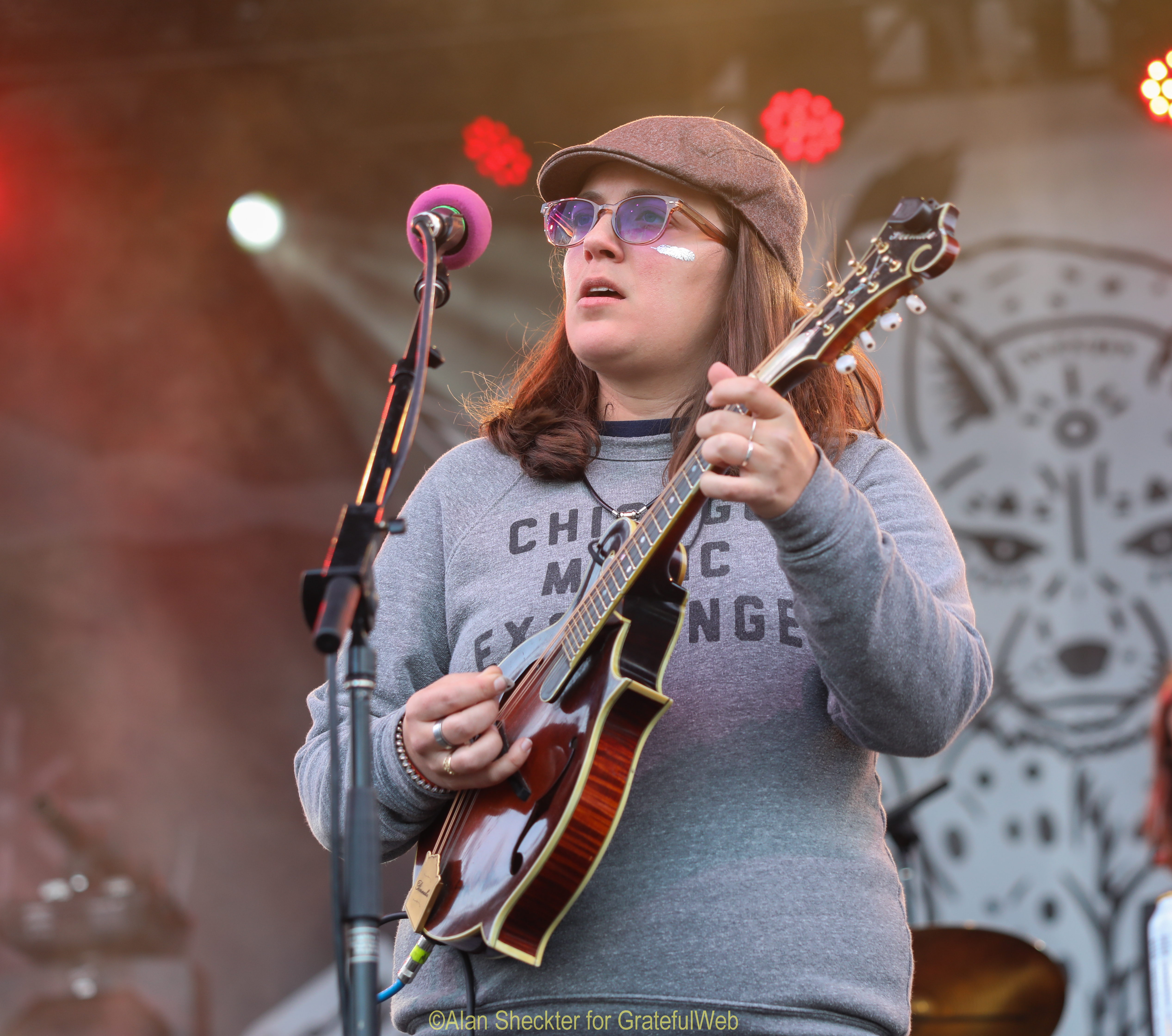 Special guests along the way included The Infamous Stringdusters' Chris Pandolfi on banjo and Trout Steak Revival's Bevin Foley on fiddle. Fruition concluded their set with a crowd-pleasing version of Crosby Stills, and Nash's timeless "Suite: Judy Blue Eyes."

The Kitchen Dwellers, Bozeman, Montana's finest, also performed on the main stage on Saturday, with Shawn Swain (Mandolin), Torrin Daniels (banjo), Joe Funk (upright bass), and Max Davies (acoustic guitar) delivering the bluegrass/folk/rock goods. They also closed out the fest itself with a Sunday late-night set in which they were joined by members of the Lil Smokies, Cris Jacobs, and Lindsay Lou.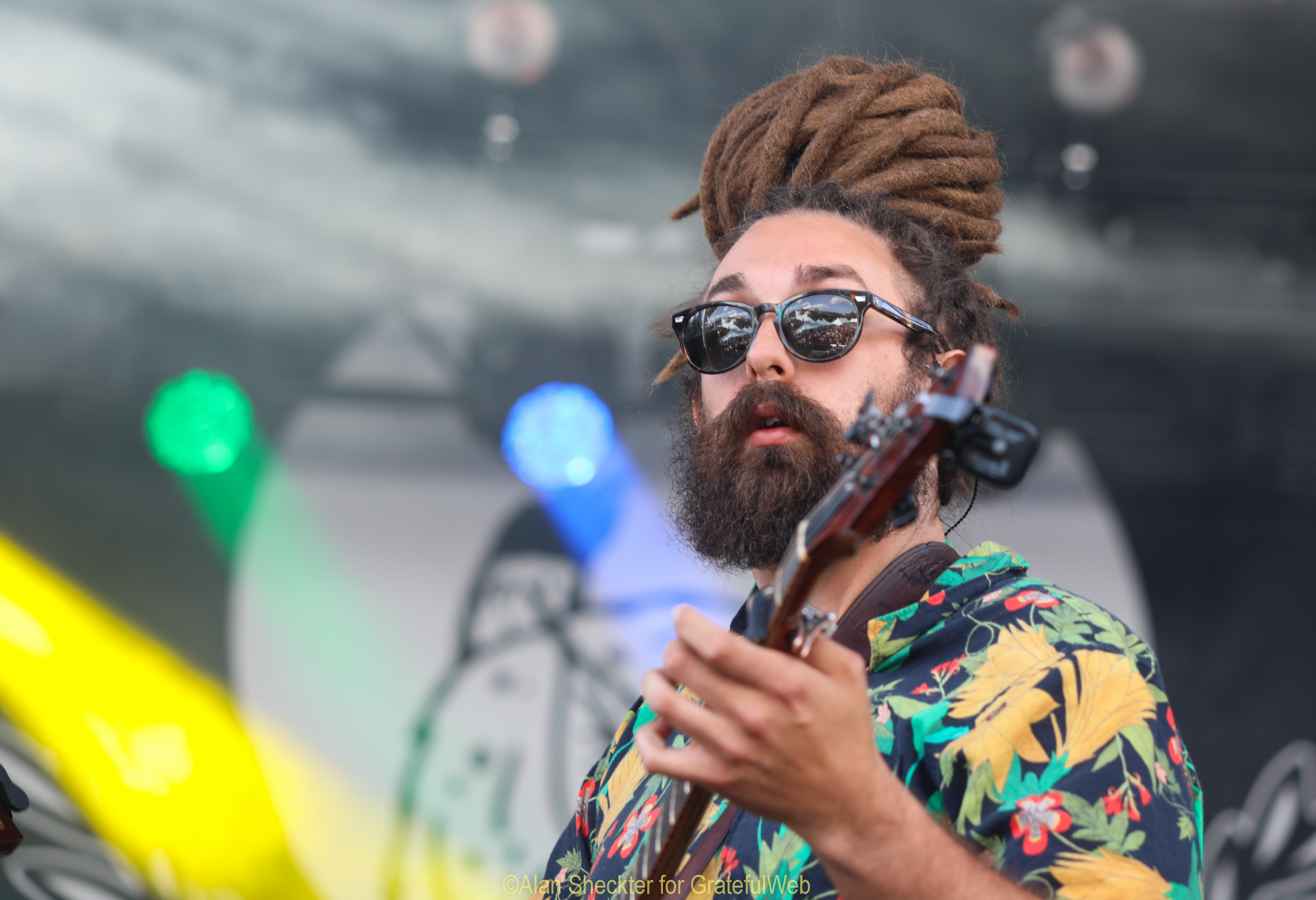 Outfitted in the coolest garb of the weekend, Lindsay Lou, a real coal miner's daughter, opened the main stage activities on Saturday with a sweet 'n twangy set of tunes. Her band of five included Mimi Naja (Fruition) on mandolin, and Tyler Grant (Grant Farm) on lead guitar.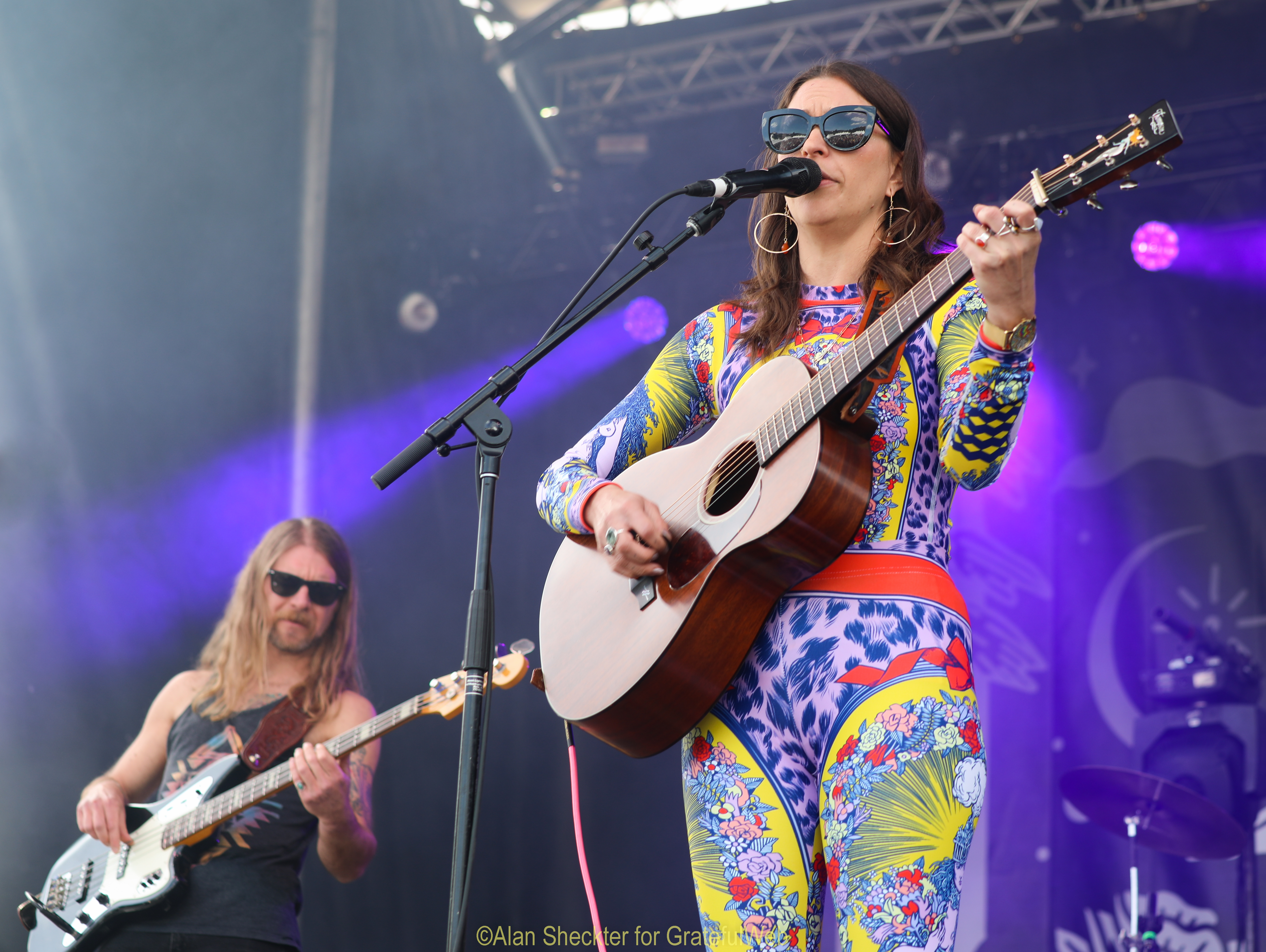 As an old friend once recommended for festival settings, some of the best moments can be found while, when everyone turns right, you go left. Such was the case on Saturday, when the WWWonderWomen, featuring a full-female stage presence performed on the Pickin' Perch stage. Here, WWW director Bridget Law (from Elephant Revival) and musical director Megan Letts (from Mama Magnolia), orchestrated the performances. It was awesome to have an all-women performance in what are often very male-dominated festy lineups (note: WWG-Tahoe did buck this trend with several female performers).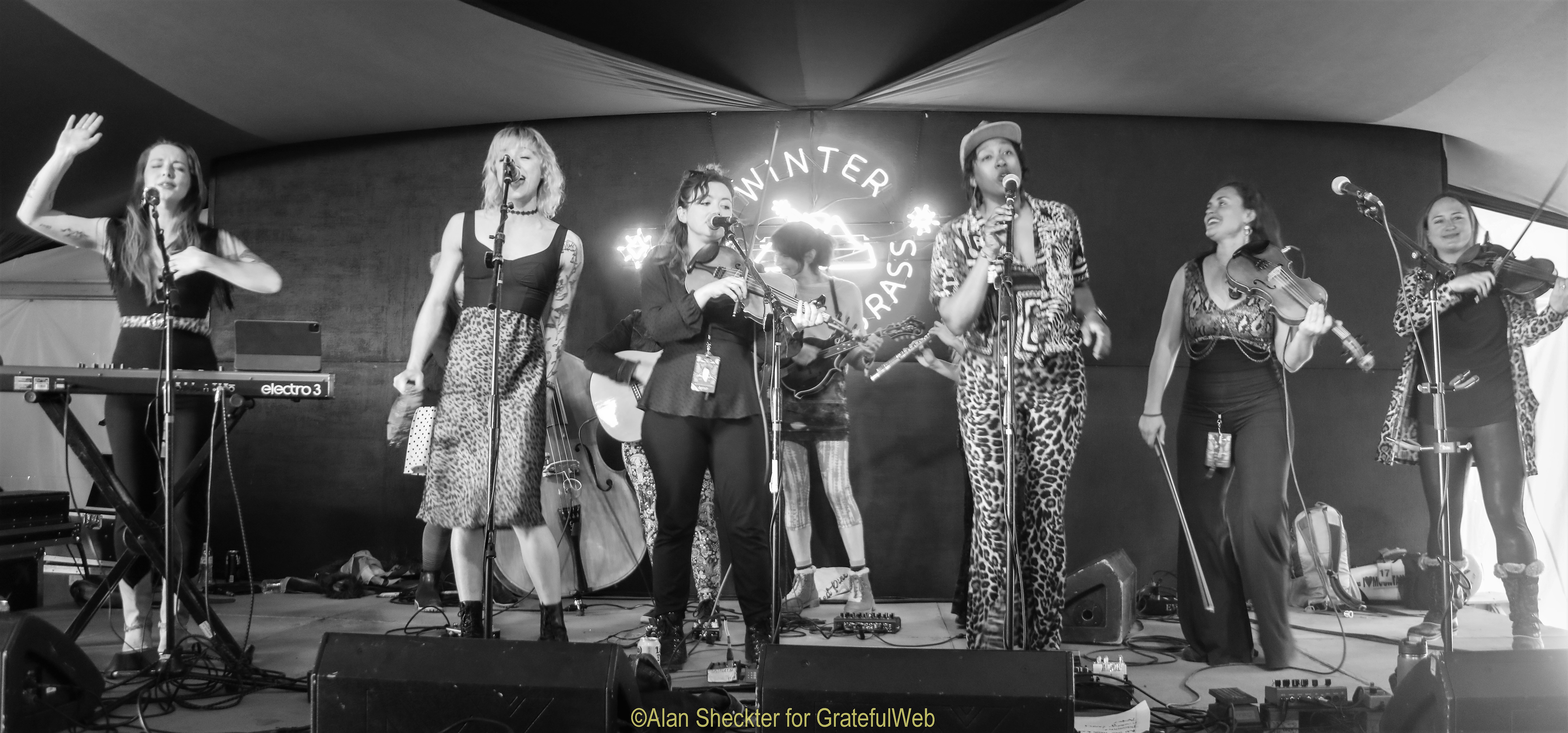 One WWWonderWomen set included this phenomenal collaborative: Letts on vocals and keyboard, Law on fiddle, Katia Racine from Pixie and the Partygrass Boys on vocals, Amanda Grapes from Pixie and the Partygrass Boys on fiddle, Bevan Foley from Trout Steak Revival on fiddle, Kimber Ludiker from Della Mae on fiddle, Vickie Vaughn from Della Mae on bass, Maddie Witler from Della Mae on mandolin, Avril Smith from Della Mae on guitar, Celia Woodsmith from Della Mae on vocals and guitar, Kathleen Parks from Twisted Pine on fiddle, Anh Phung from Twisted Pine on flute, and Nina Waters (WWG staff) on vocals. During their first set, Waters led a through-the-roof version of Aretha Franklin's "Respect" to end the set.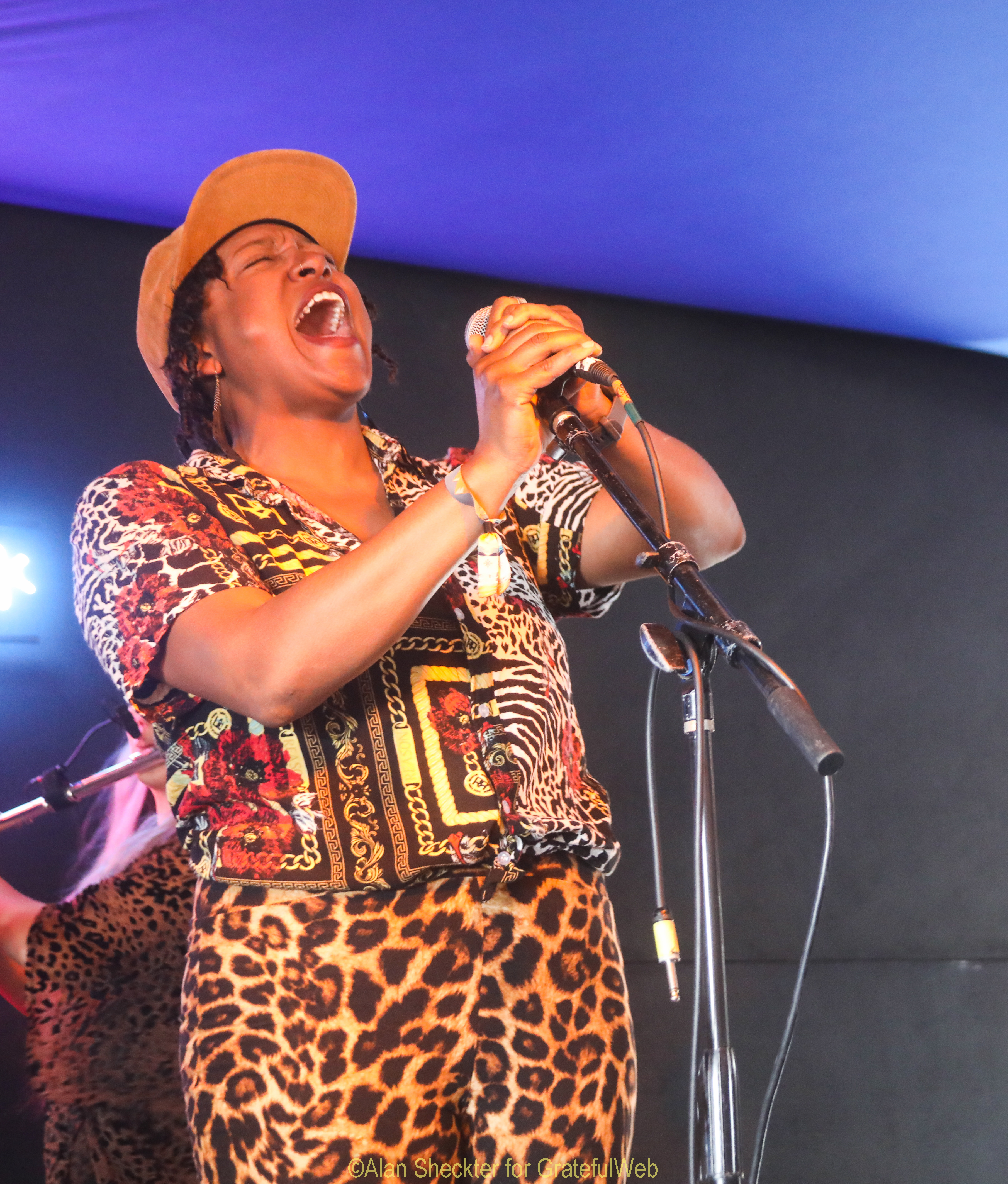 Later in the afternoon, the ensemble again featured Law, Letts and others, along with Lindsay Lou on vocals, Mimi Naja from Fruition on mandolin, and token male, Lorenzo Loera from The California Honeydrops on keyboards.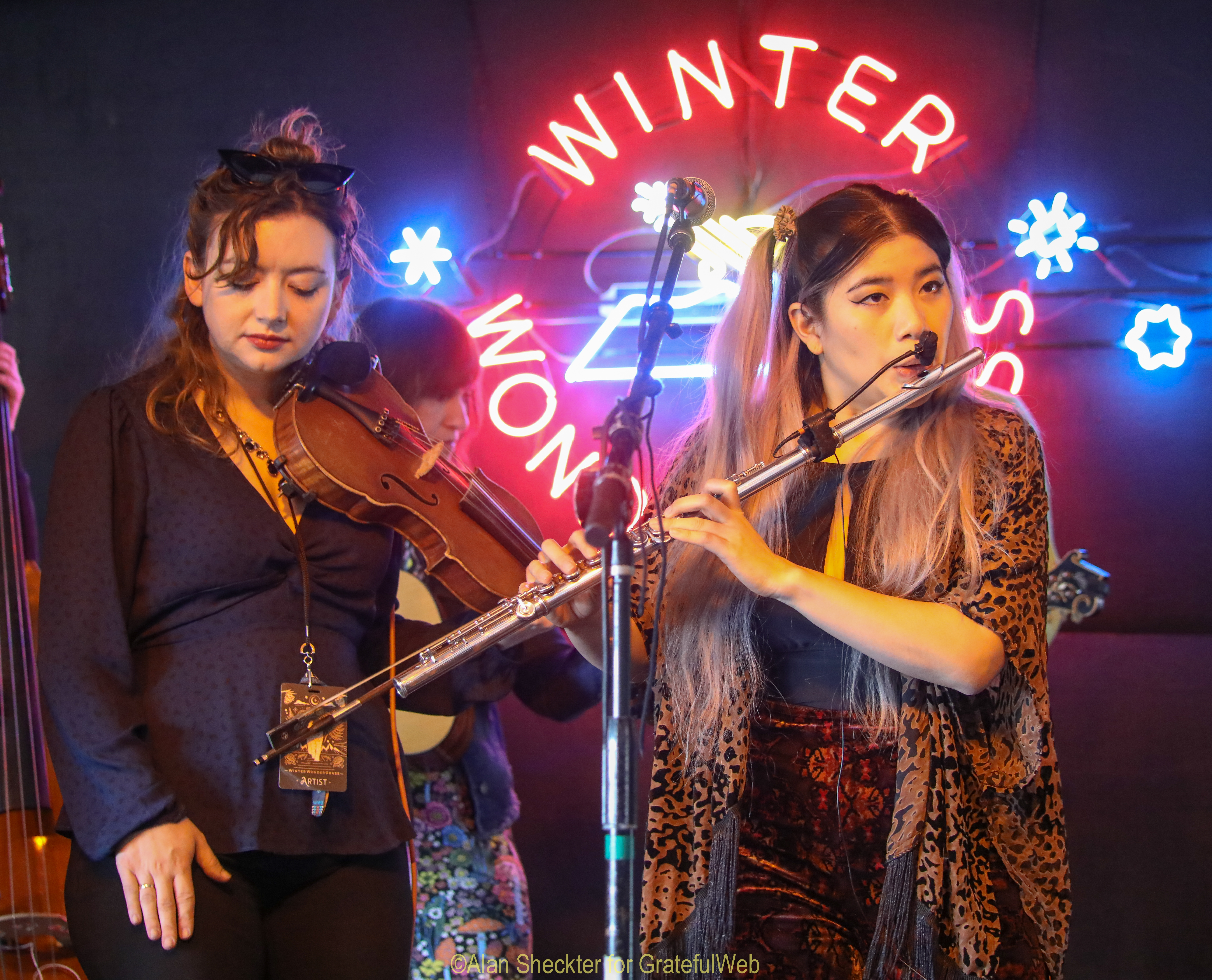 Asheville, North Carolina's, Town Mountain, led by founding members Robert Greer (guitar/vocals) and Jesse Langlais (banjo), delivered a couple of compelling sets on the Jamboree stage on Saturday.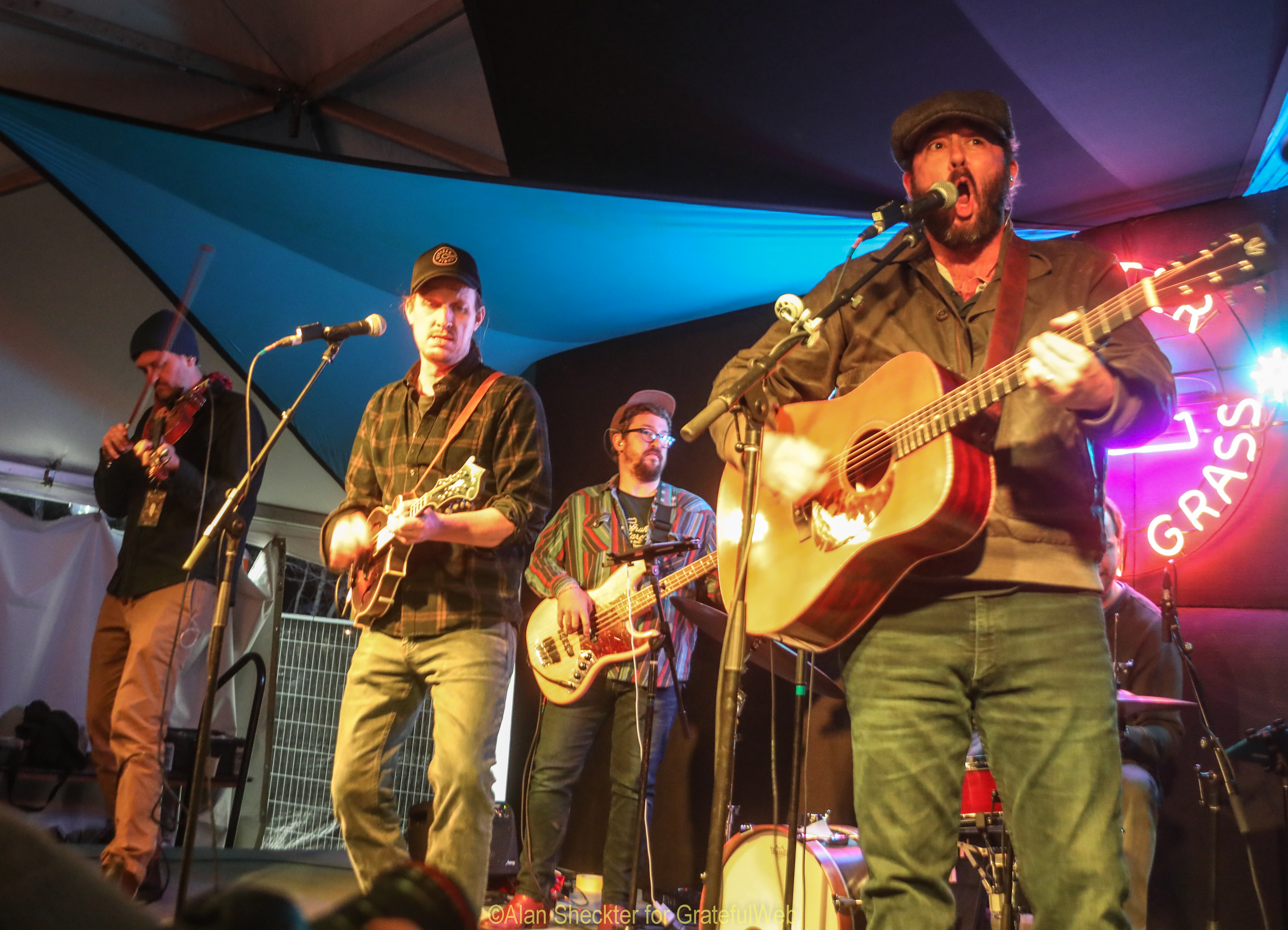 Also on Sunday: Sunday's penultimate main-stage set belonged to the Lil Smokies, who, like the Kitchen Dwellers, hail from big-sky Montana. The band, which these days includes Andy Dunnigan (dobro), Matt Rieger (guitar), Jake Simpson (fiddle), Jean-Luc Davis (bass), and Caleb Dostal (banjo).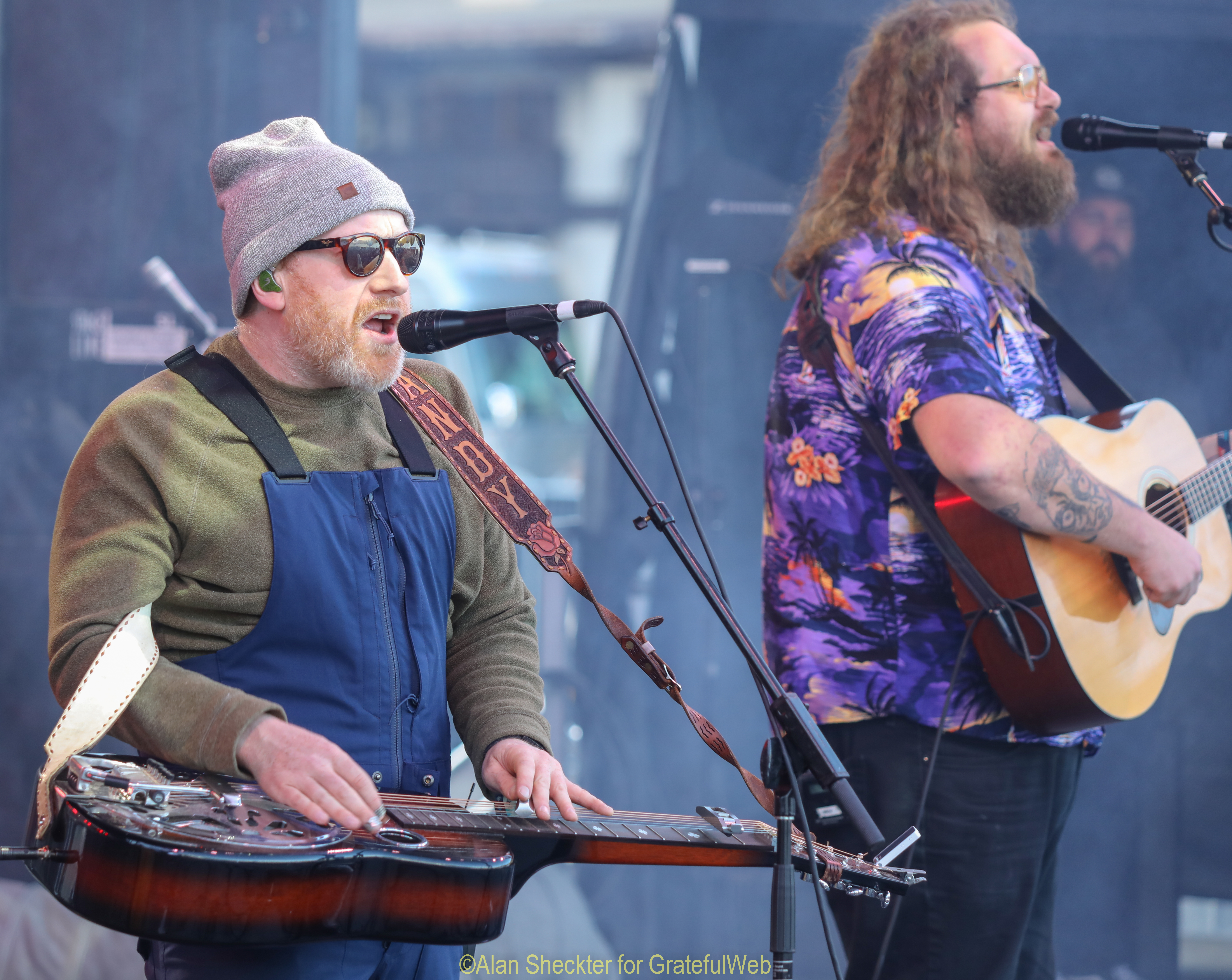 Their set included "Worlds on Fire," "Harlem River Blues," "Ms. Marie," and Peter Gabriel's "In Your Eyes." Sitting in on their set were three California Honeydrops, along with Cris Jacobs and Dusty Ray Simmons, for Jackson Browne's "Doctor My Eyes," and Lindsay Lou for the set-ender, Huey Lewis & the News's "Power of Love."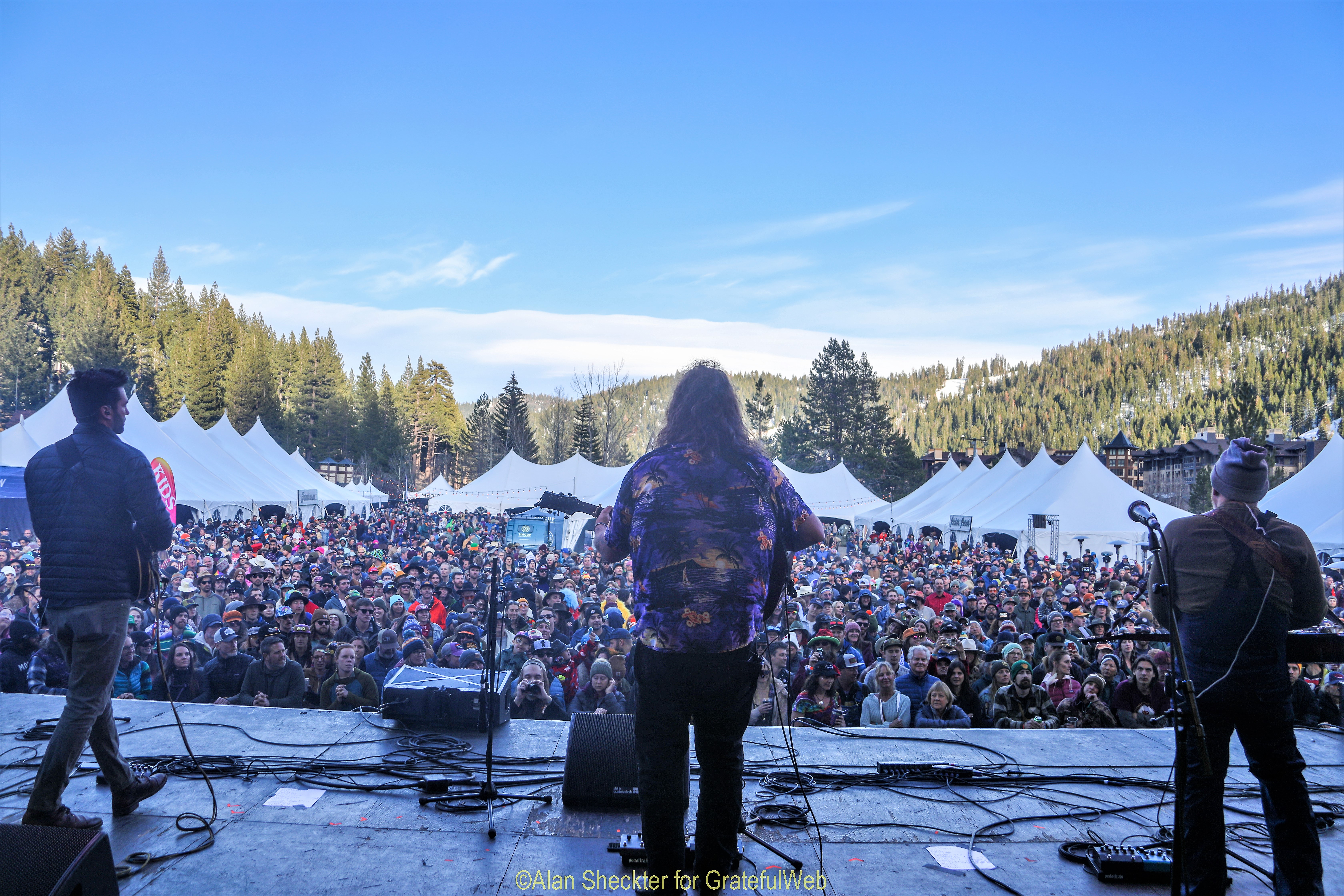 After performing in one of the tent stages on Saturday, Della Mae performed a late-afternoon main-stage slot on Sunday. The all-women strings ensemble included founding members Kimber Ludiker (fiddle) and Avril Smith (guitar), along with Celia Woodsmith (lead vocals/guitar), Maddie Witle (mandolin), and Vickie Vaughn (bass). The band was colorful and compelling in clothing, personality, and most important, in musicianship.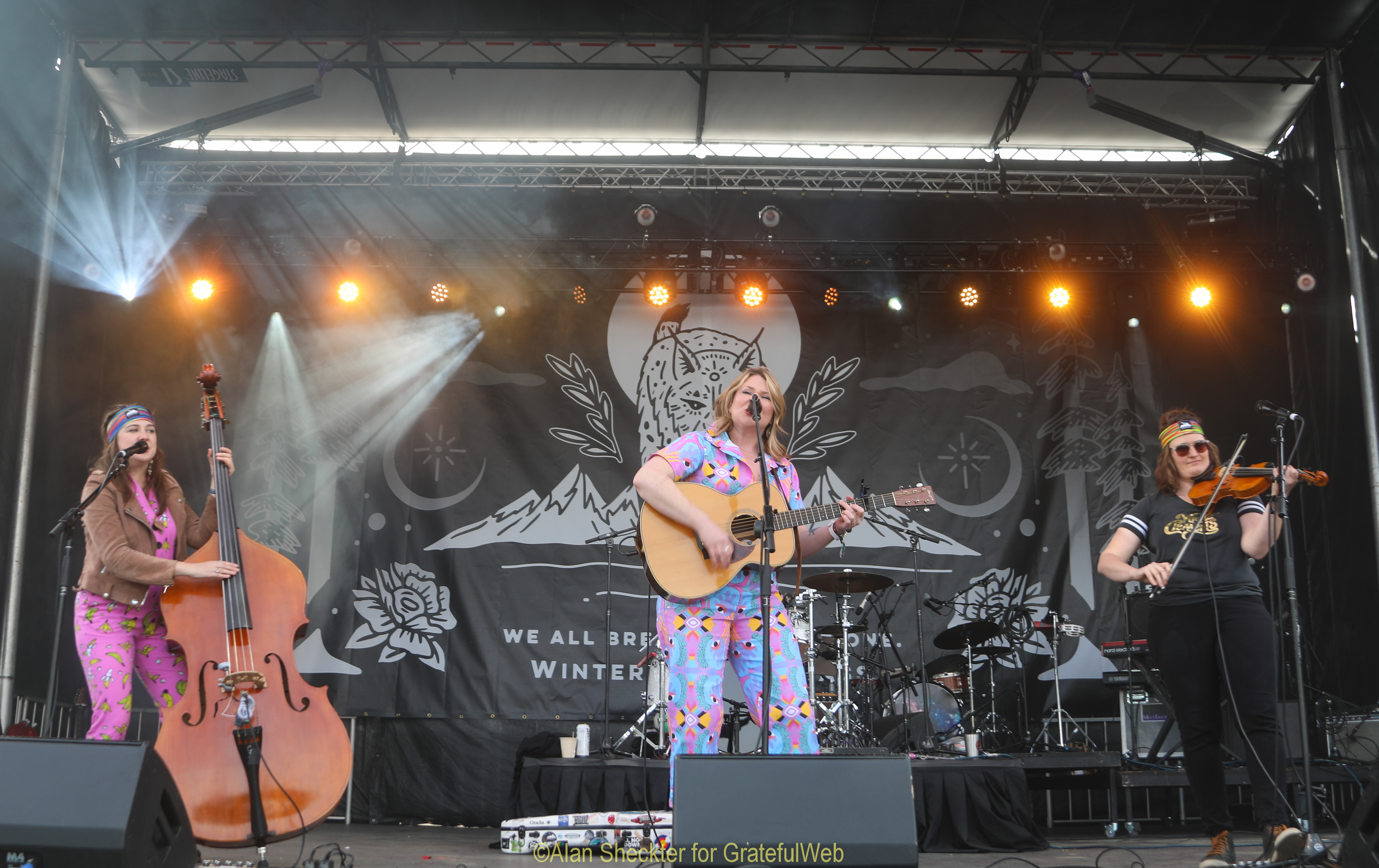 Bluegrassin' since the 1960s with such outfits as Earth Opera and Seatrain before his inclusion as a core member of Old & in the Way in the early 1970s, singer-songwriter/guitarist Peter Rowan started things off on the main stage on Sunday. Performing with, you guessed it, Lindsay Lou, Rowan offered up many of his classics. Some of which had those in the crowding noting, "I didn't know he wrote that." Such selections included "Panama Red" segued into "Freight Train," "The Free Mexican Airforce" ("an old peyote chant we turned into a gospel song," Rowan said, and "Mississippi Moon."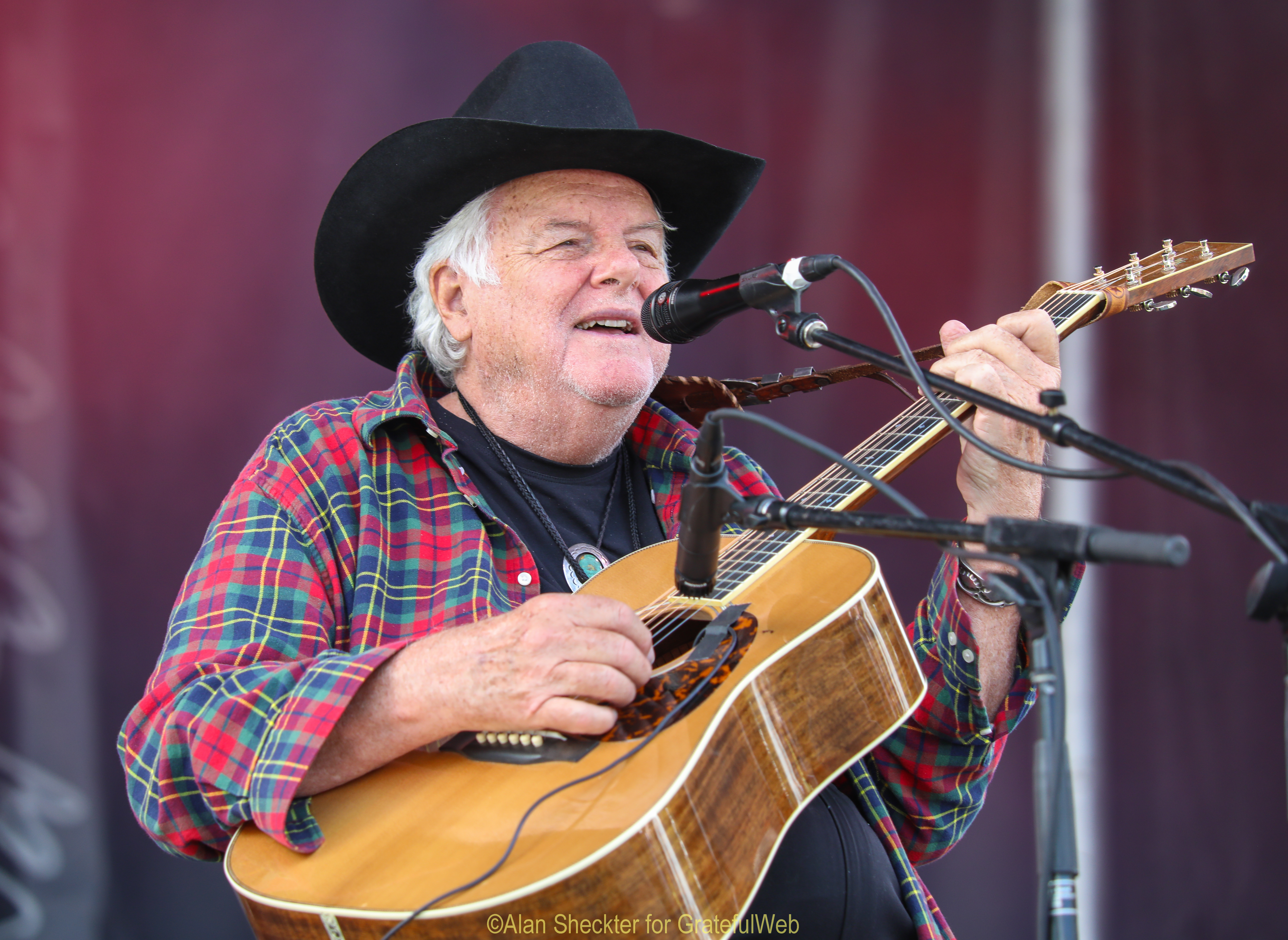 While several Grateful Dead songs would pop up all weekend ("Mississippi Half-Step" by Della Mae with Mimi Naja, "Viola Lee Blues" by Midnight North," for instance) the Soapbox tent stage was bursting at the seams on Sunday with four 40-minute performances by "Pickin' on the Dead." The core group of Michael Kirkpatrick (mandolin/vocals), Tyler Grant (guitar/vocals), Erik Yates (banjo/vocals) and Jake Wolf (drums/vocals) delivered masterful versions of Dead classics, including during an afternoon set, "Cumberland Blues," "Iko Iko," "Samson and Delilah," and "Black Throated Wind." A "China Cat Sunflower" / "I Know You Rider" sequence during their 7:20 p.m. set, which included Festival Director Scotty Stoughton on bongos, was a real barn burner.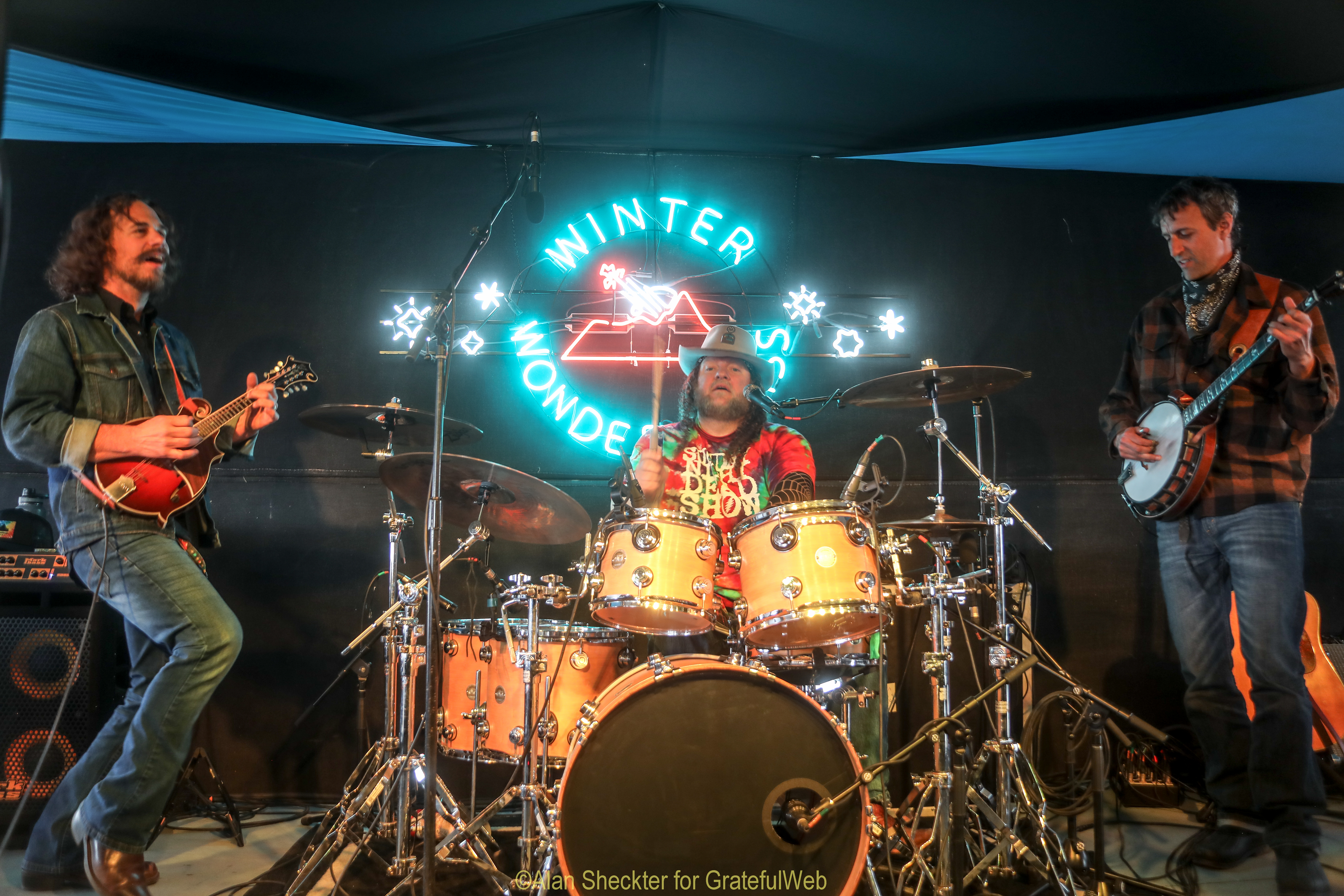 And another thing (or two): WWG-Tahoe, in partnership with the adjoining Palisades Tahoe ski resort, offered free midday concerts on Saturday and Sunday up at Gold Coast Lodge, at 8,000 feet. Folks enjoyed the sunny shows either by skiing to them or by taking the (not free) funitel tram to the spot. Once there, attendees could enjoy the show while skiing by, hanging out in front of the stage, or enjoying food and drinks on the outdoor deck.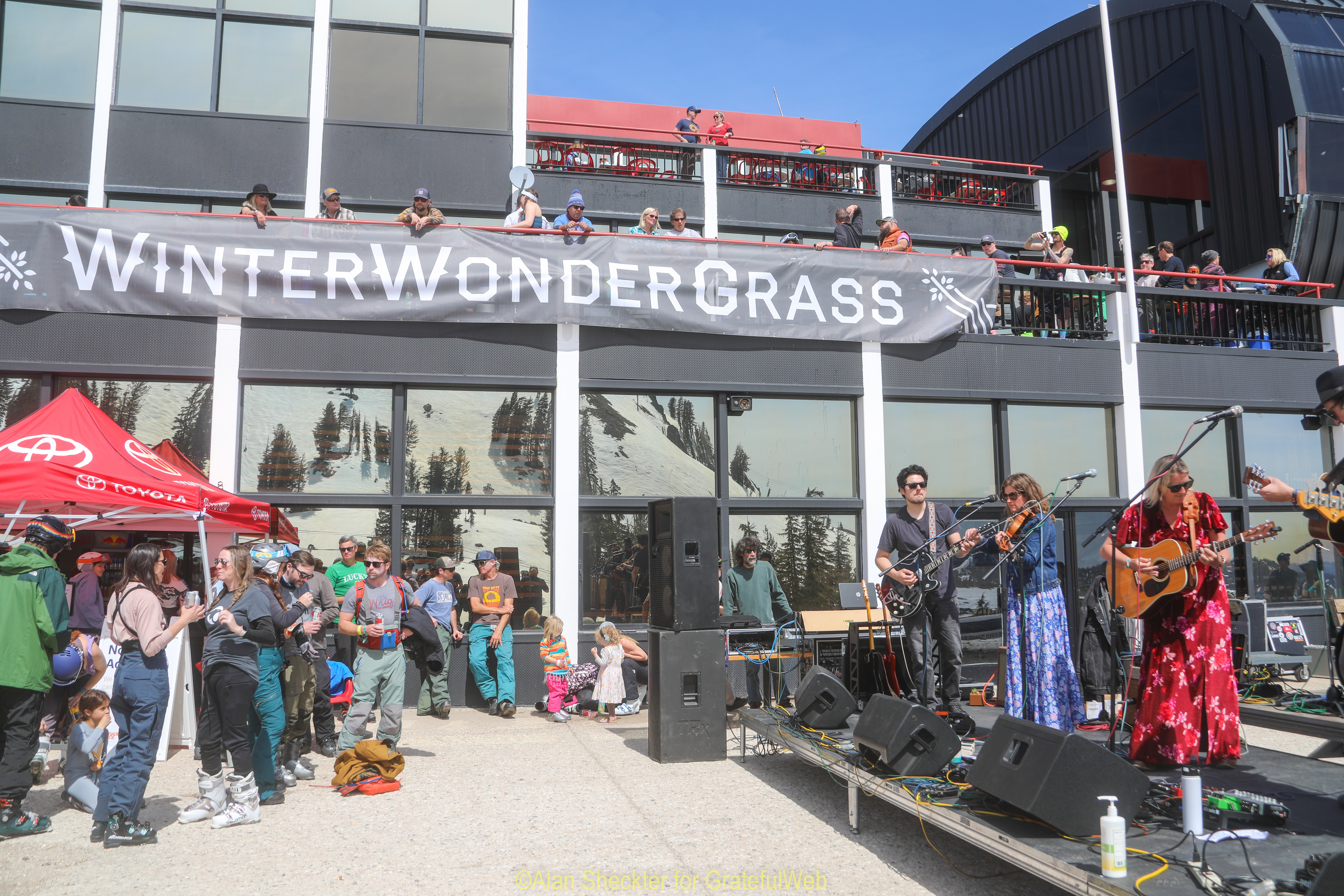 The locally based Dead Winter Carpenters performed on Saturday, led by Jenny Charles (fiddle/ vocals), Jesse Dunn (guitar/vocals), as well as Jeremy Plog (bass), Nick Swimley (lead guitar), and Brendan Smith (percussion) – along with several special guests, including young girls Mabel and Maya – delivered a sun-stroked set on the mountain that Charles and her father worked and played on for many decades.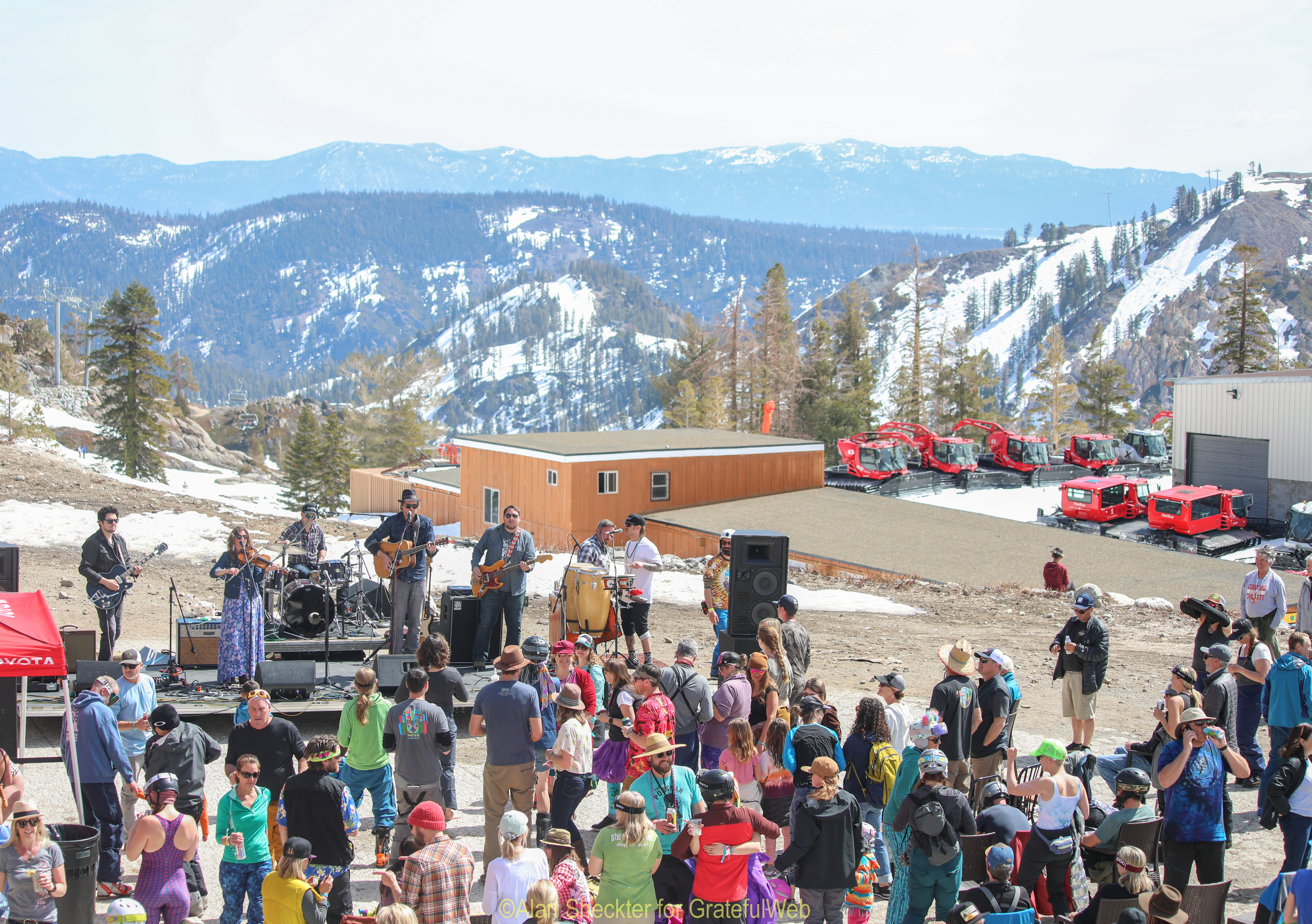 An additional WWG feature were daily midday performances in the Olympic Village Plaza. Up and comers AJ Lee & Blue Summit performed on Friday and Sunday, while Cris Jacobs, who performed three Jamboree Stage sets on Sunday and did many sit-ins over the weekend, led his band in an excellent plaza set on Saturday.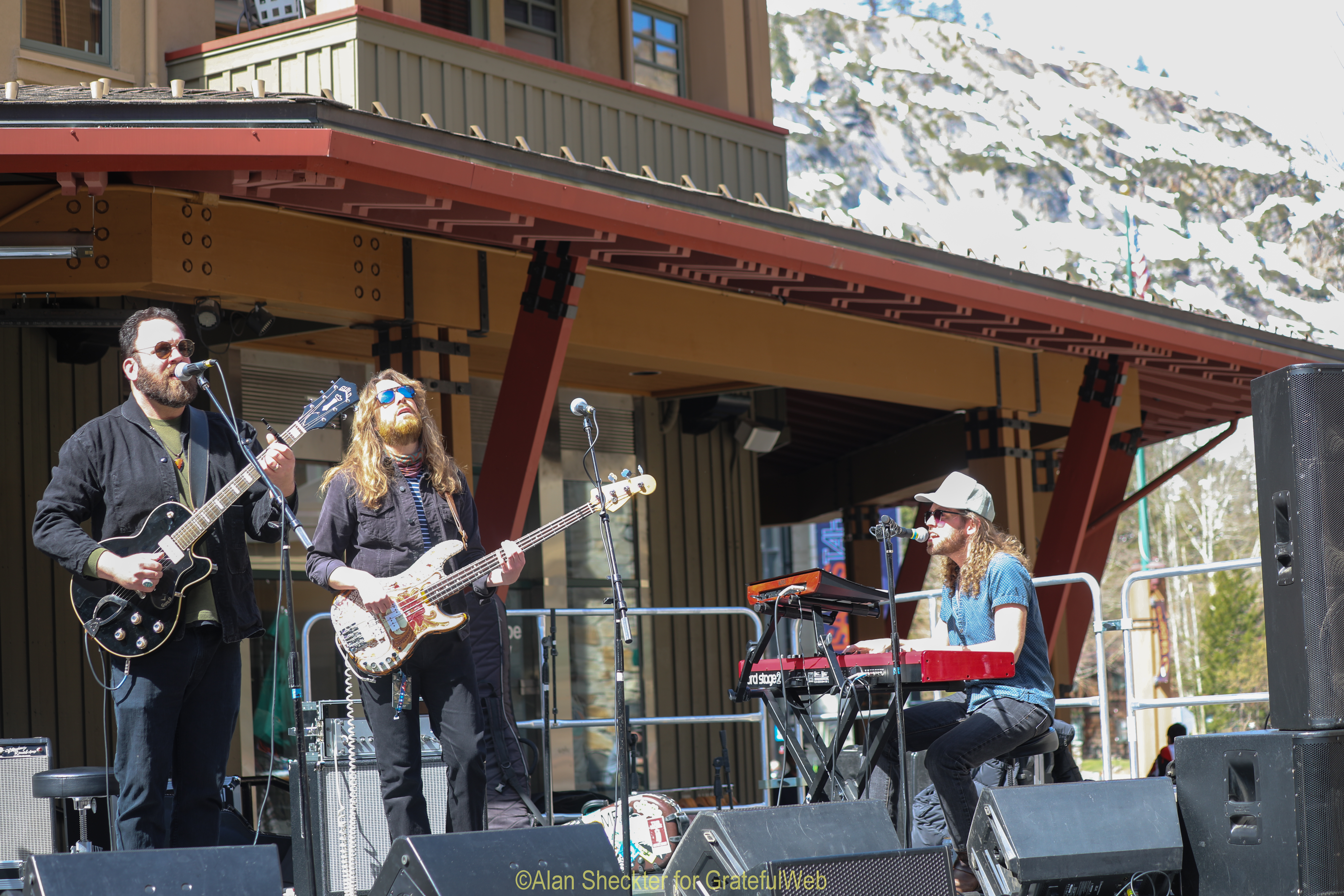 Bluegrass has changed quite a bit from the old Bill Monroe and Flatt & Scruggs days. Thanks to folks like the Newgrass Revival, featuring Sam Bush, and the Old & in the Way supergroup, progressive bluegrass added a more bohemian essence to the genre's original austere and traditional structure. Then, perhaps influenced by the improvisational jamming style of acts like the Grateful Dead, today's "jamgrass" came into view, including extended, exploratory improvisational jamming. At WWG-Tahoe, The Infamous Stringdusters, Billy Strings, and the Lil Smokies, all of which are tremendously skilled and schooled, delivered some fine jamgrass on the mountain.
Apologies to those artists who did not get a mention/more of a mention in this festival wrap-up.
Headliner setlists: Billy Strings (Friday): Set 1 – Cold on the Shoulder, Red Daisy, Away From the Mire, Long Forgotten Dream, Ralph's Banjo Special, Must Be Seven, You Won't Be Satisfied That Way, Nothing's Working, Streamline Cannonball, Hide and Seek. Set 2 – Fire Line, Running the Route, End of the Rainbow, Summertime, Old Man at the Mill, All Fall Down, Look Up Look Down That Lonesome Road, Way Downtown, West Dakota Rose, Reuben's Train, Fire Line. Encore: Y'all Come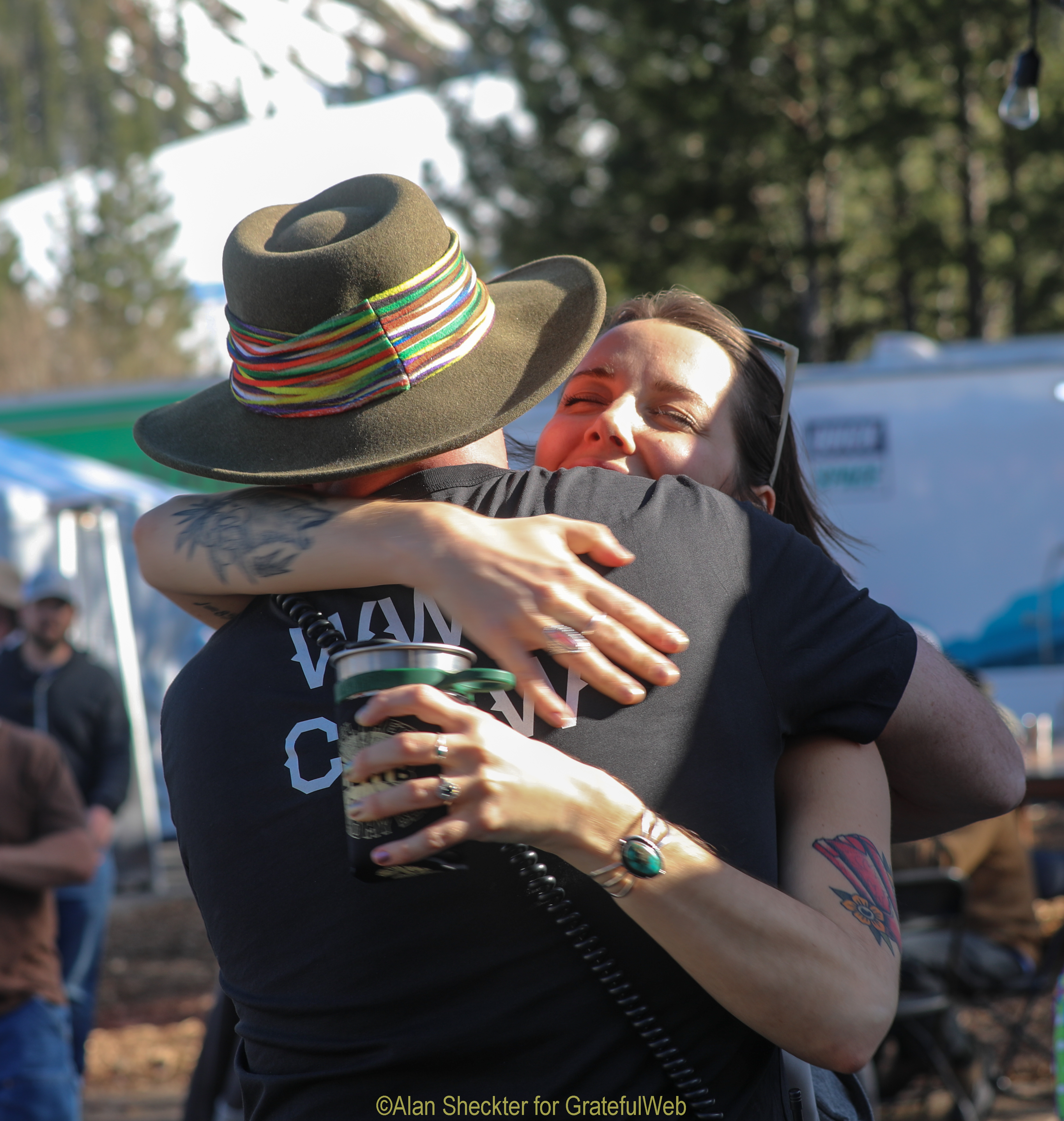 Infamous Stringdusters (Saturday) : Shakedown Street (tease), Rise Sun, I Didn't Know, Truth and Love, How Do You Know?, Toy Heart, Down From the Mountain, Gravity, Jessica, Hard Line, Get It While You Can, Possum, Let It Go, Shakedown Street, Means to an End. E: Not Fade Away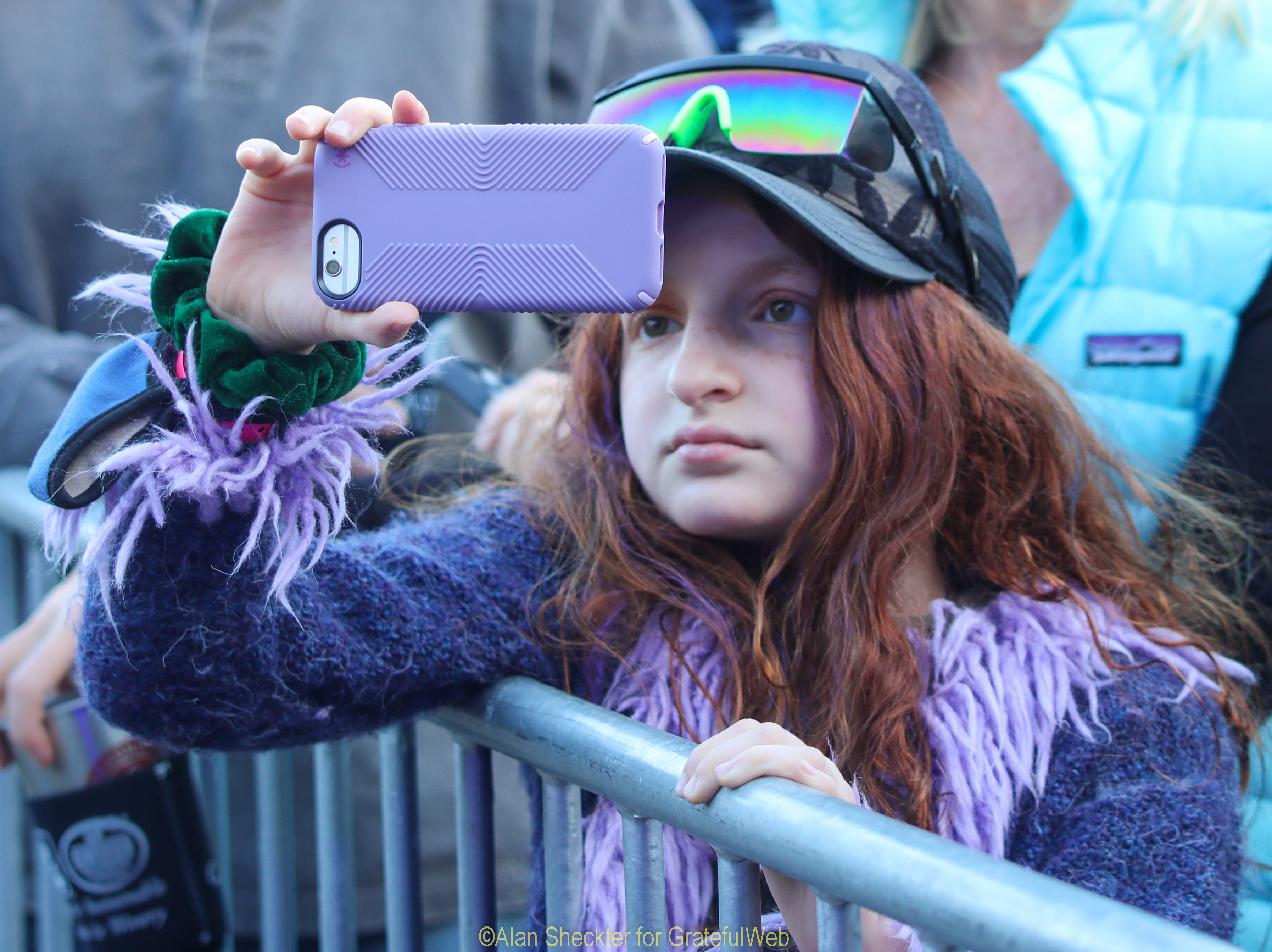 The California Honeydrops (Sunday, not necessarily in order) : Every Once in a While, Junker's Blues, Live Learn, When It Was Wrong, Trying to Live My Life Without You, Come Back Baby, In My Baby's Arms, Happy Feelings, Lord Keep Me Day By Day, Like a Ship, Same Ol' Same Ol', Crazy Girls, Cry for Me, Street People.