For nearly 17 years, Yonder Mountain String Band has redefined bluegrass music, expanding the traditional acoustic genre beyond its previously established boundaries by steadily pushing the envelope into the realms of rock n' roll and improvisation. YMSB has always played music of their own design, in the process attracting a devout coterie of fans that often resembles a tight knit family on an epic musical journey as Yonder traverses the country with an ever-rigorous tour schedule. Yonder is a quintessential ensemble honing its craft night after night on the road, and the fans are there to experience it in real time. The result is music that doesn't stand still, it's always progressing and breaking unprecedented ground.
With their latest album, Black Sheep (scheduled for national release on their own Frog Pad Records at Telluride Bluegrass Festival on June 16, 2015), Yonder Mountain String Band -- Adam Aijala (guitar, vocals), Dave Johnston (banjo, vocals) and Ben Kaufmann (bass, vocals) -- begins a new era. The first YMSB release produced by the band itself, Black Sheep is, by any measure, a triumph, perhaps the most mesmeric of their career. For the recording, their sixth studio album overall, Yonder has recruited two standout musicians to join them in the studio (and, subsequently, on the road), violinist Allie Kral and mandolin virtuoso Jacob Jolliff. The result, says Kaufmann, is that, "This record sounds more like Yonder than any record we've ever done. I'm hoping that when people are finished listening to it, they'll just hit play and listen to it again."
Black Sheep marks the first time in Yonder's history that they're actually utilizing, throughout an entire record, the conventional five-piece instrumental arsenal of bluegrass introduced in the 1940s: guitar, mandolin, banjo, fiddle and bass. With the exception of the album's sole cover tune, "Ever Fallen In Love," originally by the late '70s British punk-rock band the Buzzcocks, each of the album's new tracks were written by the YMSB members during the past couple of years. Three of the new songs -- "Annalee," "Landfall" and the title track -- have already been road-tested on tour; others will be added to the band's live repertoire following the album's release. The majority of Black Sheep was recorded at Coupe Studios in Boulder, Colorado, with Adam handling much of the engineering at his home studio and while on the road; the first time a band member has taken on that task.
Even on first listen, it becomes instantaneously apparent that Black Sheep is the work of a new Yonder Mountain String Band, one with a strong commitment to re-exhibiting itself, broadening its parameters following the departure of a founding member. While it's immediately recognizable as YMSB music, there's undeniably a raw aesthetic to the studio tracks -- a sense of daring is embedded in both the instrumental interaction between these five singular players and in the lyrical content of each song.
The compositions cover a wide topical swath. "Insult and Elbow," the album's opening track, is on its surface about escapism and substance abuse; "Landfall" addresses the touring life of a modern band; "Around You," explains Kaufmann, is "about the moment when you realize that you are the only common denominator in every problem you've ever had and that there is no one else that can take responsibility for anything that happens to you." The title track, centered on a wannabe renegade, suggests that nothing is really free, that even the fakes and the phonies demand a price.
"New Dusty Miller" reinterprets an old fiddle tune and was inspired by the late folk and bluegrass singer-songwriter John Hartford's efforts at taking old fiddle music and adding a contemporary spin. Other new tunes, among them "Love Before You Can't," "I'm Lost" and "Drawing a Melody," probe the ups and downs of relationships informing various points of view. With these songs, as with so much of YMSB's previous material, layers can be peeled away to reveal multiple realities harbored within. As has always been the case, ardent lead vocals and tight harmonies deliver Yonder's newest set of words.
For many longtime aficionados of this band, of course, it's the instrumental prowess that draws them in and continues to wow fans at live shows and on recordings. Aijala, Johnston and Kaufmann are all bluegrass slingers in their own right, and with Kral (the former fiddle player for Cornmeal) and Jolliff (a founding member of the now defunct Americana band Joy Kills Sorrow) contributing to the mix on Black Sheep, the band is able to go places that were simply inaccessible before. "The traditional bluegrass lineup allows us to rethink things on different levels," says Johnston, "but at the heart of it all is the same energy and drive and a freewheeling spirit. It's an exciting time for us because we have an invigorating sense of the future. At the end of the day, Yonder is a band with almost two decades of music under its belt, but we're always a bit restless. We want to move the music forward to new places, which keeps us on our musical toes."
Yonder has its roots in the year 1998, when the original quartet came together in Colorado. Through steadfast gigging in all manner of venues from small clubs to massive outdoor festivals, Yonder Mountain String Band quickly built a robust fanbase while continually experimenting to define its sound. Some of the most fervent audiences were at jam band shows and festivals, where fans took readily to YMSB's potent mix of the traditional bluegrass of Bill Monroe, the Stanley Brothers and Doc Watson and the improvisational sensibilities of the Grateful Dead and Phish. Also deeply ingrained in the band, albeit more subtly, was a fierce love for punk, which provided the members with seminal influences while they were growing up. "We didn't even hear bluegrass until our 20s," says Aijala. "Falling in love with the sound of bluegrass instruments, while also having all of these outside influences that had nothing to do with bluegrass -- well, what comes out isn't what we envisioned."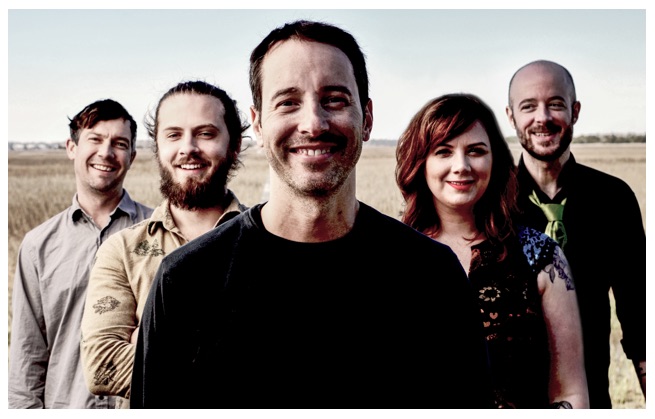 With the band's 17th anniversary coming this summer, and an extensive tour schedule featuring the same quintet on Black Sheep, a revitalized Yonder Mountain takes delight in the fact that they are still reaching new fans while simultaneously retaining the characteristics that brought their greater community together in the first place. The loss of one member and the subsequent invitation for some of today's top pickers to help shape their evolving sound brings intriguing opportunities to the table; ones that set YMSB on its newfangled path. Black Sheep is a bold statement, meant to passionately get fans up on their feet and ecstatically dancing, but it's also about embracing the moment. Essential changes are a healthy step in keeping the music alive and well.
"We've been growing over the years and I feel like we really don't have any limitations," says Aijala. "It doesn't feel like work when you get to hang out with people that you care about and play music."
Adds Kaufmann, "It's not just bluegrass -- it's progressive. Everything Yonder has ever tried to do, we're doing in this record. It's gonna take some time for fans to get acquainted with the new Yonder. When you make a big change like we did, it's a huge thing. But the band is a force, and the album is such a perfect example of our new direction."
Says Johnston in conclusion, "Yonder Mountain String Band is as durable as bluegrass itself. It changes and morphs and has an open-endedness that makes anything possible."
YMSB will celebrate the national release of Black Sheep at the 42nd Telluride Bluegrass Festival (June 18 - 21, 2015), and headlines a special hometown show at Red Rocks Amphitheatre along with Greensky Bluegrass and Fruition on August 21, 2015.
For more information on Yonder Mountain String Band and their forthcoming tour dates, please visit: www.yondermountain.com