Coming up September - November 2014, Yonder Mountain String Band headlines premier music festivals and venues across the country on their Fall Tour 2014, including Catskill Chill Music Festival (Hancock, NY: Sept. 5 - 7), Riverwalk Revival (Augusta, GA: Oct. 23), Iron City Music Hall (Birmingham, AL: Oct. 24), Georgia Theater (Athens, GA: Oct. 25), Trustee Garden (Savannah, GA: Oct. 26), Mercury Ballroom (Louisville, KY: Oct. 29), Track 29 (Chattanooga, TN: Oct. 30), Shaftman Performance Hall @ Jefferson Center (Roanoke, VA: Oct. 31), Ziggy's (Winston-Salem, NC: Nov. 1), Turner Hall Ballroom (Milwaukee, WI: Nov. 5), First Avenue (Minneapolis, MN: Nov. 6), House of Blues (Chicago, IL: Nov. 7 & 8), Higher Ground Ballroom (Burlington, VT: Nov. 12), House of Blues (Boston, MA: Nov. 13), Theatre of Living Arts (Philadelphia, PA: Nov. 14), and Brooklyn Bowl (Brooklyn, NY: Nov. 15). Once again this fall and winter, YMSB hosts Kinfolk Celebration at Planet Bluegrass Ranch (Lyons, CO: Sept. 19 - 20), Mulberry Mt. Harvest Festival (Ozark, AR: Oct. 16 - 18) and Strings & Sol (Puerto Morelos, Mexico: Dec. 11 - 15). The Larry Keel Experience opens all shows from Oct. 23 - Nov. 15, 2014.
YMSB's forthcoming show at The Fillmore on August 28, 2014 will be available to watch online via the Live Nation Channel on Yahoo Screen starting at 8 pm EST. Fans will have the opportunity to watch from wherever they are through the Yahoo Screen App on iOS, Android, mobile Web, desktop and Smart TV platforms including AppleTV, Roku and Xbox 360. Don't miss this special opportunity to see YMSB perform live in the comfort of your own home! Tune into www.yahoo.com/live or download the Yahoo Screen App to watch on your mobile devices.
Bluegrass is a music steeped in tradition, but over the past decade and a half -- much of it spent on the road -- Yonder Mountain String Band has spearheaded a renegade movement to rewrite the definition of the genre. Alongside other neo-bluegrass friends such as Leftover Salmon, Sam Bush, Bela Fleck, The Travelin' McCourys, and Railroad Earth, YMSB has thoroughly revitalized and contemporized bluegrass and introduced it to many thousands of new fans. Rolling Stone said that YMSB "liberates bluegrass' hot-shit riffing and blue-sky harmonies from its hidebound formalism," while Paste Magazine wrote, "The Yonder Mountain boys have found a formula that works: take rootsy bluegrass influences, add in some rock 'n' roll, and seek out an adventurous audience."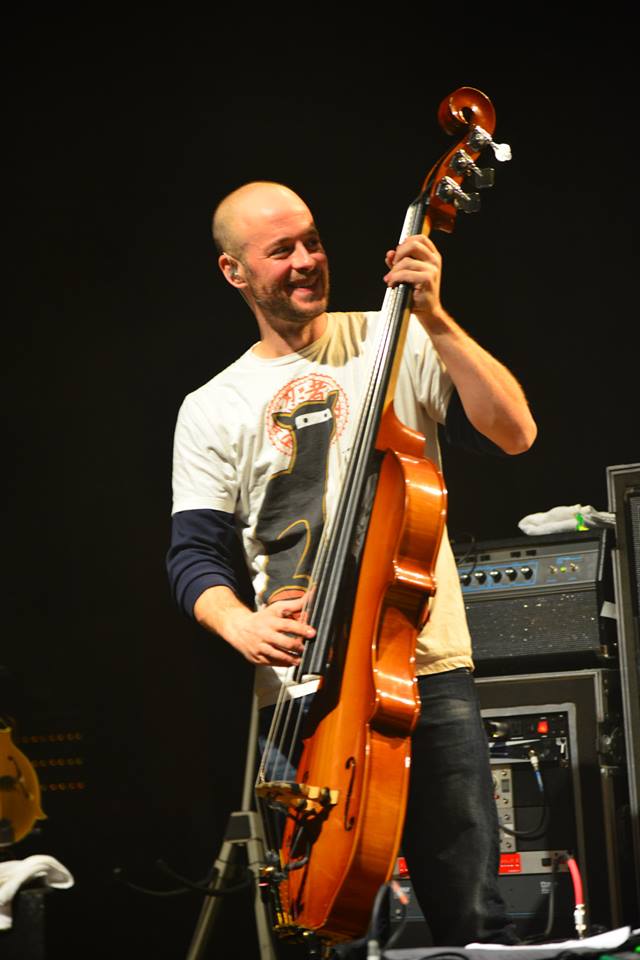 Yonder Mountain String Band is comprised of Adam Aijala (guitar, vocals), Dave Johnston (banjo, vocals), Ben Kaufmann (bass, vocals), and select special guest artists who will appear with the band throughout 2014. Two standout musicians regularly performing live with YMSB are Jake Jolliff (mandolin, vocals) and Allie Kral (fiddle, vocals). Jolliff is an award-winning mandolin player (First Place, National Mandolin Championship 2012, Walnut Valley Festival), and was a founding member of the disbanded Americana outfit, Joy Kills Sorrow. Kral is well-known as the former fiddle player for Cornmeal (2003 - 2013), and she's worked alongside various notable artists including moe., Railroad Earth, Warren Haynes, and others. For confirmed line-up information, please see the tour dates listed below.
With the band having one of the strongest touring bases in the industry, fans and critics alike have been drawn to both their live shows and singular studio albums. Reporting from the All Good Music Festival (2009), journalist Jarrett Bellini from CNN Showbiz Tonight notes, "The trophy for best musical set goes to Yonder Mountain String Band who, as the sun began to set, left it all on the stage for an hour and a half. The pickers from Colorado had the audience dancing and shaking, kicking up a joyful storm of dust into the cool summer sky."
YMSB has evolved into something of a phenomenon on the concert and festival circuit. The band has sold out Colorado's famed Red Rocks several times, and played sold-out shows with Grateful Dead and Furthur bassist Phil Lesh at his Terrapin Crossroads venue in August 2012. They also host three singular music festivals every year -- Northwest String Summit (now in its 13th year and hosted by YMSB every year), Harvest Music Festival (where they will host for the fifth time in October 2014), and Strings & Sol (Yonder hosts for the third year-in-a-row in Mexico in December 2014) -- and have consecutively sold out runs of shows at Telluride Bluegrass Festival year after year. Every other year, YMSB also hosts Kinfolk Festival @ Planet Bluegrass. In all, Yonder Mountain logs over 100 live dates per year.
Yonder has always played music by its own design. Bending bluegrass, rock and countless other influences, they've come to pioneer a sound that they alone could only champion. With a traditional lineup of instruments, they may appear to be a traditional bluegrass band at first glance but they've taken the customary old-timey instrumentation to new heights, transcending any single genre. Yonder has become a regular performer at major music festivals like the iconic Telluride Bluegrass Festival, Summer Camp, and DelFest as well as massive multi-stage events like Bonnaroo and Austin City Limits Festival.
YMSB is currently working on a new full-length studio recording; fans can expect a new album to be released in early 2015.
For more information on Yonder Mountain String Band, please visit www.yondermountain.com.
YONDER MOUNTAIN STRING BAND SUMMER & FALL 2014 TOUR DATES
8/21 - Jim Thorpe, PA - Penn's Peak*^#
8/22 - Baltimore, MD - Rams Head Live! *^#
8/23 - Black Mountain, NC - Pisgah Outdoor Stage*^#
8/27 - Richmond, VA - The National*^
8/28 - Charlotte, NC - The Fillmore*^
8/29 - Wilmington, NC - Greenfield Lake Amphitheater*^
8/30 - Norfolk, VA - The Norva*
8/31 - Charlottesville, VA - Jefferson Theater*^
9/5 - 9/7 - Hancock, NY - Catskill Chill Music Festival
9/19 - 9/20 - Lyons, CO - Kinfolk Celebration at Planet Bluegrass Ranch
10/16 - 10/18 - Ozark, AR - Mulberry Mt. Harvest Festival*^#
10/23 - Augusta, GA - Riverwalk Revival*^
10/24 - Birmingham, AL - Iron City Music Hall*
10/25 - Athens, GA - Georgia Theater*
10/26 - Savannah, GA - Trustee Garden*
10/29 - Louisville, KY - Mercury Ballroom*^
10/30 - Chattanooga, TN - Track 29*^
10/31 - Roanoke, VA - Shaftman Performance Hall @ Jefferson Center*^
11/1 - Winston-Salem, NC - Ziggy's*^
11/5 - Milwaukee, WI - Turner Hall Ballroom*^
11/6 - Minneapolis, MN - First Avenue*^
11/7 - Chicago, IL - House of Blues*^
11/8 - Chicago, IL - House of Blues*^
11/12 - Burlington, VT - Higher Ground Ballroom*^
11/13 - Boston, MA - House of Blues*^
11/14 - Philadelphia, PA - Theatre of Living Arts*^
11/15 - Brooklyn, NY - Brooklyn Bowl*^
12/11 - 12/15 - Puerto Morelos, Mexico - Strings and Sol
Special Guest Performers:
*Jake Jolliff (mandolin, vocals)
^Allie Kral (fiddle, vocals)
#Jerry Douglas (dobro)