Chamberlin | Look What I've Become | New Music Review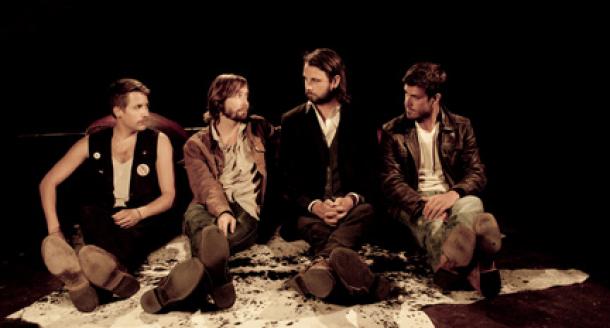 Despite the drama and fast paced touring this Vermont based Indie Rock band faced last year, they are scheduled to release their second EP entitled, Look What I've Become, on September 4. Chamberlin began playing their first ever packed house shows opening for Grace Potter and the Nocturnals last year and then moved on to release their debut album. Shortly after, the group headlined their own tour, released an EP of covers of musicians Foster the People, Passion Pit, Cults, and more, with all proceeds going towards Vermont Flood Relief, and then finished off the year with another tour that was an intense three-month, 20,000 miles long. To say the least these guys stayed busy, but with such success comes much stress and arguments. Chamberlin headed home last December after a long year barley speaking to each other.
Founders of the group Mark Daly and Ethan West made the decision to head for Nashville to record Look What I've Become without the rest of the band. A decision made without knowing the end result. "Ethan and I weren't sure if Chamberlin would exist when we returned," stated Daly. West and Daly brought in Luke Reynolds (Blue Merle, Pictures and Sound, and now playing in Guster), Brad Bivens (King of Leon, Norah Jones) and Patrick Hallahan (My Morning Jacket) to help on the EP. Look What I've Become tells stories of jealousy, despair and resentment and although their other band members had no involvement with this current EP they too shared the same emotions as Daly and West. "While recording the vocals, it really hit us that we had inflicted those same feelings on our band mates--or rather, our best friends. As Mark sang the choirs of "Jealousy," we avoided eye contact and waited for the moment to pass…"  Daly and West quickly came to the conclusion that it was up to them to make things right with the rest of the band, so they headed back to Vermont in efforts to reunite. Chuck and Jamie agreed to rejoin the band although they knew that hard work and intense rehearsals were needed to mend the wounds of the group. Keyboardist Eric had already started working on other projects, but agreed to rejoin until they found a replacement. So Chamberlin went back to the small cabin in Vermont where it all began and started to heal. "Even though Mark and I still feel bad for hurting feelings along the way, we're also very proud and excited about how Look What I've Become turned out musically. It also gave us an opportunity to address some major structural issues before moving forward together. It is often impossible to recover from an affair, but every once in a while people bounce back even stronger."
And they should be proud of Look What I've Become! This EP takes you on an emotionally melodic and poetic journey into the lives of these men. Chamberlin heads out on the road again this month, starting the tour in their home state on August 10.
Tour Dates:
08.10 - Burlington, VT - Signal Kitchen 
08.25 - Presque Isle, ME - Northern ME Fairgrounds
09.14 - Grand Rapids, MI - Pyramid Scheme #
09.15 - Kalamazoo, MI - Bell's #
09.16 - Cleveland, OH - Beachland Ballroom #
09.19 - Philadelphia, PA - Johnny Brenda's #
09.20 - Boston, MA - TT The Bears #
09.21 - Brooklyn, NY - Littlefield #
09.22 - Washington, DC - Red Palace #
10.18 - Chicago, IL - Schubas **
10.19 - Rock Island, IL - Augustana College **
10.21 - Minneapolis, MN - 7th St. Entry **
10.22 - Fargo, ND - The Aquarium **
10.24 - Billings, MT - Manny's **
10.25 - Spokane, WA - A Club **
10.27 - Seattle, WA - TBA
10.29 - Portland, OR - TBA
10.30 - San Francisco, CA - TBA
11.01 - Los Angeles, CA - TBA
11.03 - Denver, CO - TBA
11.04 - Sioux City, IA - The Chesterfield 
11.06 - St. Louis, MO - TBA
11.10 - Pittsburgh, PA - Thunderbird Cafe
11.11 - Philadelphia, PA - Kung Fu Necktie 
11.13 - New York, NY - Mercury Lounge
11.14 - Boston, MA - Middle East 
11.15 - Empire Dine and Dance - Portland, ME
Look What I've Become hits stores September 4th, via Audiotree Records.