After a somewhat painful opener by Me in the Zoo, Kelli Scarr took the stage on Thursday night and filled NYC's Joe's Pub with her giant whispery voice. She is on tour now showcasing her newest album, "Piece," which was released on August 10 by the indie-start-up label, "Silence Breaks."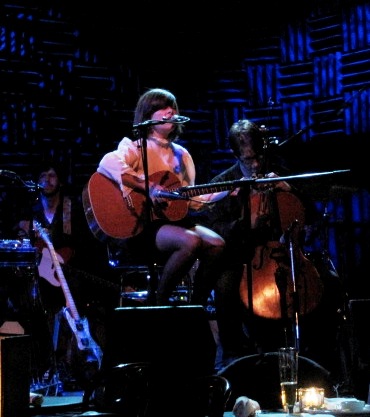 With a short hair bob, bangs covering her eyes, and a ruffled white shirt tucked into a high black skirt, the petite Scarr was barely noticeable as she walked onstage along with her grandiose ensemble of musicians: two electric guitarist, a cellist, a pianist, a drummer, a trumpet player and a keyboardist.
But the moment she opened her lips to sing a gentle hush fell over the crowd. Scarr's voice is amazingly fresh, spicy and sweet all at the same time. At one moment she is sassy, jamming with an electric guitar like a punk rocker, her leg kicking up suggestively with the music, and the next moment she is somber, even sad, her voice turning into a mournful lover as she sings "Breakup."
"What I've noticed lately is that people of our generation have grown up listening to all different kinds of music," said Scarr in a pre-concert phone interview, "and that's how my music has been coming out of me. I think it's very influenced by my entire musical background which is very diverse."
She noted that she likes to experiment with different types of music.
Her next album, which she'll be recording next January up in Woodstock, NY, will feature Scarr on electric guitar. On stage she rocked the audience with a mesmerizing electric guitar jam fest with her accompanying guitarists.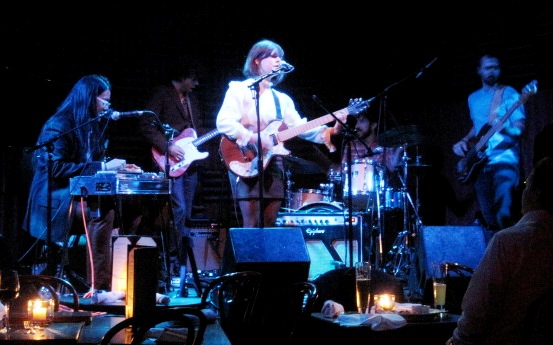 Yet she can still melt her audience with heartwarming songs like "Pure Gold," a song inspired by her hometown of Folsom, CA, or "Brother" which she sang seated on a stool, acoustic guitar in hand accompanied only by cello and piano.
She closed the performance with "Come Back to Me," a somber yet upbeat song for which she recently made a music video.
"There is nothing that gives me greater joy as an artist than making a song I love," Scarr said. "And playing it live is a whole other trip."
Me in the Zoo plays the songs of Matt Trowbridge, a songwriter and 8th grade English teacher from New Jersey. Ranging from Nilsson to Petty, the material touches on quirky pop and folky indie genres. The group is comprised of master drummer and producer Joe Russo, Andrew Southern on bass, and Jon Shaw on guitar and keys.