Hard Working Americans | Hard Working Americans | Review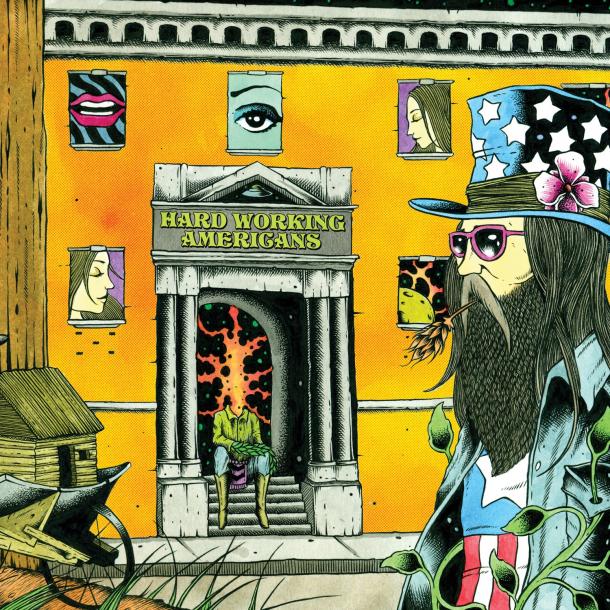 Here we have—singer-songwriter Todd Snider (usually a solo fellow) and bassist Dave Schools (Widespread Panic) leading the charge, Neal Casal (guitarist for Ryan Adams, Chris Robinson); Chad Staehly (of Great American Taxi) on keys, and King Lincoln drummer Duane Trucks (nephew of Butch Trucks, who worked the set for the Allman Brothers, if you want a reach of a tie-in)—the Hard Working Americans. It's a solid crew. Good chops, know their stuff.
As for the songbook, it's all new standards, written by others and covered by Snider's posse in celebration of that working man he keeps going on about. (Every record needs a theme; this one should strike a blue collar chord with the younger alt-country crowd.) The tracks run the gamut: "Blackland Farmer" instills barnyard roots; "Another Train" swaggers like an Aerosmith jam from the Attic; similarly, "Straight to Hell" is a bluesy ballad Steven Tyler'd drool at (though maybe this one's a bit more status quo when it comes out); "Down to the Well" and "The Mountain Song" are mellow Tom Petty nuggets, the latter dipped in that Allman Bros. sweetness; meanwhile, a few tracks—("Run a Mile" does for a sample)—play by-the-books, but they're well done regardless; late in, "Mr. President" is a fun ol' drinking ditty, if nothing else.
The band here plays well together, and Hard Working Americans does what it sets out to for the album's duration without too much labor. Sure, it's a bit of a one-trick pony, but at least the teeth look healthy when they chomp.