With the end of the String Cheese Incident looming, keyboardist Kyle Hollingsworth debuted yet another side project aptly called soulside. Of all his collaborations, this one might seem like the most odd of pairings: Kyle, DJ Logic, and Speech of Arrested Development. Flanked by Ryan Jalbert on guitar, Garrett Sayers on bass, and Damien Hines on drums, this new artist collective road tested their project last month in Colorado to much praise.
A solid two hundred fans shuffled into Cervantes Masterpiece Ballroom in Denver and seemed very responsive to what they heard. The band combined elements of jazz, funk, and hip-hop to comprise their sound, which was fresh and enthusiastic.
The evening was highlighted by Hollingsworth originals such as "Bam!", "Boo-Boo's Pikanic", and other tracks taken from his release Never Odd or Even. With DJ Logic's accompanying turntables, these songs were played with less pop and more funk.
Not to be overshadowed by his counterparts, Speech brought along some of his catalog from Arrested Development. The band breezed through soulful renditions of "Give a Man a Fish", "Mr. Wendel", and the Sly and the Family Stone inspired "People Everyday".
The group also paid homage to some of their musical favorites by covering a variety of artists, such as The Meters, Beck, and of course more Sly Stone. The remaining portions of the performance were filled with silky improvisations, complete with freestyle poetry and trance rhythms.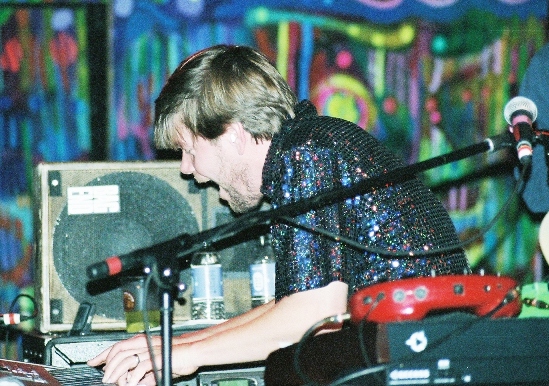 It is not known whether or not soulside will continue beyond their short Colorado stint, however, Kyle hinted in a recent interview with Jambands.com that he would like to possibly get the group recorded: "My record producer, Kevin Morris—the Director of Music at SCI Fidelity Records—is very interested in getting us into the studio and I'm really excited to do that, actually."
A handful of String Cheese dates remain before their final farewell at Red Rocks Amphitheater in Colorado this August. Consequently, each band member has been rallying their side projects together proving that you cannot keep a good musician down. Billy continues to win over old-time bluegrass fans with Honkytonk Homeslice, Michael Travis and Jason Haan recently formed the experimental outfit EOTO, while Mike Kang and Keith Moseley work on their respective endeavors.
Yet with all of these post-Cheese enterprises in development, Kyle's work remains the most entertaining of the bunch. He continues to piece together exceptional local and national musicians to perform high energy, improvisational rock backed by intelligent and earnest lyrics. It will certainly be interesting to see where Kyle takes his boundless body of work from here.