Lotus | Monks | New Music Review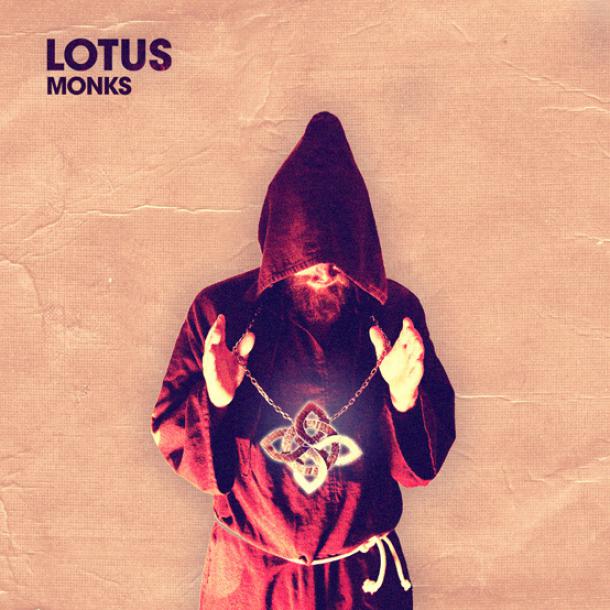 If Sound Tribe Sector 9 got a case of the spits, if "Coffee" and "Smithereens"-era El-P was swallowed by Deep Medi Musik, if RJD2 dosed yellow instead of smoking his jazzy tea—there you've got something close to Lotus' new effort, Monks.
It's unsurprising that the veteran act's production is top-notch as they bite their own studio pipeline for samples and breaks to create a thorough hip-hop affair that's both subtle and acid-tinged in waves. Hooks do their job and linger for some pleasing aftereffects—(aptly mixed with quirk and wobble in all the outer space)—and the craft is a sickly sweet fringe record, one of the year's desirables (in my minor book).
So, yeah, we've got ourselves a solid base here for sonic exploration, looking at Lotus' instrumental cuts and all they bring. But the guest features the band has managed are equally superb: Mr. Lif, Lyrics Born, Gift of Gab, Ras Arcane, and a couple other stray Beat-poetic-priests dot the rollin' n' trippin' soundscape. Stir the lyricism and good vibrations, and it's oh so smooth—nothing disagreeable to be found from start to finish, and that's coming from a perpetual polemicist. If anything, Monks resonates like an old church in abandoned woods—high religion for lost souls—but most'd never know the place was even there to begin with.
But that's enough for vogue n' vague ad copy—how 'bout those tracks? Well, Brooklyn hipsters can take the "Great Molasses Flood" on their unicycles and all the way up to their rooftop heirloom tomato gardens; drive on "He Ain't Well," and Ozay Moore starts throwing speedballs like Rittz in his underground prime; "Four Tips" is the descendent of Gorillaz; "Cloud 9" is spiritual as a Benedictine (here going by the name of Doodlebug, of course)—"Cannon in the Heavens" and "Atlas Slugged" are similarly beautiful in hallucinogenic surrealism—and "Simplify Unwind" (brought to life by Mr. Lif) sits atop the stone throne... just a sampling, but it's all quite representative.
As the record winds down, "Monks (Old)" plays it's minute jam—a throwback to Lotus' roots—and all of a sudden we're on our way back to reality. Sure was a nice little respite, though.