New American Famers | 'Brand New Day' | Review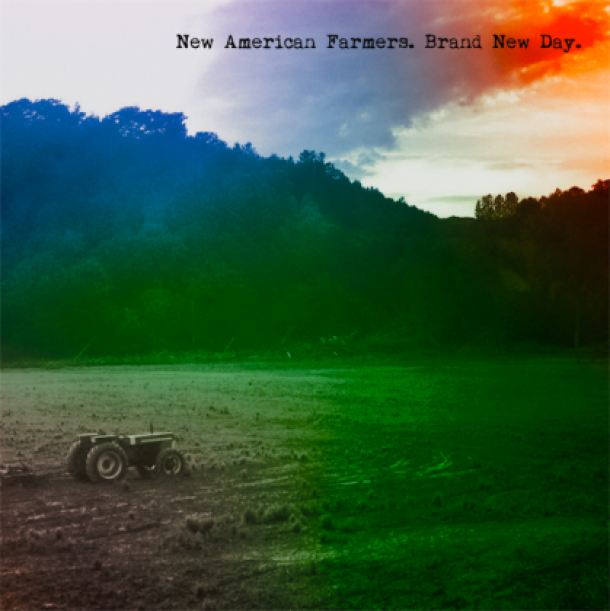 Paul Knowles and Nicole Storto keep it real as a banana peel, and whole heartedly encourage the listener to grow their own fruits and vegetables, with Brand New Day.  In their words; "The songs are about the human experience, putting a spotlight on those that are less fortunate, songs about having different viewpoints from the accepted norms when it comes to immigration, food, philosophy and materialism. We don't have all the answers, or maybe even any, but we have to ask the questions." The New American Farmer's, Brand New Day, covers the emotions all human beings share, from simple to surreal.
Through sharing their sweet songs and financial savvy, the New American Farmers introduce a new measuring stick for our economy with their GDH, Gross Domestic Happiness Index. In Knowles own words, "We want to elevate the GDH (Gross Domestic Happiness) of our community, state, country and world. If people like the album, hopefully they'll come to our shows, or buy an album, which we'll have out on 180 gram vinyl as well as CD. We just want to be able to make the next record, and the next, play some good shows, boost the overall GDH and forget about the GDP(Gross Domestic Product)."
If beneficial for everyone thinking like that appeals to you, the performances on Brand New Day will be equally appealing. Knowles and Storto's lyrics encourage the listener not to fall for the commercialism and materialism of our world today. Proclaiming the joys of a simpler way of living, the lyrics are fed by the twirling trumpeting of Ara Anderson, Dave Zirbel's wailing and winding pedal steel, Gene Parson's rollicking banjo, Dave Walker's work on the slide guitar and The Real Vocal String Quartet's ethereal echoes, bring the lyrics from words to wisdom.
The song, Brand New Day, sings the praises of getting out and making life happen with the people and places right in your own backyard rather than fidgeting around with a smart phone or computer keyboard all day.  Think of the benefits our planet and people would reap if we spent the same amount of time working out, creating a product for sale, volunteering a few hours a week for a local cause or growing a garden; as is spent on our favorite social media sites or smart phone applications.  For some added nostalgic kicks, covering Electric Light Orchestra's Can't Get It Out Of My Head, reminds us of a simpler time of vinyl, turntables and stylus rather than MP3s and downloads. Concluding the album is Sunday Market, which cleverly fits the album's theme, a three minute sound bite of the sounds of an outdoor market.
Brand New Day, is right on the money.  Excuse me, right on the happiness.