Patrick Watson Announces Tour in Support of Adventures In Your Own Backyard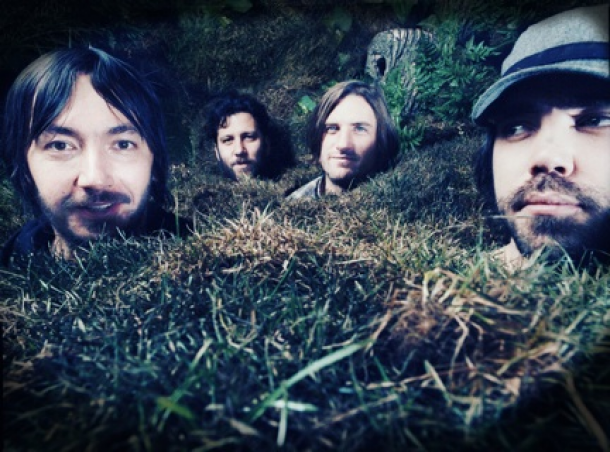 Patrick Watson's Adventures in Your Own Backyard is set for release on May 1 on Domino in the United States, in conjunction with Secret City. As previously announced, Patrick and his band will play a headlining performance at SXSW, and select dates with Andrew Bird in May. Now, we are thrilled to share the news of Patrick's extensive touring plans for the spring and summer. Joining Patrick (piano) in recreating his elegant songs live will be Mishka Stein (bassist), Simon Angell (guitar), Melanie Belair (violin), and Robbie Kuster (drummer). A full list of dates is below.
Adventures in Your Own Backyard is an attempt by Watson and his band to simplify their sights, and make music a bit more close to home in every sense of the phrase. The album was made at home, almost entirely in Watson's apartment in Montreal, after a grueling five-year run that saw Patrick tour the world in support of two critically-acclaimed and successful albums, including the Polaris award-winning Close To Paradise. During this time, Patrick also contributed to Ma Fleur, the 2007 album from The Cinematic Orchestra, co-writing and singing on a sizeable portion of the record. In spite of the relatively spartan settings in which to record, as opposed to his previous efforts which were sprawling recordings in both geography and arrangements, Adventures... is equally as ambitious as Watson's past albums, though permeated with a greater sense of patience and confidence.
-
PATRICK WATSON TOUR DATES:
Thu. 03/15/12 – Austin, TX @ St. David's Historic Sanctuary w/ The Barr Brothers, Plants and Animals, Little Scream, Leif Vollebekk, Daniel Isaiah (Secret City / OPAK showcase)
Sat. 04/15/12 – Montreal, QC @ Theatre Corona w/ Josef & Erika [Sold Out]
Sun. 04/16/12 – Montreal, QC @ Theatre Corona w/ Josef & Erika [Sold Out]
Mon. 04/17/12 – Montreal, QC @ Theatre Corona w/ Josef & Erika
Fri. 04/20/12 – Berlin, DE @ Hellig Kreuz Kirche
Sat. 04/21/12 – Rotterdamn, NL @ Motel Mozaique
Tue. 04/24/12 – Paris, FR @ Cabaret Sauvage
Thu. 04/28/12 – Amsterdam, NL @ Melkweg w/ The Barr Brothers
Sun. 04/29/12 – Brussels, BE @ Botanique w/ The Barr Brothers
Mon. 04/30/12 – London, UK @ St. Stephen's Church
Tue. 05/01/12 – Brighton, UK @ Komedia
Thu. 05/03/12 – Philadelphia PA @ Union Transfer w/ Andrew Bird
Fri. 05/04/12 – New York NY @ Beacon Theatre w/ Andrew Bird
Sun. 05/06/12 – Boston MA @ House of Blues w/ Andrew Bird
Tue. 05/08/12 – Washington DC @ The 930 Club w/ Andrew Bird [Sold Out]
Wed. 05/09/12 – Baltimore MD @ RamsHead Live w/ Andrew Bird
Tue. 05/29/12 – Toronto, ON @ Danforth Music Hall
Fri. 06/01/12 – Chicago, IL @ Lincoln Hall
Sat. 06/02/12 – Minneapolis, MN @ Cedar Cultural Centre
Mon. 06/04/12 – Denver, CO @ Hi Dive
Thu. 06/07/12 – San Diego, CA @ UCSD The Loft
Fri. 06/08/12 – Los Angeles, CA @ The Bootleg Theatre
Sat. 06/09/12 – Felton, CA @ Don Quixote's
Sun. 06/10/12 – San Francisco, CA @ Great American Music Hall
Tue. 06/12/12 – Portland, OR @ Mission Theatre
Wed. 06/13/12 – Seattle, WA @ Columbia State Theatre
Thu. 06/14/12 – Vancouver, BC @ The Vogue Theatre