Paul McCartney Releases 'Kisses On The Bottom' in time for Xmas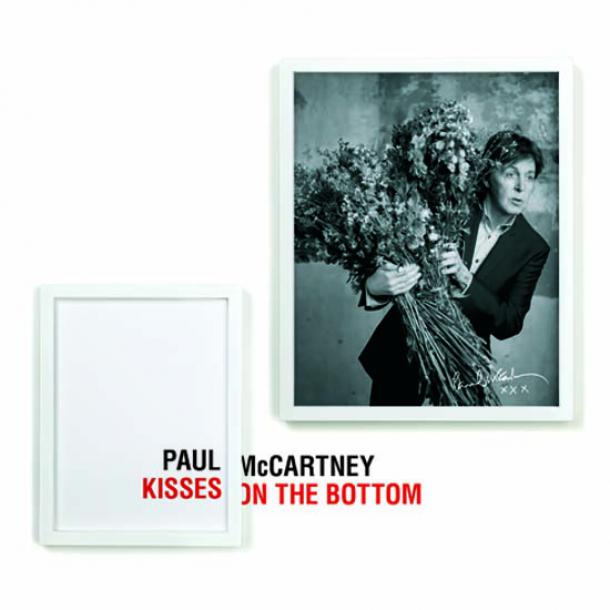 Paul McCartney announces a very special Christmas treat for fans with the release of Kisses on the Bottom - Complete Kisses exclusively available on the iTunes Store (Hear Music/Concord Music Group) today.
The album will feature all of McCartney's hugely acclaimed 2012 album Kisses on the Bottom along side the entire Live From Capitol Studios concert performance and four bonus tracks including a special festive recording of "The Christmas Song (Chestnuts Roasting On An Open Fire)", which Paul recorded at Avatar Studios in New York in September. The album will also feature a previously unreleased version of "My Valentine (Johnny Mandel original arrangement)" alongside the tracks "Baby's Request" and "My One And Only Love".
Kisses on the Bottom was previously released in February of this year to global critical acclaim and chart success. Recorded with the aid of Grammy-winning producer Tommy LiPuma and Diana Krall and her band, it is a collection of standards plus two brand new McCartney songs "My Valentine" and "Only Our Hearts" which feature guest appearances from Eric Clapton and Stevie Wonder respectively. The album topped the Billboard Jazz Charts upon its release and has remained in the chart for 40 weeks. It also reached the Top 5 of the UK Albums Chart, Paul's highest UK chart position in 15 years, and charted Top 5 all around the world.
Paul celebrated the album's release with Live From Capitol Studios, a very special and intimate concert at the legendary studios in February which was the first and only time that multiple tracks from Kisses On The Bottom have been performed live. The stunning and unique show saw Paul reunited with the cast of all-star musicians who had joined him on the record as he performed behind the microphone without either his famous Höfner bass or any other instruments in hand. This magical once-in-a-lifetime performance is now included on the iTunes release Kisses On The Bottom - Complete Kisses.
Paul McCartney - Kisses on the Bottom - Complete Kisses TRACK LISTING:
Kisses on the Bottom:
01. I'm Gonna Sit Right Down And Write Myself A Letter 02:36
02. Home (When Shadows Fall) 04:04
03. It's Only A Paper Moon 02:35
04. More I Cannot Wish You 03:04
05. The Glory Of Love 03:46
06. We Three (My Echo, My Shadow And Me) 03:22
07. Ac-Cent-Tchu-Ate The Positive 02:32
08. My Valentine 03:14
09. Always 03:49
10. My Very Good Friend The Milkman 03:04
11. Bye Bye Blackbird 04:26
12. Get Yourself Another Fool 04:42
13. The Inch Worm 03:43
14. Only Our Hearts 04:21
Bonus:
15. The Christmas Song (Chestnuts Roasting On An Open Fire) 03:35
16. Baby's Request 03:30
17. My One And Only Love 03:50
18. My Valentine (Johnny Mandel Original Arrangement) 03:12
Live From Capitol Studios:
19. I'm Gonna Sit Right Down And Write Myself A Letter (Live) 02:44        
20. Home (When Shadows Fall) (Live) 04:26    
21. It's Only A Paper Moon (Live) 02:55
22. More I Cannot Wish You (Live) 03:28        
23. The Glory Of Love (Live) 03:53
24. We Three (My Echo, My Shadow And Me) (Live) 04:14
25. Ac-Cent-Tchu-Ate The Positive (Live) 02:51
26. My Valentine (Live) 03:31
27. Always (Live) 04:21         
28. My Very Good Friend The Milkman (Live) 03:14
29. Bye Bye Blackbird (Live) 04:45                     
30. Get Yourself Another Fool (Live) 07:48        
31.  My One And Only Love (Live) 04:16