Real Gone Music Releases: Blood, Sweat & Tears and Grateful Dead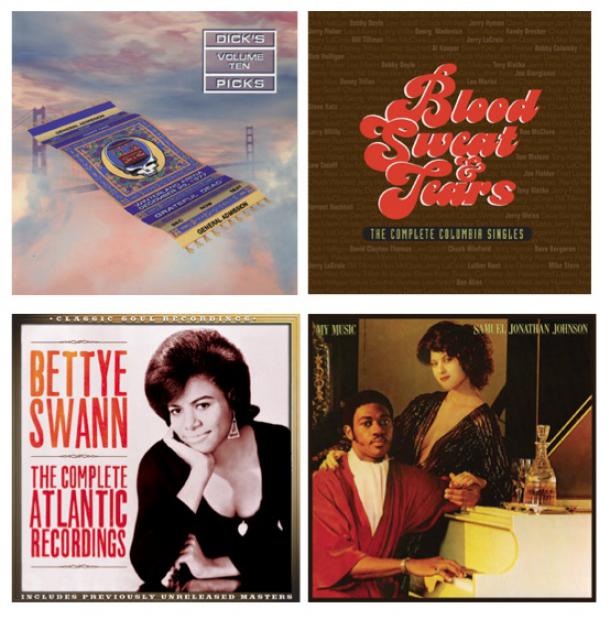 No post New Year's hangover for Real Gone Music -- the label is slotting four more coveted collector's items for release on 2014's first available street date, January 7. The groundbreaking jazz-rock group Blood, Sweat & Tears receives Real Gone's patented singles collection treatment with the release of the 2-CD set The Complete Columbia Singles. The complete Atlantic recordings of Southern soul diva Bettye Swann are compiled for the first time ever, with five unissued cuts, while the label offers another rare slice of '70s soul with its release of keyboardist and songwriter Samuel Jonathan Johnson's only solo album. And Real Gone breaks from its trip backwards through the Grateful Dead's Dick's Picks series to celebrate the New Year with a volume that was recorded at one of the band's end-of-year, week-long celebrations in the Bay Area.
They were a pioneering jazz-rock outfit and a hit singles band (which shows how progressive pop music got in the late '60s/early '70s) that wowed fans and critics alike. They were Blood, Sweat & Tears -- and the two-CD, 32-track set, "The Complete Columbia Singles", offers not only the most comprehensive collection ever compiled of their work, but also the most appropriate lens through which to view their long and often chaotic career. Very few bands experienced the kind of turnover that Blood, Sweat & Tears did and lived to tell the tale -- the group began with the Blues Project's Steve Katz and Al Kooper as their visionary leaders, but Kooper left after their first album, to be replaced by David Clayton-Thomas as lead singer, thus launching the band's "classic" period punctuated with such hits as "You've Made Me So Very Happy," "And When I Die" and "Spinning Wheel" (here in their rare mono single mixes). After their fourth album, B. S. & T: 4, Clayton-Thomas and original members Fred Lipsius and Dick Halligan left en masse, yet the band soldiered on, winding up with only one original member -- drummer Bobby Colomby -- by the time they called it quits with Columbia. Yet, through it all, Blood, Sweat & Tears maintained a remarkably high level of musicianship and material throughout their stint with the label, and their innovative use of jazzy horn arrangements in a rock context paved the way for such bands as Chicago, Cold Blood, Chase and If. Along the way, they also integrated elements of psychedelia, R&B, folk and classical music into their jazz-rock framework to produce an eclectic mix of recordings unlike that of any other band of the era. Blood, Sweat & Tears: "The Complete Columbia Singles" follows the band through every phase and configuration, and features five single versions/mixes making their first appearance on CD. Producer Ed Osborne's notes include fresh quotes from Steve Katz, and the entire set is beautifully remastered by Vic Anesini at Battery Studios in NYC. The ultimate look at an underrated band.
Soul singer Bettye Swann first came to international prominence with her now-classic 1967 No. 1 R&B hit, "Make Me Yours." Following a couple of years of recording for Capitol Records, the Louisiana-born songstress was signed to Atlantic Records where she recorded for close to five years (1972-1976). Now, for the first time ever, Bettye Swann: "The Complete Atlantic Recordings" -- compiled by noted soul music historian David Nathan for Real Gone Music and SoulMusic Records - documents her tenure with Atlantic with a 23-track collection containing everything she recorded for the label, featuring the seven singles released by Atlantic, two of which - "Victim Of A Foolish Heart" and "Today I Started Loving You Again" - became R&B chart hits. The set also features two tracks only released on UK compilations; five previously unissued cuts; and both sides of Bettye's one-off duet with noted R&B songwriter/recording artist Sam Dees. Liner notes by renowned UK music journalist Charles Waring include quotes from Bettye, who resurfaced from retirement in 2013 to perform a one-time show in Britain.
He only cut this one full album in 1978 for Columbia Records, but Samuel Jonathan Johnson is an artist mentioned by '70s soul aficionados in the same breath by as jazzy R&B contemporaries like Roy Ayers or Norman Connors. "My Music" displays a wonderful blend of mellow moments and more groove-heavy tracks -- all handled with wonderful keyboards from Johnson, who gets nice and spacey at times. This reissue, released by Real Gone in their continuing partnership with Chicago retailer and tastemaker Dusty Groove, features liner notes by Johnson's daughter (and fine singer in her own right) Yolanda Johnson, with added photos and remastering by Maria Triana at Battery Studios in NYC. Very tasty, long-requested and oft-sampled '70s soul sounds.
Starting with Vol. 36, Real Gone has been releasing the Dick's Picks series in reverse order, but the label is putting out Vol. 10 now to honor one of the most hallowed Grateful Dead traditions: the run of shows the band would put on in the Bay Area the last week of December leading up to the year's end. With the exception of the years 1973 - 1975, the Dead always could be found around town playing a New Year's Eve show, usually as part of a combo bill with other Bay Area bands, but starting in 1977, the year of this show, the group began to headline a series of concerts the last week of the year, a ritual they continued for 15 straight (or not-so-straight) years. And of all those concerts, this one, taking place at Winterland Arena the year before the Dead closed the venue for good on New Year's Eve, has long been regarded as the musical high water mark of the band's end-of-year festivities. Arguably the most consistent concert in the Dick's Picks series, the 3-CD set opens with one of the strongest versions of "Jack Straw" extant and doesn't look back, with the return (after three years) of "China Cat Sunflower" a clear highlight. "Dick's Picks Vol. 10 -- Winterland Arena December 29, 1977" also removes two songs, "It Must Have Been the Roses" and "Sunrise," from the 12/29 show in order to make room for a marvelous medley from the following night of "Estimated Prophet"/"Eyes of the World"/"St. Stephen"/"Sugar Magnolia;" a judicious edit indeed. There was nothing like a Grateful Dead concert -- and there was nothing like celebrating New Year's with them, either.