"You're damn right I got the blues," Buddy Guy sang out as he opened his headlining set at the annual Russian River Jazz and Blues Festival in fiery northern California on Sept. 13. While the so-called 73,000-acre Valley Fire, which burned more than 500 homes, raged as close as 30 miles away, the two-day festival site at Johnson's Beach on the Russian River in the small, Bohemian town of Guerneville, California, was smoke-free. Still, while the blues is good medicine for many troubled times, Guy's choice seemed especially apropos.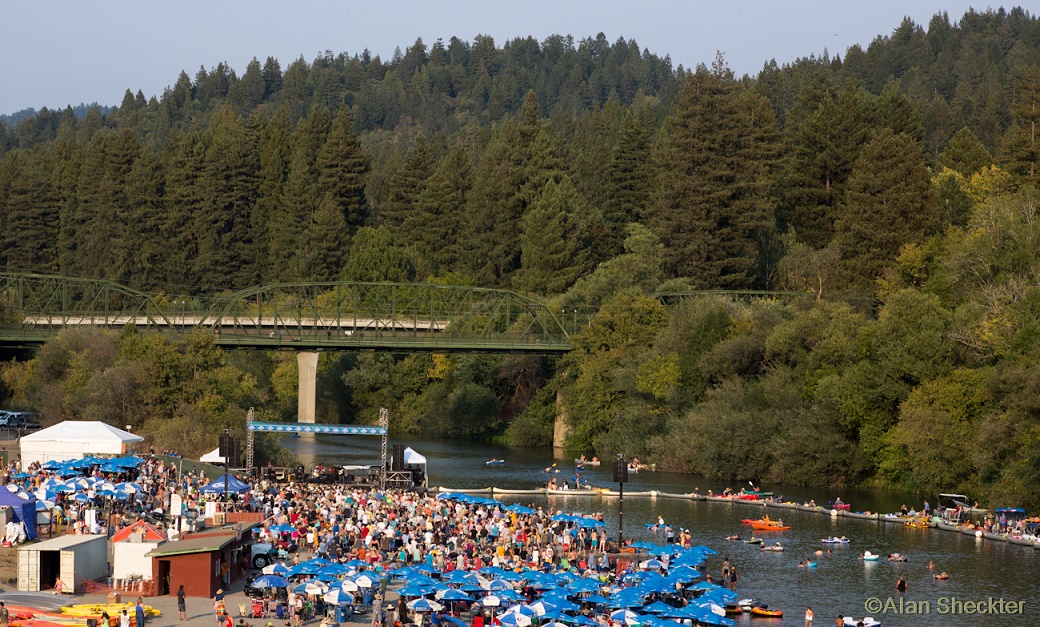 Johnson's Beach, which hosted about 5,000 music fans per day, according to organizers, offers an unusual perch for a concert. Hundreds, if not more, took advantage of the fact that one could watch and listen while standing (or floating on a raft or small boat) stage-left in the adjacent Russian River, which had a surprisingly bountiful amount of water at that spot. In addition to the main stage, the event had a second stage that delivered fine blues tunes to the many folks who took part in wine tastings, thanks to some of Sonoma County's most prominent vineyards.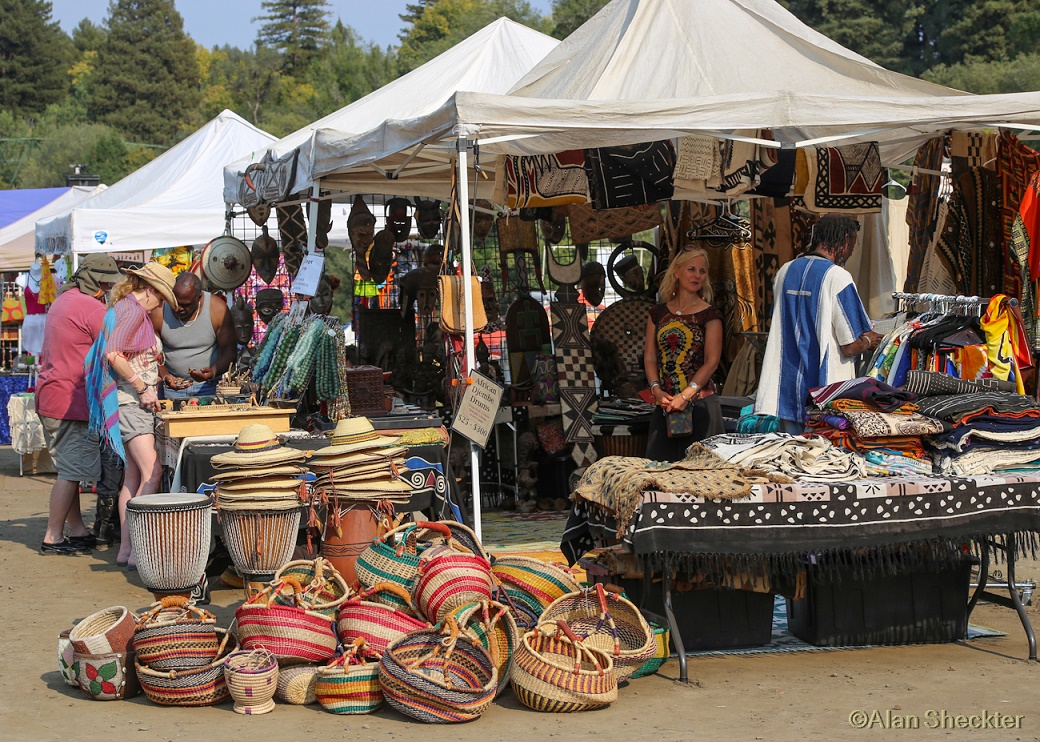 Artisan crafts and food booths along the beach, more upscale than a typical rock fest, provided additional enticements. Food choices included alligator, catfish, ribs, barbecue oysters, and plenty of veggie choices. And obligatory beer tents helped fuel the party atmosphere.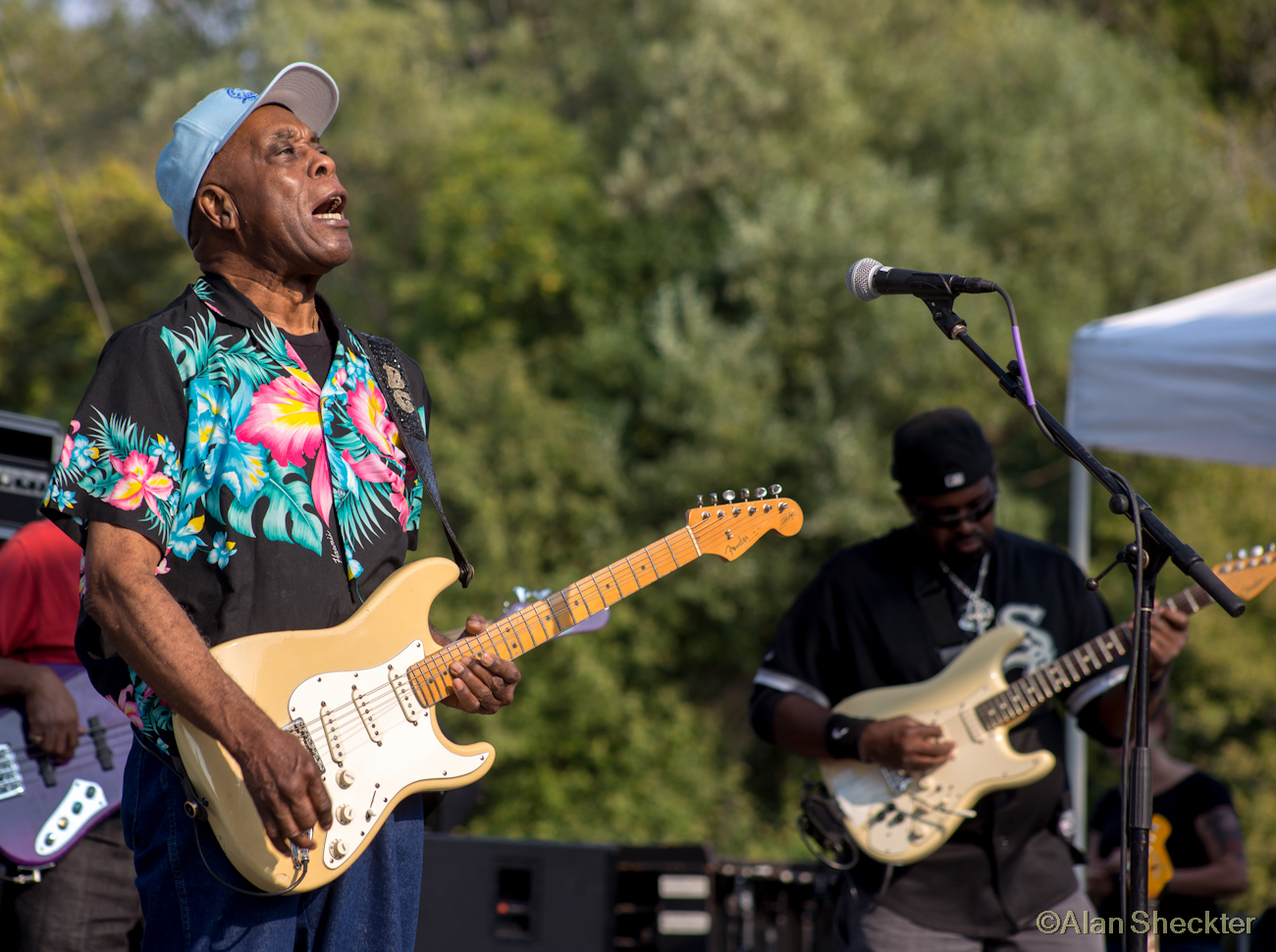 Praising B.B, King as "the best guitar player who ever lived," the 79-year-old Guy showed off his own guitar mastery, stamina, and stage presence, moving easily around the stage and into the crowd, mugging and chatting with the sun-splashed audience, delivering with ease screaming blues-guitar passages and offering high-volume, no-hold-barred vocal treatments to plenty of classics during his festival-closing set. He also endeared himself to the crowd with his down-to-earth language, for instance smiling and saying at one point, when a lyric resulted in some funny looks, "Don't blame me; I didn't write the fu**in' song!"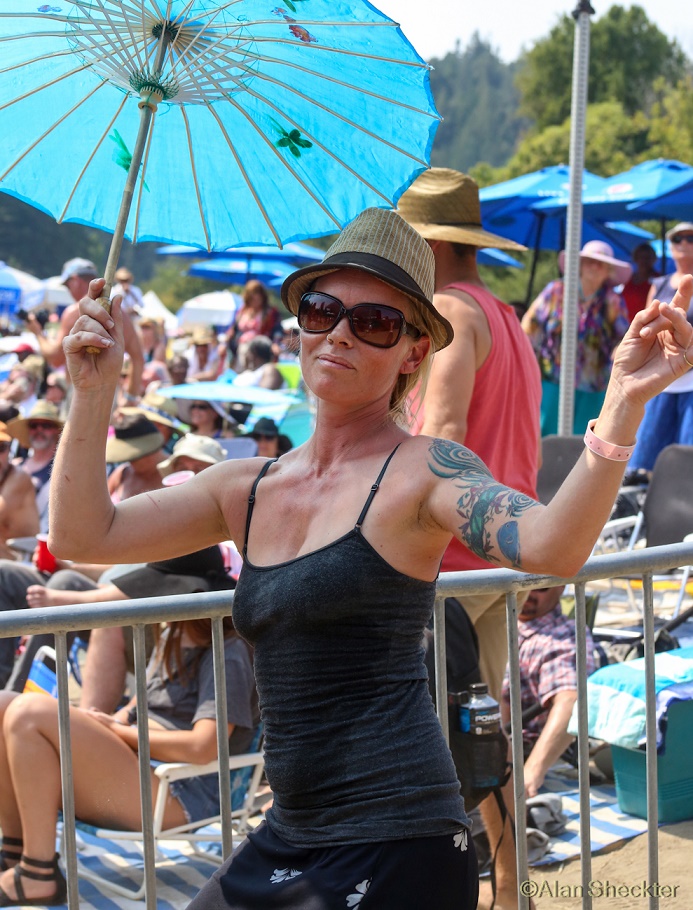 Under Muddy Waters' tutelage in 1950's and 60's Chicago, the Louisiana-born Guy influenced scores of prominent rock 'n' roll guitarists of the past 50 years. Adding his signature powerful and emotional guitar treatments, Guy satisfied the crowd with song selections, including such gems as "I Just Want To Make Love To You," "I'm Your Hoochie Coochie Man," "She's Nineteen Year's Old," "Meet Me in Chicago," and closing medley of "Milk Cow Blues" / "Strange Brew" / "Sunshine of Your Love" / and "Voodoo Child."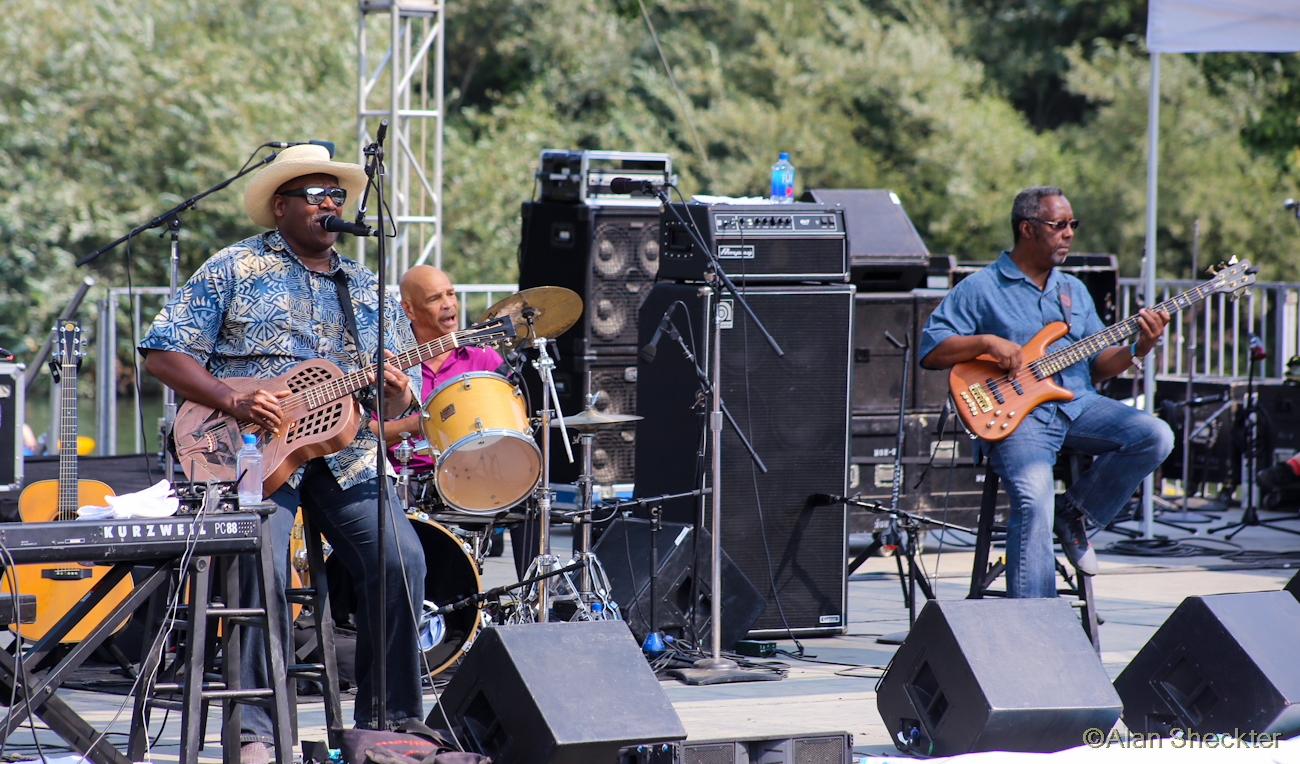 Prior to Guy, another blues legend, Taj Mahal, and his trio delighted the crowd. Mahal, no youngster at 73, gave praise and thanks to Guy and Junior Wells for bringing Mahal into the Chico blues fold in the early 1960s before performing the timeless "Blues With a Feeling." With his trademark Caribbean-flavored blues-guitar style and personable, often humorous and gritty lyrical delivery that include plenty of suggestive double entendres, Mahal's set seemingly came and went in no time, with the American roots music lexicon covering such favorites as "Ballad of John Henry," "Betty and Dupree," "Sitting on Top of the World," "Queen Bee," "Fishin' Blues," "Corinna," and "Going Up the Country, Paint My Mailbox Blue."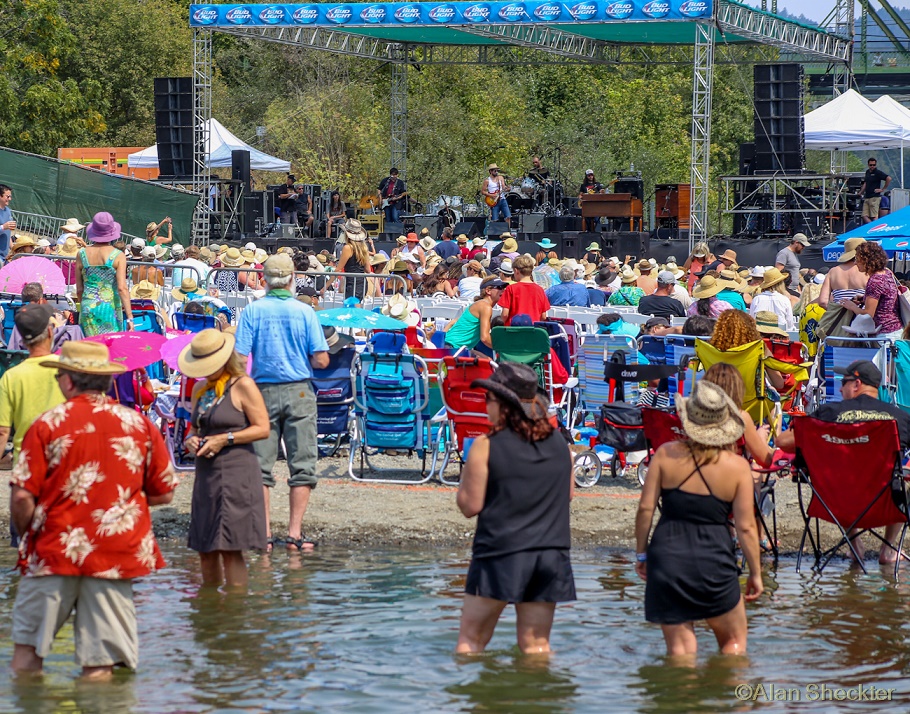 While the main stage activities began with The Rad Trads, the day's festivities got going in earnest with the Jackie Greene Band, which preceded Taj Mahal. Though not yet 35, less than half the age of Guy and Mahal, Greene, the renowned singer/songwriter, rocker, and blues man, showed off his performance prowess that has been buoyed and refined with his own fine band – and solo acoustic performances - as well as with stints with the Black Crowes and Phil Lesh & Friends. With longtime stage partner Nathan Dale on his right, and the band's new bassist and drummer fusing together finely with the band, Greene's skill and delivery visibly surprised many in the crowd heretofore unfamiliar with his abilities.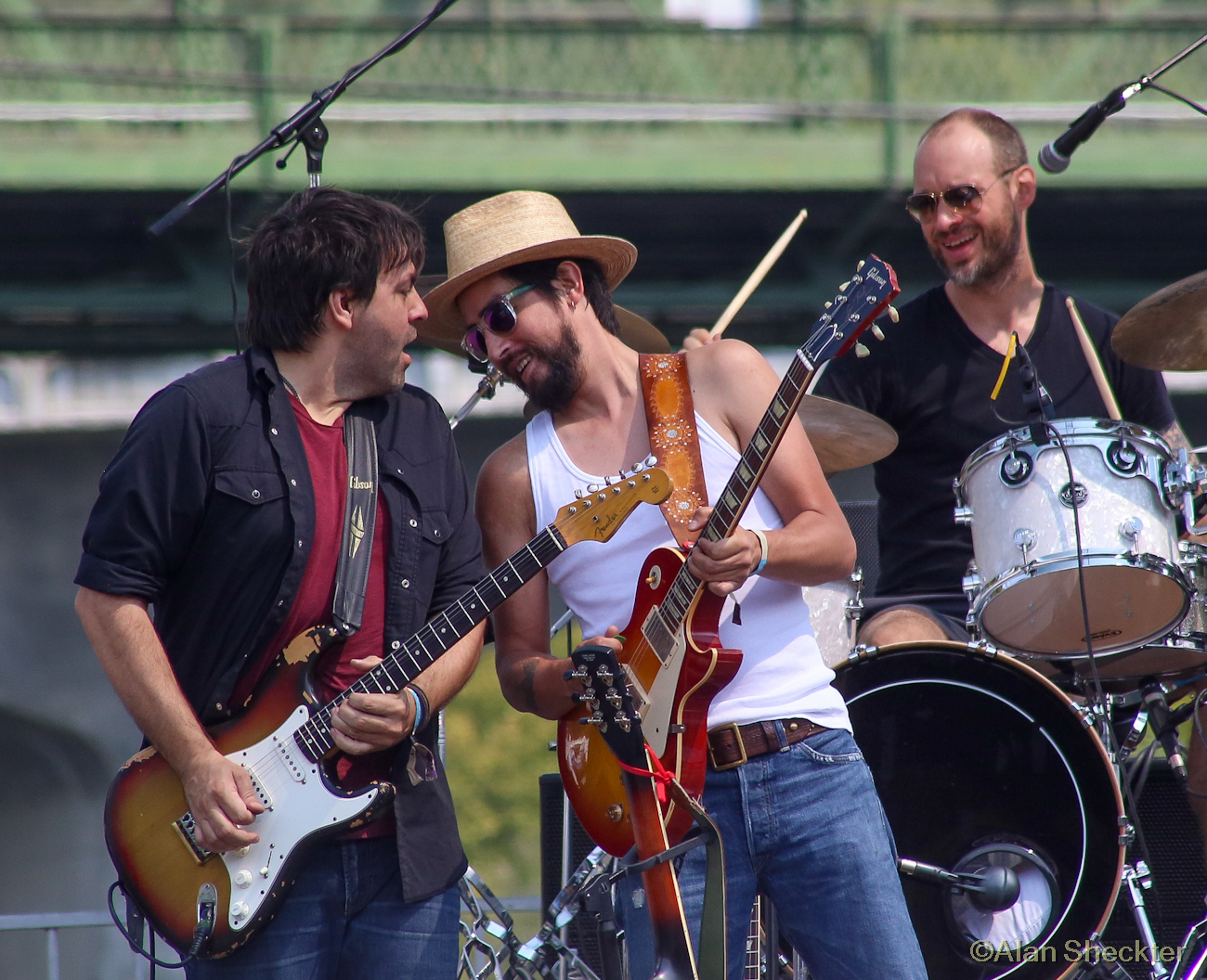 Performing a few tunes off of his new solo album, "Back to Birth," including opener "The King is Dead," and encore, "Sweet Somewhere Bound," Greene's set also included "I'm So Gone," "Tell Me Mama, Tell Me Right," "Shaken," Tom Waits' "Big Black Mariah," The Grateful Dead's "New Speedway Boogie," Spooky Tina," "Shaken, "So Hard to Find My Way," and "Till the Light Comes."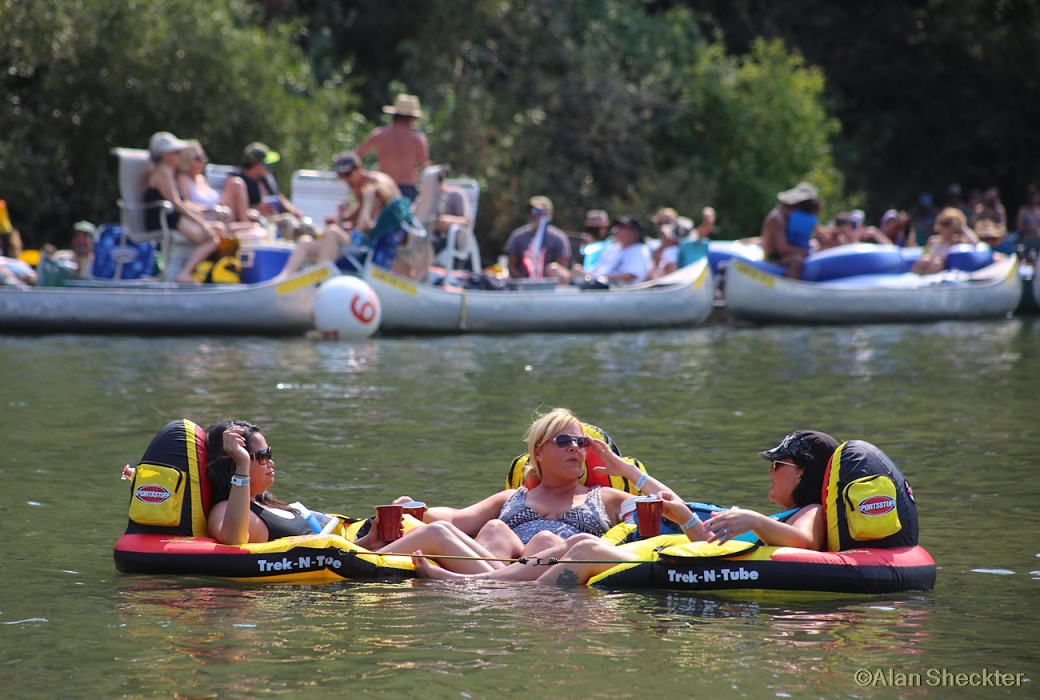 The festival's Day 1 (jazz day) festivities included performances by Dave Koz, Rick Braun, and Kenny Lattimore; War (who put on a very praiseworthy funky jazz set according to reports); Karen Briggs and Mike Phillips; and Kyle Eastwood – yes son of Clint.