For years, my friends have been telling me of a magical place: a music festival at a permanent facility with shaded campgrounds, flushing toilets, manageably small but big enough to rope in major talent, populated with friendly people.  This year, I finally made it out to this legendary event as a correspondent for GratefulWeb.com, and am happy to report that the rumors are true.  10,000 Lakes Music Festival ranks among the most convenient major-league music festivals I've ever attended.  Yeah, it had its problems (and I'll get to those).  But overall, the sixth year of 10KLF was a fabulous affair.  Here are my interpretive snippets from a lovely and seasonable weekend in the high latitudes of Minnesota's Soo Pass Ranch:
Wednesday, 22 July
What music festival starts on a Wednesday?  This weird move turned out to be a good one – everyone I talked to seemed to agree it felt like we got an extra day on both ends (getting out earlier than we're used to, and getting back at leisure without having to take off work on Monday).
Gomez opened the festival on the main stage with the funky, driving "Rex Kramer," which I heard from the North Entrance on my way in and catapulted me into a 100-yard dash.  Their set continued strong with old classics like "78 Stone Wobble," "Tijuana Lady," and "See The World" (which features one of my favorite of their lines:  "Fear – don't let it take you like it nearly took me!").  The mainstage's lower concrete audience area was still largely unpopulated, still a sea of concrete (the grassy spots were all further back).  But everyone there was enthusiastic, and seemed to be enjoying themselves (the lead guitarist decked out in a fuzzy hat that screamed, "I know you're on drugs!"), and saved the ultra-tasty acoustic guitar-and-synthesizer meltdown "Ruff Stuff" for last.  These British hybrid rockers put on a far better set than the one I saw at Wakarusa Festival in June (where they were stuck sipping up the slop as the festival's last act on Sunday, on their smallest stage), but having them kick off the action didn't feel quite right, either.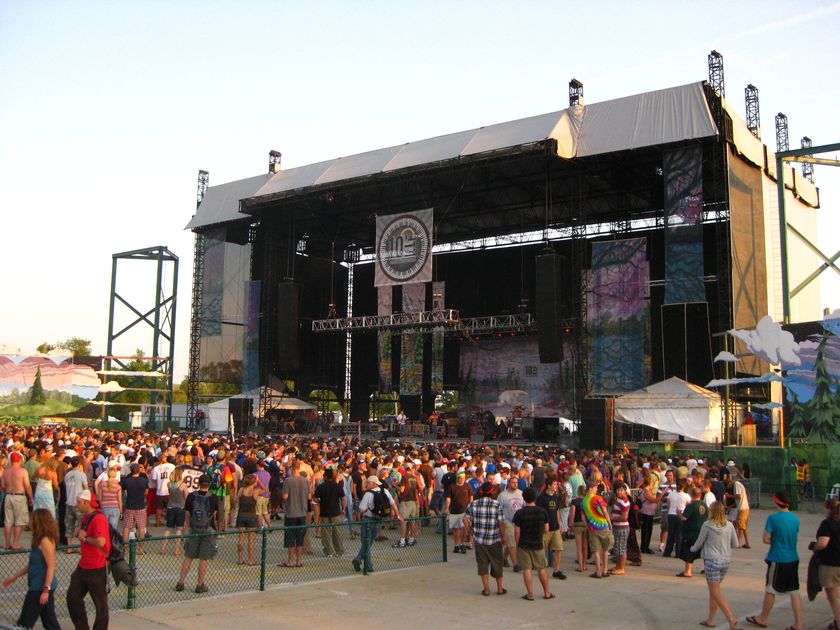 Another thing worth noting about Gomez's set is how ridiculously sunny it was.  For all that I'd heard of 10K's ultra-comfortable accommodations, I found it strange that the permanent main stage was set up facing North, so that even with Chuck Hugh's billboard-sized painted landscapes to either side it was almost impossible to escape from the intense sunlight.  Almost everything else was uppercase POSH all weekend, but I was scratching my head at such a silly and obvious oversight.  (For what it's worth, though, the grounds are twenty years older than 10K – the festival is hardly accountable.)
Widespread Panic headlined two nights this year, and after listening to their first set on Wednesday with a journalistic ear I have to give them credit.  It was a far better show than the last one I'd seen three years ago, after Jimmy Herring had been recruited as a replacement for the late Michael Houser and hadn't yet put a leash on his shredding.  I'm not terribly familiar with their specific songs, but thankfully happened to be camping with friends who were; they opened with a tasty "Old Neighborhood" and "Weight Of The World," followed soon after by ironic standby "Can't Get High."  Set two unfurled with slinky and shifting rolling rhythms before heating it up after a slow-cooking keyboard interlude, and the encore instrumental "Dark Day Program" (a grinding, overdriven waltz which, in its patient and repeating chord changes, was a welcome change of pace).  According to more knowledgeable sources, they were having trouble leading in and out of jams – and once I started listening, yeah, there seemed to be some awkward communication within the band.  But the good spirits of the audience were invulnerable, and I had to chalk some points back next to WSP in my mental spreadsheet.  At the least, few other bands have been working so hard for so long.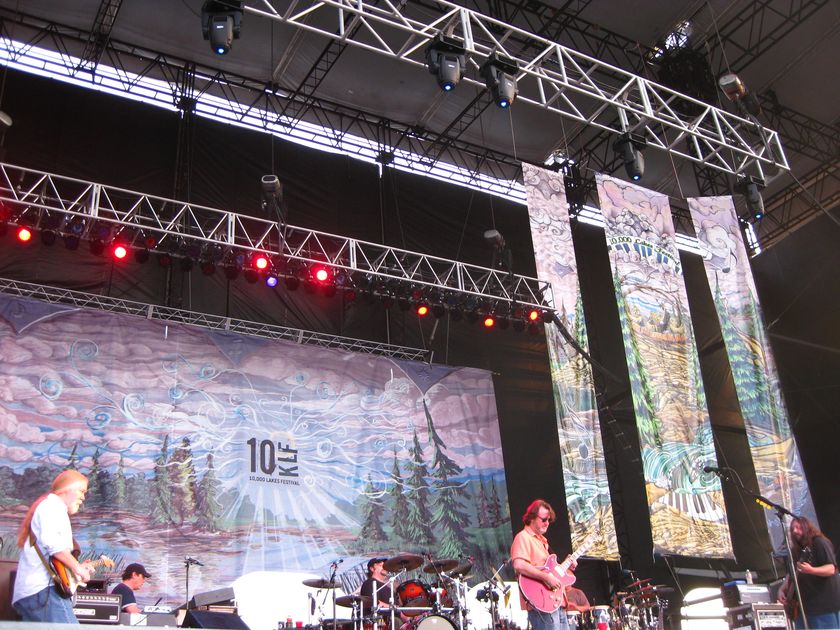 Kinetix, a disco jam rock quintet from Denver, has been a staple at 10K for five years now.  Their late-night set at The Barn (the festival's third-but-possibly-tastiest stage) made it clear why: their comfortability and confidence on stage, clever choice of covers ("Another Brick In The Wall," "Bohemian Rhapsody," and "Sweet Emotion"), and great vibe all demonstrated this outfit to be the kind of guys who give a lot of attention to crowd-pleasing in particular.  They're a lopsided group – the keyboardist/lead singer practically carried the band on his back, the excellent lead guitarist whipped out his best licks when he wasn't on clock to solo, and the other guys' contributions were standard enough that on several occasions I caught myself playing "weak link" with them, trying to figure out how they could get the same punch from a quartet.  And I was seriously put off when they capped an awesome crescendo jam by endlessly repeating "It's time to get f*cked up!"  But then somebody would strike a heroic pose on top of one of the stage monitors while wailing, and I couldn't help but smile.  The music was certainly kinetic – predictable, but fun.  Definitely guys worth checking out, definitely worthy dance-party captains.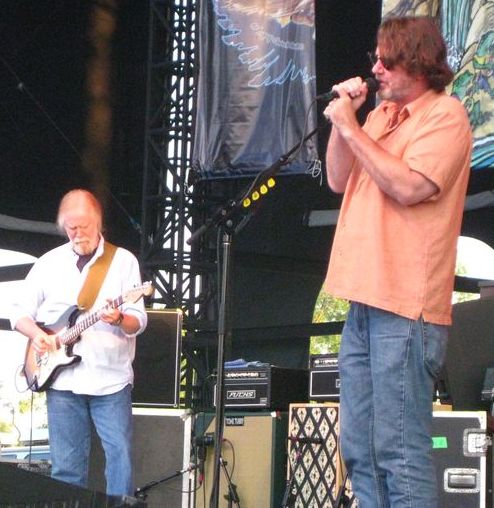 Afterwards, I headed over to the Saloon (a permanent, indoors festival stage??) to catch Carney – who, suiting their name, had a very raw and visceral, spooky thing going on.  They confidently caught the slop from the evening's other performances with a lot of violent atonal crescendoes and a lead singer with a hard-on for Drunk Jeff Buckley and The Mars Volta's Cedric Bixler-Zavala.  Which worked.  And they gave it their all, sweating bullets and tying themselves up in cables until the festival shut off their power and they left in glowing indignance ("You can thank the club for turning off the amplifiers!").
One of the nicest things about 10KLF was the absence of sunrise sets.  After a summer of dawn-chasing music, getting to bed before 3 AM was a pleasant change of pace.  There was no wondering where I'd find the next day's dancing energy...