I started day two of 10K in utter relaxation, dozing late into the morning through a minute of light rain on the tent.  It was a music festival, after all, and the idyll didn't last long; the air was soon full of air horns and people yelling "Butt Sca-ratcherrrr!" (ah, the sounds of morning).  Overall, though, listening to the murmur of campers at Northwoods had a magical quality, a constant lone hand drummer in the distance, magical woodsy acoustics.  The morning was sunnier but still mostly overcast as I headed out to The Barn to catch Akron/Family...
Akron/Family – surprisingly indie for a festival like this one – was a great early afternoon set.  Constant change of genre was their forte, keeping the shady lawn of a few hundred jam babies rapt with curiosity.  Long ambient passages with plenty of cool secondary instruments (flute, bells, samplers, a tape recorder played through the bass pickup) twisted into explosions of noisy, almost tribal rock, heavy on the toms and feedback, knob twisting and screams.  Then, all of a sudden, we'd all be dancing to Graceland-esque afrobeat with the drummer on lead vocals, bass amps decorated by fabric that danced in the shuddering air, jungle noises and scratchy beats emanating from an 808.  The guitarist spent half of one song with a microphone hanging from his mouth.  Death metal tapered into folk-revival clapalongs with tambourine and harmonica...and they'd consistently bring back the dance at EXACTLY the right moment.  And they played the crowd, always waiting to ask for audience participation until it was really ripe; early on in their set when they told the seated audience, "You guys can stand up now," we all totally complied.  Dressed in geeksport chic – headbands and white undershirts, sweat slick hair – they lacked none of the swagger and posture that I've come to associate with indie, softspoken and warm-eyed.  It was my first time seeing them and my impression was that these guys in the same vein as, appealing to the same crowd as, but far more coherent than, Animal Collective.  Toward the end of their set the crowd thinned a bit, people leaving to get a good spot for Railroad Earth at the Field Stage.  As much as I enjoy Railroad, however, this seemed like a mistake.  Catch these guys if you can.
After Akron/Family, I stuck around at The Barn to paint onstage for Garaj Mahal.  Fronted by virtuoso music professors Fareed Haque on guitar and Kai Eckhart on bass, these guys are the only band on the scene cerebral enough to write a ten-minute-plus "through composition," silly enough to wear hilarious profane t-shirts on stage*, AND funky enough to keep everyone dancing through a flurry of time signature and tempo changes.  Modal, edgy, uptempo tunes reminded me somewhat of Béla Fleck & The Flecktones, if that band were predisposed to ducking out of class from time to time and playing in seedy bars...soulful, soulful music.  It was so incredibly windy on stage that I had to hold my easel with one hand while painting with the other, but in spite of the complication I could scarcely contain my excitement about being on stage with a quartet of such master musicians (their new drummer can SING, and their keyboardist could run modulation-wet Moog circles around Particle's Steve Molitz).  For their encore (and 10K was unusually full of encores, for a festival), Kai Eckhart whipped out a brain-liquifying slap bass solo and Fareed played his unique sitar-guitar.  All told, a solid show...although my friends were convinced that they were acting too strangely to be their normal sober selves, you'd never have known from their playing.
(*Fareed's shirt was the cover of Dr. Seuss's Green Eggs & Ham, only the title had been replaced so it looked like Sam was peering over at the food and wondering,  "What the f*ck is this sh*t, anyway?")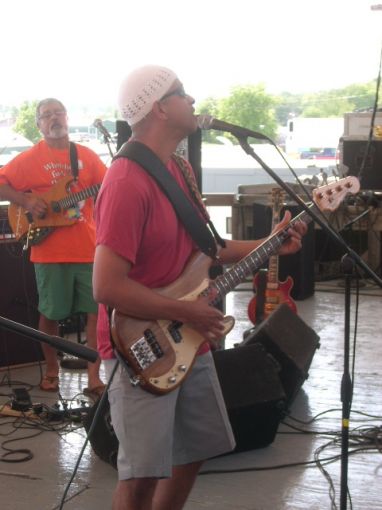 Mason Jennings played an early evening set on the Main Stage that, from where I listened in my Northwoods campsite, seemed perfect for the festival's rootsy vibe.  His steady, simple music sounded good from a distance, but it was so uniform from song to song that I had a hard time imagining how he would have kept my attention from closer up.
After dinner at camp, we trucked out to catch Wilco, whom I assume was responsible for all of the black-shirts, studs, and bangs indie-folk fashion I was seeing (just one more anomaly on the pile of this very atypical music festival).  They were surprisingly good – surprising to me, at least, because I'd only ever heard their albums, which failed to capture the intense energy of their live show.  From the press box up front where I got to shoot pics for the first three songs, it was easy to enjoy much harder rocking than I had expected.  Nels Cline's lead guitar was THUNDEROUS, launching every song – and although they slowed down for a while after the first few numbers, the band eventually built nearly every tune into something loud and profound.  By the end of their set, the energy was higher than ever.  My only complaint was how frontman Jeff Tweedy so ungraciously handled the audience's storm of glowsticks, first trying to get them to stop with humor ("You need those for the rest of the weekend - in this economy, you can't AFFORD to throw all those glowsticks."), then attempting to bargain ("If you stop throwing them now, we'll give them all back to you at the end of the show.")  His inability to take normal festival audience customs in stride was annoying...Jeff, if you're reading this, you play music festivals, dude!  Get over it.  That aside, everyone was in a great mood, the edginess of the first night had worn off and Wilco managed to coax them into the longest clapalong I'd ever seen.  From where I stood painting off to one side of the crowd down on the concrete, the mood was high and the fans were drunk on expensive beer.  Success!
After Wilco, I made a short stopover at the Art Barn, where nearly a dozen artists were working live and displaying their finished pieces.  There was blacklight painting, spin art, body painting...all weekend!  It was great to see the visual arts so well-accommodated there.  But at the time, I was simply looking for sanctuary from the freak storm that came out of nowhere to pelt us all with 40 mph winds and sheets of rain.  My friends and I ended up spending most of the night hiding in our tents and I missed Junior Brown and Atmosphere...although I have to say, kudos again to 10K for the diversity of their line-up, on par with coastal festivals like Coachella and All Points West.  Thanks to the storm, it was another fairly early night, and I woke up on Friday well-rested and psyched to see Everyone Orchestra...